Music is one of the main hobbies in the life of Eric Seidel. During the heyday of Full Tilt, all room professionals had personal pages with a short biography, some even blogged there. Eric posted his playlist.
"I am obsessed with music," he admitted in an interview. "And since I don't like to write about poker, I thought it would be fun to have a music section. There I listed all the albums that are on my iPod.''
Neither Full Tilt nor Eric's website has been up and running for a long time, but his passion for music has only grown stronger over the years. He closely follows the latest industry news, whenever possible attends concerts of his favorite artists and even major festivals. Eric spoke about all this in an interview with Connor Richards from PokerNews.
"I've always loved music," said the nine-time WSOP bracelet winner, "when I was a kid, there was always something playing in our house. Some people takes antidepressants, but for me it's enough to turn on my favorite artists.
Eric was born in New York in 1959, he became interested in music back in the 60s thanks to his parents:
''They were very fond of music, and my mother also played instruments herself. She was mainly involved in my upbringing, while listening to something all the time, and she had good taste. She was crazy about Nina Simone and Paul Simon.''
The family passion was also passed on to the younger brother:
''Thanks to Steve, I always learn something new. For example, it was he who introduced me to Florence + the Machine, which made a huge impression on me. This was long before they were known in the USA. And I specifically flew to London for the release of their first album.''
''My brother has great taste and regularly writes music reviews . I try to be attentive to his recommendations, and especially to the ratings that he makes at the end of each year. He has very broad interests. Afghan Wigs is another one of my favorite bands that I got to know through his tips.''
Eric's niece followed in her father's footsteps. She hosts a weekly show called "Music From My Dad" on student radio at the University of California.
The idea for the interview came to Connor during the EPT in Barcelona when he spotted Eric wearing oversized headphones and a black T-shirt bearing the logo of the 2018 There's No Leaving New York Music Festival at Forest Hills Stadium. The headliner at the time was The National.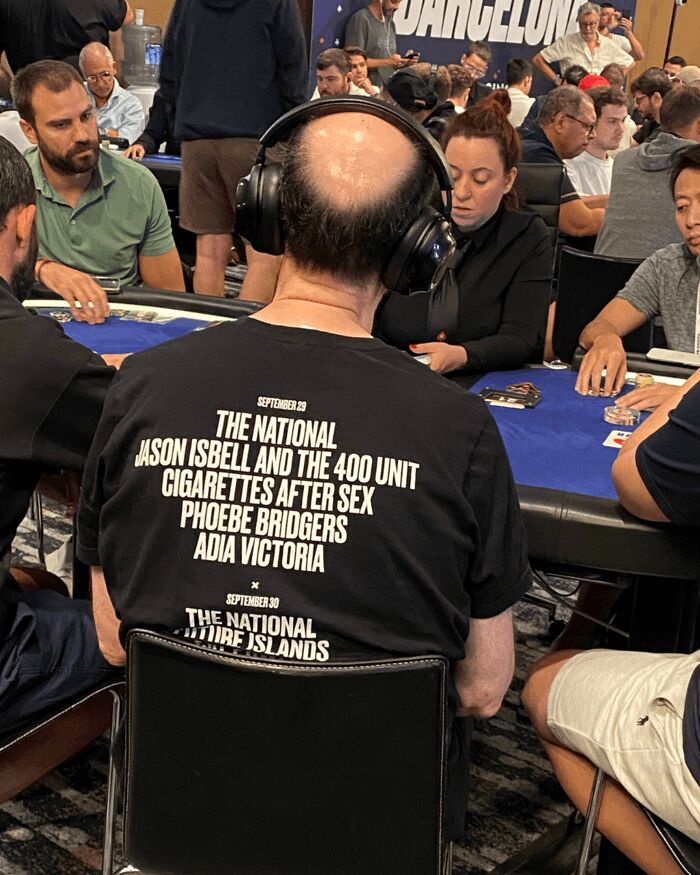 ''In my opinion, this is the best band in the world'', – says Eric confidently. – ''I really think so. But in general, I listen to almost everything – hip-hop, soul, classical, jazz, folk, rock, pop.
I suspect that most of the bands I listen to have not even been heard by the general public. I have collections for all occasions. I turn on a playlist with calm music, for example, when I get a massage. There are a lot of songs by completely different artists. I am sure that everyone will find a lot of new things there.
However, my favorite direction is indie. It attracts me that there are a lot of performers who write their own lyrics. Madly in love with Wilco, I love Valerie June. Recently I was looking for an opportunity to go to her concert, but, unfortunately, she rarely performs on stage lately.''
At the poker table, Eric also prefers calm music.
''I'm always interested in what my opponents are listening to. Most often it is metal or rap, it seems to the players that this gives them additional strength and motivation. I have the opposite, it is important for me that nothing distracts me. I usually listen to jazz or classical.''
Arriving for short series, players try to play every day. But Eric is willing to sacrifice the wait if the tournament overlaps with a performance by his favorite artist. This happened at the last EPT in London, when he skipped the High Roller to attend a concert by 23-year-old blues musician Kriston "Kingfish" Ingram.
"I made one of the best decisions of my life," Seidel wrote that day . – ''Took a day off from EPT to watch Kingfish live. Look him up on YouTube, incredible talent. Just goosebumps throughout the show. And he's only 23!''
''It was one of the best concerts in my life. Not only is he an amazing guitarist, he also has a great delivery. The audience really became part of the show.''
''I heard him for the first time at the beginning of the year and immediately realized that this is a special musician. I knew that he would be playing in London during the EPT, so I bought tickets in advance. I decided that this would be a much more memorable event for me than participating in the tournament... In addition, another reason to walk around the city and explore new areas. London is an amazing place for walking.''
"When you communicate with a poker player, you don't have big illusions," admits Eric's student and friend Maria Konnikova. – ''I know a lot of players, almost all of them… just play poker. Many of them are indeed a bit limited. When I first met Eric, I didn't know what to expect either. But already from the first minutes of our acquaintance I was amazed by his outlook in completely different areas. One of his first questions is what I think about Sergei Dovlatov. I was shocked. He admitted that he himself had not yet read it, but heard a discussion of his work in some podcast. And he was interested in my opinion. "Sure, read it," I replied. – He's great".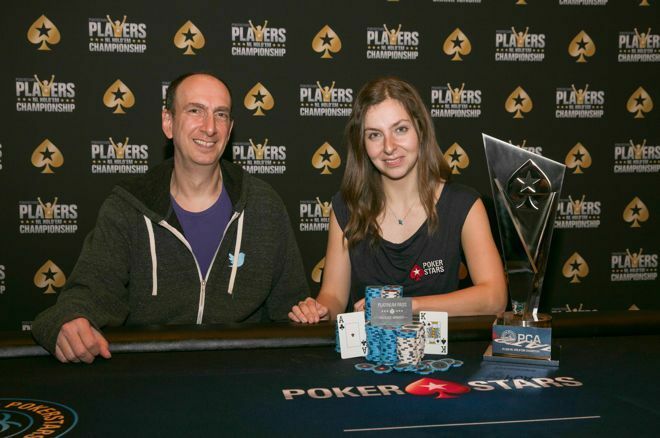 Eric spends most of his time either in Las Vegas or on the road. He does not visit New York so often, but continues to closely follow the musical and theatrical life of the city:
''At home, on average, I spend four months a year and almost every day I go to some kind of performance. The most talented people in the world are coming to New York that I can see live, it would be foolish not to take advantage of this opportunity. For me, here is a real paradise – this is a place where I am truly happy.''
Eric celebrated his 63rd birthday at the musical Parade starring Ben Platt.
''One of the brightest shows in my life. The production has not yet entered the permanent repertoire, they performed for only five days. But they dream of being taken to Broadway, and I really hope that this will happen.''