In the first week of the 2023 WSOP, John Smith once again made headlines in his marquee event, the $25,000 Heads Up Event, when he defeated Phil Ivey in the first round. While he didn't end up making the money, it brought back memories of his historic back-to-back finals runs a few years ago. So we decided to repost an old profile piece of the heads-up king in honor of his defeat of the titan Phil Ivey. Enjoy!
*originally posted in July of 2017*
Thursday, June 8th, the $10,000 World Series Heads-Up World Championship is down to 32 players, and the Brasilia Hall fills up with young poker savages looking to add this prestigious trophy to their resumes. There's one more win to go before the money – win the next match and you've got $26,711 in your pocket, plus a chance to do a lot more.
Against the backdrop of a hoodie and dark glasses, one person stands out. It's John Smith taking on Denver's Chance Kornuth, an established player with tons of titles and over $5M in prize money. Smith, dressed in shorts and a plaid shirt, wins one of the longest Round of 16 matches, and cashes in the tournament for the third time in four years.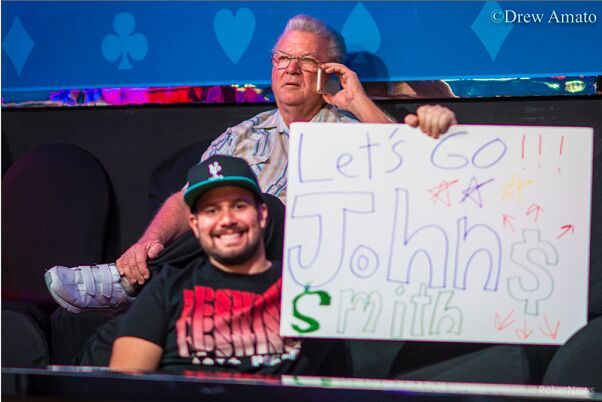 The completely gray-haired, 70-year-old war veteran from Los Angeles has been playing poker for over 50 years – far more than most of his opponents live in the world. In recent years, Smith has evolved into a heads-up wizard – last year he made it to the finals for $198,192, and in 2014 he finished in 11th place for $26,584. Smith became a casino regular, choosing to play poker as a hobby, around the mid-2000s and has won five and six-figure prizes numerous times since; his poker cashes exceed $1M.
The game day is coming to an end, Smith has won two more matches – over the past two years he has won 11 wins in 12 fights. Tomorrow he will return and play in the semi-finals with former world champion Ryan Reiss...
Strategist
What is his secret? Smith himself says that the key to his success is the ability to completely change his game.
"They think that I'm not as young and cheerful as they are," says Smith. "They don't know how to read me, that's why I win."
In 2016, in the final four, John beat Alex Luno. Here is what the Frenchman remembered about that match in an interview with Joe Ingram:

"I think it was the worst match of my life. Do you know John Smith? Google it. He is very old, looks 80, and that's how much he is, but I've never seen such a maniac before. And before the match, someone told me that he was a terrible nit, never bluffed and showed strong cards at showdown. It turned out that he bluffed me in every hand, and I threw the whole match. In general, I was raped by an 80-year-old grandfather, it is quite painful to remember this.
Smith believes that heads-up is primarily a battle of wits, a confrontation of personalities: "It's a completely different game, everything is built on reads and the ability to see a lot of tells."
John says that he actively uses false tells to confuse his opponent or make him make the wrong decision – however, it does not always fool his opponent. Such games create interesting dynamics.
For example, Smith's match with Kornuth dragged on, and the chip lead changed hands. John has a recipe for when you're way behind in chips in a heads-up match. "In such a situation, you have to play much more aggressively than usual – Chance, for example, did this – and count on luck to smile on you."
From the Purple Heart medal to poker
John Smith grew up in a small town in California and enlisted in the Army immediately after high school. When America finally got bogged down in the Vietnam War, Smith was sent to fight the Viet Cong in North Vietnam. In the mid and late 60s, the American contingent in this Asian country reached 500,000 people.
John served in the army from 1964 to 1967, and only spent one year in Europe, and then two years served in Vietnam. Smith was a tanker, and in 1967, a couple of months before demobilization, during a combat mission, his tank turned off the main road into a rice field ... At that moment, his world changed forever.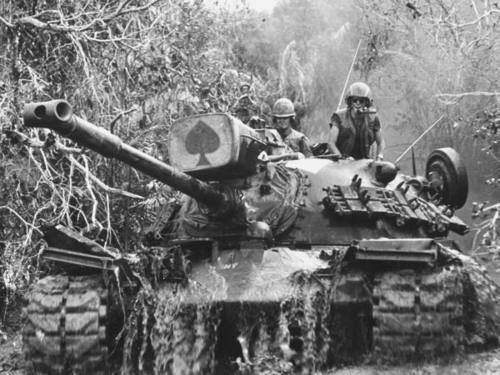 "Looks like the Viet Cong were alerted to our maneuver and planted a mine," Smith recalls. "We hit this mine. I had a fair supply of shrapnel in my body, and my eardrum burst."
John spent two weeks in the hospital, but he was incredibly lucky that he survived because the explosion completely demolished the bottom of the tank. A little later, Smith was awarded the "Purple Heart" as a soldier who was wounded in battle.
The modern Purple Heart medal was established on February 22, 1932, by directive signed by US Army Chief of Staff Douglas MacArthur to commemorate the 200th anniversary of the birth of George Washington. It was stamped from tin, covered with purple enamel. Until 1942, the Purple Heart was awarded only to members of the US Army. At first, the award was made for military merit, and a combat wound was also regarded as a merit. Since 1943, the medal has been awarded exclusively for combat wounds. After the war in Korea and Vietnam, the "Purple Heart" began to be issued to each seriously wounded without much solemnity, simply according to the corresponding hospital lists.
"I was even somehow ashamed, because after the explosion I saw that my comrades had lost their arms or legs, and I suffered only slightly. However, it was even worse than I initially thought. All my comrades died, only I survived, I was lucky."
When the mine hit, Smith leaned halfway out of the tank, and since the epicenter of the explosion was below, this saved his life ...
Saying goodbye to military service, Smith began looking for a new job. He was looking for something where there is the prospect of growth, and the opportunity to build a career. John is proud of the fact that in the end, he succeeded.
"After returning from Vietnam, I got a job at a road construction company and gradually made a fortune and started my own business. Such a success story" admits John Smith.
He now owns an asphalt paving company in Los Angeles; He has orders all over California. "I am proud to be an American and love my country very much," adds Smith.
John Smith is an exemplary family man: wife, two adult children. When poker and work aren't keeping him busy, John enjoys spending time with his six grandsons and granddaughters. His other hobby is fishing, he likes to go out to sea on his own boat and return with a good catch.
Success at the table
Smith started playing poker with his friends in the garage when he was 18 and it became his lifelong hobby. In his hometown, La Habra Heights, John plays Omaha (and sometimes Hold'em) with friends and colleagues once a month. Although the game seems to be friendly, the table has a minimum buy-in of $3,000, and pots from $10,000 to $20,000 change hands regularly.
This summer, Smith decided to play the heads-up championship as well as a $10,000 6-max tournament. He also played the Main Event, but in general, he likes tournaments where there are fewer people at the table.
From a report from the Main Event:

A bright game was once again shown by an outstanding veteran with the classic name John Smith. Recall that for two years in a row he reached the finals of the Heads Up Championship. Despite his amateur status and age 70+, Smith plays completely fearlessly.

Here is a prime example. Smith called a raise from early position and then Kuok Wu's 3-bet. Flop came . Both players check, turn . Smith bet 15,000 and called a 35,000 raise. River , and Smith all-in for 62,000. After thinking for three minutes, Wu took the chips into his hand and slammed them on the table with all his might – call!!

Smith bluffed with , for him the 2017 World Series is over. Kuok Wu, who didn't throw away (lowest set), becomes one of the chip leaders with a stack of 375,000.
"I like $10,000 buy-ins, here you play with serious guys who don't play the fool. I don't like $1,500, $1,000 tournaments," admits Smith.
John's unique style has already been noticed, and much younger opponents have begun to pay tribute to him. Alan Persal, who blocked Smith's path to the title in 2016, says that John is not only a great guy but also a good player: "His game is absolutely unpredictable. Not surprised that he went far again. Before last year's final, my friends told me how he rocked in the semi-final match. He did things that you would never expect from a player of the older generation. This time, I hope he wins."
In the Quarterfinals, the old-school pro is back on horseback, defeating a 2012 WSOP Main Event finalist, Kitty Kuo's boyfriend Russell Thomas.
"It's working out for me in this tournament," John states. "My game."
Friday, June 9
It's time for the decisive battles. The semi-final brings a new victory, Ryan Riess could not do anything, although compared to 2013, when he won the Main Event, Ryan has improved a lot. In the other semi-final, two young superstars meet and Adrian Mateos overcomes Charlie Carrell's resistance.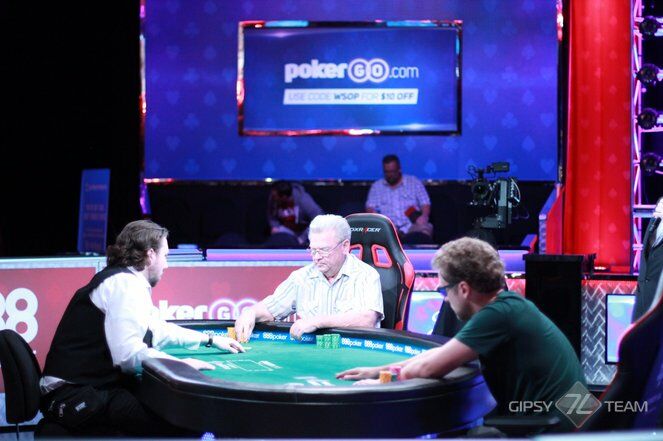 In the final, John will take on a double WSOP bracelet winner, the winner of the WSOP Europe Main Event and the EPT Monte Carlo Grand Final. And Adrian Mateos won all these trophies, although he is not yet 25.
At the beginning of the match, the Spaniard goes into the lead, but Smith pulled back even. However, Mateos gets the chip advantage again. The blinds go up to 50-100K, Smith has about 1.6M, and the opponent has three times more. And here comes one of John Smith's typical crazy hands...
Smith limped in and called the 300,000 raise. The flop came , Mateos bets 200,000, to which John goes all-in for 1,300,000. The Spanish player evaluates the stack size of the opponent, shrugs, and calls – this is a call "by the odds", Mateos has a combo draw . You are unlikely to be able to guess the hand of a veteran, he has – just queen-high without any draws!
Both groups of fans jump up from their seats. "Oh my God, he's ahead," one of Smith's fans marvels. "Come on lady!" shouted John's friends. The spanish youth crowd demands a spade. The turn satisfies both requests, bringing the , and Smith is left with no outs. For second place, he will receive $200,538 – even more than last year.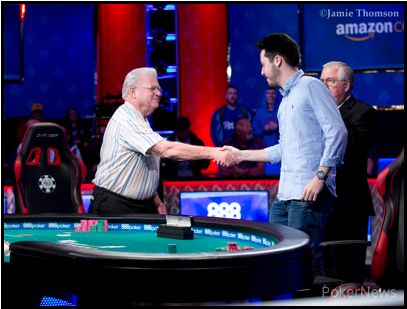 In an interview with the winner, Mateos emphasizes that he is impressed with Smith's performance. "To put it bluntly, he plays very differently than the bulk of the regulars, but it works. He is difficult to play against; with every hand, it's like you are fighting against a new opponent. Literally everything changes. It is simply unrealistic to read such an opponent."
Smith, in turn, is already thinking about 2018. "I'll be back next year. Didn't finish the job. Maybe we can take second place three times in a row."