The second $25,000 tournament of the World Series kicked off on June 6th. Last year's winner Chad Eveslage has already won two bracelets this year and is in contention for the title of best player in the series, but shines mostly in limit tournaments. It seems that he did not even get into this $25k.
There were 41 players at the tables when the classic "Shuffle Up and Deal!" From the first minutes, future finalists Isaac Haxton, Darren Elias, Frank Funaro, and Joao Vieira, as well as Alexey Ponyakov, Artur Martirosyan, Nikita Kuznetsov, and Mikita Bodyakovsky entered the fight. Somewhat later, Pavel Pleshuv joined, but in the end, only Ponyakov got into the money.
In the first level, Isaac Haxton was all-in with the worst hand. On the flop he checked from middle position, received a bet of 5,500 into a pot of 10,000 from the button, and check-raised to 20,000. The button called. On the turn Ike shoved the remaining 89,000 into the center of the table with and got called by . The future winner turned out to be one step away from elimination, but he was saved by a repeat of the seven on the river to counterfeit his opponent.
Another poker multimillionaire, Justin Bonomo, also played in broad strokes at this stage. He raised to 4,500 from middle position. Brian Kim called in the cutoff. Jeremy Ausmus, left with a stack of 30 blinds, pushed all-in for 61,000 from the button, and Bonomo reshoved 80 blinds with . Not afraid of this move, Kim called with a pair of jacks. Ausmus showed two tens. No one improved, and Ausmus and Bonomo proceeded to the exit, and Kim, with three starting stacks, became an early chip leader. Perhaps such a sweeping style of the stars is due to the possibility of re-entry.
Next on the first line was the Argentinean Nacho Barbero: on the flop he went all-in with top pair and an open-ended draw . His opponent, who had an average stack at that time, turned over two top pair, but Barbero caught a straight on the turn to get to 630,000.
At level 6, Haxton became the new leader. Ike got kings again, raised to 12,000, and got called by Darren Elias in the BB. On the board of Haxton bet three barrels: 24,000 on the flop, 60,000 on the turn, and 123,000 on the river (all in). Elias called the whole way with and left to reenter, and Isaac's stack exceeded a million chips.
Toward the end of the day, he showed that he was ready for a sharp game and was ready to bluff. On the board of Haxton's checked, but in response to a bet of 25,000 he made it to 68,000, and on the river pushed his opponent all-in for 241,000. Villain burned some extra time, but didn't fold a set of tens, leaving Ike with 963,000.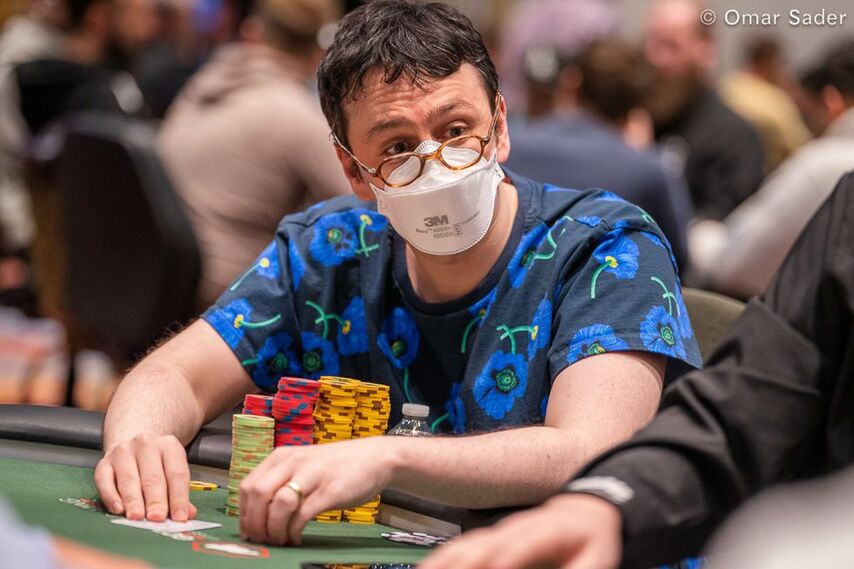 At the 7th level (out of eight on the first day), those who especially value their free time entered the game – Phil Hellmuth, Sean Deeb, Jason Koon, and Dylan Linde. Indeed, why not start the tournament for 25k with a stack of 25 blinds?
Hellmuth did not last long. Somehow he managed to end up putting 40,000 into the pot on the board with . Phil's opponent Joao Vieira bet 8,000. Phil promptly check-raised all-in to 16,000. Vieira considered.
"Only 8,000 to call," Helmuth commented. Reluctantly, Vieira called.
"Lady," Phil said for some reason, turning over his cards. Vieira showed . Phil raised his hands to the sky, but said nothing and silently walked away from the table.
The chip leaders after the end of the first day:
Calvin Anderson – 1,609,000
Freddie Deeb – 1,440,000
Brian Kim – 1,291,000
Isaac Haxton – 1,195,000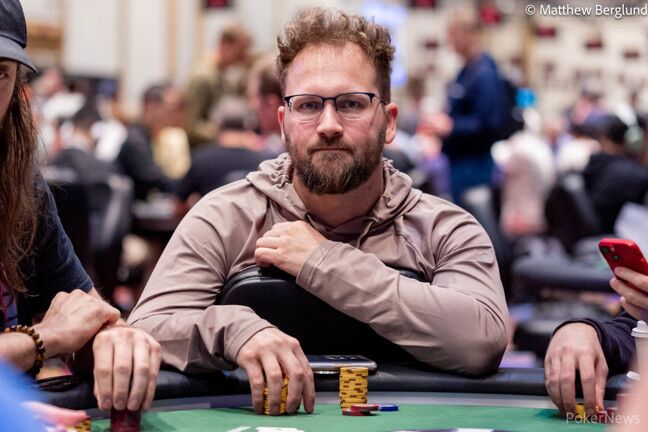 Late registration ended before play resumed. Those wishing to sit down on the second day received 15 blinds at the start. As many as 40 people took advantage of this opportunity because the start of the level had to be delayed for half an hour. Among the new arrivals, were Phil Ivey. But Tom Dwan, who also wanted to play, arrived too late.
The total number of entries, in the end, was 301, which made it possible to pay the top 46 players and establish seven-figure payouts for the top two finishers
For Ivey, it was over in just a few minutes. After losing a third of his stack in the blinds and ante, Phil shoved 100,000 from the button with J9o, got called by another short stack on A2s, and lost his chances on the turn.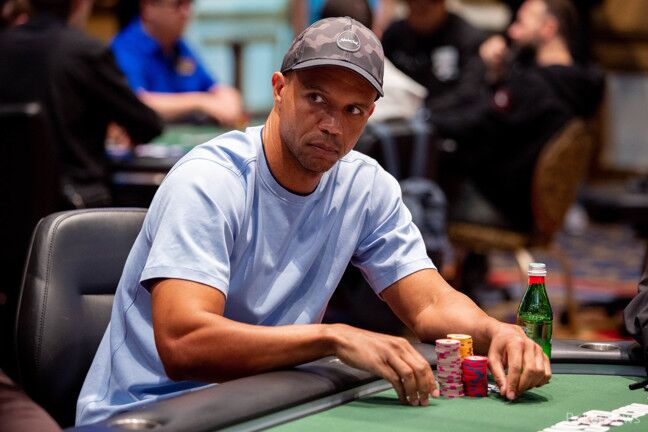 About half an hour after Ivey, Daniel Negreanu also left the tournament. On the second day, he moved in with one of the shortest stacks and ended up in a three-way all-in with the worst hand – JTo against AQs and K8s.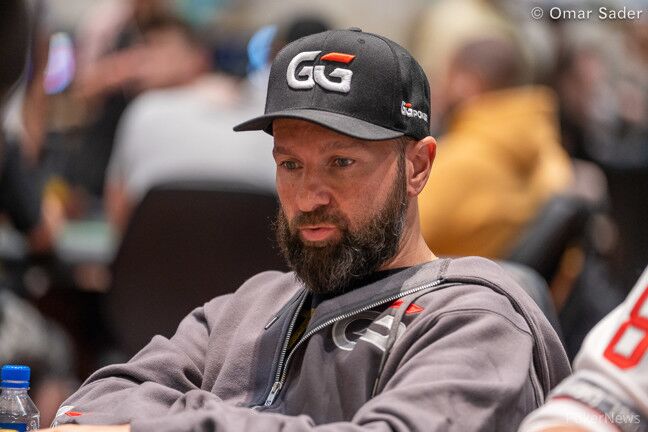 Haxton regained the lead by winning a coin preflop with Jacks against AQo. He was then topped by defending WSOP Main Event Champion Espen Jorstad, whose stack exceeded the 2 million chip mark after a big pre-flop all-in with Kings against AKs.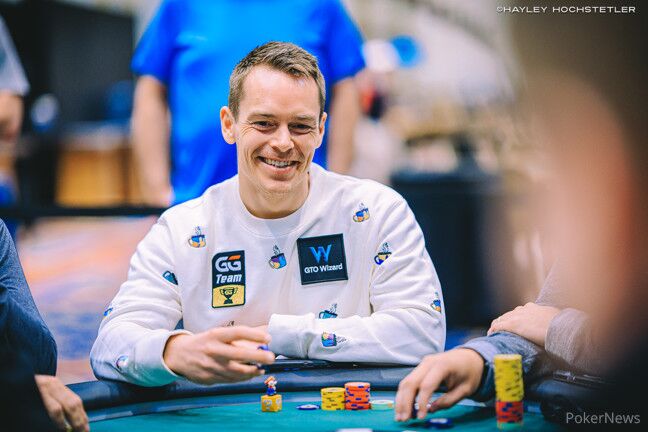 The bubble burst at 6pm. Haxton raised to 50,000 from first position, and billionaire Cary Katz used the old stop-and-go in the big blind to call and then donk-push just under the pot on the flop. Haxton called with a gutshot and an overcard to the board and beat Katz's top pair.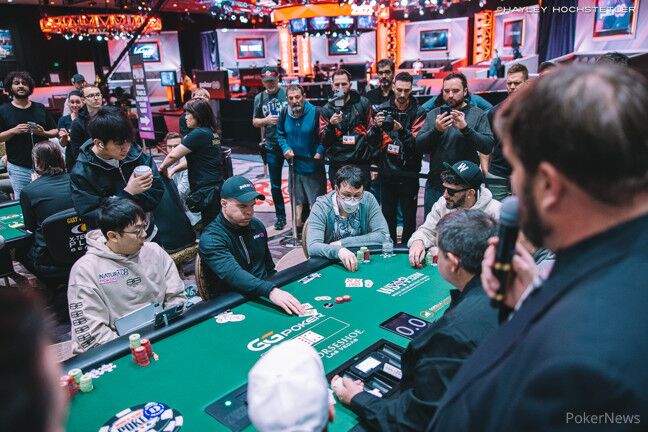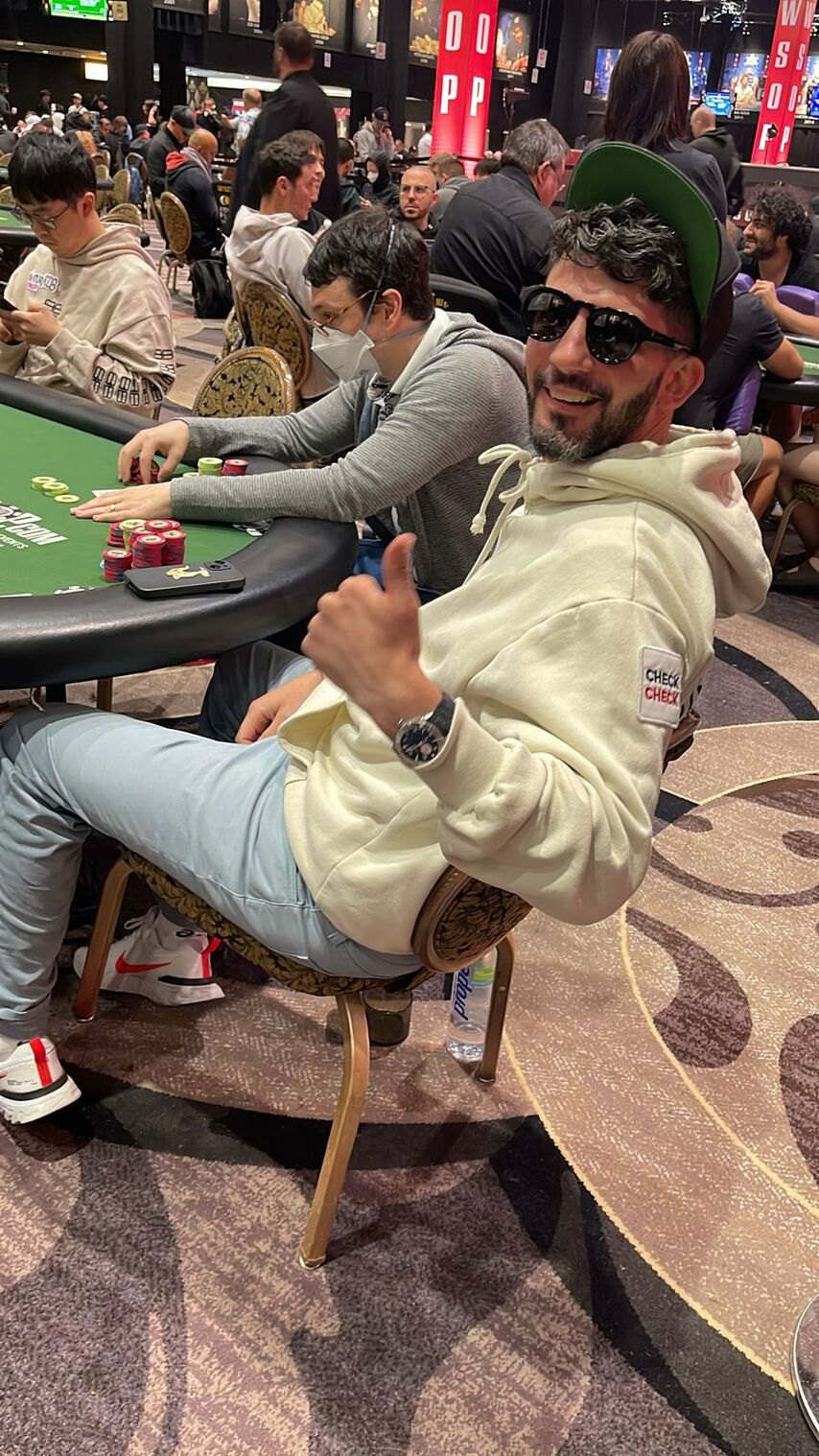 Ike soon flopped a straight with a mighty redraw against Biao Ding. On the flop of Dean bet 50,000 and Ike with raised to 250,000. A call followed.
On the turn Haxton continued the attack – 380,000. Dean thought for a long time and went all-in – 1,100,000! Haxton hesitated only a few seconds before calling. Dean showed , the river didn't help anyone, and Haxton had 2,840,000. Ike left for dinner, rounding up his stack to exactly 3 million. Alexey Ponyakov was about in the middle of the chip count – 1,360,000.
After dinner, it was time for expensive hands. Stacks flew back and forth, players rose and fell. Brit Ryan O'Donnell was dealt aces twice, he knocked out three people. His fellow countryman Lewis Spencer won the coin and eliminated Dan Smith. Joao Vieira played a four million 4-bet pot against Brian Rast, showed aces against top pair, and crossed the 4 million chip mark. Next to him after a series of successful hands were Frank Funaro and Kristen Foxen. After a while, Ponyakov joined them, courageously calling O'Donnell's 4-bet with kings – to everyone's surprise, O'Donnell this time showed not aces, but queens, and allowed Alexey to double up.
Half an hour before midnight, ex-hockey player from the Czech Republic Roman Hrabec was bored with a stack of 20bb. Then he took out the short stack with ATs against K9s. He scored another knock out of a short stack's A3o with , and knocked out Chidwick with A7o vs Q8o blind for blind.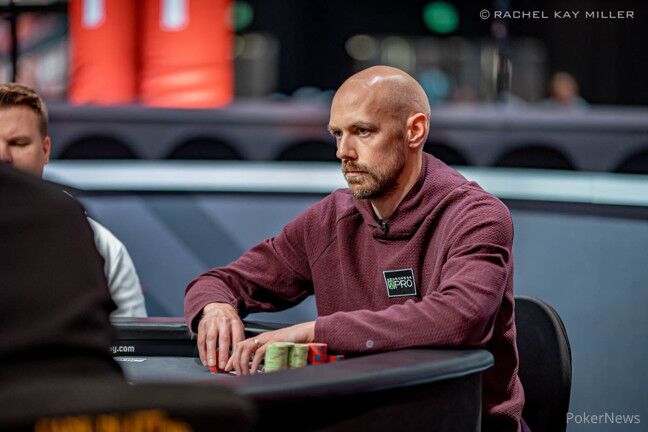 Hrabec then check-raised with a flush draw on the flop vs. Kristen Foxen, barreled the turn and bet almost all of his chips on the river . Kristen paid and now Hrabec has 6,150,000, he is the new chip leader. And all this in just 40 minutes!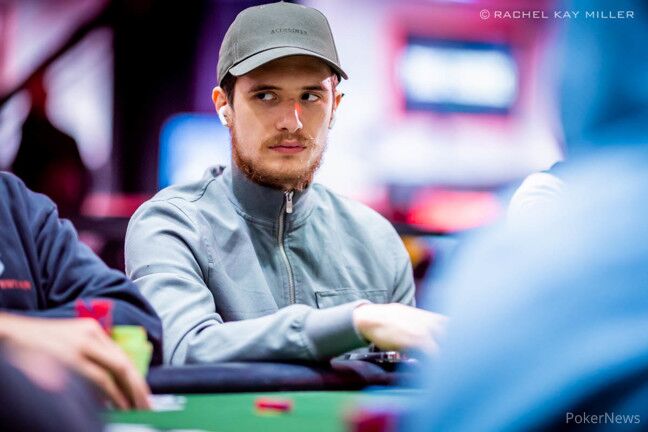 At 1 in the morning, the game ended, with 13 players moving to Day 3.
Roman Hrabec – 6,050,000
Frank Funaro – 5,065,000
Alexey Ponyakov – 4,470,000
Joao Vieira – 4,090,000
BrianRast – 3,965,000
Isaac Haxton – 3,820,000
Taylor von Kriegenberg – 3,280,000
Darren Elias – 2,790,000
Lewis Spencer – 2,705,000
Kristen Foxen- 2,675,000
Jorge Cosillieri – 2,650,000
Michael Jozoff – 2,085,000
Ryan O'Donnell – 1,570,000
At the beginning of the third day, Haxton 4-bet all-in with queens, von Kriegenberg called with AKo and left the tournament in 13th place. The world's strongest player without a WSOP bracelet was on fire!
Kristen Foxen was the next to leave the tournament. Left head-to-head against the young lady, Hrabec moved all-in for 19BB for 87o. Kristen called with A9s and the hand was decided by a seven on the flop.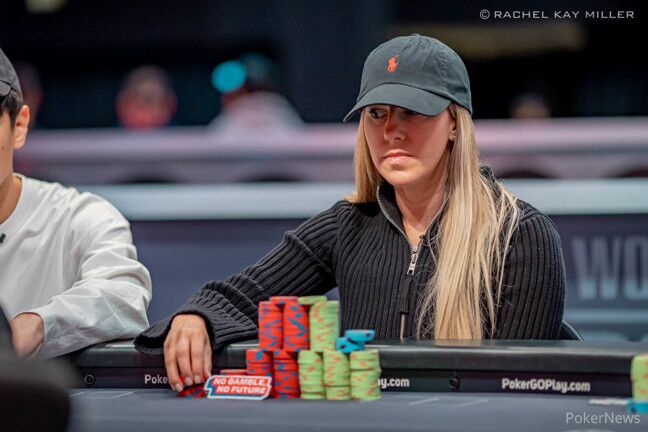 Hrabec's progress was slightly slowed down by Brian Rast, who made a 4-bet push with Kings: the Czech showed Ako and missed the board.
Alexey Ponyakov lost a difficult and expensive hand. He limped in from the small blind and called a 400,000 (4bb) raise from Frank Funaro. On the flop Alexey check-called the 300,000 bet. On the turn he bid 250,000, Funaro called.
River – . Ponyakov checked and, after much deliberation, called the 1,300,000 bet from his opponent, but couldn't beat . Funaro got 6,310,000, Alexey dropped to 2,370,000. Left with a stack under 20bb, he shoved on Darren Elias with . Alas, the American found , and Alexei was eliminated in 10th place for $96,986.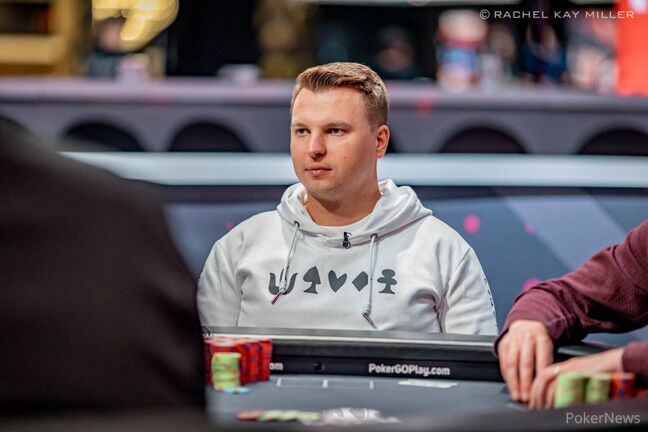 The remaining 9 people settled at the final table.
Isaac Haxton – 9,780,000 (82bb)
Brian Rast – 8,760,000
Roman Hrabec – 6,680,000
Frank Funaro – 5,640,000
Darren Elias – 4,230,000
Michael Jozoff – 2,955,000
Ryan O'Donnell – 2,835,000
Joao Viera – 2,435,000
Lewis Spencer – 1,845,000 (15bb)
By the dinner break, Funaro knocked out Jozoff, and Rast lost most of his chips, but eliminated Vieira. The final table broadcast on PokerGO started with the following stacks:
Haxton – 14,000,000
Grabec – 9,400,000
Funaro – 5,675,000
Spencer – 5,350,000
Elias – 4,750,000
Rast – 3,225,000
O'Donnell – 2,750,000
Blinds 125,000/250,000, ante 250,000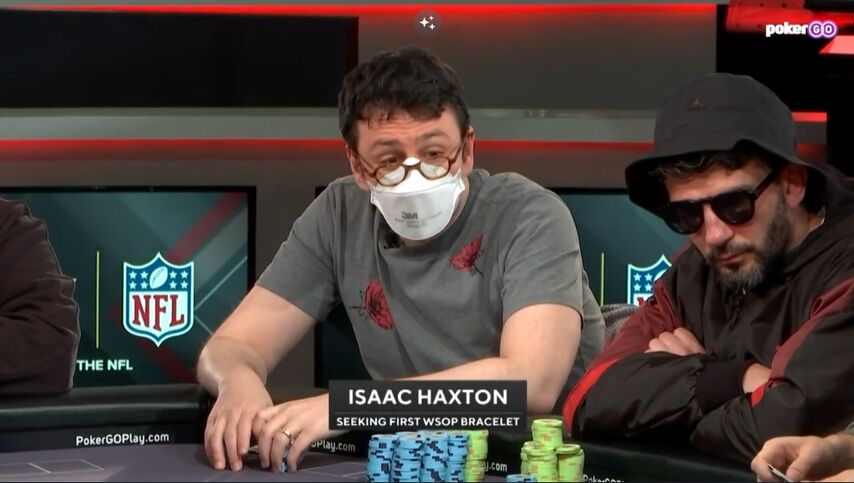 Frank Funaro immediately showed that he did not intend to joke around and simply bet all-in for the first three hands, and everyone folded.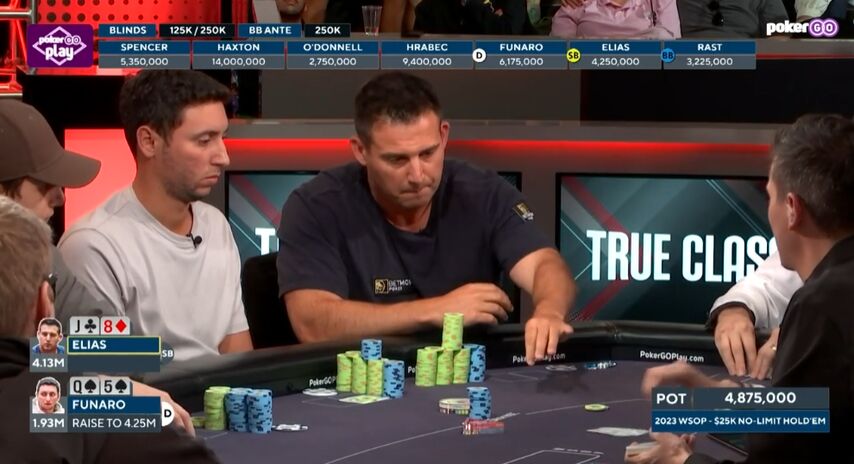 Then the first all-in took place – Haxton tried to put pressure on the owner of the middle stack, but Spencer, the former professional player in Hearthstone and Call of Duty, did not give up, resisted, and took the lead.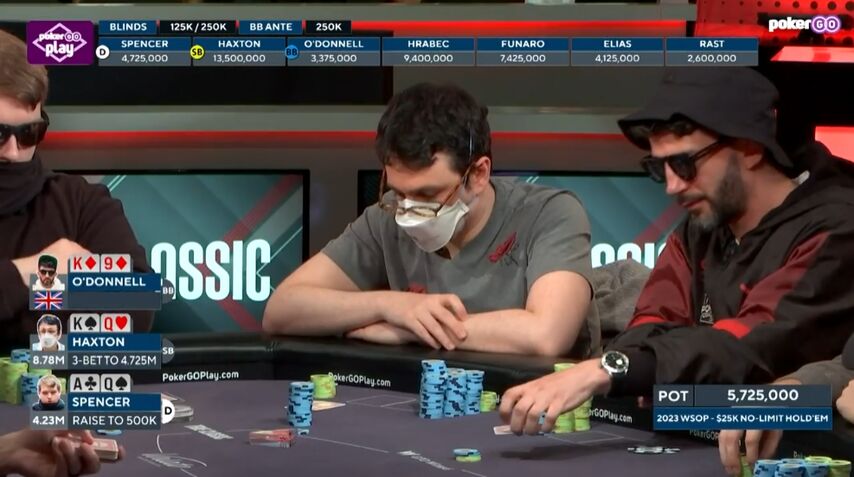 The e-sportsman then called all-in Brian Rast and eliminated the five-bracelet winner in 7th place.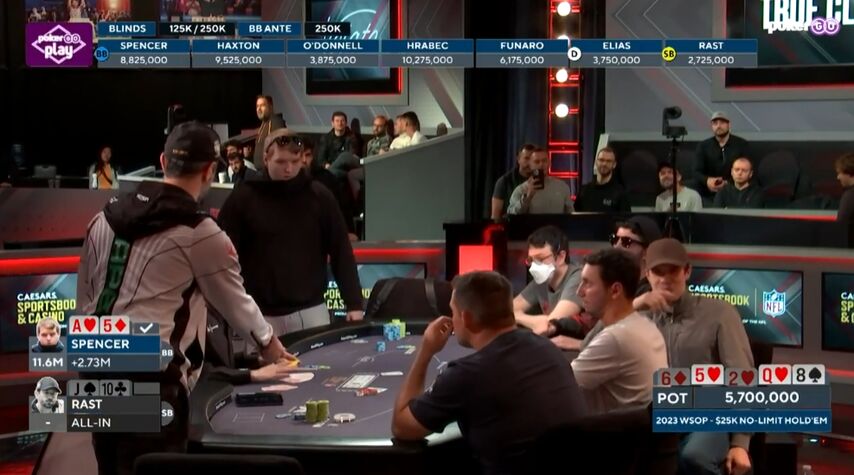 He soon checked to the river with top pair and waited for a cooler against the rising star Funaro.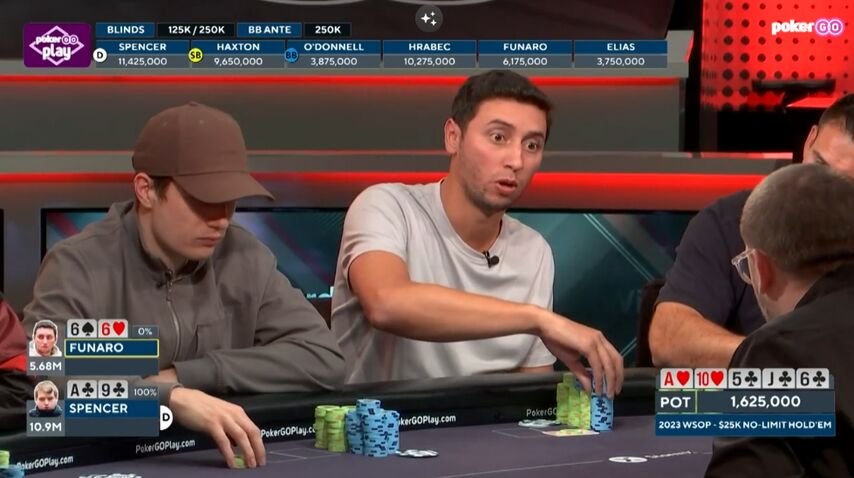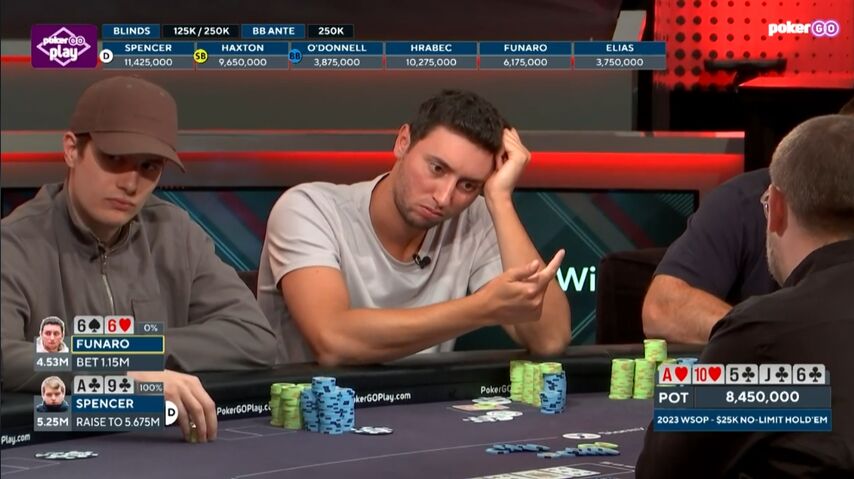 Funaro still managed to find a fold.
O'Donnell doubled up against Hrabec all in preflop.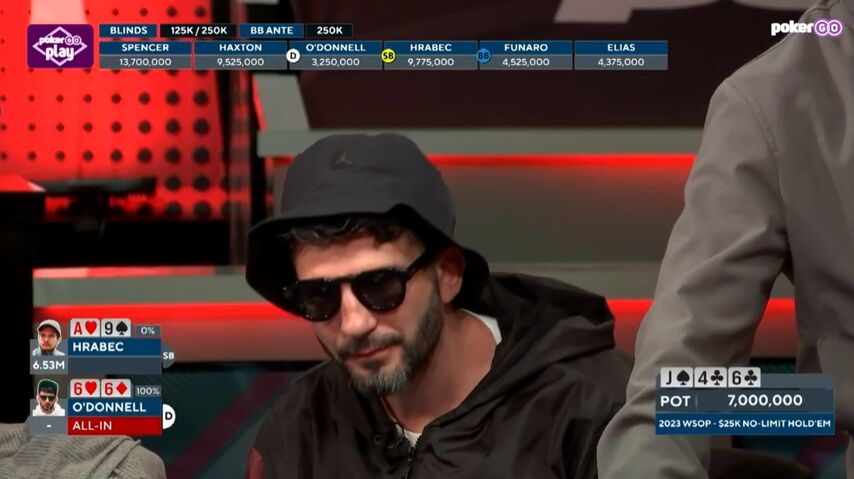 And Hrabec went against Haxton.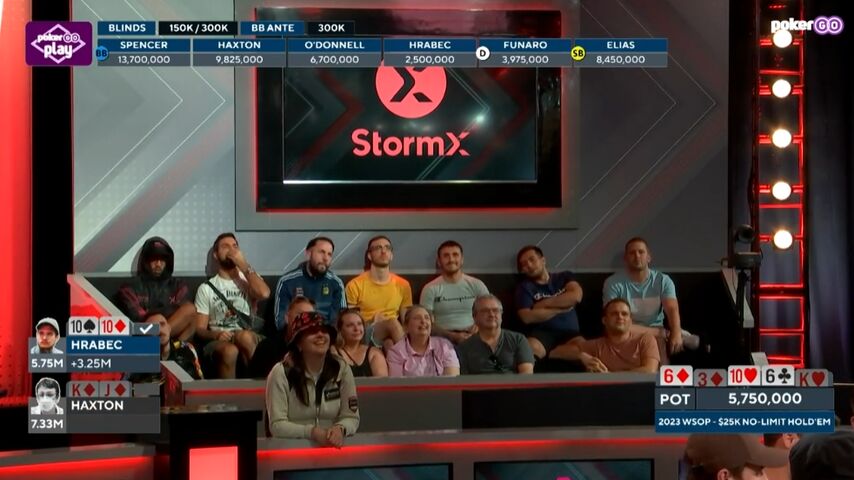 At the start of the second hour of play, Funaro defended the big blind against the chip leader and risked his stack on the flop.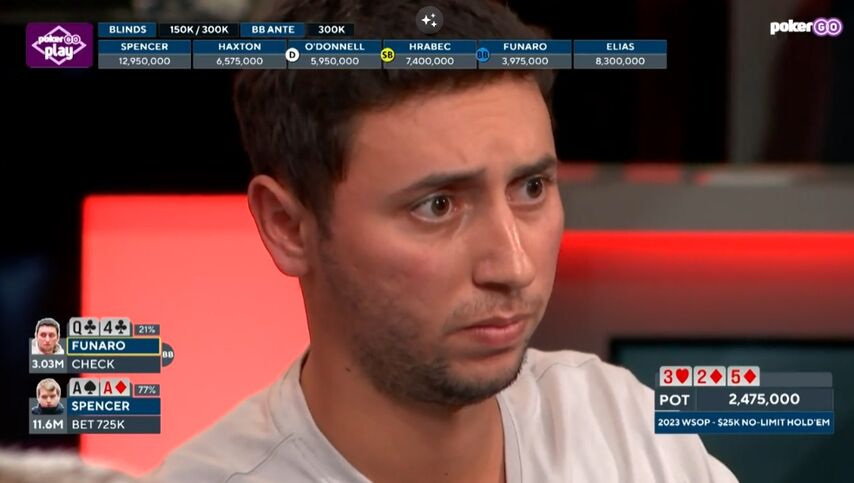 Spencer instantly called and eliminated his opponent in 5th place.
As the big chip leader, he tried to put pressure on the table with an all-in push from the button, but this only resulted in another Brit taking the lead.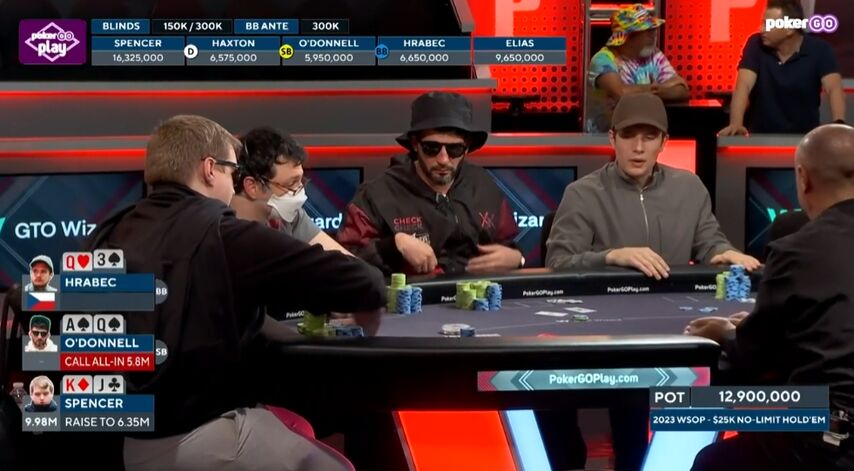 This harsh cooler sent Roman Hrabec out.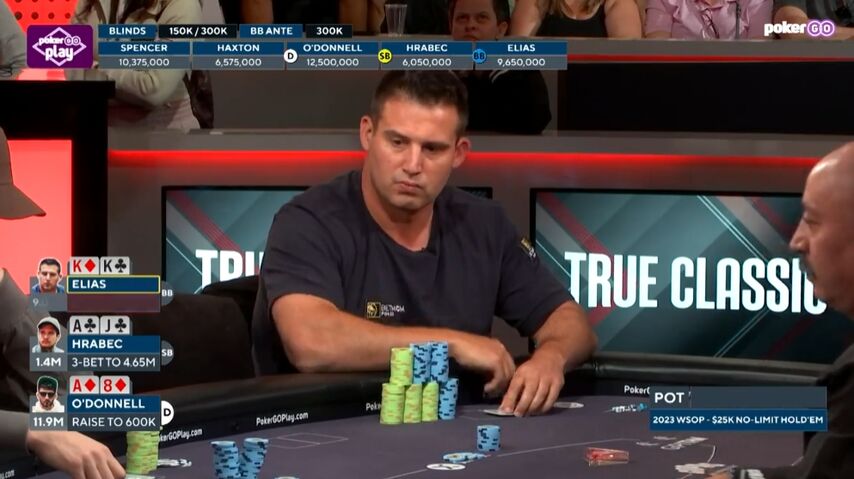 Stacks in top 4:
Darren Elias – 16,300,000
Ryan O'Donnell – 11,900,000
Lewis Spencer – 10,375,000
Isaac Haxton – 6,575,000
Ike defended the blind against the blind and raised on the flop.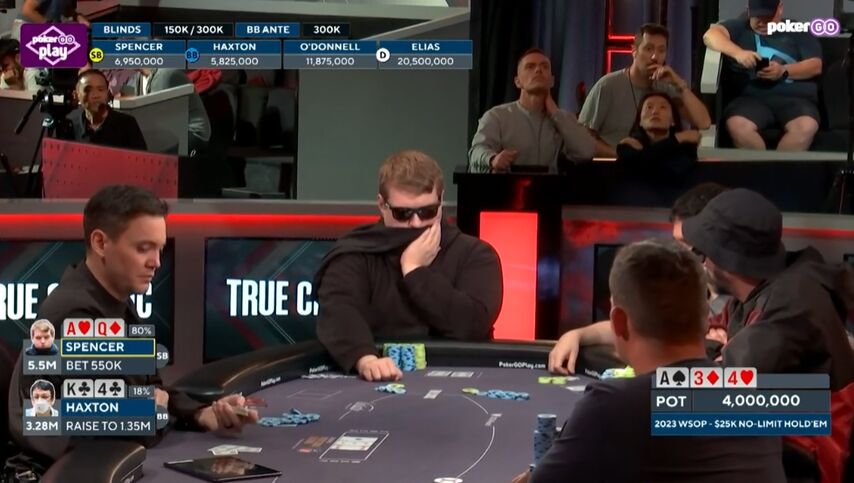 It was called, Isaac slowed down on the turn and called the 3,275,000 bet on the river.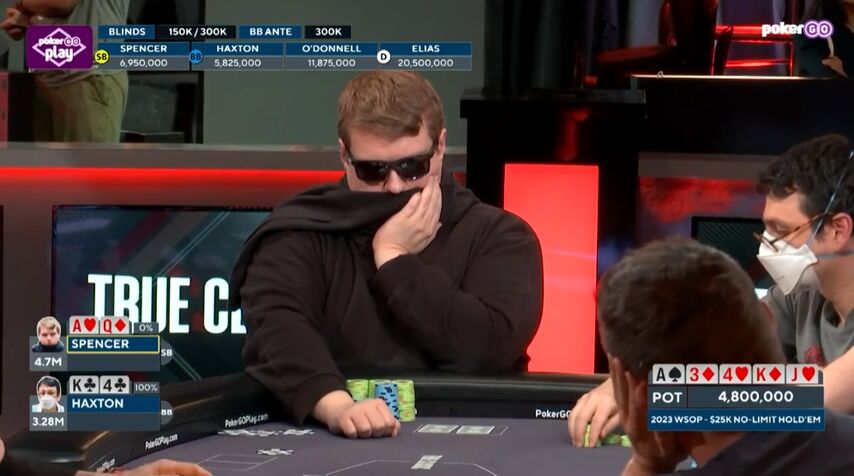 Spencer had only five blinds left after this hand, and he was soon eliminated in 4th place.
Haxton, having received a new life, somewhat perked up. Limping from the small blind, he made a small bet on the flop and overbet two pots on the turn against O'Donnell.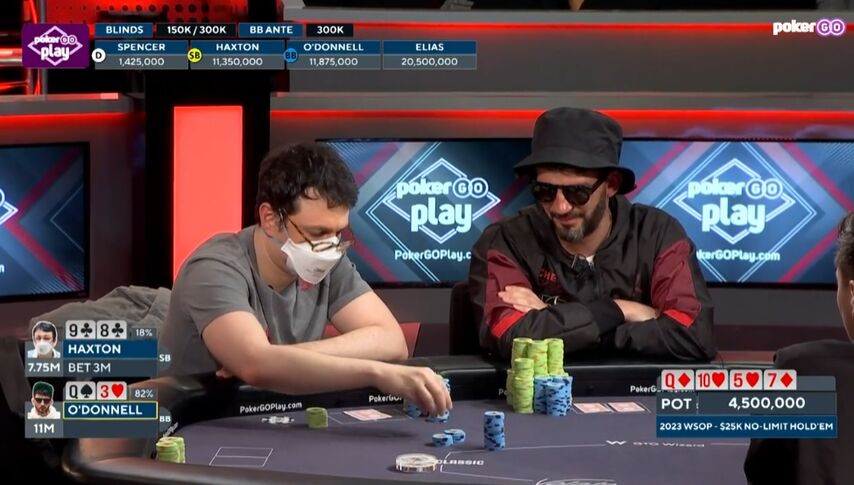 And the opponent folded top pair.
And then Ike shoved for about 30 blinds against Elias. Thinking, the opponent called.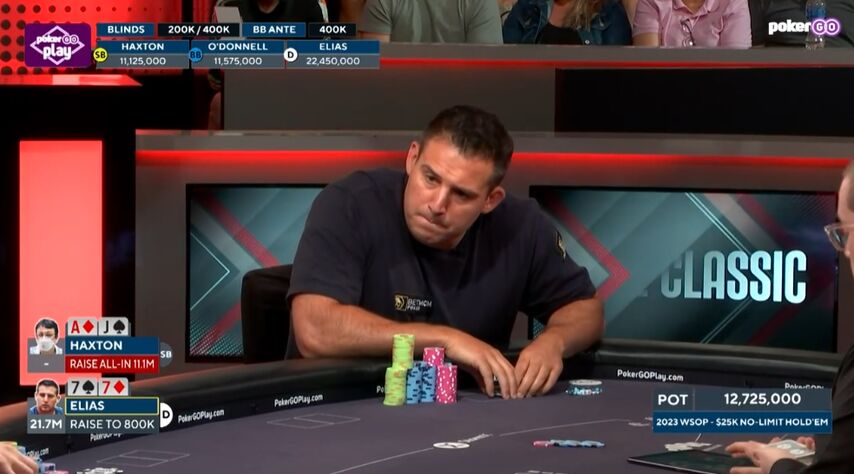 The flop showed both an ace and a jack, and Haxton regained a long-lost lead. But the road to the bracelet is rarely smooth.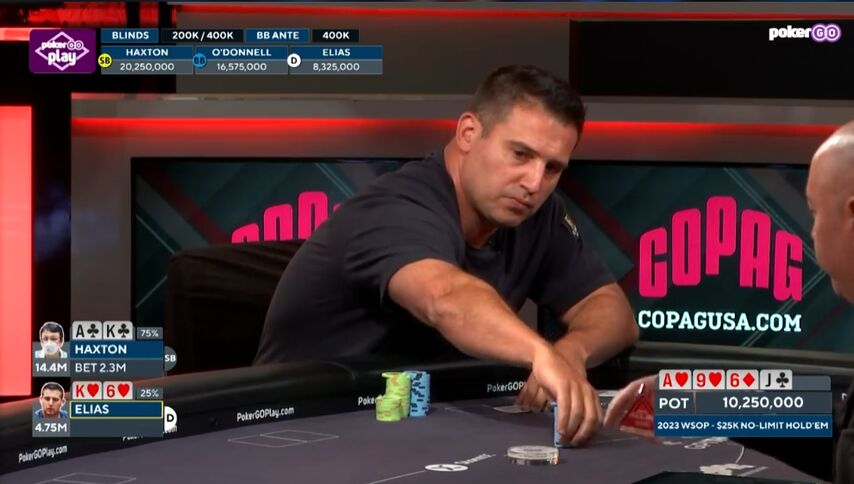 In this hand, Elias called a 3-bet and a c-bet, but on the turn, he decided not to tempt fate and shoved over his opponent's bet. And the river was a six!
A few minutes later Ike called all-in to the opponent's raise...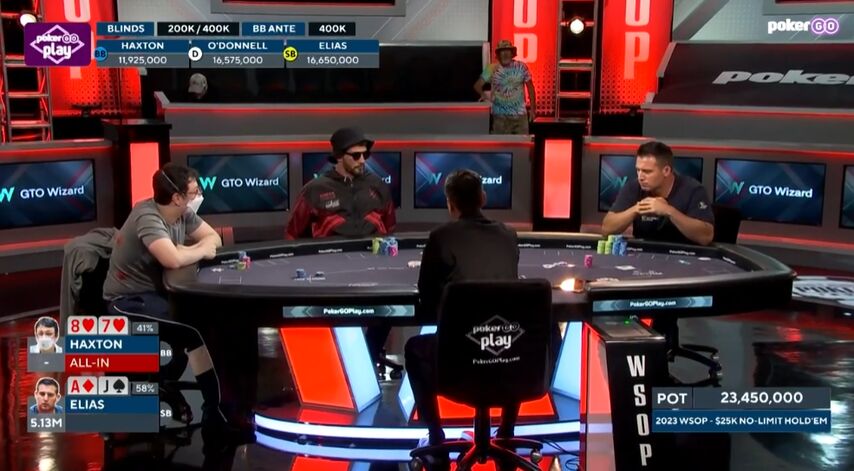 ...and caught a seven on the turn!
Left a few minutes later with a stack of fewer than five blinds, Elias doubled up twice and got a chance to double down for a third time in the next hand: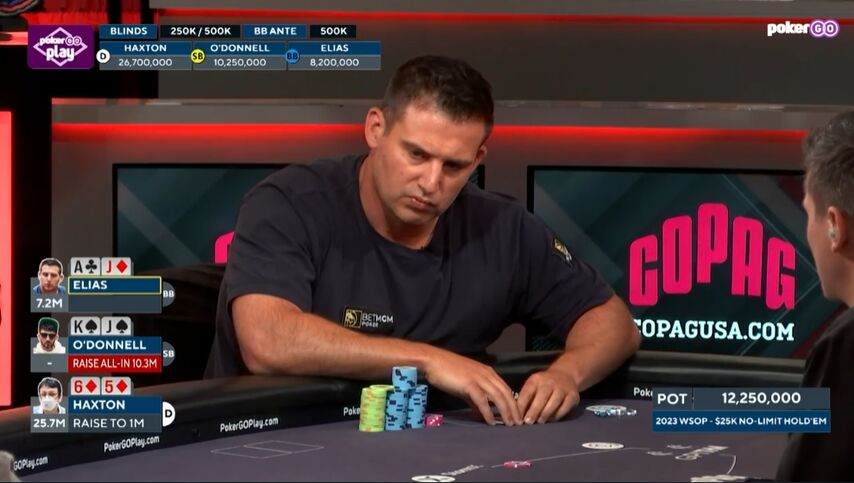 However, his opponent made a straight on the river, and Darren had to settle for 3rd place.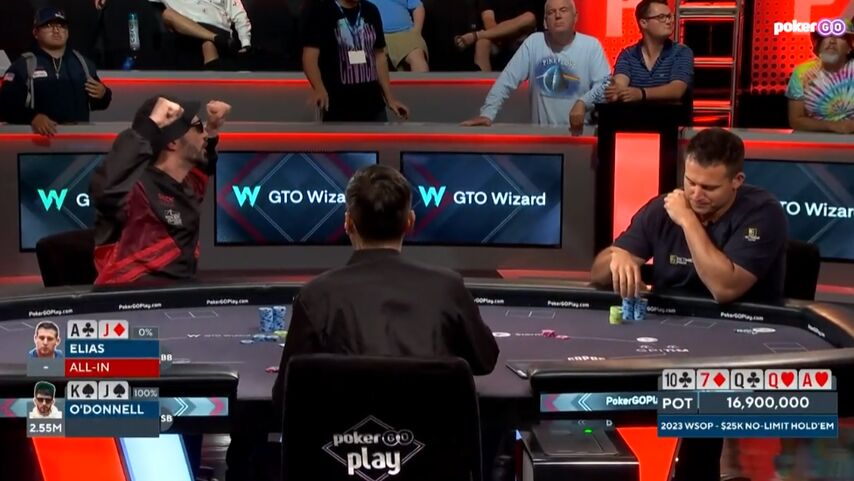 Heads-up stacks: Haxton – 25,700,000, O'Donnell – 19,450,000.
The duel for the bracelet (the money was chopped, the exact conditions are unknown to us, but the players definitely agreed) was an equal fight. This may seem strange, because the recognized top player was up against, according to the tournament database, by an outright amateur who occasionally plays £300 tournaments. However, O'Donnell, of course, is not an amateur at all, but rather a well-known spin specialist, grinder, and author of training courses, who plays on Stars under the nickname MOCA CHOCA89.
In the next hand, Haxton limped QTo, the opponent raised with 92o, and Haxton called. On the flop with top pair, O'Donnell bet, and slowed down on the blank turn, thus luring the opponent's bluff.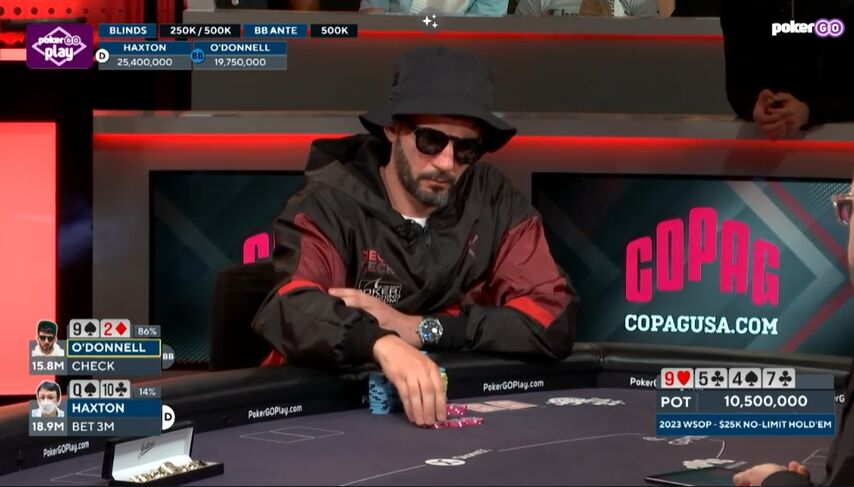 Unfortunately for the Brit, the queen of clubs fell on the river. He checked and folded to the all-in of Haxton, leaving himself with 12.8 million chips.
In the following hands, Isaac was dealt aces first, then queens. He did not receive an action. Then the poker gods remembered that both players had to get a strong hand for an all-in, and in the third hand, Haxton got AJo, and O'Donnell – ATo. The Brit limp-called a shoving and...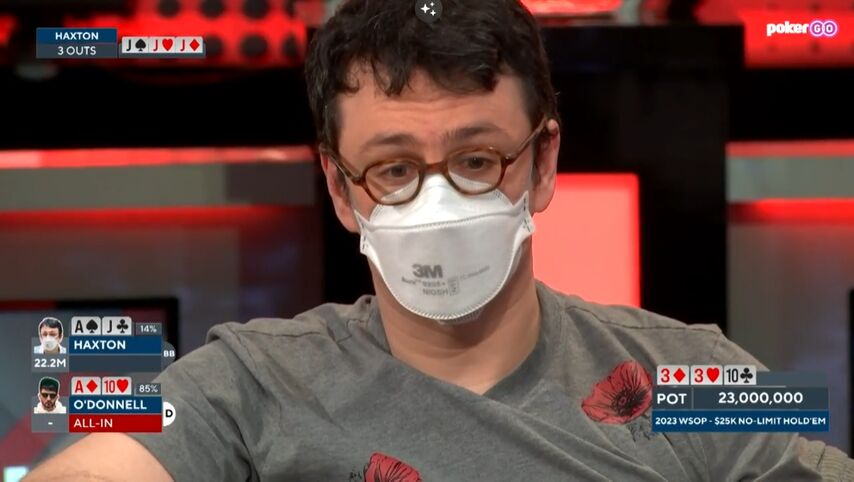 A little drama!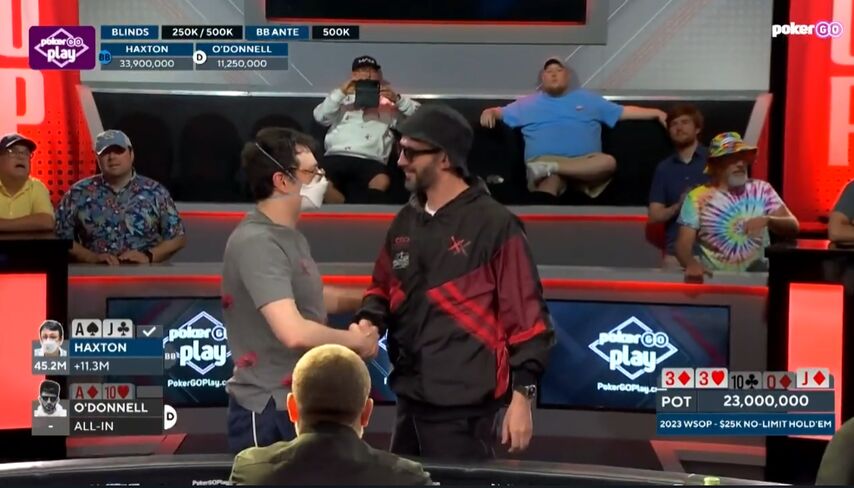 Isaac Haxton wins the first bracelet!
– "Difficult table. Everyone played aggressively, I had to adapt and respond with counter-aggression. Several times I exhibited below. Some all-ins I lost, some I won. Well, that's all ..." – he said in an interview after the end of the tournament.
Prior to this trip, Isaac was second in prize money won in 2023.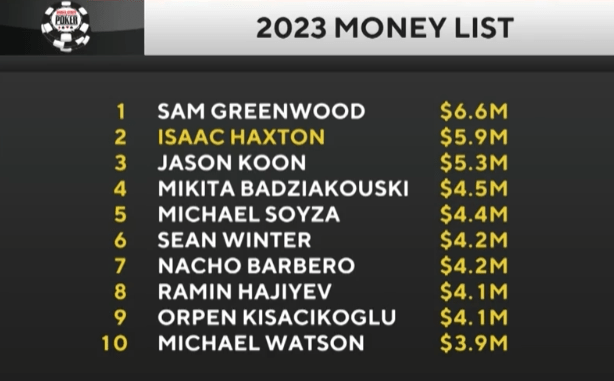 Victories at the PCA, in Monte Carlo, and now at the World Series – the year is going to be just wonderful for him!