– Two people came to you for advice (both of them have no experience in investments). The first has $50k, the second has $500k. Both want to make the maximum profit in five years. What would you advise them, and will your recommendations differ for them?
– First, I would ask what they are generally interested in. This is what I usually advise you to do, and invest in yourself. There are multimillionaires in every field. So the most important question is what exactly do you want? If this option is out of reach, then with $50k I would risk as much as possible. This amount is much easier to accumulate than $500k. Most of the money I would invest in small venture capital companies that seek to solve big problems.
– Do you plan to resume streaming on the Thirst Lounge channel? It's really cool that so many of your players have had great success going forward. Do you feel fatherly pride in them? ( ed. – Bill's project, within its framework he streamed a high stakes game directly from the yacht. When Bill lost interest in streaming, other players began to appear on the channel. For example, it was there that the streamer Ebony Kenney began her career, who recently took 5th place in the $200k Triton tournament ).
It was a great experiment that the audience liked. But in order for it to be of any value to the audience, you need to give it time, which I don't have. Perhaps I would revive it if I found the right person with experience in this area. But the problem is that such people, as a rule, already have their own channels, social networks and a promoted brand.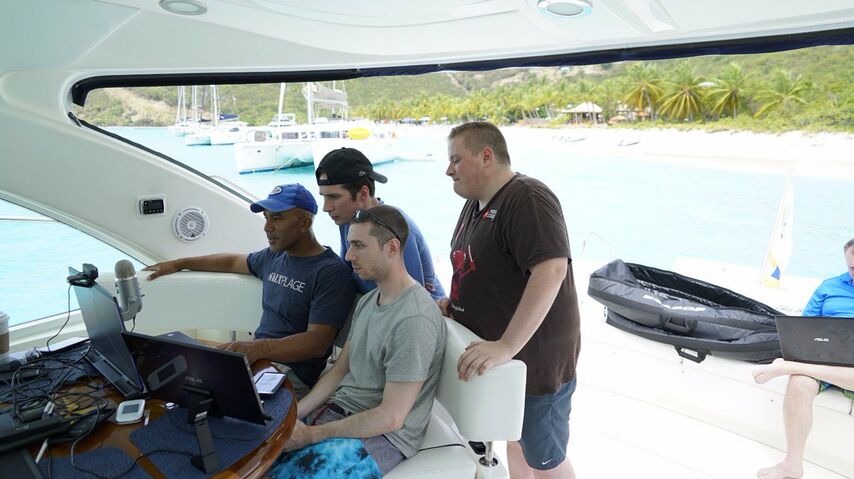 – What skills of a professional poker player can be useful in business and investing? I have a small six-figure profit in poker, but two years ago I started studying economics, got into investing, and the results are bad. I will be glad to hear any advice.
– Such a result is expected. The information in poker and business is different, but the process is similar. Those who work more than others and think rationally win.
– I really liked your participation in the show The Big Game. Was your conflict with Helmuth there simulated or real?
– Real, but a little exaggerated for the sake of TV. Everyone knows Phil's ego, and I like to put people like that in their place. The outbursts are fiery. In fact, Phil is a good guy who learns from his mistakes, like the rest of us. Our argument before the start of the show did not get on the air, which set the appropriate mood.
– How much money did you lose to professionals before you were invited to the show?
– Six figures.
Are you planning to write a new book? Maybe about poker? You must have a lot of great stories.
– They approached me to take on the continuation of the first book ( ed. – Bill is the author of the book Die With Zero, in which he promotes the rejection of hoarding – all the money you earn must be converted into unforgettable memories during your lifetime ), but this is very difficult and time consuming. Therefore, I have great respect for authors who write series of books. Maybe I'll come back to this idea in a few years, when I have more free time.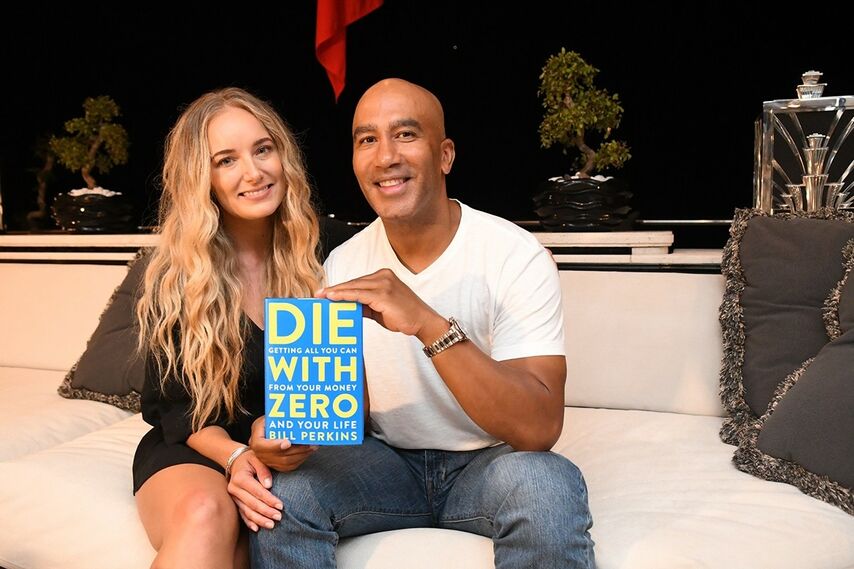 Are you interested in entering a professional player in 12 $365 tournaments in Dallas? It will require $4,380 from you, but the expectation is more than 1,000%.
– Not really 😁
– Tell us a couple of your craziest poker stories.
– They will not pass any censorship, it was a heads-up against Dan Bilzerian in the company of escorts. I think it's obvious to everyone that the stories are completely wild and insanely funny.
– Investment problem. You need to choose who to invest $1 million in. The first option is three professionals who have $400,000 in total plus for the past year. The second is ten players who have just started playing online, but are working together on the game and have been sitting in solvers for the last three years.
– I will choose the second option. Poker is constantly evolving, players who get new information before the rest will tear. And we study GTO in order to better exploit.
– How did you prepare for the match with Landon Tice? Did you feel sorry for him? How did this match go?
Landon challenged me on Twitter, I accepted. I prepared in the Hybrid Poker application, and it was a non-stop grind – we play, we analyze hands, we work on theory.
I didn't feel sorry for him, almost all the money he invested was from backers. Moreover, I gave a freeroll to his father ( ed. – if Landon had won, his father would have received $5k ). I began to feel sorry for him later, when the trolls attacked him because of the defeat. Most people underestimate me and do not understand that with a serious attitude, I will quickly show tangible progress in the game. Our match was perceived as if he had to take candy from a child. But in heads-up with me, no opponent will have such an advantage 😁 And it's not that I'm some kind of poker genius, it's just that modern software is too good.'
– If you and Bilzerian start from scratch, who will earn $1 million faster? What strategy will you follow?
– Naturally, I would. I have done this many times since I went through bankruptcy several times. I'd get into trading. If this opportunity did not exist, I would organize some kind of business in the service sector in a wealthy area. You will be surprised how much money you can earn in parking lots or pizzerias 😁
– Favorite book?
– The Four Agreements by Miguel Ruiz.
– Favorite movie?
– Blade Runner by Ridley Scott.
– Favorite alcoholic drink?
– Amarone wine, but I'm not a big drinker. At the bar, I would have a couple of glasses of tequila or Johnnie Walker Blue whiskey!
– Favorite vacation spot?
– Island of St. Barthélemy or the Virgin Islands.
Who would win in a fist fight between you and Bilzerian?
– Dan would win, he has practiced MMA, and I'm already 53! But he didn't have an easy life.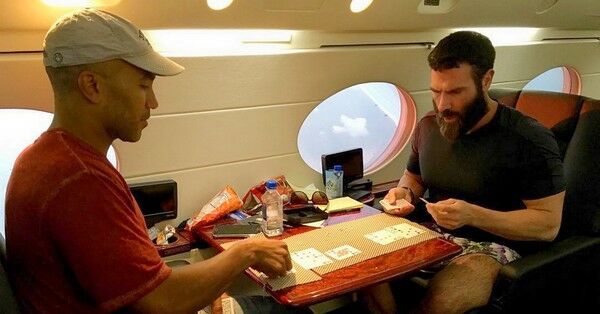 – Tell us about the most memorable bets.
– I remember the simplest ones – for the number of push-ups or a race in cowboy boots. I especially remember the bet with a guy who was supposed to quit smoking for six months, but smoked his first cigarette after 30 minutes. Madness.
– What advice would you give to a person who wants to invest $500k?
Interest rates and yields are rising, so it's pretty easy to get a steady 8% return on a "relatively safe" investment right now. It seems to me that the long-term return of the stock market is about 7.9, I would look in this direction. But do not listen to me, as I am a specialist in raw materials!
– If you could change one thing in your life, what would it be?
All the decisions I made in anger. But since I have to choose only one thing – I would forgive my father and let go of the past when I was 21 years old. This would allow me to improve much sooner and avoid angry reactions later.
– When did you start playing poker?
– At 21, when I worked as a clerk. Gambling was part of the culture of traders, and I plunged into it without understanding anything.
– What do you think about artificial intelligence in poker and in life?
– It helps to reveal secret knowledge. On the one hand, scammers use it, but it is also a great tool for learning. In chess, the computer is invincible, but their popularity is only growing. So I'm optimistic. Many people think that only top players use the software, but it is also a great option for beginners and contributes to the popularization of the game.
– Your game has definitely improved in recent years. How did you manage that?
– One day I woke up with the thought "fuck, how much money have I lost, it's time to do something." After that, he hired coaches – Matt Boyd and Matthew Gonzales. At my request, they wrote the software by which I master the theory. It will soon be available to everyone.
– In your entire career in poker, are you in plus or minus?
– Taking into account all the tournaments and cash – in the red. But soon this will change, since Perkins of six years ago I would simply destroy. At the same time, I will not hide the fact that on TV I like to play the fool.
How did you deal with racism when you started your trading career?
– The exchange in those years was saturated with racism, intolerance and sexism. I just focused on work to become indispensable. Of course, you could complain, but it would only hurt my career. So I certainly would not change the views of the people that they imbibed with mother's milk. But becoming the best employee in the history of the company, could make them question their ideas. My motives for working there were purely selfish – I wanted to get rich.
I call this the Jackie Robinson approach . Be so good that racism will fade into the background. They are only interested in the money that I bring them.
I'm not saying this is the optimal approach, but it worked in my case. I was not going to become a victim of circumstances and wanted to be responsible for my mistakes (and there were many). Many of my most hard-nosed antagonists have already gone bankrupt. Perhaps now their views on the ability of blacks have changed thanks to me. Or maybe not.