Mike Brady: We are glad to welcome you to our show, dear poker fans! Let's take it to the next level. My name is Mike Brady, and I have a very special guest with me today: four-time World Poker Tour major bracelet winner and live big field final boss Darren Elias. He'll share tips and key adjustments that are relevant in large-field tournaments like the World Series Main Event. It doesn't matter whether you play live MTT regularly or occasionally, I advise you to watch our conversation to the end!
Along with his old friend Nick Petrangelo, Darren recently released the Road to Victory tournament course, which focuses on fighting real, live opponents online and live.
Darren, how is your course different from others?
Darren Elias: Of course, you can't do it without diving into complex theory, which Nick will help you understand. But in general, especially in the part of the course that I am responsible for, it is about the practical application of strategic concepts against real opponents that you will meet at the tables. In my opinion, this is the most important thing.
Many mid- and low-stakes players simply have no place to apply deep theoretical concepts. So instead of polishing the theory, I figure out what to do with a person who plays with a VPIP of 60% and limps almost every hand.
MB: Yes, in low buy-in tournaments or freerolls there are definitely a lot of such opponents.
Your course follows all stages of the tournament: starting with the early stage, followed by the middle stage, bubble, small prizes, final table, and heads-up. I suggest going through these points.
Early stage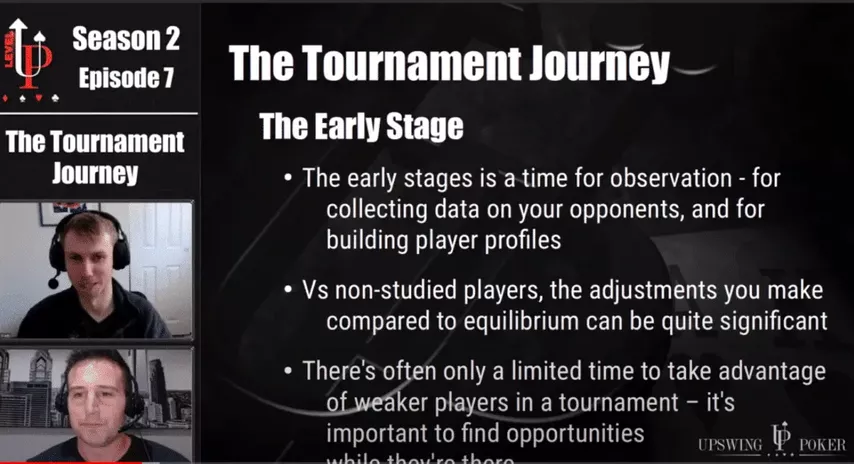 MB: What can you advise for the first levels of larger field events, when the stacks are deep and there are many weak amateurs among your opponents?
DE: This is the time to watch your opponents closely. Collect information and begin to mentally draw up portraits of your opponents. Watch their behavior patterns, sizing, and look for tells. Once you have an idea of ​​their game, think about the most beneficial adjustments. Considering that we have to play with players who do not know the theory, in depth, sometimes reaching several hundred blinds, our ranges should differ from the basic ones.
As part of the course, I have prepared several quite interesting charts that will help you deal most effectively with limped multi-pots and with players who show off the strength of their hand by the size of their preflop raise.
MB: When I watched your first videos, I noticed the range of the button versus a limp or two limps, and I was shocked by how much you suggest to call in such spots. I especially remember a hand where you over-limped with 97o, and then successfully used a completely wild line...
DE: My ranges may surprise players coming from online who are used to strong opponents, but live in larger field tournaments we can get into pots much wider. I think many will agree with me.
People who limp wide with a few hundred blinds deep will make a lot of mistakes post-flop, and in position, we can show profits with many hands.
It is important to understand that these are players – a non-renewable and finite resource. Playing deep against weak and loose amateurs doesn't last very long, so you shouldn't miss a single opportunity to end up in a pot with them. Personally, I was always ready to go against them for the range, whether it was an over limp or an isolating raise.
Middle stage
MB: After the end of the re-entry period, approximately half of those who started remain at the tables. What advice can you give at this stage?
DE: Pay special attention to your play around the button. Many people experience discomfort due to wide ranges. When we open from the cutoff or button or defend the big blind, we play 40-60% of hands. And these are very common situations, especially BB defense. They need to be dealt with well.
I give a few examples of hands I've played and discuss hypothetical situations, how to play against late position opens when we're in the small or big blind, and how to adjust against different types of opponents. Some people like to re-bluff, while others (especially tight players) approach these situations carefully and do not try to put pressure on their opponents.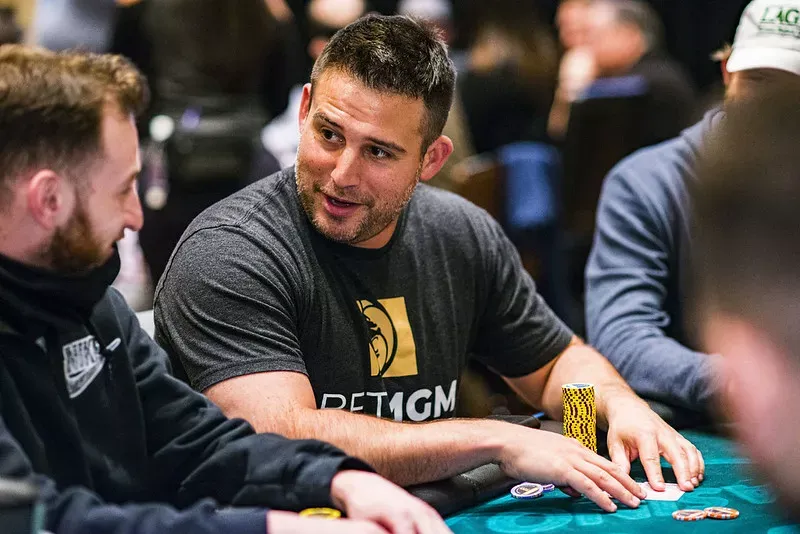 MB: Maybe you can give a couple of examples?
DE: First of all, you need to look at the sizing and features of your opponent. Does he always use the same sizing? Does he like to attack post-flop or not? There is a good example in the course where I have 97s in the small blind and the button raises. In the middle stage of the tournament, maybe the second day of the larger events, re-entry is already closed. Our lines against different types of opponents will be completely different.
MB: You divide opponents into five types: tough pro, tight pro, loose pro, loose amateur, and tight amateur. When we have 97s, how will the play be different against, say, a tight pro and a loose amateur?
DE: I usually won't 3-bet a tight pro in this spot. He will open about 40% of hands and will have a good idea of ​​what to do with them to 3-bet. Yes, maybe his calling range will be a little tighter than necessary, but he certainly won't overfold too much and will play competently post-flop.
Ask yourself, is this a good spot to attack? Do we want to run the pot against a tight player? Or is it better to call, knowing that his main problem post-flop is under bluffing and, therefore, lack of aggression. Personally, I will always prefer calling.
But a loose amateur will open not 55%, but 70-75%, and the hands with which he expands the opening range will never call a 3-bet in normal depth. Such opponents can and should be attacked.
Bubble
MB: Okay, now on to the really fun or really bad part of the tournament, depending on your stack. In the course, you divide the bubble into "soft" and "hard". What is the difference between them?
DE: A soft bubble for me starts when there are twice as many players left in a tournament as there are prizes: let's say 20 money spots for 40 people. From this point on, I begin to adjust my decisions based on ICM and appreciate my tournament life.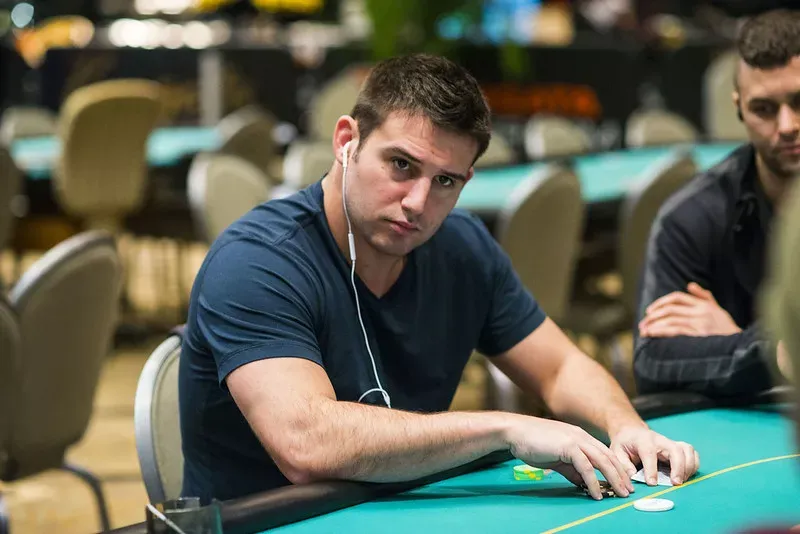 Hard bubble is a stage where hand-for-hand is played. Depending on the tournament, this could be either a direct bubble or 3-4 people to the money, but in any case, the money can start literally from the next hand.
You can draw parallels between the hard bubble and the final table bubble. We must at all costs avoid situations where we can be put under unbearable pressure post-flop. First of all, this is achieved by narrowing ranges preflop, as well as calmer post-flop against players with stacks larger than ours.
On the other hand, when our stack is larger, we must step up and put pressure on opponents who are not narrowing their opening and defending ranges. Our own ranges become extremely dynamic at this stage.
MB: Let's illustrate this with the same example with 97s. How will your play in the small blind change against a raise from the button when 1) you are a short stack and he is a big stack, 2) the raiser has a medium stack and you have the same or more?
DE: At this stage, stack size is much more important than opponent type. When I have 20bb, I will easily fold 97s on the bubble, because post-flop I need to catch at least two pairs, and bluffing out of position in such a situation is very unpleasant. But if a loose pro opens with a stack of 50bb, and I have 100bb, this is an excellent spot to attack: put a 3-bet and start putting pressure.
Early in the Money
MB: We went through the bubble and secured some money. What to do next?
DE: This is a very interesting stage. Often, after going through the bubble in the game, there are many people left with short and ultra-short stacks who were basically sitting out. Look around and you will see how happy the guys with stacks of 8, 10, and 12 blinds are. Mentally they are already all-in. Therefore, when you get 65s in middle position, you probably shouldn't raise with that. Unlike the early stage, now they will calmly push some KQo. Based on this, we will have to rebuild the raising and stackoff ranges. At this stage, people stack quite willingly, so if we get premium hands, we can quickly build up a very decent stack.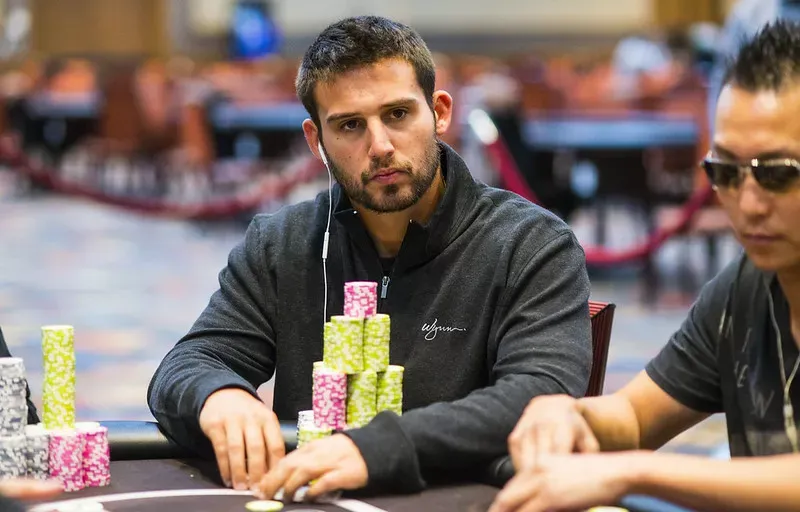 I'm personally not a fan of stalling, but when players start to get eliminated quickly, you'll see some of your neighbors start stalling to move up the prize ladder.
Late stage, ICM
MB: There are only a few tables left in the game, things are getting serious. Emotions begin to affect decisions, especially when there is a lot of money at stake. What do you recommend paying attention to?
DE: This is obviously a critical stage of the tournament. In the course, we tell you how important it is to have a complete picture of the tournament dynamics before your eyes – not only at your table but also at everyone else.
Try to evaluate your neighbors' emotions first. In big tournaments, players with no experience often make it to the late stages and are glad to have made it this far. They have never had results like this and they are not used to playing tournaments with such a high buy-in.
Also at the table, there will be professionals focused on winning, ready to fight for every chip, and there will be other professionals who usually play at a lower level, but here they are hanging out, holding back and thinking only about survival. It is extremely important to sort everyone into categories, to classify each opponent.
Now let's look at other tables. Let's compare the strength of the game and the stacks of those sitting behind them compared to ours. Are there weak players with big stacks? Do we need to change our game?
MB: In short, you advise collecting as much information as possible that will influence your decisions and adjustments. This is important in all types of poker, but especially in tournaments.
If our table is more difficult than the others, I guess we need to play a little more carefully in order to survive it and eventually move on to another table.
DE: Well, yes. When there are 2-3 tables in the game and we are unlucky with the company, I would shy away from any variance decisions and not play unnecessary big pots, knowing that in the future, after the redraw, I will have much more profitable situations.
If there are two tables in the game, at which 17 Nick Petrangelos are sitting, then, of course, we play the base, according to the charts, because everyone will have the correct ranges. But usually, this is not the case at all. The level of the field is very uneven, and reads on our opponents should force us to rethink our strategy.
MB: I think the habit of seeing not only your table, but the entire tournament in general will be useful to you in any case, even if you are not too savvy in theory and will not buy Darren and Nick's course. It is better not to skip this step when choosing a solution.
Final table
MB: Hundreds, if not thousands of opponents have fallen, and here we are at the final table!
DE: The final table is somewhat similar to the deep ITM stage. It is important to continue to closely monitor your opponents and their emotions. Keep an especially close eye on recreational players. Among them there will be those who sit on every pay jump, and those who lose their heads and start going crazy, not paying attention to ICM.
Nick appears frequently in this part of the course and I consider him one of the best ICM experts in the world.
Pay jumps affect not only pre-flop, but also post-flop. However, don't forget to ask yourself if your opponents understand this! After all, if they don't adapt to ICM, yours will also have to play differently.
MB: How does the influence of ICM change as players are eliminated in the final table? Say, from nine players to five or three?
DE: The powerful influence of ICM begins even when there are 12-13 people in the game – two short tables with aggressive chip leaders. The strategy is largely determined by the seating and stack sizes.
The initial stage of the final table is practically a new game: a full table, a new seating... Quite often at this moment, I see an incredibly tight game: there are a lot of short stacks, and each doubling can completely change the strategy. The situation will change with each flight, but it is difficult to give universal advice because each final is unique in its own way.
Heads-up
MB: We've reached heads-up, and only one opponent separates us from the lion's share of the prize money...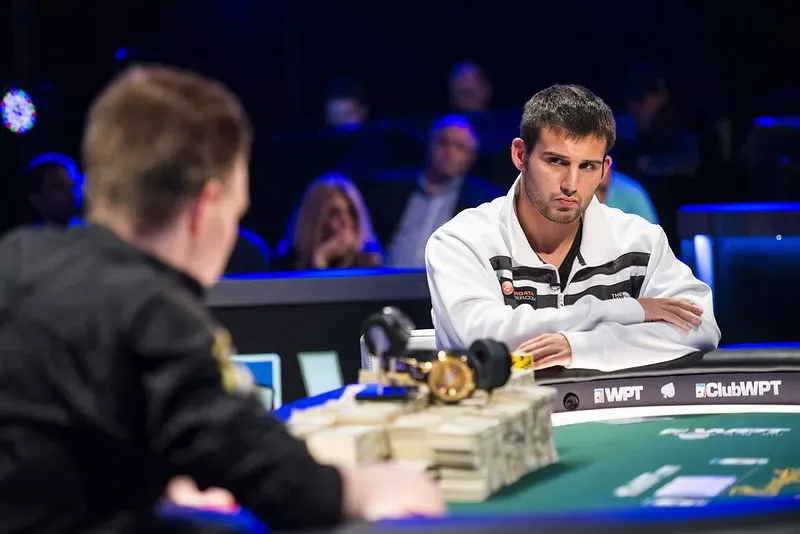 DE: In the larger fields you could be up against anyone, from a top professional to a casual amateur who has never played heads-up. Therefore, you need to start with the question, do I have an advantage, and if so, what is it? If there is an advantage, it is better not to accelerate the variance.
A lot depends on the stacks. With 15-20 blinds you won't often be able to avoid risk, but at decent depth your hands are free. Against a weaker opponent, you need to increase the number of decisions made by both players, because the more there are, the more noticeable the difference in class will be.
In modern tournaments with a fashionable structure, when the ante is placed in the big blind, 100% of hands can be played from the button. At least that's what the theory says. Of course, this is a limping strategy.
When we raise 2.5bb, the big blind gets excellent pot odds thanks to the ante. However, if he only knows the correct range for a normal heads-up hand, he will overfold heavily, and with a bunch of garbage hands, it will be more profitable for us to raise rather than limp. Some will find folds even to a min raise – and then the most attractive strategy will be a 100% min raise.