An introduction to WPT Global
WPT Global is the poker room introduced by an iconic brand in poker, the World Poker Tour. As a result of their broadcasted tournaments, commentated by Mike Sexton and Vince Van Patten, the World Poker Tour is largely responsible for bringing poker to the masses and inspiring the next generation of poker players. With its latest offering, the World Poker Tour has set its sights on establishing a reliable online environment that caters to all, whether that be someone completely new to poker or someone that would consider themselves a veteran of the game.
This WPT Global review will highlight:
The range of incentives accessible to new customers including rakeback
The plethora of tournaments and cash games
The features of both the desktop client and mobile application
The payment methods available
Are there any welcome & deposit bonuses for new players on WPT Global?
At the time of writing this review, WPT Global offers several incentives to new customers to join their platform. For instance, upon your first deposit, players will be given a free entry to their welcome event, which boasts an unconditional six-figure prize pool. What's more, new players will also be granted entry to a range of WPT Summer Festival tournaments. The entry you receive will be determined by your deposit.
For example:
Players who deposit between $10 and $149.99 will be awarded a $1 For $1M tournament ticket
Players who deposit between $150 and $1,499.99 will receive a $33 Mini Main Event tournament ticket with a $100,000 guaranteed prize pool
Players who deposit $1,500 or more will acquire a $330 Main Event tournament ticket with a $1,000,000 prize pool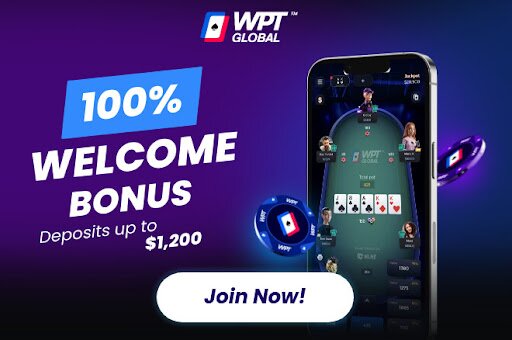 If that wasn't enough, this poker room will match100% of new customers' deposits at a maximum of $1,200, with players only required to deposit $20 to qualify. Customers receive this bonus $5 at a time, for every $20 accumulative contribution in rake, regardless of which format they decide to play. This equates to 25% in rakeback, however, it is important to note that once a player makes their first deposit, they have ninety days to unlock their full bonus. Once those ninety days have elapsed, any bonus that hasn't been cleared will no longer be available.
Which tournaments are available on WPT Global?
WPT Global provides a vast array of tournaments, with structures and buy-ins to meet your demands. Additionally, on top of the traditional No-Limit Hold'em freezeout and re-entry tournaments, WPT Global also includes the Bounty and Progressive Knock-Out formats that are currently increasingly in demand. In these tournaments, players have money credited into their accounts for eliminating another player.

However, most notably, WPT Global gives players the possibility of qualifying for the illustrious live poker tournaments that the World Poker Tour is famed for, but for a fraction of the price. For instance, while writing this review, there are step-satellites from as little as $5 that could lead to participants competing to become WPT World Champion at the Wynn in Las Vegas, with an unconditional $15,000.000 prize pool. In addition to entry to the $10,400 tournament, those fortunate to qualify through this route will be treated like a VIP with $2,000 in travel expenses paid for and will acquire WPT Global merchandise.
But, if playing with four cards is your preference, WPT Global also offers PLO, across a range of buy-ins and structures.
Is there a selection of cash games on WPT Global?
At this current moment in time, the cash games on WPT Global primarily focus on two-card formats, with Pot Limit Omaha yet to be introduced. That being said, the poker room offers cash games for a mixture of bankrolls, including games that allow customers to take part in bomb pots, and straddle, along with, Pace Poker which allows customers to be allocated to a different table once they have folded. 
Cash game players on WPT Global may also benefit from jackpots where players are rewarded for making certain hands, including four-of-a-kind, a straight flush, and a royal flush. While customers aren't able to have conversations with their competitors, there are interactive emojis, along with a collection of images that accompany your screen name, and table designs to choose from.
With regards to rake on regular No-Limit Hold'em formats, this varies depending on stakes, along with, the number of opponents sitting at the table at that current moment. This can be demonstrated by the information below: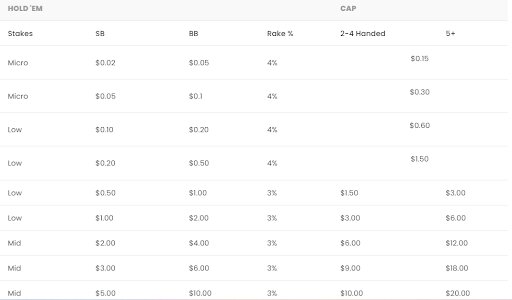 For all stakes above $5/10, including up to $10,000/$20,000, the rake is 3%, capped at $20 if the table only has 2-4 players, and capped at $30 if the table has 5 players or more.
Are there any important aspects of the desktop and mobile application that I should be aware of?
WPT Global, as the name suggests, is accessible across the world, and is supported in English, Spanish and Portuguese. What's more, the desktop and mobile applications are accessible to all Windows, Mac, iOS, and Android users. As of writing this review, free-to-play tables aren't available on WPT Global, and the real money games are played using a Chinese currency known as the Renminbi. With regards to Heads Up Displays (HUDs), namely, Hold'em Manager and Poker Tracker, they are prohibited, along with, third-party software such as Equilab. However, unlike other mobile applications, WPT Global can offer regulated online poker due to the licence they have been granted.
Which payment methods are permitted on WPT Global accept?
WPT Global gives customers a range of means to upload funds to their poker room based on their region. This includes but is not limited to:
Bank Transfer
Visa or Mastercard
Cryptocurrencies such as Bitcoin, Ethereum, and Litecoin
Luxon
Neteller
Skrill
Readers will be pleased to know that WPT Global doesn't charge their customers for making a withdrawal.
Does WPT Global require KYC & account verification?
Before making your first withdrawal, WPT Global, as a licensed operator, requires new customers to verify their account by providing the necessary documentation.
This includes:
Documentation that proves your identity such as a driving licence or passport
Documentation that provides confirmation of address such as a bill from a gas or electric supplier, or a statement from a ban
As long as all the submitted documentation is clear, complete, and in the correct format, WPT Global will aim to verify a player's account as soon as possible.