In Barcelona last Sunday, the EPT came to it's conclusion. The Main Event of the series was one for the record books, with the most total entries in the tours 18-year history. Participants made 2,294 entries (1,686 unique buy-ins and 608 re-entries). The record for unique entries was set in 2016, when the tournament was still held with a freezeout format (re-entries appeared in 2018). The Pole Sebastian Malec then beat 1,784 opponents .
Overview of the first half of the series:
Giuliano Bendinelli became the champion of the Main Event. The 31-year-old Italian has been participating in the largest European series for more than 10 years, but had previously showed modest results. His biggest cash so far was for €100,000 in the €1,000 Monte Carlo 2013 tournament.
In heads-up, he beat another regular of the European series – Jimmy Guerrero from France.
Spectators and commentators noted that the final stage of the tournament was held with a relaxed and friendly atmosphere, despite the huge pay jumps – the difference between the first and second places was especially impressive.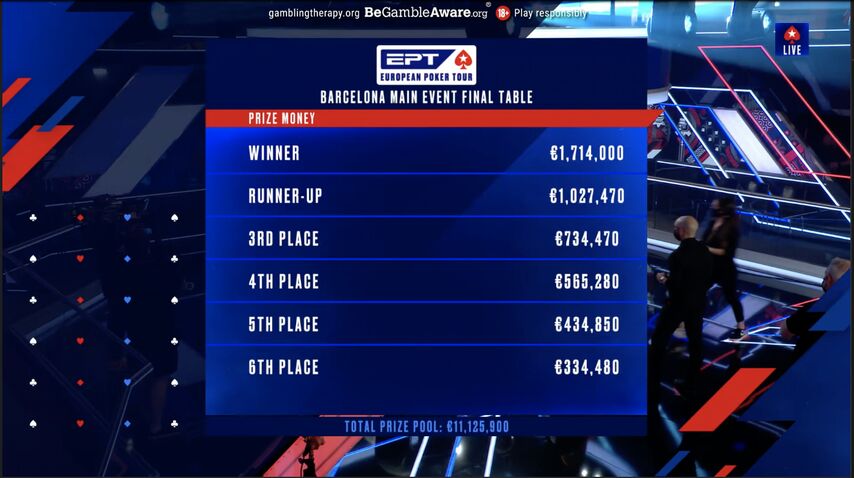 However, the final table of the tournament was not without some excitement.
On the final day, Guerrero came in with the shortest stack (20bb) with the other five players between 42 and 60 blinds.
By the first break, Patrik Yarosh from the Czech Republic was well ahead of his competitors.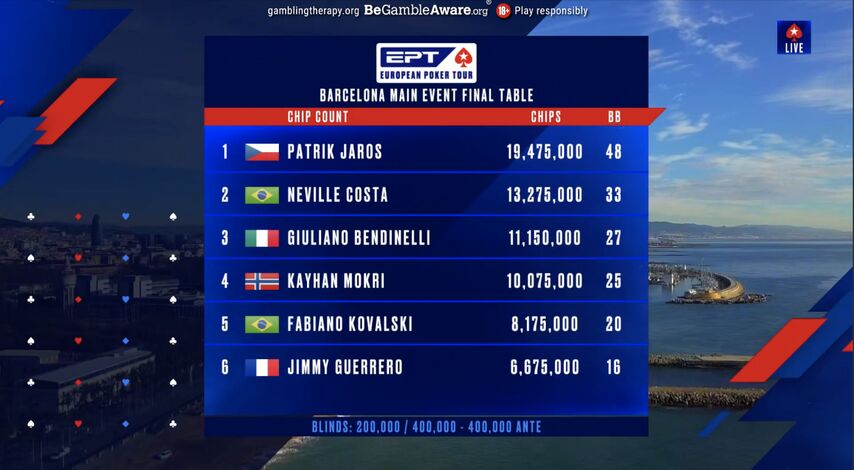 At the 200,000/400,000 level, Guerrero won several pots, drew even with Bendinelli, and then they ended up all in against each other for almost identical stacks with 23 big blinds each.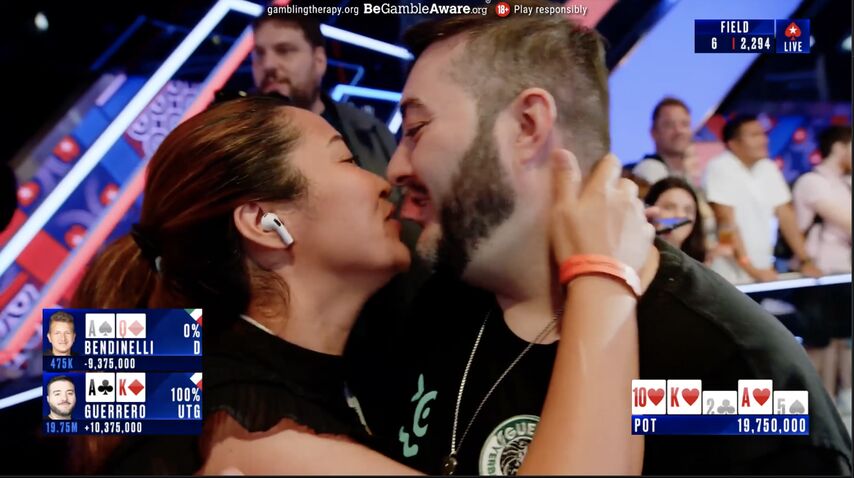 After this collision, Giuliano had 1 blind left, and Guerrero took the lead.
But Bendinelli immediately shoved A4, which turned out to be superior hand to both opponents, held his ground and tripled. A few hands later, he doubled to a comfortable 10 blinds with K8o against Norwegian Kaihan Mokri's AJs.
Mokri never recovered that blow and exited the tournament in 6th place.
Guerrero was a huge chip leader after this hand.
There were two Brazilians, and Italian and a Frenchman left in 4 handed – predictable madness ensued among the fans.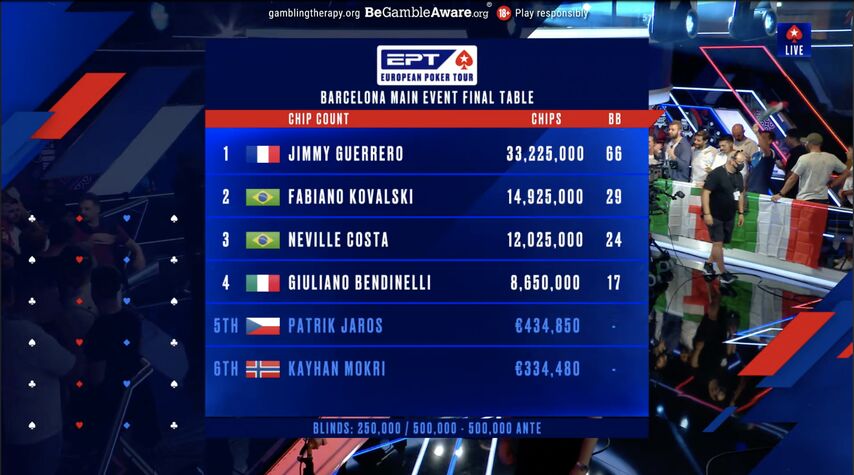 Bendinelli doubled again – this time against Costa – and continued his rise to the title.
The emotional Italian was so overjoyed that he jumped up to the embarrassed Brazilian for a hug, but quickly realized that this was not the best option.
Costa had 4 blinds left, but he first tripled (the hand was not included in the coverage), and then doubled with fives against the AQ of Guerrero. This helped him to outlast his compatriot Fabiano Kowalski.
After playing 3 handed for some time, the players asked to stop the clock to discuss a deal. The discussion at times resembled a circus. The initiator of the negotiations was Bendinelli, and throughout the discussion he spoke confidently.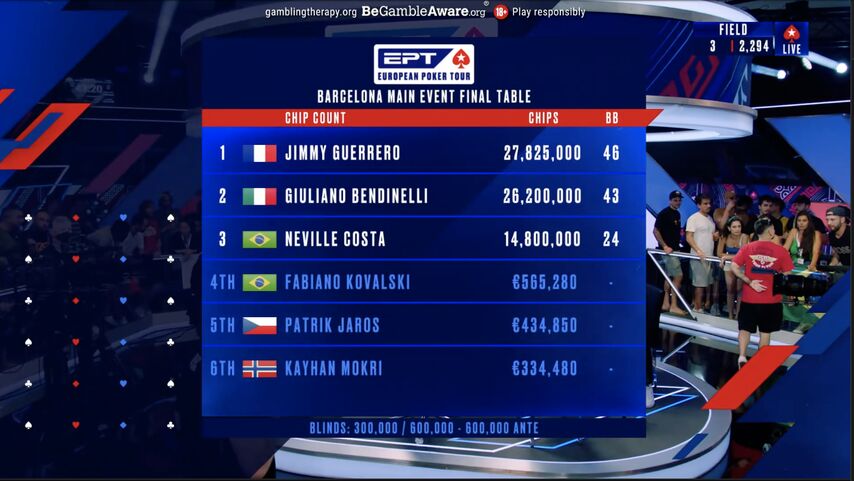 Costa immediately said that he was not particularly interested in the deal, but the Italian convinced him to look at the numbers.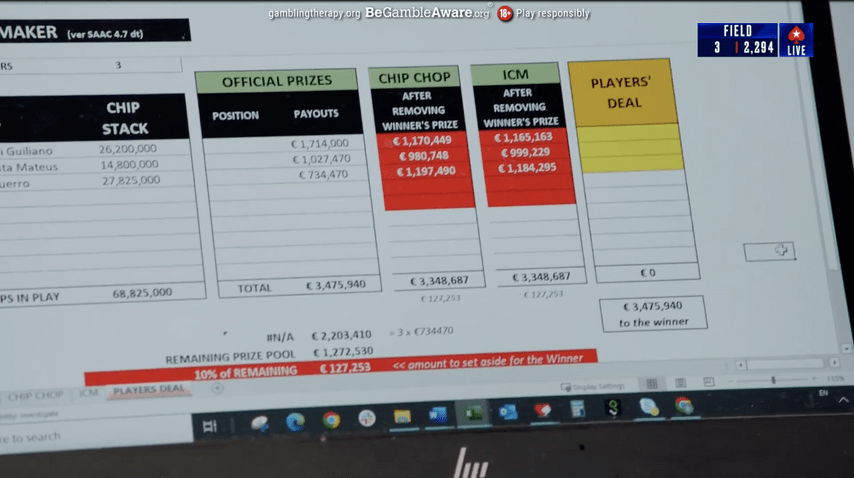 The Brazilian was quite satisfied with the ICM option, Bendinelli also agreed, but at that moment Guerrero, who was assisted by Davidi Kitai, asked for €50,000 more.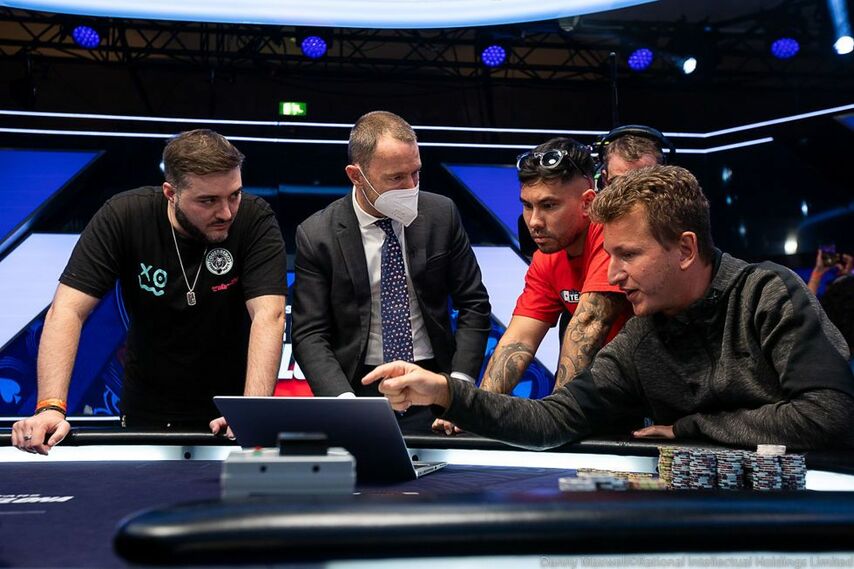 "Either ICM or we play," Costa warned.
– I won't give you anything. My family is insanely rich," Bendinelli said. – ''I don't care about money at all, my parents have 30 million!''
Kitai returned to the table.
"Bro, I'm great at all stacks," Giuliano reminded him. – ''I've got it all figured out. Costa is also a tough player. We can't give a penny more. We're just playing too well. And you don't scare me with pay jumps, I told you that I have an insanely rich family. I don't care about money at all.''
"Exactly," Costa agreed with everything. "And if you're that good, you can easily win the 127k that's left in the deal. We can even leave more.''
– ''Let's play'' – Guerrero returned to his seat.
The negotiations lasted over 20 minutes! But after playing just one hand, in which Bendinelli won 2 million chips from Costa (sounds impressive, but at that time it was 4 blinds), Guerrero again asked to stop the clock.
– ''Friends, can we leave 150k in the draw?'' the Frenchman suggested.
"Dude, we just proposed it ourselves," Bendinelli began to boil. "You don't listen to us at all? We can leave at least 200.''
– ''Yes, there was an option to take away 25k from each and play for 200k'' – reminded Costa.
"150k is fine with me," Guerrero agreed.
"But we need to get new numbers," Bendinelli warned, "I'm not ready to give you gifts.''
"I don't agree to that," Costa refused.
– ''And if you doubled, would we also divide according to the old data?'' Giuliano asked him. "But you are a nice guy, maybe I will give in to you a little.''
– ''Okay, let's see.''
"I'll only agree to a million," Costa said categorically.
– ''Ready to give you 15k, but only because of a good attitude.''
– ''Okay, that sounds fair.''
After that, the players remembered that they wanted to leave 150k in the draw, and the amounts again were adjusted slightly.
Bendinelli offered Costa 19k to make up the difference.
"I only do this because I like you very much.''
But Costa discussed with friends and refused.
– ''Let's play.''
"That was a very generous offer," Guerrero said to him as the game resumed.
"Not for you to decide," the Brazilian replied sharply.
"I agree," Bendinelli took his side. – ''You yourself asked for 50k more, it's completely out of the question.''
Soon Costa flew out, which made Guerrero very happy.
Giuliano tried to contain his emotions.
– ''It's a pity that it happened'' – he hugged Costa/
– ''It's okay, good luck.''
Only after that the Italian gave vent to feelings and drowned in the arms of his friends.
Heads up, the players again returned to the negotiating table.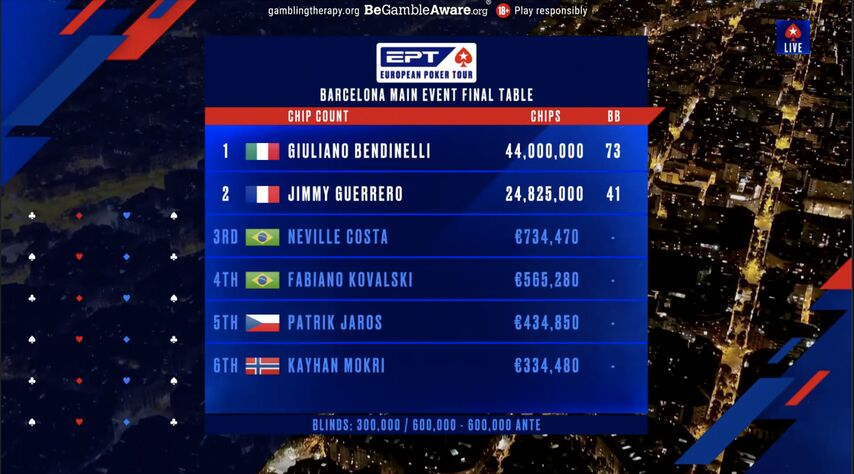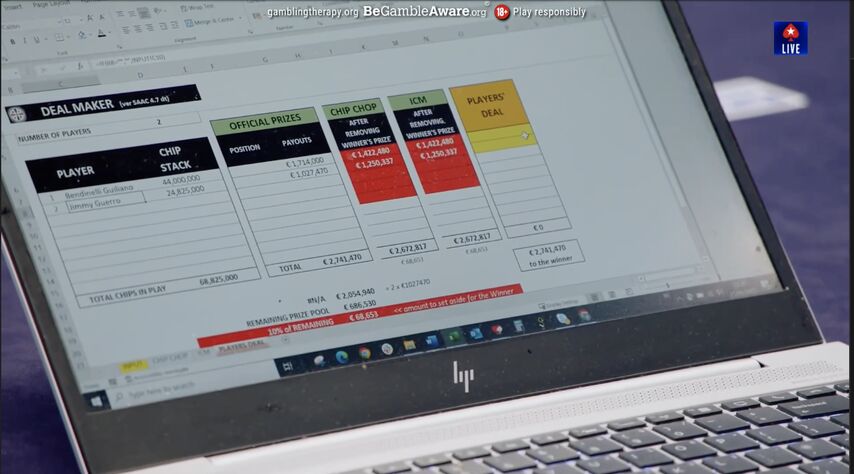 "I agree to 1,280,000," Guerrero offered, "that is, another 30k from you.''
"Just forget it," Giuliano waved him off. "I won't even give you a thousand.''
– ''But you wanted to give 19k to the Brazilian?''
-- "Only because an awkward situation arose.''
– ''Can we at least leave a little more in the draw?''
– ''We can leave 100k, no problem. But I won't give you a euro. I am very happy with my game, and this money will not change anything at all. My family has 30 million!''
"Show me," asked Davidi Kitai.
"There is my mother, ask her.''
Guerrero and Kitai conferred some more and agreed to what the calculator suggested. €68,000 remained in the draw, for which the opponents fought for another 2.5 hours.
Guerrero took the lead several times, at one stage he held a 3 to 1 advantage. But Bendinelli kept working himself back in to the game. In one hand, he caught 6 outs on the river.
The players came in to the final hand with stacks of 30 blinds against 25 in favor of the Italian, and everything ended with a dead cooler.
– Mom, I love you, – Giuliano admitted happy, – and I dedicate the victory to my father.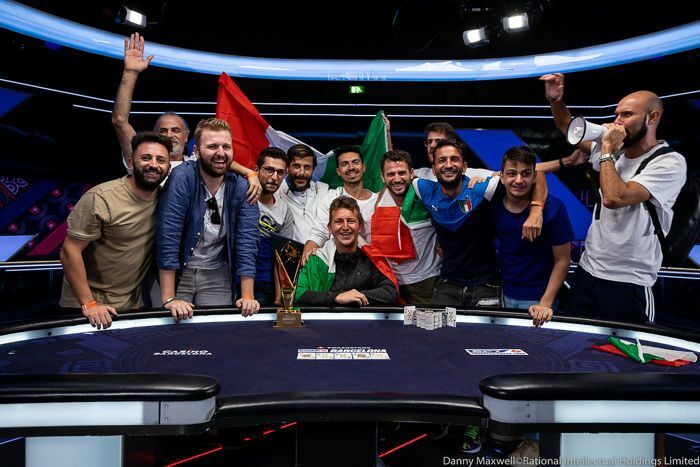 Final table recording.
Finalist results: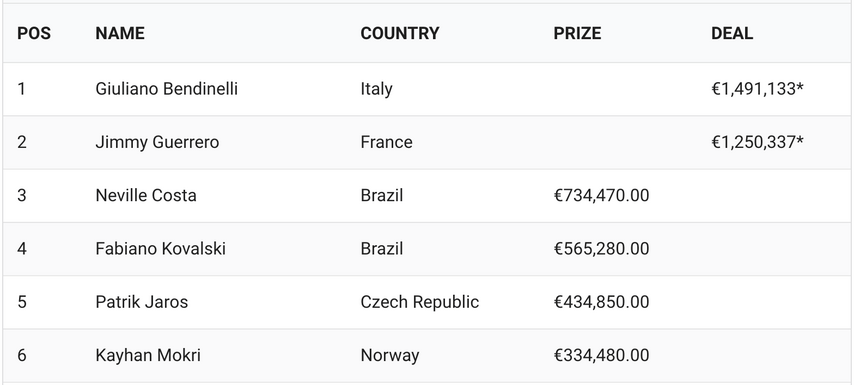 The multi-day €10,300 High Roller drew 530 entries and ended with a top 3 deal.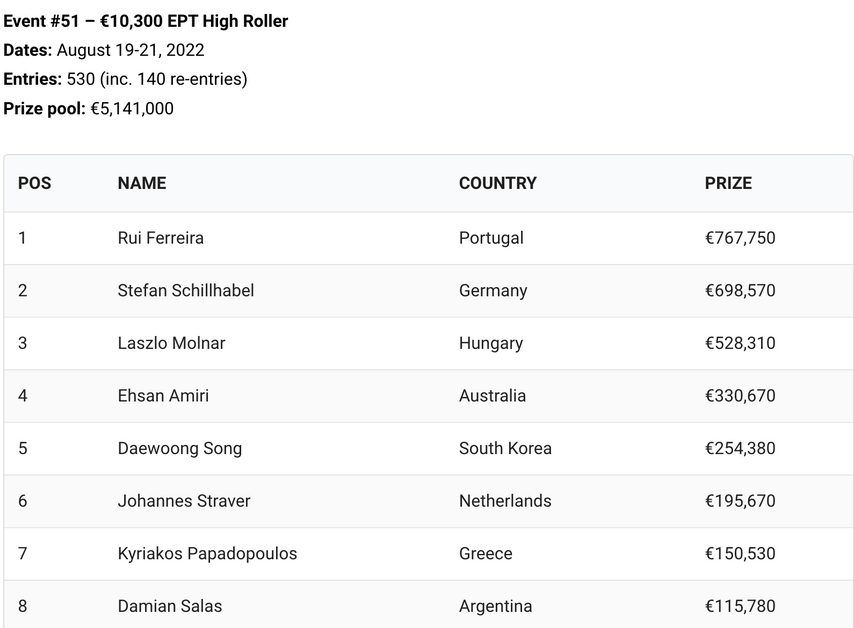 One of the most successful players in the history of the SCOOP and WCOOP series, Rui "RuiNF" Ferreira, won.
Stefan Schillhabel, runner-up, won a bracelet tournament on GG Poker a couple of days before the EPT in Barcelona.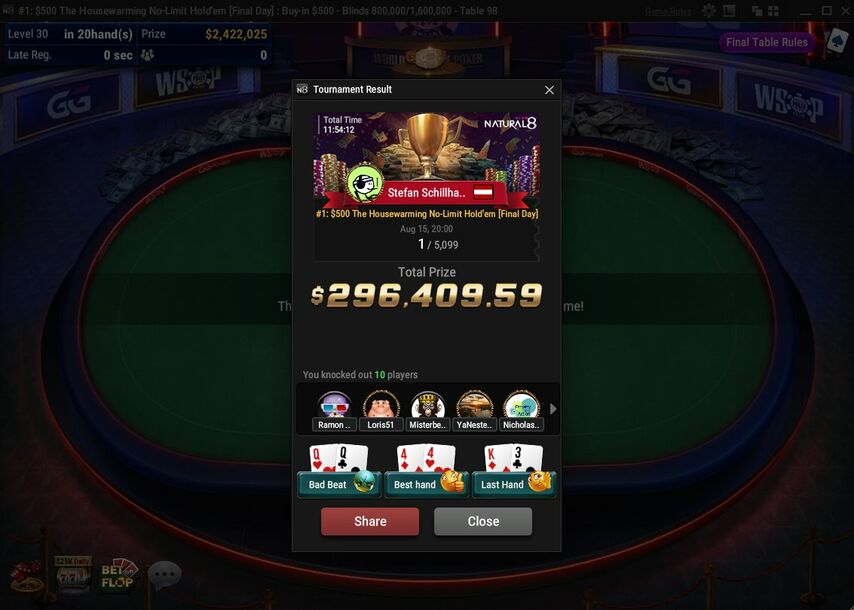 He won the very first $500 WSOP Online tournament with 5,099 entries.
"I think it was a good idea to focus on poker again ," Stefan tweeted .
Steve O'Dwyer won the final €25,000 high roller.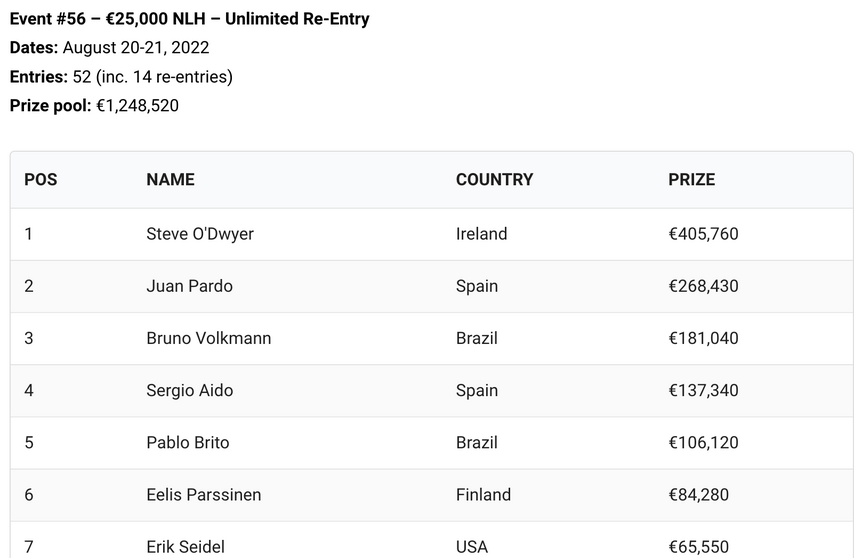 – ''The series was going terribly'' – Steve admitted after the victory. – ''I was especially angry yesterday, when I bust 20 people before the money in the $10k. But in this tournament I was doing great, I won, so I'm not angry anymore.''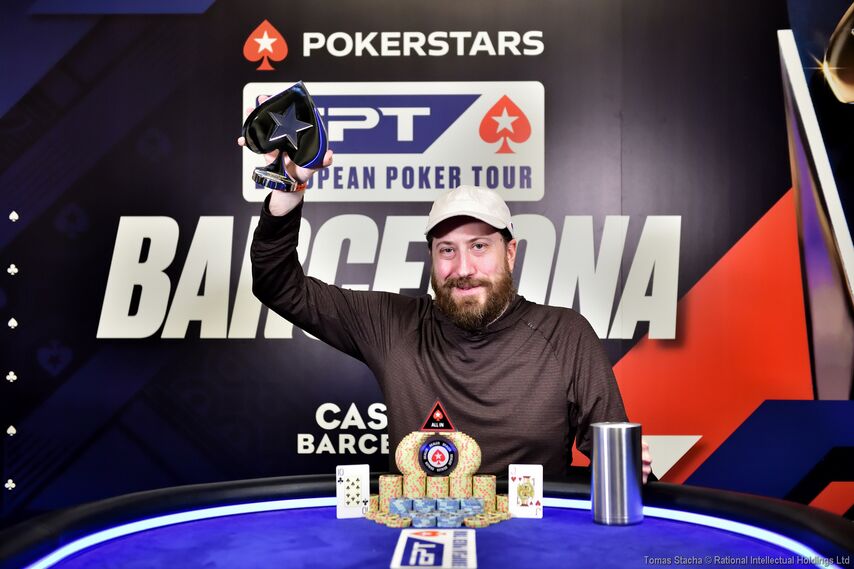 Argentinean rap star and casher of the last two WSOP mains (7th in 2021 and 39th in 2022) Alejandro Lococo won a €1,000 hyper turbo.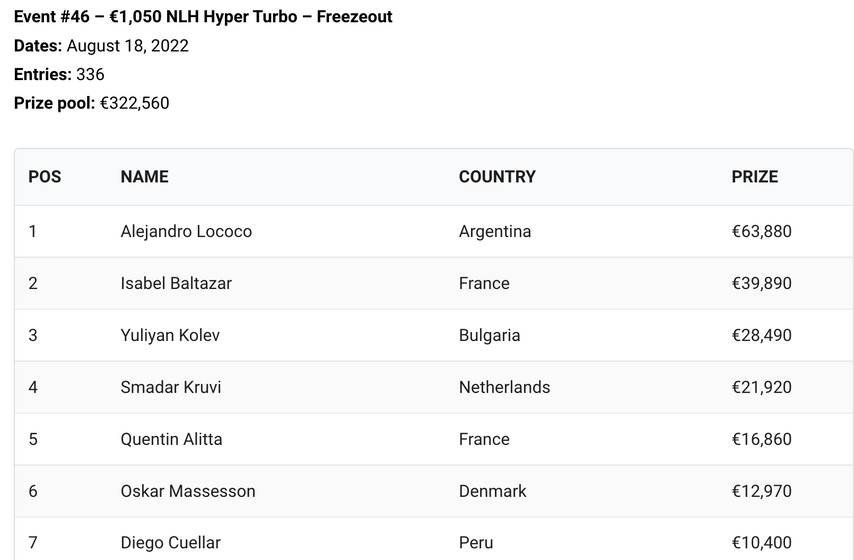 Alexander Giers from Belarus finished 3rd in the Estrellas High Roller for €2,200.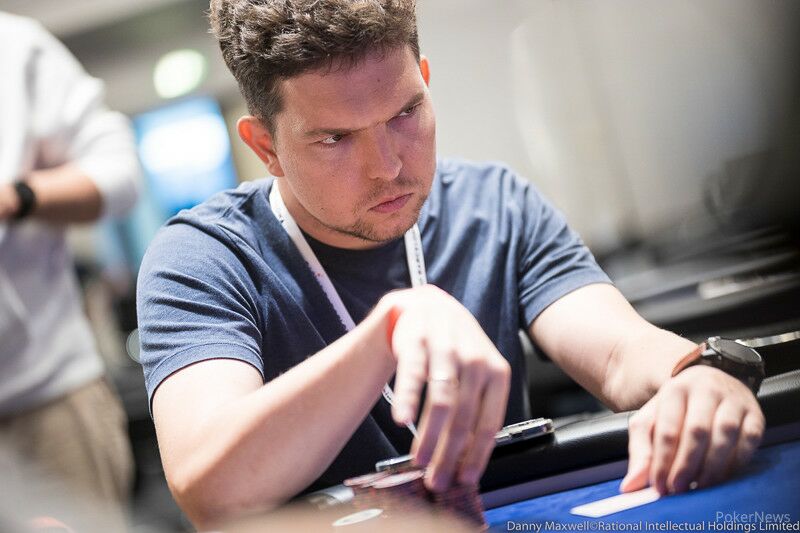 Pavel Veksler took 4th place in one of the final tournaments of the series.