A Quick Review Of PokerStars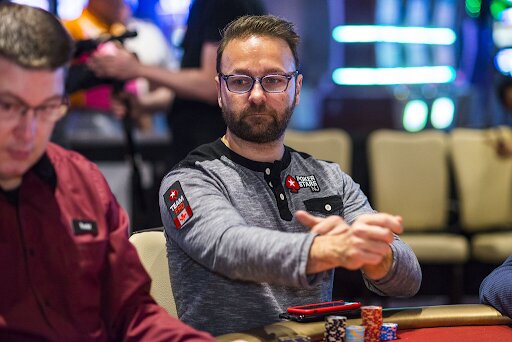 The softer players hang around at the lower stakes, while the bigger buy-ins are full of experienced players. The bonuses and rakeback promotions are worthwhile, especially for regular players. It's nice to be able to put the PokerStars coins toward store items or convert them to cash.
This online poker site is busy, and I mean really busy. They are consistently the second busiest online cardroom in the world, with thousands of active players at any given moment.
You can download their software for Mac, Windows, IOS, or Android devices.
Available Bonuses And Daily Rewards
Deposits Matched Up To $600
This bonus is simple. Deposit an amount over $10 and receive an equal amount from PokerStars.
Redemption points build up as you play. A $5 bonus is released for every 75 points collected. Each dollar of rake puts 5 redemption points in your account.
The minimum deposit for this promotion is $10.
The $30 Freeplay Bonus
With a $10 minimum deposit, you'll bag yourself a bonus, valued at $30. The bonus is only available for new players and first-time registrants.
How Long Will It Take To Unlock The Full bonus?
| Day | Bonus Released | Benefit |
| --- | --- | --- |
| 1 | 5x $1 Ticket For Spin & Go | Possible $10,000 top prize! |
| 2 | 5x $1 Ticket For Spin & Go | Possible $10,000 top prize! |
| 3 | 5x $1 Ticket For Spin & Go | Possible $10,000 top prize! |
| 4 | $5 Real Money | Use on any PokerStars game |
| 5 | 5x $1 Ticket For Spin & Go | Possible $10,000 top prize! |
| 6 | $5 Real Money | Use on any PokerStars game |
PokerStars Chests
As you play, you'll fill up a progress bar at the top of the Pokerstars app. Each time you fill it, there's a new chest to open, plus you'll be eligible for premium Chests the more you open.
Prizes range from tournament tickets to cash prizes and rakeback bonuses.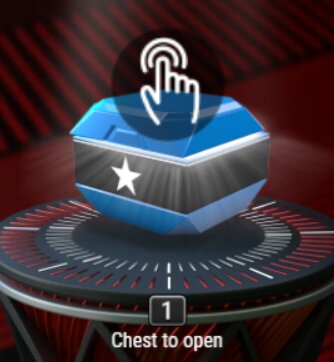 Our Review Of The PokerStars App
A ton of development has gone into the user interface. The colors are fully customizable, from the table to the background. During games, you can use Throwables. It's a fun way to grab the attention of another player or show your displeasure after a bad beat. An animated object gets thrown onto the player of your choice.
The application gives us all of the standard tools like player notes, last-hand replays, and a fast deposit function. The layout is easy to use, even on mobile versions. The app has been uncompromisingly developed and tested, so it doesn't crash during games.
The Home Game update lets players create a custom session using the PokerStars application. You can control the stakes and who's allowed in.
PokerStars Challenges
Sign up for Challenges to unlock great rewards. These range from real money, to new throwables or rakeback prizes. Players can opt-in on the PokerStars application.
How To Get Started At PokerStars With GipsyTeam
Download the PokerStars software and register an account to get started.
Send your account details to the GipsyTeam to get VIP access to freerolls and tournaments.
Members receive:
Support from knowledgeable GipsyTeam staff, 18 hours a day.
Problem-solving any issues with gameplay or software.
Rake races, freerolls, and club tournaments, plus WPT and EPT promotions are up for grabs for registered GipsyTeam members.

PokerStars runs smoothly on computer and mobile operating systems.
Get started right here!
Games And Stakes Offered At PokerStars
Cash Games
PokerStars caters to micro-stakes players and high rollers. Check out the Cash Out feature and all of the cash games that PokerStars offers, below.
Cash Out
This is a really interesting addition to the PokerStars cash games. If two or more players are all in, and there's no more action ahead, the Cash Out feature becomes available.
Cash Out is a great way to collect your equity instantly without worrying about a bad beat.
Let's say you have two 9s, and your opponent has two 3s. You're all in before the flop with almost 82% equity, so now you have a choice to make. Do you take a chance and possibly let your opponent hit his third 3, or do you take 82% of the pot and move on?
If you Cash Out, the pot size remains unchanged for your opponent. Also, if you select Cash Out and your opponent loses the hand, you don't win 100% of the pot. Your opponent receives nothing and you walk away with the Cash Out amount.
Cash Out can be very useful, but remember that 1% of your equity will be paid to PokerStars.
No Limit Texas Hold 'em (NLHE)
These tables always have high traffic at almost any stake. You can play at $0.01/$0.02 stakes or the maximum of $200/$400 NLHE. Table sizes are heads-up, 6-max, and 9-max.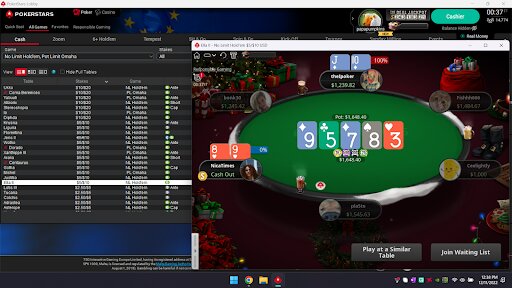 6+ Hold 'Em (Short Deck)
This game has been picking up steam in the poker world, so of course, PokerStars has it.
In this game 6 is the lowest card, and there is only one button. Some other rules are different too. For example, a flush beats a full house. It can take a little adjustment to learn short deck poker.
Buy-ins start at $2 and go all the way up to $20,000 for high rollers.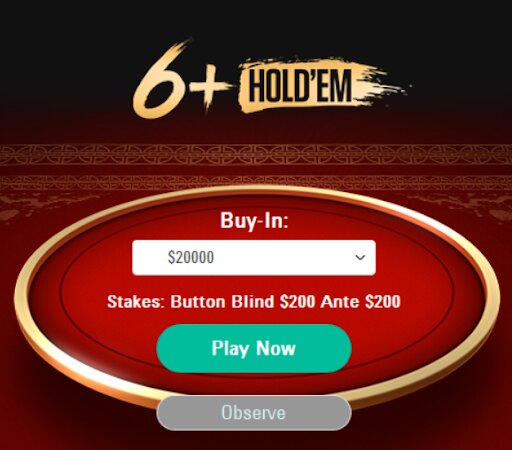 Fixed Limit Hold 'em
The fixed-limit tables are far from high traffic, but you will still be able to play during the right time of day.
In a fixed-limit Texas hold 'em game, players can only bet or raise a predetermined amount.
For example, in a $10/$20 fixed-limit game, players can only bet or raise in increments of $10 or $20.
Pot Limit Omaha (PLO)
Loved for its explosive action and huge pots, PLO is always a great time.
Players use 2 cards from their 4-card hand and combine them with the community cards. There are more possible hands in PLO, so players want a premium 5-card hand to win.
Bets cannot be larger than the size of the pot.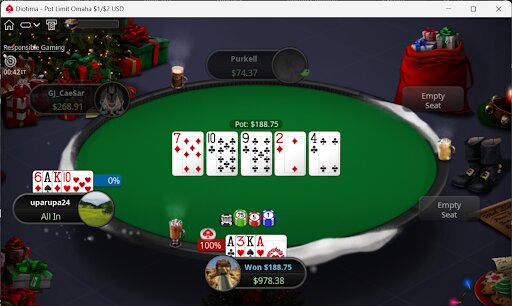 6-Card Omaha + 5-Card Omaha
As if regular 4-card Omaha wasn't wild enough; PokerStars offers 6-card and 5-card versions.
The rules are the same as the pot limit Omaha we are familiar with, but players are dealt 5 or 6 cards instead of 4. They must use 3 community cards and two from their hand.
| | | | |
| --- | --- | --- | --- |
| Game | Type | Lowest Stakes | Highest Stakes |
| 6 Card | Pot Limit Omaha | $0.05/$0.10 | $50/$100 |
| 5 Card | Limit Omaha Hi/Lo | $1/$2 | $100/$200 |
| 5 Card | Pot Limit Omaha Hi/Lo | $0.10/$0.25 | $200/$400 |
| 5 Card | Pot Limit Omaha | $0.10/$0.25 | $100/$200 |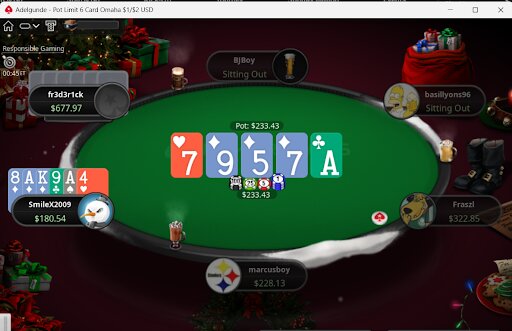 Limit Hold 'Em
These aren't the busiest tables at PokerStars, but you'll be able to get seated with some patience. The stakes are $0.02/$0.04 to $1000/$2000 for limit Texas hold 'em.
Limit Stud and Limit Stud Hi/Lo
Just like other limit games, these stud games have betting limits. Players can only make "small bets" and "big bets". There are no community cards in this poker variant, and the rules are complex. Stakes at PokerStars are $0.04/$0.08 to $100/$200.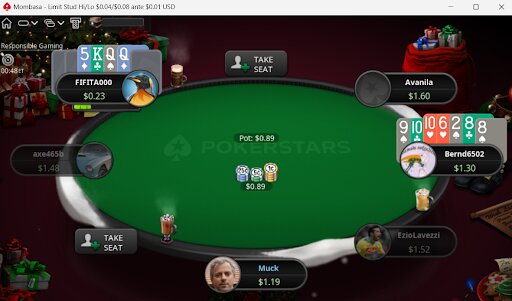 Limit Razz
Straights and flushes don't count and aces are low, which feels strange to a lot of traditional poker players. Cards are dealt face down as well as face up in this exciting style of poker. The limit razz stakes are $0.04/$0.08 to $100/$200 on PokerStars.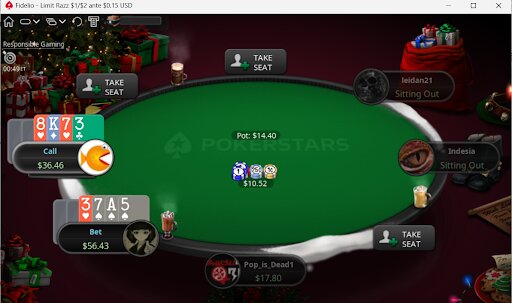 Mixed Games
| | | |
| --- | --- | --- |
| Game Name | Lowest Stakes | Highest Stakes |
| 8 Game | $0.20/$0.40 | $1000/$2000 |
| HORSE | $0.10/$0.20 | $1000/$2000 |
| Mixed No Limit Hold ' Em + Pot Limit Omaha | $0.01/$0.02 | $200/$400 |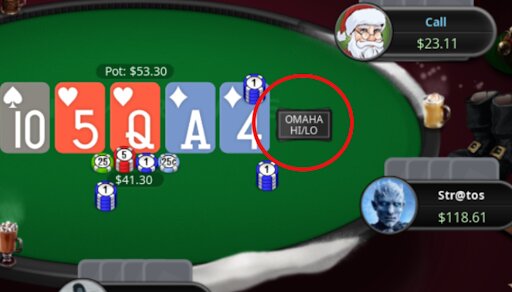 Draw Games
| | | |
| --- | --- | --- |
| Game Name | Lowest Stakes | Highest Stakes |
| 5 Card Draw (Limit and No Limit) | $0.10/$0.20 | $30/$60 |
| 2-7 Triple Draw | $0.10/$0.20 | $1000/$2000 |
| 2-7 Single Draw | $0.10/$0.25 | $10/$20 |
| Baduji | $0.25/$0.50 | $400/$800 |
Zoom
This game mode gets you playing, not waiting. Fold your hand the moment you lose your love for it, and be placed in a seat with new cards. If you hate downtime in between hands, Zoom is perfect for you. The stakes for this mode are $0.01/$0.02 to $50/$100.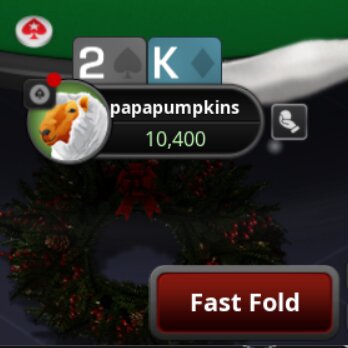 Spin & Go Flash
This is a 3-player sit-and-go. Games are incredibly quick, so don't get comfortable.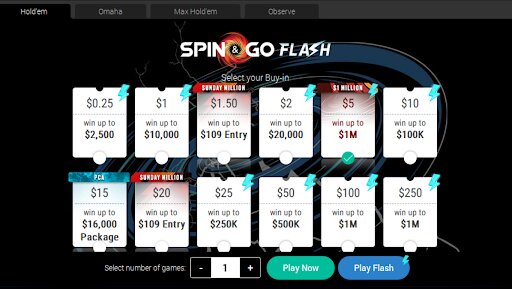 PokerStars offers Spin & Go, but they wanted something even faster. The light green button will put you in a standard Spin & Go, but the Play Flash button will speed things up even more. Flash games have 1-minute rounds and 300 chips per player. The buy-ins range from $0.25 to $1000, and the randomized prizes can be millions of dollars with the right spin!
Spin & Go without Flash enabled is slower, players have 500 chips to start and the rounds are considerably slower than Spin & Go Flash. Prizes are selected randomly and range from 2x the buy-in to 10,000x the buy-in.

Neymar Jr's Kick Off
Win awesome prizes in this soccer-themed PokerStars promotion. With buy-ins starting at $1 and peaking at $25, players work their way toward the final position.
You'll have to win a 4-player turbo sit-and-go, and then you'll progress to the next buy-in level.
Every player has a bounty, and there are instant prizes and multipliers for lucky players. There's the chance to win up to $60,000 with bounty multipliers.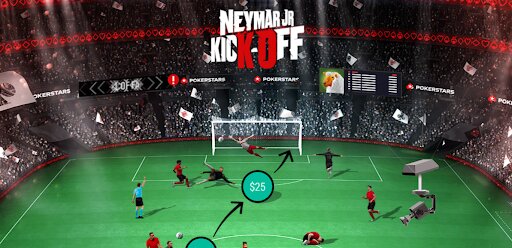 Tempest
This is a thrilling game mode with one important difference from other poker games. Players can only go all-in or fold. There's no other action. Antes increase aggressively and the sit-and-go continues until a player is eliminated. There's also a third blind, called the Giant Blind. Buy-ins for Tempest start at $1 and peak at $1000.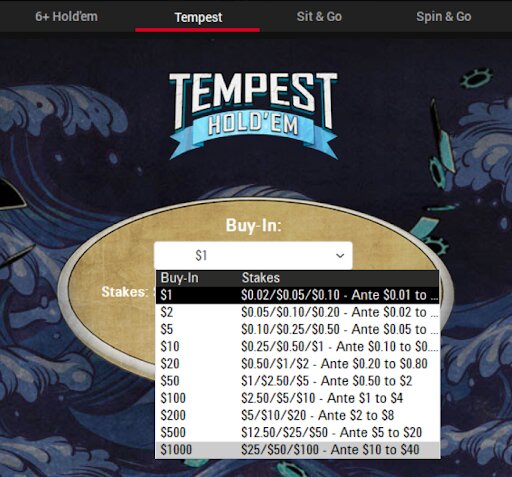 Popular Tournaments and Freerolls
Freeroll Passwords
You won't need passwords to play in the official PokerStars freeroll tournaments. There are satellite tournaments for the Pacific Rim Series and Bounty Builder Series which you can enter for free.
Sometimes there is a small cost for rebuying or adding on, so check the tournament details.
Sunday is a perfect day to play tournaments at PokerStars. Every week on that day they host the Sunday Millions, Sunday Warm-Up, Sunday Storm, Sunday Stack, along with many more tournaments.
PokerStars also holds less frequent events like Micro Millions, WCOOP, SCOOP, and the Turbo Series.
Sunday Million + Road To The Sunday Million Satellite
Tournament Name
Buy-In
Prize
When

Sunday Million

(Progressive KO)

$109
$1,000,000
Every Sunday

Road To The Sunday Million

(Progressive KO)


 

$11

$17,500+ in Bounties

AND

16x Sunday Million Tickets


 

Daily
Popular Tournaments At PokerStars
| | | | |
| --- | --- | --- | --- |
| Tournament Name | Buy-In | Prize | How Often |
| Pacific Rim Special | $162 | $5000 to $7000 | Once Daily |
| Mini Pacific Rim Special | $33 | $4000 to $6000 | Once Daily |
| Micro Pacific Rim Special | $5.50 | $1500 to $2000 | Once Daily |
| Mini Bounty Builder | $55 | $100,000 to $300,000 | Once Daily |
| Bounty Builder | $0.55 to $320 | $1000 to $100,000 | Once Daily |
| Bounty Builder High Roller | $530 | $12,000 to $250,000 | 1 or 2 Daily |
| The Marathon | $55 | $8000 to $20,000 | Once Daily |
| The Mini Marathon | $5.50 | $4000 to $8,000 | Once Daily |
| Sunday High Roller Marathon | $530 | $6000 | Sundays |
Depositing and Withdrawing From PokerStars
As an industry-leading online cardroom, PokerStars has fine-tuned their cashier system over the last twenty years. Deposit using any of these options, and later, select your withdrawal method from the same options.

It can take as little as 3 days to receive funds from PokerStars, and their team is always on standby.
The PokerStars Rakeback System
How Much Rake Does PokerStars Take?
The tournament rake is between 6%-10% depending on the stakes and promotion.
PokerStars used to have a similar rake system to other companies, but they listened to feedback and reduced their rake. These days, they are known to have one of the lowest rakes among top online cardrooms.
It can be challenging to calculate the rake from cash games. Refer to our table if you need a helping hand.
How To Get Extra Rakeback
Opt in for Challenges and open as many Chests as possible. PokerStars is always running rakeback promotions, found in the Challenges section of the app. New players can get up to 40% extra rakeback in January just by signing up and registering with GipsyTeam.
Pot Limit + No Limit Rake
Stakes
Player Count
Rake Amount
Maximum Rake



 

$0.01/$0.02

2
3.5%
$0.30
3-4
3.5%
$0.30
5+
3.5%
$0.30



 

$0.2/$0.5

2
4.15%
$0.50
3-4
4.15%
$0.50
5+
4.15%
$1



 

$0.25/$0.50

2
4.5%
$0.50
3-4
4.5%
$1.50
5+
4.5%
$2.50



 

$100/$200

and above

2
4.5%
$2
3-4
4.5%
$5
5+
4.5%
$5
Fixed Limit Rake
Stakes
Player Count
Rake Amount
Maximum Rake



 

$0.02/$0.04

2
4.5%
$0.01
3-4
4.5%
$0.01
5+
4.5%
$0.01



 

$0.25/$0.50

2
4.5%
$0.16
3-4
4.5%
$0.16
5+
4.5%
$0.16



 

$10/$20

2
2%
$0.50
3-4
2.5%
$2
5+
2.5%
$3
Pros and Cons
Pros
$30 Freeplay with a small deposit
Highly secure and legitimate poker application
Huge variety of different poker games
Deposits in as quick as 3 business days
Lowest rake amongst online poker sites
Chests and Challenges
Casino and sports promotions offered to poker players
Cons
Tough competition at higher stakes
Even at the mid-stakes, there are a lot of grinders and experienced players
Monthly requirements to hit VIP levels are not geared towards casual players
Frequently Asked Questions
What is PokerStars Learn?
That's the free poker education program that PokerStars operates! You can improve your game at no cost to you, plus get tips from professionals.