1) Poker. It has always been the most positive influence in my life. Most of my personal and business successes are connected with poker. And I want that to be reflected in how I spend my time. I am not an expert in either investment or business. Therefore, in 2023 I will try to focus on content and my poker projects.
I refer to this:
– Development of the Lodge (ed. – poker club in Texas, co-owned by Doug). We have seen incredible growth in 2022, but my goal is to make the best show (streams) and place to play poker.
– Improvement of Upswing Poker in several directions – we need to update the training materials and find trainers for advanced courses. My personal goal is to record a fundamental course on HUNL, in which I will spill everything that I learned during the challenge against Negreanu.
I don't set specific production goals for myself, and I don't predict how long I'll be playing poker this year. I plan to record videos on current topics from time to time and sometimes come to a fun cash game that is broadcast on the stream. I no longer play poker professionally, so I will devote as much time to the game as I see fit.
2) Health. No more flirting with your body. In the past, I could allow myself to put on extra weight, and then for several months or even a whole year to return to the optimal state. Now I am in the best shape of my life, and in the future I plan to always maintain a healthy lifestyle.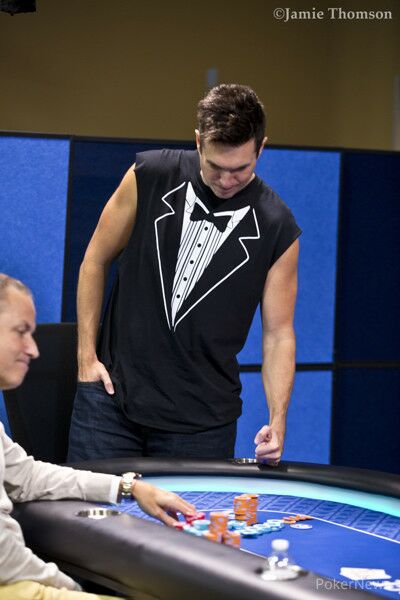 3) Carefully choose the words that I use on the Internet. I have never been afraid to say what I think, but now too many acquaintances and employees depend on me, and this may affect them. I like to argue about burning topics, but it ripples in my environment too much.
4) You can not do everything at once. Last year I tried to be in time everywhere. From now on, I will be more thoughtful in choosing the tasks that I take on. I should have devoted much more time to my main activities, and simply ignored the rest.
5) I should be much more careful in choosing the people and companies that want to use my name. I was probably too gullible, but I was completely happy with the cooperation with CoinFlex, now I understand that there was no reason to believe in their integrity and put my reputation at risk.
The year was hard. It turned out to be a failure both financially and in terms of the negative public reaction to my actions. I was sure that 2022 would be the most successful in my life, and it turned out to be the worst. But such is life, we rise and continue to do our best. Looking forward to what 2023 will bring.
Paisting
For "the most losing player in the history of online" the past year also turned out to be difficult. He posted the final report on his 2+2 blog.
– The year is over and my results are terrible. I didn't have a single winning month. For a whole year I tried to resist the cruelest bad beats. All sessions went like the followed some kind of blueprint – at the very beginning I lost a few buy-ins, and then I tried to recoup. On 888, I was down $619.96, which is by far my record for bad luck. I laid out the hands, you yourself saw perfectly how often I lost when I had more than 75% to win. It is clear that when this happens in every session, one cannot count on a different result. Due to the huge number of hands, I myself began to play badly. Sometimes my mood improved if I felt like I was outplaying my opponents. And this happened quite often. But then a couple of bad beats in huge pots follow, and you already understand that you're going to zero.
This year I managed to play some tournaments. I am proud to have spent $1,149.50 in buy-ins on 888, an impressive amount considering my limits. ACR MTTs are just awful, it's impossible to win there. The main problem is that even the cheapest tournaments last 8-9 hours, and the final table payouts are insignificant. I can't imagine how people grind them, although I saw familiar nicknames every day.
For the coming year, my main goal is to finish at least one month in a plus for the first time. After that, I can strive for more.
Cash on ACR (only nl2):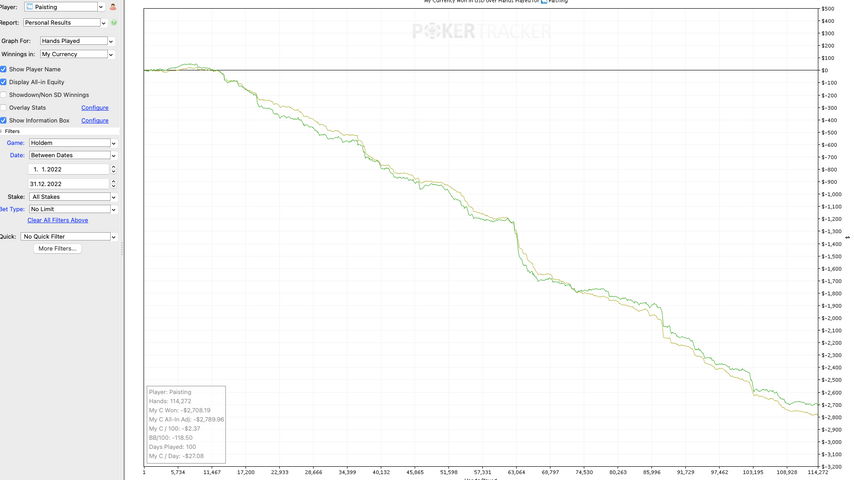 Cash on 888 (mostly nl2, some nl5 and nl10):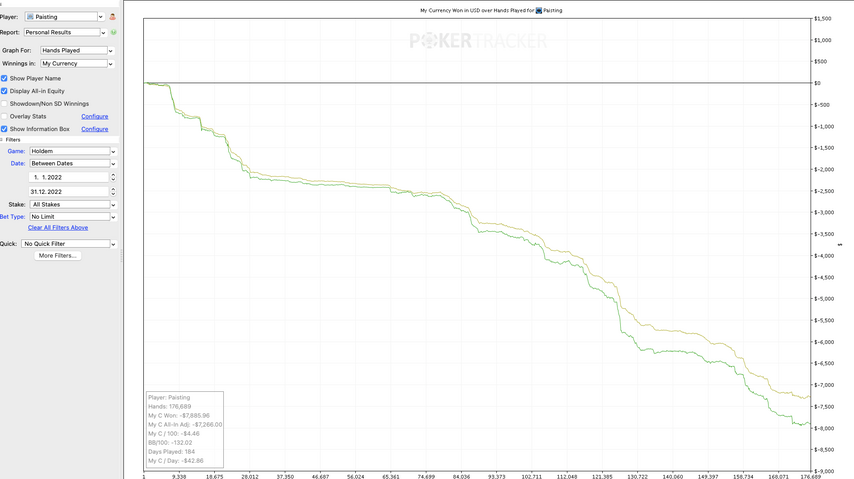 Tournaments on ACR: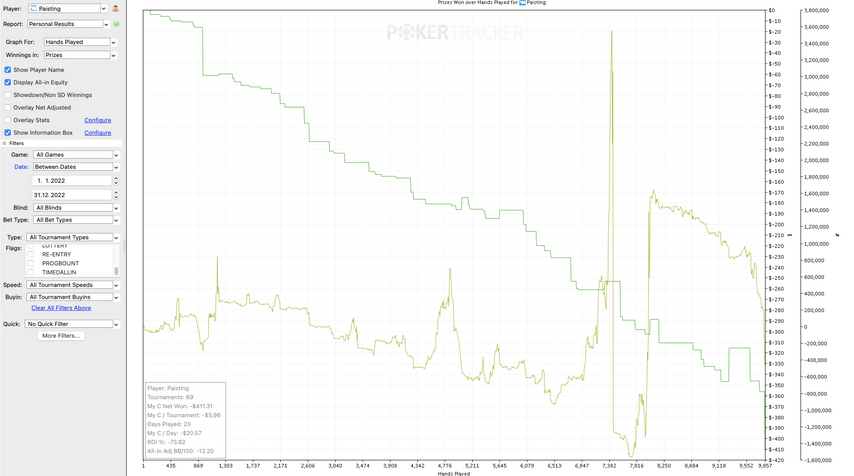 Tournaments on 888: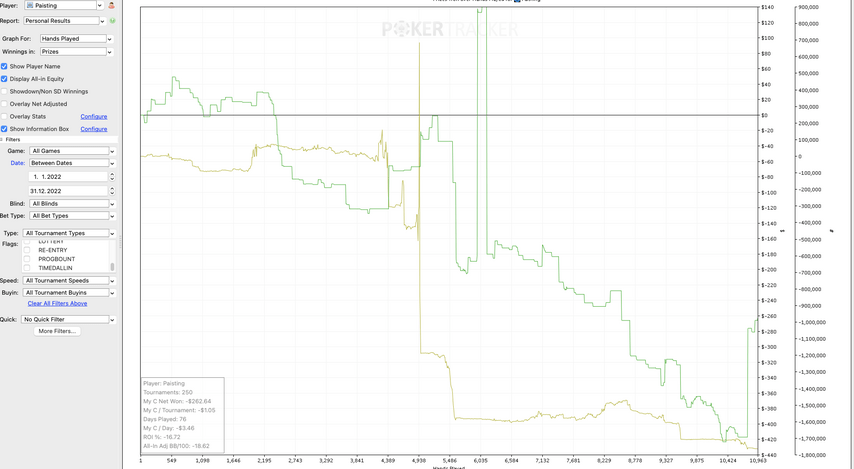 Results:
ACR Cash: -$2,708.19
888 Cash: -$7,885.96
ACR Tournaments: -$411.31
888 Tournaments: -$262.64
Total: -$11,268.