The WSOP Online Main Event, held at GGPoker, attracted more than six thousand players and a record prize pool of $28,609,252. Among the many players who revealed their secrets to the public on Twitch were five well-known chess streamers, including new poker show star Alexandra Botez, but it was not them who gathered the most viewers, but poker returnee Bert "girafganger7" Stevens. Stevens, who did not mince words and did not hide his emotions, entered the final table as the chip leader and, in front of 14,000 spectators, took the main prize – almost $2.8 million.
Poker journalist and friend of the winner David Lappin emotionally described the outcome of the tournament:
-Who's the fucking king here? Him!!

A heart-rending scream was reflected from the stone walls of a farm, lost somewhere in the Austrian wilderness. Bert Stevens has just finished his job and won the WSOP Online Main Event.

Half hidden by tobacco smoke ("I'm going to quit," he promised on stream, smoking one cigarette after another), he hit the table with his fist and pulled out his T-shirt, not even trying to fight the surging emotions. His deafening primal scream could only be compared with the cry of the freed Jesse Pinkman from Breaking Bad.
Before the final table, where he entered as the chip leader, Bert was clearly very nervous. He spent the last minute before the game resumed, punching the air and dancing in his chair, venting his enormous nervous tension.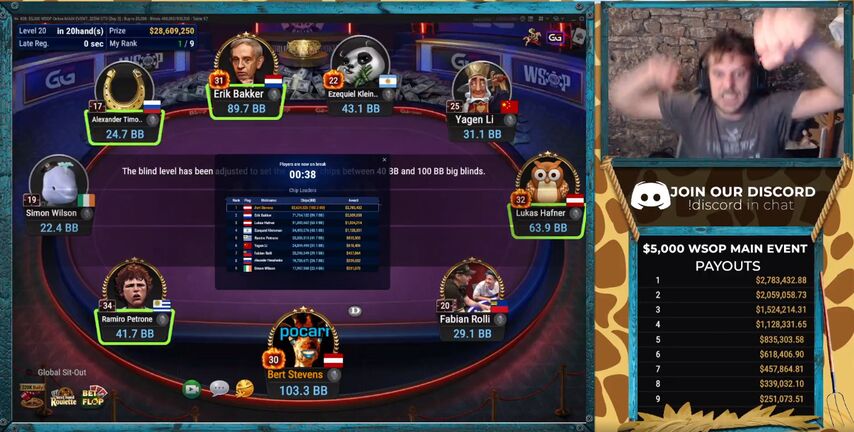 However, as soon as the seating changed and the electronic dealer dealt out the cards, Bert immediately found himself in his element. He took a seat to the left of his most dangerous opponent, the Dutchman Erik Bakker, took a deep drag and went for victory.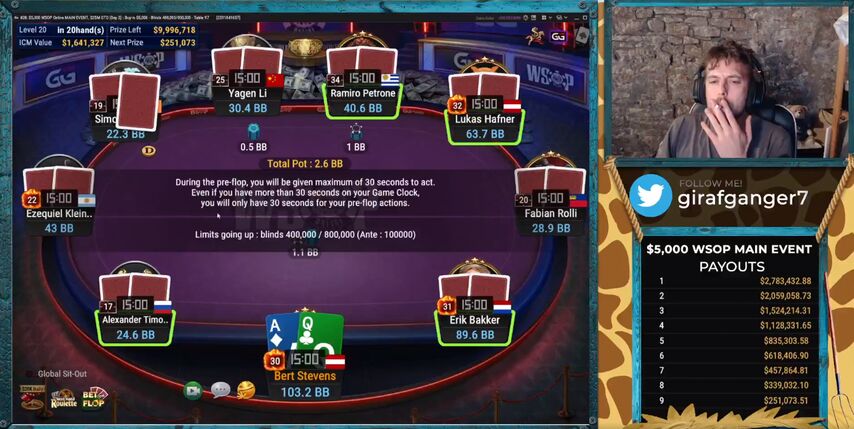 – My plan for the final table is to win all the hands! – he answered a question in the chat.
The first clash of the main favorites turned out to be bloodless: Bert made a 3-bet preflop and won the hand with a continuation bet for a third of the pot.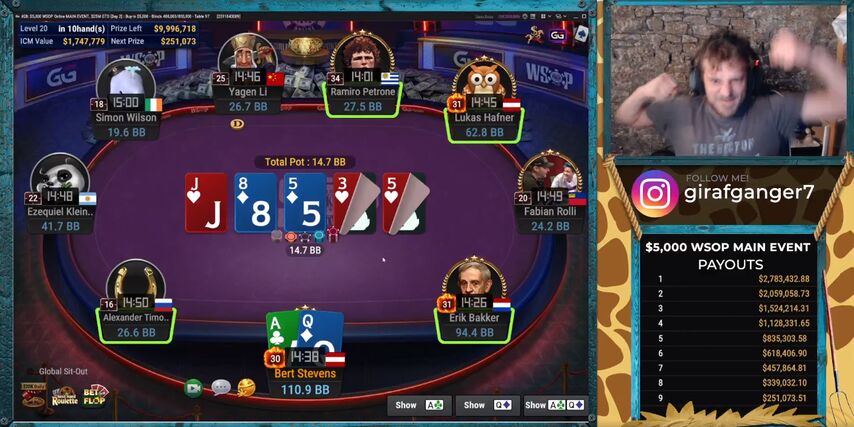 Within a couple of minutes, he received twice and .
"It's not very good that I'm feeling this way now," he remarked. – These hands would be more useful in, say, an hour.
In the next hand, he received two calls preflop, made a small continuation bet on the flop, again two calls, and checked to the river.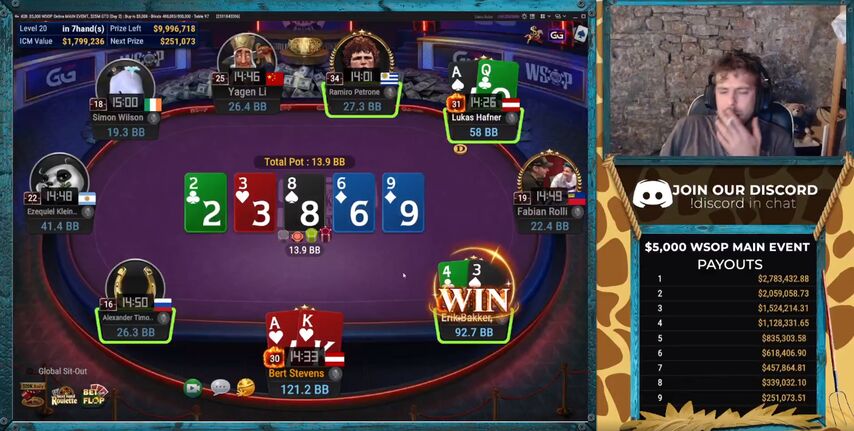 Bakker, who defended 43o, closed the gap to the leader, and a couple of minutes later he even took the lead when Bert folded to a 3-bet from the short stack: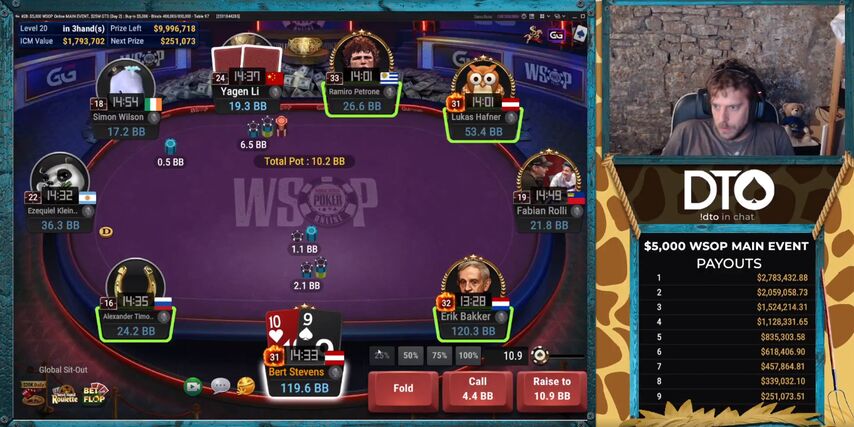 The next meeting again ended in Bakker's favor.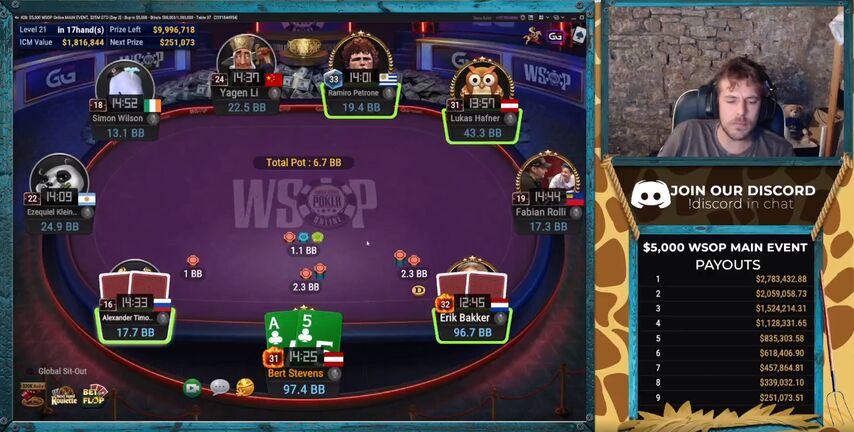 Bert called preflop and folded to a continuation bet for two on the flop. .
– Usually A5s is 3-bet, 5-bet, all-in, but I'm not sure I want that, ha ha ha! Not brave enough to give everything away right now!
(Instead of "brave" he used another word.)
Soon Bert 3-bet against the short stack and folded to his all-in.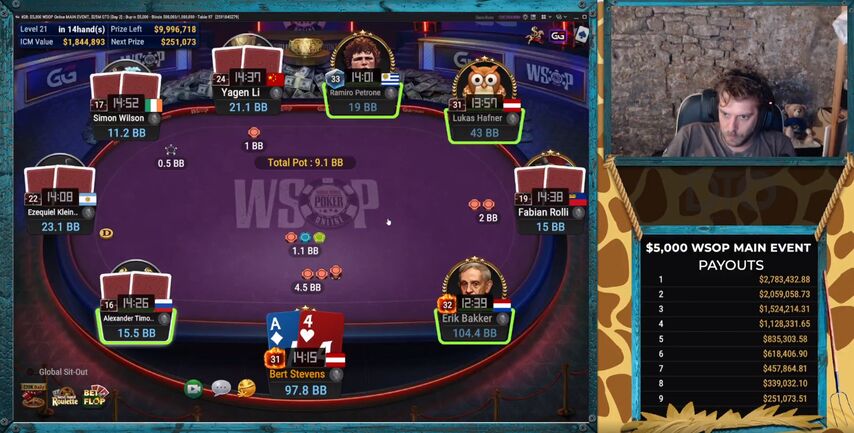 And then he played post-flop against Bakker.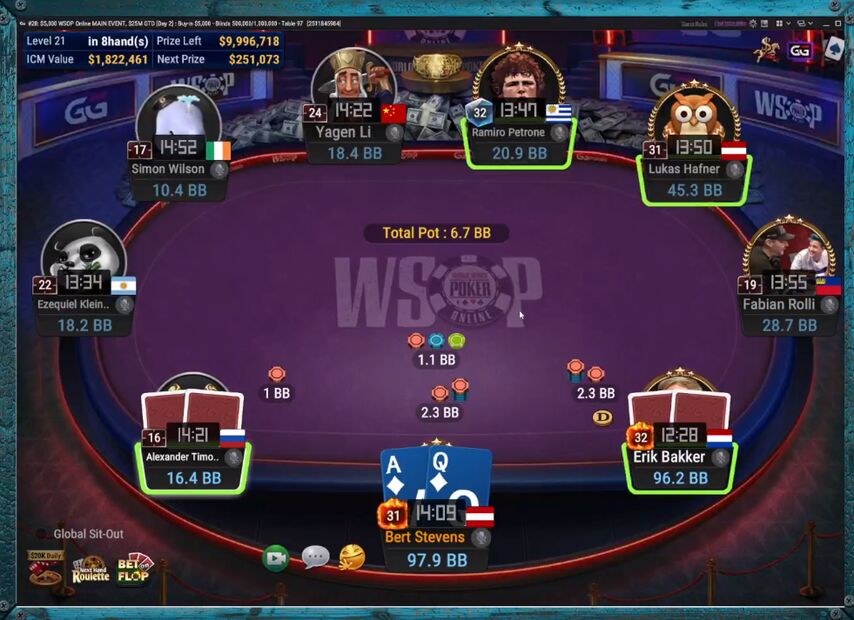 Timofeev folded.
Flop (6.7bb):
Check, c-bet 2.2bb, call.
Turn (11.2bb):
Check, second barrel 5.6 bb, call.
River (22.3 bb):
Check. Third barrel 14.7 bb.
"No, well, I have to call," Bert commented anxiously. – Call, and let's do it without green cards, please.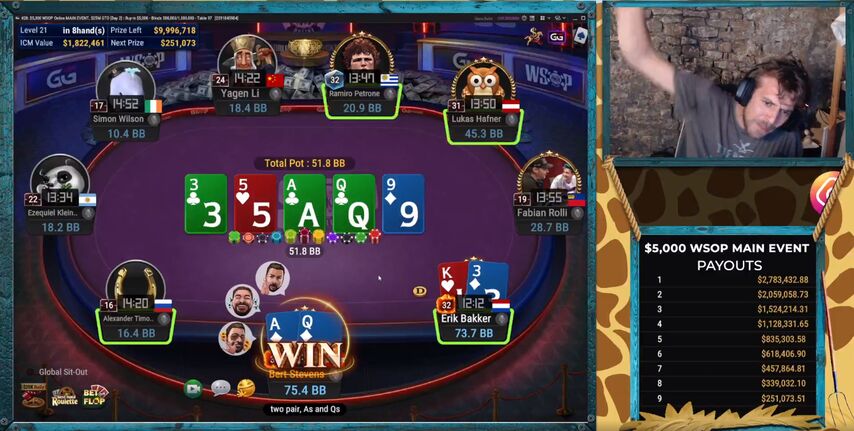 – Sit down! Sit down, motherfucker! – he turned to his opponent. – Get to your place! K3o, ***.
Having stolen the blinds, Bert lost a significant part of his advantage after three barrels against the player in the big blind.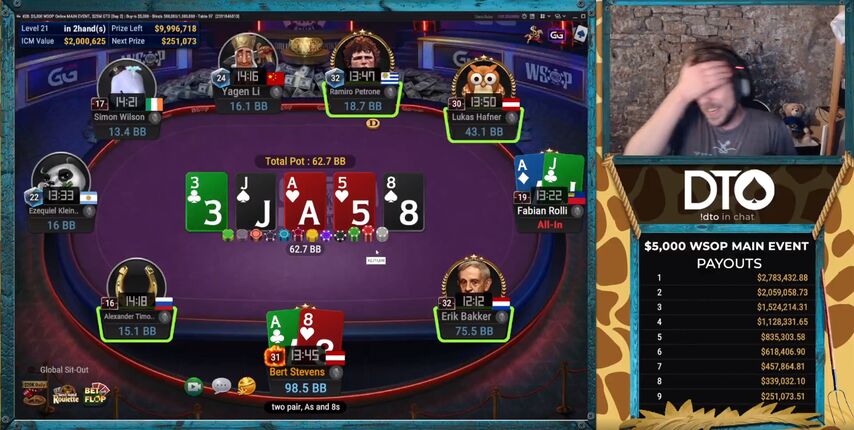 – Terrible river, guys! If it weren't for the eight, I would, of course, check, but with two pair, I have to go all-in.
This eight cost him 24 blinds.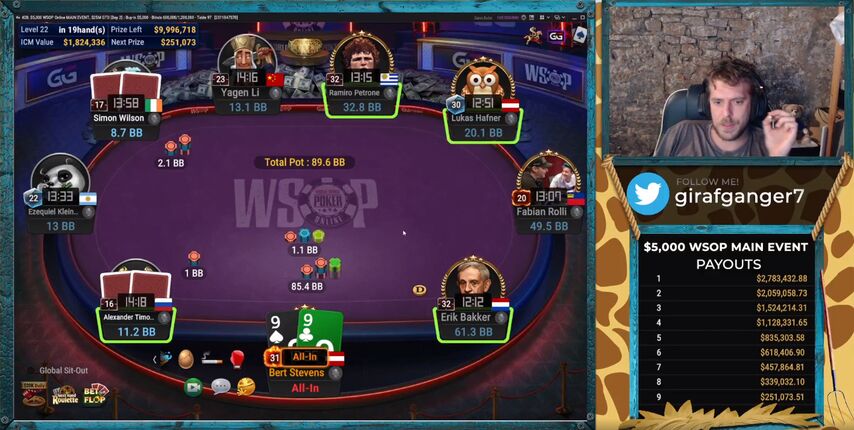 "It's difficult, but I think I have fold equity, so I'll push," he commented on his all-in.
After thinking a little, Alexander Timofeev pushed.
"But this is very bad," Bert was upset. – The only chance for a good outcome is if he has , and the raiser will be forced to fold the jacks.
But a miracle did not happen – the raiser folded, and the Russian showed aces and doubled.
– I don't know, maybe I pushed it too wide. I definitely wouldn't do eights, nines is the very bottom, but I'm not sure I'm right. ICM at 9-max is pure madness. Okay, I think I played it right. In general, I'm playing without errors so far, everything is fine.
Stacks at first break: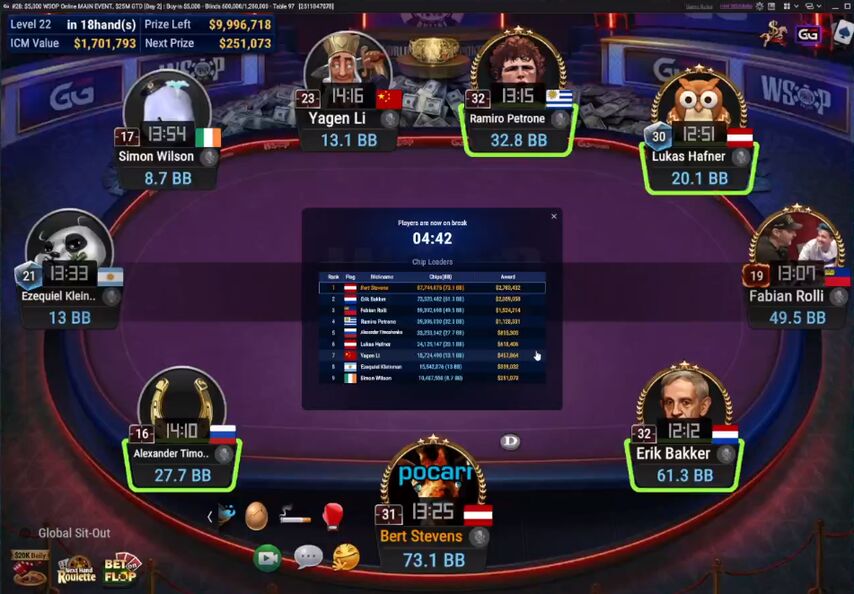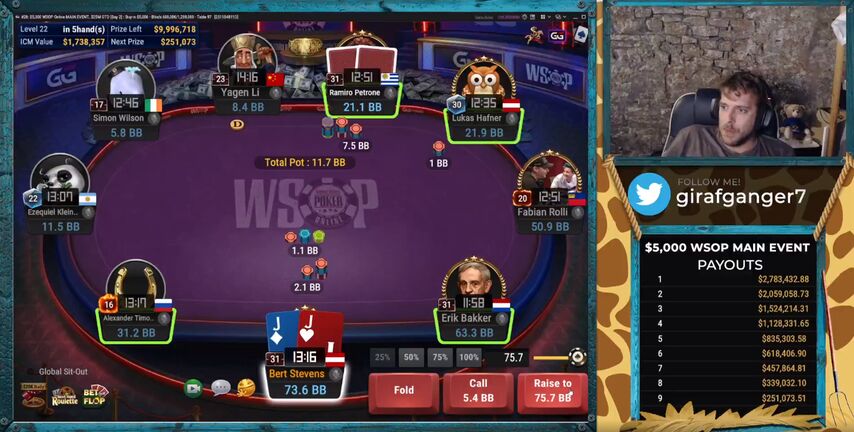 "If he's better, so be it... I'm not pushing tens here, but I should be pushing jacks," Bert decided and went all-in. The opponent immediately folded. – Vamos! Big pot!
Bert also made the first knockout, defeating Simon Wilson on the second attempt.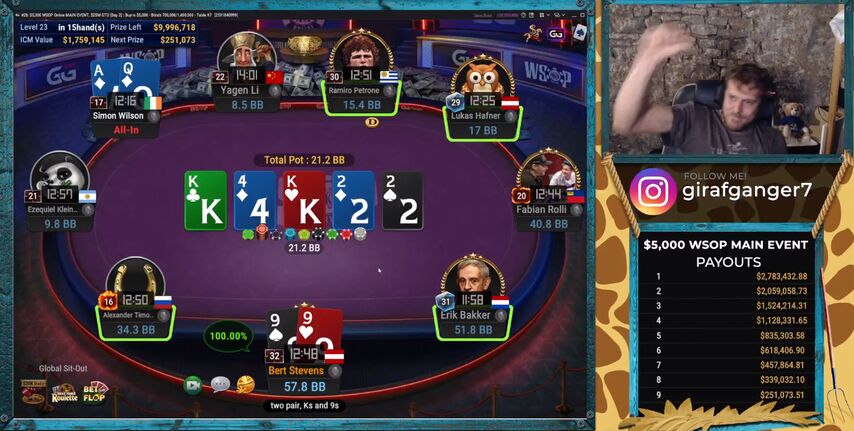 – GG, man. Bad luck.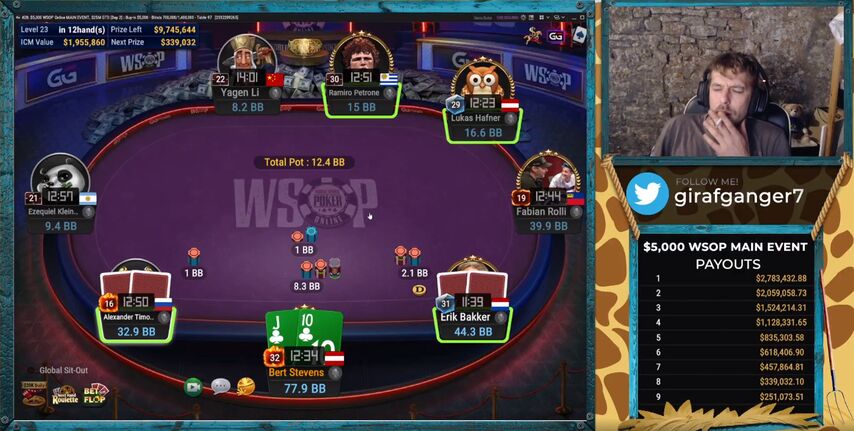 The 3-bet got through, and the lead over the closest pursuer doubled for the first time.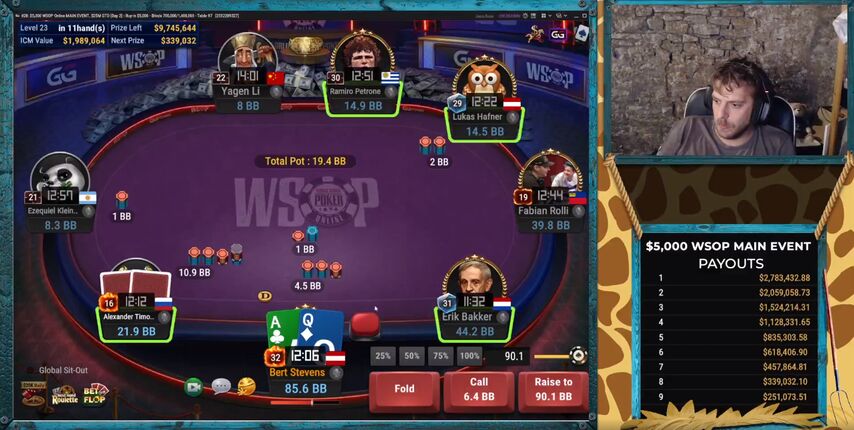 Bert thought about it, and despite the 12-minute time bank, his hand went to pass due to a timeout.
– What?! – he didn't understand. – Did you have to press the button? And I seriously thought about pushing. Well, probably lucky... – He checked the flop: the high card was a queen.
– I think it's very close, but the problem is that his bluffs are and . So it might be better to push for me ...
The lost chips were returned by defending the big blind at 86o.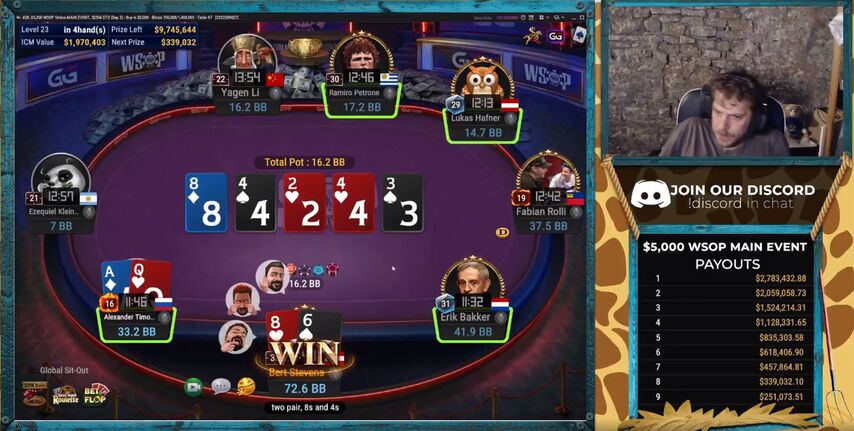 Timofeev made a continuation bet, called a small lead on the turn, and then checked the river.
A hand later, the Russian from the small blind called Bert's raise and called the flop and turn...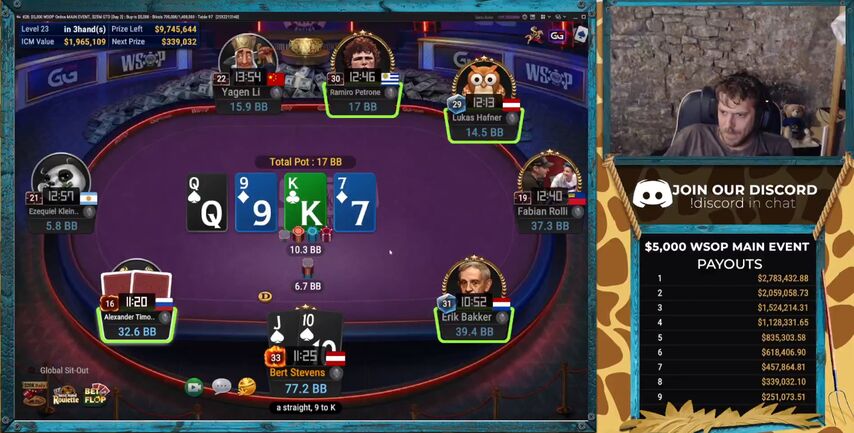 "If the lady doesn't come out, the pot is ours," Bert assured the audience. The jack of clubs came out, and Alexander, after very long deliberation, managed to call half his stack with .
– Yes! Vamos-vamos-vamos! Damn, bad river, on a deuce I would have taken the entire stack. But it turned out well, okay. – Bert has more than 100bb again.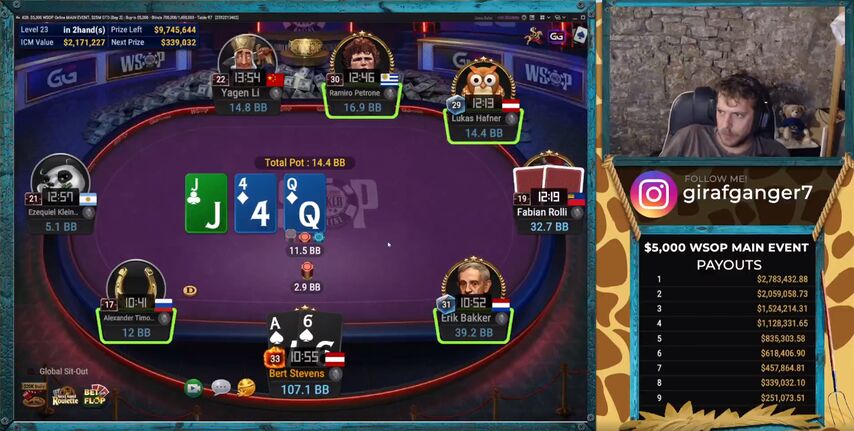 3-bet, continuation-bet, and victory are the privileges of the chip leader.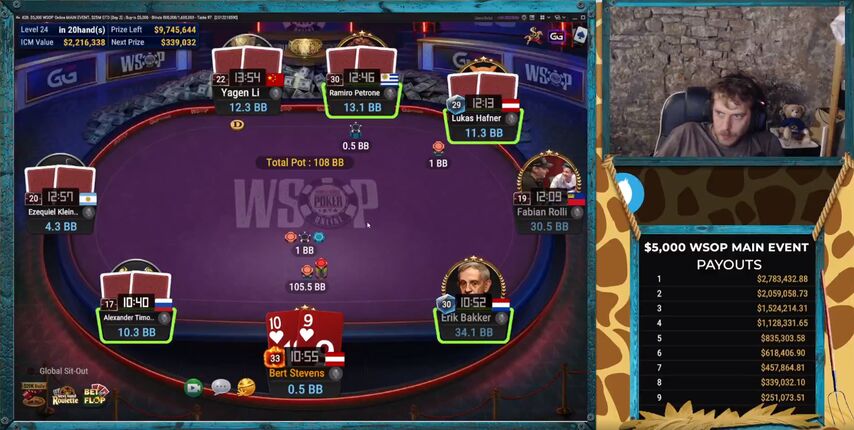 Similar moves, of course, too. (They threw everything away.)
– Suitable situations in the final are more important than the cards. And in this regard, we are doing well so far.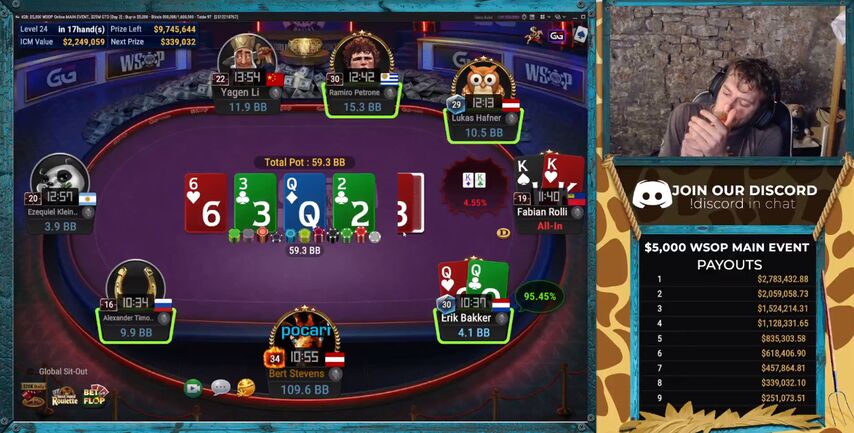 "Oh, damn it... If you calculate the price of this bad beat in dollars, you might just go crazy," Bert sympathized with Fabian and struck his lighter.
The level was as successful as possible for him.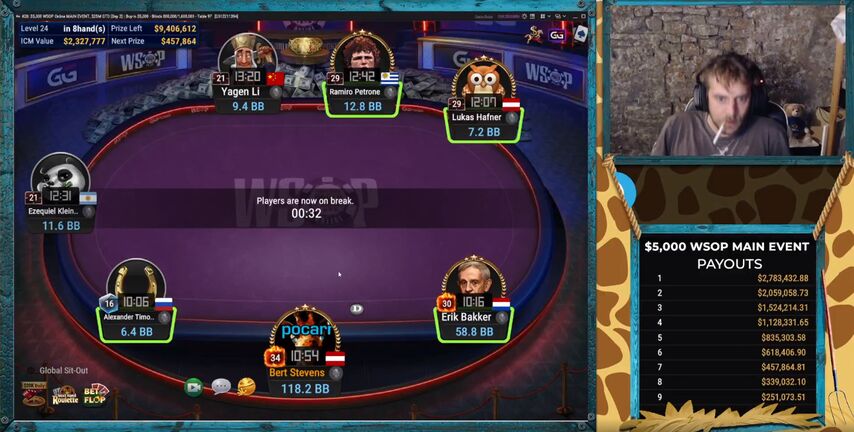 Folding Hafner's mega short stack (who just lost an all-in to Timofeev) allows for a little naughtiness: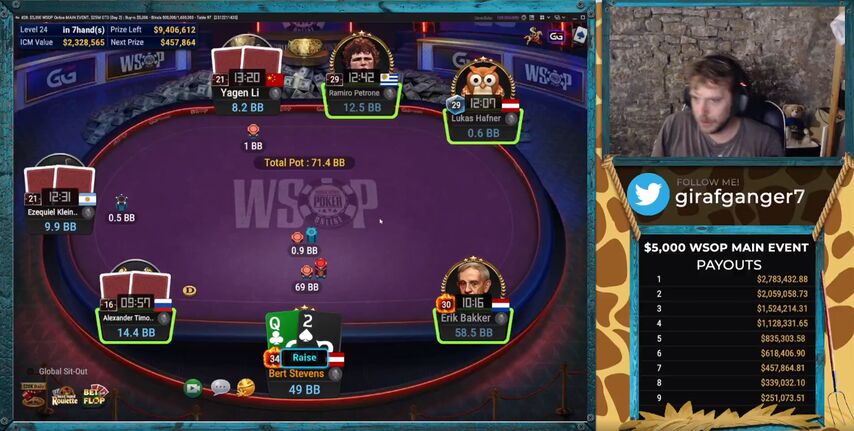 "It's time for someone to wake up with a weaker hand than mine!"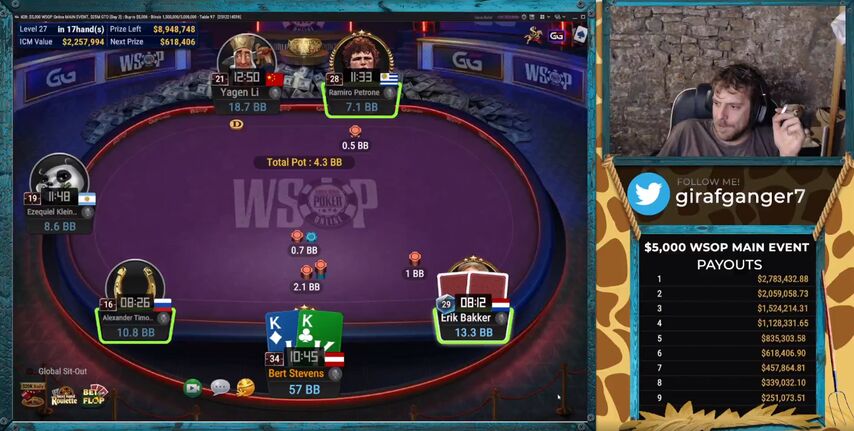 – Well, well... he thought!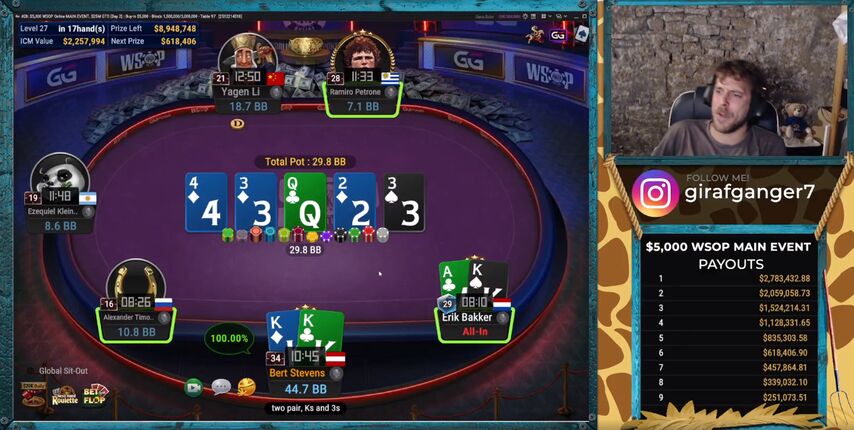 – Lets fucking go! – Bert shouted. – What a fat, fat spot! A little more, and we will find ourselves in a situation where it will be profitable to shove any two cards.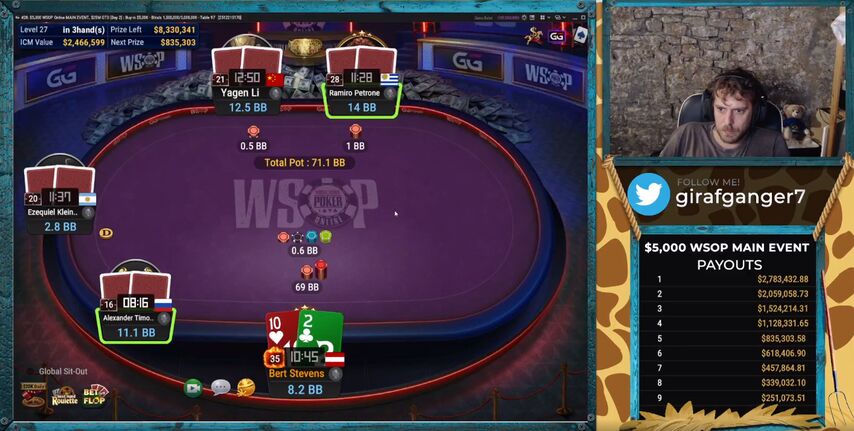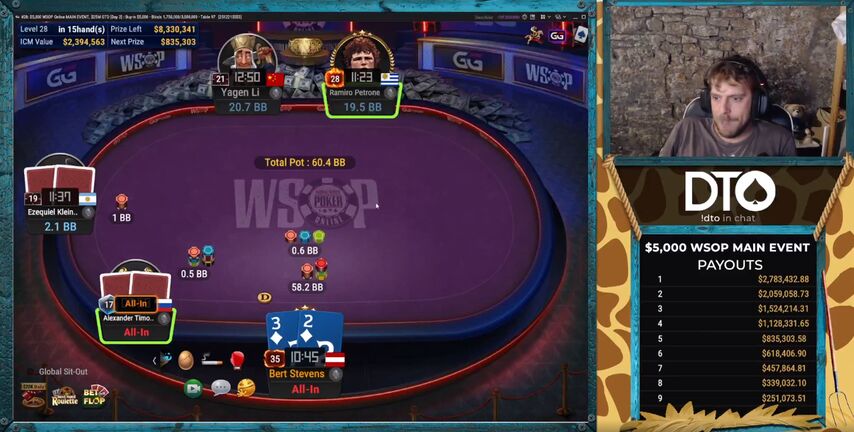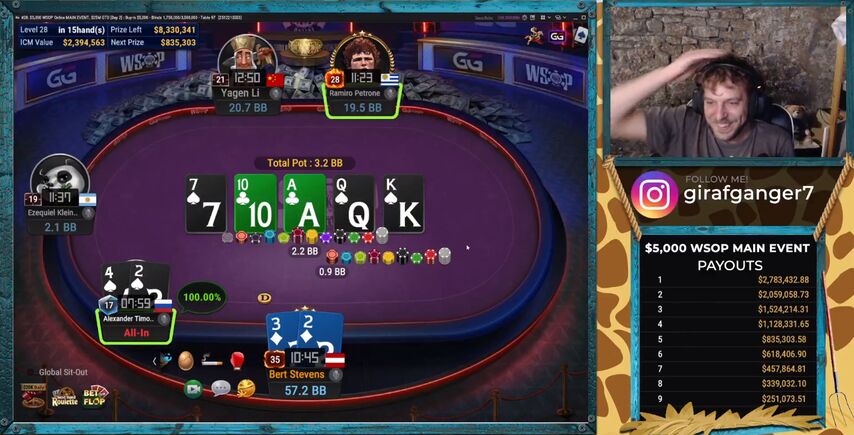 So, with jokes and jokes, without difficult decisions and unnecessary tension, we played out until the next break.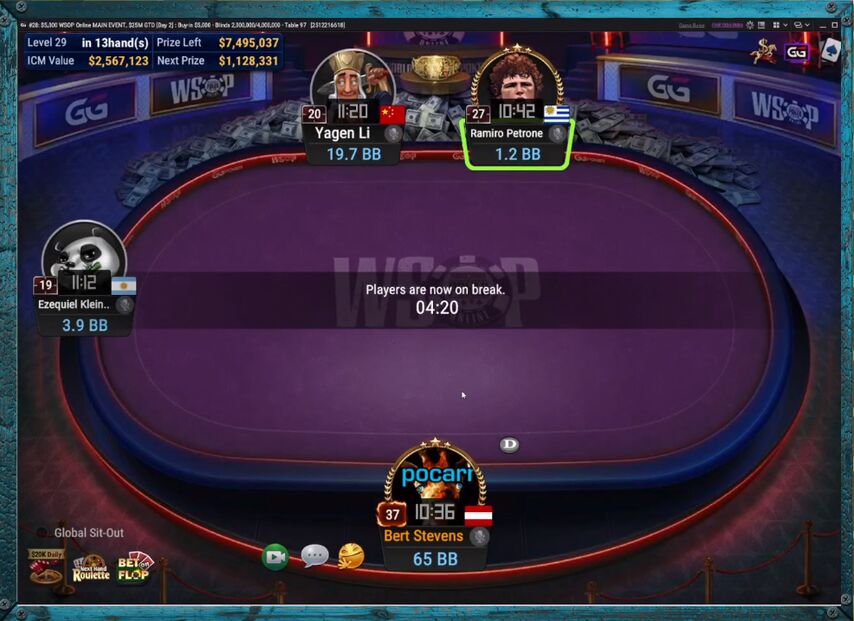 And from there, heads-up is just around the corner.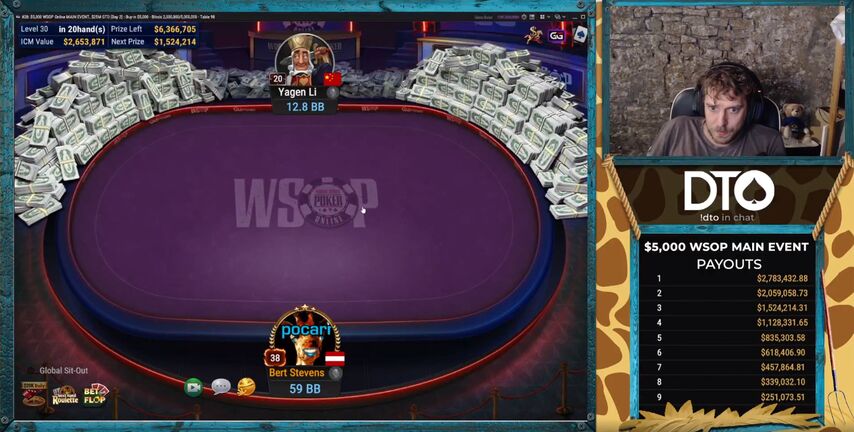 The first preflop all-in didn't work out a bit.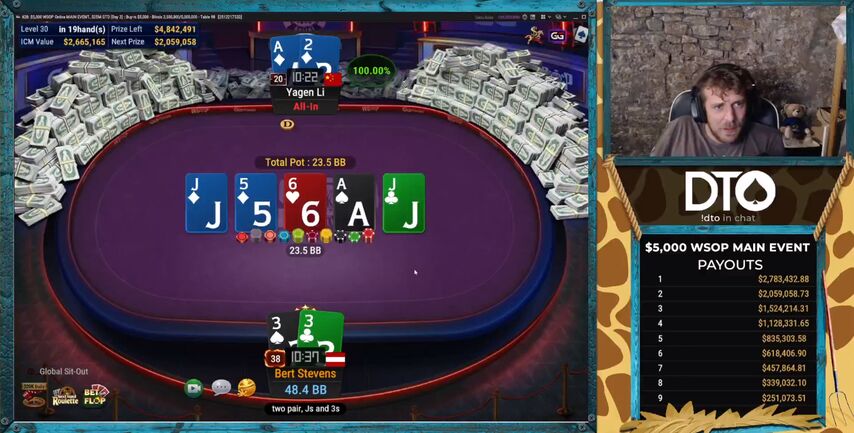 – "What is this, guys? Now I have to play real poker... Oh, fuck."
But he didn't have to – on the next hand it all ended with another preflop all-in, and to the cries of "Keep the weight!!!!" the weight was maintained.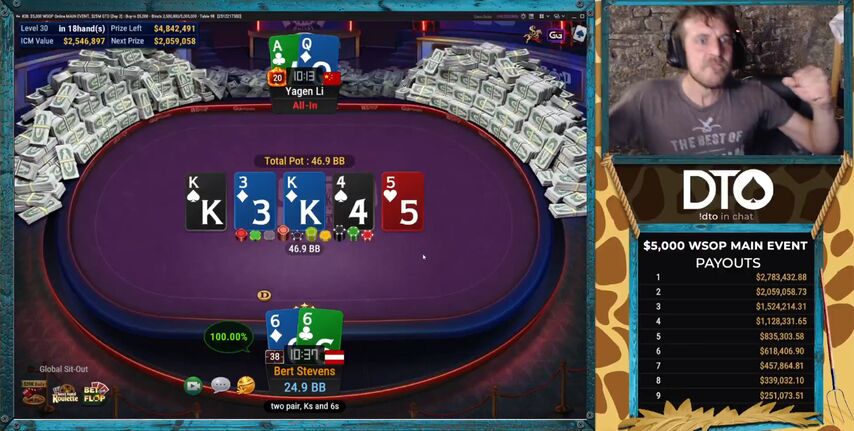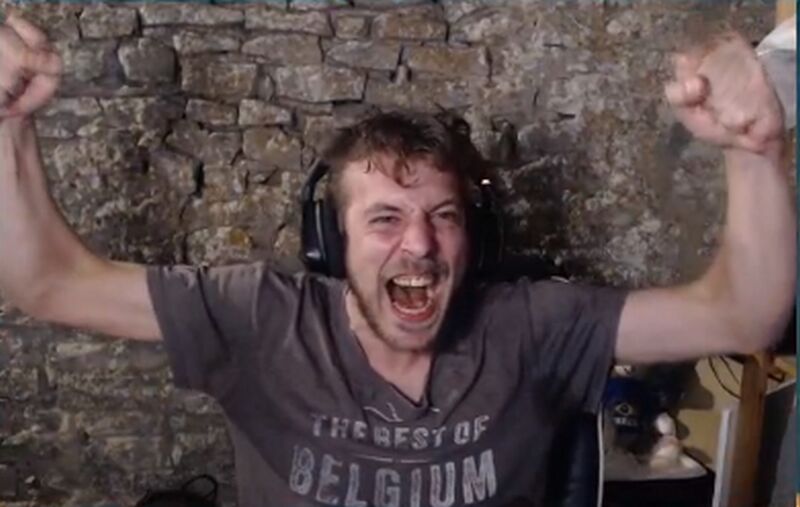 David Lappin: When you finished day two as the chip leader, you probably had high expectations for the final table. Were you very nervous before resuming the game?
Bert Stevens: I was terribly nervous, I just couldn't find a place for myself. However, as soon as I started the stream and turned on the music, everything went away. I was already playing with maximum concentration and was in perfect condition all the time.
DL: In the biggest tournament of your career, you managed to completely dominate the final table. How nice is it to play your A-game at such a moment?
BS: I had a good time from the very beginning, and then there were many favorable moments. I also played well, but literally everything in this final table was in my favor. I didn't lose concentration for a moment, even when I started raising 69 blinds for fun.
DL: You've played at the highest stakes online, but your career trajectory has been a rollercoaster, and so has your personal life. Can we say that in this tournament you proved everything to everyone?
GG: My girlfriend and I went through a lot of hardships. Last year I really went crazy, I drank a lot. Then I stopped, started streaming, and it was like I was in a fairy tale. It's a miracle that I'm still able to achieve success at the highest level because the squads are incredibly tight now. Even the greatest MTT player of all time cannot win without effort today.
DL: Your Twitch channel has been growing rapidly over the past couple of months and, of course, peaked on Tuesday. How do you feel when you get to share such success with the audience?
BS: The stream turned out absolutely magical. So many people were rooting for me, it was impossible to let them down. It seems like the responsibility should be pressing, but I felt very comfortable. Well, the explosion of emotions at the end, which occurred in front of the audience, made this moment truly special.
DL: Considering the rapid success of your streams, you will probably soon receive a bunch of offers from rooms. What will you tell them?
GG: I'm worth a lot more now, *****!