GGPoker Review
GGPoker is one of the newest kids on the poker block having only been around since 2014, but that hasn't stopped GGPoker from making its own unique mark on online poker. Being a site on the GG (Good Game) Network - also home to sister site Natural8 - GGPoker has a primarily European and Asian player base. One of the most noticeable aspects of the GGPoker is how it tries to make playing online poker feel more like a fun video game experience.
The whole site interface is geared towards making recreational players feel right at home. The lobby and tables are brilliantly designed and offer fun features like rabbit hunting, run-it-twice options and animated player taunts. Best of all for the casual player, third party software has been banned, and the playing field has been levelled with access to a single basic HUDs to deter grinders from cleaning up. Third party HUDs and tracking software are not permitted on GG.
It's great to see innovation in online poker and GGPoker has some really smart features that you can't find on any other poker network. All-in insurance to protect against bad beats and allowing players to stake each other in tournaments are great additions that give players more control over the action.
GGPoker is a Hold'em and Omaha focused site, but they offer a broad range of playing formats such as Randomised Sit & Gos, All-in or Fold, and 6+ Short Deck as well as fast cash games, and a plethora of tournament series including: GGMasters, Multi Millions and Bounty Hunters.
Promotions are plentiful, with Sit & Go leaderboards, rake races, freeroll tournaments, and a great 100% first deposit sign up bonus. Players can play on desktop or mobile clients and GGPoker is available for both Android and iOS operating systems.
Software
GGPoker without a doubt has some of the best poker software of any online cardroom. The GG network is clearly trying to set a new standard for what the online poker experience can be like. The graphics are stunning, the attention to detail is apparent and the software is updated very regularly to maintain these high standards.
GGPoker has clearly been designed with the player in mind. Everything is customizable from table configurations, bet amounts and rebuy preferences to personalised taunt animations to hurl at opponents. The innovative PokerCraft and HUD configurations let players analyse their game by checking positional statistics, wins and losses by gametype and even see if they've been running hot or cold.
Here are some of the another impressive features available on GGPoker:
Rabbit Hunting - Find out if you'd have made your draw by seeing the next card after folding your hand.
Cash Drop Hands - Win with between 5 and 500 big blinds extra in randomised pots which get bumped up with rake contributions.
All-in Insurance - Take a small winnings cut to make sure you never suffer another bad beat.
Card Squeeze - Peel back that all important river card to ramp up the tension.
Bubble Protection - Take a small risk to get your buy-in if you go out on the bubble.
Final Table Options - Switch seats, make deals and know your ICM.
Snapcam - Record 15-second videos and send them to opponents.
Shares exchange - Sell shares in tournament action or buy them from others directly in the lobby.
Smart HUB - Extra information on opponents.
SmartBetting - suggests the size of the bet at the table based on the history of your game. Great for mobile play.
Pokercraft - A database with detailed information about played hands and opponents.
Players can download the GGPoker software on PC or Mac and download the GGPoker app for mobiles and tablets running both iOS and Android.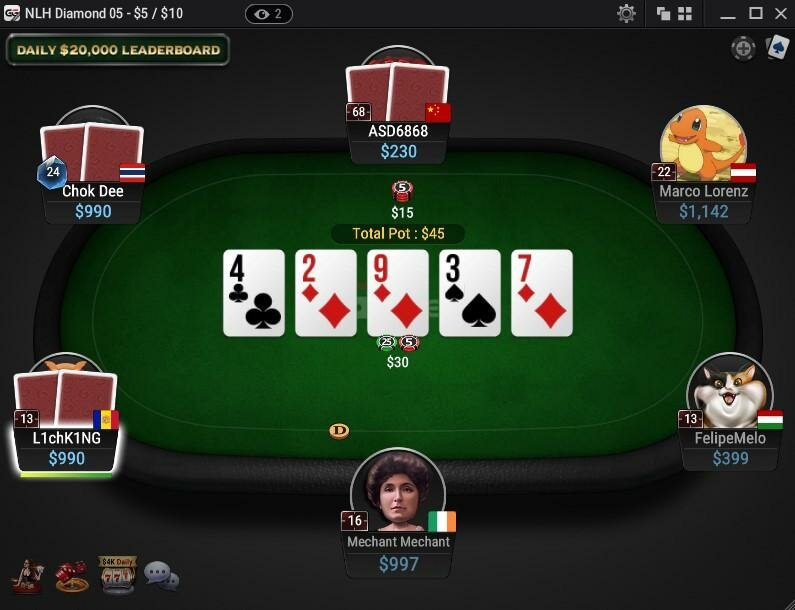 GGPoker App
The GGPoker App gives you access to all the features and style of the desktop clients except on the go, and literally at your fingertips. The mobile app has been designed to make navigation quick and smooth with streamlined multi-tabling (up to 4 tables), as well as casino app access and fully invertible graphics.
The GGPoker App is available on both iOS and Android for mobile and tablet.
Cash Games
Hold'em is spread from $0.01/$0.02 to $5/$10 and Omaha up until $10/$20. Even higher stakes are available in the VIP Games tab with tables of various formats up to $500/$1000 and Omaha up to $200/$400.
The tables below show the number of tables with three or more players at different times (data for November 2020):
Hold 'em
Limits
Time
$0.02/0.05
$0.05/$0.10
$0.10/$0.25
$0.25/$0.50
$0.50/$1
$1/$2
$2/$5
$5/$10
$10/$20
23:00 GMT
8
7
3
6
5
4
1
2
0
03:00 GMT
10
7
8
7
2
6
1
3
0
07:00 GMT
8
12
13
7
7
3
2
0
1
16:00 GMT
15
16
7
15
15
13
9
3
3
21:00 GMT
23
18
20
8
6
7
4
3
1
Omaha
Limits
Time
$0.05/$0.10
$0.10/$0.25
$0.25/$0.50
$0.50/$1
$1/$2
$2/$5
$5/$10
$10/$20
23:00 GMT
6
9
5
4
9
5
3
0
03:00 GMT
11
9
7
3
6
2
3
0
07:00 GMT
10
7
7
4
4
8
2
1
16:00 GMT
17
10
8
6
5
3
1
4
19:00 GMT
11
11
9
6
8
5
0
2
Rush & Cash (Fast-fold)
Rush & Cash is a variant that eliminates the wait between hands by immediately sending players to another table the moment they fold their hand. This makes it by far the most immersive form of poker as the action never stops. So if you find regular MTTs too long for your schedule, load up a Rush and Cash table and jump straight into the action.
The highest limit is for 6-max $1/$2. Rush & Cash features random splash pot bonuses.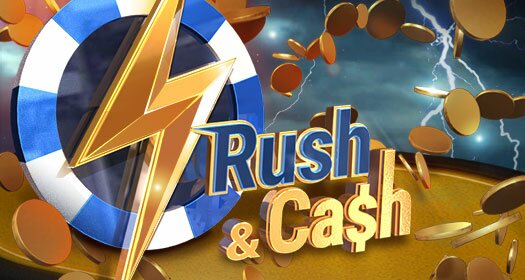 Spin & Gold
If long form MTTs aren't your thing, Spin & Gold shootouts are the most exciting way to get that poker hit in the shortest time possible. These fast paced tournaments pit three players against each other for a randomised prize that could be up to 12,000 times a buy-in with a maximum jackpot of $600,000. Chips are scarce and the blinds go up every 3 minutes so play is fast and furious.
Tables are spread for $0.25, $1, $3, $5, $10 and $5 buy-ins.
All-in or Fold
This game type is a fast and furious all-in fest where players start with 8 big blinds and try to shove their way to victory. You can only go all-in or fold, so except to gamble a bit, but watch out for the 800 big blind if you hit a straight flush. Hold'em tables run up to $50/$100 and for Omaha up to $100/200.
+6 Hold'em (Short Deck)
Every few years another poker innovation comes along to shake things up, the latest of which is Short Deck Hold'em. In this game cards 2 - 5 are discarded and the game is played as if they don't exist. Flushes beat full houses and A 6 7 8 9 makes a straight. If it sounds confusing make sure to practice on the free money tables before jumping into the real thing. The game is becoming more popular all the time so it's worth checking out.
Multi-table Tournaments (MTTs)
GGPoker hosts a variety of high quality tournaments daily with affordable buy-ins from $25 all the way up to super high roller buy-ins. Games run around the clock with guarantees of $2.5 million every week.
Like most poker sites all of the biggest tournaments are to be found on Sundays when all action doubles with increased buy-ins and guarantees. The biggest Sunday tournaments are the GG Masters and MILLION$ series held every Sunday. These include:
T$ Builder from $0.25 with prizes in the form of tournament dollars
GGMasters Buy-in $150 ($500,000 guaranteed)
GGMasters Bounty Buy-in $300 ($500,000 guaranteed)
GGMasters High Rollers Buy-in $1,050 ($1,000,000 guaranteed)
Super MILLION$ Buy-in $50 ($1,000,000 guaranteed)
Omaholic Bounty Quarter MILLION$ Buy-in $52,50 ($250,000 guaranteed)
Super Millions High Roller Buy-in $10,300 ($1,500,000 guaranteed)

GGPoker Freerolls
GGPoker also has hourly WSOP ticket freerolls running Monday to Saturday culminating with the main Saturday Freeroll guaranteed for $1500 in tournament tickets every single week.
First Deposit Bonus
Upon making a first deposit of $10-$20 on GGPoker players can choose from the following offers:
$50 in cash and tournament tickets ($20 deposit)
100% deposit match bonus ($10 deposit minimum) up to $600. The bonus is awarded in instalments of $1 for every $5 in rake. Players have 90 days to clear the bonus.
Weekly Freerolls
As well as gaining access to GGPoker's regular freeroll schedule, first depositors gain access to two $250 freerolls which run every week.
New Player Missions
For new players, there is also a 30-day "Honeymoon" promotion with prizes for completing daily missions. Clearing all missions is worth a total reward of $300.
Players can start completing tasks within 7 days after creating an account.
| Completed missions | Awards |
| --- | --- |
| 3 | 4 Spin & Gold $0.25 tickets |
| 5 | $2.50 |
| 7 | 5 Spin & Gold $1 tickets |
| 15 | T$12.50 |
| 20 | $20.00 |
| 25 | T$110 |
| 30 | $150 |
The loyalty program of the Fish Buffet room allows you to return up to 60% rakeback.
Rake and Rakeback
GGPoker has a system in which the rake is paid by the losers in the hand. The actual rake is affected by the coefficient set for each player separately, the formula for calculating it is not disclosed. In practice, it turns out that professionals get much less rakeback than amateurs.
Rake is set at 5%, Spin & Gold fees 7%, and fees for tournaments vary. Information can be found in the lobby of each of them.
The percentage of rakeback depends on the status in the multi-level Fish Buffet program. For every $0.01 rake, one FP point is awarded, for the next level you need to earn a certain number of points in a set time period. The minimum rakeback is 15%, after reaching Platinum level, you can return 60%.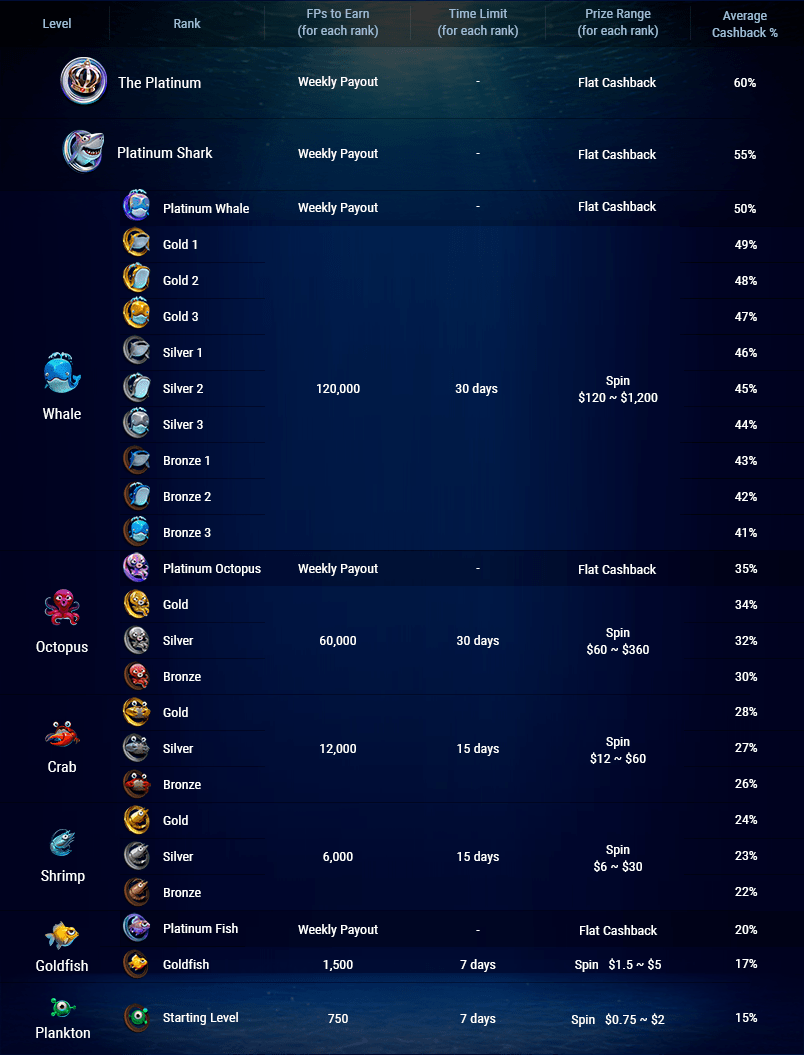 When you get a new level (there are 24 of them in total), you are offered to spin the wheel for cash prizes.
Deposits and Withdrawals
Deposits can be made from a minimum of $10 using a very wide range of payment options including Bitcoin. However the same may not apply for withdrawals, so be careful to check that you have a means of withdrawing funds before depositing. It is also impossible to withdraw funds without verifying your identity so make sure you do that ahead of needing to withdraw. Supported payment systems include:
Bank cards
Skrill
Neteller
EcoPayz
Luxon
Much Better
Cryptocurrency
P2P (between players)
It should be taken into account that identity verification for deposits may take a few days to confirm, so be sure to send documents in advance of making withdrawals.
Payment methods may vary by country. GGPoker may charge a $1 withdrawal fee depending on the choice of payment method.

Conclusion
GGPoker is a great option for casual and serious players alike as it has a good player pool, generous offers and some of the best software around. Its tournament schedule has something for everyone and the gamenplay is a lot of fun.
On the downside, a lot of countries are restricted from playing and the rake is quite high compared to some of its rival sites.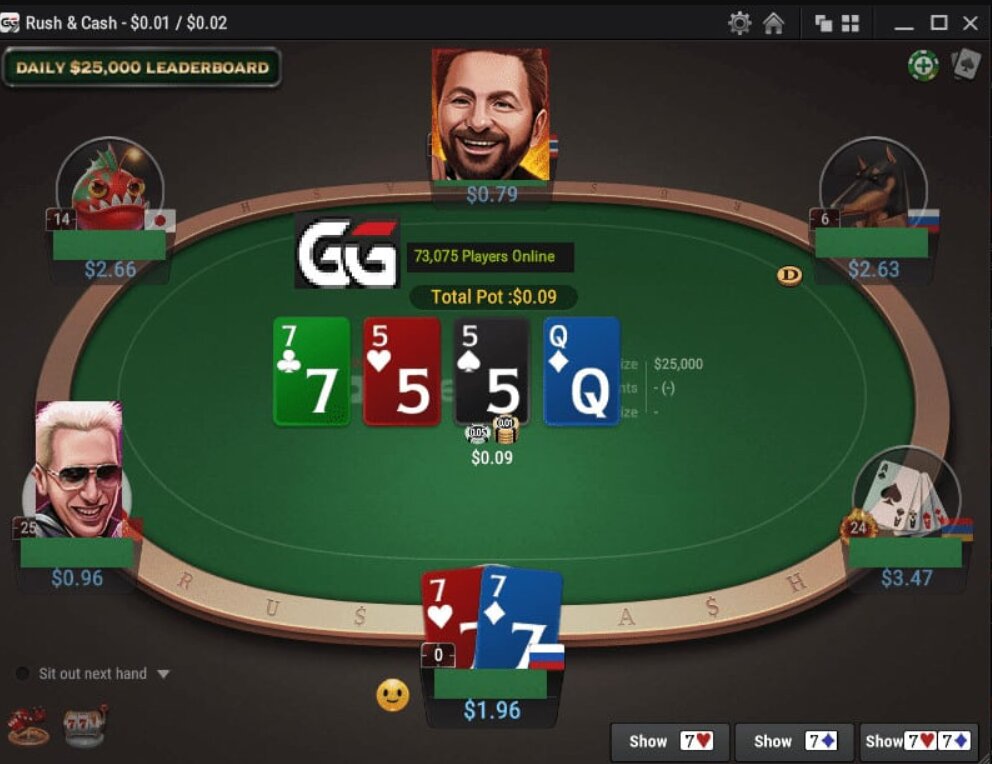 Customer Service
GGPoker support can be reached via live chat or email.
GGPoker Frequently Asked Questions
Q: Can I use PokerTracker, Holdem Manager or Hand2Note?
A: No, additional tracking software is prohibited.
Q: Is there a first deposit bonus?
A: Yes, 100% for deposits up to $600 (first and subsequent, the bonus can be extended).
Q: Is there a rakeback on GGPoker?
A: Yes, with the Fish Buffet system players can earn up to 60%.
Q: Is there a GGPoker US client?
A: No. GGPoker US is not currently available.
Q: Is there a GG Poker Canada client?
A: No. GG Poker Canada is not currently available.
Q: Is GGPoker Canada rigged?
A: GGPoker Canada is not rigged. But because online poker sites like GGPoker typically deal hands 3 times faster than a live poker game, you should expect 3 times as many bad beats.
Q: Is there a GGPoker UK client?
A: Yes. GGPoker is currently available in the UK.
Q: GGPoker vs PokerStars, which is the best?
A: Why choose? GG and PokerStars are both excellent sites. GG probably has weaker player pools whereas PokerStars cannot be beaten for game selection. Players have to make a choice based on their own preferences such as rakeback, promotions, software and availability.