In Monte Carlo, it was possible to win more than $1 million in just two tournaments, and the Belarusian high roller managed to do it in both.
In the €100,000 buy-in tournament, Mikita chopped heads-up with Alex Kulev.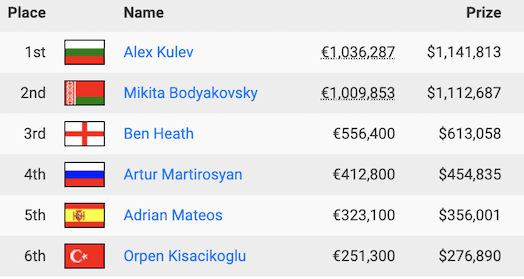 Bodyakovsky was the chip leader throughout the final table, at one point he had more chips than everyone else combined. It is difficult to imagine a more ideal situation for such an experienced and strong player.
A couple of years ago, Mikita already found himself in a similar position in one of the expensive tournaments of the World Series. Daniel Negreanu then colorfully described the sensations experienced by other players.
– This is the most terrible ICM spot, when the chip leader can do whatever he wants, and you just have to sit and watch it. Mikita played exclusively all-in, and I folded 88 twice after his shoves and A8s once more. Obviously 8's are way better than his shoving range, but I didn't care, I know ICM is supposed to fold.
This time history repeated itself. Bodyakovsky again skillfully terrorized the table, and the rest only watched. For example, Ben Heath with a 15 big blind stack on the bubble was forced to fold AQ.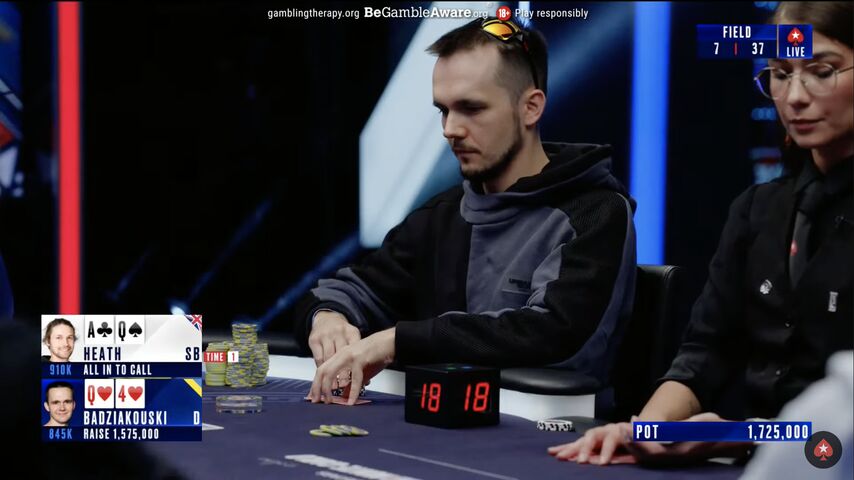 After the heads-up chop, the players left €43,000 in the middle. Mikita at that moment had an advantage of a couple of blinds. The lead passed from one player to another several times, but Kulev came up to the final hand with a stack twice as large. Mikita 3-bet all-in with , Kulev called with ATs and caught a ten on the river.
However, Mikita did not leave Monte Carlo without a trophy. At the end of the series, he won the €25,000 Multi-Day High Roller.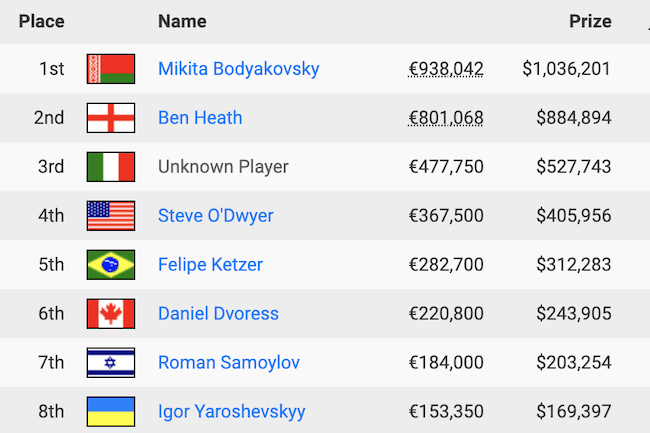 The tournament gathered an impressive number of participants – taking into account the re-entries, the field was 211 entries.
Mikita entered this final table with the third stack, but starting from the final six he eliminated all opponents.
At 25,000/50,000 Daniel Dvoress bet 650,000 on the board (leaving one 5,000 chip for himself) into the pot of 500,000, and immediately folded to Mikita's all-in. After a couple of hands, Dvoress was eliminated in 6th place.
After that, Bodyakovsky busted Felipe Ketzer (AQ>AT), Steve O'Dwyer (AA>TT), and Enrico Camochi, who hides his name from HendonMob (JJ>99), to rest.
Heads-up against Ben Heath, Mikita started with a big advantage – 100 blinds to 35. At one point, Heath had 10 blinds left, but he managed to level the stacks and even took the lead. In the end, when the players had 40 blinds left for two, they decided to split and shoved blindly for the trophy. Nikita beat 54s with 32o.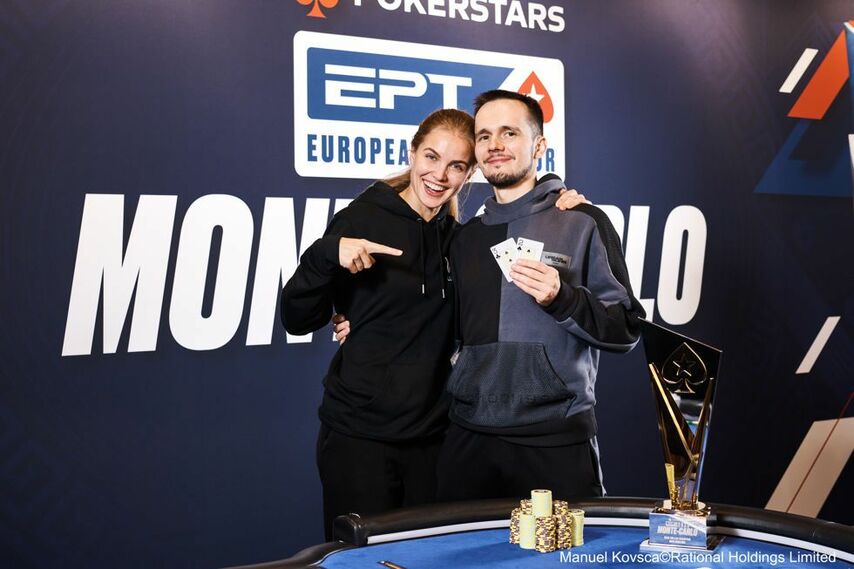 Mike Watson
Poker veteran "SirWatts" became the main event champion (1,098 entries) and joined the elite club of two-time EPT winners. Before him, only Victoria Coren and Mikalai Pobal managed to do this. In 2016, Mike finished first in the PCA Main Event.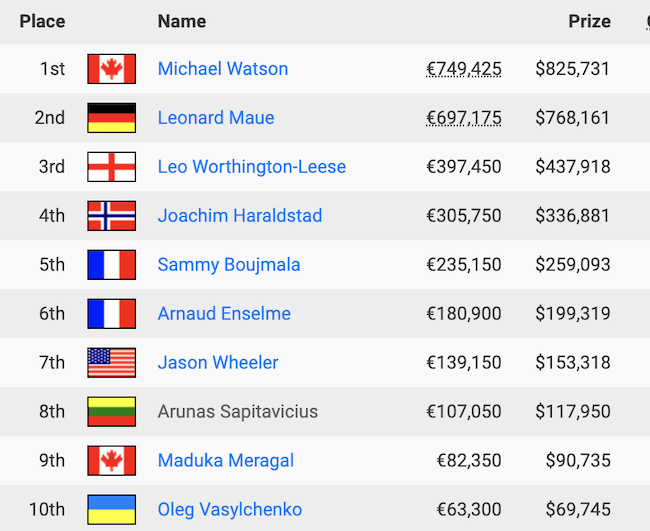 On Day 4, Mike was on the verge of being eliminated, but caught two outs on the river when he shoved QQ against AK.
As usual, not a single muscle flinched on Mike's face when the queen that saved him came on the river.
In heads-up, the players chopped. In the final hand, Watson spent all the time banks, but still called the opponent's ambitious bluff.
If someone expected big celebrations, then they were again disappointed. Mike limited himself to warm hugs with his wife.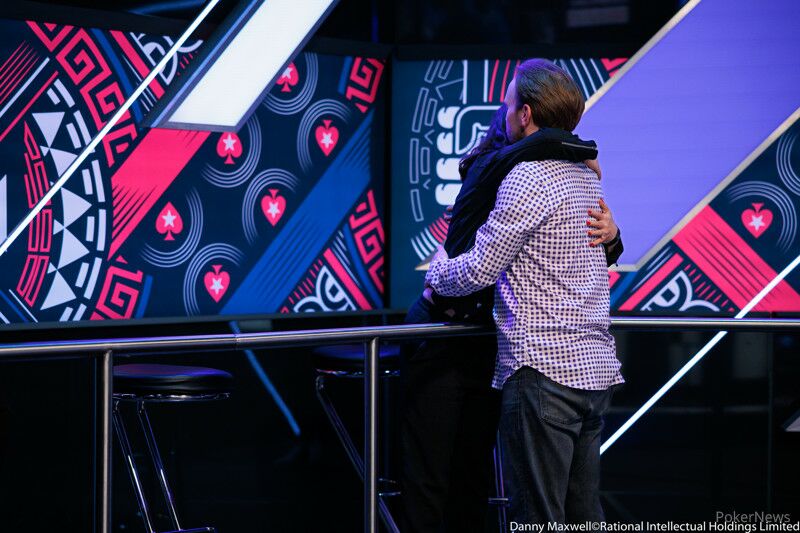 Curiously, all of Watson's biggest live wins have been in Hold'em tournaments. He has first places in the EPT, WPT, Triton, and Aussie Millions series. At the same time, he has been considered one of the strongest all-around players for many years (he has 9 wins in the WCOOP and SCOOP series and only three in NLH). At the World Series, Mike plays all the limit games tournaments every year, but the coveted bracelet has not come his way. At the WSOP, he has 82 cashes, multiple final tables, five runners-up, but no wins.
Artur Martirosyan
In the €100,000 buy-in tournament, Artur was held hostage by Mikita Bodyakovsky and ICM and took 4th place.
– GG, squeezed out what we could – he wrote in a telegram.
After the elimination, Arthur immediately got into the main tournament, where he managed another very long run. He was eliminated in 14th place by Jason Wheeler.
But the key pot was played a little earlier against Leo Worthington-Leese, who eventually finished 3rd.
At 15,000/30,000 Leo with opened to 60,000, Arthur defended the big blind with . On the board Arthur check-called all streets, Leo bet 85,000, 285,000, and 675,000.
In the comments in the telegram, many did not appreciate the call of the river. Arthur had to remind the experts that not everything is so simple directly at the table:
– One thing to keep in mind is that every action carries a certain ev (expectation) and there is no such thing as a decision that is fundamentally right or wrong (well, rarely), so often you will admire my herocalls and at the same time critique my wrong guesses. But in the long run, often these spots where you're hesitant between calling and folding (being a true pro) carry a very similar ev when assessing the range correctly. And do not forget that the pot odds will almost always be such that more often I will be wrong and this is normal, this is mathematics.
On the final day of the series, Artur and Alexsejs Ponakovs chopped in a small (23 entries) €25,000 buy-in tournament.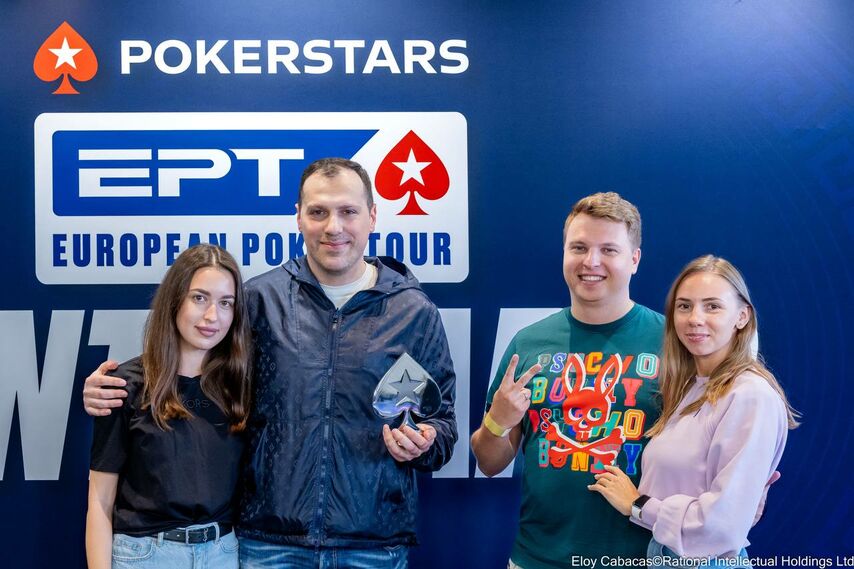 In the early days of the series, Arthur finished 4th in the €10,000 Mystery Bounty.
Prize money excluding bounty: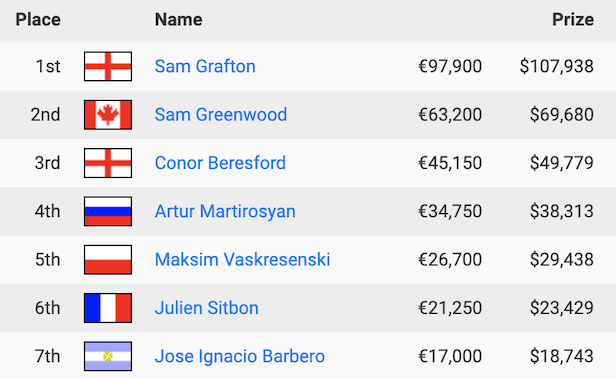 The two biggest bounties of €50,000 came from Conor Beresford and Nacho Barbero. Artur and Erik Seidel (he didn't even make the money) took €25,000 each.
In total, €370,000 (minimum €7,500) were up for grabs in the bounty, €127,650 of which went to Beresford, who knocked out five opponents.
Since the beginning of the year, Ike has won almost $6 million in tournaments. He had two big runs in this series.
In one of the €25,000 one-day tournaments, he chopped with Seth Davis. And Stephen Chidwick joined them in the €50,000 buy-in tournament.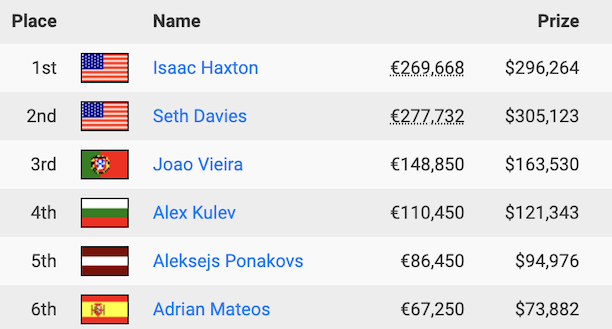 After the victory, Haxton posted a photo with the famous trophy and recalled his April tweet:
– The best thing in victories is, of course, money. In second place is the fact that some idiots on Twitter get mad that the winner is even photographed wearing a mask.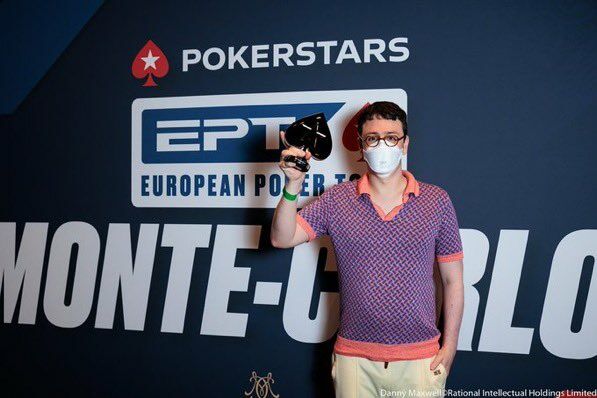 "With such a T-shirt, a mask is not needed at all," Matt Glantz noted in the comments.
Orpen Kisacikoglu
The Turkish amateur is also having an impressive year. In terms of prize money for 2023, he is behind only Haxton and Greenwood.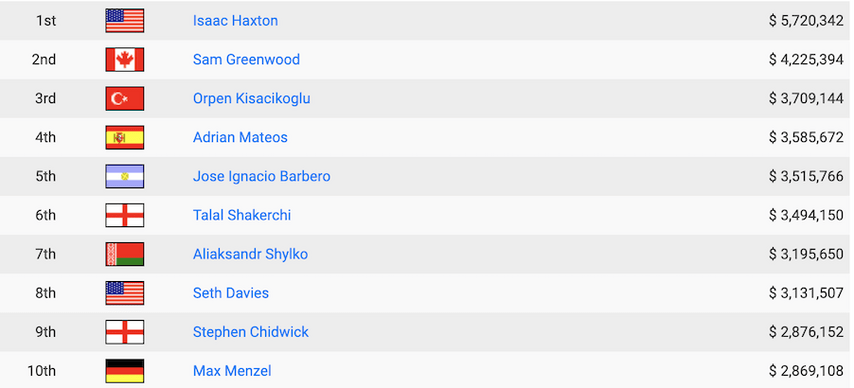 Kisacikoglu also did not leave this series without a six-figure win. Orpen was the strongest in the €25,000 buy-in event with 66 entries.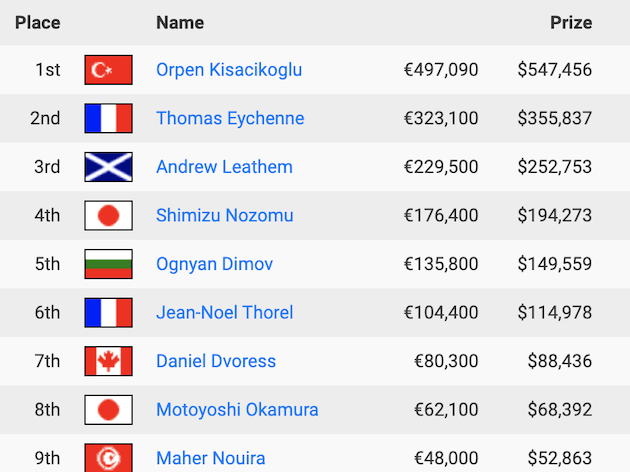 Kisacikoglu's poker progress has recently been praised by many regulars. In a recent interview with Jungleman, he was cited by Nick Petrangelo as an example.
And Charlie Carrel admired the Turk after his success in the Triton series in Vietnam:
-- Orpen is a testament to the fact that you can learn a very *GTO* approach and become a crusher very quickly, if you are surrounded by the right people, and have the right mind for it. Perhaps a one-of-a-kind phenomenon in the poker world. From business shark to poker shark.