The Triton series started yesterday in Vietnam and can be followed daily on the PokerOK channel. In addition to a scattering of expensive tournaments, the organizers create several cash game sessions at exorbitant rates at each series, where you can get in by invitation only. We recently reviewed these battles from the Madrid leg.
The other day, episodes from the Cypriot series, which took place in September, were posted on the Triton channel.
The blinds are $1,000/$2,000/$2,000, with Dan Cates, Wai Kin Yong, Punnat Punsri, Michael Zhang, Leon Tsoukernik, Paul Phua, Michael Addamo, and Hyun Wayne.
Jungleman spent the entire series in the image of the mythical character Triton. Most fortunate was Wai Kin Yong, who happened to be his neighbor and took the brunt. But the rest of the players did not have to be bored.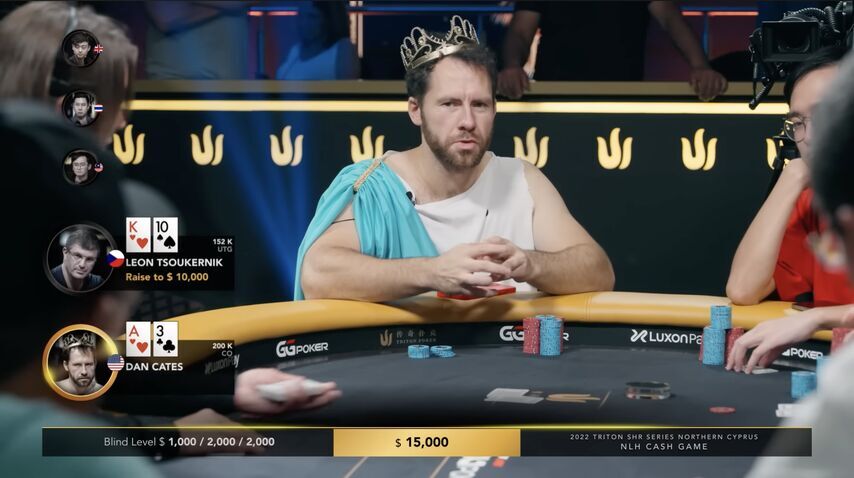 "Friends, name three things for which you are grateful today," Jungle immediately stunned the neighbors.
– I would appreciate any flip won in today's session, – said Michael Zhang.
The rest of the question was ignored, but Cates did not calm down
"We must be able to enjoy the little things," he declared morally. You never know what significant events they can lead to.
"It's very beautiful here," Michael Addamo supported the conversation. – Always clear skies. I went swimming and diving in the morning. I am grateful to have this opportunity.
During these conversations, the first big pot was played. Addamo straddled and got QQ.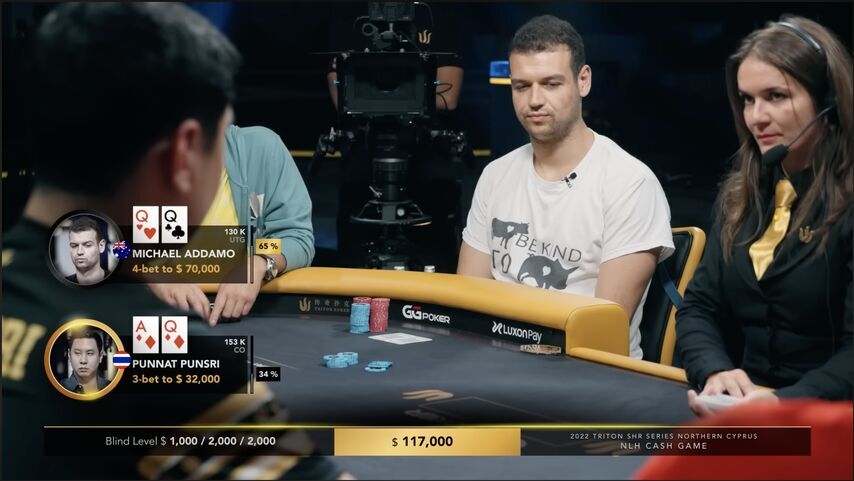 Cates opened with a $10,000 early raise, Punsri 3-bet, and shoved to Adamo's 4-bet.
The board was run twice, in both cases the pair of the Australian held.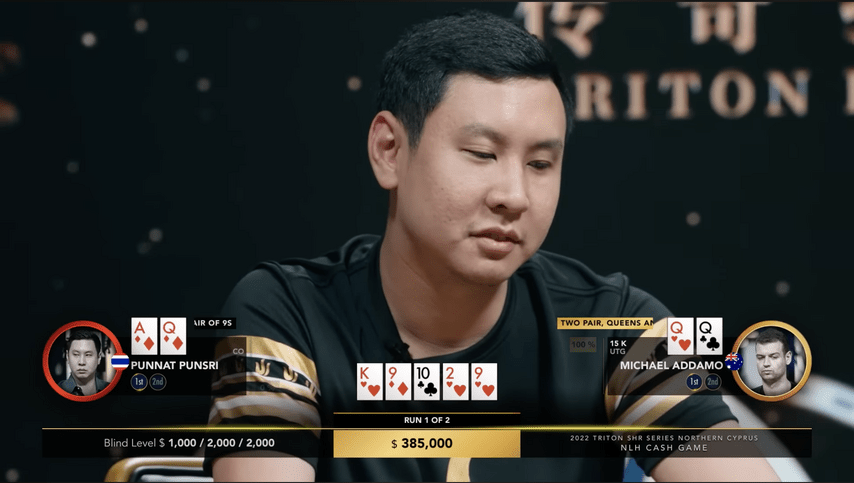 Punnat made a $200,000 rebuy and almost immediately won back some of the loss.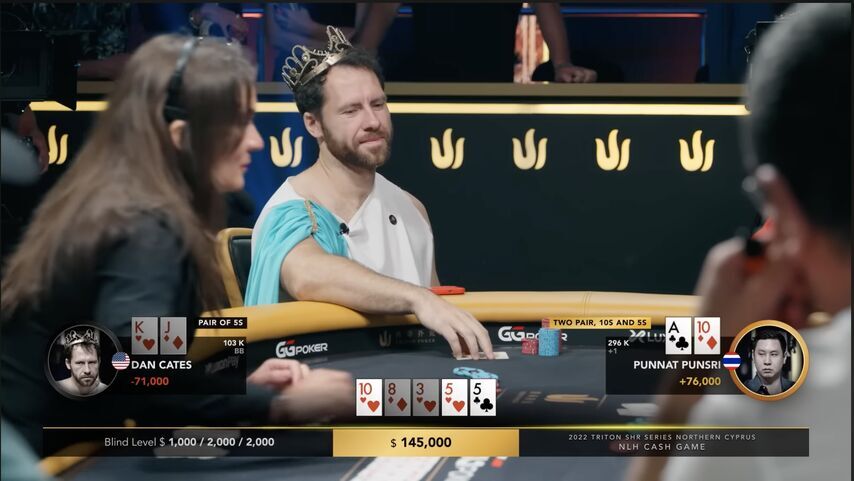 Wai Kin Yong bet a straddle, Punsri raised to $10,000 and Cates defended the BB. Dan check-called $11,000 on the flop, the turn was checked, and on the river, Cates bet $48,000 into a $49,000 pot. Punsri thought for a moment and called.
"Just don't beat yourself up," Tsoukernik asked. "One day Jungle lost a big pot and hit himself right in the forehead with all his might. I still remember that sound, like a piece of meat weighing 3-4 kg was thrown to the floor.
Punsri didn't stop there and immediately won another big pot.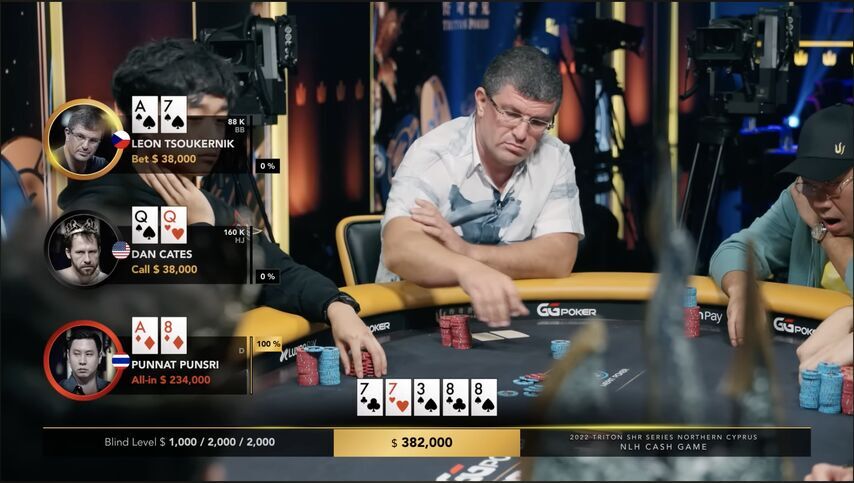 Cates opened with a $5,000 raise and Punsri and Leon paid. The flop saw Jungle c-bet $6,000, Punsri raised to $18,000, and two calls followed. The turn checked through. On the river, Leon bid $38,000 into a $72,000 pot, Cates called and Punsri called all-in. Tsoukernik called instantly, and Cates threw it away with the words: "I feel you have an eight."
"Bring me $200,000," Leon asked. Saved a lot of money in this hand, could have lost a million. Now I feel like I'm in the black. Lost the least.
The next hand, Leon shoved $195,000 into a $17,000 pot.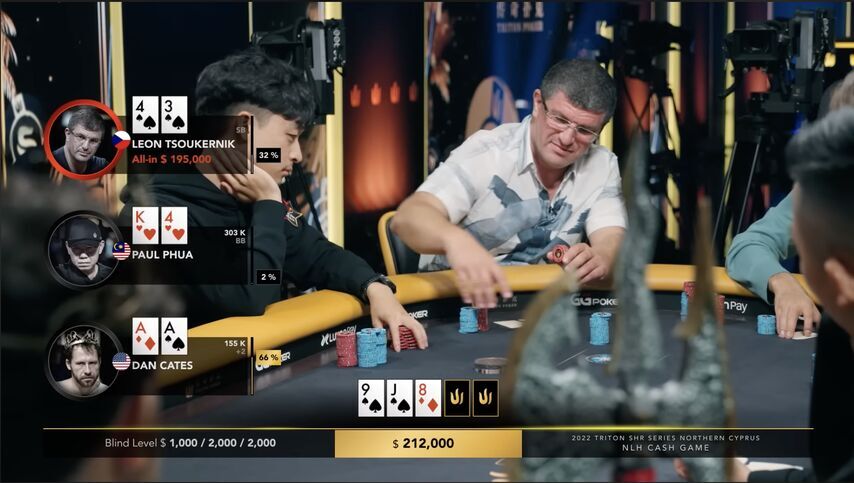 Cates raised to $5,000 and got called twice. On the flop, Phua quickly folded, and Jungle thought about it. Leon at that moment performed his version of the Elvis Presley song "It's Now or Never" (out of respect for the readers, we suggest that they listen to a more classical version).
But even the song did not help, Jungle threw his cards in the muck face-up.
"How could you fold aces?" Leon was surprised. "I don't have anything, just 4-high."
Cates was brought a large shell, which he tried to use as a bugle. But nothing musical could not be reproduced.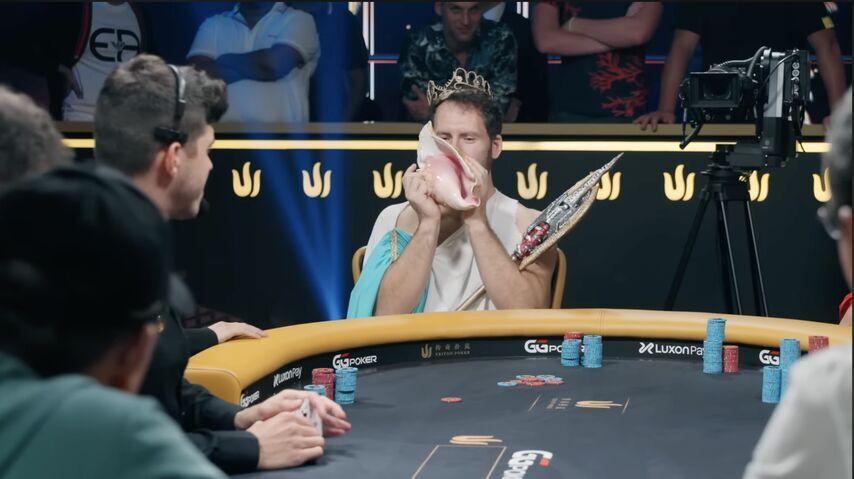 Are you trying to eat her? Tsoukernik said. "Just don't hurt yourself."
– How stupid it will look on TV – laughed Paul Phua.
At the end of the first episode, Leon shoved the flop again, but with the best hand.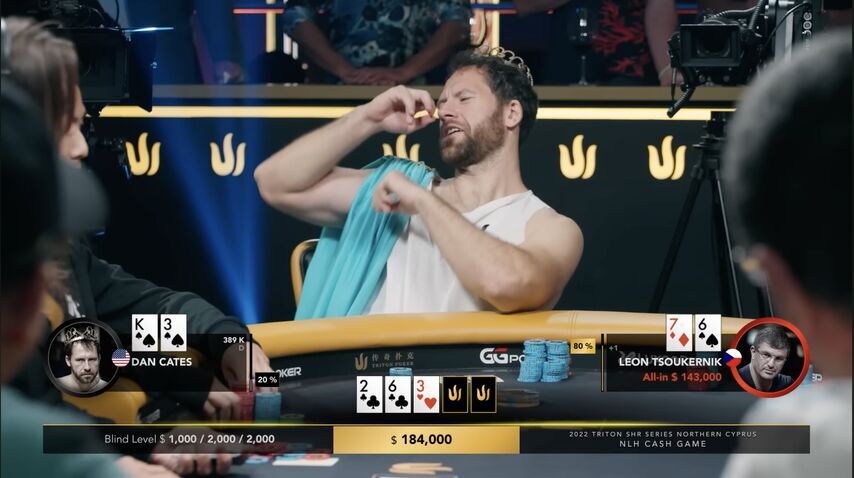 Michael Zhang straddled with 54, Leon double-straddled $8,000, and Cates min-raised to $16,000. Only Leon called. When he saw the flop, he immediately shoved.
"Easy money against Jungle?" Michael Zhang chuckled.
"Nice ones," Leon corrected him. "The money won from Jungle is the nicest."
"Who is this Jungle you speak of?" I am Triton – the king of the seven seas!
The first episode ended with a showdown between Leon and Addamo.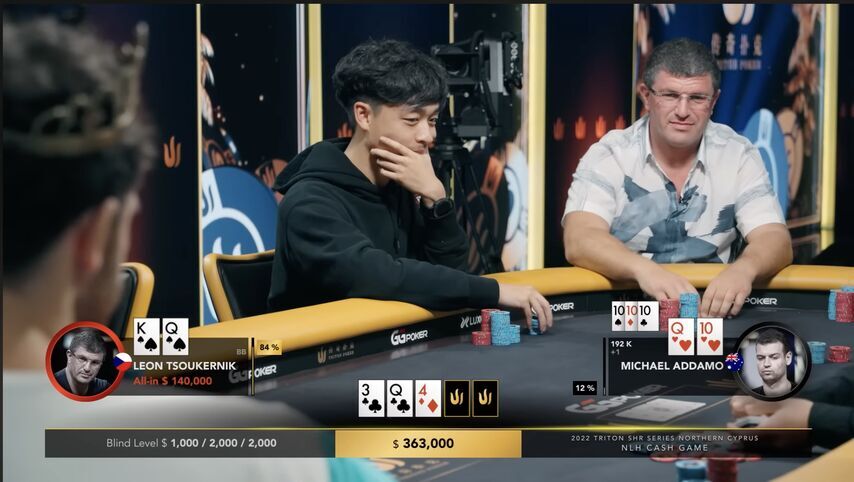 After the straddle, Michael raised to $9,000 and called a 3-bet to $38,000. Leon didn't slow play on the flop and simply shoved, Addamo made an instant call.
– Twice? Michael suggested.
"One," Leon snapped and won the hand.
The beginning of the second episode turned out to be not rich in events. Jungleman was apparently tired of constantly maintaining the image, and Leon spent more time talking away from the table. The rest of the players were talkative and did not differ before that. However, in the middle of the episode, Cates and Punnat Punsri played the biggest pot of the session.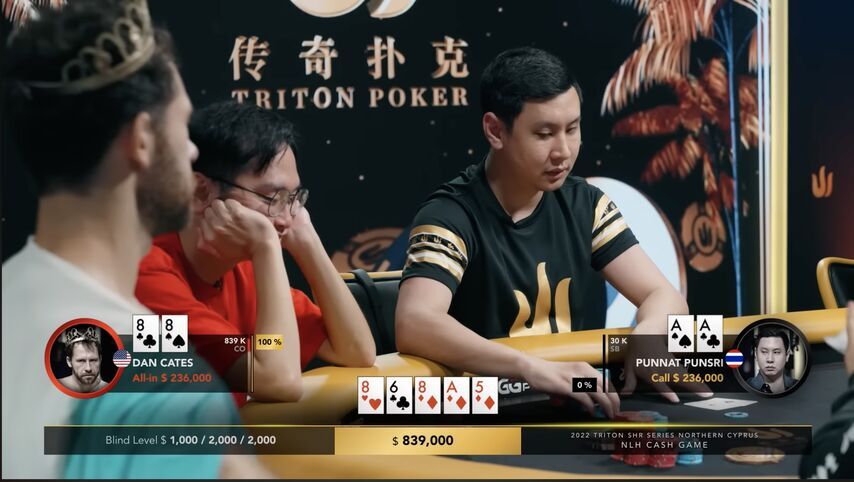 Leon straddle, Hyun Wayne raised to $9,000 with KTs, Cates called and then called Punnat Punsri's $54,000 3-bet. Punnat c-bet $44,000 on the flop, check-called a $77,000 bet on the turn, and instantly paid off his opponent's shove on the river.
"Nice hand," Punnat said calmly when he saw his opponent's hand and asked to bring him $200,000. In the comments, they noted with what dignity he took such a cooler.
Full video of the hand.
At the end of the episode, Wai Kin Yong took three streets with Santosh Suvarna, who replaced Paul Phua.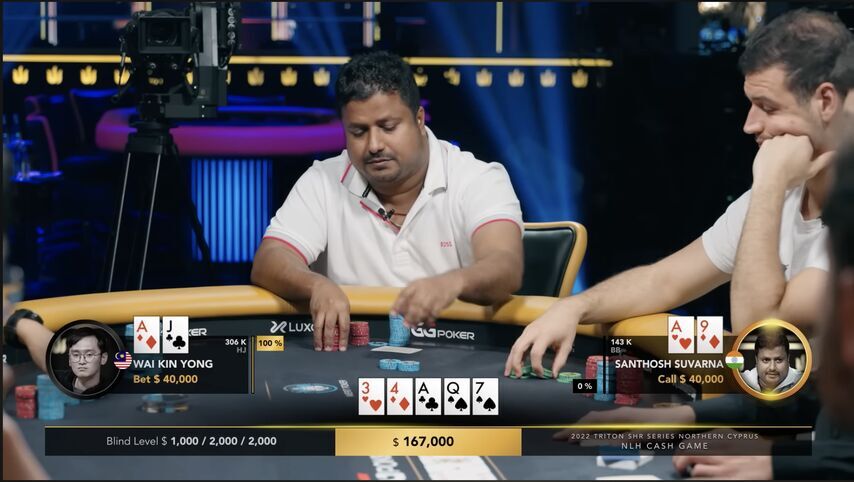 Wai Kin raised to $10,000 and made three bets – $8,000, $22,000 and $40,000.
The third episode also started with the addition of Wai Kin, this time Addamo became his victim.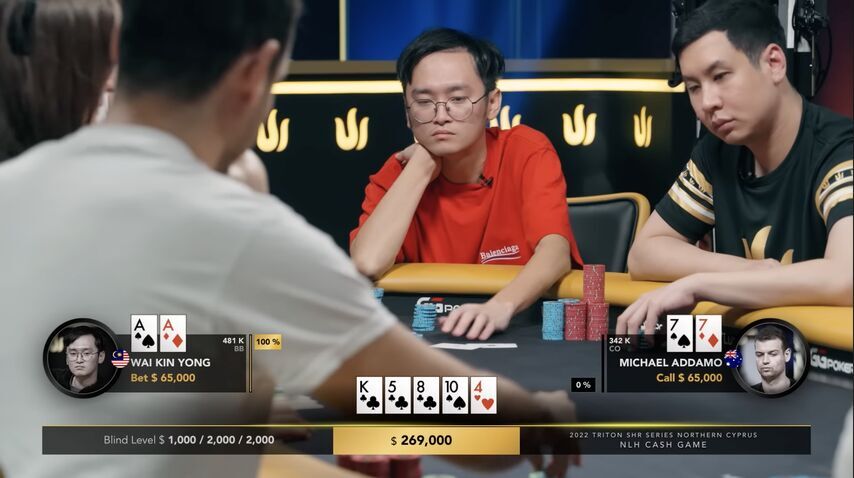 Michael opened with a $9,000 raise and called a $36,000 3-bet. On the flop, Wai Kin bet $30,000, the turn was checked, and on the river, Addamo thought about a $65,000 bet for a long time, but paid.
Punnat Punsri folded queens preflop, which further increased the army of his fans.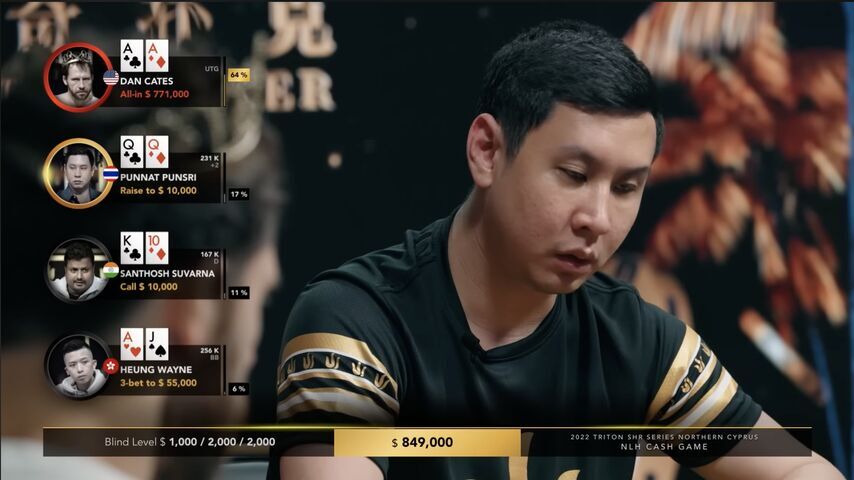 Jungle with aces straddled, Punnat raised, Suvarna called, Heung Wayne three-bet and Cates shoved. Punnat thought for a long time, but managed to fold the cards.
"Big hand," he whispered to one of the neighbors.
Other players have also successfully used the preflop shoving strategy. Michael Zhang straddle received and moved all-in when the action returned to him.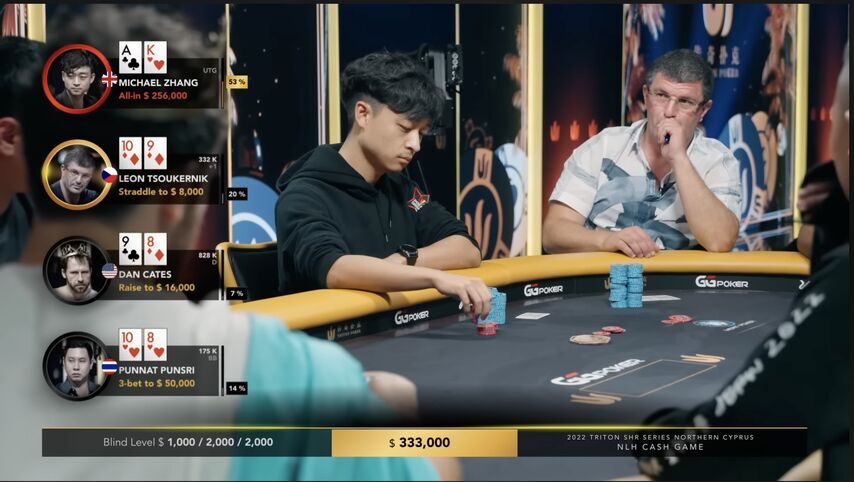 Nobody even thought about calling.
Heung Wayne went all-in with jacks, but no one supported his impulse either.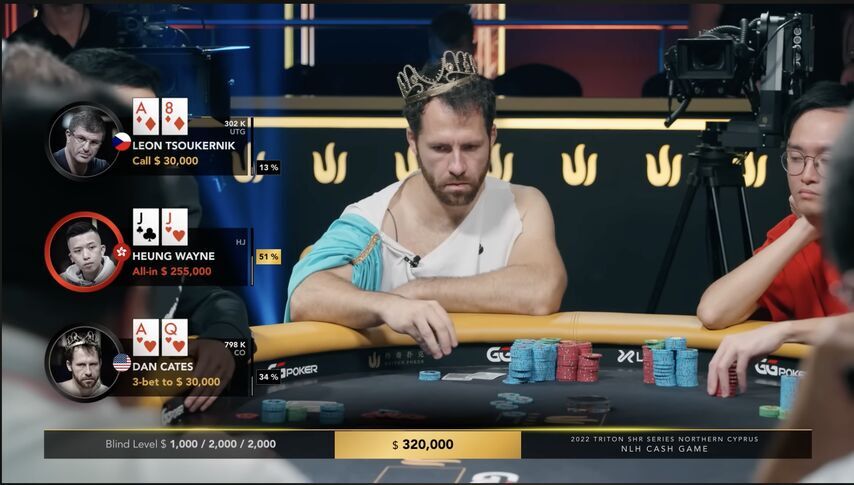 Leon straddled, Wayne raised to $9,000, Cates raised, Leon called, but both quickly folded.
"If Jungle had called, I would have called too," Leon said. – I had A8s.
A little later, Leon still found an opportunity to make a gift to his rivals.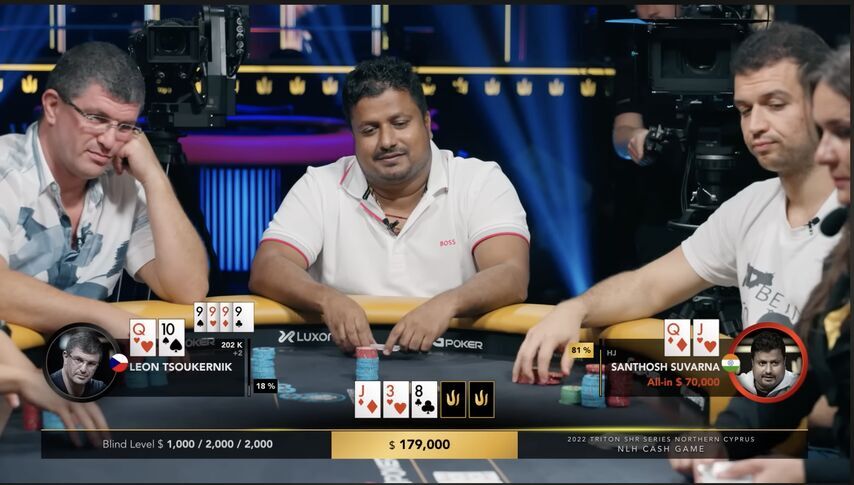 Punnat Punsri straddled, Michael Zhang raised to $10,000 with ATo UTG+1, Tsoukernik and Santosh paid. On the flop, Leon bet $20,000 with a gutshot, to which Santosh called all-in.
"Just for you," Leon told his "new friend" and called.
This is probably how Leon returned the favor to Santosh for the $200,000 buy-in tournament.
In the last hand of the first day, Santosh shoved 120 blinds preflop with , Tsoukernik called with a not-so-obvious hand.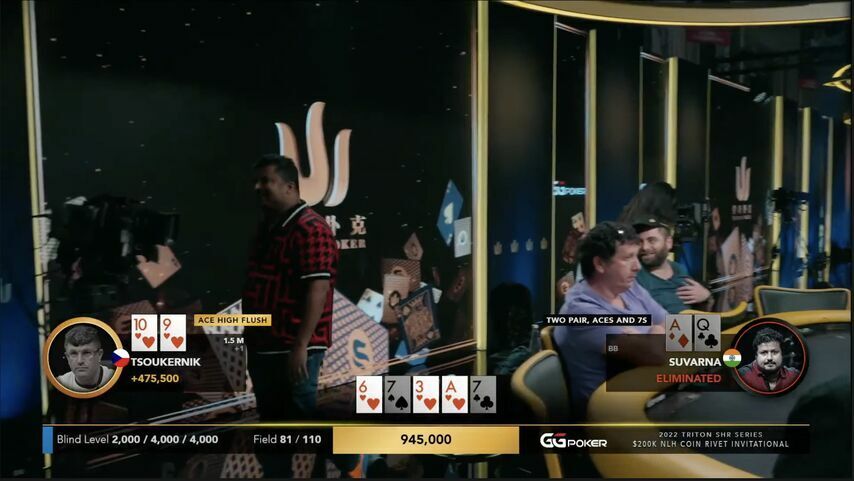 In the top 20, history repeated itself, only Leon already had aces.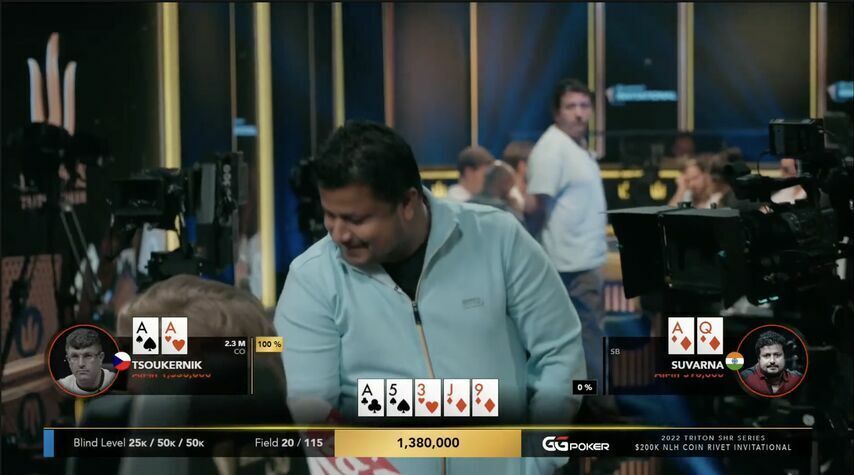 The players were told that they had two hands left to play. In the penultimate hand, Leon bet a double straddle, Wayne raised to $16,000, Zhang three-bet to $64,000, Leon called, and Wayne pushed all-in for two calls.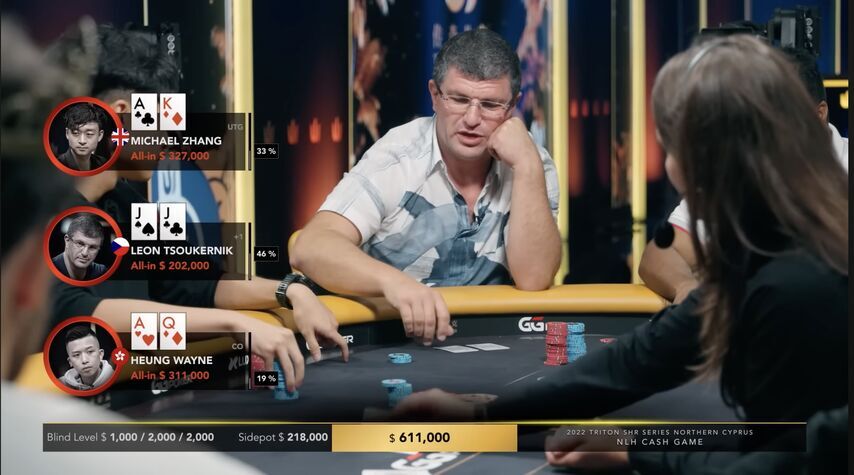 Leon's jacks held and he tripled.
"Leon, now we have to play at least another round," Zhang pleaded. – I'm on tilt.
– No, I haven't played poker for so long, it's already 4 in the morning, and I announced in advance that I would finish.
"What an ugly hit and run," Jungle scolded him, returning to his lord of the seas.
"You can call me whatever you like, the main thing is to bring your money," Leon smiled.
The last pot went to Punnat Punsri.
Addamo raised to $8,000 and called a $40,000 3-bet, Punnat bet $35,000 on the flop, the turn was checked, and Addamo folded on the river.