At the beginning of February, Aria hosted the first series of Mixed Games with great success. Cary Katz, who makes all the major decisions at PokerGO, has long been promoting limit games to the masses, leading by example and participating in many. Previously, on his initiative, one or two mix tournaments were added to the main PokerGO series – Poker Masters and US Poker Open. And finally, fans of non-traditional games waited for their own series, and the result exceeded all the organizers' expectations.
Tournament #1, $10,000 HORSE
The first tournament collected 87 entries, the first place was taken by Sean Deeb.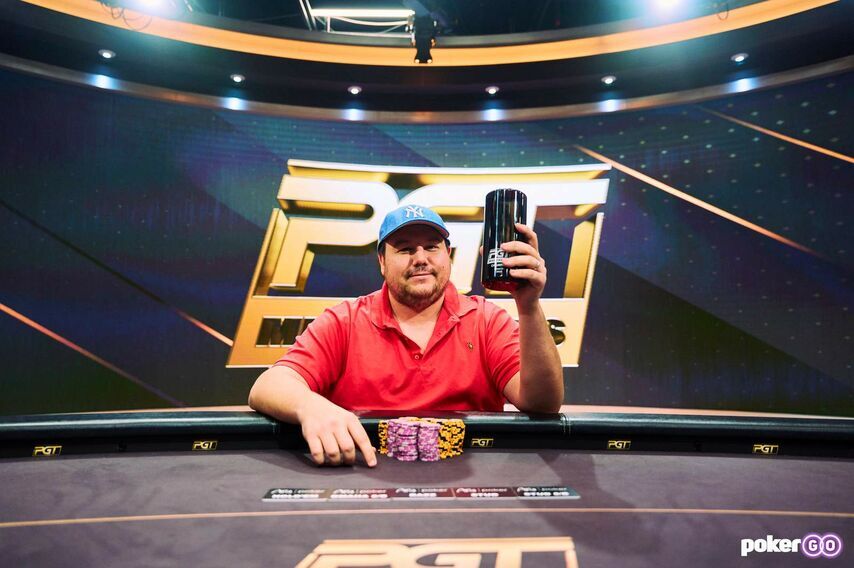 "An excellent tournament, dealers and managers worked at the highest level," Sean praised the organizers after the victory. – I very rarely come to Vegas outside of the World Series. But now I was in the Bahamas and asked my wife for permission to come here. She took pity and allowed it. In addition, there is extra money for the leaderboard (ed. – $25,000 for the first place), and some players have made side bets on it. I love it all, the perfect situation to play big buy-in tournaments. I almost never play cash games, and I love mixed games, so absolutely everyone will play here.
I won the tournament because I was doing great, that's the main reason. I entered the final table as the chip leader with a stack of 4.5 million, but quickly dropped to 1.5 million. Cash regulars, who specialize in expensive mixes, do not change their game in tournaments. They constantly deal with the variance, 3-bet, and choose aggressive lines in any situation. But that doesn't work in tournaments, in mixed games the chip leader can't just raise all hands in a row, hoping to push the ICM. In the most important stage, when there were four people left, and the stacks were no more than a couple of big bets, I always had the best hand at showdown, and my opponents did not fold anything.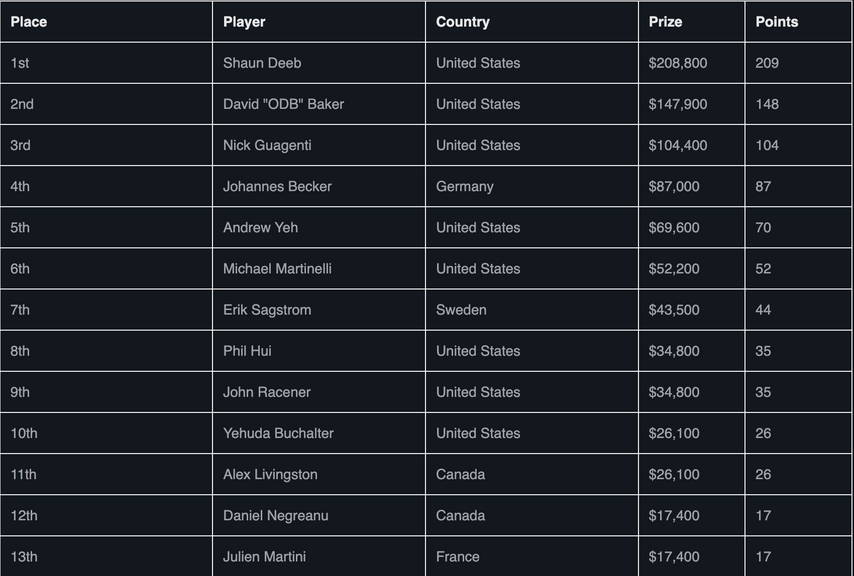 Tournament #2, $10,000 8-game Mix
The field had 88 entries. Almost all the tournaments took two days to finish. After busting one event, the players immediately ran to register for the next. Due to the large number of participants, difficulties sometimes arose. For example, this tournament could only finish on the 4th day. After the elimination of Brian Rast in 3rd place, Albert Daher and John Monnette remained heads-up. At the 150,000/300,000 level, John was left with three big bets to his opponent's 40. However, the heads-up stretched out for several hours, John managed to take the lead, then again lost the lead, and this was repeated several times. It was not possible to determine the champion until late at night. The players stopped for the night when John had a solid lead. The next day, both went to play a new tournament, in which Monnette also reached the final table. Because of this, heads-up had to play out another day.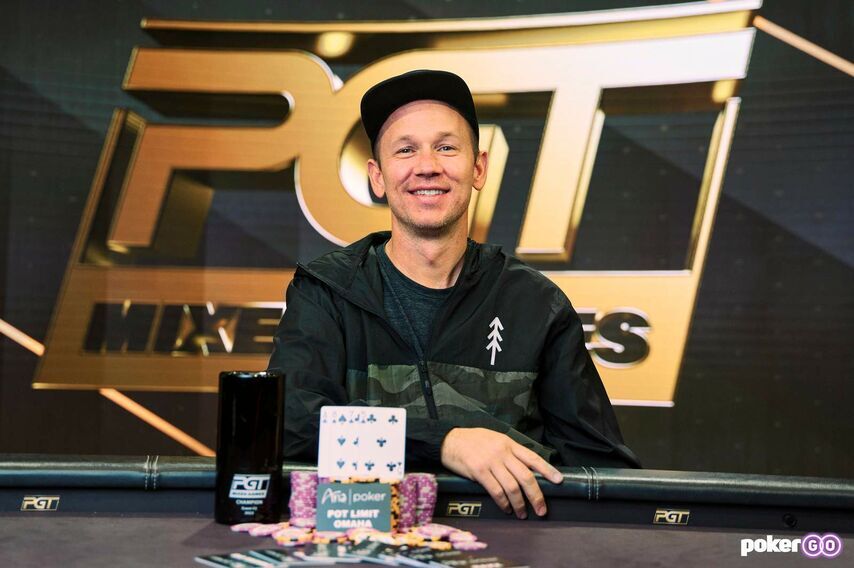 – It was a little strange to finish playing after such a break, but at the same time, it was fun, because during the pause I managed to reach the final table in the next tournament. The opponent wanted to finish the game right away, but I asked that we be allowed to stop. I wanted to sleep in and spend time with the kids. Albert went to meet me and immediately agreed, for which I am very thankful to him.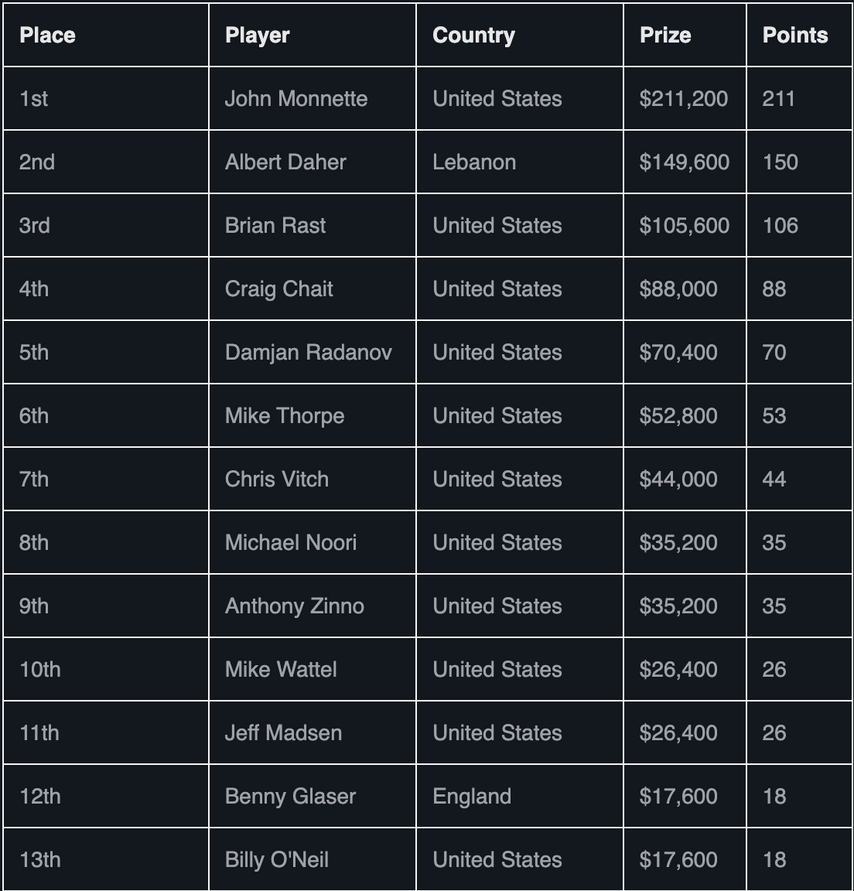 Tournament #3 $10,000 Triple Stud (razz, stud and stud-8)
The tournament for fans of seven-card games, as expected, gathered fewer participants than the previous ones. This field only had 60 entries. Renowned specialist Eli Elezra won – the poker veteran has five WSOP bracelets, three of which he won in various versions of the stud.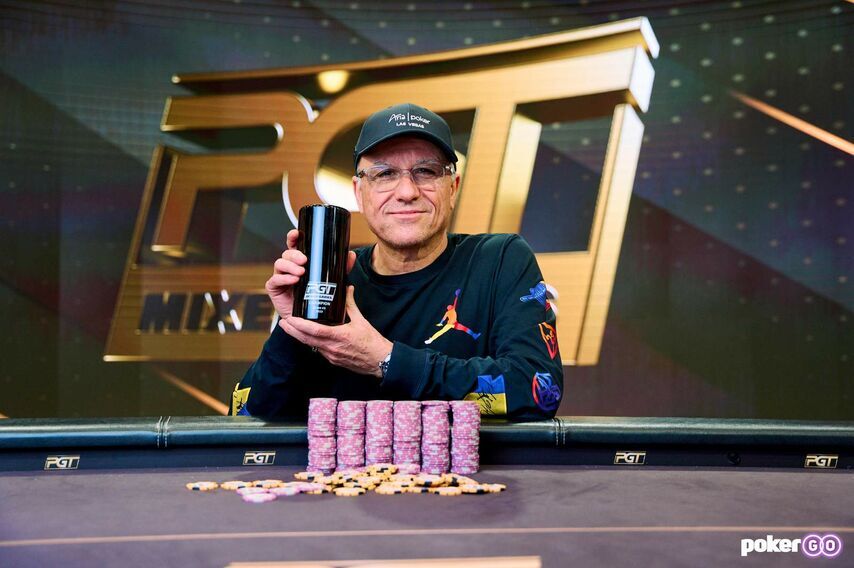 In heads-up, Eli faced off with another native of Israel – Yuval Bronshtein. Yuval has been living in America for a very long time and specializes in limit games tournaments, playing everything in the range of $400 to $10,000. As of 2022, he has cashed over 50 times in various tournaments, mostly limit games. Bronshtein never had any problems with his ability to play; many years ago he also grinded hard online. He holds the all-time record for most FTOPS tournament wins on Full Tilt, where he played under the username yuvee04.
"I have always liked any kind of seven-card games," Elezra admitted after the victory. – Yes, and the whole series was very positive. I am sure that next year it will bring together even more players. I'm one of the top mix game ambassadors in the world. Three or four months ago, the organizers asked me what I thought about the idea of ​​such a series, and I immediately said that everything would be great. Now it is already obvious to everyone, the results have exceeded all expectations. I even heard from some players they wanted it to be run twice a year.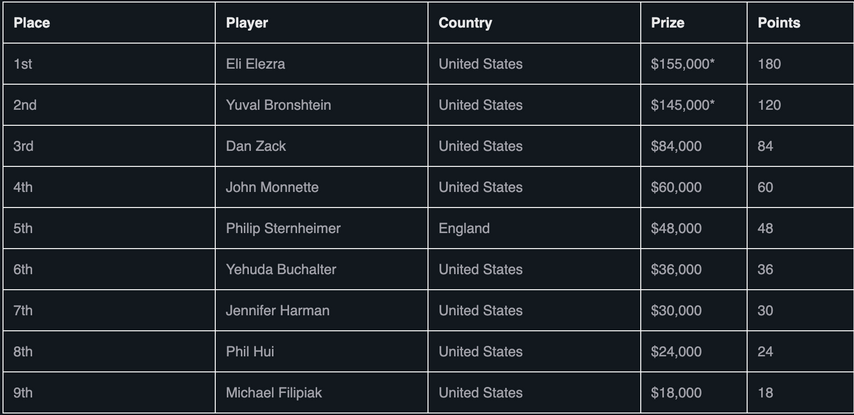 Tournament #4 $10,000 Big Bet Mix (NLHE, NL 2-7, PL 2-7 Triple Draw, NL 5 Card Draw, PLO, PLO-8 and Big O)
This tournament brought together 69 players and stretched out for almost a week. On Thursday, February 9, Ben Lamb and Maxx Colman went heads-up, but they were able to finish the game only on February 14, when the series ended. They first paused to make it to the late registration for the next tournament, and then couldn't continue as Ben went heads-up in yet another mixed event.
Ben managed to win, but they did not do the winning interview from him, apparently, everyone had already gone home.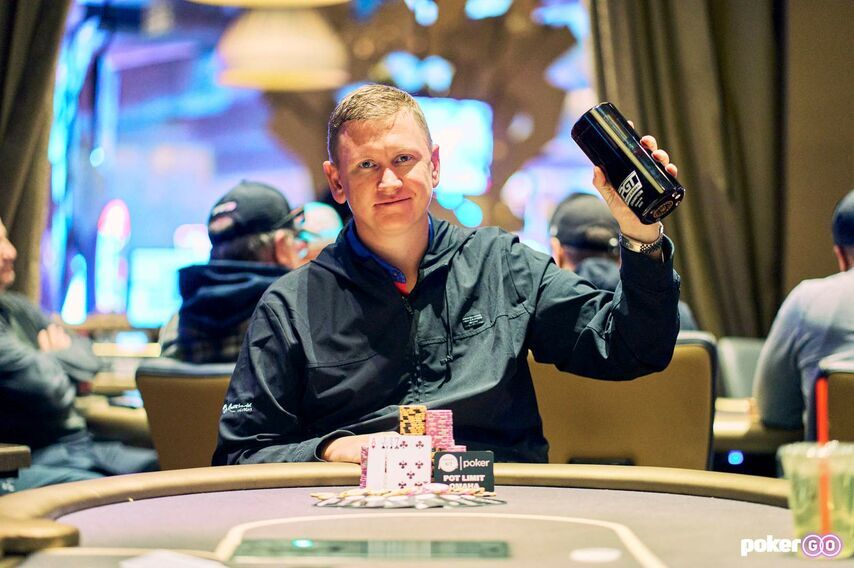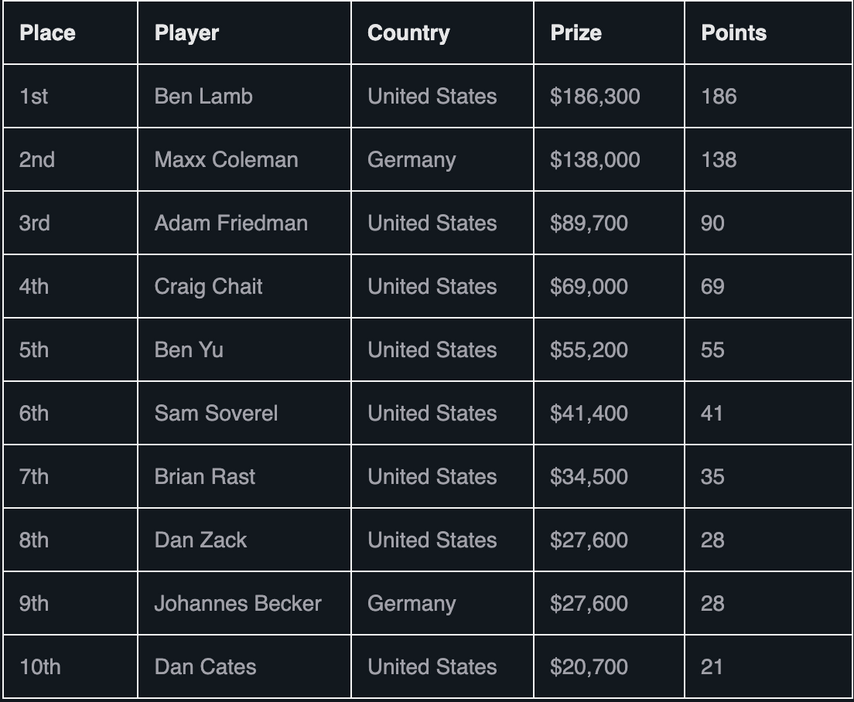 Tournament #5 $10,000 Triple Draw Mix (Badugi, 2-7 & A-5)
Nick Guagenti and Alex Livingston chopped heads-up, leaving $20,000 for the champion. Here the lead also changed several times, but in the end, Nick was victorious.
"I love triple draw games," the champion admitted. – I learned to play them eight or nine years ago thanks to Adam Friedman. When he played cash, he let me sit next to him and sometimes answered my questions. Then I started playing by myself and every day I felt more and more confident. In limit games, winning plays are decisive.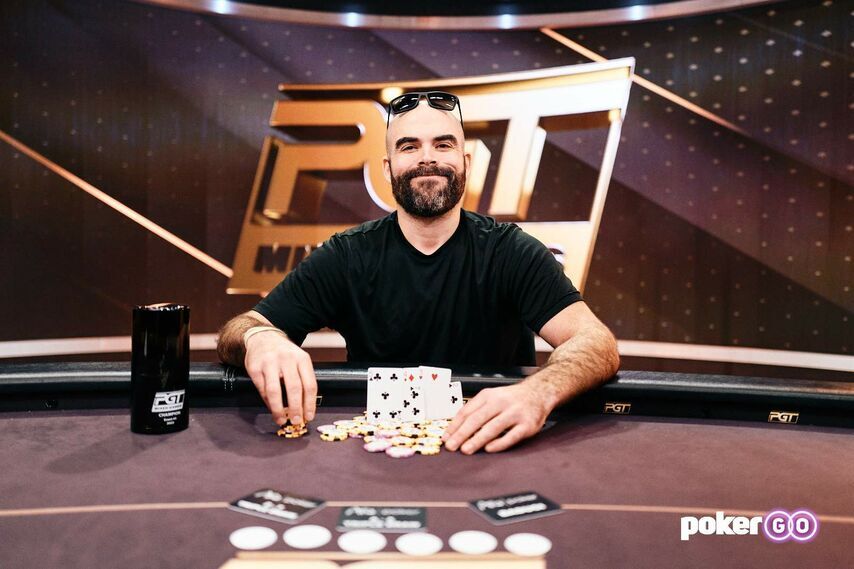 The participation of Mike "Crazy Mike" Thorp in the tournament deserves special mention.
Mike has been playing live in Las Vegas for over 10 years and specializes in limit cash games. Therefore, he never gets to the TV tables, although he would star in any broadcast. We talked about this bright character back in 2011.
Dan Zack busted out in 7th place, during his final hand in A-5, Mike offered to hold his friend's hand, Zack readily accepted.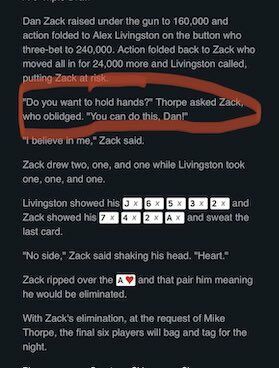 "Mix players are made from a different dough," Dan Smith marveled.
And Mike posted a video of this romantic scene.
Crazy Mike played the tournament with increased motivation, as Shaun Deeb gave him 100 to 1 odds to win it all.
"The entire mix community, especially the cash regulars, are rooting for Mike," David Baker told the cameras.
As a result, Shaun had to be very nervous. Mike went to the final table, but busted two steps away from victory. In the top three, the key hand for him was badugi, in which he "stood" all three streets, and Alex Livingston drew one by one and made offsuit 8642 with the last card.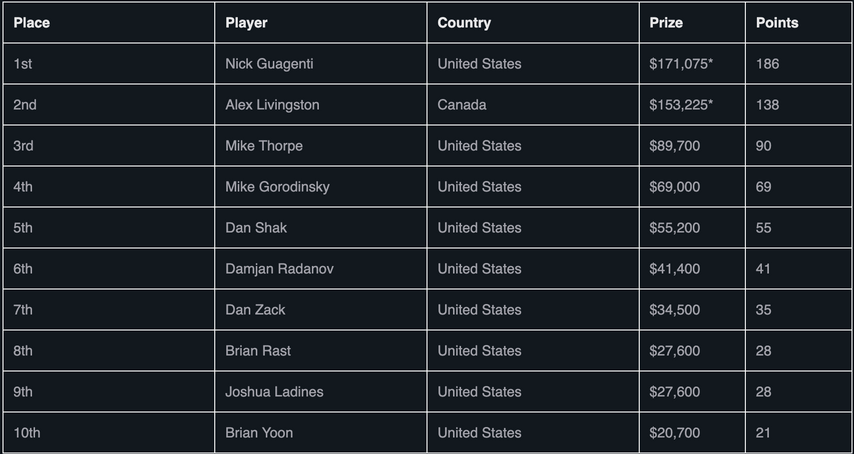 Tournament #6, $10,000 Dealer's Choice
A mix of 19 games, as expected, attracted the least participants – 59 entries in total. When the final table was determined, Scott Abrams had 34 big bets, Ben Lamb had 23, and the rest had less than 10. As a result, they were heads-up in 40 minutes. Scott eliminated four of five opponents, but he started heads-up with Ben with even stacks.
Heads-up, Ben chose only PLO, and Scott chose Big O and baducey, and this strategy brought him the victory. Surprisingly, for Abrams, who has been playing poker for almost 15 years, this victory was the first in his career.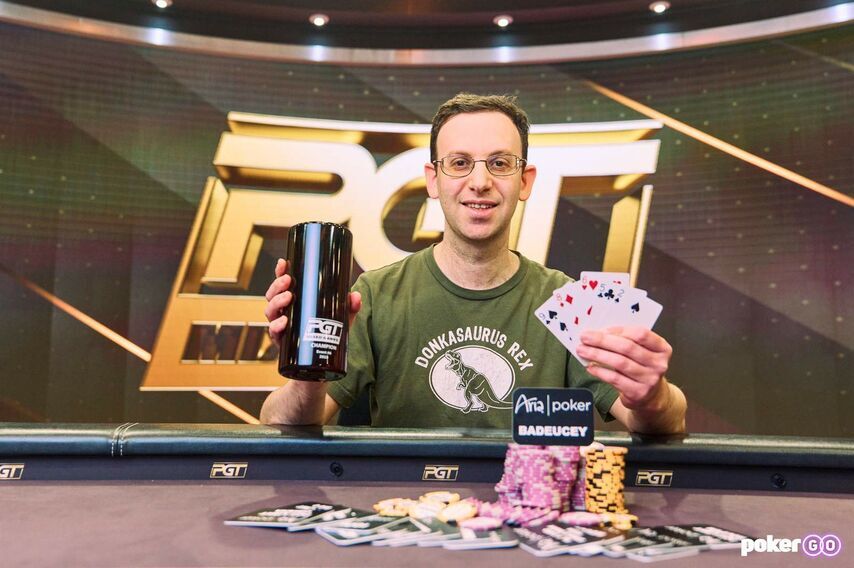 "I have a lot of experience in Big O," Abrams explained his strategy. – I understood that Ben would pick PLO, where he has a big advantage in heads-up. Therefore, I tried to choose the most variance games in which you can immediately play a lot of chips. I did not want to drag out the fight with such a strong opponent, one might say, I relied on luck.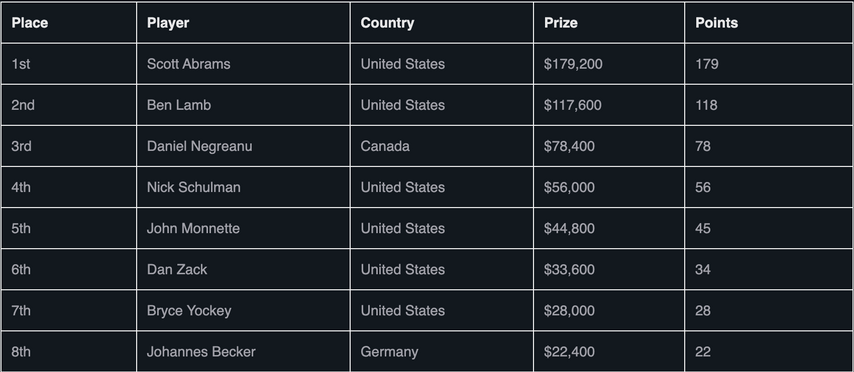 Main Event, $25,000 10-game Mix
The most expensive tournament of the series drew 57 entries.
"Very impressed with this result," wrote David Baker. -Yesterday in the line, we all assumed that no more than 40 people would play.
Jason Mercier won, and he did it in the most efficient manner. This was the only tournament he played in the entire series, and he and Dan Zack played for the trophy in a series of flips in PLO. Jason won the first flip and left his opponent with three blinds. Dan doubled twice but couldn't do more.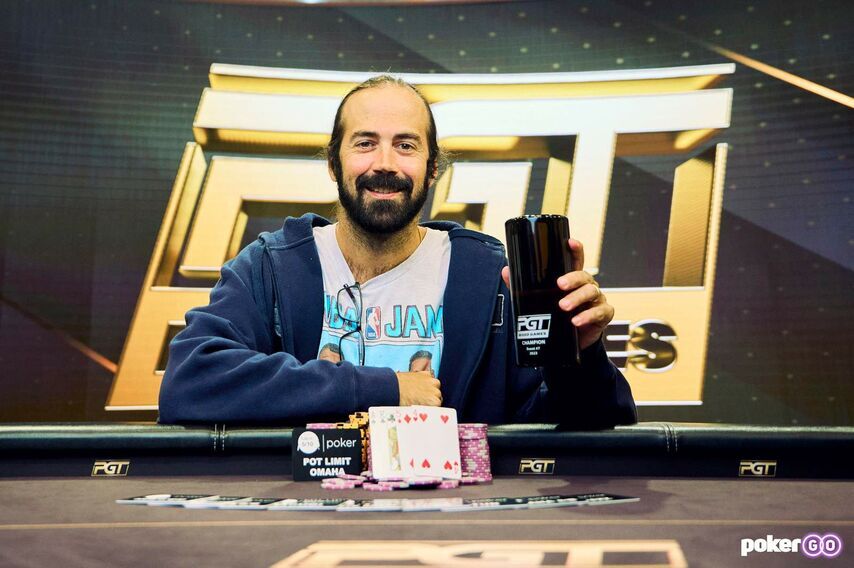 Jason is raising three sons and in recent years he comes to the World Series for only a couple of tournaments.
"It was my first time playing in the PokerGO studio," he said after the win. – I liked everything. I did not plan to play in this tournament at all. Came to Vegas to play cash games and watch the Super Bowl with friends. But in the evening the game fell apart, and I managed to jump into the tournament. For two days in the leadup, I played some good mixed games in cash. Played well, and went well too. In the entire tournament, I was only all-in once. It was in NL 2-7, and the opponent was drawing dead.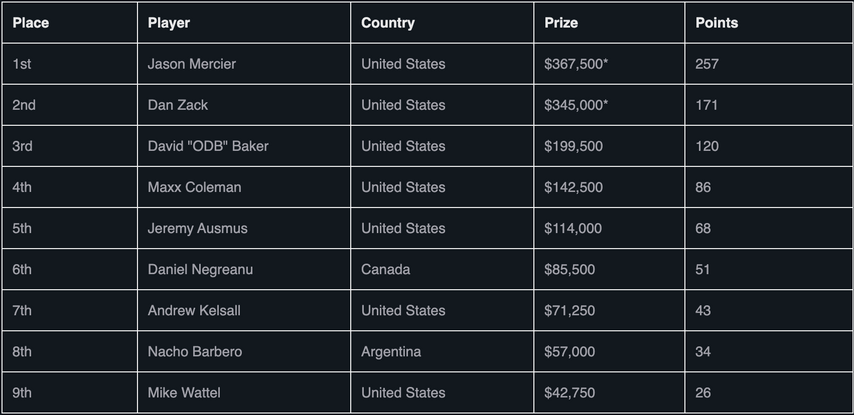 The second place brought Dan Zak victory in the overall leaderboard.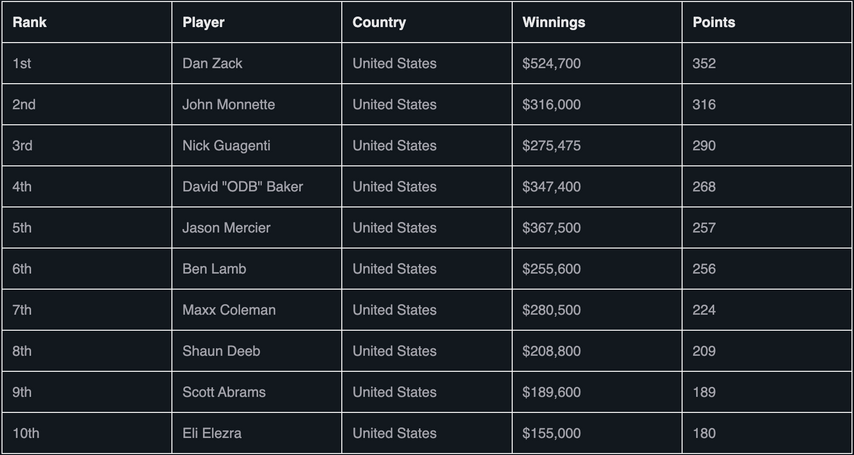 Dan played seven tournaments, did not win a single victory, but got into the money five times.

– I only play tournaments at the WSOP, as there are never mixed games events with interesting buy-ins for me. But there is a high demand for such a series among high rollers, so I am very glad that this series happened. Naturally, I will always take part in the future.
Tournament #8, $5,000 NL 2-7
The one-day turbo tournament was held at the same time as the Main Event, and Cary Katz took it down.
"I bluffed my whole stack in the main event and went home to work," Cary admitted. – I sat down at the computer, but I was not in the mood, so I returned to the casino and registered for the tournament. The choice turned out to be correct.
In heads-up, Katz defeated one of the strongest players in the world, Johannes "donthnrmepls" Becker.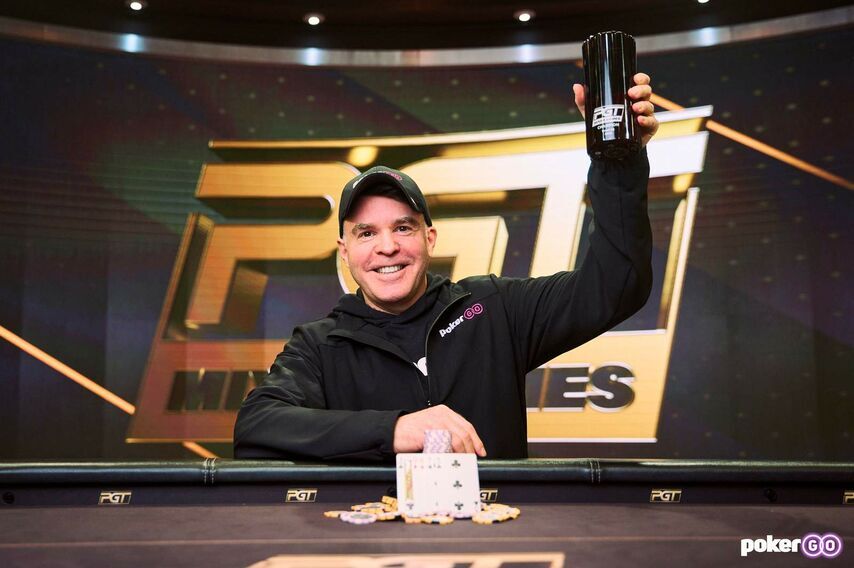 "We knew that some players would come to Vegas specifically for these tournaments," one of the PokerGO managers and series mastermind Tim Duckworth summed up the festival. – I counted on 40 entries in each tournament, we would consider this a great success. But before the start, we held two satellites in which we gave out 14 tickets. Dan Zack and Adam Friedman were walking around the room and they came up to me and said, "Looks like you're going to need more tables." We were stunned by what finally happened.