We already wrote about what happened in the first five days of the Main Event of the World Series a few days ago.
Of the past champions, Joe Hachem (402nd) and Chris Moneymaker went the farthest, he left the tournament just before Joe, in 403rd.
His departure on Twitter was accompanied by the hashtag #JeffPlattJinx (damn Jeff Platt).
During the Main Event, a theory began to spread on social media, according to which the players whom Jeff interviews will soon be eliminated.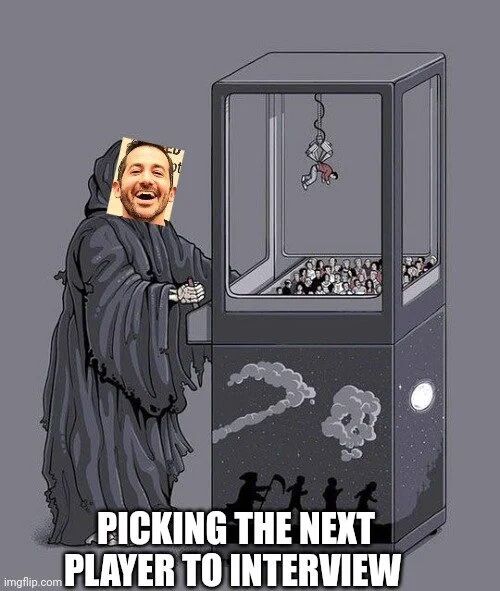 In the PokerGO broadcast, they even showed a sign showing how many minutes after the interview some players left the tournament.

Jeff talked to Daniel Negreanu during a 6-max PLO tournament.
The first conversation went smoothly – Daniel was aware of the "curse", but believed that it only applies to the Main.
But when Jeff walked over to Daniel's table a second time, Daniel was already packing.
"Look," Negreanu said to his camera. – For the whole tournament, I never risked chips, but it was worth chatting with him and this is what happened.
"I don't think there's any connection…" Jeff tried to protest.
– I didn't want to talk to you at all, I thought that people would not talk in vain.
"Now, what do you think?"
I admit, I may have made a mistake here.
"I see, well, good luck with the end of the series. At least you won the prizes.
– Oh, you ... I won about four dollars.
Jeff himself rejects all insinuations:
– Guys, I interviewed Brian Rast a couple of weeks ago, and the other day he was elected to the Hall of Fame.
At the beginning of the sixth day, Bill Klein called Nicholas Rigby to account.
True, Bill did not succeed in developing success. He first was on the wrong end of a cooler when he showed up with kings against the aces of Stuart Taylor and Ryan Brown. The flop showed a king, but the billionaire could not win.
Soon he busted out in 278th place.
279th was taken by Denis "Altal" Pisarev, for whom the trip to Vegas was an adventure.
Due to the lack of a US tax number, he had to pay $12,270 in tax on his $50,900 winnings. But there is an option to return the money when he gets the number.
And a couple of days ago Altal went to play cash games and right in the middle of the session someone removed his backpack with money from his chair. Luckily, the perpetrator was quickly found.
Finishing in 301st place was Chance Kornuth, who was eliminated by Nicholas Rigby with aces.
"Such players should not be dealt aces," the commentators noted.
Chance also did not believe in such a hand. At the 15,000/30,000 level, they built a pot over six million.
Also busting on the 5th day:
254. Egor Dombrovsky – $50,900
288. Nikita Kuznetsov – $44,700
392. Gia Skhulukhia – $40,000
400. Alexander Gnatenko – $40,000
One of the most talked about hands of the entire tournament was when Daniel Vampan bluffed Toby Lewis.
According to the results, 149 players bagged after Day 5. Pavel Dyachenko, a native of Tomsk living in Canda, bagged the 24th stack (6,075,000).
Also in the game were:
27. Andrey Pateychuk (Russia) – 5,965,000
49. Ruslan Pridrik (Ukraine) – 4,610,000
70. Artyom Metalidi (Ukraine) – 3,805,000
81. Ivan Ruban (Russia) – 3,315,000
133. Yaroslav Ogulchansky (Ukraine) – 1,270,000
The game continued at the level of 40,000/80,000.
Nicholas Rigby finished in 131st place. He showed up with vs AKs, the flop came , but the river was .
Two women made it to the top 100 – Nikita Luther (India) and Estelle Coe (France).
Luther finished in 96th place for $78,900.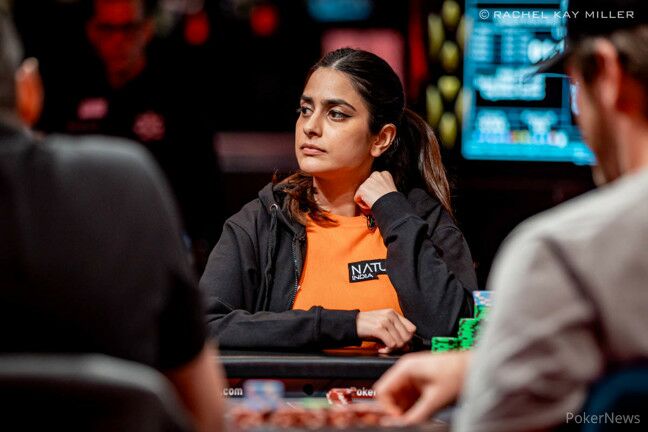 Estelle lasted until 68th ($130,300).
Artem Metalidi was eliminated in 94th place. The details of his departure remained mostly unknown. PokerNews only wrote that he was eliminated by Joshua Payne, who showed aces on the board .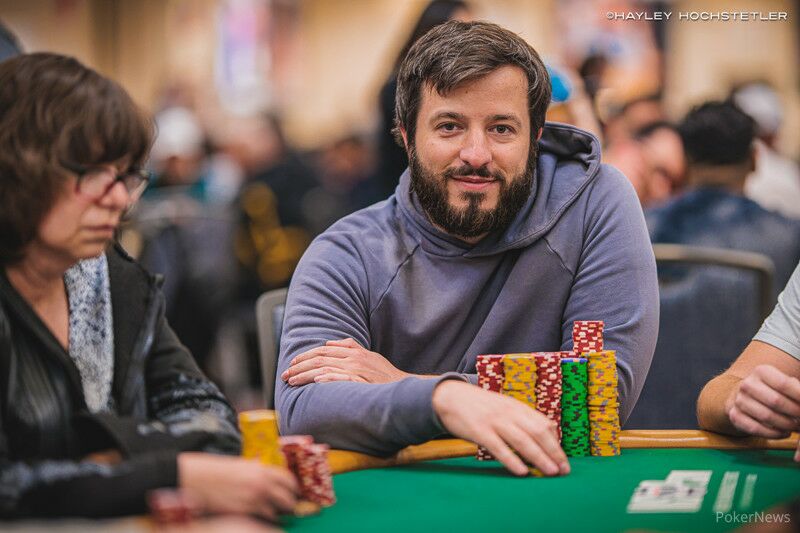 The sixth day was full of events for Andrey Pateychuk.
In the middle of the day, he had ten blinds left.
In the key hand at 100,000/150,000, Andrey raised on HJ with , the CO and Brian Davis in the BB called. On the flop Andrew bet 1.5 blinds while the CO thought Davis called out of turn. CO folded. Turn , Davis bid 350,000 and called the 1,500,000 raise. The river was a queen, Andrey bet 4.5 million – almost all-in. The opponent thought for a couple of minutes and showed .
After this hand, he doubled twice. First with KJo against A8s, a solid two-jack flop came up.
Then Pavel Dyachenko raised to 400,000 on the button, Andrey called with .
Flop with a flush draw, checked.
Turn (second flush draw), Angier bet 600,000 into a pot of 1.1m, Pavel called.
River was an offsuit . Andrey bet 2m into a 2.25m pot, Pavel called and mucked. After that the pot he had 6,450,000 and ended the day with the 32nd stack (8,050,000).
In total, 49 players passed on the 7th day.
The leader at that moment was 23-year-old Joshua Payne, who has only 4 cashes in his career. He ended Day 6 with a stack of 48 million (190 blinds). During one of the breaks, Payne admitted that he plays mostly cash, with limits up to $50/$100. And he managed to build a huge stack quite simply:
– I 3-bet all the time, and opponents give up easily because they are afraid of losing their stack.
The second was Spaniard Juan Maceiras Lapido (40,500,000). Shaun Deeb's friend Daniel Weinman (24,375,000) held the third stack. At the end of the day, he was dealt against offender Pateychuk Davis and Alexandra Villa, who only had 12 blinds and tripled. Weinman eliminated Davis for a huge side pot.
When play resumed, Pavel Dyachenko was eliminated almost immediately. He shoved from early position with , Jan-Peter Yachtman had aces on the SB.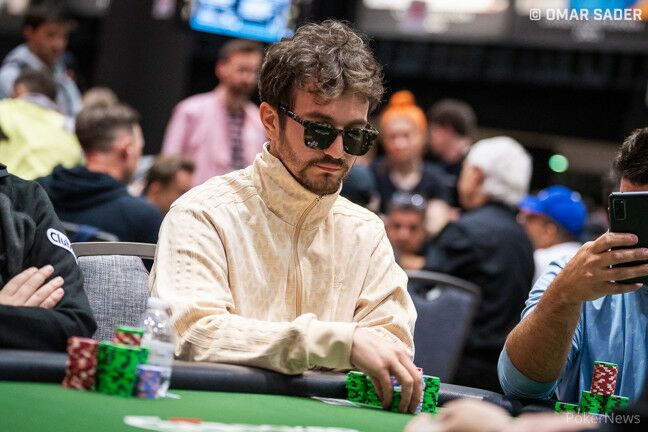 Pavel received $188,400 for 48th place.
Yaroslav Ogulchansky doubled with against . It was 26 blinds, but he soon lost a big pot shoving with against . For the last seven blinds, Yaroslav shoved KQo but couldn't beat JTo.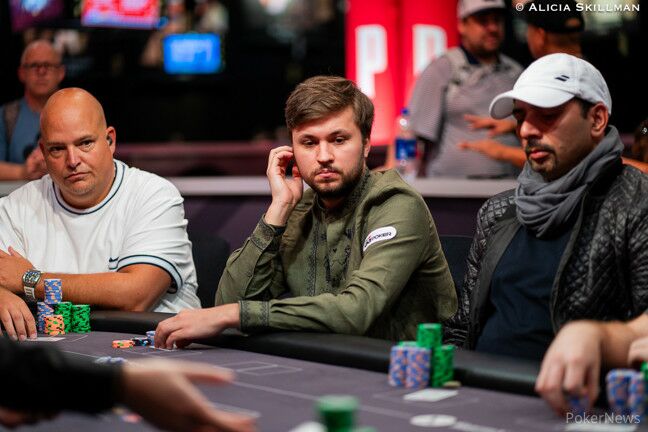 For 37th place, he received $229,000.
After folding a flush on Day 5, Toby Lewis came close to folding a full house. At least, he himself said he thought about it.
With 44 players left, at 125,000/250,000 Pierpaolo Lamanna opened 500,000, the CO and Lewis in the BB called. On the flop Toby called a c-bet of 800,000 and the third player folded. Turn , Lewis check-called 1,650,000. river , Lewis bet 6,000,000 (half his stack), Lamanna moved all-in.
Toby thought for a few minutes.
"I wish I could throw it away," he said, adding that he had a full house.
After thinking for a while, he still made a call and opened , the Italian showed . Lewis with a stack of 30 million was among the leaders. Lamanna was left with a relatively comfortable stack of 20 blinds after this hand, but he was quickly eliminated in 40th place with against Dean Hutchinson.
At 150,000/300,000 Andrey Pateychuk doubled up against Daniel Vampan.
On the flop Andrey bet 300,000. Turn , Andrey made another bet of 1,500,000, Vampan moved all-in with . Andrew called and opened . River , Andrey had 17 million.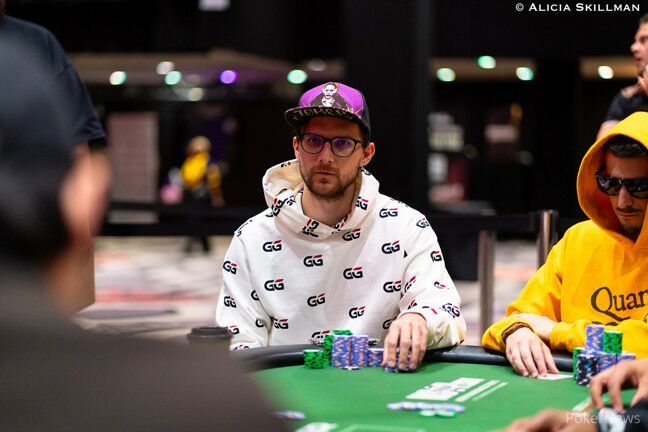 Israeli Gabi Livshits finished in 26th place for $345,000.
Last year, Gabi finished 103rd in this tournament, and in 2015 he took 66th place.
Ruslan Pridryk eliminated Daniel Vampan in 24th place (AQs>88).
Then Joshua Payne tried to bluff the Ukrainian player.
On the board Payne had and fired three barrels – 650,000, 4,600,000, and 10,500,000. Ruslan called all bets with .
Almost immediately, Ruslan eliminated Eric Schneider in 22nd place to get to 56,000,000.
At the 300,000/600,000 level, players moved to two tables. Juan Maceiras continued to lead (97,975,000), Ruslan was 4th (50,650,000) and Andrey was 14th (16,150,000).
However, for Pateychuk the tournament ended in 17th place.
15 players moved on day 8, stacks at the beginning of the day: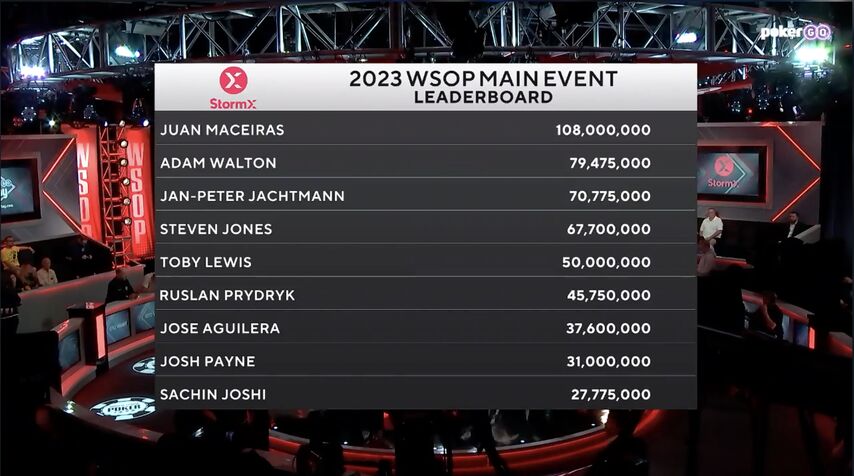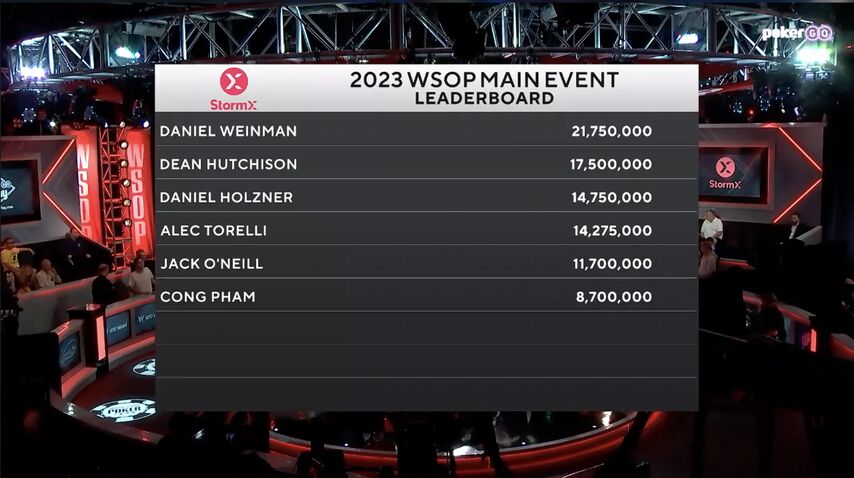 Joshua Payne, who had been leading the tournament for a long time, fell victim to another brutal bad beat and finished 14th for $430,200.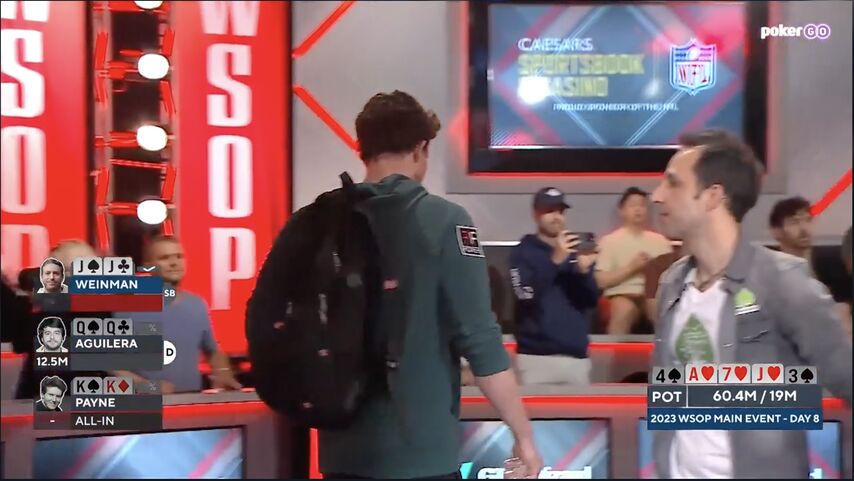 Weinman has 80 million.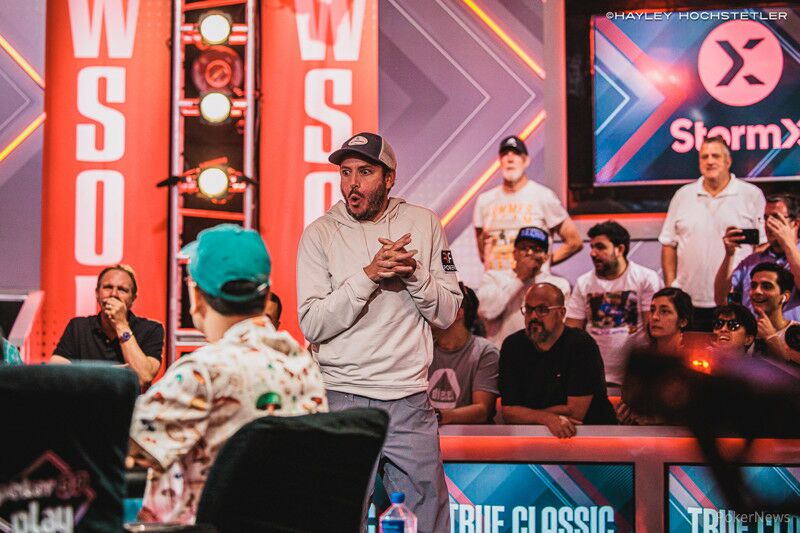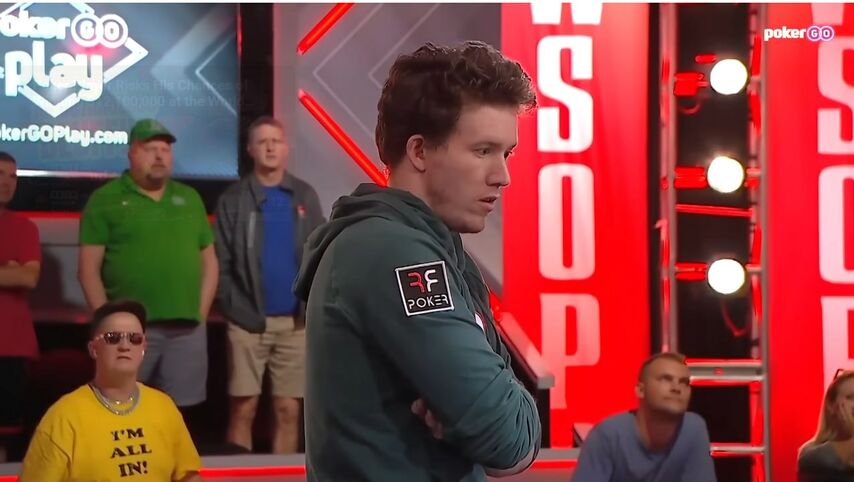 Sahin Joshi was eliminated in 13th place for $535,000.
He four-bet all-in for 26 blinds with and did not beat the of Maceiras.
In 12th place, Jan-Peter Jachtmann eliminated Cong Pham for $535,000.
Pham had only three blinds left, which he shoved in the CO with 87s, Yachtmann called with A2o.
Alec Torelli shoved 6.5 blinds with jacks and couldn't beat Maceiras' AKs.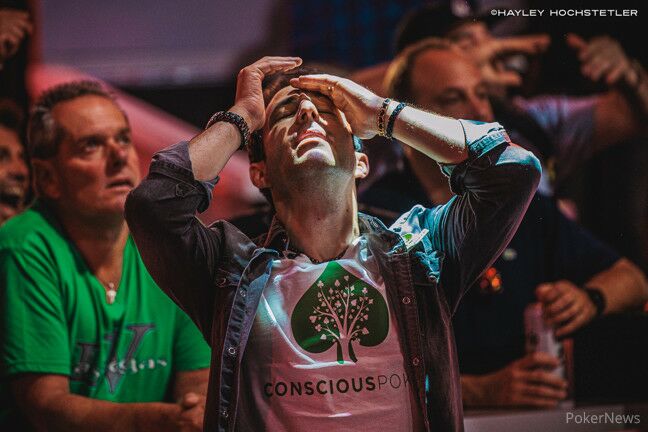 For 11th place he earned $700,000.
In the first hand at the unofficial final table, Daniel Holzner effectively used his "One time!" on the turn.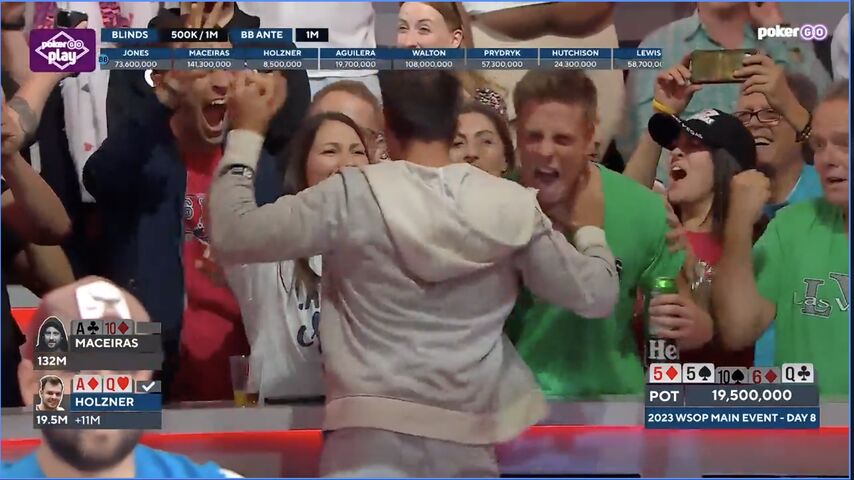 10th was Jose Aguilera ($700,000), who never recovered his stack after being dealt .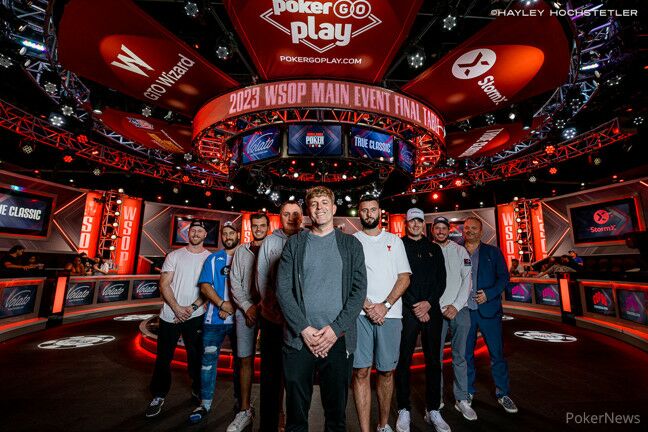 Finalists
Seat 1 – Stephen Jones (USA, 90,300,000)
Steven's best live finish before the main event is ninth in Colossus 2018 for $57,425.
As the players moved into the 10-max table, he called with A-high in a big pot against chip leader Walton.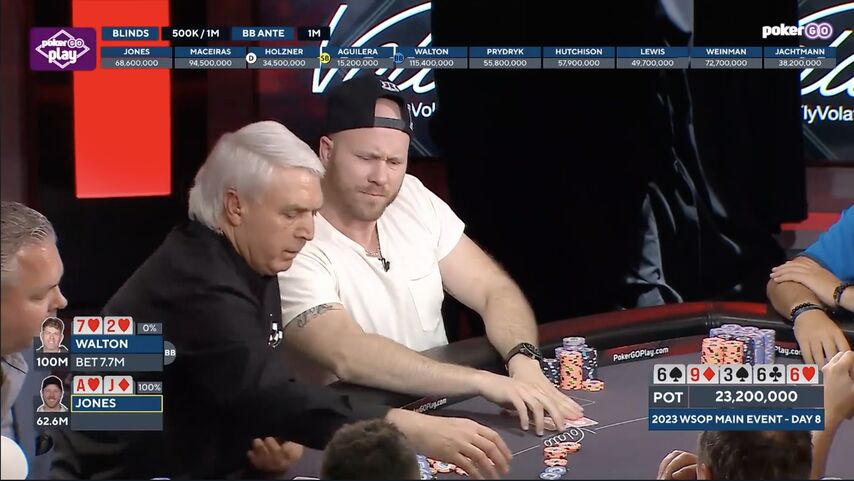 Dean Hutchinson raised preflop, Jones and Walton paid. The flop was checked, Walton bet four million on the turn, Hutchinson folded. On the river, Walton bet 7.7 million into a pot of 23 million.
"In the top 20, I stopped looking at pay jumps," Jones said when the game was over. – I have not achieved anything yet, my goal is first place.
Seat 2 – Juan Maceiras (Spain/Venezuela, 68,000,000)
The son of the online legend Juan Antonio Maceiras, who plays under the nickname Vietcong01. In 2011, Juan Jr finished 5th in the EPT Madrid Main Event and won the biggest cash of his career, €315,000.
Starting from the 4th day, Maceiras was always in the group of leaders. On day 8, he had 140 million at his peak, but the pre-final table and 10-max didn't help him, and he lost half his stack.
Seat 3 – Daniel Holzner (Italy, 31,900,000)
Before this tournament, his biggest live cash was $6,000. "I played the Main Event for the first time, I received a ticket from friends and relatives as a gift for my 30th birthday." It is curious that there is no one under 30 in the final table, as he is the youngest.
On day 6 he ended 47th out of 49, day 7 finished 12th out of 15, and the final table will start 8th out of 9.
"My main activity is farm work. We grow apples. We run the household with my father, who is also now in Vegas."
Seat 4 – Adam Walton (USA, 143,800,000)
Placed 42nd in the 2021 Main Event ($163,900). His best result is $283,072 for 2nd place in a WPT side event. The final table chip leader is originally from Seattle, but has been living in Vegas in recent years.
"It all looks like a dream to me," he told PokerNews reporters. – "On the first day there was a moment when I had 12,000 left, and now this is happening. This is definitely the best moment of my life."
Seat 5 – Ruslan Pridryk (Ukraine, 50,700,000)
One of the most experienced players, winner of RPT in Yalta 2011. Judging by his Hendonmob, he hasn't played much live poker in recent years, this is his first cash in six years.
The first day ended with a stack below the starting stack – 44,000, but then every day steadily increased his chips.
When there were 20 players left in the tournament, Jeff Platt spoke with Irina, Ruslan's daughter.
– "This is my first time in Las Vegas, everything that happens for me is a real shock, but it is very interesting. I never watched live tournaments either. This is a great event for the whole family. Dad is completely focused on the game, but does not look into the future." He says: "Let's see what happens next."
Seat 6 – Dean Hutchinson (Great Britain, 41,700,000)
A player from Scotland, in 2014 he won the main tournament of the UKIPT series in Edinburgh. Received a career-high score of $154,000.
"The first four days of the tournament, I felt very bad," Dean admitted. – I caught some nasty cold, so immediately after the tournament I ran to rest.
Illness didn't stop Hutchinson from finishing Day 1 with a stack of 187,300, the best of any finalist.
The key hand was played on day 8, when in the top 15 he shoved 20 blinds with aces and Jan-Peter Jachtmann called with tens.
Seat 7 – Toby Lewis (Great Britain, 19,800,000)
Along with Weinman, the most experienced of the finalists, Lewis won the Aussie Millions 2018 Main Event.
After the elimination of Alec Torelli, when the players moved to the 10-max table, Toby had almost 60 million, but he finished the shortest with 17 blinds.
In the biggest pot, he 3-bet with , Walton called with . On the flop Walton check-raised 3 million to 9 million. Toby called, but the turn Lewis gave up after an all-in.
It was noted on Twitter that Lewis could possibly be playing the tournament with glasses with built-in cameras. There were calls to halt the tournament and conduct an emergency investigation, but the officials did not seem to take notice.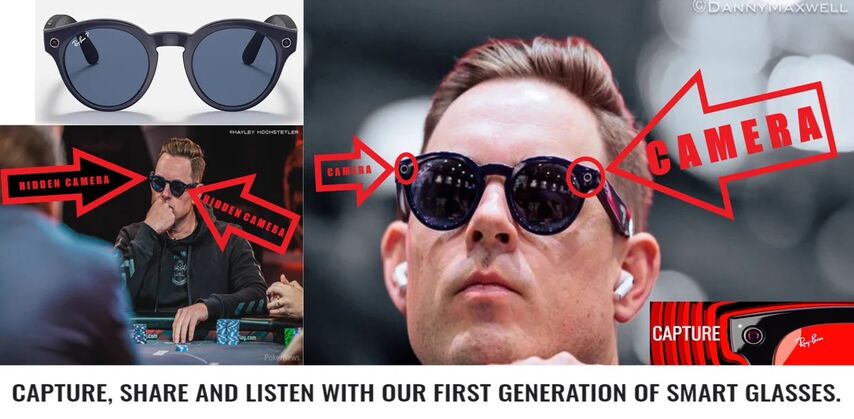 12 years ago, Lewis played a famous hand against Andrew Robl when he won quads in quads. That pot is often remembered not only because of the show down, but also because of the emotional reaction of Yevgeny Timoshenko.
Seat 8 – Daniel Weinman (81,700,000)
A grinder with many years of experience, his track record includes victories at the WPT, WSOP, and WSOP Circuit. Last year he fought for the title of "Player of the Year", but lost to Dan Zack. He won the biggest pot of the tournament so far (JJ > KK and QQ).
"As soon as Josh called, I knew that everything was bad," Dan described his feelings from the hand. "But at least I covered it all over the stack. And when Aguilera didn't fold, I immediately realized that I was going to be out. I had time to think that the tournament turned out to be fun, but everything ends someday. Of course, this is the coolest tournament. I've been playing poker for 16 years, but I never thought I'd be in this position."
Seat 9 – Jan-Peter Jachtmann (74,600,000)
Jachtmann has been playing poker for over 20 years but continues to call himself an amateur. He may become the third main tournament champion from Germany in the last five years.
– For the last 10 years I have been playing exclusively Omaha (Ed. – in 2012 he won a bracelet in 6-max PLO with a $10,000 buy-in). But I am sure that good players should be able to play all games, the main thing is to understand what you are doing. My confidence in NLHE grew every day. At the beginning of day 2, there was a funny episode when I made a remark to the dealer because he counted too big a raise from one of the players. I told him, "Look at the size of the pot," but I was quickly reminded that we were playing Hold'em.
In the last hand of the 8th day, Yachtmann eliminated Spaniard Aguilera (A8s>AJs). He opened 2.5 million and called a 3-bet for 6.7 million. On a flop of 654, Aguilera shoved the last 2.5 million. Turn 7.
"He left some chips and gave good odds to call," Jan-Peter explained. – If he shoved, I would probably think about folding.
Prizes:
1. $12,100,000
2. $6,500,000
3. $4,000,000
4. $3,000,000
5. $2,400,000
6. $1,850,000
7. $1,425,000
8. $1,250,000
9. $900,000
The tournament will continue on Sunday night and finish on Monday.
Stacks and Seating: