Poker ICM Calculator:
A Top Tool for Tournaments
Poker ICM Calculator: How and Why To Use This Tool
ICM stands for Independent Chip Model, a system that allows tournament poker players to give their chips a real money value. This helps them make more accurate decisions in certain situations, knowing just how costly each bet and decision is.
ICM wasn't around in the early days of poker and it took time for players to understand the benefits. When it was first used, it was only to give chips at a tournament final table a precise value for deal-making. If players decided to pay out the tournament prize pool without continuing to play, ICM could give them a direct dollar value for their stack of chips.
Sit & go players started using ICM during games, which worked well because of the small player pools. They quickly saw how using an ICM calculator could simplify decision-making during tournaments. Nowadays, ICM programs can be applied to all kinds of online tournament poker, including SNGs, MTTs, PKOs, and even free tournaments with cash prizes.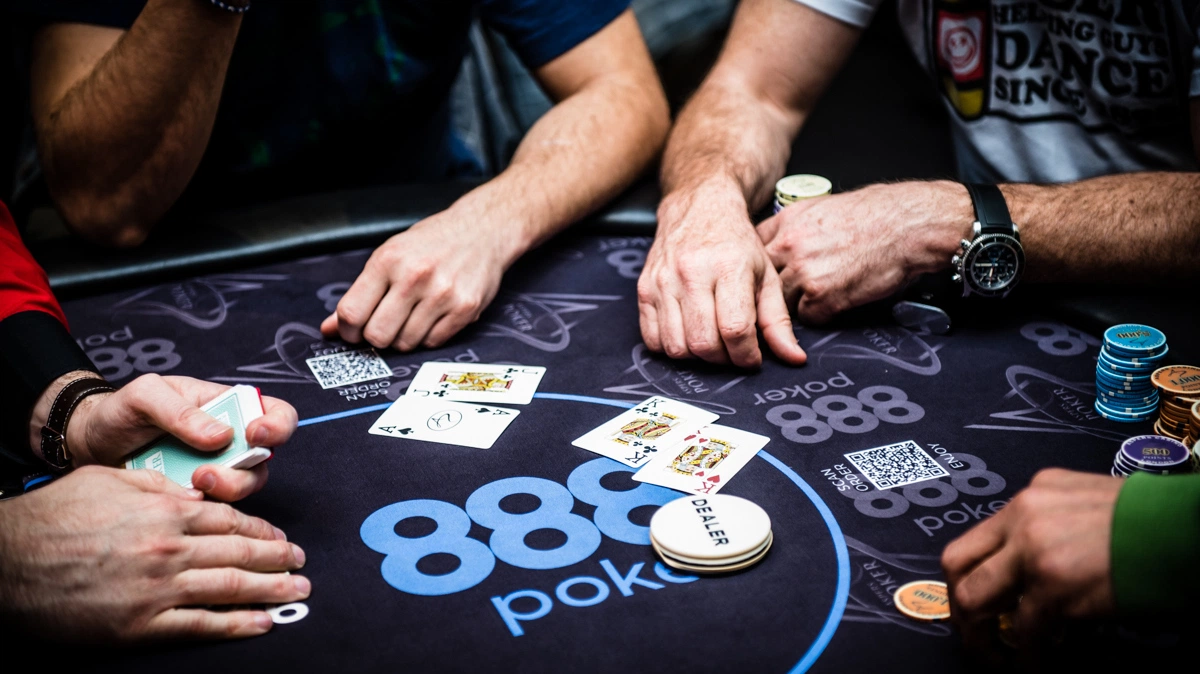 Why Should You Care About ICM?
Winning 100% of the chips in poker tournament doesn't win you 100% of the money.
Poker players know that a $1 chip in a cash game has an unchanging value of $1. When you exchange your money for chips and revert the chips to money later, it's the same on or off the table.
In a poker tournament, that's not true. To understand the implications of your decisions, you can use an ICM calculator to give your chips a dollar value.
Here's an example of how ICM works:
Let's say you created an online home game with friends and you've each paid the $100 entry fee. There are ten players and each one receives 100 chips to start the game, so how much are your chips worth? At the beginning of your tournament, the chips are worth $1 each ($100 entry fee = $1 x 100 chips)
We need to factor in our prize pool, which is $1000 for this tournament and has no rake. First place gets $500, the second gets $300, and the player in third place gets $200.
Out of all of your friends, only five players remain in the tournament. For our example, let's imagine each player has 200 chips; how much is each chip worth now?
The value of each chip is still $1 right now since $1000 divided by 200 chips is $1 per chip.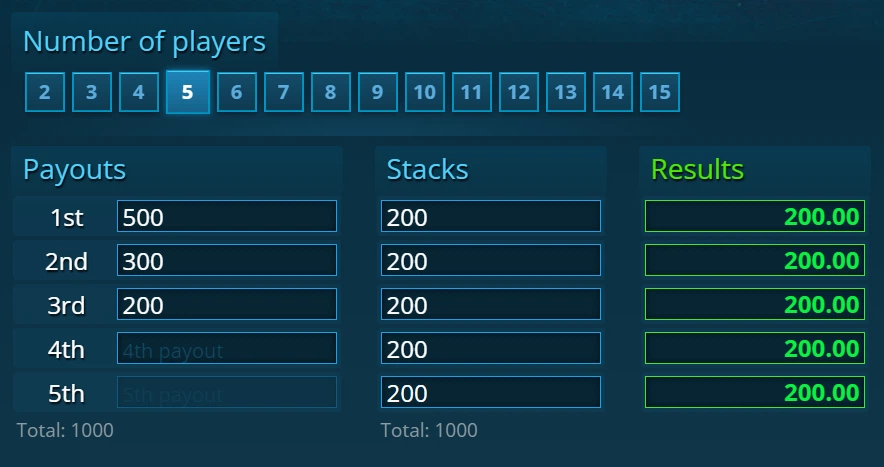 Let's go to the final table!
Your friend wins the poker tournament and collects all of the chips, which total 1000. Are the chips worth $1 still?
The value of the chips is now equal to the $500 first-place prize that Phil won, so each chip is worth $0.50 instead of $1.
That's the major difference between chip values in cash games and tournaments. If you bet $1 in a cash game and your opponent calls for $1, then the winner gets $1. Tournaments have prize pools split among multiple players, so calling a $1 bet doesn't give you $1 if you win. Instead, you win a portion of $1, depending on your place in the tournament.
How To Use an ICM Calculator for MTTs
What is ICM calculator software used for in MTTs (multi-table tournaments) then?
When you calculate ICM, you're also getting a look at the equity each player has to win the tournament (at the moment). It's not just first place either; ICM calculators can give you the probability of each player getting each place in the tournament, like 2nd, 3rd, 4th, and so on.
As you can see in our example, the GipsyTeam ICM Calculator will allow you to input up to 20 different players and stack sizes
You'll need the following information to use a simple ICM calculator:
Number of players remaining in the tournament (must be more than 3)
Stack sizes for each player
Start by dragging the slider and selecting the number of players you have left in the tournament. You'll see slots appear as you increase the players.
Input stack sizes for each player. At a live tournament, it can be a little more difficult to know the precise number. Online poker sites display the exact number of chips below each player's name, so you'll have no issues there.
Time to calculate ICM! When you've inputted stack sizes for each player, click the green button below the window to get an instant ICM calculation. The numbers that appear in the right column represent the expected chance of each player winning the tournament, plus a direct cash value for their tournament chips.
Our online ICM tool is free and simple, but we also have tools that can use ICM to show you how to play optimally in certain situations.
For a more in-depth view of ICM and how it affects decisions, you might want to try a free trial of ICMIZER 3. The software is great for final table decisions where your options are limited to pushing all in or folding. The ICMIZER software will actually show you which decision is correct, once ICM is factored in. You'll get a full breakdown for each decision and the tool will even apply GTO ranges to your opponents to better form push/fold strategies.