– Hello Jack. Tell me, do you still play poker yourself?
– I haven't played for 25 years. I sit down at the poker table once a year, in a charity tournament that I run myself. And a few years ago I even won it, and this year my wife took second place. Although she did not even fully know which hand beats which. I myself am far from the strongest tournament player in the world, that victory is the only one in my life.
– The tournament is called Keep Memory Alive. And today we invited you to share your memories with readers. Did your family leave Texas in 1947?
– A little earlier. After the war, there were many illegal casinos in America, people were able to travel safely again, and gambling was gaining popularity. My father opened a casino in Texas. Gambling was illegal, but at first, the authorities turned a blind eye to it. In the fall of 1946, everything changed, they began to harshly persecute the organizers and close the casinos. My father decided to move the family to Vegas. I was 10 years old then, I moved a little later, already in 1947 during the summer holidays.
– Did your father Benny Binion open the famous Horseshoe Casino in the fall of 1951?
– Yes, when I was only 14. The casino immediately became one of the most popular. But in 1953, my father was arrested and imprisoned for five years for tax evasion. He sold his interest in Horseshoe to Joe Brown.
Are you going to buy it back later?
– Yes, there was such a plan, but they did not approve it in writing. Father didn't know Joe very well, but he was insanely rich and had an impeccable reputation. In his interaction with our family, he also never made me doubt his honesty. Joe has always been a great guy. He started with gambling, but then he successfully invested in oil and hit a big jackpot. After his death, one of the deposits was sold for $47 million, it's scary to imagine how much it is in modern terms.
Did Benny get the casino back?
– Not right away. Joe Brown became seriously ill and sold the Horseshoe to the owners of the Fremont Casino. At that moment, our family had only 2.5% left, gradually we increased our share to 25%. And then the guys at Fremont got in trouble with the government, and they offered me to buy the whole casino. It was not until 1964 that we fully regained it. I took over as president of the casino at the age of 27.
– Tell us about the trip to Reno that started the World Series.
An acquaintance from Texas who owned a casino in Reno invited our family to the Gamblers' Conference. My father invited me and my brother to accompany him, although we had never traveled together before. The conference turned out to be a regular poker game that went almost non-stop. It was there that I met Doyle Brunson. The following year, we renovated Horseshoe, opened a large new poker room, and thought it would be nice to put on something flashy for publicity. The guys from Reno said that they would no longer hold their "conference" and did not object to us doing it.
– Was the legendary match between Johnny Moss and Nick "The Greek" also held at the Horseshoe?
– No, although for some reason many are still convinced of this. This match was played primarily at the Flamingo Casino. Now their duel is overblown with legendary tales, not always believable, but they really played high stakes and for a long time. In those years, Nick was the most famous gambler in America.
– According to rumors, it was their match that inspired your father to open a poker room.
No, it had nothing to do with it. Poker was not very popular in those years, but my father always loved it. He wanted to open a poker room even before the problems with the authorities and the sale of the casino, but then these plans had to be postponed.
– Did you also meet the legendary Titanic Thompson?
– He was never a strong player, but he was always a sharp dresser. It was he who organized the famous game during which Arnold Rothstein was killed.
Even Titanic categorically forbid taking pictures of him, but made an exception for us. I still have a photo of us together at home when I was a child.
Cash games were played at the first World Series, and then the players voted Johnny Moss the winner. But did he really win the main tournament the following year?
– In the first series, my father instructed me to go around to all the players and conduct a survey of who they considered the strongest. Naturally, everyone named themselves. Then I started asking for the names of two players, and that's when Johnny won. In the first year, no one even thought that it was possible to determine the winner in the tournament. The freezeout format was invented by Amarillo Slim, but it was almost always played heads-up. That is, two players paid $10,000 each and played until one player lost everything. No one even thought that several people could play like that. In 1971, we managed to get six people who chipped in for $10,000, and the winner was Johnny Moss. And that's when I came up with the name – the World Series of Poker. There was an alternate title called The World Championship of Poker, but it seemed too pretentious to me. In the early years, the series did not have any PR. Players avoided unnecessary attention.
– What do you remember about Puggy Pearson?
He was a very good player and grew up in the poorest family. He said that he had nine brothers and sisters, and as a child the family barely made ends meet. They once moved nine times in 1.5 years because their father couldn't pay the rent. At school, he ate separately from the rest, he was ashamed to show his food. And when he first saw sliced ​​bread, he thought it was a pie. He had no education, he was self-taught in everything. But he has achieved success, and not only in poker.
– Do you remember Hal Fowler (ed. – the first amateur to win the main tournament)?
I never got to meet him. After that victory, he never returned to the World Series.
– How did the professionals react to his victory?
– Calmly. In heads-up play, he beat Bobby Hoff, whom Doyle nicknamed "The Magician" for his ability to make huge stacks disappear. He played completely fearless, sometimes it worked, but not that time. He tried to crush Hal with his pressure, but Hal did not fold anything and won the tournament.
– Did the first TV broadcast of poker also take place in the 70s?
– Yes, but this experiment was not the most successful, since it was not possible to show the player's cards. It must be said that at that time, the players would not have allowed this.
– The 80s are considered by many to be the golden era of the World Series. The fields were small, but the real legends won – Ungar, Straus, McAvoy – the first winner in history who entered through a satellite, Johnny Chan and Phil Hellmuth.
– For me, the most prominent of this list was Straus. A very smart guy with an incredible sense of humor. He had one problem, he loved to play so much that he never had any money. His biggest problem was sports betting. Other players took advantage of this, often they offered him not the most profitable line, but he wanted to bet so badly that, without really thinking, he agreed.
At the same time, he was a well-known person in the world of gambling and sometimes he accepted bets and quite large ones. It is clear that he did not always have money for payments. One day he received a call that warned him that tomorrow they would come for their money. They agreed to meet in the hotel lobby. But then persuaded his friends to "arrest" him before entering. Right in front of the entrance, they blocked his path, turned him around to face the wall, pushed him into a car, and took him away in an unknown direction. In the evening, he called clients with the words "You won't believe what happened to me." They said that they saw everything perfectly and would call for money in a couple of weeks.
– Do you believe that in 1982 he really lost that chip with which he spun and won the main tournament?
– No, I think he knew perfectly well that it had not "disappeared." Such tricks were just in his style.
– How did satellites appear in the World Series?
Eric Drake invented them. Of course, they made a splash.
– Johnny Chan won the Main Event two years in a row. What do you remember about him?
He was an incredible player and won a lot of money in Macau. Few people know, but he began his career in Vegas as a chef in a Chinese restaurant at the Fremont Casino.
– From 1979 to 1983 the number of participants in the main tournament doubled. Was it the satellites?
– Probably, but in those years the number of players grew steadily, albeit slowly. All this is nothing compared to the boom of the 2000s when built-in cameras and online poker appeared. Everyone knows that Mike Sexton was at the origin of Party Poker, but almost no one remembers that they first turned to Chip Reese. Their offer was not interesting to him, and he sent them to Mike (ed. – Mike spoke in detail about his collaboration with Partypoker and fabulous fees on Joe Ingram's podcast).
Let's move on to the 90s. In 1992, Hamid Dastmalchi won. Many years ago he disappeared, and no one knows what he is doing now. Do you remember him?
– Not really. He seemed to play well, but he was never considered an outstanding player.
– In 1994, Russ Hamilton became the champion, who we now try not to remember.
I will always remember his victory with a smile. It was the 25th anniversary of the series, and we promised that in addition to the cash prize, the champion would receive their weight in silver bars. We bought 290 lbs, and Russ weighed 330, but he was too ashamed to admit it, so he just took what we had.
In the 1995 victory photo, Dan Harrington hugs you. Were you friends?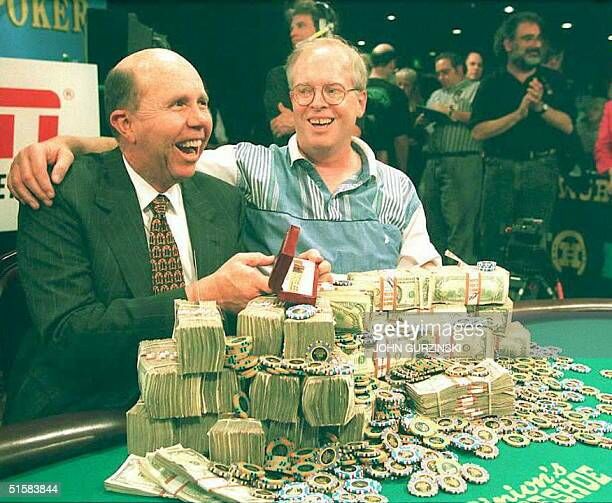 – In those years, the fields were not very large, and I knew all the participants fairly well. In general, there was more camaraderie in poker back then. I think the thing is that the players of that time played with each other every day, they had more in common, and almost everyone went through a similar path. After tournaments, everyone would go out to dinner or play golf together. Now this is simply impossible.
– We missed Phil Hellmuth, surely you also have something to share about him?
He was the first player of the new era—a young college graduate who came out of nowhere. I think he was the first to really understand the importance of tournament strategy.
– In 1997, you held the final table outdoors.
God, it was hot in there. I cursed everything. Heads-up, Stu Ungar beat Wynn VP John Stremp. Stewie was a truly unique player. He made all the decisions at the table instantly, his brain worked so fast. At the same time, his best game was gin, in which he was undoubtedly the strongest. Unfortunately, he could not cope with many of his weaknesses.
– Was the 1997 series the last for you as an organizer?
– Yes, in 1998 I sold my share in Horseshoe to my sister. We quarreled, a long trial began, and in the end, we decided to settle. I retained the rights to use the Horseshoe brand outside of Nevada and began developing casinos elsewhere.
– At that time, you had no thought about holding the World Series in other places?
No, obviously it wouldn't work anywhere but Vegas. We had our fairly successful series, but I immediately decided to leave the WSOP to my sister. I couldn't imagine what would happen to poker in the early 2000s. She sold the rights to the series in 2004 to new owners, and I must admit that the work of the current WSOP management suits me completely, they are doing a great job.