The $200,000 buy-in tournament has ended in Cyprus. It was the second tournament in history in which only amateurs could register, but each of them had to invite one professional. A similar format was used in the 2019 Triton Million tournament. Both tournaments were a huge success, so I'm sure we will see this format used more in the future.
The first experiments with high roller tournaments for amateurs began back in 2016. Guy Laliberte decided to run a $1 million buy-in tournament without any pros at all, but the idea fell through. Only 26 participants registered, Elton Tsang defeated Anatoly Gurtovoy in heads-up .
The organizers of the Triton series have shown that they understand the needs of the players much better.
The day before the start, with great fanfare in the style of major sporting events, a draw was held to determine the seating arrangements.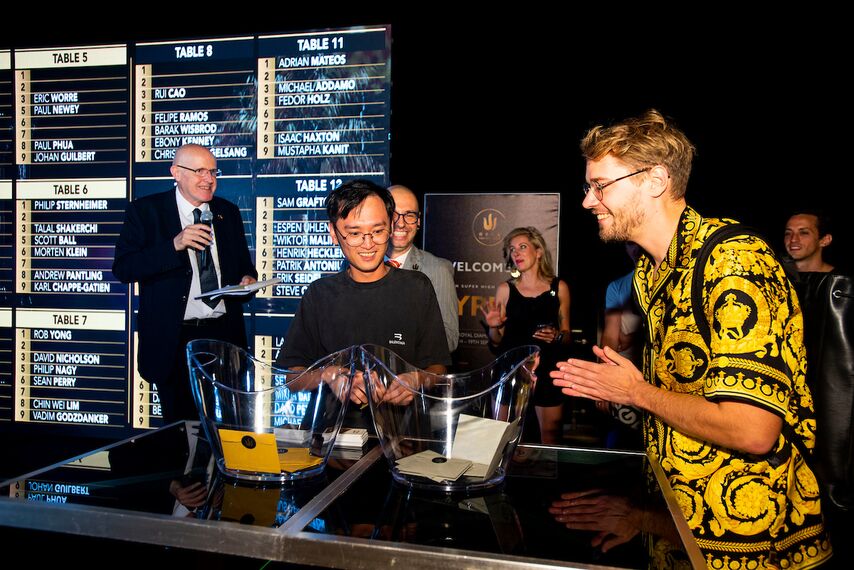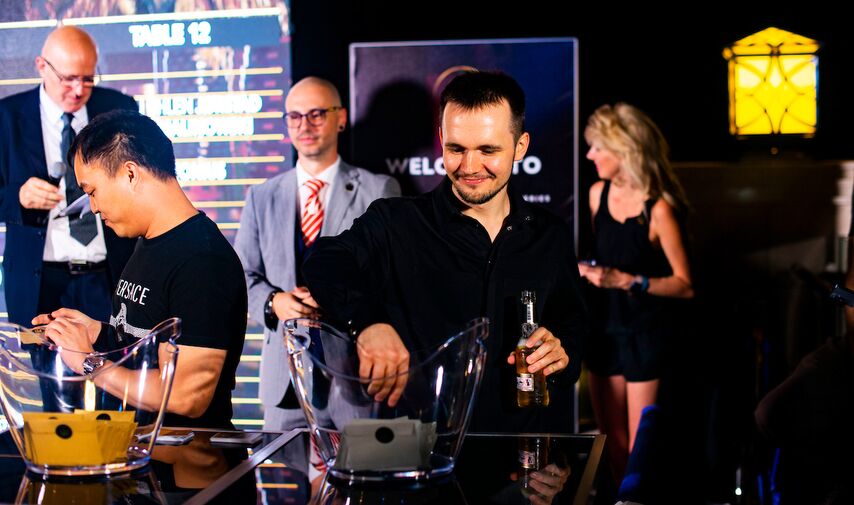 Another feature of the tournament is that professionals and amateurs played separately throughout the opening day. In addition, all 90 participants took their places from the very start, which is also rare in modern MTTs.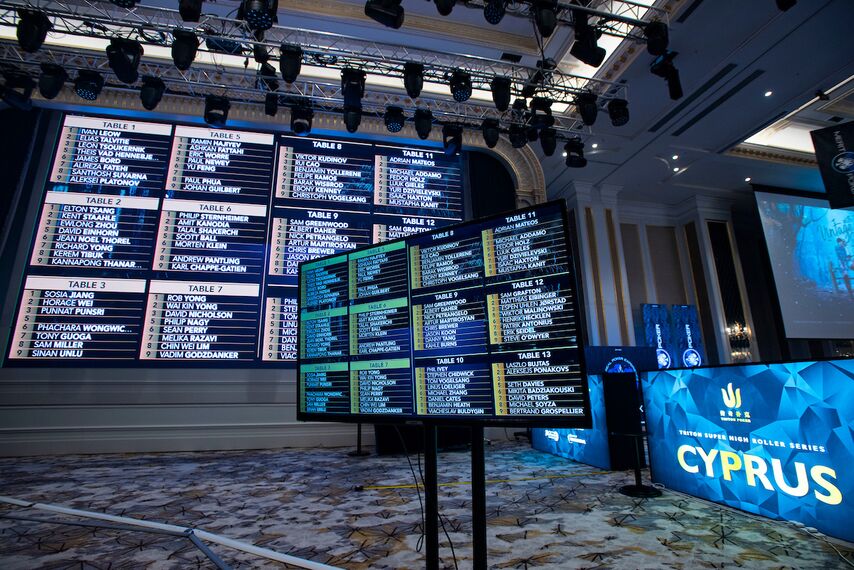 Before each such tournament, disputes arise: "Are all the amateurs really real?" In 2016 and 2019, Andrew Pantling caused the most debate. Jason Mo wrote: "He probably still plays better than 95% of modern MTT pros."
Now Andrew has finally been left alone, although he re-entered through the business door. Radically minded Jason Mo found himself a new victim – Sean Perry. At the same time, the organizers vouched for his cleanliness, which Mo also doubts.
Recall that in May 2021, Colman accused Perry of cheating in fantasy.
The course of the tournament showed that Perry was far from the most dubious "businessman".
The game started at 500/1,000/1,000 with a starting stack of 300,000. The first flight took place just 20 minutes after launch. At the "pro" table, Linus Loeliger got the nut flush against Phil Ivey's second nut flush.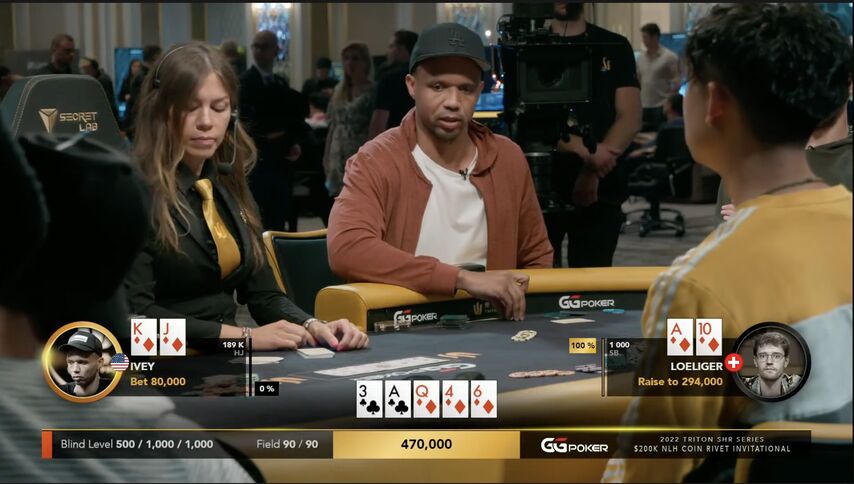 Ivey called a 3-bet preflop, and Linus c-bet a third of the pot on the flop. On the turn, Linus check-called half the pot. On the river, Phil bet 80,000 into an 89,000 pot and Linus shoved.
"If anyone can throw it out here, it's Phil Ivey," the commentators unanimously agreed.
On the river, Ivey thought for five minutes, repeated "okay" several times with a sigh, cut down his chips, but eventually made the call.
At the 1,000/1,500/1,500 level, Michael Addamo and Ike Haxton played a 4-bet pot with less than premium hands.
Ike 3-bet preflop and called another raise. Addamo check-raised on the flop and was called. On the turn, Addamo bet 75,000 into a pot of 226,000 and folded to a shove.
We've been getting to watch some very rare, High Stakes DEEP STACK tournament play with the BEST Players In The World here at the $200k @CoinRivet Invitational.@ikepoker and Addamo square off with 6♣5♣ and A♥5♥ respectively in a 4 bet pot, and both players NEVER let up. pic.twitter.com/8jDjt7vLlX

— Triton Poker (@tritonpoker) September 10, 2022
In the middle of the day, French trader Carl Chappe-Gatien took the lead. Rounding out the top 5 was Elias Talviti from Finland, whose affiliation with businessmen caused the most questions from the very start.
Alexey "avr0ra" Borovkov clarified in the comments to the telegram channel of Ilya Gorodetsky:
– Finn is a former cashier, but ended his career 3 years ago, and he was registered as a crypto investor)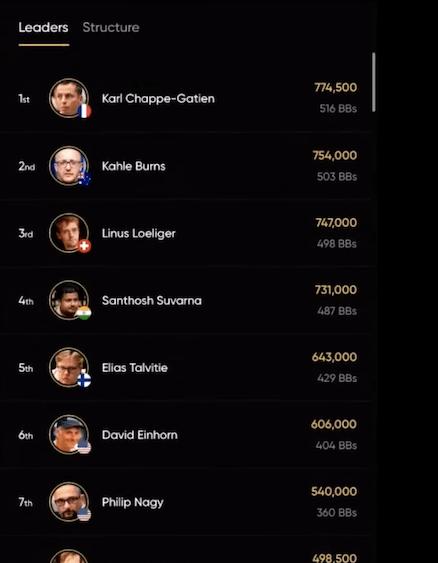 In the last levels of the day, Leon Tsoukernik came out on top, spinning from his second entry. In the final hours, spectators had the opportunity to enjoy his game with open cards.
Leon got the lead stack when he shoved the turn with a naked flush draw against a made straight. And then, without abandoning his bold game, he confidently increased it.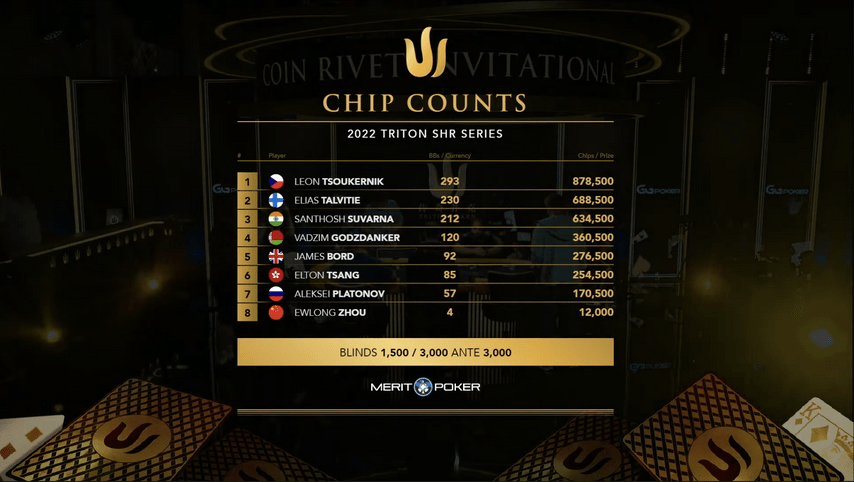 In the final hand of the day, Leon opened from early, Santosh Suvarna announced all-in with the words "this is the last hand."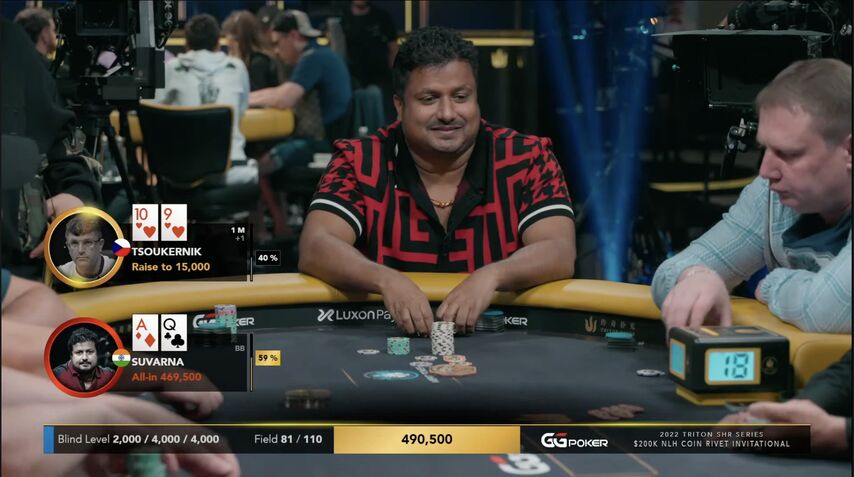 Leon almost immediately called.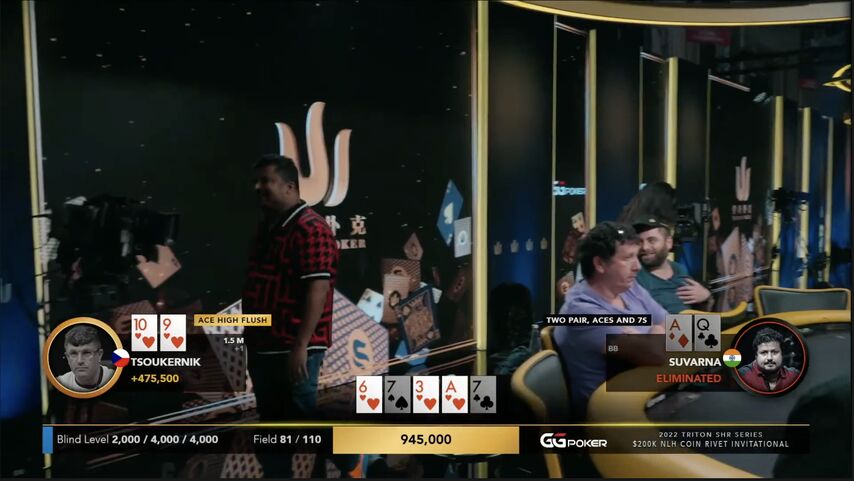 "An absurd push for 118 blinds and an even more absurd call," Brian Rast was perplexed in the commentator's chair.
Leon finished the opening day with a comfortable stack of 300 blinds.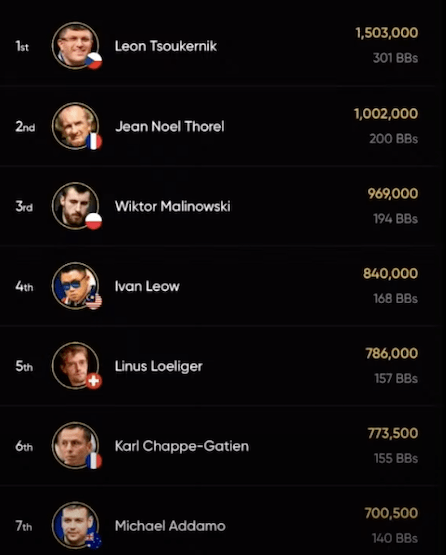 Registration closed with 115 entries (25 people made two buy-ins). After that, the tournament had a full redraw to mix professionals and amateurs.
At 3,000/6,000/6,000, Phil Ivey thought hard about Christoph Vogelsang's bluff. The more Ivey thought on the river, the less doubt there was for commentator Brian Rast that he would call. So in the end it happened, Phil risked his entire stack and turned out to be right.
In the middle of the day, Linus Loeliger came out on top, right behind him was Elias Talviti.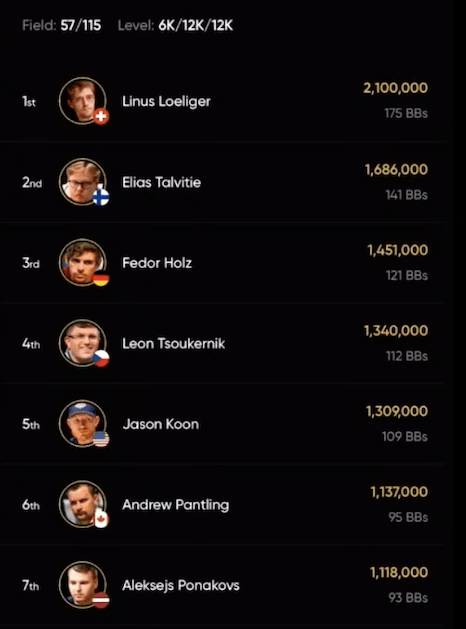 Brian Rast also noted on his game:
– When I was preparing, I did not see anything remarkable in his story. He has several cashes in small high stakes tournaments, which is quite similar to a rich amateur. But then I learned from familiar players that he has a lot of experience online, and he clearly plays GTO preflop. Sometimes it can be very profitable if no one knows you.
"Sam Greenwood even expressed dissatisfaction about this yesterday, and it got on the air," Henry Kilbane supported the dialogue. "I think it was wrong on his part. It's the organizers who decide who to invite.''
"Incorrect is not quite the right word," Rast objected. – Everyone is entitled to an opinion, and Sam paid $200k for the buy-in, and this directly affects him.
"I agree with that, but he said it in Elias's presence. He approached James Board, who was playing at the same table, and said: "You would obviously prefer to play with businessmen from Turkey and Lebanon, and not Finland."
Fedor Holz knocked out Mustafa Kanit with the kings and was in hot pursuit of Linus.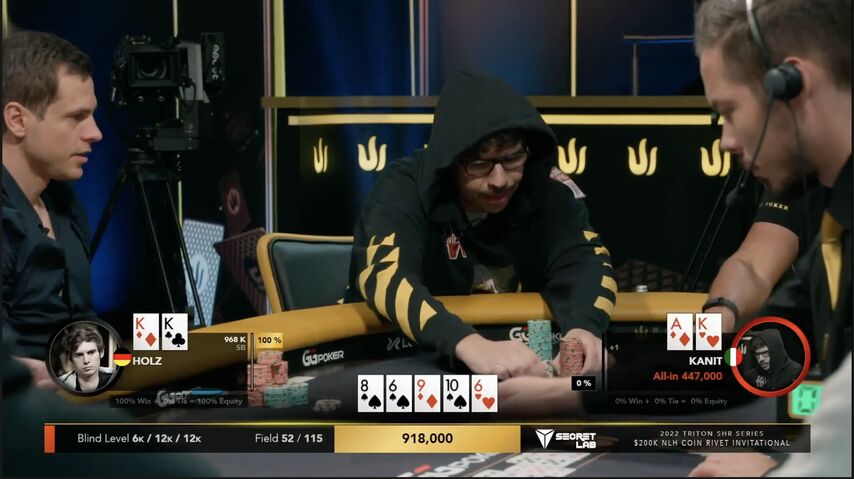 Loeliger, meanwhile at his table, made full use of the fact that, due to the difference in stacks, no one could contest him.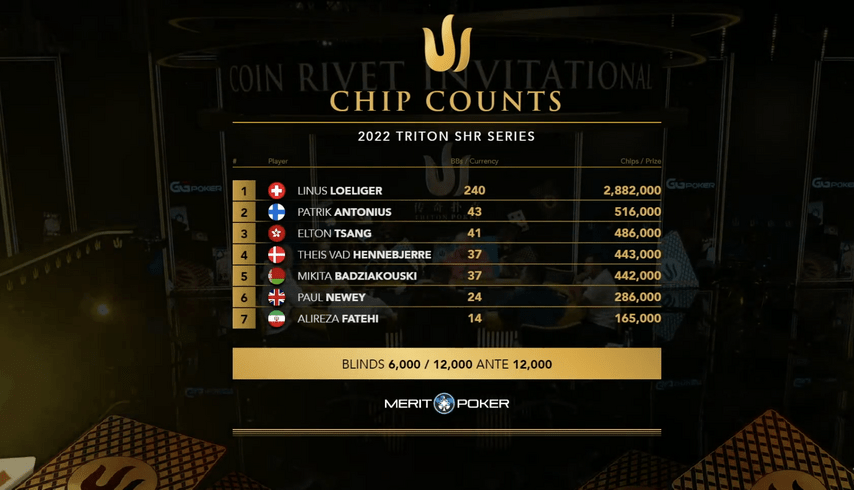 The back and forth struggle between them continued until the final hands of the day. Fedor lost several all-ins to short stacks, and then got a dead cooler for 186 blinds.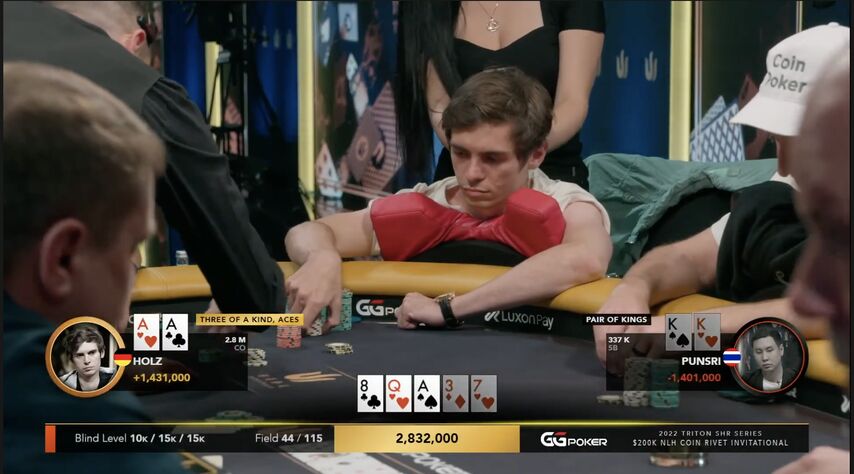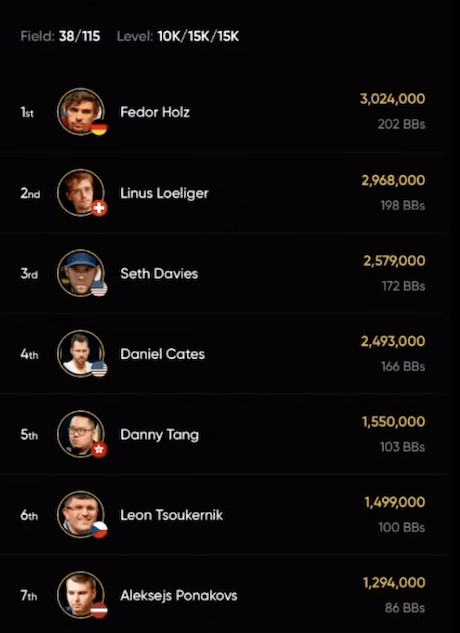 Linus spent several hours in the company of Daniel Cates, who played all day in the guise of the mythical character Triton, son of Poseidon. Jungleman really got in to the role, which greatly amused his neighbor.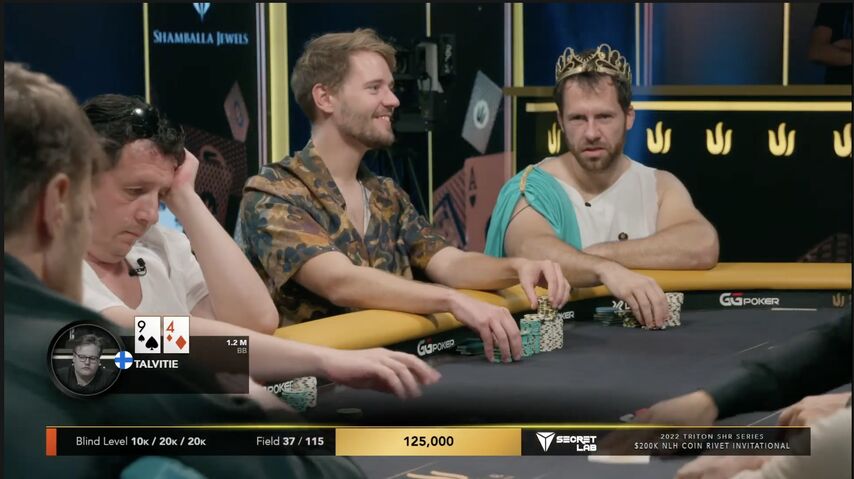 At the three-table stage, Fedor was only a couple of blinds ahead of Linus.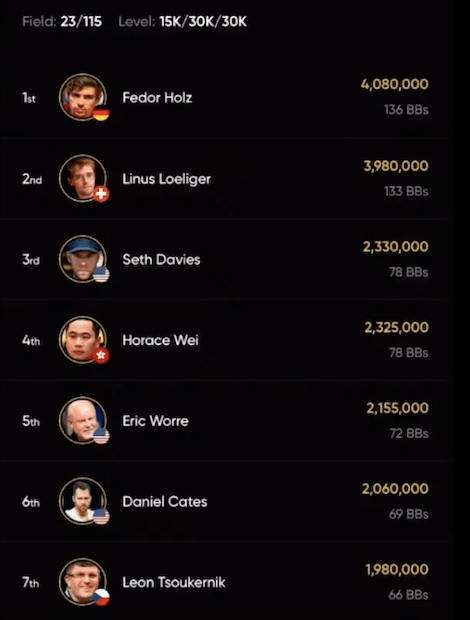 4 from the money, Horace Wei folded AK to a Sam Grafton 4-bet.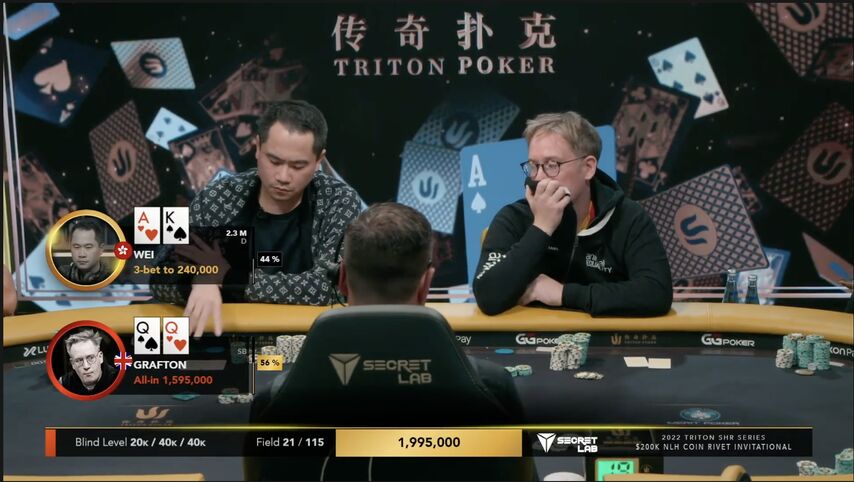 Linus forced Tony G to spend several timebanks and also folded.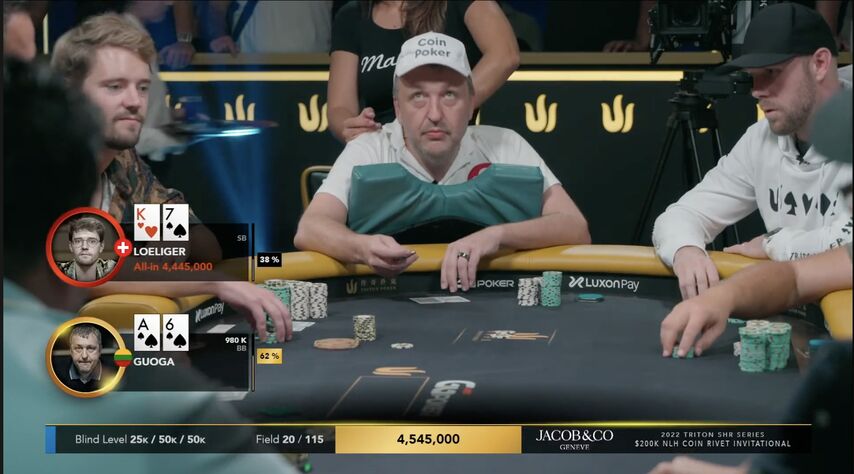 Leon Tsoukernik knocked Santosh Suvarna out of the tournament again in 20th place. The Indian entrepreneur kept had almost the same hand again, but Leon's hand this time was slightly better than at the end of the first day.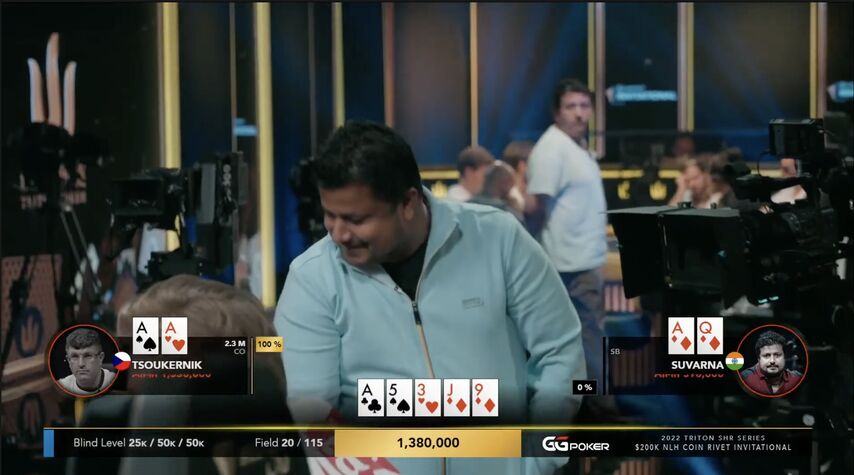 With two to go to the money, Chris Brewer tripled with A8 against Ebony Kenny's AQ and Eric Worre.
Elias Talviti dispelled the last doubts about the level of his game when he made two check-raises against Linus on the bubble in one hand.
You've never seen money bubble play like this...

LLinusLLove has been abusing everyone at the feature table with his commanding chip lead during bubble play, and Talvite is not taking one bit of it.

Bubbling in the Triton Poker @CoinRivet Invitational costs... $380,000!... pic.twitter.com/eQILPgj07Z

— Triton Poker (@tritonpoker) September 11, 2022
Ebony Kenny's stack dropped to two blinds, but she doubled up with K2o against Horace Wei's A6.
Daniel Cates showed that he was not afraid of the bubble at all in a beautiful hand against Chappe-Gatien.
And then there was the tragic mistake of Chris Brewer, which we talked about in the telegram.
The bubble pressure even took its toll on Leon Tsoukernik, who folded top pair against Talviti.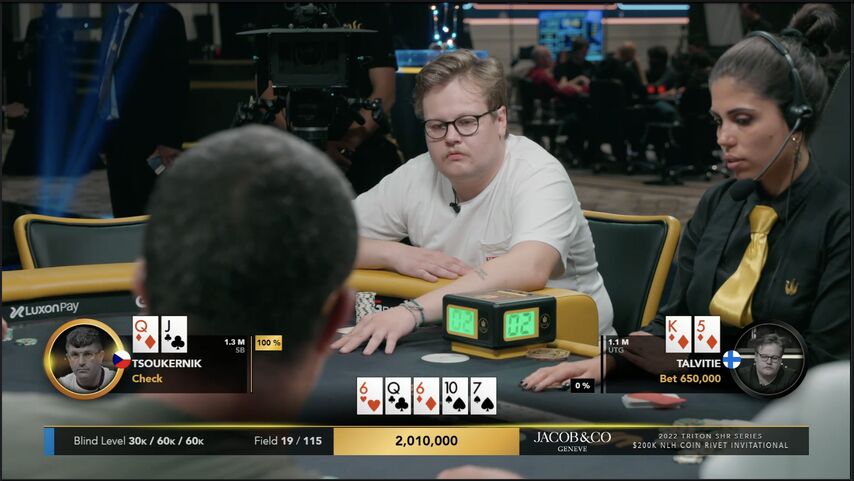 Leon called the raise preflop, bet on the flop himself, on the turn Tsoukernik bet 125,000 into a pot of 610,000 and called Elias' raise to 375,000. Curiously, by the river, the cunning mustachioed Finn had so confused the King's owner that he forgot what the action was in the hand.
19th was Turk Unlu who shoved with top pair on the flop. The commentators condemned his game, pointing out that if he was ready to stack off on such a board, then it was easier to just get it all in preflop.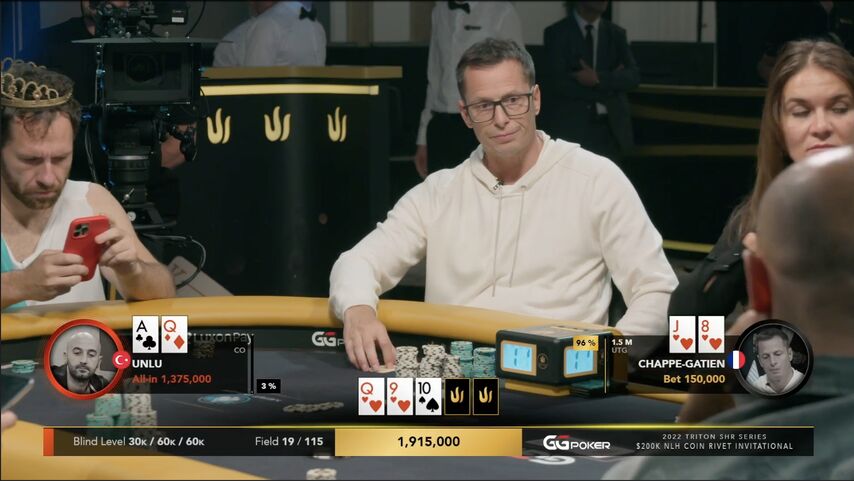 Chris Brewer after his fatal mistake spun up to 7 blinds.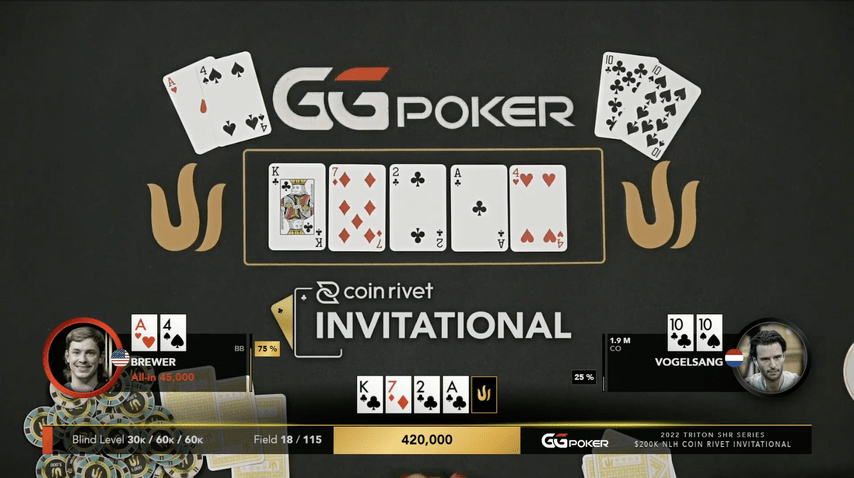 An Ace was exposed on the flop.
Jungleman began to rally the neighbors, who did not resist.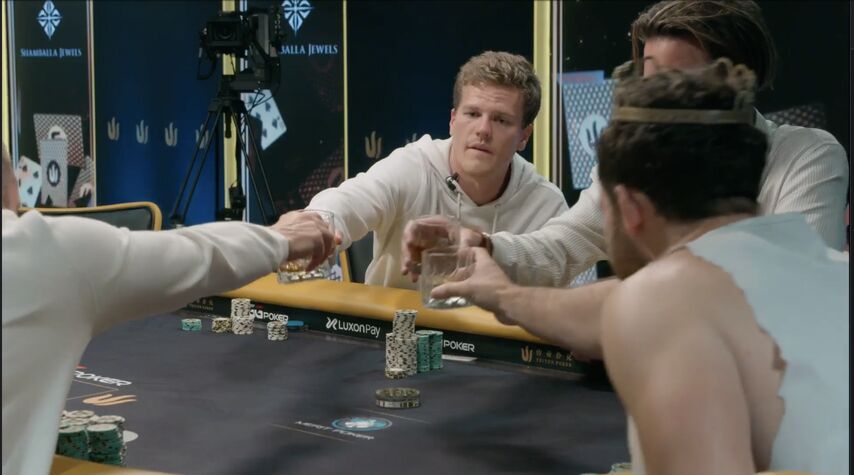 Vadim Godzdanker and Chris Brewer did not support the impulse decision of their table neighbors, and a few minutes later Chris finished his tournament in 18th place.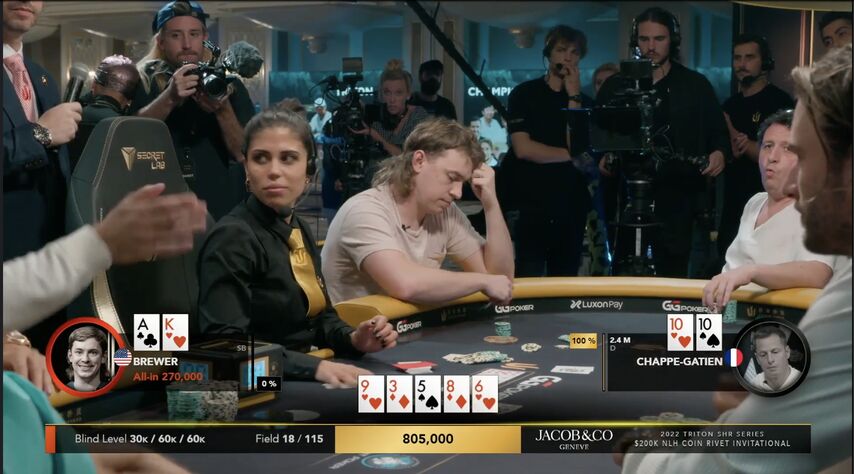 Before the end of the day, Eric Vorre managed to fly out in the money, and Tony G doubled from below against Tsoukernik and celebrated this event very noisily.
On the final day, there was some confusion over the start time of the broadcast, but in the end it still took place.
The chipleaders in the top 16 are Fedor Holz (78bb) and Linus Loeliger (74bb). Aleksey Ponyakov survived with 12bb and Vadim Godzdanker had 6bb.
In the first hand, Dave Nicholson was eliminated and Vadim Godzdanker doubled up against Horace Wei.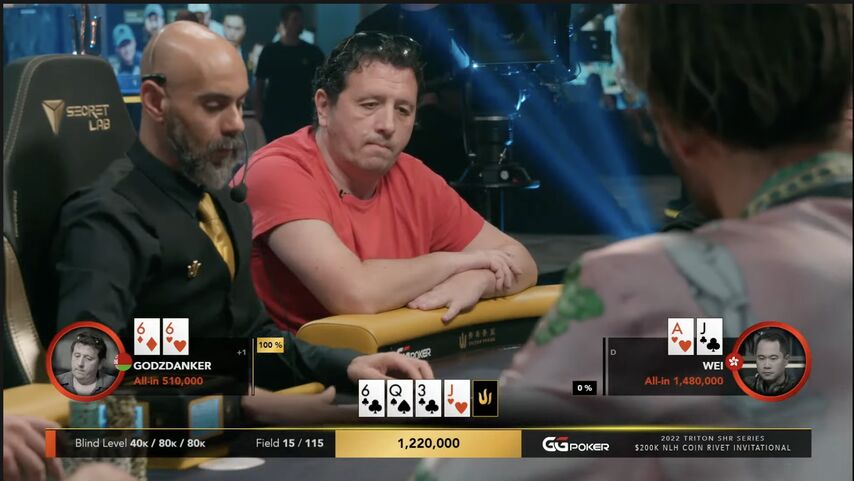 Leon Tsoukernik was eliminated 15th against Alexey Ponyakov.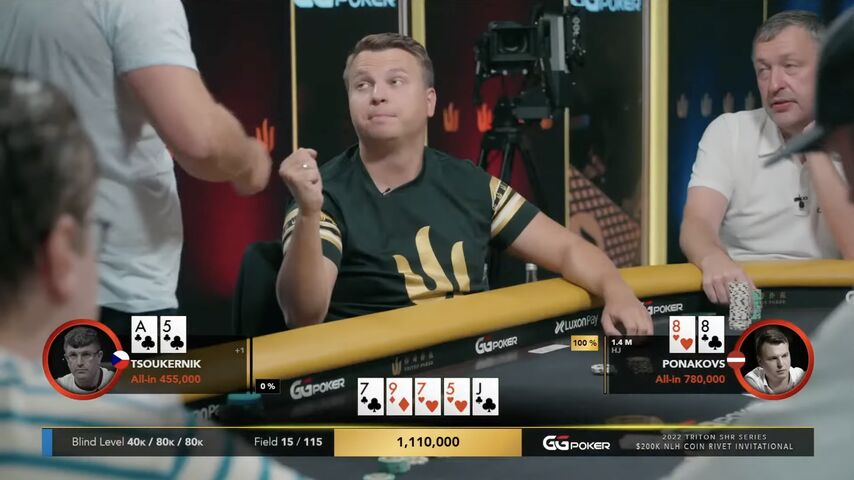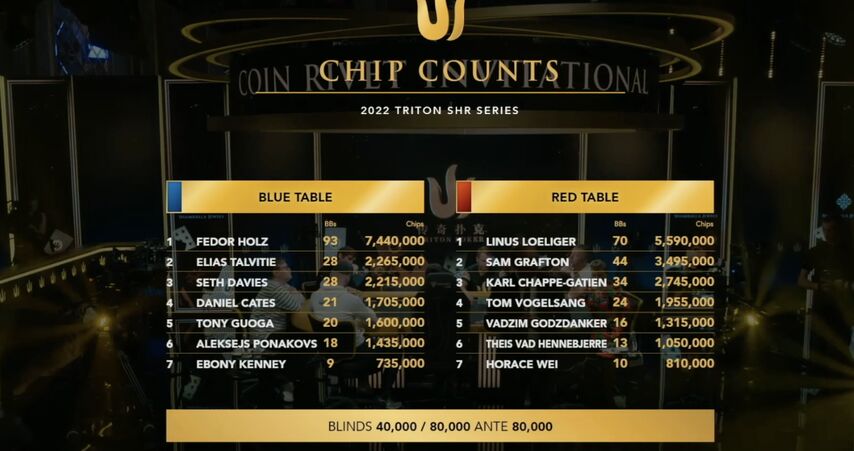 The businessmen's downfall continued as Sam Grafton eliminated Horace Wei.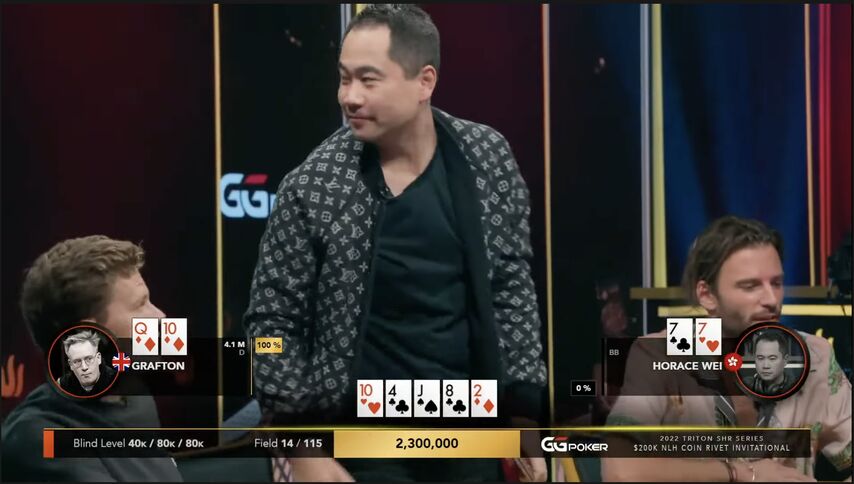 Tom Vogelsang – visually the complete opposite of his namesake from Germany – sent the Dane Hennebjerre to rest. The representative of Denmark also participated in the tournament as an amateur – he specializes in sports betting and is considered one of the best in this business.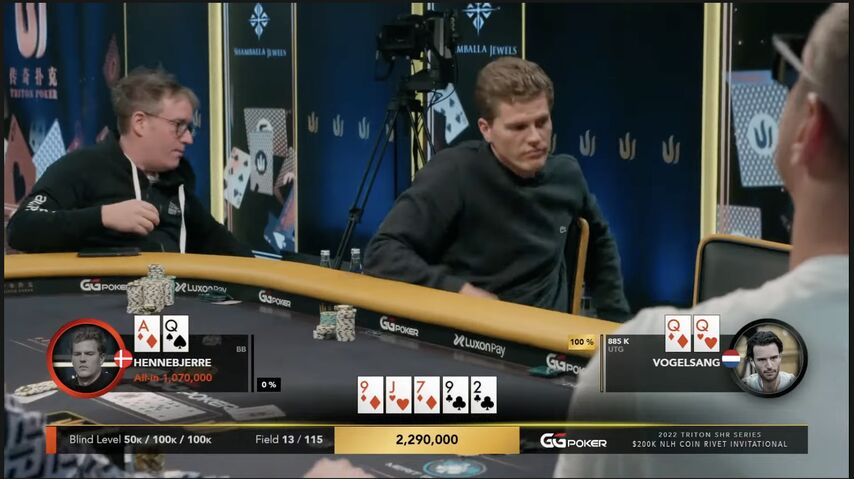 Vadim Godzdanker doubled up again with aces.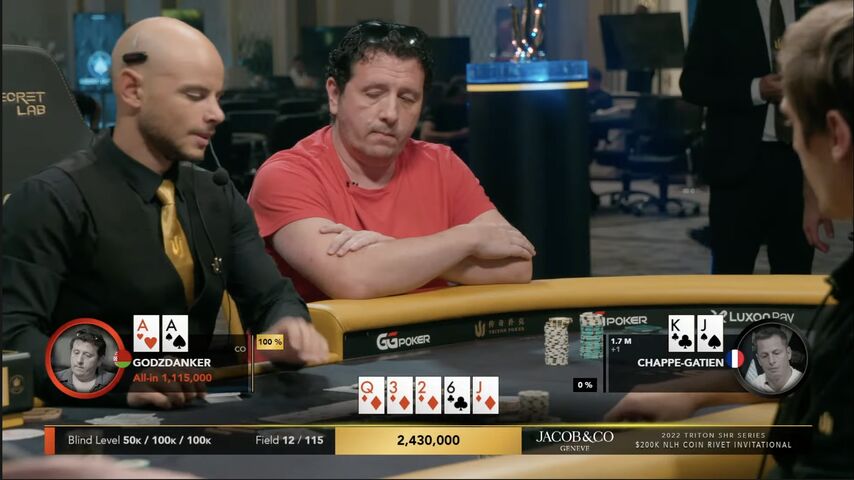 Daniel Cates finished in 12th place. It is believed that the reason for the relative failure was the rejection of his bright robes on the final game day. Though it's possible that Jungleman planned to change clothes if he made it to the final table.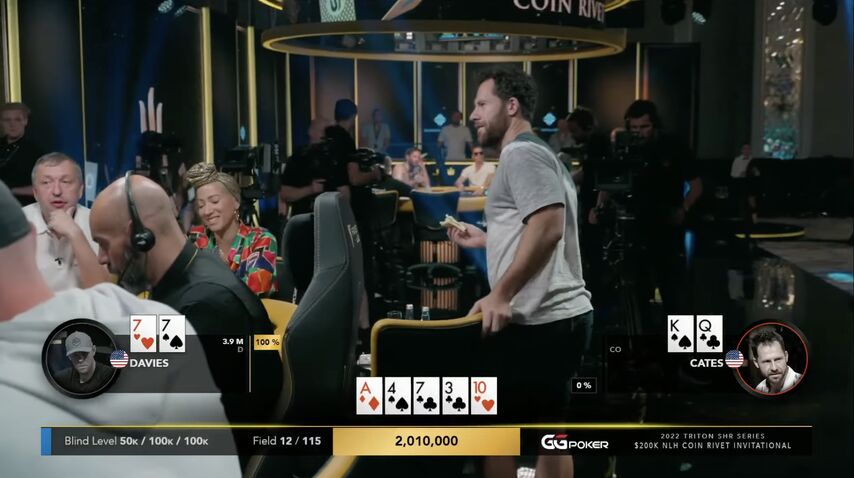 Immediately after him, Vadim left the tournament, having refreshed his best cash by some margin. He earned $485,000, his previous best being a win right there in Cyprus in a $1,000 buy-in tournament for $150,000.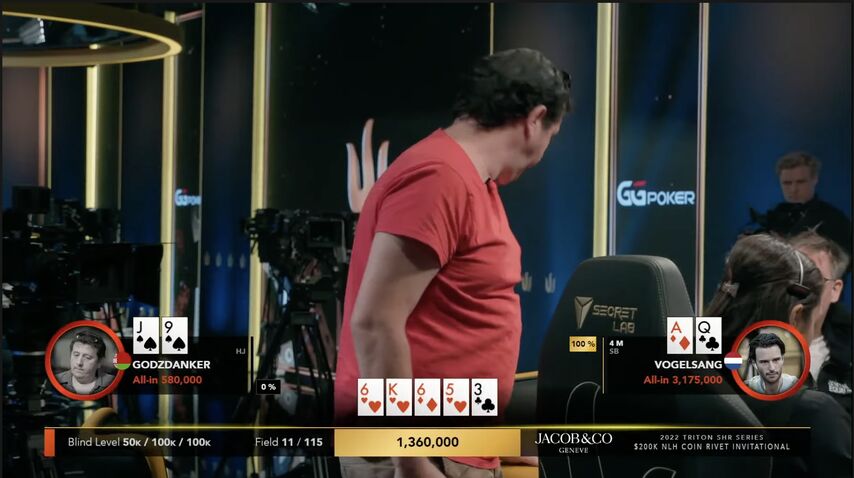 On the bubble of the final table, Fedor Holz and Carl Chappe-Gatien played a pot of 92 blinds.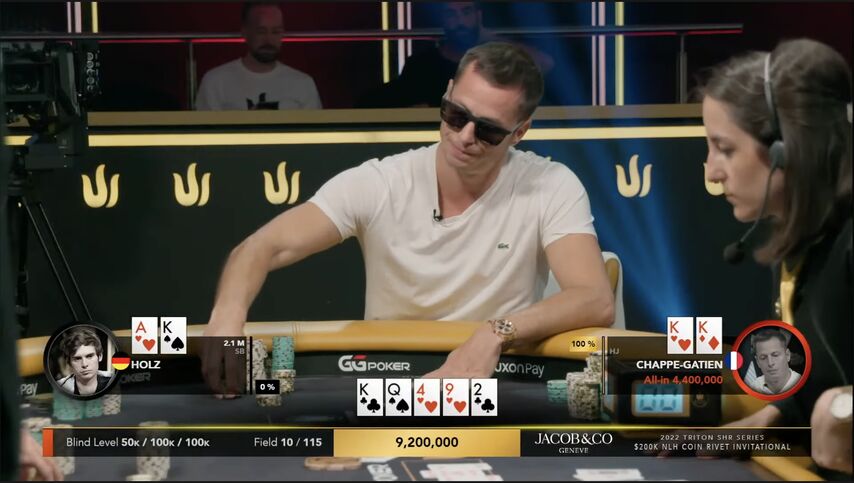 Fedor 3-bet and called the shove.
Tony G shoved 9 blinds but failed to improve against Ebony Kenny and finished 10th.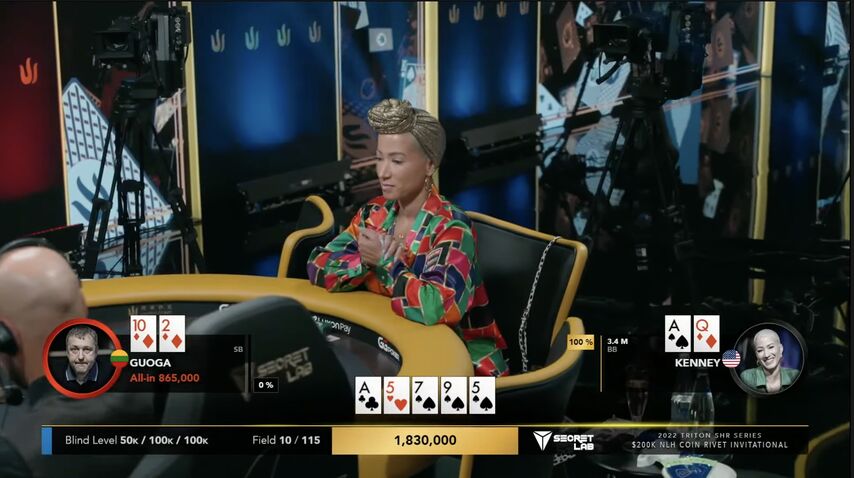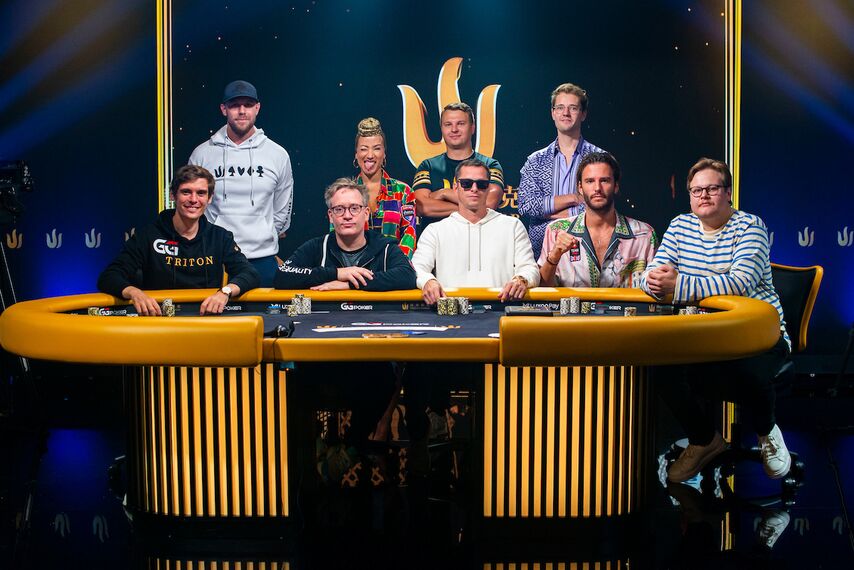 The final table chipcount was led by the only true amateur left.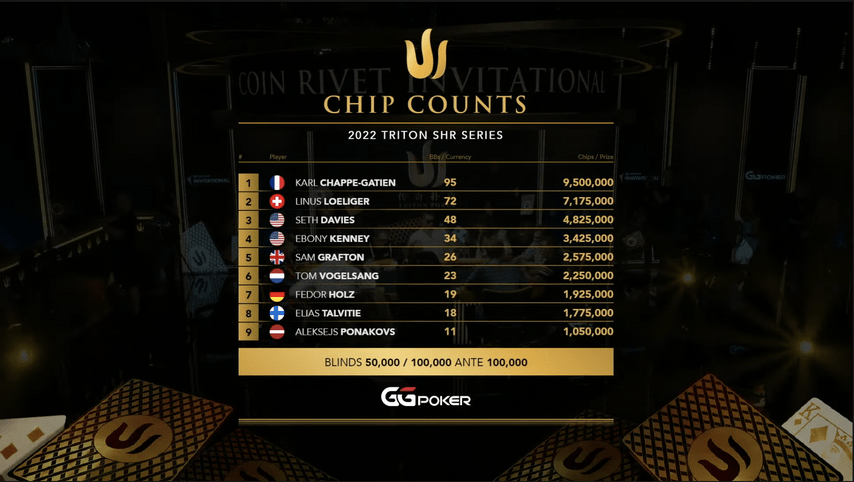 Chappe-Gatien soon called an 18 blind push from Tom Vogelsang.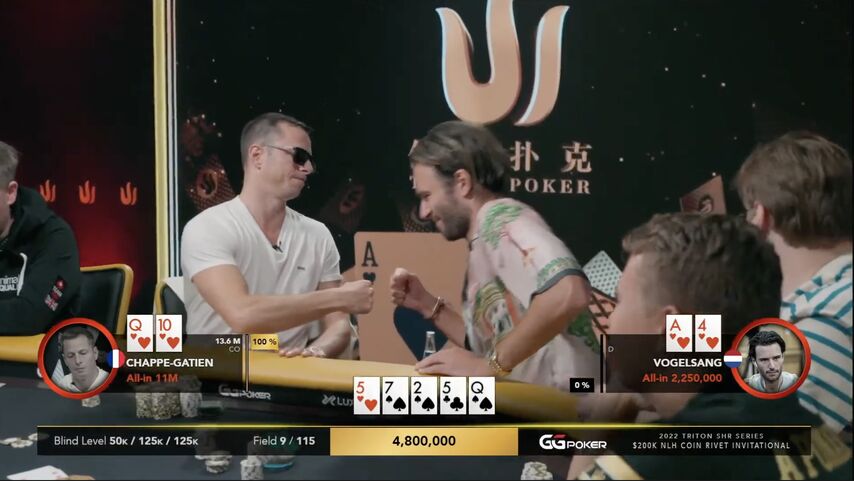 Tom came in 9th place ($620,000) and impressed the organizers with his appearance.
For the Frenchman, it was his first time at the final table.
Alexey Ponyakov flopped a set of sevens and doubled up against Linus' kings. And a couple of orbits later, Chappe-Gatien 4-bet shoved and ran into Alexei's aces.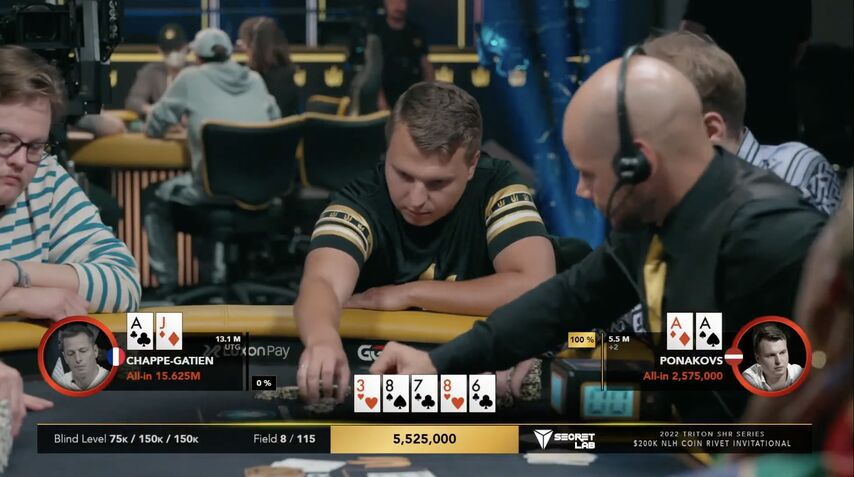 Karl still retained an overwhelming advantage in chips, while Ponyakov moved into second place.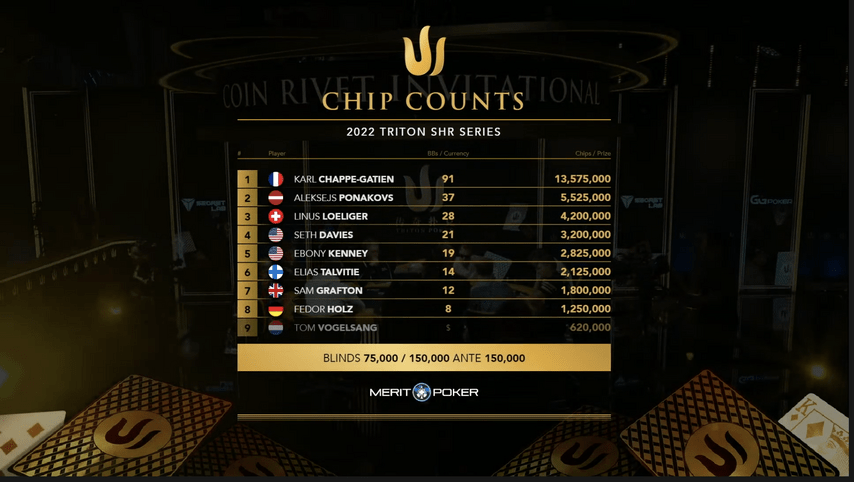 Seth Davis was short-stacked, shoved his remaining chips, but chose the wrong opponent to do so against.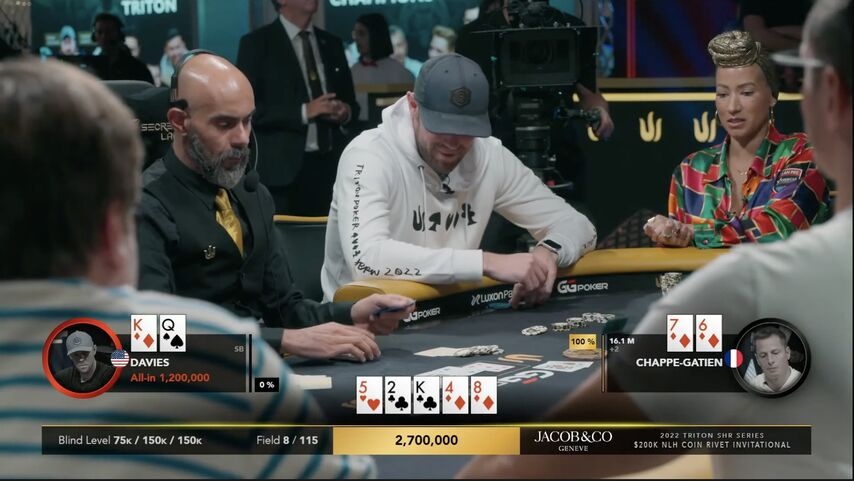 For 8th place, he received $770,000.
Alexei lost over half his stack when he went all-in after Holtz's raise.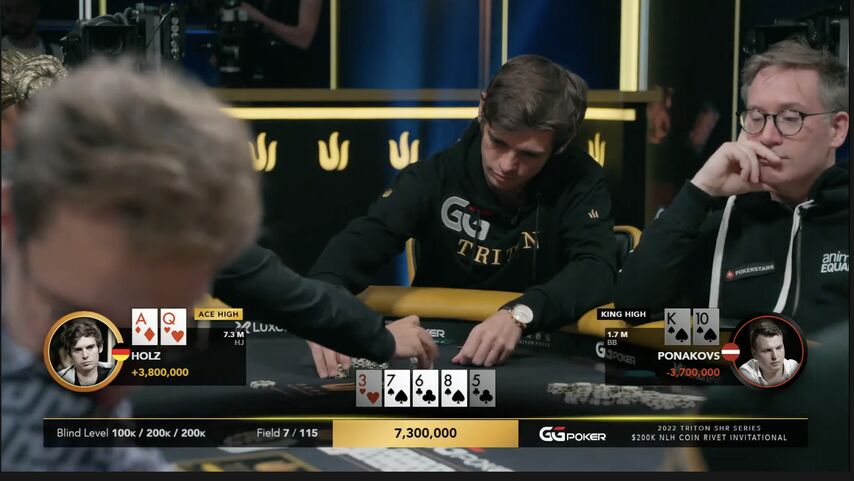 For Elias Talviti, this glorious battle ended in 7th place for $1,050,000. He was also unlucky enough to be the favorite against the French trader.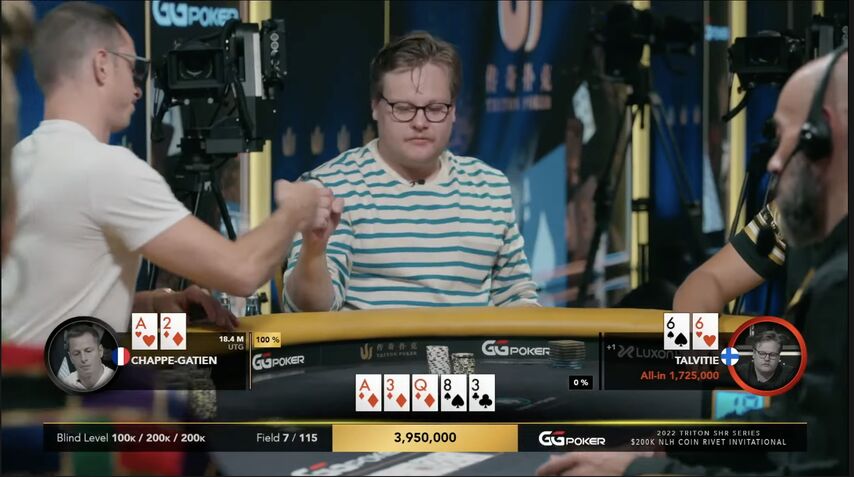 Alexey Ponyakov was left with a stack of 5 blinds and could not spin.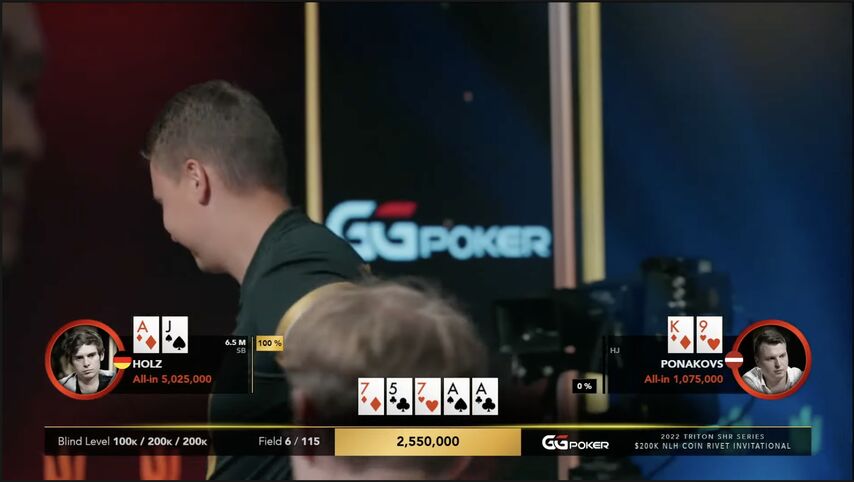 His "consolation prize" is $1,350,000.
Cypriot fairy tale Ebony Kenny ended in 5th place with a hard bad beat.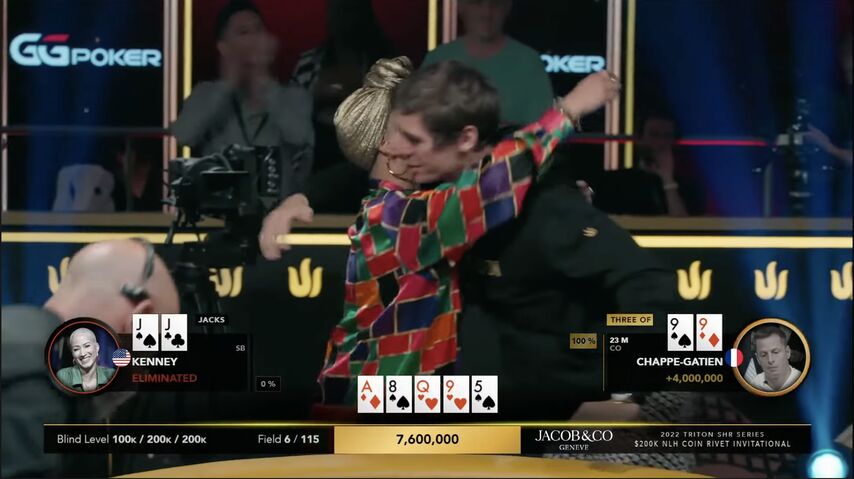 Kenny earned $1,700,000. In the history of poker, women have only won more than four times in one tournament. She was warmly greeted by all rivals, and social networks were bursting with congratulations. Thanks to her outfits, positive attitude and fearless game, she became one of the main characters of the entire series, although she had never played in such expensive tournaments before in her life. In the coming days, GipsyTeam will dedicate a separate article to Ebony.
Linus Loeliger dropped to 11 blinds, but managed to perform a miracle and won all-in from ahead against Chappe-Gatien.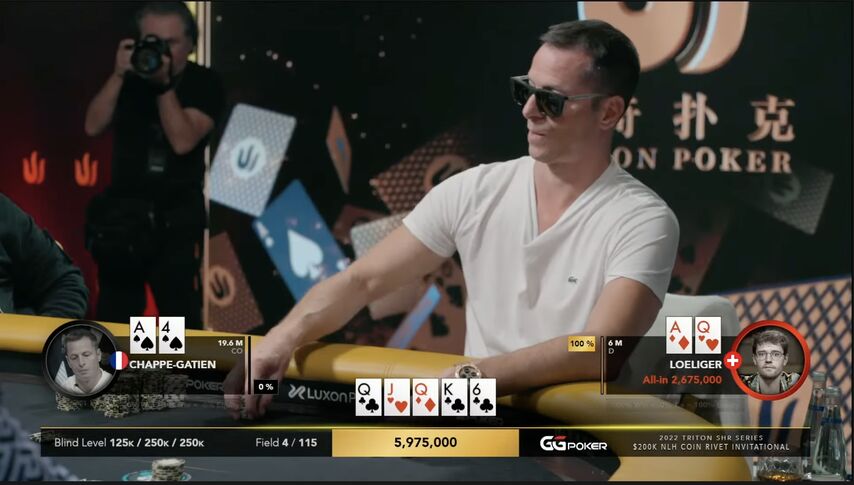 Carl's bad streak continued against Sam Grafton.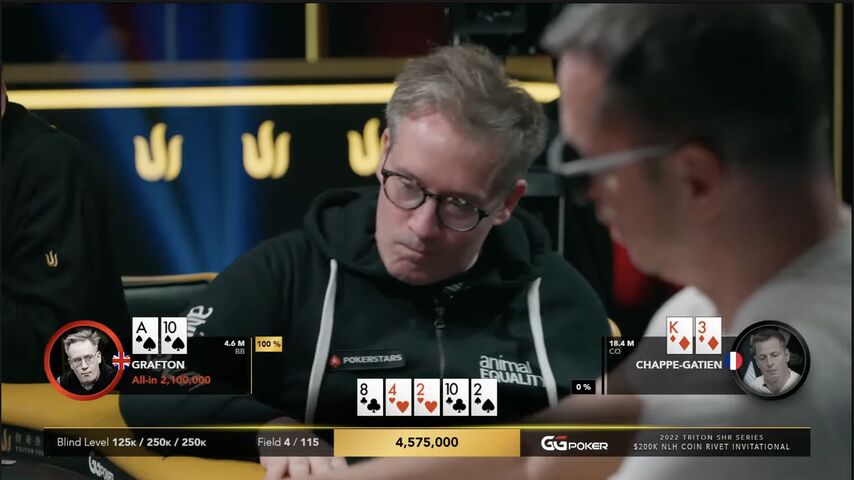 A few hands later, Sam won another huge all-in.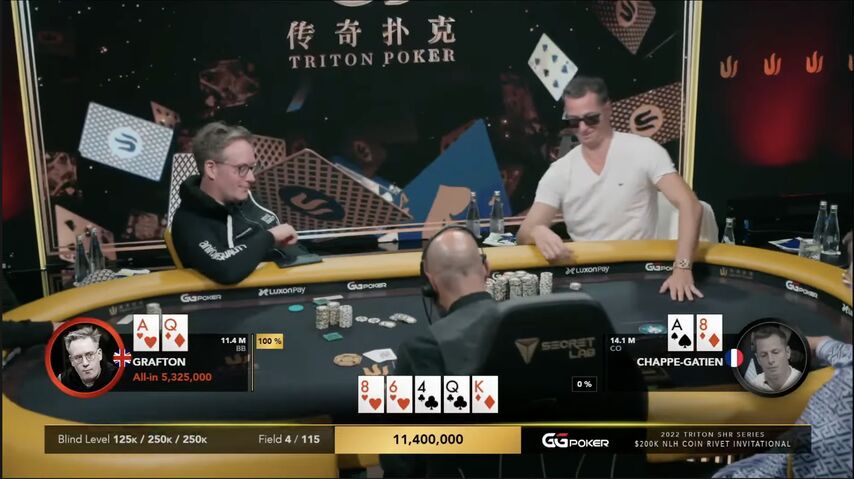 "Somewhere inside I understood that I had to throw it away, but for some reason I still called," the Frenchman explained his actions.
He did not lose the chip lead, but soon strengthened it even more. He did not change his tradition of winning from behind.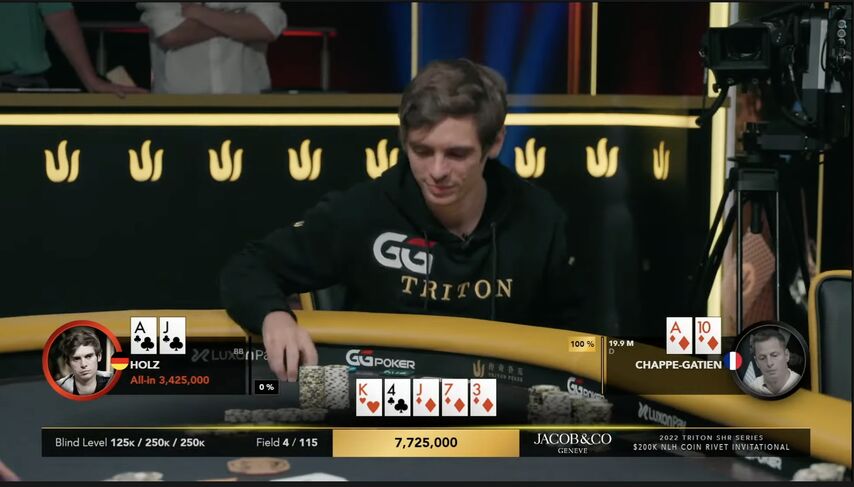 Fedor took 4th place ($2,100,000).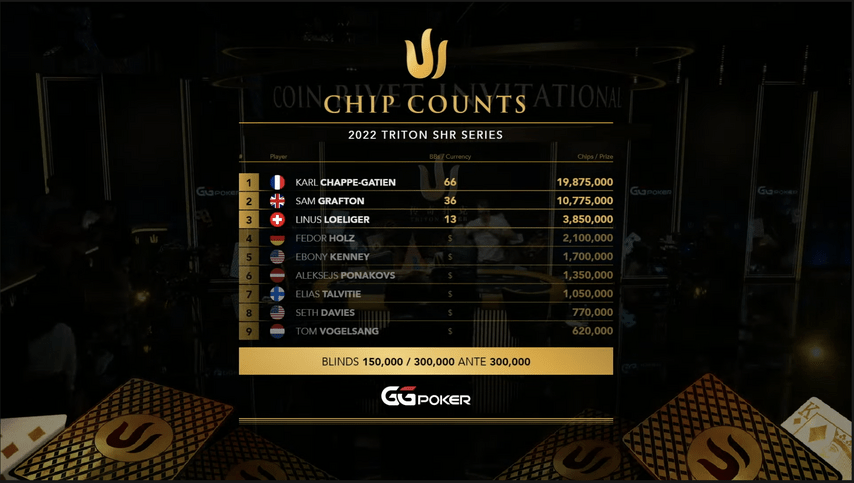 In one of the first hands of 3-max, Carl bluffed Sam. Chappe-Gatien's special love for heart cards was visible throughout the finals.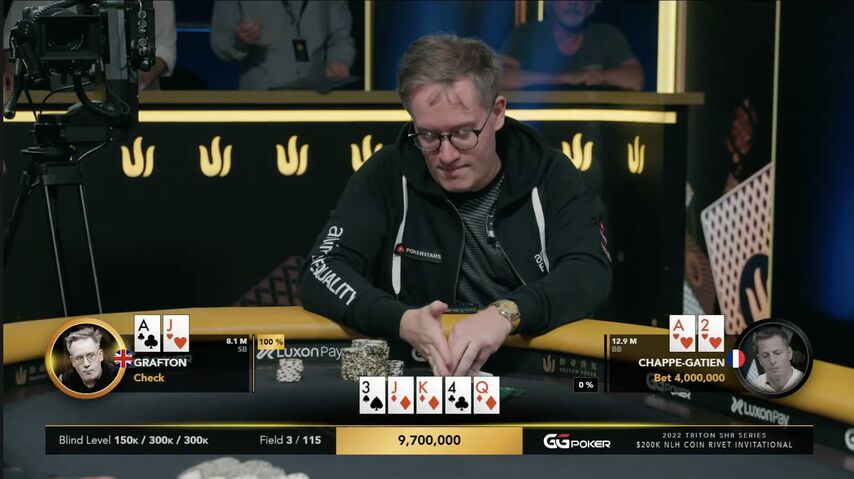 For the Frenchman, this was one of the last successful actions in the tournament. He continued to stick to the tactic of calling all-ins with the worst hand, but luck finally turned away from him.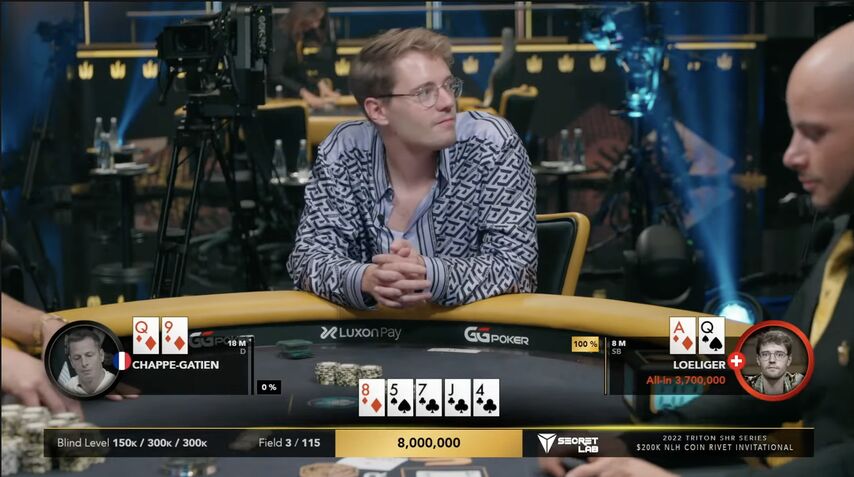 In the next hand, he and Grafton played the biggest pot of the tournament at that time (6:01:10).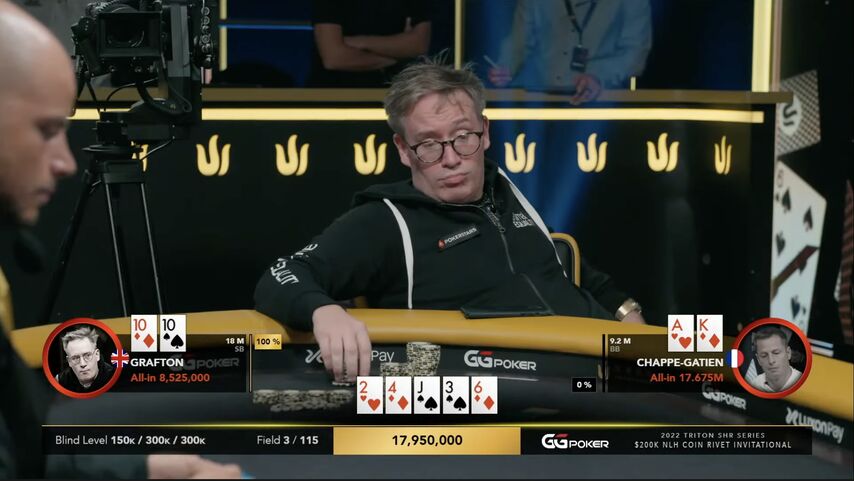 In the final stretch, Karl clearly could not withstand the pressure of the professional and could not defeat him. By the final hand, he had 5 blinds left.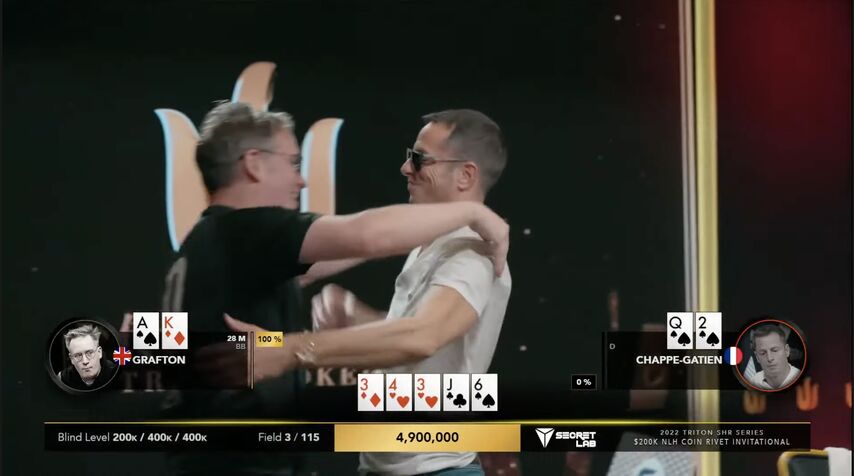 For 3rd place, he earned $2,600,000, his first entry on Hendonmob.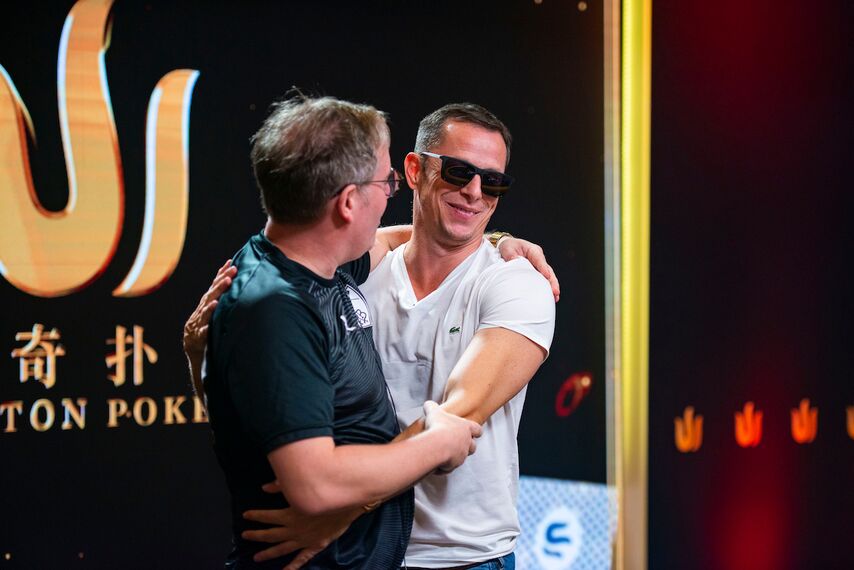 Sam Grafton started heads-up with a lead of 70 blinds to 16. At some point, he got so bold that he value bet with K-high.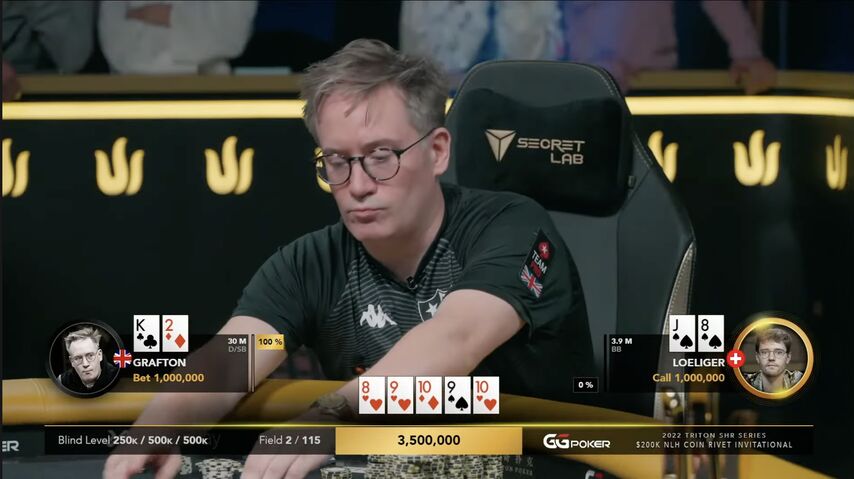 Linus went down to 8 blinds but got a few river saves and even almost evened the stacks. But, he could not consolidate his success.
For both players, this result was by some margin the best in their tournament careers.