The $200,000 buy-in tournament, this time hosted by Luxon, featured 62 players. 31 amateurs showed their willingness to buy in, and each invited one pro. 24 players made re-entries, meaning the total number of entries was 86. Last fall, in a similar tournament, there were 90 unique participants and 25 re-entries.
In such tournaments, there are always questions about the criteria by which the organizers determine amateurs.
For example, last time the Finnish regular Elias Talvitie was one of the number of VIPs who impressed everyone with his clear actions at the table and eventually took 7th place. Fans of Sean Perry also raise questions every time.
Dan Smith received the coveted invitation at the very last moment.
"Booked tickets to Cyprus," he wrote two weeks before the start of the series. – Still waiting for an invitation to the $200k tournament… 🤠 👀 😊
"I studied the list of who they ranked as amateurs there," Sean Deeb replied. "Maybe I should also apply and invite you?"
The day before the start, Dan was still in limbo:
– In 2017, Twitter helped me get into the million-dollar tournament in London, where I won 7.2 million pounds. Hope for another miracle. The tournament starts tomorrow 🙏 🙏 🙏
Punnat Punsri somehow got invited as a VIP and got rejected :(, Jason Mo complained in the comments.
"That's completely absurd," Sean Deeb agreed.
"I guess Jason Koon doesn't like me," Mo suggested. – This whole tournament is like a circus. I'm willing to bet that outside of poker I've made a lot more than all their VIPs, if that's one of their criteria. Wanted to give them 200k. The last time I played a MTT was in 2017, and I think that half of the amateurs on the list are now playing better than me.
"What difference does it make to you how Koon feels about you?" – one of the commentators did not understand
Because he decides who is the VIP. I suspect that the rest of the committee (ed. – Rumored to include Rob Yong and Michael Soisa) have never heard of me at all.
As a result, a few hours before the start, Dan Smith nevertheless received an invitation from the Norwegian amateur Marius Torbergsen.
"Still, I got into the tournament," Dan said happily. – Fuck all of you 🖕 🖕 🖕
Eight Russian-speaking players took part in the tournament. Ramin Khadzhiev invited Mikita Bodyakovsky, Alexei Platonov invited Artur Martirosyan, Nikolay Voskoboinikov's guest was Nick Petrangelo, Evgeniy Gavrilovich invited Daniel Dvoress, and "amateur" Anatoliy Zlotnikov took Alexsejs Ponakovs as his partner. Players from the same pair could not meet at the same table before the finals. And on the first day, in general, all amateurs and professionals were sitting separately from each other.
There was a sweeping game at the amateur tables, there were more big pots and at the end of the starting day, it was the business players who took a confident lead. There was only one professional in the top six – Ike Haxton with a stack of 124 blinds.
On the first line was the star of the series Santhosh Suvarna, from the second entry he was able to bag 169 blinds. Behind him were Philip Sternheimer, Samuel Ju, Orpen Kisacikoglu and Gary Thompson.
Orpen got a stack at the very end of the evening in a huge cooler against Eddie Tran.
Artur Martirosyan also started the second day among the leaders, but quickly flew out against Sternheimer.
Arthur analyzed the hand shortly after in his telegram:
– It looks like a mistake with AKc, you need to come up with a push range in a situation where it doesn't exist, and rather it will be strongly towards value.
But further events convinced him that the play was not so bad.
With late registration closed, Philip bluffed on the river to Dan Smith, who had to fold trips of aces.
"After this hand, I start to think that the call with AKs was not so bad," Arthur commented on the action.
From the re-entry, Martirosyan quickly spun up again. The key hand was against Christoph Vogelsang, in which he made an all-in call with third pair.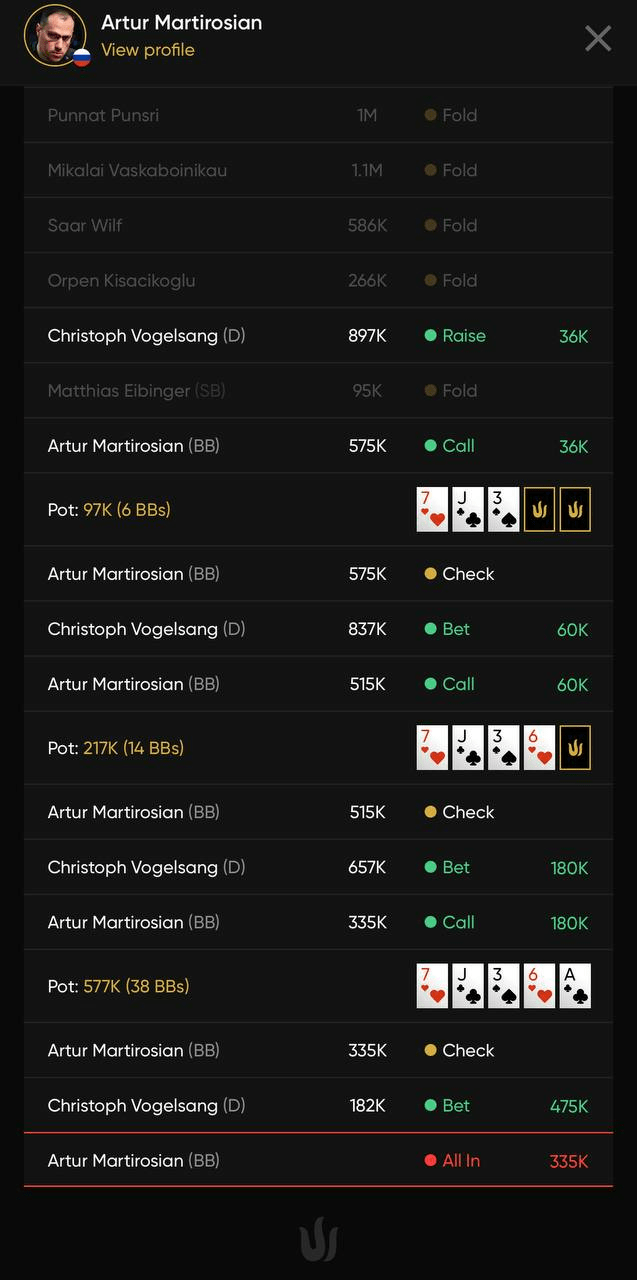 Tournament leaders with three tables left: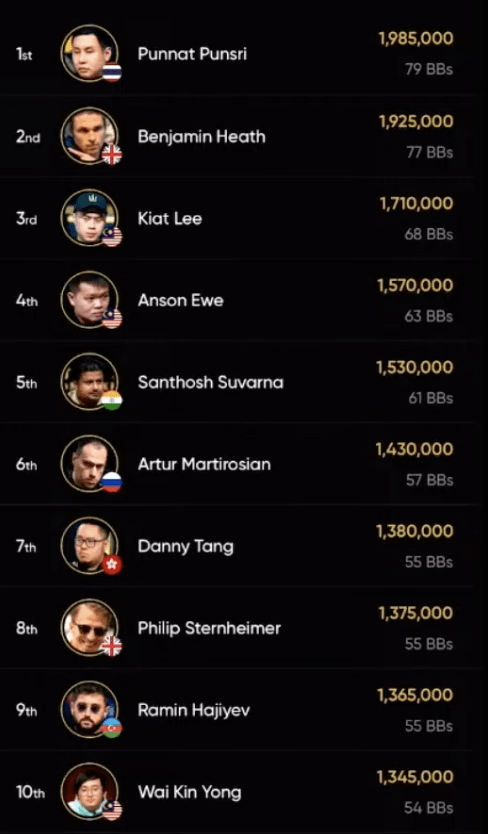 At one point, Arthur even led the way, but when 17 players were left, he doubled Sean Winter.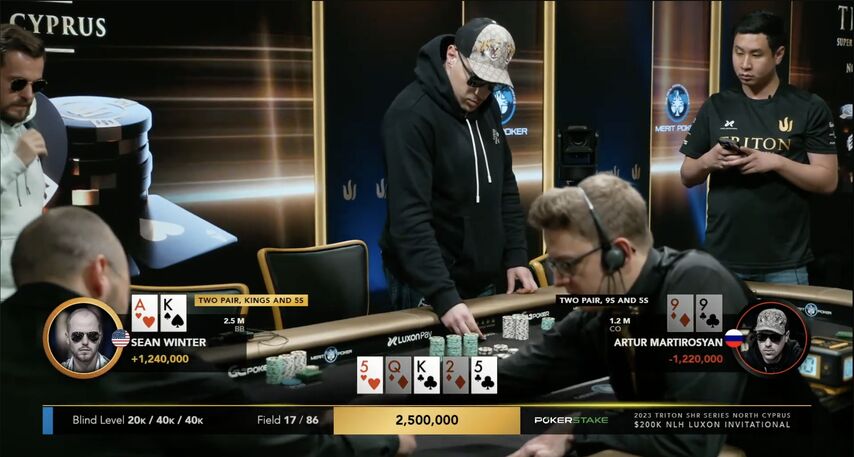 All in preflop.
When the players moved to two tables, Artur was no longer even in the top 10, and Ramin Khadzhiev was in first place.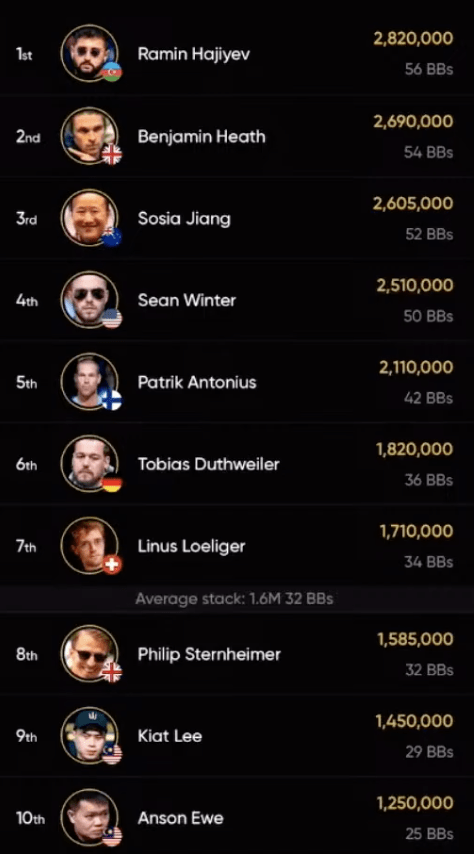 In 16th place, Danny Tang was busted, left with a stack of six blinds, and couldn't beat Patrik Antonius (AJs<K3o).
And Arthur left the tournament next, knocked out by Sean Winter.
The bubble boy was Stephen Chidwick, who shoved his last nine blinds with , but did not improve against the of Punnat Punsri.
Six professionals and seven amateurs got into the money.
In 13th place, Ramin knocked out Linus Loeliger.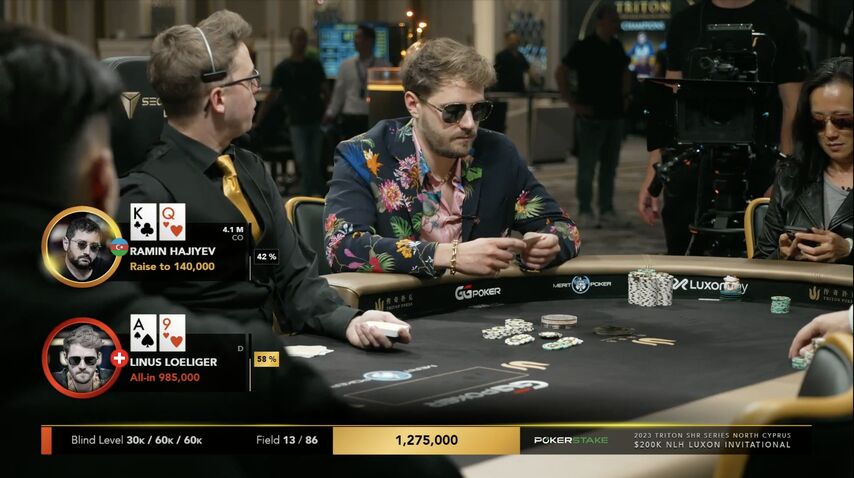 A lady came on the river.
In this series, Linus scored a min-cash only twice, but again he amazed the audience with the variety of his shirts.

Philip Sternheimer finished in 11th place.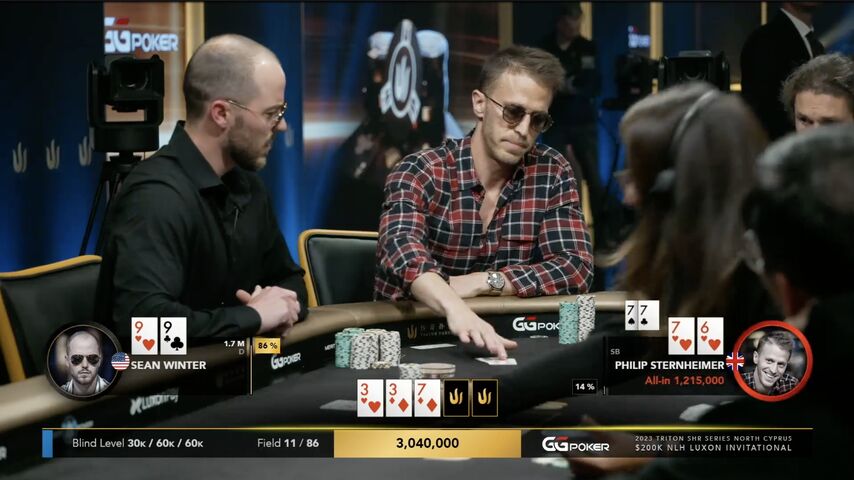 The final table bubble boy was Orpen Kisachikoglu, who was also ousted by Ramin on the river.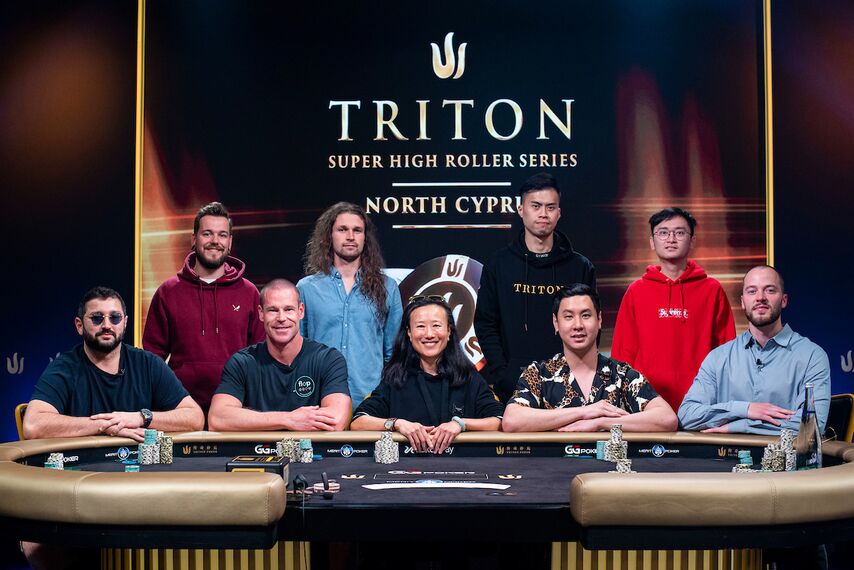 Chip counts at the final table: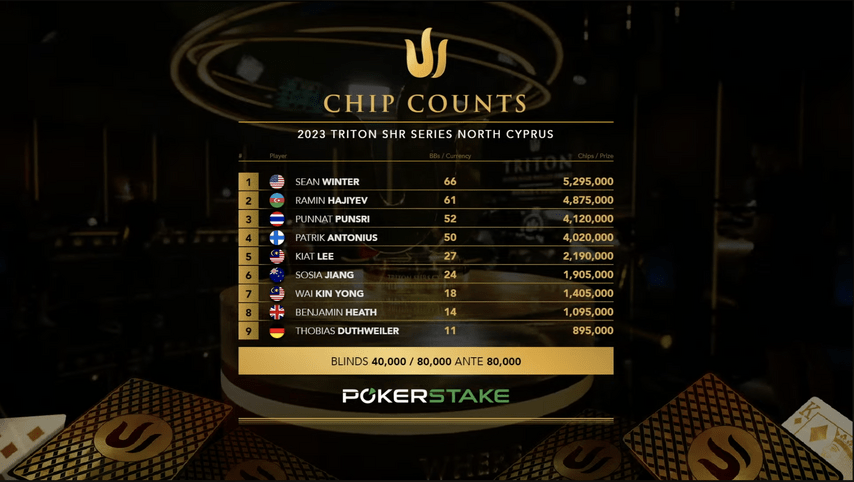 Final table recording:
The first bustout had to wait three hours. Ben Heath was unsuccessful against Punnat Punsri and finished in 9th place for $481,000.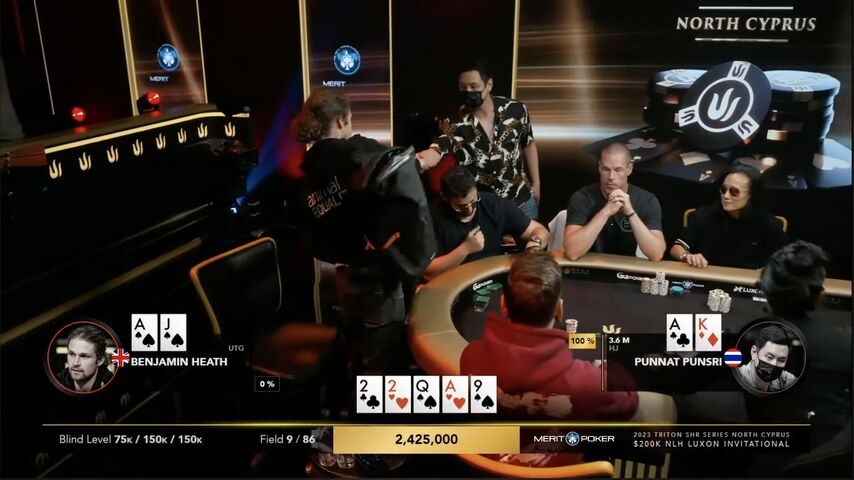 Thobias Duthweiler won a three-way all-in with aces. One of his victims was Wai Kin Yong, who finished in 7th place for $636,000.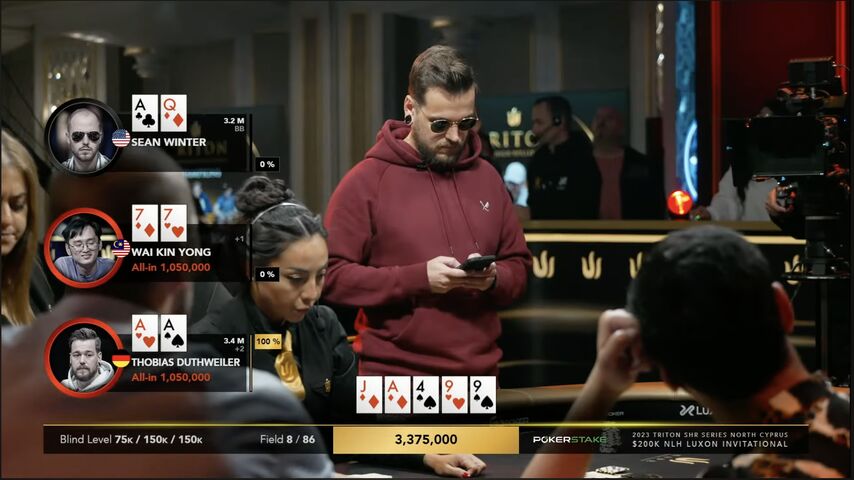 Tobias is one of the strongest regulars online, we recently translated a big interview with him.
6th was Sosia Jiang ($820,000).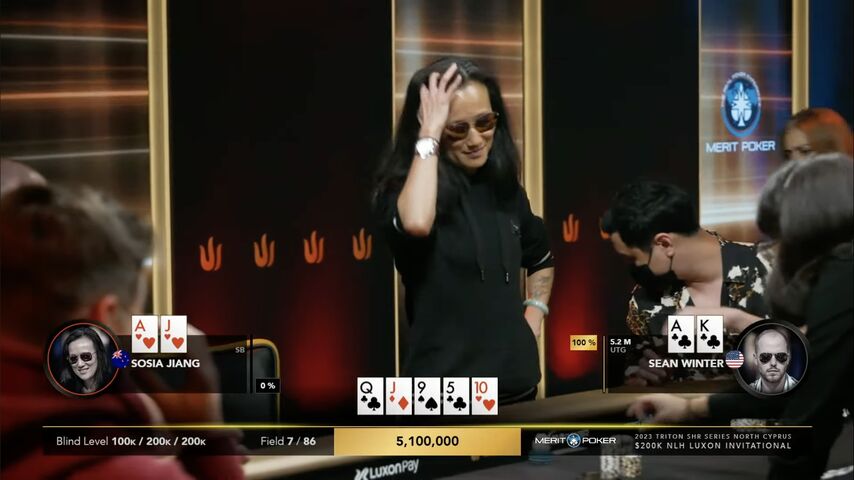 Sean opened early, Patrik Antonius folded AJo right behind him with an eight-blind stack, and Sosia shoved 11BB on the SB.
In 5th place, Ramin retired Kiat Lee for $1,030,000.
Punnat Punsri left the tournament next ($1,325,000).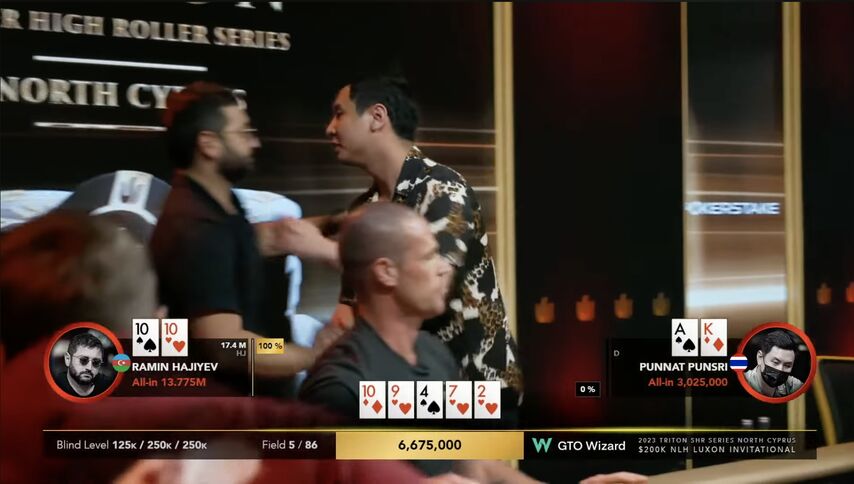 After this hand, Ramin had almost 70% of all chips in the tournament.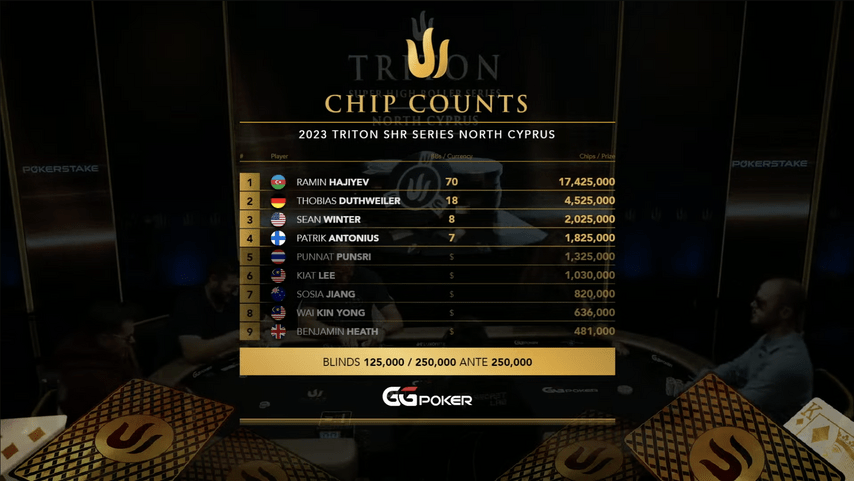 4th was Sean Winter ($1,640,000).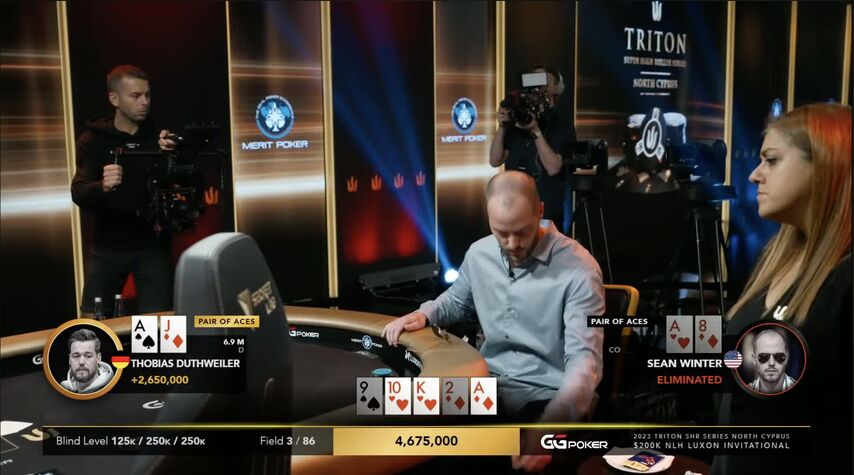 Patrik Antonius spent almost the entire final table as the shortest and, it seems, squeezed out the maximum. For 3rd place, he received $2,100,000.
Ramin opened heads-up with a lead of 71 blinds to 33 and promptly offered a deal. Tobias refused to chop by chips, but agreed when Ramin offered to add $40,000 on top.
Datweiler earned $3,606,446, Khadzhiev earned $3,992,554, with another $130,000 left in the draw.
In the second hand, Tobias doubled with against . Ramin regained the lead almost immediately ( > ). After that, he never lost the lead. The fate of the trophy was decided in a coin flip.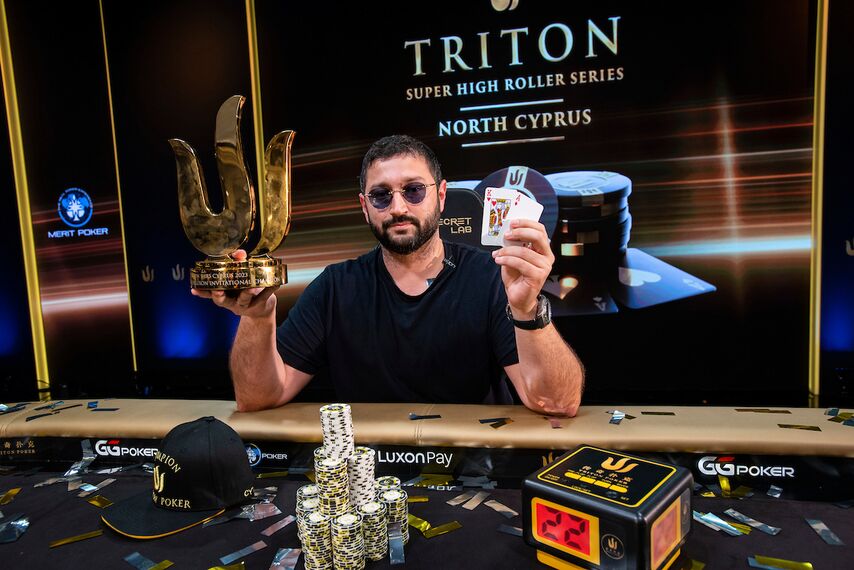 – The first time I came to Triton was last October, – Ramin said in an interview after the victory. "I was immediately struck by the quality of the organization. Before this tournament, I wasn't very good at it, but if I win, it's like that. I perfectly understand the variance in poker, so I just tried to play all the tournaments in a concentrated manner. There were no problems with motivation because I love poker very much.
– You invited Mikita Bodyakovsky to the tournament. Did he help you prepare in any way?
– Yes. I consider Mikita one of the strongest, if not the strongest player in the world. I always ask his advice if I doubt something, and he never refuses.
– We don't often see players from Azerbaijan. Tell us how you got interested in poker.
– Yes, poker is banned there, I play only abroad. I started poker at the age of 16 when I played professional tennis and lived in Spain. I immediately fell in love with this game, it turns out that I have been in poker for half my life. Of course, I can't be compared to all these beasts, but when the cards hit you, anyone can win.
And in the end, I would like to invite everyone to Azerbaijan. We have been holding major sports competitions for a long time – we have been hosting the Formula 1 stage for 7 years in a row, a couple of years ago the final of the Europa Football League was played in Baku. We have a wonderful nature, there is both the sea and the mountains. Azerbaijan is a small but very beautiful country.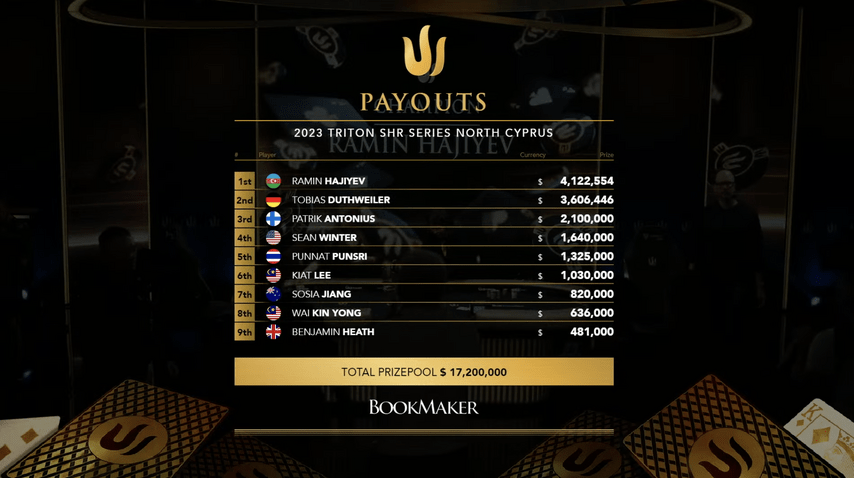 There were 101 entries in the $100,000 Main Event. Jason Koon took his 2nd win at this stage and 7th in the history of the Triton series.
In this tournament, the professionals did not leave the amateurs a single chance, none of them even made it to the money. The bubble boy was Mikita Bodyakovsky.
The 💰Money Bubble🫧 has BURST 💥

Top 15 Players are now fighting for that 🥇$2,605,000 up top and are all guaranteed a total of $175,000.

Tune in now! pic.twitter.com/GPJYQ8EprC

— Triton Poker (@tritonpoker) May 21, 2023
The first bustouts in the money were Chris Brewer, Kyat Lee, Fedor Holz, Michael Addamo, and Nacho Barbero.
Alexsejs Ponakovs was eliminated on the final table bubble.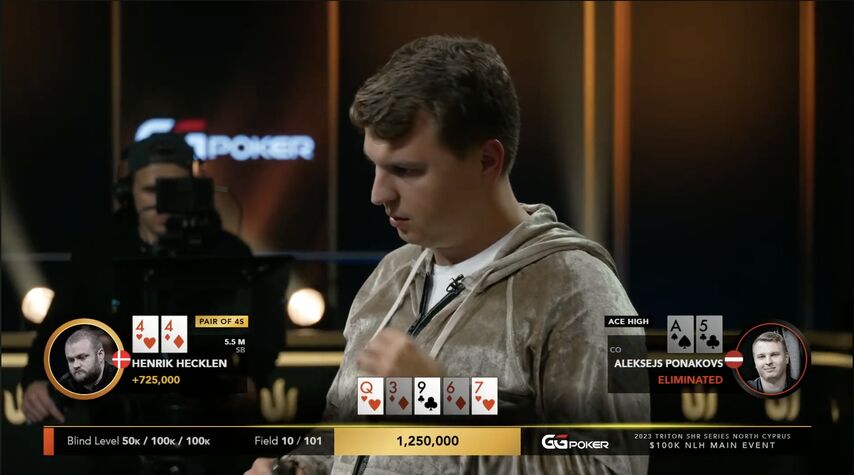 Henrik Hecklen became the chip leader after this hand. Viacheslav Buldygin entered the final with the second biggest stack.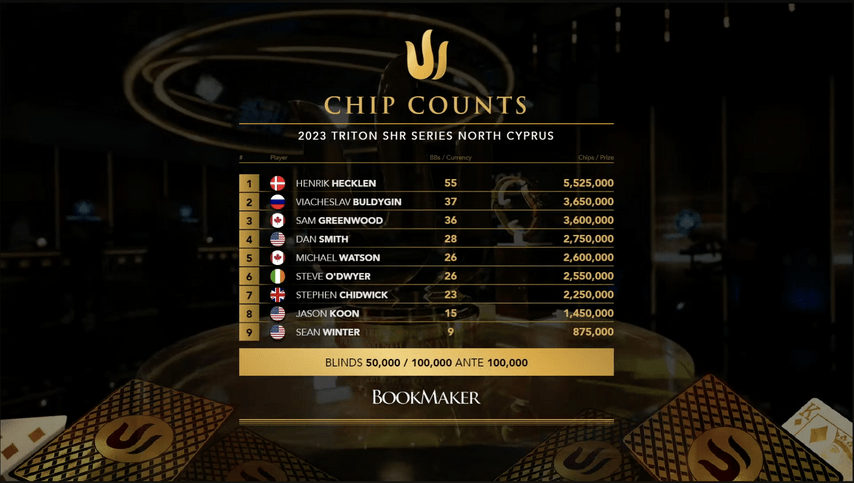 Unfortunately, on the final day of the tournament, Buldygin was eliminated in 9th place ($263,000). He first lost a big pot to Sam Greenwood when he bluffed 65% of his stack on the river and immediately folded to an all-in.
Dropping to two blinds, Viacheslav went for quadruple with against Dan Smith and Jason Koon, but the flop brought a queen.
Then there was a small scandal at the table. Sam Greenwood opened from early position, Steve O'Dwyer on the CO called with black nines, and Dan was on the button with the two red nines.
Jason Koon did not pay any attention to the fact that there was a large hand and continued to chat about something at ease with a neighbor.
– Can I have a moment of silence? Smith turned to him.
Jason answered something rather sharply but fell silent for a while.
Dan ended up shoving his 14 blinds, at which point Koon continued:
"Amateurs have already approached me and complained that you always make comments to them."
"He's all-in, wait a bit, Jason," Greenwood stood up for Smith.
"Yes, now your behavior is beyond," Mike Watson supported.
When the hand was over, Smith could not restrain himself:
"I think it's quite normal to ask for silence in a situation like this. And you are the only one who is always unhappy with this."
– Buddy, in this series two amateurs have already approached me and complained about how they don't like to play with you at the same table. You also constantly make comments to them for talking. And these are not isolated cases, you always behave like this, regardless of the buy-in. It's just disgusting. You have five time banks and 20 blinds, you know exactly what you are going to do. We make a living out of this, learn to adjust
Then Dan, apparently, remembered how hard it was to get into the $200,000 tournament and his face changed dramatically.
– "I think you could tell me all this in a softer way outside the TV table."
– Buddy, but this behavior of yours is beyond all limits. You do it all the time.
– Friends, can we order a drink? Sean Winter took over the role of peacemaker.
"We have been playing with each other for 10 years, learn to control yourself," Jason clearly boiled.
"You could say all this in a less public setting," Dan repeated.
"Guys, there is a lot of money at stake, let's focus on the game," Sean Winter made another attempt to calm everyone down.
– "Nevermind. But you do it every day," Kun left the last word.
They did not calm down on this, and the arguments continued for several more minutes. At one point, Steve O'Dwyer, whose face showed that he could hardly contain his irritation, and whose sympathies in this discussion were clearly on the side of his old friend Smith, rather sharply advised Koon to shut up.
After the tournament, Dan wrote that there was an error in the broadcast (it showed that Steve limped, and Dan thought about it). In fact, as we already wrote, there was a raise and a call.
"There were also three short stacks at the table, one of them had 2bb," Dan added. – $100k payjumps! This is a very difficult situation in which a lot of money is at stake.
"Dan is a good guy," Koon also commented on the situation. "We have differing opinions on table etiquette, that's all. My timing was bad, tensions were high. The guy doesn't deserve any grief, please be kind."
Eliminated in 8th place was Stephen Chidwick ($358,500). On the flop he overbet all-in for two pots with second pair, O'Dwyer thought for a long time, but couldn't fold.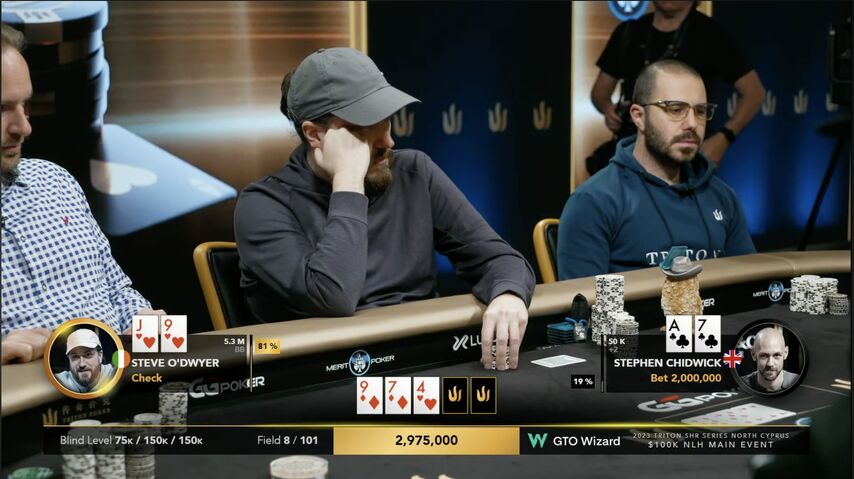 Mike Watson finished in 7th place for $469,500. In his final hand, he shoved seven blinds with a pair of sevens but couldn't beat Henrik Hecklen.
Mike did not leave Cyprus without a victory. He won the $30,000 PLO tournament, in which he defeated Andrey Lyubovetskiy heads-up.
Sean Winter, with a stack of less than three blinds, folded A7o UTG, which impressed both the audience in the chat and the experienced David Yan in the commentary booth.
In the next hand, chip leader O'Dwyer shoved a pair of sixes in the HJ and Jason Koon called on the SB with a 17-blind stack with . Winter folded in the BB, leaving himself less than the blind.
The flop showed an ace and Koon became the chip leader. And Winter was all in from the SB with 84o in the next hand and again wondered if he should put 75,000 into a pot of 650,000. With the words "fuck it" he still called and busted against Koon.
"I almost threw it away," Sean admitted, shaking hands with his rivals.
Dan Smith in 5th place ($762,000) was also eliminated by Koon.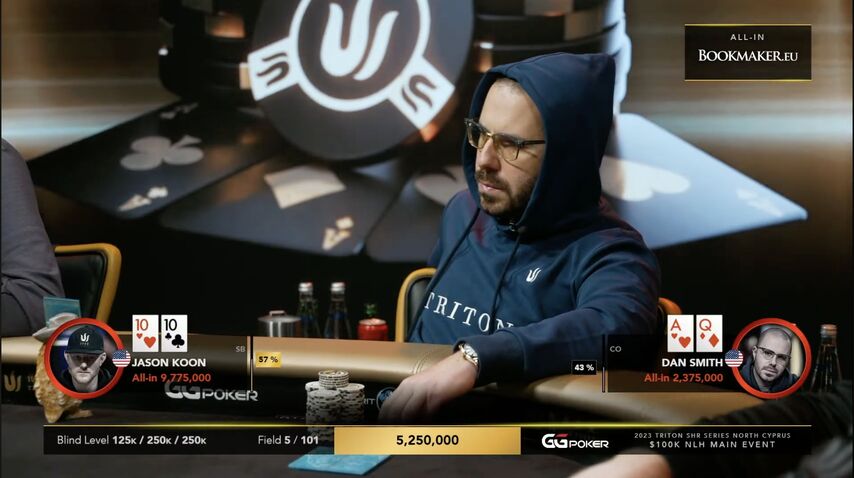 In the next hand, Henrik Hecklen left the tournament in 4th place for $946,000.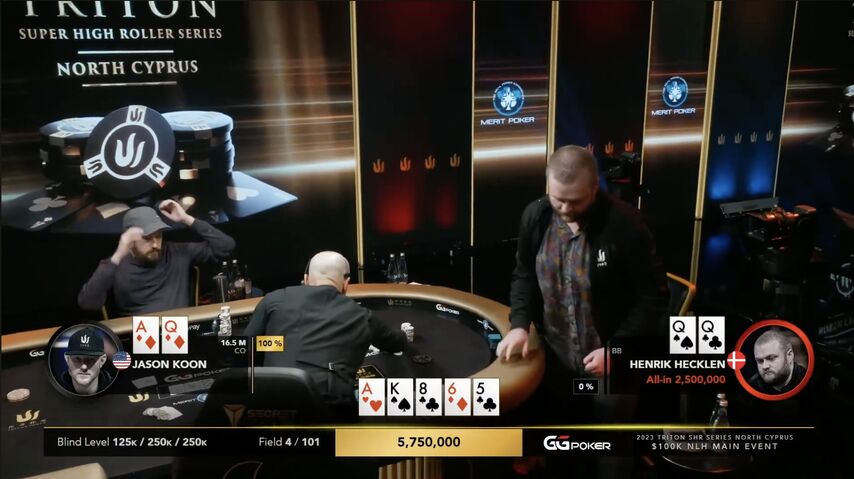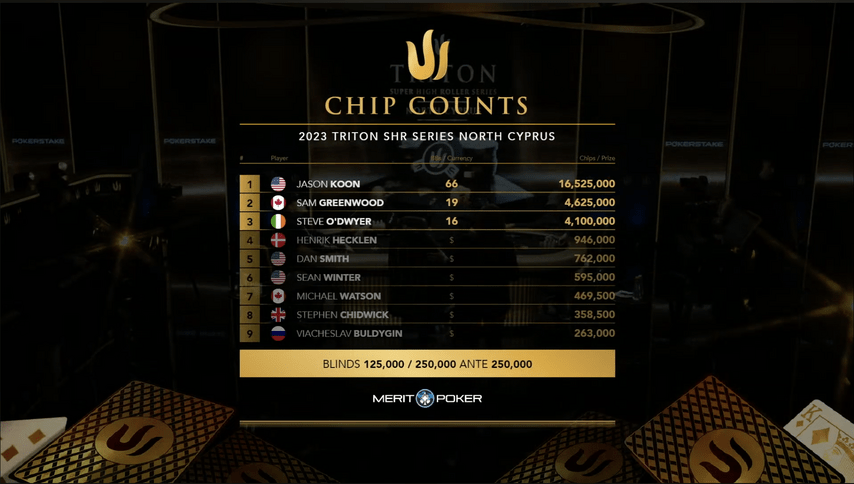 In the first hand of three handed, O'Dwyer doubled up against Koon ( > ), but that didn't help.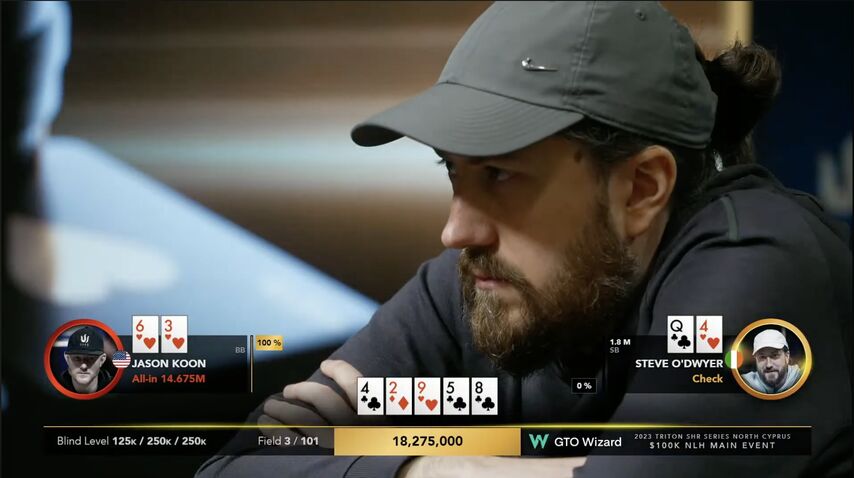 In the last hand, Steve completed preflop and check-called the flop and turn. On the river, Koon shoved and Steve threw all his time-bank cards into the middle but still called with fourth pair. For 3rd place, he received $1,171,000.
Heads-up players started with a four-fold advantage in favor of Jason, who shoved in the first hand. Before that, they managed to chop a bit, leaving $84,000 in the middle.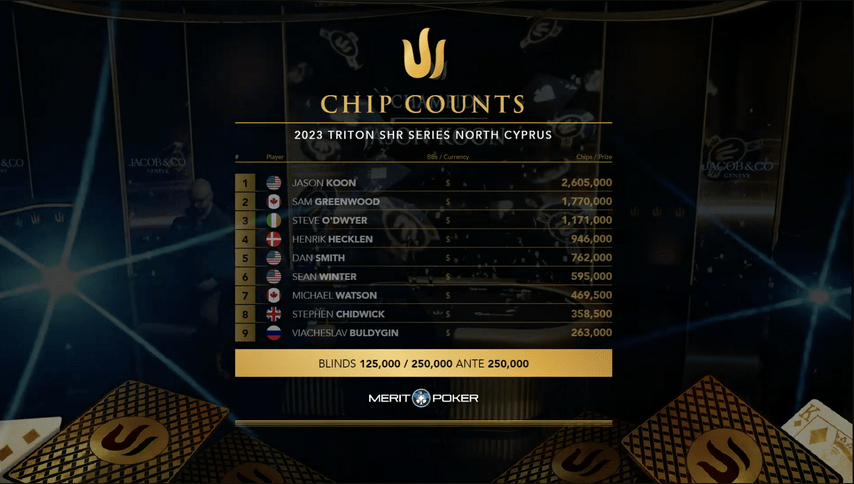 After the victory, Jason could not contain his emotions and burst into tears right at the table.
He also gave an interview to Ali Nejad through tears.
You are filled with tears of joy. But in general, the whole final table turned out to be very emotional. Tell me about your feelings.
"The guys and I have known each other for over 10 years. I would like to believe that they respect me enough and understand that I will not chat just like that. Maybe I didn't pick the best time. But we have been playing every day for a whole week without a break, everyone is insanely tired. I give 100% in these tournaments even though I haven't played for money for a long time. I madly miss my wife and son, and next month we are expecting our second child. All this is very hard. Today I was incredibly successful in all the important pots. I don't know what I did to deserve this, but I'm extremely happy.