On the night of September 30, 2022, on the most popular poker stream, Hustler Casino Live, Robbie Jade Lew made the legendary call with J4o.
She played against one of the most successful regulars in Los Angeles and the main star of the stream, Garrett Adelstein. After the hand, Garrett demanded she return the lost $135,000, Robbie (for some reason) obeyed – and then he went home and practically disappeared from the radar for six months. The scandal of cosmic proportions lasted for more than that one week, and caused a split in the community. Hustler owners Nick Vertucci and Ryan Feldman did their own investigation and found no evidence that Robbie was cheating. Later, she even passed a lie detector test.
During this time, new stars appeared on the Hustler stream – including the rude Nick Airball, who managed to quarrel with half of Poker Twitter and even challenged Matt Burke to a heads-up duel. A week ago, Airball came on Polk's podcast and spent most of the time talking nasty things about Adelstein. Around the same time, Nick Vertucci publicly announced that Hustler's doors were closed to Garrett. A few days later, Adelstein stepped out of the shadows for the first time since September – and in an interview with the same Polk, he answered everyone at once.
– Hello! Today we have a guest who has not appeared in public for a long time, Garrett ... Listen, what is the right pronunciation, Adelstin or Adelstein?
– Everyone always says it wrong, and it doesn't bother me. But right – Adelstein.
– Thanks for coming! Today we will finally discuss the events that have so strongly influenced your life in the last six months.
– No problem. At some point, I realized that I was suffering so badly from PTSD (Ed. – post-traumatic stress syndrome), and I didn't want to talk at all. Yes, I'm still nervous. It turned out that I do not tolerate criticism well – and in general, I was very worried that many people suddenly stopped loving me. But, now I think it is necessary to go back to the people.
I can't even imagine what it's like to be hated on the Internet!
Well, if you were famous like me, you would understand!
— Ha! Let`s start. Six months have passed – why did you decide to talk right now?
– Yes, it was just too scary before, but now a little less. In general, your interview with Nick Airball was a catalyst. You have a powerful and influential podcast, the most important in the world of poker. And then this dude comes and speaks some nonsense, half-truths, and speculation about me and how I do business. So I had to answer.
– That's fair. He really went overboard.
— Yes, not only him. A bunch of people on social media who have never met me, but as if they decided to dedicate their lives to talking nonsense about me. And they don't really care about me, they just want to blow up. Airball is the same. When we first met, he came up and started telling me that I was a hero for him, that he was a fan. And then, at the table, he suddenly began to throw mud at me. I understand that he creates publicity for himself in this way. He decided that vilifying me is a great way to make noise on social media, but where is the line on such garbage? The dude doesn't know when to stop: he said, for example, that when he "sorts it out" with me, I will become homeless, that my wife and I will sleep on the street. What is that about? And most importantly, who is this guy? He appeared out of nowhere with a mountain of money, challenges everyone to a duel, goes on podcasts, and talks crap. He came to you for the first time in his life he gives a big interview, doesn't say a word about himself, and just blows me up for 90 minutes. And that's it, he's a star, brilliant, huh? But I don't want to discuss Nick Airball the entire podcast, let him stew in his own mess.
– Yes, sure. Well, let's go back chronologically, shall we?
No problem, Doug. This is your show, you make the call.
"Alright, let's get down to business then." After the hand with J4, Robbie gave a lot of interviews, we heard her version of events more than once. Hustler investigated and found nothing. After all that's happened, what's your verdict? Did she cheat or not?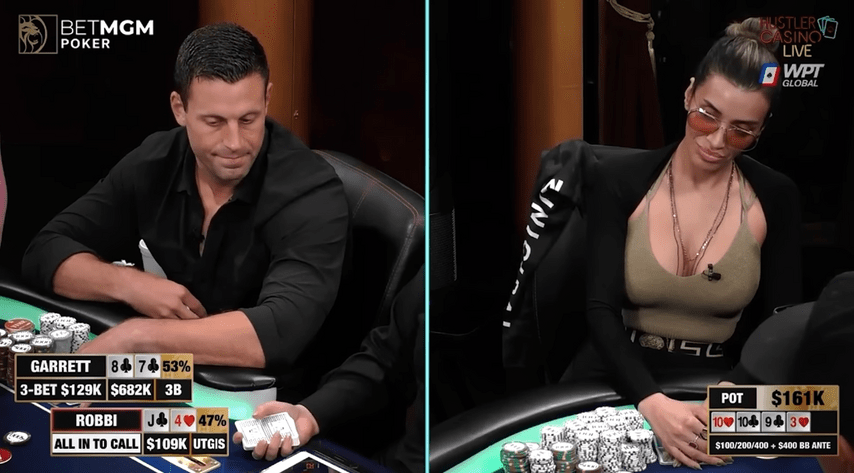 — For me, absolutely nothing has changed since I wrote that post on 2+2. I still think that I was most likely cheated in that hand. And everything that has surfaced in the following weeks only confirms this. And Robbie's performances on other streams over the past six months – have you seen them? It's like a completely different person. She plays like a classic fish: very weak, tight, and fearful. It's unbelievable that a player like that can pay off a shove with on a board for no reason. Well, crap. And I know that many people believe her, I respect their opinion, including my most ardent critic, Daniel Negreanu. There is definitely some sense in what he was saying, but there is another point of view. And people on opposite sides of the aisle were not ready to listen to each other at all. This is not poker anymore, but some kind of politics.
Exactly, just like politics. And how long did it all last? There were so many news pieces, discussions, and streams. And it was so much that in the end, all the people who remained neutral ended up on one side or the other. I still think she was more of a cheater, although I'm not quite as sure as I was at first. But what are we to do now? After all, she goes to streams and plays. How does the community feel about her possibly being a scammer.
"They gave her an award, did you see it? And she gave a speech on the stage, ha! Just sure."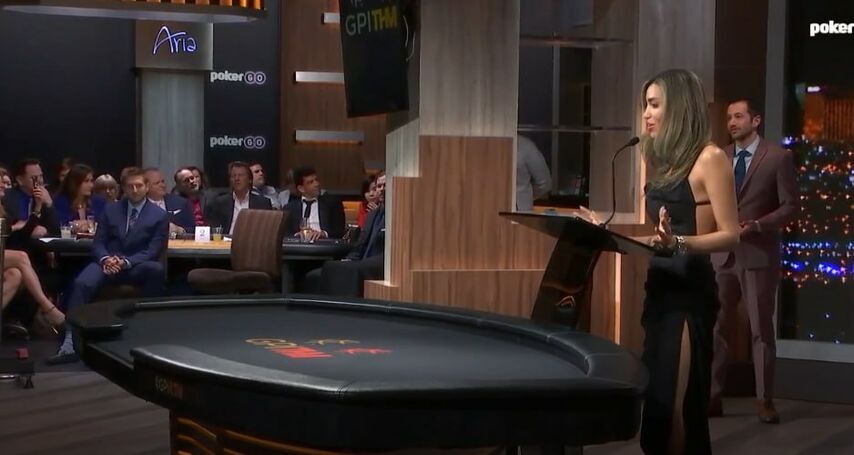 I, of course, do not expect that she will now be banned everywhere in my honor. And I think it's time for us to stop discussing it. Robbie's 15 minutes of fame are over, she will never be of interest to anyone again. And let me say right away so that I don't come back to this later – no, I won't give her a penny back. Not now, not later. I'm sure she lied to me. And everyone who supports her, I ask you to put yourself in my place. If you were absolutely sure that you were dealing with a scammer, would you give the money back? And I understand that for many it all looks bad, and I exhausted myself with the question of whether I did the right thing. It is very important to be able to make the right decisions at key moments. And I understand that I probably failed.
— Yes, it's okay, dude, we're not in a hurry to go anywhere! It is clear that all this was difficult. For your business, almost certainly, taking the money is financially worse in the long run for you than not taking it.
– Yes, sure. Do you remember how many times everything changed? At first, everyone saw the hand and they were like, ha ha, well, of course, she cheated! And then, as soon as they found out that she gave the money back, suddenly the narrative changed. "Rich white dork robbed poor girl!" And yes, the right business decision would be to bring in a neutral party and ask independent judges to decide what to do with the money, I agree.
You did what you thought was right. I decided that you were cheated, and reacted to it. But then appointing yourself as the judge was too risky, so everyone turned on you in the end. You sort of made yourself a target by not letting others decide the outcome for you.
Yes, but my head was just telling me the whole time: "Yes, why should I do this, if I'm sure that I was cheated?". To give money to a person who tried to rob you – and whose whole life is built on lies and falsehoods ... This is beyond my strength. All this time, people wrote on social media, saying that Garrett would have won 10 million in these six months. But first, it's a matter of principle. And secondly, I don't really lose sleep over missing out. It's funny how people think I'm awake at night because they don't let me on the Hustler stream. Yes, I thought about leaving poker a hundred times long before the J4 hand.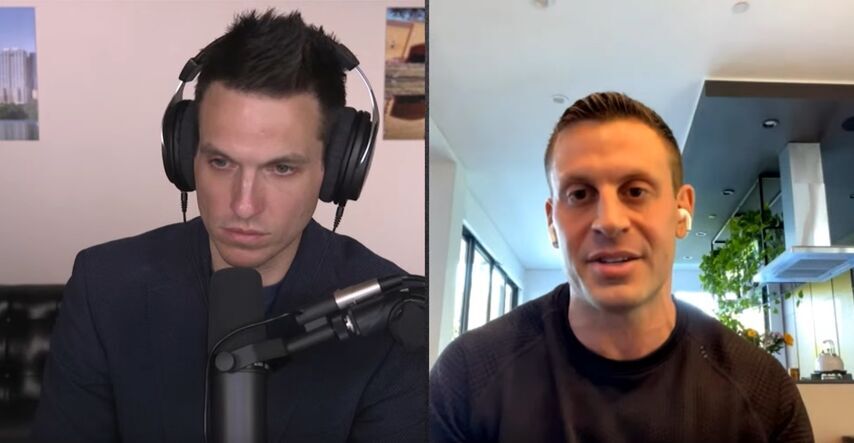 — Okay, let's talk about Hustler and Live at the Bike, shall we? What was your role there? Nick Airball said you were running the show and banning players right and left.
– A bit of history. Ryan Feldman was the main organizer and co-owner of Live at The Bike. And since 2016, he offered me to play there regularly, but I was not very interested. And then a good game in a Los Angeles casino began to slowly disappear, everyone went into closed private games. I was 99% sure that I was quitting poker. But I went to the stream a couple of times and realized that there was potential in this. I realized how beneficial the status of a popular player that viewers want to see on streams can be. Ryan, in turn, perfectly selected the table lineups – it is clear that for the audience to be interested, the game and show should be built around recreational players. Ryan sent me lists, and we discussed them.
– So you still took an active part in the formation of the lineups?
– Yes, and then in Hustler too. But to say that I controlled them and could force Ryan to call someone or not to call is just nonsense. Only people who don't know Feldman at all can think like that. He will never do anything that will be contrary to the interests of the stream. And what are we talking about, if my interests almost always coincided with his? There were a couple of exceptions (for example, a friend of his plays there, I never liked it), but in general, the perfect balance: a couple of regulars and a full table of amateurs.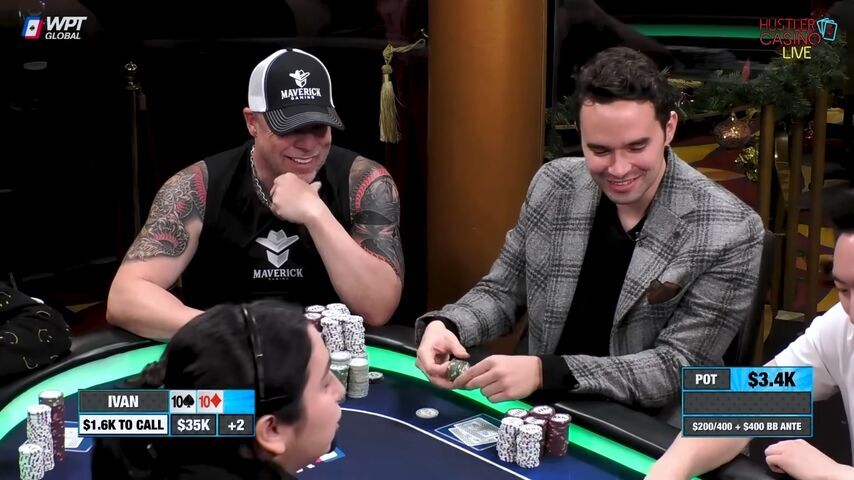 What would my argument be if I wanted to ban players? It doesn't make sense, and we worked great together, and both of us benefited.
You certainly heard Nick Vertucci say that you can't play Hustler just yet. What's going on there anyway?
– That's a sensitive subject. When they conducted their investigation and posted the results, we released a statement saying that we are considering the possibility of cooperating in the future. But since then, I have never said that I would like to play again. And then suddenly Nick says that I was banned from the casino in general, it was like rubbing salt in the wounds. I wrote to him and say, what is it all about? And he began to make excuses, saying that he was confused during the recording, was not ready to talk about this topic, and so on. Brad's podcast is not even live, if you said something wrong, you could cut it out. To be honest, this is all very painful, I was friends with him for 12 years. I was not going to return to them, but why do you need to throw me under the bus? Just for clicks?
Can we talk about Matt Berkey? Nick Airball called him a scammer on my podcast. I want to say right away that this, of course, is not true: Matt is an honest person who has never stolen money from anyone, and so on. But at the same time, I believe that he is a fraud on some fronts. Do you want to speak up? The topic is relevant, he will soon play heads-up with Airball.
Oh, right, out of the hour and a half that Airball was scolding me, he was distracted for a minute to circle back to Berkey again. Matt and I never really talked, not even friends. But when all the stuff with J4 happened, he was very kind to me, constantly called, and supported me. And it didn't matter at all what happened with the investigation, he was just always there. Matt is an amazing dude. And I saw him play, pretty strong reg.
– But it seems to me that he is not a person who should train people. When I see him play, I see an average mid-stakes reg, not an elite player. And there are no public results anywhere. It's not about competing with Upswing Poker, I can easily say, for example, that Phil Galfond's Run it Once is also a very powerful school. But in the case of Matt, I believe that he shouldn't be teaching anything.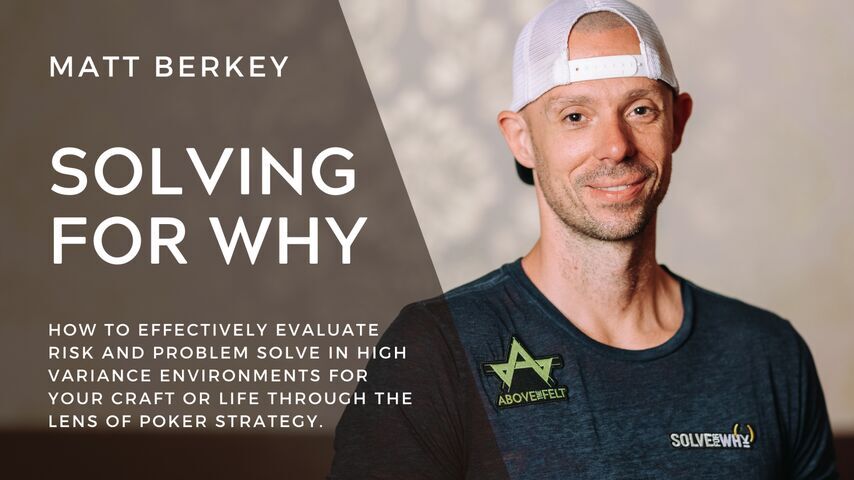 "Listen, I like both of you a lot. I look at your swearing at him and think: "Damn, I wish they would just respect each other." There are so many spats on the Internet today, why make new ones?
— Let's talk about security on streams. This question became relevant even after the story with Michael Postle, who won $250k from people in a year and a half on streams. I myself now have a stream, and I try to do everything to make the players comfortable. And now it's becoming a standard not to show cards to anyone in the club, that's how we work at The Lodge. What do you think about that?
– Yes, sure. The fact that I'm not sure that the game is safe is generally the main reason why I haven't played in half a year. After you have been cheated, you feel very bad, you just go crazy. I became severely paranoid. I've only played on streams. And if I can't trust the streamers, what should I do? This is the most important, key topic today. And the most important question is whether the team that works the stream has access to player cards. We need a system where no one has it – from the owner of the casino, to the employees who come from nowhere and get 20 bucks an hour.
– To be fair, such software has only recently appeared, before it was not possible. And while this affects the quality of the broadcast: without knowing the hands, you cannot edit the stream in real time. So now we have no cards, but a lot of other problems have appeared.
— Listen, we are literally talking about the survival of the streaming industry right now. And at the same time, they are very important for the promotion of poker, they are now appearing like mushrooms after rain, and the audience is growing. So whatever can be done for safety should be done. And cheating scandals are a huge blow to the reputation of the game.
— I myself have been playing high stakes for many years, including very expensive games. I was also cheated once, and I know what it's like – you have no chance at all if someone knows your cards. You'll lose everything you bring with you.
– Moreover, a clever cheater can do this endlessly, and no one will ever know. I was also lucky that in my case, the pawn in someone else's plans was Robbie (okay, "probably" was – the lawyers make me add this word every time), who screwed everything up. But imagine that everything would be more cleverly organized – you can rob people for years. So my whole future career depends on how the streamers will work to prevent this from happening.
— So do you see yourself in the future on the streams?
Listen, well, almost everyone watching our conversation right now knows how tough poker can be. And the game, the streaks, everything connected with it is a colossal stress. For six months the idea of ​​returning to the table did not appeal to me at all. In recent weeks, that has changed a bit: Nick made me mad, my daughter will be born soon... After all, the life of a popular player was pretty cool, I miss it. So maybe you will see me soon on the streams. I just don't know when. But I will obviously play less than before. I now have a quiet life – and poker anarchy does not fit well into it.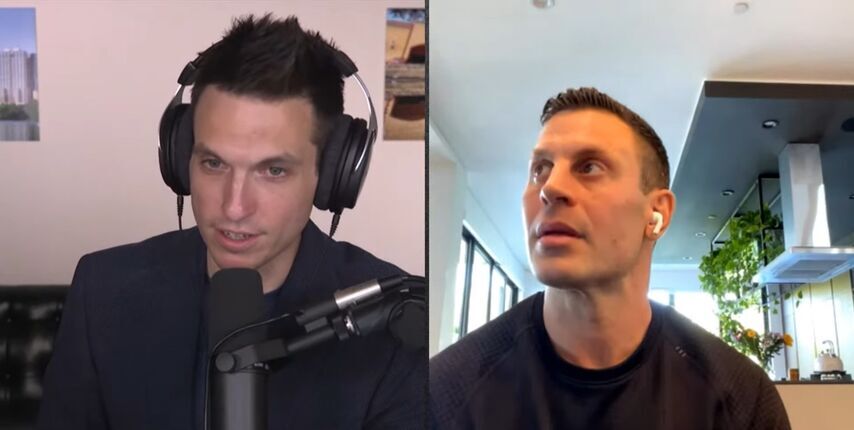 Yes, people often don't think about it. Let's talk about sleep. After a big game, I can't sleep at all, my blood is boiling all day. At least I was lucky – my baby sleeps well through the night. By the way, I wish you the same with your baby. But poker is really a lot of stress, especially when you mess up in an expensive game. You lose, and then you torture yourself.
– I understand perfectly. I myself am obsessive about poker. I always feel like I have to show the A-game in every session, every hand, every street, no exceptions. And this pressure slowly wears you down, it is constantly in the head. And in a few days, my baby will be born, and I will need a place in my head for him. So it's very difficult to predict what will happen.
But the fans are definitely waiting for you! Let me ask you one last question: why do you think you've become so popular? Without scandals, some special PR – just by playing?
Well, first of all, I was in the right place at the right time. After all, I was a pioneer, it turns out – when I started playing on the streams, no one especially watched them yet. And then suddenly the audience began to grow, and I got my part from it. And secondly – well, poker itself, of course. Playing a good exploit in a live game for mountains of money is a hell of a job. And in order to play at a high level for 20 years, you have to be very strong. Sorry for being so immodest, but I'll say this: if many could do what I can do, we would have known their names for a long time.