Poker tournaments can turn a small entry fee into a large cash prize. Players join a tournament to compete with other players over a prize pool. You can find heads-up tournaments with just two players or a massive field with thousands of opponents. PokerStars held an online tournament with 225,000 entrants, with a $1 buy-in and a $300,000 guaranteed prize pool.
In the 2006 World Series of Poker Main Event, Jamie Gold turned $10,000 into $12,000,000. He held on to the record for the largest tournament prize for some time, but more recent events took things to a new level. Bryn Kenney won around $20,537,000 in the 2019 Triton Million, from a roughly one million dollar entry fee. These major events usually grace cities like London, Las Vegas, Los Angeles, and Atlantic City.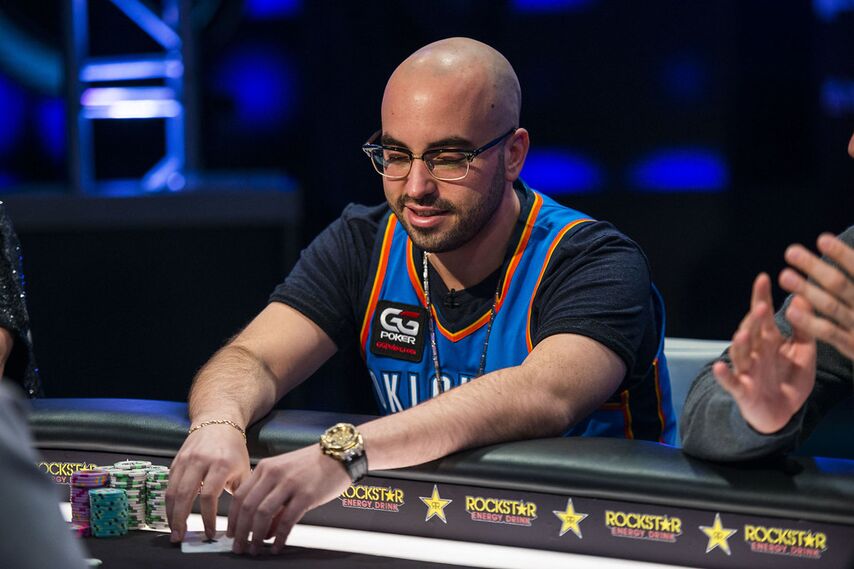 There's no question that some of the most memorable poker hands have come from live tournaments, but online poker tournaments are breaking records too. GGPoker held an event with a prize pool of $27,559,500, plus they have huge tournaments running every Saturday.


Bitcoin and US-friendly room that allows HUDs
GT Bonuses


Long-running room with lively cash games and eight-figure MTTs
GT Bonuses


Daily cash races, MTTs and Spins with big prizes
GT Bonuses
We're going to cover basic tournament strategy (and differences from cash games), then show you the rooms with the best prize pools.
How Poker Tournaments Work [The Basics]
Here are three main ways to classify poker tournaments:
The number of tables in the tournament: You'll find single and multi-table tournaments online.
The start time of the tournament: A sit & go is a tournament that starts once enough players join. A scheduled tournament begins at a pre-specified time.
The speed of the tournament: The blinds are mandatory bets that players pay each round. The blind size for poker tournaments increases over time. Regular and turbo are two common blind structures.
These are the main types of poker tournaments you will encounter:
| | |
| --- | --- |
| Freeroll Tournament | No entry fee, but sometimes a ticket is required. The prize can be cash or other tournament tickets. |
| Freezeout Tournament | This is a one-time entry tournament. If you lose your chips, you cannot rebuy more. |
| Multi-Buy Tournament | Sit down at multiple seats at the same tournament. Your stacks are separate. |
| Rebuy | If you lose your chips in a rebuy tournament, you can rebuy another stack. There is usually a limited time window to rebuy. |
| Guaranteed Tournament (GTD) | In this common format, the prize pool is guaranteed no matter how many players enter. |
| Satellite Tournament | Winning a satellite tournament gets you tickets to other events. The entry fee for satellites is usually low compared to the value of the ticket. |
| Bounty Tournament (Knockout) | You can win prizes in two ways in a bounty tournament. Part of the entry fee becomes your "bounty," which other players win if they eliminate you. If you knock out another player, you win their bounty, and your personal bounty increases. |
Differences Between Cash Games And Tournaments
Cash game poker players try to get value from each hand they play. Tournament poker players extract value by ranking in the top percentage of a player pool.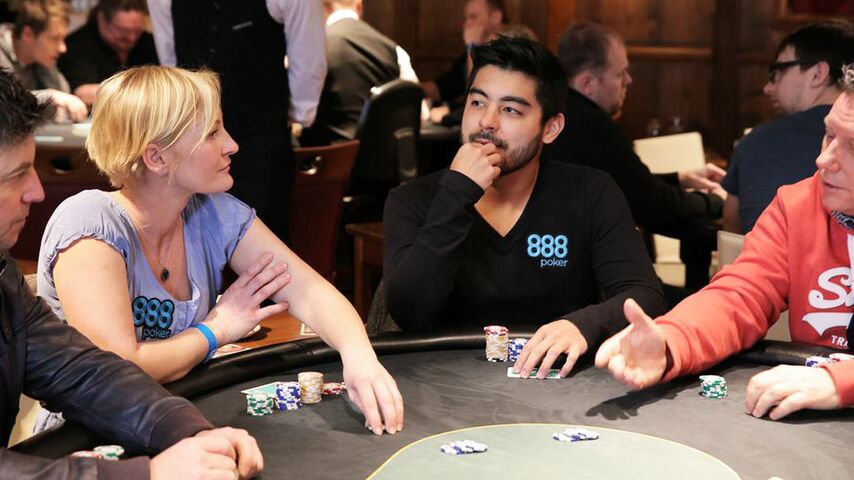 There are several key differences between these two formats, including:
Chips in poker cash games have an equal cash value; a $1 chip exchanges for $1. Tournament chips do not have a direct cash value. You win part of a prize pool by placing in the top percentage of players.
In a tournament, players usually buy in for the same amount of chips. Some tournaments have "add-ons" to let players add chips in later rounds of the tournament.
You can continually re-enter when you lose your chips in a cash game. In tournaments, you might not be able to enter again if you "bust out" of the competition.
There's usually a maximum amount of players that can enter a poker tournament.
Poker tournaments have a blind structure that encourages competition and thins the player pool. The mandatory bets paid for each round get higher and higher, forcing players to compete.
Players can freely come and go from the table during poker cash games, but tournaments have fixed entry start and finish times. To be one of the players who win money in a poker tournament, you'll have to play for as long as possible. Standing up from the table early does not forfeit your chips, but you'll pay the blinds each time it's your turn (eventually losing your full chip stack).
You've got to stay at the table for as much time as possible and missing a few hands could affect your tournament ranking. To give players a chance to rest, tournaments have regular breaks (about 5 minutes).
Poker tournaments take rake from the entry fee, not each hand played at the tables. The rake is usually around 3% but varies depending on which poker site you play on.
Here Are Some Basic Poker Tournament Strategies
Tournament poker is vastly different from cash game poker. Let's look at some basic tournament strategies for success. If you need to review some basics, take a look at our How To Play Poker guide.
Be aware of your position at the table. Make strategic plays and understand the value of your table position.
Be patient and maintain your chip stack. Avoid high-risk situations and play with discipline.
Have a plan if you play a hand. Avoid committing chips to the pot without considering your opponent's cards and making a plan for future betting rounds.
Avoid over-bluffing. Of course, bluffs are a part of poker, but avoid risking too many chips by overdoing it.
Online Poker Tournaments At The Best Sites
All poker tournaments are not created equal. If you want large guaranteed prize pools with relatively small entry fees, we've got a few sites for you.
We've got to start by mentioning 888poker. Their spread of tournaments is impressive, but they also give new players a way to start playing for free. Their No Deposit Bonus puts cash and tournament tickets in your account, just for signing up. 888poker is also a leading host of freeroll tournaments, with prizes starting a $50 and peaking at $10,000 for VIPs.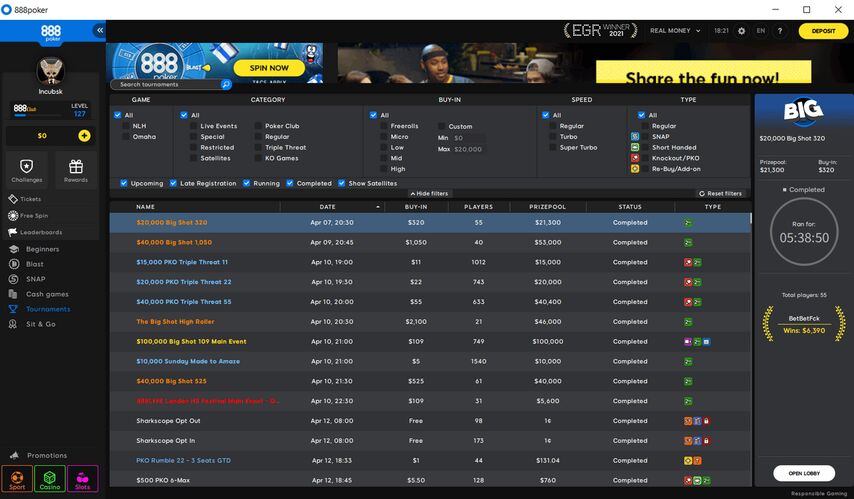 PokerStars is one of the kings of online poker tournaments, known for hosting some of the biggest events in the world. It's easy to find tournaments with thousands of dollars guaranteed, for very low entry fees. The Mini Marathon tournament has prizes between $4000 and $8000 and only costs you $5.50 to enter.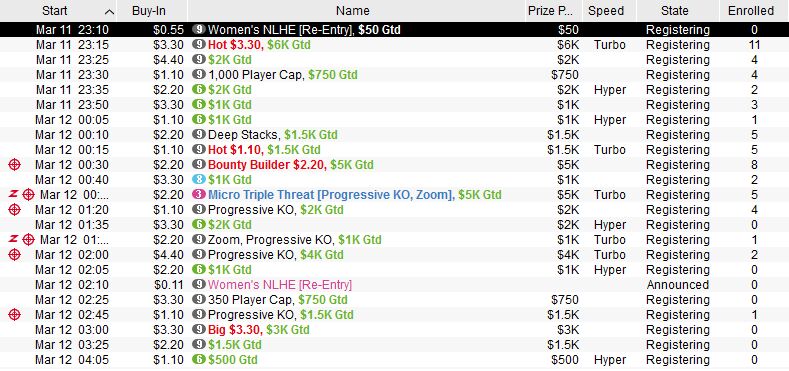 partypoker hosts the Daily Legends series, featuring huge prize pools for entry fees between $2 and $100. They've got a wide range of knockout and freezeout events, plus the massive Powerfest Series with up to $60 million guaranteed.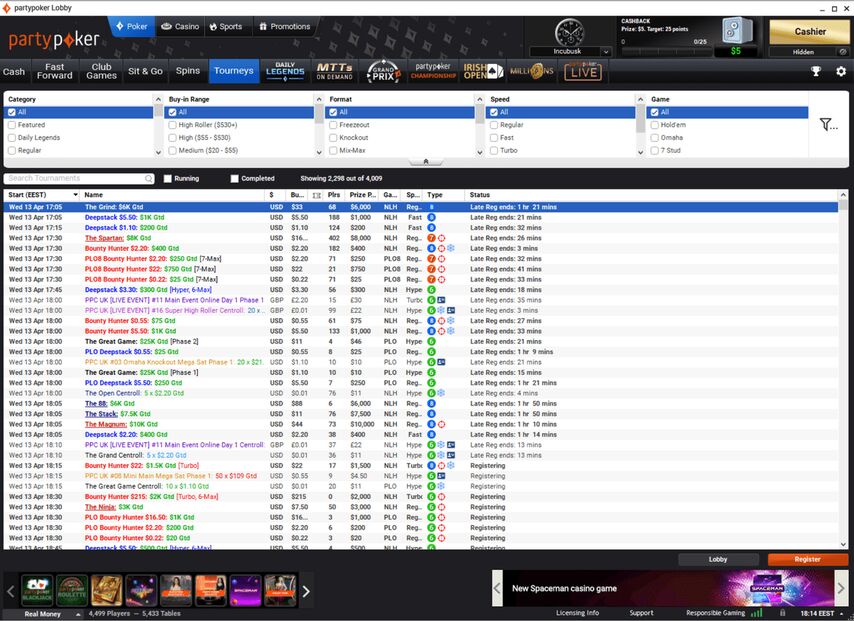 Poker clubs are great for tournaments because you don't compete against a poker site's entire player pool. In a club, you have some control over who you play with. PokerBros and PPPoker let you create your own club and host tournaments among your friends. If you don't want to start a new one, you can join an existing club.