Today I will tell you how I was invited to play on a TV show with PokerStars, and then just kicked out.
I was 22 years old, by which time I had been playing online for three years. Like most of you, High Stakes Poker was my favorite show, and I never missed an episode. And so I managed to get an invitation to play, I was incredibly happy and at the same time insanely nervous.
Unfortunately, things didn't go as I had hoped.
Phil Hellmuth said during the game:
– It would seem that Mori should invite billionaires to the show, instead, he called the tightest regular in history.
I was invited for the whole day, during which several episodes are filmed at once. I was also on the list of substitutes for the previous day, and it so happened that I got to the filming as a substitute – someone lost everything or simply did not finish the session.
I got a call somewhere in the middle of the day. Probably not everyone understood this, but I felt completely comfortable even in the game with such blinds. As I said, by that time I had been playing online for three years, and the last year my main stakes were $200/$400 and $300/$600, where I regularly fought against the strongest players in the world.
The day of filming went like a blur for me. Until recently, I didn't know at all that I would play that day, when suddenly I was already being made up, and now I was already sitting at the table. So despite all my experience online, I was a little shaken up.
Already in the second hand, I looked at the queens, made a raise, and got two calls.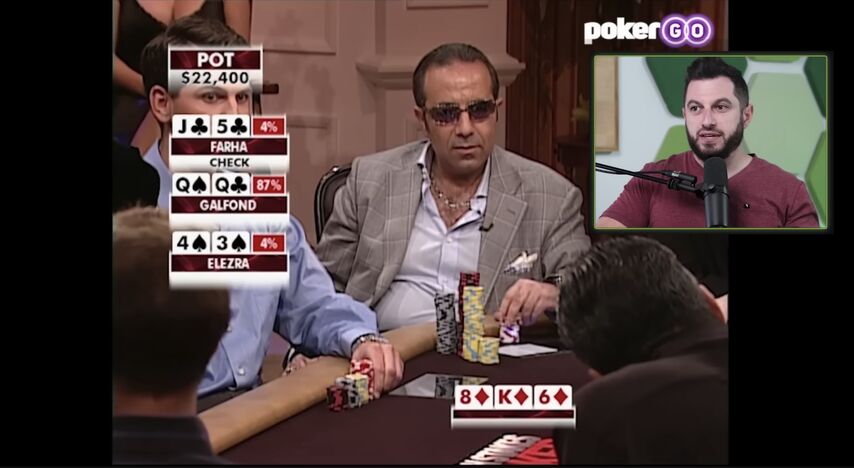 On the flop with three diamonds, I checked, which is a perfectly standard line.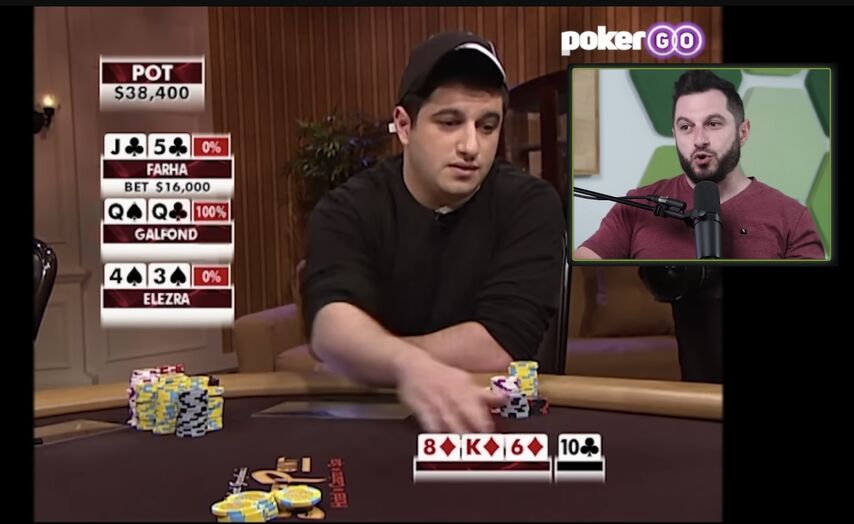 Farha bet $16,000 into a $22,000 pot on the turn and I made a very easy fold. It turned out that Sam had nothing – no pair, no draw. He played quite ... boldly. Perhaps I had some tell.
A completely standard hand from my side, in which I played against two very loose opponents. But in the eyes of the audience, I looked like a complete fool, because I folded a hand that could not lose.
Gabe Kaplan's comment after the hand:
– Phil plays semi-normal poker, according to the rules of which you cannot call with black queens on such a board. I wonder how long it will take him to get used to our game.
At the time, I, like many online players, had a bit of jealousy towards live poker stars. We watched them on TV, saw their weak game, and everyone around said that they were the strongest players in the world. Naturally, there were exceptions, not all of them played badly. But we understood that online regulars have a much higher level of play and understanding of strategy. Now I wouldn't think about it at all, but then it made me a little angry.
I didn't know that Sam had bluffed me yet, but somehow I immediately felt how my game plan was melting. I had a desire to outsmart my opponents, outplay them post-flop, and play cool hands. I went into the game with the intention of demonstrating big bluffs, flashy hero calls, and the ability to read opponents. Naturally, all this was in my arsenal; moreover, I considered all this to be the strength of my game. In fact, I was the victim. In the hands when the flop was seen by six people, I didn't get anything at all.
Some players even expressed dissatisfaction with the game being too tight at the table. They joked about the nits, alluding to me and Helmuth.
How do you spell nit? – Sam Farha turned to Negreanu.
– F-I-L! Daniel spelled out.
"Ha ha, Phil, did you hear that?" Farha turned to Galfond. – Apparently, the presence of Helmuth affects you so much.
"Gabe, can you explain in simple terms what a nit is?" AJ Benz asked his fellow commentator.
– Look in the mirror.
Then at the table, I didn't think at all that I was doing something wrong. I felt like I was playing my usual poker game. It turned out that even the commentators drew attention to my overly tight play.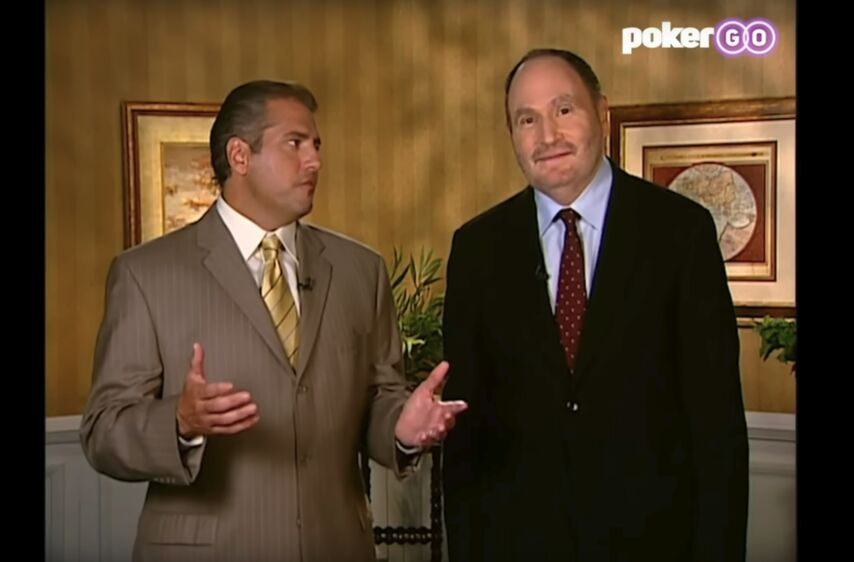 – Gabe, how difficult is it for tight players in this game?
They are waiting for good cards, so they play few hands. Aggressive players understand this and use it.
– How exactly?
– Convince the table to play with the straddle so that everyone is more active. If this is not enough, they try to stir up a double straddle. If that doesn't help, they grab the opponent and start shaking, saying, "Play more hands, tight ***."
It went like this all day – mostly I folded preflop or gave up on the flop. But I did win a few hands. A couple of times the flop hit me, one time the opponent gave up on the turn, and the other time he paid the turn and river.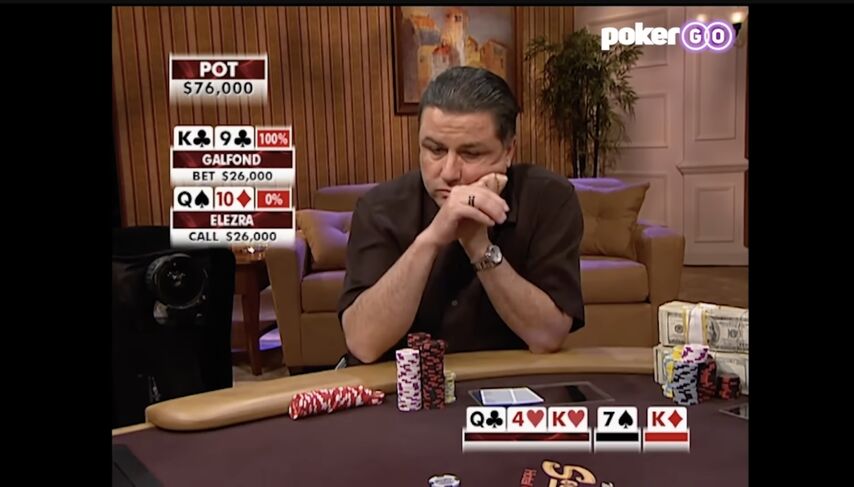 Naturally, I imagined the optimal strategy at such a table. But sometimes it happens that you just can't do anything. It's like being in the top 10 of a major tournament – you can play perfectly, but in the end, almost everything will depend on the poker gods.
I got on the show thanks to Tom Dwan, who recommended me to the main producer Mori Eskandani. It's a little embarrassing that I let him down like that. As you well know, next season Tom himself was among the participants and made a very loud statement about himself. It was the most impressive game in the history of High Stakes Poker.
Immediately after filming, Tom wrote to me: "It could not have been better."
After my visit to the HSP, I could state the opposite: "It couldn't get worse."
The worst moment of the day was the hand I opened with T7s on UTG. By the way, this is not such a tight game. And despite my image, five people called, and all of them even had decent hands... Except for Farha.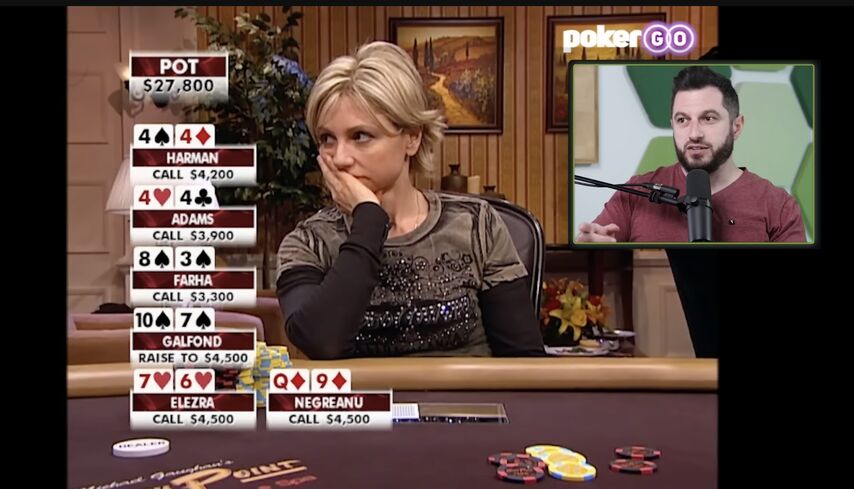 Flop , turn and river everyone checked. I remember that on the turn I said to myself, if a queen or a seven does not come, I have nothing to call with. The river was a repeat jack and I just mucked it. I didn't even think that the seven could be good. To be honest, I completely forgot that I have a small pair. I was too focused on his second card – a ten, with which I could make a straight. It turned out that no one had anything, and the pot went to Elezra with a seven. And I, on my first broadcast on national television, folded the hand with which I took half the pot.
Financially, the session was completely painless, I lost almost nothing. But my hopes of one day becoming a poker superstar were dashed. I felt like a fool myself. I was frankly ashamed of the mucked seven. But I pulled myself together and set myself up for the next day, when I was supposed to play the whole session, not a couple of hours. Unfortunately, in the evening they called me and said that I was removed from the list of players. They explained that I was too boring, which is bad for TV.
I didn't realize then that the main purpose of poker on TV is entertainment. Yes, some players came for profit and played well. However, only those who put on the show received a re-invitation.
But I have no one to blame but myself. I did not know any of the participants, and they had been talking to each other for a long time. I was not particularly socialized anyway, and in such a situation it all became tenfold. And I couldn't do anything. There is no secret pill that will make me the king of parties overnight.
But I could make the game speak for me. Yes, it wouldn't be the most profitable poker and I wouldn't always make the best decisions. But the audience would be interested. I don't worry about that day anymore. I was young and didn't understand how televised poker works. Under this format, I and my game really did not fit.