– Hi Vadim! How did you even end up in a limit hold'em tournament?
– Limit hold'em was my core discipline in the late 2000s. At that time I was playing rather expensive cash games, not really understanding what was going on at the table. Then I figured it out a bit and often played limit games at the WSOP. For the last seven years, I have abandoned them due to a very inconvenient schedule – mixed and limits start in the middle of the day, and if you also play hold'em, then the whole daily routine goes down the drain – limit tournaments end at two in the morning, and then in the morning you feel like playing hold'em like a squeezed lemon.
– How would you rate your skill in limit hold'em after such a long break?
– The play in the $1.5k tournament is not that strong, to put it mildly. In principle, the old skills have not disappeared, especially since the game was calculated a long time ago, back in the days of my professional game. By the beginning of the second day, I was already in shape, although after watching the final table, I realized that there were a lot of things to improve.
What was the average age of the players?
Actually, the average age was lower than mine. Stud high is considered to be the game of pensioners, although this year everything has changed a little, and more younger players have gathered there. Although the average age in limit hold'em is not very high, the discipline is, of course, rotting. This is one of the few tournaments that has not set a record for attendance. But in general, this year, even in limit games, people play one and a half to two times more than usual.
Why do you think this game has lost its popularity? It seems to me that tourists who know only the rules should like it.
– I think for many, Texas Limit Hold'em may seem boring. Pensioners still roll cash in the casino, high limits are sometimes also collected, Bellagio is played even for $100/200, but rarely. When I played professionally, such a game was collected daily. Now this is not even close. Maybe few people want to play a calculated game, or maybe because there is not enough action and everything is too monotonous compared to NLH.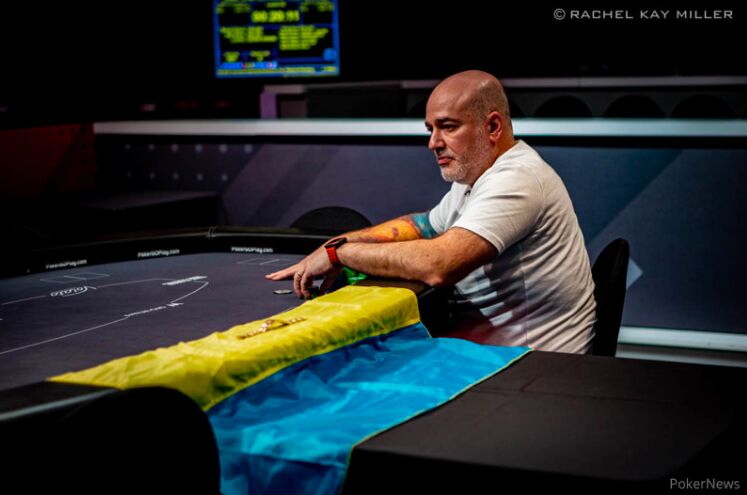 – Tell us about the first days of the tournament, was there anything remarkable?
– I jumped into the tournament quite by accident – Anatoly Zyrin was already playing in it, and I just busted out of the 6-max, which I had played in the morning, and intended to go home. Tolik began to persuade me to come play too. I thought about 10 minutes, succumbed to persuasion, and decided to shake the old days. I had 15 or 20 big bets to start.
– In fact, you won the first bracelet thanks to Tolik?
– It turns out so. If he hadn't persuaded me, I wouldn't have played.
The first day went well, although it is clear that it was not without luck. In the initial stage of LH, you don't need to invent anything, so it was just the time to get comfortable and remember the past. Finished the day with an average stack, so I was happy.
The second day was more fun. With every change of table, I had a change of luck. He started very well on the first table, won almost all the pots, and as soon as he moved to another, I immediately began to lose. On the third table, on the contrary, it worked out perfectly. And so it happened five times.
– I should have taken a chair with me :)
– Exactly! As a result, I finished the second day at a "lucky" table and went into the third day with an average stack. The table remained rather weak. Top reg Adam Friedman was quickly eliminated at my table, leaving only a couple of cash players who play limits in the Bellagio and David "ODB" Baker as strong players. All ended up at the final table.
In the finals, Baker was the strongest, but with a very short stack, he did not manage to spin it up. In any case, his departure was a great relief. A couple of days later, he won his bracelet in Razz, so everything ended well for him too.
– Who, besides Baker, could become a problem in the final table?
– There were two other strong guys, one of them is Asian, who, according to rumors, is now tearing $80/160 live. But he made a lot of weird mistakes in the final table. I think the point here is that cash players are not at all used to playing in shallow stacks, 5-6 bb each, this is extremely uncomfortable for them. Then I watched the stream, and it seemed to me that he didn't go there at all. Although he was sitting to my left, and I expected big problems from him. But the grandfather, who was sitting between us, also rolling cash, surprised me with his good bluffs, during the game I did not expect this from him.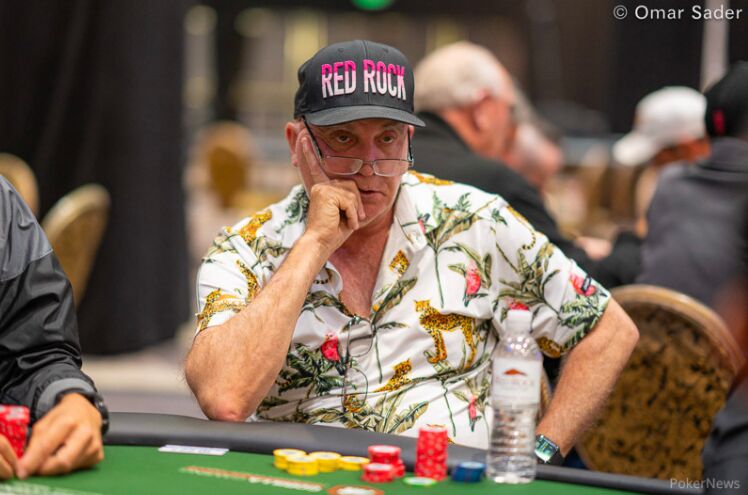 Did you bluff a lot yourself?
I tried to be aggressive. I have never bluffed on the river, in principle, this is done quite rarely in limit hold'em. However, sometimes it is necessary that strong hands pay more often on the river. This is just the part of my game that needs to be worked on. Otherwise, everything was ok, I tried to push more on the early streets.
Probably only Rostyslav Sabishchenko played more aggressively than me, who played limit hold'em for the second time in his life. And for the first time, he accidentally registered in an online tournament, not knowing that it was limit. As a result, he figured out along the way and took second place. And this is what happened for the second time.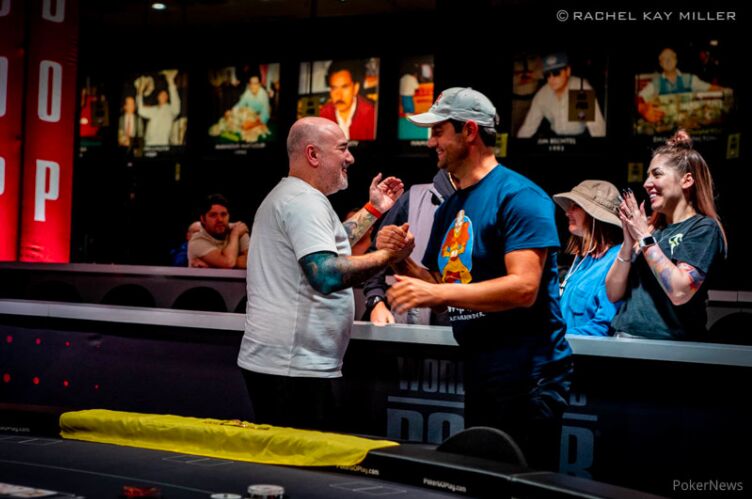 I got acquainted with Rostyslav at the end of the second day, and I gave him a couple of tips. As a result, he turned out to be the most dangerous in this final.
– Is it difficult to play heads-up with an acquaintance or a friend?
– Certainly. They know you, they know what you're capable of, they know how you play. And this means that I cannot use my image of a gray-haired grandfather, who sometimes rolls with unknown opponents.
– If you had to explain the features of limit hold'em very quickly, what would you say to an NL specialist?
– Difficult. I think many who play NLH don't understand that you can't pay extra, especially on expensive streets, every bet is worth its weight in gold. If you are even 60% sure that you are losing, then it is better not to pay, no matter how sweet the pot odds may seem. I think that's what separates the top players from the average. And the second point is to get the maximum, not to leave money on the table. This is important in all games, but especially in LH.
Also, bluffs should have even more logic than NLH. If you tell a true story, you are more likely to be believed. Another point – you can only bluff good players. It is almost impossible to bluff a weak opponent, because he will pay one bet anyway.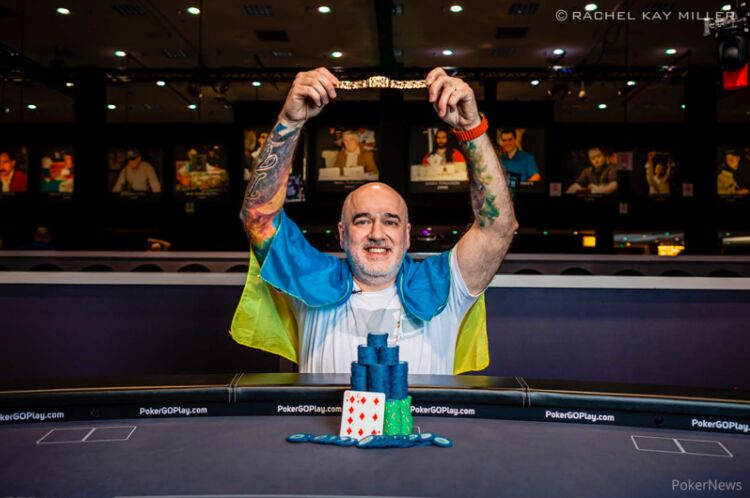 – Tell us how you felt when you won the long-awaited bracelet.
– In my 18-year career, this is my first WSOP final table. Of course, I had deep runs, but there was not even a chance to compete for a bracelet. Therefore, emotions are indescribable. And most of all, I received warmth and joy from a bunch of congratulations, which continue to come to this day.
– Did the reality coincide with the expectations from the victory?
– I think that high expectations are foolish in poker. Yes, you can dream, but if you have expectations, then most often you will be disappointed. I have long taught myself not to make any plans, but the thought that I still want to win the bracelet flashed by.
I was lucky in this regard, I play quite a lot live, so you can say that I even went over a few. I wanted a bracelet, of course. It was nice, but there is no feeling that I have finally achieved something unattainable.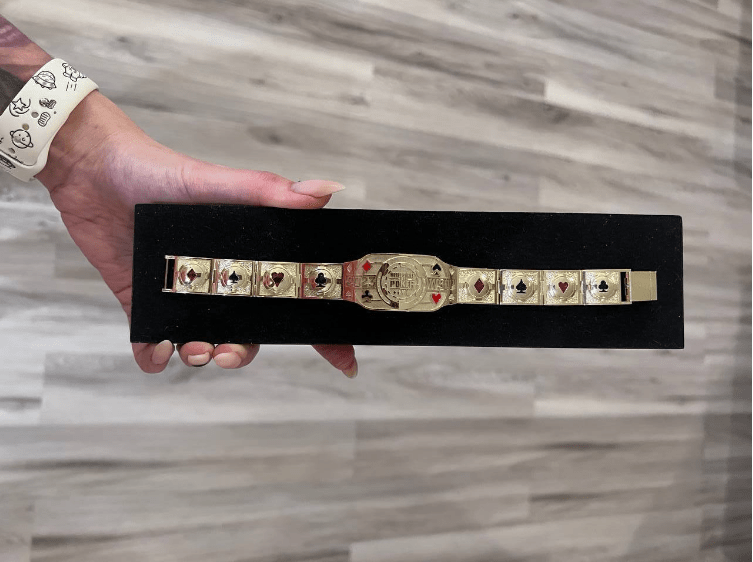 – What did you do the day after the victory?
– I rested for two days, and I read through all the messages on social networks.
– Did you celebrate?
– I haven't been able to celebrate yet. As Pavel Pleshuv joked: "You were waiting for my skid, so that you didn't have to put down yourself." We have been trying for three weeks now to choose a day for everyone to have a day off. We almost got ready when Pasha was in the Millionaire Maker for the fourth day, but my wife Yulia had a fever, and Tolik Dukalis tested positive for covid. Now everyone is fine, but we decided not to risk it, we don't want someone to get infected right before the main.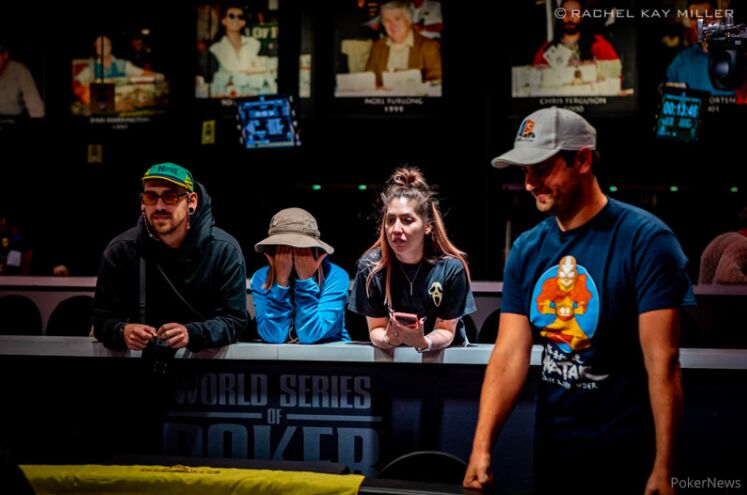 – How is it to play after winning a bracelet at the very beginning of the series, when the maximum goal seems to have already been completed?
– I have never had such confidence and motivation at the WSOP. I grind much more than I planned, although I did not increase the buy-ins. Now I think that everywhere you need to have a balance. In my youth, I grinded almost every day without days off, but as I grew older, I realized that this was a minus for many reasons, including the game itself, it had a bad effect.
– Yulia wrote in her congratulations on the forum that you have completed your career. What do you do in your free time?
– I started studying crypto, I haven't played online poker for a long time, so only live and crypto remained.
– Are there any successes in the crypto?
– There were, but the last year turned out to be difficult, like everyone else.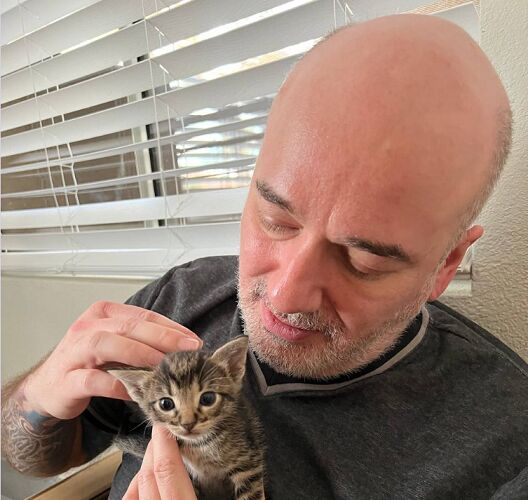 – Can you share some live insights with online players?
– The most important thing is to adjust to local fields, especially to cheap events, which, it would seem, are the most profitable due to the low level of play, but they require very serious adjustment. Many things that you are used to online simply do not work here.
– And what about those who are bored with playing 10 hands an hour?
– Tolerate it. And practice discipline. Sometimes it is possible to play online as well. There are many tournaments here, and in Nevada you can register in the client, even if you are not a resident.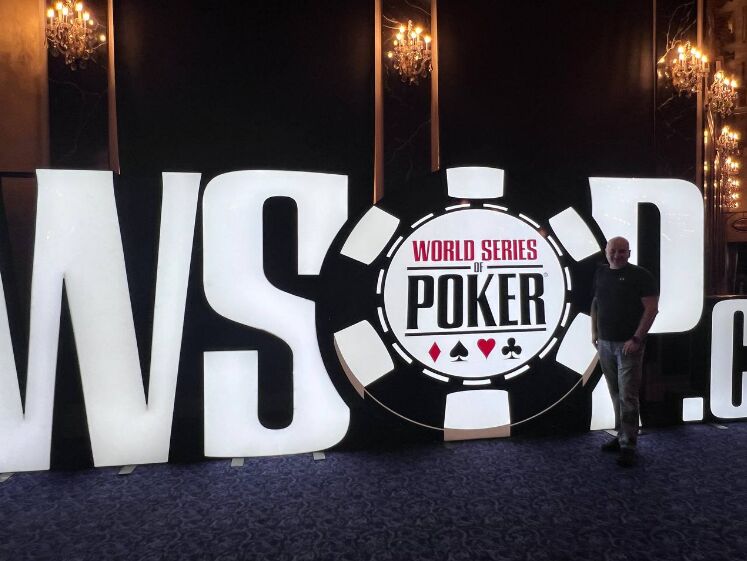 – You now permanently live in Vegas, does the city change during the WSOP somehow?
We have been living here for a year and a half, since the beginning of the war.
With all that's going on in Vegas, the World Series isn't that big of a deal, especially in the eyes of those who have nothing to do with poker. There are always a lot of conferences, events, and concerts. Now there is a professional sport here that did not exist five years ago. The professional leagues didn't want to let their teams in here because they were afraid of corruption. Hockey arrived, the Golden Knights won the Stanley Cup, everyone here is extremely happy about this. American football has appeared, and soon there will be a baseball team. Against the backdrop of all this, the World Series is not particularly noticeable, in fact.
– Do you play outside of the series?
– Almost all year round there are good series in the Venetian, you can play good tournaments almost without a break. The buy-ins are, of course, lower than at the WSOP, but the lineups are very good. And in general, you can travel around America and play series, in Florida, for example, there are excellent ones. Julia grinds much more than me now, but I also play so as not to get rusty.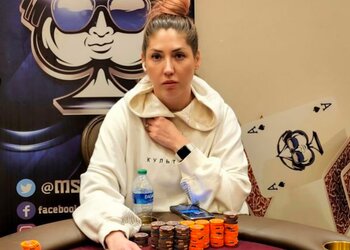 – Can you tell us about your favorite restaurant in Vegas?
– There are a lot of interesting options for every taste. There is one very interesting restaurant, however, not cheap – Kame Omakase. It is very elegant and cool there, the chef tells you about each dish, how it appeared and what it is made of.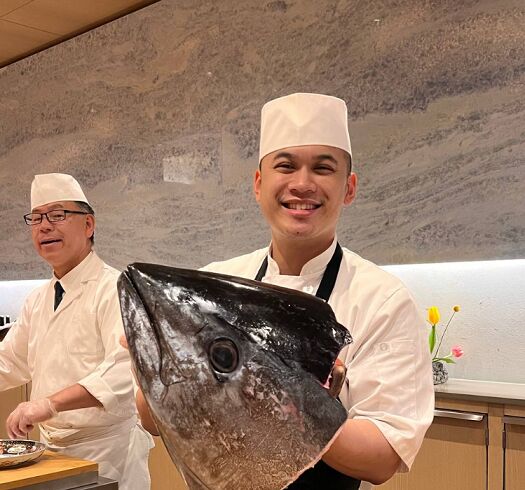 We also love Indian food very much, there is a good place near the Horseshoe – MINT, this is probably the best Indian restaurant in Vegas, although it is quite inexpensive.
Where is the best place to have lunch during a break?
– There is one place that is already popular with the players. It is located in the food court at Bally's, which has now been renamed Horseshoe. Turkish eatery that makes good shawarma. Most often we eat here during the series, it's fast and tasty.
– And how do you like the rebranding of the casino?
– It definitely didn't get any better. Only the name has changed. In fact, the entire Caesars chain has been rotting for quite some time. They are constantly bought up, and with each change of ownership, it only gets worse and worse, about the same story as with PokerStars when Amaya bought them. Also, although the WSOP raises a lot of money and collects record clearings, they try to do without investments and save as much as possible – for example, they hold 10-max tournaments at the end of the series to fire more dealers and save on salaries. In general, there is practically nothing good to say about the organization.