In the poker world, Karl Chappe-Gatien made his name at the Fall Triton Series.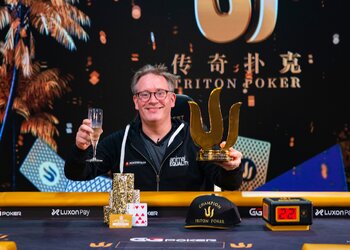 NEWS
Triton Super High Roller Series: Sam Grafton beats Linus Loeliger to win the $200,000 tournament
Then he played one session online at the most expensive tables, after which he challenged Linus.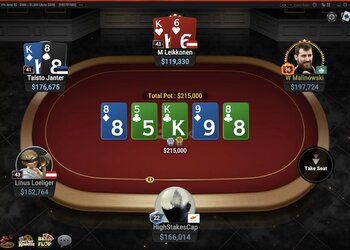 However, now Karl is clearly not up to poker. The main specialization of the Frenchman is crypto trading, and recent events with the FTX exchange have directly affected him:
– Everyone pings me, so I need to speak out. I also failed to avoid losses. I lost 35% of my fortune because I keep my funds in different places. But I immediately resigned myself to the loss, as if this money had never existed. I think that Sam (ed. – founder of FTX ) betrayed me. I can't even imagine what his employees are feeling right now.
Sam Bankman-Fried, whom Karl is offended by, has not denied himself anything in recent years. According to rumors, he lost more than $100 million in various crypto casinos.
Another top FTX executive, Dan Friedberg, used to be the chief legal officer at UltimateBet and did his best to cover up the superuser scandal.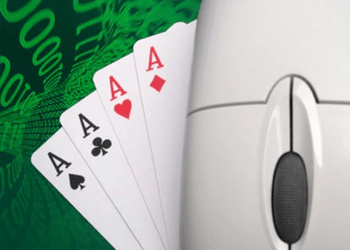 In 2013, audio recordings from 2008 were made public, in which Friedberg, Russ Hamilton and other leaders of the infamous poker room directly discuss their "God Mode" software and figure out how to quickly cover up the scandal.
Recall that none of the criminals has yet suffered serious punishment.
Cole South recalled that UltimateBet did everything to get players to keep large amounts of money with them. For example, they offered some players 9% per annum on the entire amount of their balance.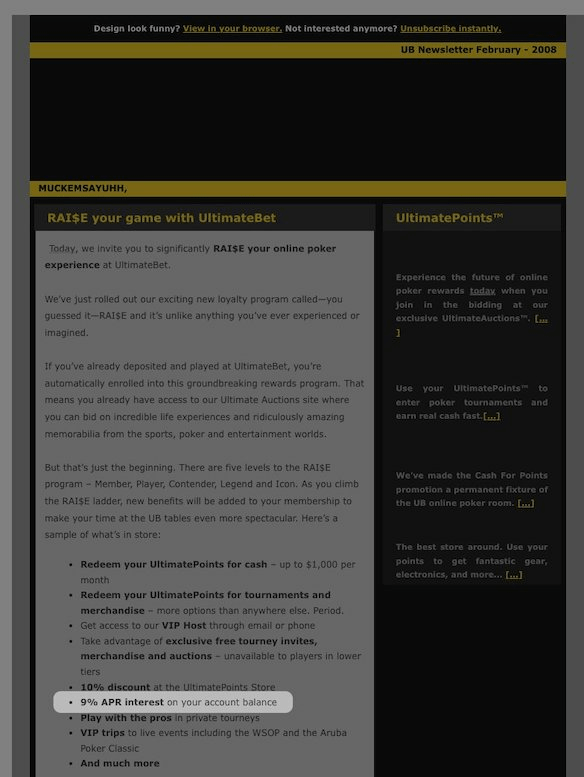 For some reason, this generous practice in poker did not become the standard.
Another successful crypto trader, Hedgehog, invited everyone (whom the funds allowed) to play poker:
– Who wants to play HU 10k/20k USDC, everything I have in FTX?
– I'm ready, if you're serious :), – Trueteller became interested.
Bettor Daniel Forte bet $26 on a 7-way multi bet and could win $557,770.91.
We are with the $550K Parlay Bettor who is a France World Cup win away from a HISTORIC cash 👏

He's feeling CONFIDENT.

(IG: dforte73184 @FDSportsbook) pic.twitter.com/QNCVoSG15E

— br_betting (@br_betting) November 22, 2022 (https://twitter.com/br_betting/status/1595131113072373761?ref_src=twsrc%5Etfw)
He bet on the victories of certain teams in major competitions and already guessed 6 out of 7 outcomes. For the final victory, there was nothing left – France's first place in the World Cup.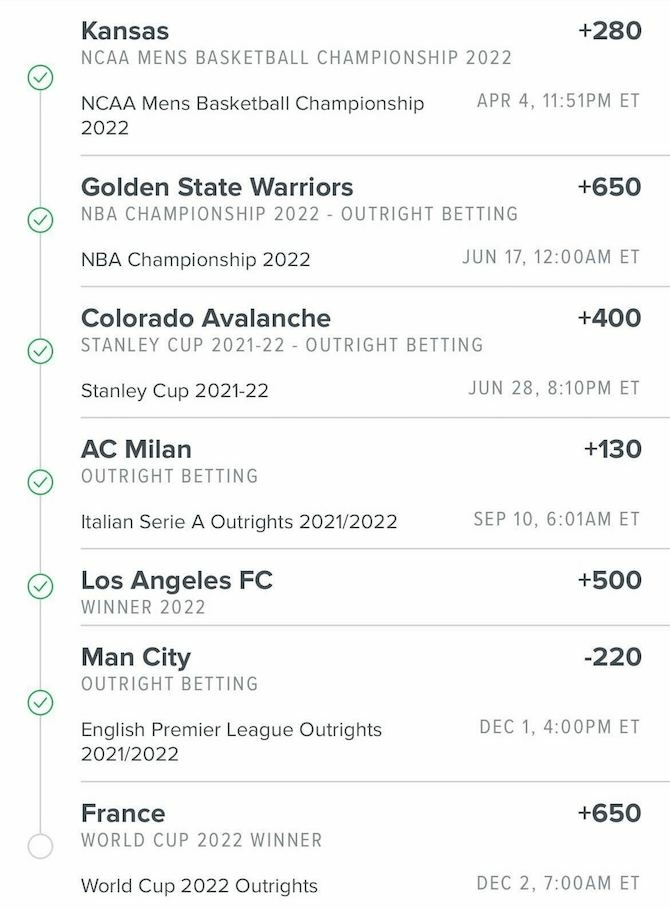 Dan Smith got bored during his next flight and organized a quick Q&A on Twitter.
– Do you have any ambitions in poker?
– At the moment I would like to win some money, this year has been very painful 🤕 In general, I would like to maintain balance in life, avoid stressful situations and continue to make enough profit to overcome variance and taxes.
– What are you playing now?
– Mostly live MTTs, but sometimes online.
– Favorite poker memory?
– Winning the WPT 5 diamond was a special moment.
– What tournaments are you most looking forward to?
– In my schedule for the near future, only the PCA series in the Bahamas, but I wouldn't say that I am especially looking forward to it.
– The strongest chess player with whom you crossed paths?
– I beat Fabiano [Caruana] when I was 9 and he was 6, haha. At 13, he tied with Leonid Yudasin, at his peak he was 4th in the world ( ed. – actually 8th, in 1991 ). After the game, he approached my father and instead of saying something nice, he said that I was insanely lucky, and in our next game he will destroy me, lol.
– If all the time and energy that you devote to poker were devoted to chess, what would you be able to achieve?
– I would become an international master; maybe even a grandmaster.
– Do you work with solvers?
– Yeah.
– What are your favorite casino games other than poker?
– Sports betting, in terms of excitement and thrill, nothing compares to that. And in the casino, obviously, the best game is craps.
– What is the biggest amount you have played for in a casino?
– "A small five-figures in craps." More precisely, it is difficult to say when you make a lot of bets in a row. But in High Stakes cash, the amounts were much larger.
– Who would you prefer to play heads-up – with the strongest player in the world or with a solver, but who always uses only one sizing?

''Apparently, you want to prove that against a perfect GTO, a bot with one size plays better than the strongest player?'' suggested Markus Leikkonen . "Probably so. But who will have a higher win rate against 99% of the people participating in your survey is a completely different question. I suspect that here the person will have an advantage. In addition, by gut it seems that a bot with one sizing can be beaten.''
"Obviously, the correct choice here is the solver, not even close," answered Christopher Frank. "A person will tune into my frequencies and tear me apart. And the solver will always be forced to adhere to a defensive strategy. He will not be able to use my frequency errors, only errors in terms of EV decisions. And avoiding them is much easier than playing with the right frequencies.''
"Naturally, for the majority of those taking part in the survey, the correct answer is to play with the bot," George "You-Mad-Br0" agrees. "You will lose to both, but much more to the man. I think even if you yourself are in the Top 20 in the world, you should still choose the bot as your opponent.
Henrik Hecklen found another drawback of live poker:
– I experience great mental anguish when players think for a hundred years before mucking a losing hand on the river. Why hold such a funeral for your cards?
Jason Koon still remembers the kindness of Isaac Haxton :
– At my first World Series in 2008, I met Ike in the hallway. We didn't know each other, but I, insanely nervous, offered him to play heads-up, absolutely free. He gladly agreed. For me, this was the main event of that summer.
– ''What size did he open from the button?'' Patrick Leonard said.
"At that time, definitely minraised," Haxton himself replied.
The most popular poker streamer Lex Veldhuis has ended his partnership with Twitch:
– This will give me more freedom and allow me to decide what and where to do. I already wrote to Twitch to sort out the formalities. Don't subscribe to my channel yet, I don't want you to lose money 🤞
In an interview with Poker.org, Lex explained that his main complaint is Twitch's attitude towards poker. According to him, in the eyes of society, poker already has a reputation comparable to slots, and professional players have been struggling with this for many years. However, they are not supported by Twitch and poker streams are never recommended.
At the same time, Lex will not stop streaming on the platform, just now he will not receive money for it.
Phil Hellmuth offers his readers one bet each week on the NFL Tour.
My @NFL "Pick of the Week": @Bengals -3. Coming off their bye week, and, w revenge on their minds (Steelers beat them Game 1), I believe Cincy wins big! However, I'm 1-8-1 and a friend who lost $6M betting sports says he a better sports bettor than me, doh! #POSITIVITY pic.twitter.com/VRrSnr0ZAI

— phil_hellmuth (@phil_hellmuth) November 20, 2022
In the 10 weeks since the start of the season, Phil only once gave winning advice, one was a push, the other 8 of his bets lost.
But he does not lose optimism or his classic irony:
– A friend of mine lost $6 million on betting, but even he is convinced that he understands betting better than me!
PokerNews has calculated that a person who would bet $110 on every match Hellmuth offered would be worth -$780 at the moment.
Joe Ingram has announced that he will soon be hosting his second podcast with Phil Ivey . In the comments, you can ask questions to the legend.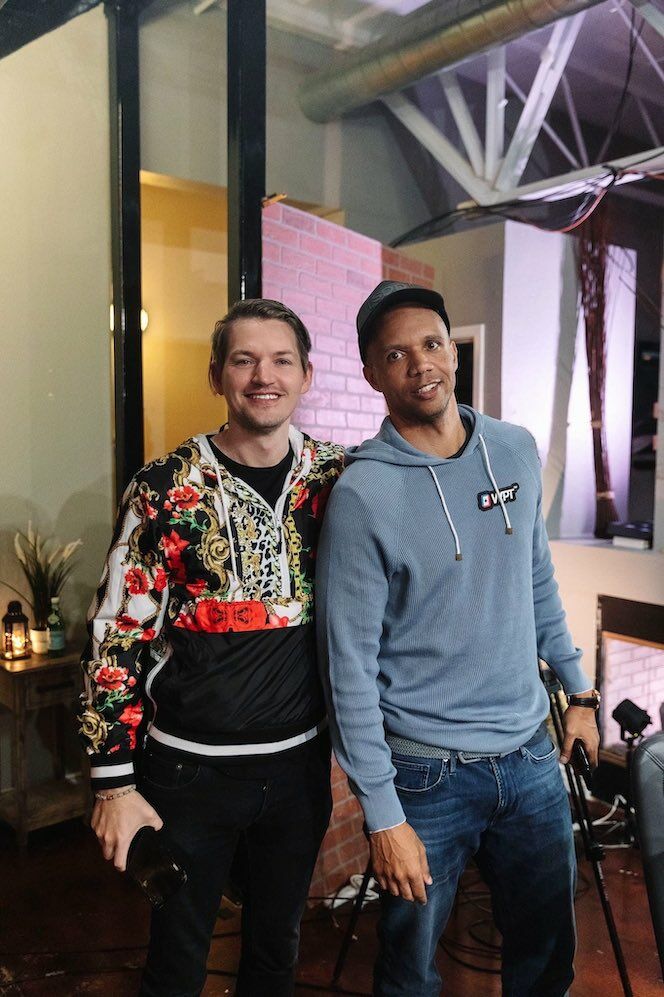 Their previous meeting took place last year.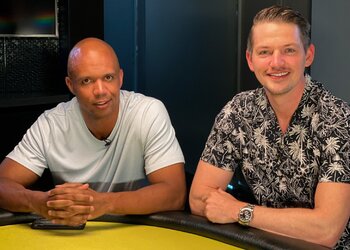 The other day Ingram was involved in a strange scandal with the permanent WSOP commentator Norm Chad. We shared the details in our telegram.
Daniel Cates and Elky made a weight loss bet.
In six months, both must reduce the amount of fat on their body to 12%. If one fails, the other will receive $150k.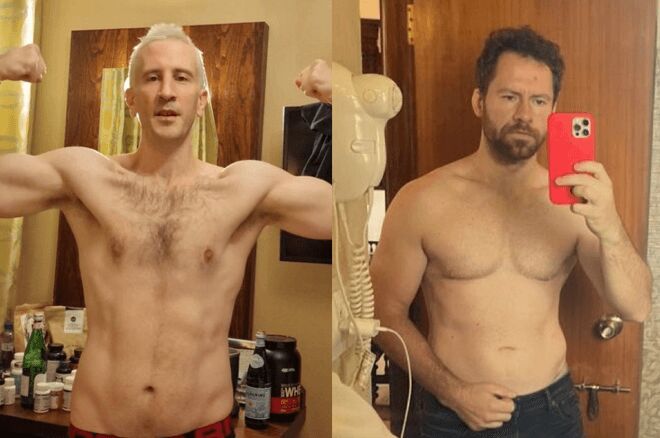 However, most likely, the dispute will end in a chop, as both are confidently moving towards the goal. The betting started at the end of the summer, when Cates had 18% (he had already lost 7.7 kg), and Grospellier had 24.5% (he managed to lose 9 kg).