We have repeatedly talked about the Venividi1993 marathon in our social media reviews.
– I used to play the highest stakes, then 1.5 years passed without poker at all. Now I decided to come back and made this challenge for motivation," Veni explained at the start of the marathon.
At first, he planned to go from $66k to $1 million, but after a bad start, he rebought and is counting from $100,000. Over the course of twenty-three weeks, he won just under $90,000 and now has $188,524 in his account.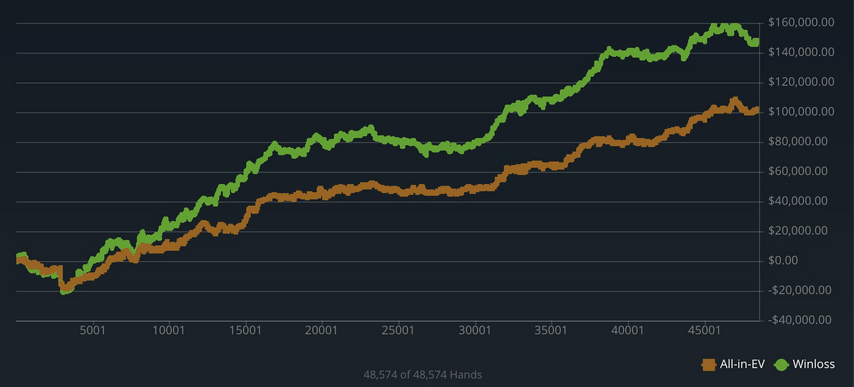 Every week Venividi tweets updates with charts. He also sometimes answers questions in the comments. We have compiled a selection of the most interesting dialogues.
How much time do you spend playing and learning? What do you use?
– Every day I play for 6-8 hours, I work an hour, only four or five days a week. I'm sorting out the preflop hands played during the previous session, mixing vision and monker.
Hand analysis and postflop: http://runitonce.com
General theory/new concepts: I consult with people who understand the solver better than me.
– How do you find and eliminate leaks?
– I think the best approach is to analyze your database of hands (but I have never done this on my own, I always turned to third parties for help).
The main thing is not to get hung up on what is right and what is not. Learn to separate small mistakes from big ones and focus on them. For example, it doesn't really matter whether you 3bet more often with JT97ds or JT98ds. But if you fold too much from the big blind, this can become a problem. First of all, you need to eliminate the leaks in frequently occurring situations. If you overplay your hand on the QQQ flop, nothing bad will happen, as such situations will occur very rarely. But ignorance of check-raise frequencies on paired boards should be eliminated as quickly as possible.
– Is poker your only occupation or do you do something else?
I would call myself a part-time professional. In addition to poker, I am seriously involved in investments, trading on the stock exchange, crypto, and charity.
– How to deal with psychological problems caused by unusually large streaks when moving up the stakes?
– Go down in stakes to regain confidence. Focus on learning and balance in life, it's more important than poker results. Remind yourself often that money brings you a business that you would do for free.
– What rooms do you play in?
– I used to mix ACR and GG, now only GG. My choice is very limited while living in the Netherlands.
– In one session, you paid $8k in rake for 3,500 hands of $10/$20, which is completely absurd. What is your rakeback?

– Around 40-50%. This is quite difficult to beat, I do not argue. Previously, the rake was lower and returned up to 70%. But this is all in the distant past.
– You have a marathon from $100k to $1 million. How long do you allot for this?
– I don't limit myself by time, I think I can do it in two years or faster.
– How did you get a bankroll at the beginning of your career? I play PLO50 with a good win rate, but PLO100 still seems out of reach.
– In modern conditions, it is better to earn an initial bankroll in a regular job. The rake at the lower limits is just too brutal.
– How many tables do you play at the same time?
– Comfortably 6-7. I can add a couple if there is a good action in 6-max; I cut the number of tables if I play heads-up. In general, the quality of the game drops rapidly when I open more than 8 tables.
– Do you play PLO5? Seems like you should have a pretty good expectation for $2/$5 and $5/$10?
– I'm not completely confident in my abilities yet, but it's probably worth adding a couple of tables from time to time. But I prefer to concentrate on one game, learning a new one will take extra effort and it will take too long to learn.
– Played some PLO5, Venividi said in the next report. – It went great; thanks to everyone who suggested trying it. I am not able to fully study a new game right now, so I will select very carefully.
– I plan to move to PLO, but I feel that PLO5 looks more attractive now (more action, higher win rates). Does it make sense to start with PLO5 right away if I don't know anything about PLO at all?
– Why do you think PLO5 has higher win rates? I think they are quite comparable. Basic knowledge can be obtained at Runitonce. Learn preflop and cbet ranges first, and then start building more complex strategies.
The transition from NLHE to PLO4/PLO5 will be equally challenging. If you know a bit about solvers, then you should definitely start with PLO4, since working in software for PLO5 is much more difficult. But in general, the difference is not so significant. However, in the long run for strong NLHE regs, such a transition can be beneficial, since, in my opinion, they have a clearer mindset than PLO specialists.
– What do you prefer, 6-max or heads-up?
– In general, heads-up, because there is no way to sit out. I noticed that 6-max plays very tight on average; this makes the game a little boring, but it's pretty easy to adjust to such actions. During the current challenge, I discovered that there are a lot of gaps in my 6-max game that I was not aware of. Even experienced a little tilt for the first time in a long time. I usually focus on aspects of the game that I can influence myself and do not pay attention to where nothing depends on me. It's cool, but sometimes it feels like I just have to win every session because I spend so much time working away from the table. I don't get into this condition often, but I always end up always bluffing in situations where the frequency of bluffs should be much lower. Sometimes we forget that variance doesn't care
– Can you name the specific leaks that you found in 6-max?
– I don't check-raise aggressively enough against 40bb deep c-bets. Calling 3-bets too wide in shallow depth. In "bomb pots" on ACR, sometimes I don't know what to do at all.
Is it possible to go from $1k to $50k in PLO? If so, what strategy should be followed?
Everything is possible, but very unlikely. To begin with, I would advise finding a mentor to avoid most of the common beginner mistakes. There are very few players who would reach the top on their own.
– How important are the red and blue lines in heads-up and 6-max?
– They are important in both, but so many players misinterpret them. The red line is influenced by a lot of factors over which we have no control. For example, if opponents call us too light. Finding the right frequency of bluffs is very important for high stakes, as opponents will also become stronger as the limits increase.
– Would you prefer soft lineups with a big rake or regwars with a low one?
– In the conditions created now on GG, most of the regulars play in the red. I prefer games with relatively low rake and ante. These conditions are beneficial for amateurs who play a lot of hands, and nit regs immediately find themselves at a disadvantage. There is more action, which is good for everyone.
– At the beginning of the challenge, your GG account was banned. Did they explain why?
Lost a lot of money too fast.
– What caused your poor results at the beginning of the challenge? Exceptional variance?
– As I said, there are many flaws in my 6-max game (in XA I still have maximum confidence in myself), and I work on eliminating them every day. Now I almost never play without a VIP at the table, so the main reason is still variance. But I clearly underestimated some weaknesses in my game.