Summary:
Hold'em player changes discipline to Omaha. Armed with a quality poker course and taking lessons from a high-level coach, in one year he goes from a budding Omaha player with barely a grasp of the basics to a low-limit thunderstorm that is tearing up the field of one of the tightest poker rooms at 13bb/100.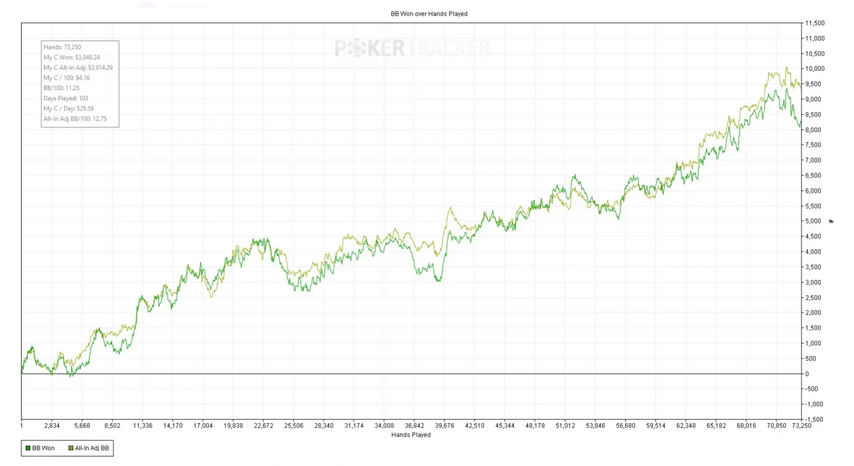 For those who love poker, this is more than a game: it's a war, it's a stage, it's an opportunity to test your will, logical thinking and fortitude. In the last few years I've been playing low stakes no limit hold'em with some success. I made over £22,000 in 2021, but in 2022 I wanted to change the scenery, start fresh and with the right attitude.
My plan
In the past, I didn't take lessons, didn't take poker courses, and my game was based on information gleaned from books, Youtube and occasional sessions in the solver. On the new path, I identified three main goals:
– Build a solid foundation around a good poker course
– Get advice from an experienced poker player to solidify your knowledge
– Improve your game mindset and game work skills to go beyond the usual limits and constantly grow as a player.
The first step was to choose a discipline. Luckily, the choice was clear: a game that I always thought was very interesting but didn't have a lot of experience – the great game called Pot Limit Omaha.
I was determined to move up the stakes higher than I've ever been able to. I desperately wanted to prove to myself that my potential was enough to excel in one of the toughest games. I no longer wanted to grind the micros until I completely burned out. I dreamed of Vegas and the Mirage!
A year has passed. I think my transition was successful. The path was not straight and easy, and I was quite lucky. Unusually in poker, this luck was not related to what I was dealt.
The basics
I came to Omaha with a decent understanding of the basics of poker, but my hold'em strategy was like a patchwork quilt. In the idea of ​​moving to another game, I was attracted by the opportunity to competently and systematically approach its development, to lay the foundation on which to build a magnificent building, and not just a wreck of my hold'em strategy. No need to relearn and painfully eradicate bad habits and no need to look for gaps in knowledge, because I don't know anything about the new game.
At first, I was going to buy a quality course and carefully work it out to make my base game as free from leaks as possible. I chose "From The Ground Up" by Run It Once. After finishing work with the video, the next step was to work with a trainer who would eliminate my main weaknesses left behind after independent work.
The course gave me an excellent base for understanding Omaha. The coach was also extremely helpful: he helped me absorb the information and supported me at the beginning of the journey.
The start was moderately successful. After four months I've played 35,000 hands on PL25 at Pokerstars and was winning 6bb/100. For a roller coaster of a high variance game, this is not a big sample, but it gives around a 70% chance that I am playing well – not bad for a beginner playing in a room with tough lineups. However, I was dissatisfied with the primitiveness of my strategy and the too steep fall of the red line.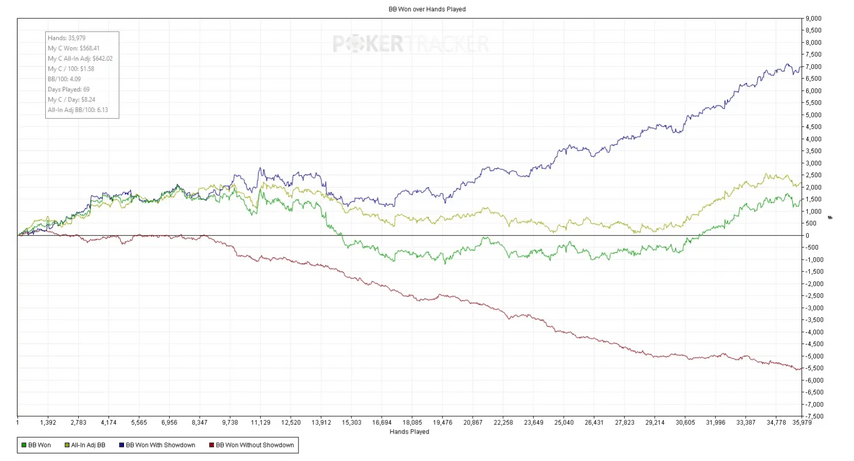 I knew preflop well and had a decent grasp of basic flop textures, but I lacked an understanding of next-street strategy and proper bet sizing. The logic of the solver often seemed incomprehensible to me, and I noticeably lacked aggression.
And then I got some good fortune.
Upswing Poker was giving away access to an advanced Omaha course and private lessons with top player Dylan Weissman. I applied and was lucky: I was soon invited for an interview with Dylan, and a couple of weeks later, to my incredible surprise, I received free access to a poker course worth $1,500, several sessions with one of the best coaches in the world and an invitation to discord server of professional PLO players. Ideal conditions to start working on the transition to a new level!
Poker is a process
For about a month I studied the videos. I wrote two notebooks and made a lot of prompt cards. The course was challenging, but it fitted in well with what I had learned before and helped solidify in my head the basic concepts that are universal to all poker variations. After watching all the videos, I burned with enthusiasm and was ready to break out.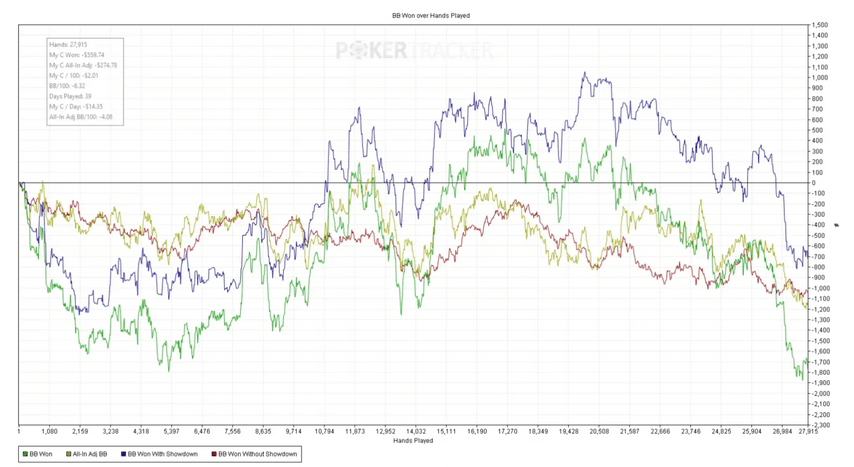 When you receive so much new information, it often overloads the brain and makes it difficult to find the right answers. It is also now clear to me that watching the course without playing poker at all was a serious mistake. Theory and practice must go hand in hand. When you study ten topics and then try to apply all the new knowledge in practice, concentration is not enough. Knowledge does not work like that and is not fixed.
Another disadvantage was my weak psychological stability. I felt that the knowledge gained should be enough to burn out any resistance at my limits with napalm. If this doesn't happen, maybe I'm just not good enough? Perhaps I am not smart enough to execute such a complex strategy. How to choose the right points from a bunch of conflicting concepts when you are required to make a decision in a few seconds?
My game was going through a massive transformation. I added aggression in all lines and started to understand the overall strategy tree much better. However, due to the inherent variance in poker, it is impossible to accurately assess how good or bad my game was during that period. Of course, I knew about this property of poker, but for a long time I could not fully accept it. In general, this period of trial and error, despite the difficulties experienced, turned out to be critical for my development as a player.
Chef Marco Pierre White said: "There is no need to strive for the ideal – it does not exist. Accept imperfection and then you will create perfection."
Way to success
At this point, I began classes with Dylan. I was waiting for five thematic lessons on the sections of his course: preflop, flop, 3-bet pots, turn and river. I carefully reviewed the video, devoting several weeks to each topic, after which I came to Dylan's class, where he conducted a comprehensive assessment of my understanding of this topic. His straight-to-the-point questions helped me solidify my knowledge and eliminate some of the leaks in my game.
Given my psychological instability, Dylan soon changed the scheme of work to one more suitable for me personally. If my technical knowledge was satisfactory, we went beyond theory. A good coach has a great understanding of the game and effectively conveys information to the student. A great coach adapts to the student, independently finding his main weaknesses, and directs all his energy to help the student eradicate them.
When during one of my sessions I mentioned seasonal depression, which always comes to me with the onset of winter, Dylan taught me how to cheer myself up in the morning with breathing exercises. He also introduced me to two key concepts – vulnerability and self-love. Thanks to this session, this winter has become the most productive in my life, which is reflected in the game too.
Many elements of my Omaha strategy went through volcanic changes during that time. I don't think it's worth dwelling on the details, but the classes as a whole have helped me make impressive progress in a short time. Just take a look at my yearly chart!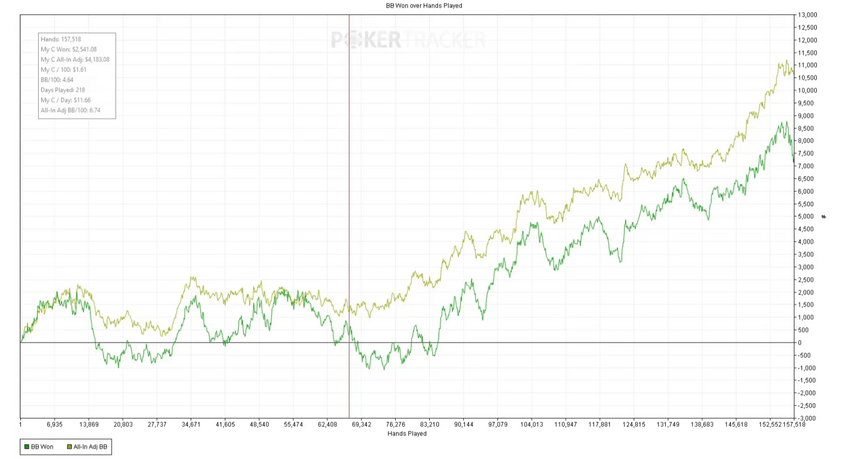 Within a few months I went from PL25 to PL100, showing a win rate of 14bb/100 at PL50. With 60% rakeback at PokerStars (that's another 8bb/100), playing four PL50 tables at 320 hands per hour was earning me about $35/hour. A year ago, hold'em brought me $18/hour.
For the first time in my life, I do not feel the ceiling in my development. My basic knowledge of Omaha exceeded the most optimistic expectations of a year ago. I know how to work on all aspects of the game on my own. I am part of a community of exceptionally competent Omaha players who have shown excellent results in the WSOP, WCOOP and WPT series, thanks to which I am extremely motivated to play. Colleagues on the discord server taught me how to work with the solver at a level that I could not even imagine.
In just a year of work, discipline, pain and amazing luck, I got an excellent launching pad for exponential development. I didn't crack down after losing 40,000 hands between May and July just because I knew I had a world-class coach behind me that I wouldn't miss out on. Thanks to Dylan for choosing me and giving me this chance.
Switching to a new game is never easy. Accept any help that is offered to you. Of course, you can succeed alone, but this requires a very strong psyche and higher technical skills than I had at the beginning of the journey.
Key Findings
– Approach your studies wisely, use all available resources, but do not overexert yourself. Combine theory and practice.
– Try to find a coach: it is almost impossible to find systematic mistakes in such a difficult game on your own, without a look from the outside.
– If you want to revive your love of poker, Omaha is the place to be. They don't call it a great game for nothing.
My goals
– A sharp increase in volume. In 2022 I played about 200,000 hands, in 2023 I will play 500,000.
– Now I fight at PL100, but in the course of 2023 I plan to go to PL500.
– I already know how to play and work on the game, but I need more stability around poker: an established sleep schedule, a certain time for theory classes, a proper warm-up before the session and a cool down after the game.
Thank you for reading my text. In part, I wrote it to show my vulnerability, which is usually difficult for me. However, now I understand that this is much more important than I thought. I hope you have learned something useful from these pretentious autobiographical speculations and have been interested in my story.