On Sunday, May 14, the most famous player in the history of poker passed away just three months short of his 90th birthday.
We wrote a lot about Doyle's life and translated his memoirs. All materials can be found under the tag " Doyle Brunson ", and you can view our memorial article posted the day after his death below.
The first rumors about the incident began to appear on social networks in the middle of the night in Europe/
"I'm sorry, but it's true," Todd Brunson confirmed. – RIP Doyle 🙏
"I don't care about myself," Todd added after a few minutes, "but Mom doesn't know anything yet, and I'm still in the hospital. Thank you all for your concern, but I want to ask you to respect the privacy of my family. Thank you. I'll post details when I get a chance.
The official part was taken over by a long-term friend and family agent Brian Balsbaugh. He released a statement from those close to Doyle:
Passing this on: "It is with a heavy heart we announce the passing of our father, Doyle Brunson. He was a beloved Christian man, husband, father and grandfather. We'll have more to say over the coming days as we honor his legacy. Please keep Doyle and our family in your prayers. May he rest in peace." Sincerely, the Brunson Family. #RIPDoyle
Justin Smith has been working on a Doyle movie for the past few years. Today he promised that he would not disappoint fans.
"He told me you were working on a movie," Jennifer Tilly wrote in the comments. "And he was very proud of it.
Jennifer tweeted, "RIP Doyle Brunson. I had the pleasure of playing with him many times. He had a wicked sense of humor and always put a smile on my face. Even when he bluffed me out of a hand he did it in such a genial way, I felt like it had somehow been an honor for him to take my chips. My condolences to Pamela_Brunson, ToddBrunson, and the rest of the family. The Poker World has truly lost one of the greats."
Many famous players share memories of Doyle today.
"There are no words to describe how much Doyle inspired me. I am insanely proud that I often played with him at the same table. I was lucky to really get to know this man, and few people can boast of such."
"One of the first times playing with him I bluffed $40,000 in a hopeless spot because I had T2o and wanted to show him I could beat him with it. As he raked the pot he just looked at me and smiled and said "Do you know how many people have given me their money trying to do that"
"After that, did you try again?" Scott was asked.
– Of course.
Legend. There will never be another Doyle Brunson. Doyle was Amanda's favorite player by a mile. He will be missed by many, the Godfather of Poker #RIPDoyle
Yes, Doyle Brunson was the Legend of Poker. But to me, he was more of a father. I will miss him dearly. My prayers go out to Louise, Pam and Todd. I Love You Doyle. Rest in Peace to the Greatest!!
Jeff Boski remembered Doyle's famous parody of Ivey. Then, even Phil, stingy with emotions, could not help laughing:
"I'm so lucky I had the opportunity to truly understand Doyle's greatness by sitting across the table from him. "Legend" feels inadequate. We don't have a word for what Doyle Brunson is to poker. Rest in Peace ♥️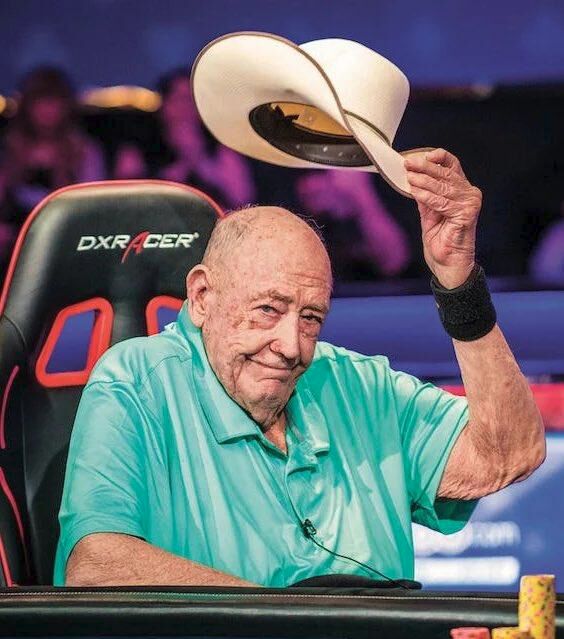 -- Man, really sad day in the poker world with the passing of Doyle Brunson. The man WAS poker – the ultimate icon of the game, who likely spent more days at the felt than any other person in history. Rest in peace sir ❤️
Ben Rolle bluffed Roman Romanovsky at the Super Millions pre-final yesterday and showed the whole table T2o.
https://twitter.com/bencb789/status/1657957856618991619
– In memory of Doyle ❤️ RIP
T❤️2♣️
"Grew up religiously watching poker. Doyle was a childhood hero who I grew up often pretending to be along with a host of others as I dealt myself 9 face-up hands to play against each other in my bedroom."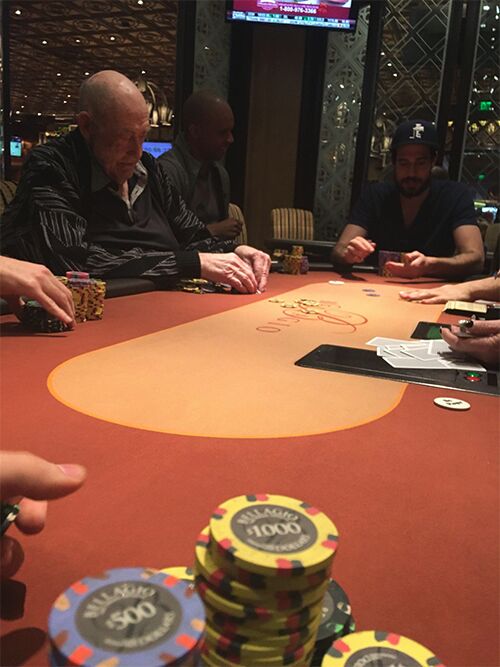 My first time playing with him I was so awestruck it didn't even matter I lost the most money I had ever lost. At one point Doyle whispered to Matt Glantz who is this kid? Followed by licking his lips. RIP to a legend.
"Doyle had a 64 degree wedge that he had reworked the grooves to be… less than legal… something everyone used back in the day. He called his "Old Groovy". Heard legends of this wedge spinning backwards out or downhill lies in the rough.
Would destroy a ball in one pitch shot. About ten years ago he was telling me about it and I asked him if he played golf anymore. He said not really. I then asked him if I could have it. Told him I would give "Old Groovy" a good home. He said sure.
Knowing how forgetful poker players can be. I threw him 3 black chips. He said, "No, it's yours for free". I said "This is for the wedge. Every time I see you and you haven't given me the wedge you have to give me 1 black chip back. He laughed and said I'll bring it tomorrow.
We were playing again the next day so assumed I would get it then. He forgot it. We all laughed and I needled him as I collected my first black chip. He forgot it about 15 more times after this. I really wasn't wanting the black chips I wanted "Old Groovy".
During the next couple of years, it was prob about 4k total I collected. I would be at dinner at Bellagio and just swing by the poker room to see if he was there to collect another black chip. He would get so tilted. It was great.
One day he brought in 3 to 4 other clubs. Including his prized putter. He had lost "Old Groovy". Couldn't find it. I finally let him buy out of the deal. I would def give all those black chips back for that wedge."
"Poker lost its biggest Legend today: TexDolly. He inspired 3 generations of poker players w his play, his award-winning book "Super System," and his fabulous style and grit. Doyle always played hard: the man absolutely hated losing!! Doyle ruled the high-stakes cash games in Las Vegas for 50 years!! Doyle was married to the love of his life, Louise, for 62 years. Goodbye—and rest in peace—to the most beloved poker player in history…"

We had a moment of silence for Doyle after the first break in the Triton 50k. This was the first hand just after:

"Actually, there was a mistake in the report," Henrik added, "cards were exposed on the flop."
David Yan captured the end of the hand on video.
This is my mom's all-time favorite photo of me.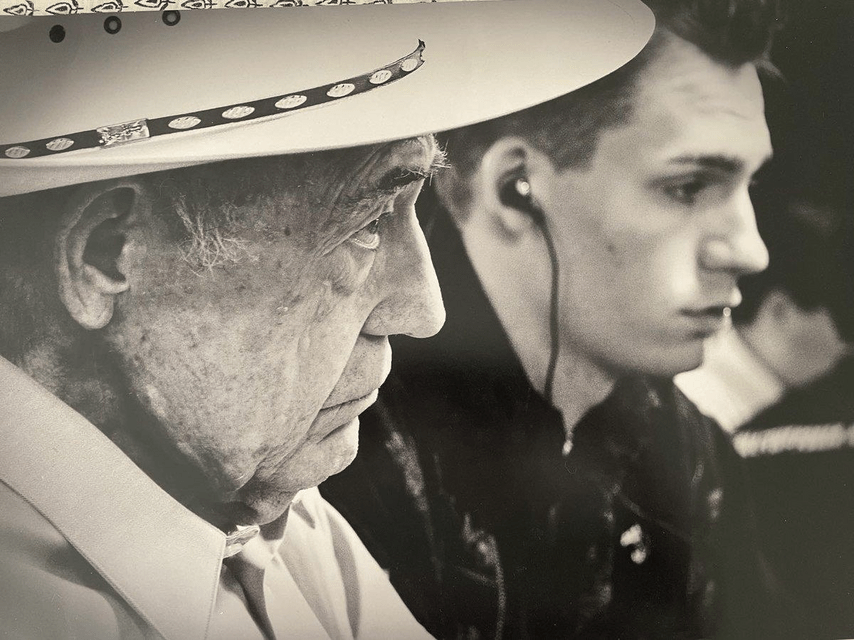 I was ~22 at the time, playing in the $50,000 Poker Player's Championship – too egotistical and overconfident to realize what a privilege and honor it was to play next to this legend RIP Doyle.
The first time I met Doyle was 15 years ago. He was gracious, funny, and kind. The last time I had the honor of playing poker with him was last year, and this is how I'll remember him: sharp as ever and had me in awe of his presence until the end. Legends never die. #RIPDoyle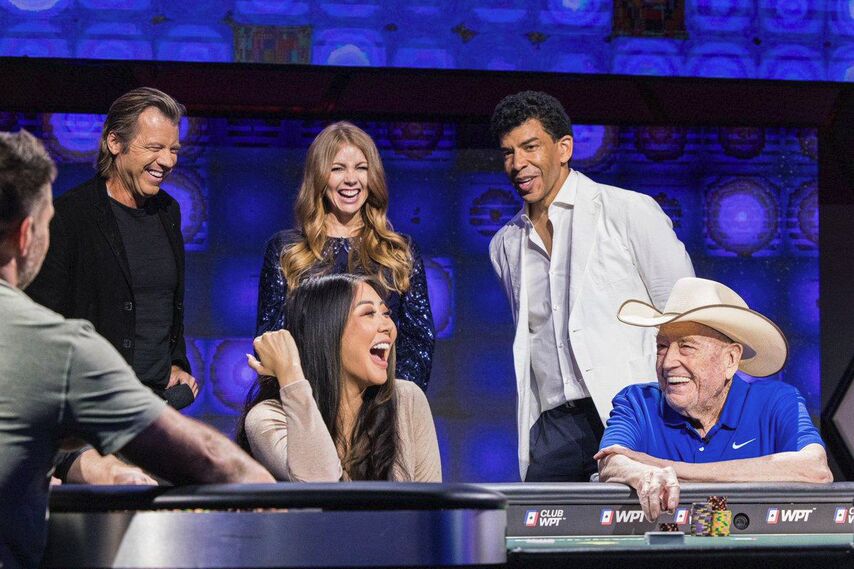 Sad day. We've lost @TexDolly the most iconic player in poker's history, his legacy will live on forever. I've been so inspired by his passion & his ability to play at such a high level well into his 80's. It's the end of an era.
RIP Doyle, the legend among legends. My favorite story from him was that no matter how old, he's never met a poker player that developed Alzheimer's. I often found myself retelling this to others throughout the years as it says so much about the game we all love.