Editor's Note: With the recent passing of Doyle Brunson earlier this summer, we wanted to re-share an article done last June about former player Justin Smith making a movie about Brunson's life. Enjoy it below.
Justin "BoostedJ" Smith is a former regular of the expensive MTTs, he played in the very first $1,000,000 buy-in tournament and has played live throughout his career, where he was obviously one of the strongest players.
"When I was 21 I got into Larry's Game at the Hustler casino," Justin wrote on the day Larry Flynt died. – And was a regular player until 27. The stakes there were up to $4k/$8k, and they played exclusively 7-card stud. In that legendary game, fortunes were won and lost. Larry and I became friends and he has always been an example to me. Rest in peace.
Justin made the final table of the prestigious WPT Championship at the Bellagio for two years in a row. In 2009, he took 3rd, and in 2010, he lost heads-up.
Thanks to Justin, the first final table went down in poker history forever. He celebrated the victory in the all-in so violently that he broke his leg, but finished the game with the injury.
Joe Ingram recently tweeted the episode and marveled at Justin's courage.
"Until this day, I never drank energy drinks, coffee, and Xanax," Smith explained in the comments. – And an hour before the finals, I drank it all together in a double dose.
– "Why did you do that?" readers were surprised.
"This deserves a separate story," Justin intrigued everyone but did not share the details.
In 2013, Justin became one of the defendants in a high-profile illegal gambling case opened by the FBI against the "Russian mafia".
After these events, Justin's interest in poker declined markedly, and he radically changed his activities. Now he works as a producer in Hollywood and has already acquired quite a decent track record . One of Justin's current projects is a film about Doyle Brunson, which is in full swing. This topic was the focus of a recent conversation between Justin and Chad Holloway of PokerNews.
– Hey Justin. We remember you very well from playing poker, but you haven't played cards for many years. Tell me what are you doing now?
– I finally said goodbye to poker about six years ago. Then I did nothing for a whole year, I had some small projects in Hollywood, but nothing serious. I started producing 12 years ago, and for some time I combined this activity with a poker career. I can't believe that so many years have passed. At 21, I was faced with the choice of where to live – in Vegas or Los Angeles. I chose LA in the end, and in closed games, I met people from the film industry who inspired me to change my field of activity.
I started as a producer, but in recent years I have become more interested in working on scripts for films and TV shows. My path in this area was not smooth. As with any job, it took some time to gain experience and get results. Each new film seems to start from scratch, no matter what success you had before. It's the same in poker – no one cares how much you won yesterday, only your result in the current session matters.
– A couple of months ago, I accidentally saw your post on Twitter, and I was wondering what you are doing now. I heard that you are somehow connected with the cinema, but I was not aware of the details. Coincidentally, as soon as I contacted you, literally the next day you posted a photo with Doyle and Ted Field. It's no longer a secret that you're working on a Doyle Brunson movie. Tell me about it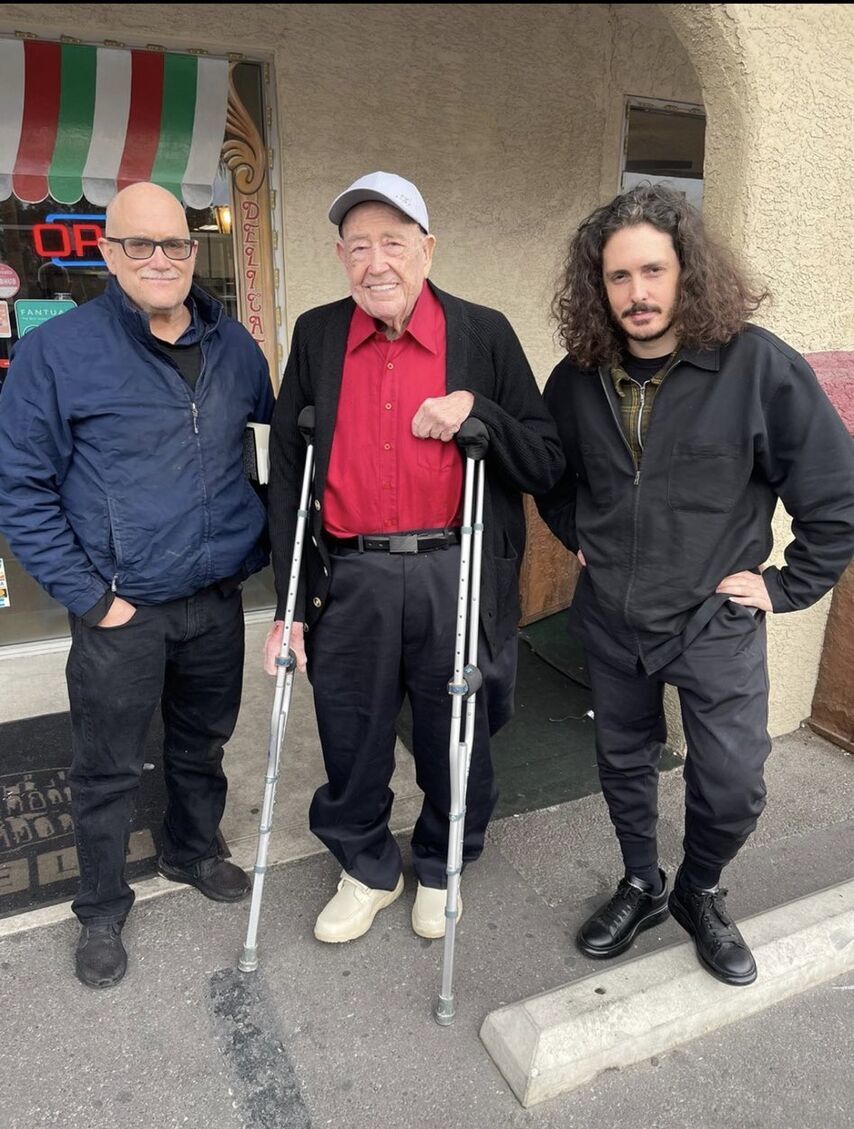 Honestly, it never even crossed my mind that a film about Doyle could be made. I have a huge file with ideas for various films, including those on the topic of gambling. I really wanted to make a movie about Ivey and even met him a few times, but so far nothing has come of it. But Doyle wasn't on my list at all. Probably, it seemed to me that someone would have already made such a film, if it were real.
But one day I ran into Jack Binion – Doyle's best friend – and the talk turned into a possible film. We were introduced by a mutual friend, Mike Svobodny. This is another legendary figure in the world of gambling, but now almost no one remembers him. Mike read my past scripts and suggested that I be the screenwriter for the film.
After that, events began to develop rapidly. We arranged a meeting with Doyle and famous poker agent Brian Balsbow, and in just a couple of days I was already flying to Vegas with them. We had a great time, I was glad to see Brunson, we had not seen each other for several years. My partner Ted Field is a very experienced producer, I could not even dream of a better partner for such a project. We both understand that films that tell about the life of a real person must be approached very delicately. This was the main topic of our meeting.
There will be a completely new script, not an adaptation of Doyle's autobiography. I have read all of Doyle's books, but after a short conversation with him, I was struck by how little we know about his life. I don't want to go into details, but I think Doyle liked our ideas, and the movie should be very interesting. Hollywood loves gambling and poker.
– At the same time, there are almost no good films about this, most often some kind of nonsense turns out. And here we can hope for a quality product because you yourself are perfectly familiar with the poker and casino industry. Moreover, you and Ted represent the company Radar Pictures, which released the films "Jumanji" and "The Last Samurai", the series "Wheel of Time" and much more. In theory, everything looks great, you seem to have everything to make a really great movie.
– Yes, I really hope so. And it was fundamentally important for us to get approval from Doyle himself. We would not have taken on the production at all if he didn't like something. There must be a complete understanding between the film crew and the main character. This is a very subtle point, I will not give specific examples, but in recent years there have been several biopics that ended in scandals. Luckily, Doyle has complete confidence in us.
I repeat that almost no one knows Doyle's life. The poker world is aware of individual stories from his life and career, which he himself told. But this is only a small part. Almost no one knows what Doyle is like in real life, outside of the poker table. We managed to work together for only a few days, and he opened up to me from a completely different side. A film like this is every screenwriter's dream. I have several projects in development right now, but Doyle is definitely the main one. I work on the script every day.
– We know what effect the Queen's Gambit series had on chess. In your opinion, is something similar possible in poker?
– Yes, I do, I can hint that something similar will soon be released on the screens. It has nothing to do with Doyle, a completely different story.
Brunson's biography is a win-win. We have to screw up a lot for the movie to be bad. But there are a lot of exciting stories and outstanding personalities in gambling. Namely, personalities, first of all, are interesting to the audience. Unfortunately, films like this are rarely released these days.
Thank you for agreeing to answer our questions. Is there anything else you would like to tell our readers?
– Watch the Law Enforcement series, which recently aired on Netflix. It's a mixture of anime and action, the poker community might like it. But I immediately warn you, the reaction of the audience is very ambiguous – either delight or disgust.