Rui Cao shared worldly wisdom:
– I do not trust people who actively gesticulate during a conversation.
– That is, all Italians? – clarified in the comments.
"But I don't trust people who will never overbet," Timofey Kuznetsov burst into the discussion.
– Haha why? Rui didn't understand.
– Well, how can you trust a person who does not trust himself?
Another big session took place at the Hustler casino, as a result of which Rampage won over $500,000, while Nik Airball lost almost $760,000.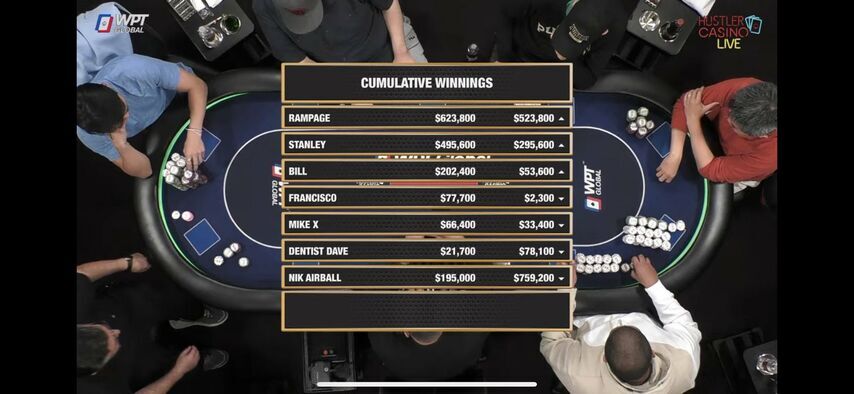 Nick spent the whole evening trying to bluff opponents in expensive pots, and on the river he preferred overbets. If he wanted to impress Trueteller, then the plan most likely failed – Timofey hardly watched the broadcast, and from the financial side, the idea also turned out to be a failure.
Rampage, for example, called him without a second thought with A-high.
Against Stanley Choi, Nick bet $160k into an $85k pot with 7-high.
"Just rewatched yesterday's stream," Airball wrote the next day. – Two things are clear:

1. I showed my A-game throughout the session.

2. It didn't work out terribly for me.
Venividi1993 announced the end of his GG marathon:
5th week:

Cash: -$7,736

Tournaments: -$24,264

Poker has never been so daunting. For the last two weeks, I have been humiliated without a chance.

In addition, GG blocked my account because I lost too much money. You don't come up with something like that on purpose.

I will switch to ACR, it will be great to play in the room without an exorbitant rake. Focus on the grind, new update in a week!
Friendship with Steve O'Dwyer does not pass without it's influences, so Dan Smith also began to carefully study the issues of the aura:
"A barber in Vietnam just cut a piece of hair off my chest without permission. Now I think how expensive it is to load tomorrow.

How to evaluate this incident…
"Further research showed that there was not even a hint of symmetry," Dan shared the new information. "It's definitely good luck, isn't it?" By the way, I was in a shirt, but a tuft of hair stuck out quite noticeably.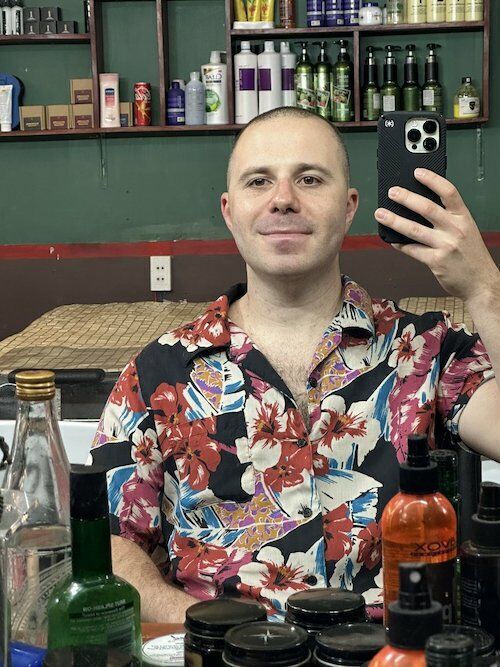 In another tweet, Dan admired Viacheslav Buldygin, although he got a little confused about Russian names:
– Vlad (vbv on stars) just accidentally slowrolled his opponent in a huge pot at the first level of the tournament. A real show followed. He broke into my list of the most fun offline players.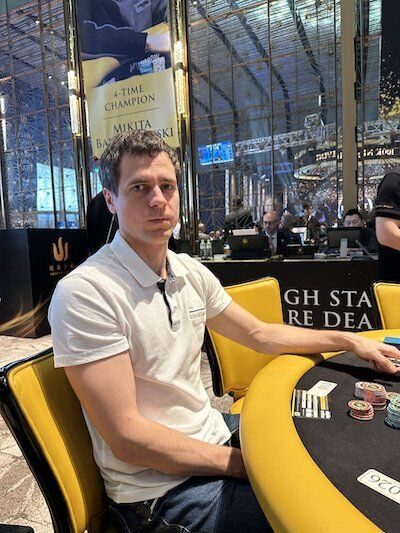 "The performance he put on in the $50k tournament deserves an Oscar," agreed Markus Leikkonen.
Andy "BowieEffect" Wilson was "happy" with his starting table in one of Sunday's high rollers: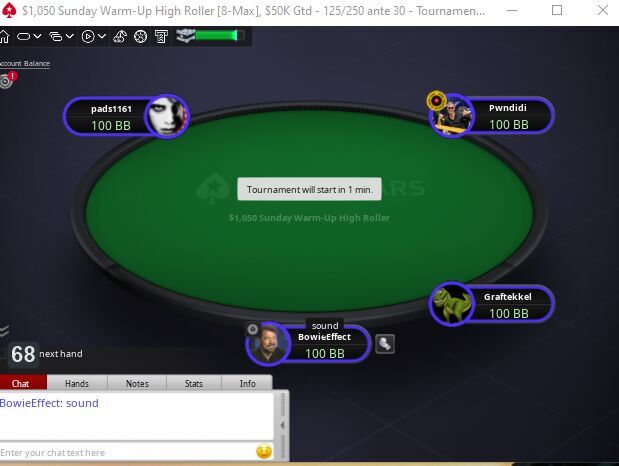 He accompanied the picture with the famous quote from Patrick Leonard:
– I never miss a Sunday.
"If you don't see a fish at the table…" replied Graftekkel with another famous quote.
At the Triton series, Linus Loeliger hit the money three times and did not win anything significant, but once again demonstrated the highest level of play.
You-mad-br0 dedicated a whole thread to his friend:
– It seems that now is the right time to admire LL.

He plays 6-max and HU NLHE, 6-max and HU PLO, online and live tournaments, just taunted Patrik Antonius on the bubble and made him fold a K-high flush. And all this at the highest limits.

He plays online for months without fans at all. For example, on my chart, 80% of hands are against amateurs, and a random player from twitter will have even more of them. Playing regularly against other elite regulars is a completely different level.

At the same time, some semi-reg, who sells 90% at odds in a $50k tournament, thinks he can criticize Linus for "giving away" a stack at the final table.

It's no coincidence that some players sell so much, and people like me don't play these kind of tournaments at all. There is a real tough atomsphere, and real killers sit at every table.

In modern poker, where everyone pretends to be who knows what, you need to pay tribute to the guy who, in principle, is alien to self-promotion. He just rips up any game he gets into. And at the highest stakes and for many years 🚀
Daniel Cates offered his services in anti-tilt:
– Does anyone need to yell at anyone? For example, a person shoved you or owes you money. I'm angry right now, so I'll do it for free.
"I need it," Garrett Edelstein answered succinctly.
– Nobody forbids you to play with her, stream, or just speak out. You have a lot of options." Cates clearly thinks that Garrett can handle his problem without his help.
Mikhail Shalamov has a whole room in his sights:
– Poker King Asia confiscated about $1 million from me and my friends. We played an expensive short deck there, then we were accused of cheating. Naturally, there was nothing of the kind. To prove our honesty, we were even willing to make a 6-figure bet with Tom Dwan, who represented the room. At first, he agreed, but then he simply stopped responding.

Our case is not the only one. Personally, even if you want to, you can't blame me for anything, I played like complete shit 😁 It's just that the game was incredibly good. I lost a decent part of my bankroll because of this story, it's still a shame (it's been 3 or 4 years already). The worst part is that the cashouts were in bitcoins and I was just about to withdraw a large amount. BTC at that time was worth about $3k and I did not plan to sell it 😁
The PGT PLO Series has ended at PokerGO. During the week, the participants played 9 tournaments in various variations of pot-limit Omaha.
3 tournaments were won by Lautaro Guerra Cabrerizo, boyfriend of Samantha Abernathy. He has conquered $10,000 PLO, $15,000 with bounties, and $25,000 buy-in PLO tournaments. In total, Lautaro earned $960,000 from the series.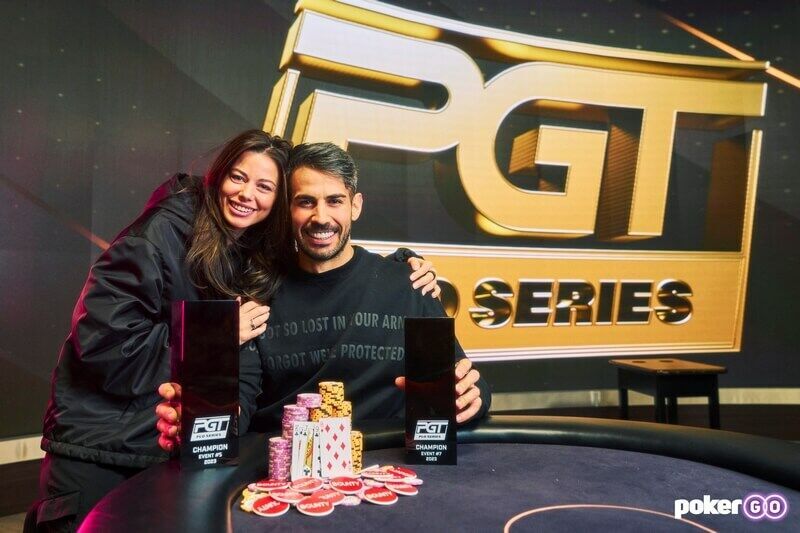 The infamous Balaji Srinivasan (former CTO of Coinbase, over 800,000 followers on Twitter) made a mysterious bet the other day that roiled the financial and poker worlds.
Hundreds of tweets have already been written on the topic of the bet, the bottom line is that Balaji bet $1 million against 1 BTC, that in 90 days the price of one bitcoin will reach $1 million:
– For the sake of a bet, I transfer $2 million to USDC. I'll bet half against Medlock ( Ed. – Jamie Medlock, the bet began with his playful tweet "I'm willing to bet $ 1 million against anyone that hyperinflation will not happen in the US" ), the second – against anyone else. And everyone else just needs to go and buy bitcoins, it will be more profitable than freezing such an amount for 90 days.
James Medlock confirmed that everything is really serious:
"I was bombarded with questions. Yes, everything seems to be going smoothly. The money has not yet been transferred to the escrow, but should be with him in the near future.
For the second million, a huge queue of people lined up. Of the poker players, Bill Perkins, Igor Kurganov, Liv Boeree, Patrick Leonard, and others showed interest. But it seems that they will not succeed in sharing this pie.
– I wonder how many bitcoins Balaji has? commentators argue. – If 1,000, then it is enough for Bitcoin to grow by ~4% to pay off this crazy bet. Brilliant.
Jennifer Harman recalled a funny incident from her youth:
– Once Daniel Negreanu and I went to the bank to withdraw money for the game. We were not yet 30. There I was taken to a small special room and asked if Daniel had kidnapped me. At that time, he weighed no more than 60 kg. I'm sure she could handle it easily, haha.
Allen Kessler successfully went to the casino :
– Won this ceramic egg cup. Now I have to carry it with me until April.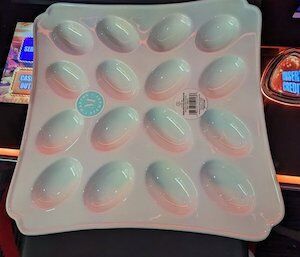 "It's better to give it to some old woman who plays slots, there are such in any casino," the commentators suggested.
"Allen is that old woman."
Daniel Negreanu reminded readers of the existence of Ali Imsirovic:
– Before I found out about his sins, Ali seemed to me a person who loves poker and became a part of our world for a long time. But recently I was told that he still continues to turn his dirty deeds. It looks like he's just not fixable.

All rooms, both online and offline, should ban him forever. There is not even a hint of remorse in it. On the contrary, he continues to brag about how he deceived his former friends.
Phil Galfond is concerned about not being invited to private games:
– In modern poker, a lot of money is won in private games. But getting into this closed world is a very difficult task. How do they even get in? I don't have an answer. Maybe you know?
"Just play poorly," Rob Yong advised.

Carl-Chappe Gatien took the matter more seriously:
"Twitter polls won't get you there. Billionaires play for fun, they are not interested in playing with professionals who play GTO. But some regulars are great at creating an image that attracts businessmen. By the way, I've always been a fan of your work.
Thanks, I agree with everything! Phil answered. But it was a joke question. For the last 15 years, I have been building the image of an experienced player and coach, I think this cannot be changed, no matter how hard I try 😊