In 1985, TJ Cloutier lost heads-up in the WSOP Main Event to Bill Smith. We recently recalled this episode and other stories from Cloutier's eventful life.
Today we will talk about his opponent, the 1985 world champion.
Bill was born in 1934 in Texas and was a typical representative of the old-school players of that time. Like Cloutier, he started his poker career after serving in the military. Smith even took part in the Korean War, after which he returned to Texas, where he often crossed paths with Doyle Brunson, Brian "Sailor" Roberts, and the same Cloutier at the tables. They have a lot in common with the latter. For example, Smith's wife introduced TJ to one of her girlfriends, they eventually got married and still live together. Cloutier admits that Bill was one of his closest friends, and he was happy to beat him when he got drunk. TJ had such a plan in 1985 as well. In almost all materials about Smith, Cloutier's famous quote is cited, which we also recalled:
– He was the tightest opponent in my entire career, but he played excellently when slightly tipsy – no one read opponents like him in this condition. But when he crossed the line and got too drunk, he again began to play disgustingly and immediately became the worst player in history.
The 1985 Main Event is generally considered a "turning point". It was the last "classic" tournament where real gamblers who began their careers traveling around Texas in search of game and fish came together in heads-up. In the following years, they were replaced by cocky youth from different parts of America – Phil Hellmuth, Johnny Chen, Huck Seed, and others.
Smith has only three cashes in the World Series, and all three have been Main Event final tables. In addition to the championship in 1985, he busted out twice in 5th place – in 1981 and 1986.
For all his accomplishments, Bill is one of the most obscure WSOP champions. He is the only Main Event winner from the 80s who has not yet been inducted into the Hall of Fame. Everyone else – Johnny Chen, Phil Hellmuth, Stu Ungar, Berry Johnston, Tom McAvoy, Jack Strauss, and even Jack Keller, little known to the general public – have become prominent characters in the poker world and received this honor.
A couple of years ago, Todd Brunson was asked on Twitter, "Which player do you think deserves the Hall of Fame but never gets there?"
"Bill Smith," Brunson Jr. immediately answered.
And Eric Seidel wrote many years ago that Hall of Fame elections should never be made public, because in this case, little-known players like Smith and Roberts would never be selected.
The legend about Bill's victory in the main tournament also has some lesser-known details. In 1985, a Texas player named Dale Suttle won a satellite to the main event. Like most of the regulars of that time, Dale specialized in cash games and had serious doubts about his tournament abilities. But his good friend Bill Smith was already considered an experienced tournament fighter. Dale found a friend in a small Dallas poker club at one of the cheapest tables. Smith didn't even have the money to buy in, and they agreed that he would play the main on Suttle's ticket, and they would split the profit in half. Until the final table, Smith played sober. Suttle, who knew Smith's features very well, decided that this might not be enough to win. He himself took a friend to the Horseshoe casino bar, bought 10 glasses of cognac, and told him to drink one at a time, carefully monitoring his condition.
Smith has always shunned the attention of the press, even now it is very difficult to find the details of his biography and photos.
After winning the Main Event, the journalists asked him to share something about himself.
"There's not much to say," Smith replied. I only drink and play poker.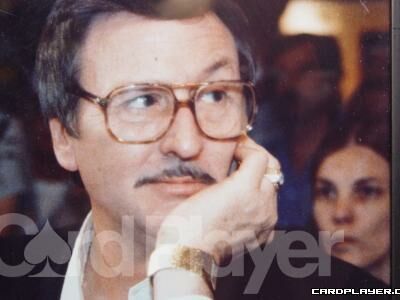 "I never saw Bill at the table without a bottle of Budweiser in my life," Barbara Enright once wrote. "But he was a great player.
Mike Sexton also confirmed in an interview that Bill had two invariable attributes at the table – a bottle of beer and an elegant suit. At the same time, according to Mike, he always remained very friendly, and the degree of intoxication did not affect his behavior in any way. Another feature of Bill is that he never complained about bad beats.
After his most significant victory, Bill flew home to Dallas in a private jet. "Any poker player should experience this at least once," he explained to his friends. "Winning the Main Event and flying home in a private jet."
In the cash game, no one monitored Bill's degree of intoxication, so the money did not stay with him. In May 1985, he became the world champion, but by the next year, he had difficulty finding money for a buy-in. By May 1986, he only had $6,000 in his pockets. He was looking for backers right in the Horseshoe poker room. Those willing to invest were found, and Bill reached the final table for the second year in a row – for 5th place he received $51,000.
Another story about Smith is that he and his friends organized an illegal game at one of their homes. One morning, all the players were arrested by the police, but released after a couple of hours. The players immediately returned to the same place and continued to play, but the police once again took everyone to the station. This was repeated three times.
After the final table in 1986, Smith's record does not include a single cash in tournaments over $1,000. At the end of his life, he could only afford $20 tournaments and $4/$8 limit hold'em tables at the Gold Coast casino. Friends wanted to help him – Bill got a job as a manager in one of the small poker rooms in Las Vegas. But he did not stay there, regular work does not go well with alcoholism. In 1996, at the age of 61, Bill Smith died in a Las Vegas hospital with his wife and children by his side.
It's a long tradition at the World Series that the vaults of the poker room are decorated with portraits of all the past champions. Bill Smith and then became a white crow, right behind Jack Keller, who won in 1984, for a long time hung the champion of 1986 – Berry Johnston. Some sources say that the Smith family for many years said no to Caesars Entertainment and did not give permission to use his image. They explained this by the fact that even after death they want to stay away from extraneous attention. According to other information, casino representatives simply did not try hard, and when several attempts to contact relatives were unsuccessful, they shelved this idea.
Only in the fall of 2021, at the last World Series, did Bill's banner take its rightful place in the Amazon Hall of the Rio Casino.