The Wynn Casino in Las Vegas hosted the final table of the World Poker Tour Prime Championship, a $1,100 tournament that drew 5,430 entries. We announced the winner of this tournament a few days ago, as the restless Gia Skhulukhia from Kazan made it to the final stage.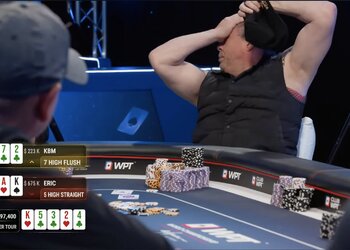 Unfortunately, on the final day, the Russian player failed to prove himself in full, he was eliminated in the 14th hand. "I played badly – I was punished," Gia stated. He limped on the button with and called a raise from 2021 Women's World Champion Lara Eisenberg. The board ran out – Skhulukhia called all streets and was met by pocket aces. On the river, our merry fellow and joker paid with obvious reluctance, and the commentators even suspected for a second that he might fold, but it was simply unrealistic to fold with a backdoored flush.
For his efforts, Gia received $153,000 – by the way, he asked the organizers to pay him out then and there, but was refused; they say, the tournament is not over yet, so wait.
At the request of GipsyTeam, the Russian finalist spoke briefly about his impressions:
The line up was good. Basically, everything worked out fine. That's why I decided to play against postflop and was punished. And so, in principle, I''m satisfied with the result. Especially after this tournament, we got into a team tournament with Nikita "Kalina7" Kalinin – he did most of the work, I played a few hands in total – and he carried me. We just woke up, until 8 in the morning he played, and I sat and got sick. But they gave two trophies each – both WPT and Wynn – nice!
There were some interesting characters on the final table, and the game was more than playful. The only thing that was boring was the fifth-place elimination of Albert Nguyen. By the way, at one time, before the WSOP main event, connoisseurs seriously suggested that amateurs a bet – you choose any player, and they bet that at least one person with the surname Nguyen will be ahead of him.
The remaining four players climbed higher up the ladder of madness. Canadian Alon Messika, who knocked out Nguyen, clashed in the blinds with 27-year-old WSOP bracelet winner Stephen Song. Until the river, however, it seemed that the term "clashed" here was absolutely redundant. After limping preflop, opponents both checked down the board . On the river, Song also checked, and Messika bet, to which Song check-raised. The Canadian thought a little and, under the ahs and oohs of the audience, called with – this hand turned out to be the winner, Song demonstrated .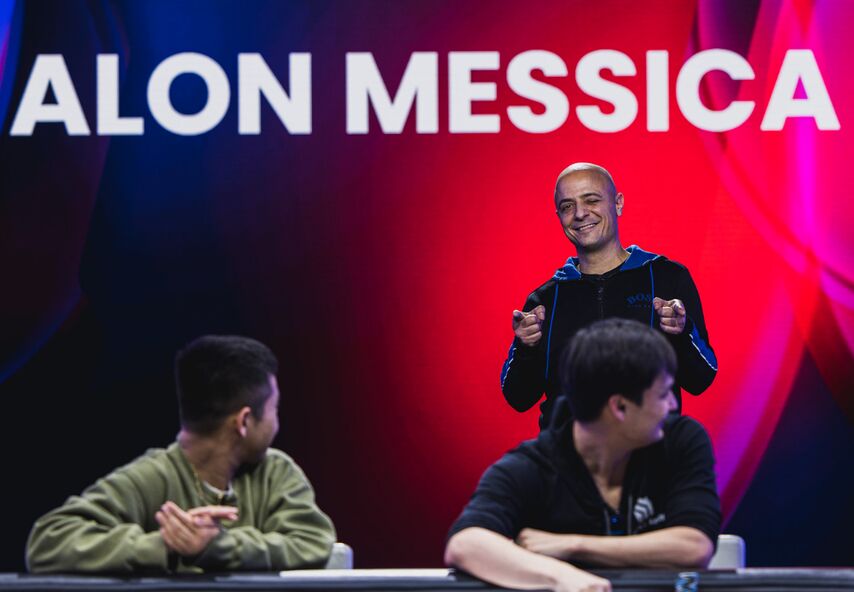 Alon Messika
Unfortunately, this success was the last for Messika. He went from chip leader to fourth-place elimination with the ease and grace of a creative player. First, an all-in bluff against Ian Hume from Los Angeles – he did not fold. Messika then made top pair on the river and lost a big pot to Eisenberg, who made two pair on the same card, and finally the exit hand. As expected, it came after another hero call.
Messika limp-called preflop with and played check-call to the end on the board . On the last card, he had to call Ian Hume's bet for all his chips. It is not known whether the fact that shortly before that he had already caught a bluff with only Q-high influenced the decision of the Canadian, but he did not fold here either. Hume had , and Alon Messika went to claim his $265,000 prize.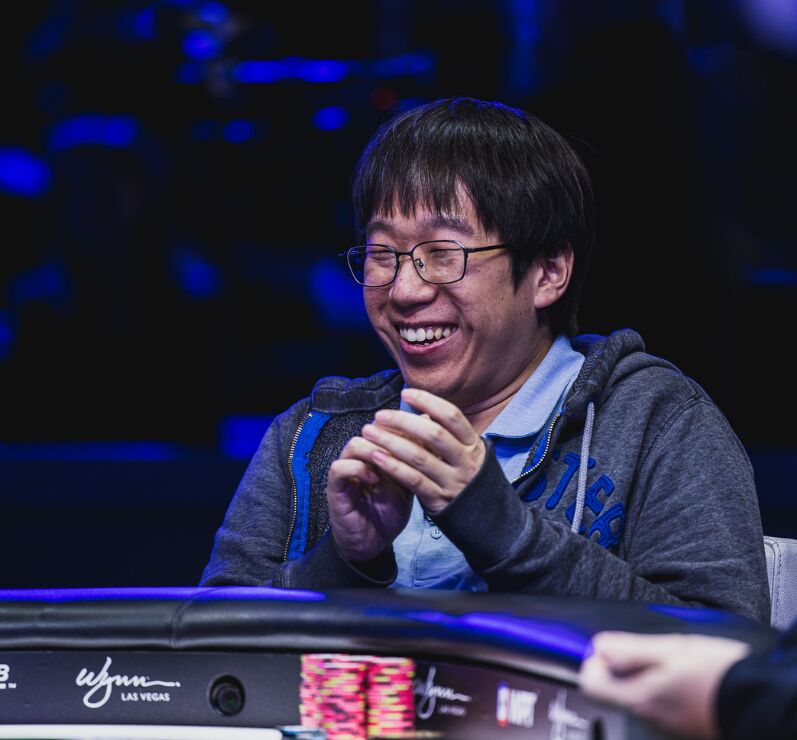 Ian Hume
The 3 handed in this tournament consisted entirely of recognized aurists – that is, people who often run deep in live tournaments. It's no wonder, then, that when it came time for all-ins, they were consistently won by the shorter stack. It is at this stage that the true kings of MTT use their main gaming advantages to the fullest. But someone had to leave – the game can't last forever – and Hume ($354,000) turned out to be the weakest link. He lost a coin flip against Eisenberg with AQ against JJ. Not a bad end to the year for the player from Los Angeles, considering that during the summer at the World Series he first practiced in a regular freezeout for $1,000 – second place and $203,949, and then simply won the Mini Main Event (5,832 participants), earning $594,189. Recall that in this tournament there were almost 500 less participants,
Lara Eisenberg went into heads-up with almost a three-fold lead (119.6M vs. 43.8M in the 1-2M blinds), but she was not destined to win that evening. Stephen Song leveled the stacks first, then stepped forward a little, and then landed the last big punch. Eisenberg limped with and value bet on the flop of . Song called with . She was probably rather happy, but on the turn came a treacherous . Here nothing could help the radiologist from Maryland. Inevitable all in, 4 outs not hit and second place ($481,500). This, of course, is the biggest prize in Lara's life – for the first place in the women's tournament at the WSOP 2021, she was given the bracelet she dreamed of, but not as much money was won – 'only' $115,694, because there were only 644 players.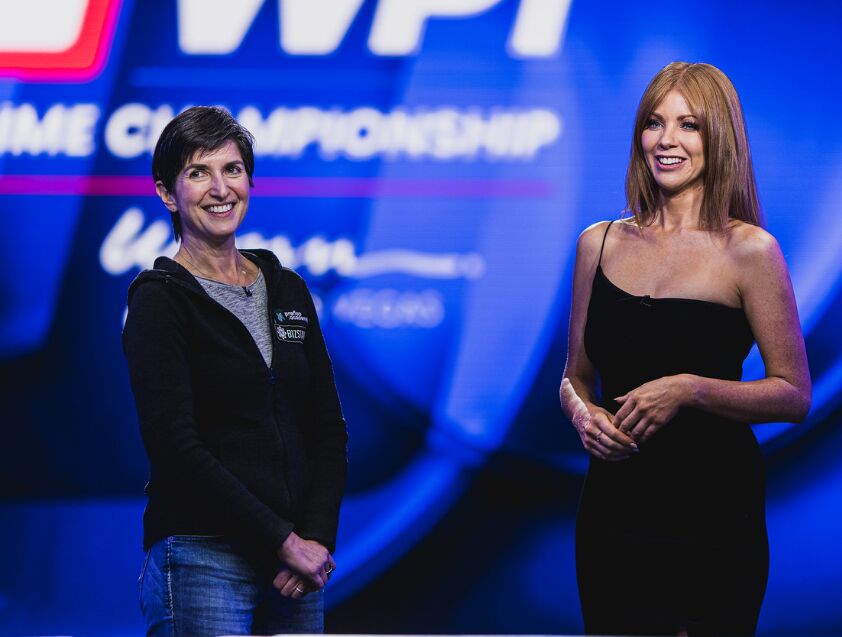 Lara Eisenberg and Lynn Gilmartin
We have written before about the diversified American doctor – her main hobby before poker was skydiving, in which she even became an accomplice to one of the world records. Now we can only add that Eisenberg is not completely alien to Russian-speaking poker – her wife (interestingly, according to the new discriminatory laws of the Russian Federation, can one even mention that a woman has a wife?) comes from Kyiv.
Winner Stephen Song did not try to hide his happy shock after another victory. "Honestly, it's just incredible. I have had a year of dreams, and at the very end such a cherry on the cake. Words cannot describe what I feel. It's like I've been blessed. You understand how hard it must be to beat 5,400 people. I don't know if I will ever repeat such a result, but the feeling is just amazing."
This year, Song has cashed 51 times, made 16 final tables (including major online tournaments) and has won first place twice. $712,650 is his biggest career cash, but the previous best result was also this year – in the $5,000 6-max tournament at the WSOP, Song finished second. He won his bracelet three years ago in a $1,000 tournament, but the payout was noticeably lower there.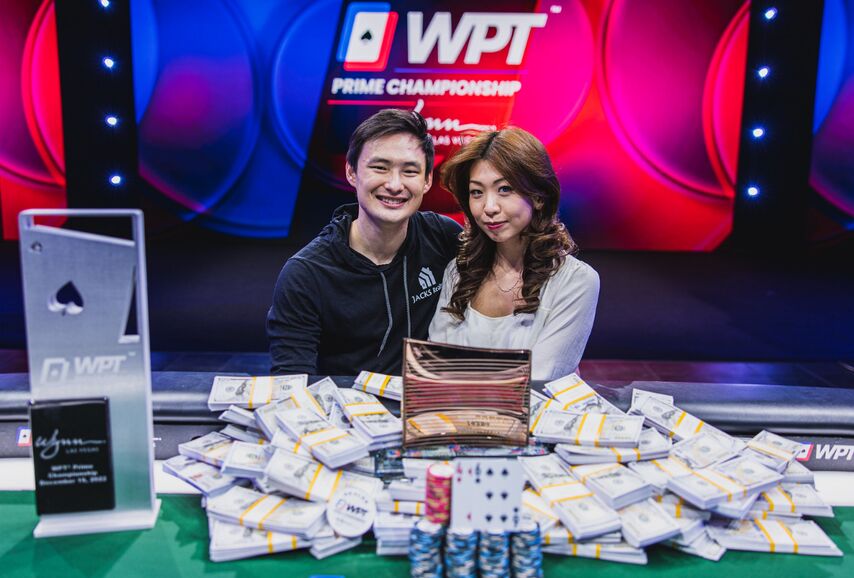 Stephen Song
In one of the ratings "Player of the Year" (magazine CardPlayer), Song came in second place, second only to Stephen Chidwick.
This tournament, like its synopsis, is just an aperitif before the main course, the WPT World Championship with over $4 million for first prize. This tournament has also been covered by GipsyTeam.