Patrick Leonard continues to analyze interesting hands. We have already translated his analysis of a difficult ICM spot featuring WSOP Online champion Bert Stevens.
This time, Pads posted a detailed analysis of the hand played a couple of weeks ago at the final table of the Super Million$ tournament.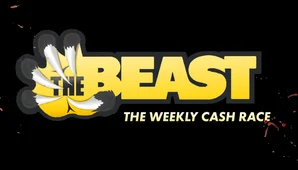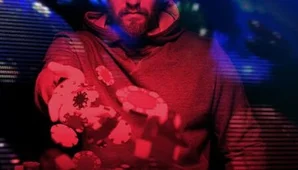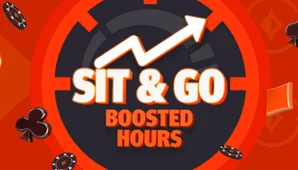 "WTF ICM spot on the final table of a $10,000 tournament," Patrick posted a screenshot of the hand. – We opened with queens, the second stack is trying to put pressure on us, and the chip leader is putting pressure on him! Our move, what do we do?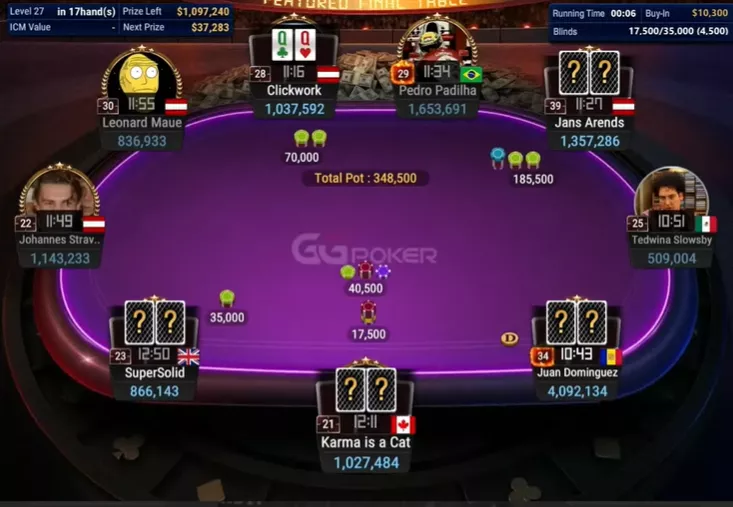 Prize money: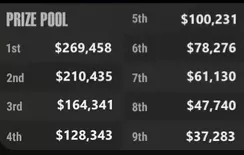 Most of those in the discussion were in favor of all-in. Among the supporters of a fold was Jans Arends, a direct player in the hand. True, there are notes of sarcasm in his words:
– Against such nits – just fold.
Shaun Deeb responded with his characteristic categoricalness:
– Against these opponents – the easiest push. I'll go all-in even with AQs and .
"And you will be burning money on ICM," they tried to object to him in the comments.
"ICM doesn't matter when everyone has big stacks," Shaun stood his ground. – And Jans and Juan will clearly 3-bet and 4-bet wider than the solver advises. There is enough fold equity, you can pick up a bunch of chips preflop and get a comfortable second stack. The chip leader sits far away from us, so he won't be able to constantly bully us.
– If you fold queens in such a situation, why register in the tournament at all? – Jerod Smith didn't understand.
After reading the readers' opinions, Pads recorded a video analysis:
Broke down this very delicate spot. Lot of crucial tournament stuff going on here:

1- Why playing the mamacitas correctly is crucial in tournament poker

2- Maybe a big "a-ha moment" for some that fall in love with Ax when we break down Malaka strategy with the solver

3- A "timing" tell that can change everything (watch till end)

4- With QQ we should ....
Broke down this very delicate spot. Lot of crucial tournament stuff going on here:

1- Why playing the mamacitas correctly is crucial in tournament poker

2- Maybe a big "a-ha moment" for some that fall in love with Ax when we break down Malaka strategy with the solver

3- A… https://t.co/InTJVYq5z7 pic.twitter.com/7jskOq2xpJ

— Patrick Leonard 🫡 (@padspoker) October 12, 2023
– Hi all. Today is a beautiful day, but not such a beautiful ICM spot. Last week I was already sent a hand with queens, that was a $10k WCOOP final table, and this was also a key hand of the tournament. How we play queens determines our EV for almost the entire tournament. For example, we easily fold jacks in difficult hands; we always play kings. Everything is simple with aces, is also a good hand for pushing, because we have blockers against the calling range, and there is even some equity against kings. And queens are very bad against aces and kings. This is generally a difficult hand to play; very often players do not know what to do – push, call, or simply throw away. In my opinion, how we play the queens at the final tables will have a significant impact on our ROI.
To decide how to play queens correctly, we first need to understand how our opponents play their hands.
The hero of the hand is Clickwork. By the way, why is he still not playing under his own name? I know him from PokerStars, very strong reg high stakes. I won't reveal his name here, but it seems to me that at such finals everyone should have real names. Exceptions are possible for amateurs, but definitely not for regs.
First, let's look at Jans' range to help us understand why queens are a great hand in this situation.
We open with queens, we have two more stacks behind us.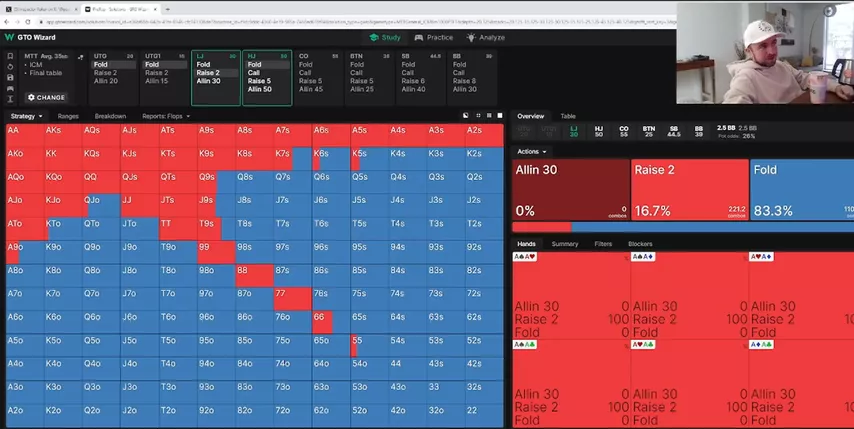 HJ 3-bet range: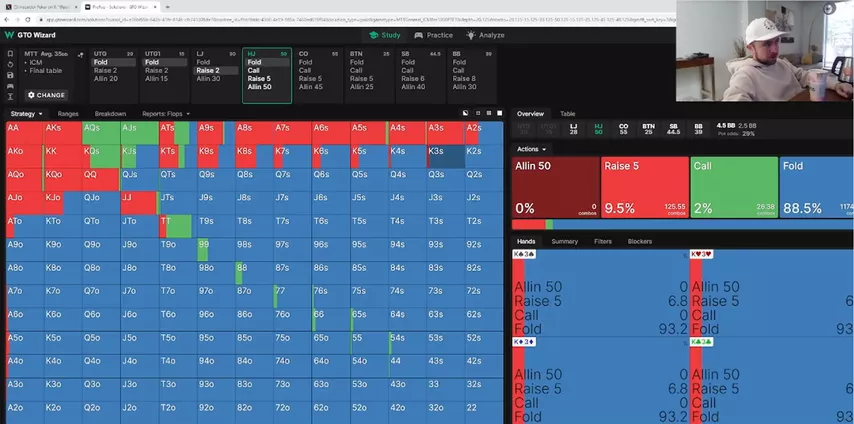 It can be seen that all his 3-bets are Kx and Ax, in his range there are only two hands with queens – KQo and AQo, with which he 3-bet as a bluff. QJs, and QTs are all 100% fold.
Let's look at the CO range – almost the same. He has suited aces and kings, and with AQo we even start calling sometimes.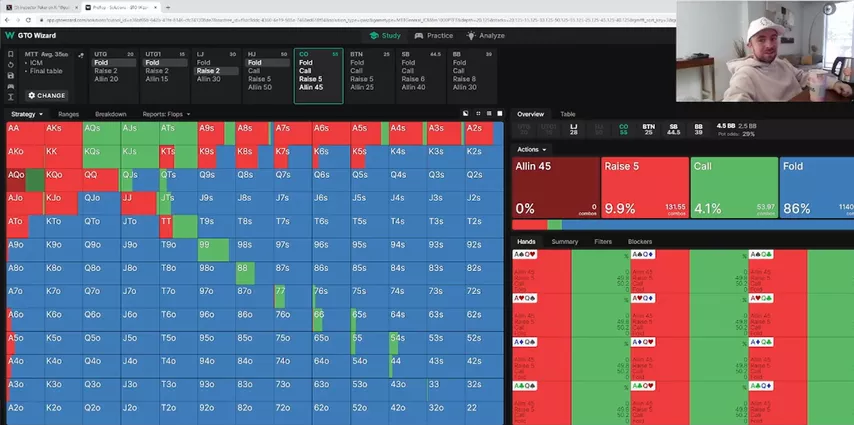 I had to calculate the Malaka's range on the button separately because it is a unique spot.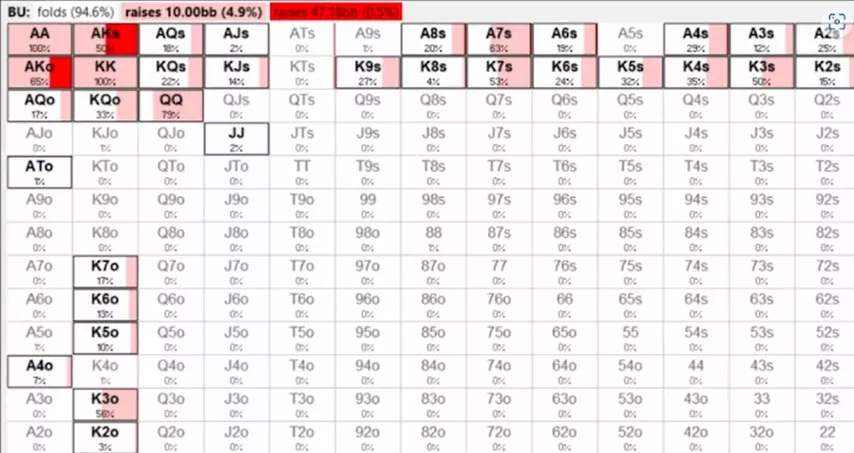 This is how he should play according to the computer. We see that the trend has continued – he has enough Kx and Ax, but no longer has Qx at all, and even AQo he most often has to fold. It is also interesting that he has more kings than aces. It is better to 4-bet, for example, with K5s, rather than with A5s, even with KQo we raise more often than with AQo. This is a very important point. Why are offsuit aces almost completely absent, but there are kings? The point is that we don't want to block Arends' bluff 3-bet bets, which have a lot of aces.
In Malaka's place, even the ladies sometimes need to be thrown out. After a 4-bet, your opponent has only two options behind him – fold or push. He definitely won't go all-in with jacks, so queens are not an ideal hand for a 4-bet.
So what should we do with the ladies? Opponents have a lot of bluffs, and there are no Qx in them at all. Our stack is 1 million, and there are already almost 700,000 in chips in the center of the table. All these factors are an argument that in this situation ladies are almost always a push.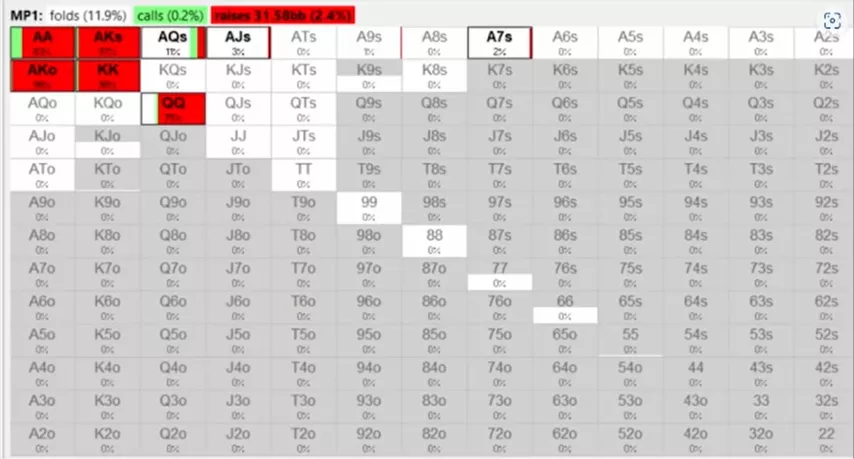 Another argument in favor of this is that "graftekkel" can throw away part of his value range to our push, for example, AKo, and this is his main value hand. Now I will show you something completely amazing.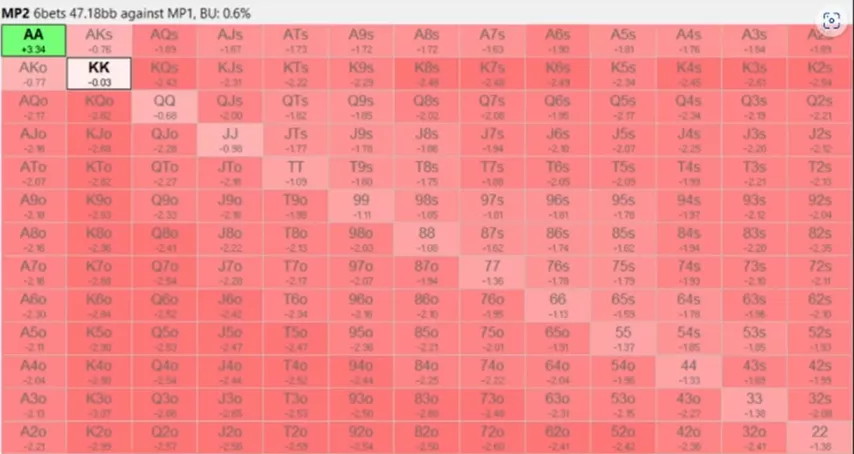 Solver says that he must fold even kings. It is clear that in reality, this is very unlikely, so pushing with ladies becomes not so joyful. And if "graftekkel" also calls with AKs, then we and . In general, we begin to hate life.
In reality, Clickwork pushed.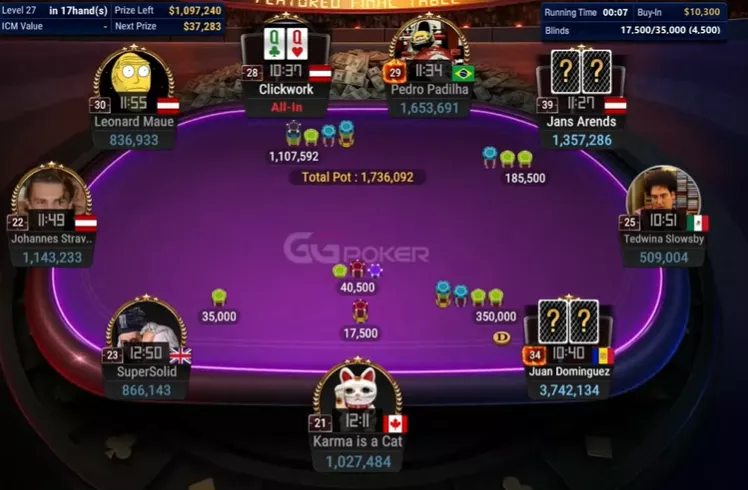 If they all fold, he would have 1.7 million – he would come out in second place, which is very important in such finals. However, Arends called with kings, eliminated his opponent, and received a stack of 3 million.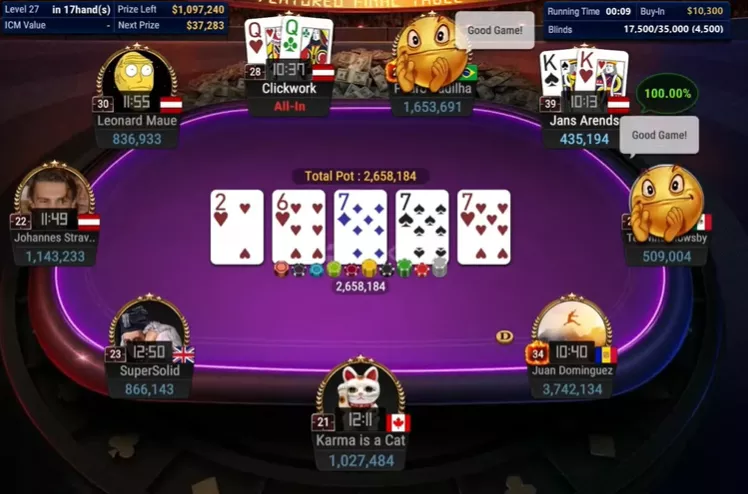 But there is another very interesting point. Tedwina Slowsby (ed. – Russian regular Egor Dombrovsky plays under this nickname) after the hand showed that he threw away AQs.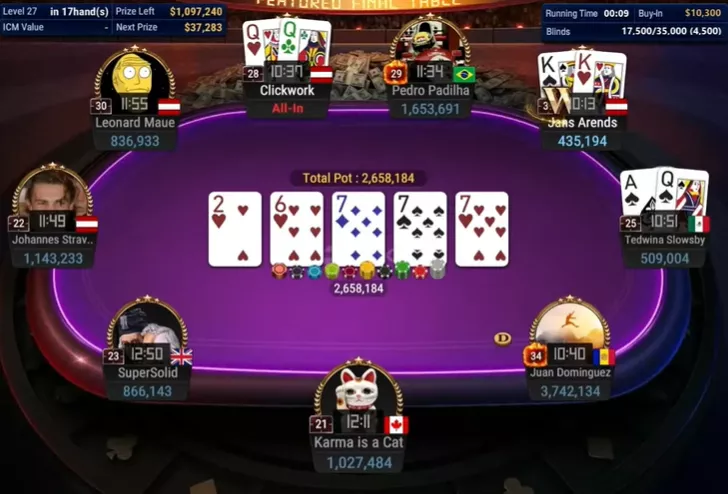 After 3-betting, he should easily fold the vast majority of hands, but if we watch the replay, we can see how long he thought. With what hands could he tank so much? Kings or he will never throw it away, most likely he has or . That is, one queen may already be in the fold. It also reduces the likelihood that opponents may have . And without jacks, Jans' 3-betting range becomes much narrower. This timing of tells is one of the main factors in favor of a possible fold with queens. All this is very interesting.
"By the way, the ranges will change significantly if we include in Juan's game model the ability to play cold calls," Jans Arends wrote in the comments to the video. – In this case, Clickwork can push / and some AXs, then with we're just printing money.