This BetOnline review will focus on:
The traffic and range of cash games and tournaments present
The array of promotions that players can opt-in to
The stand-out features of the poker room
The payment methods accepted by the platform
The steps required to access the lobby
Is there a diverse range of cash games available on BetOnline?
While BetOnline offers a range of poker variants, the majority of the cash game traffic revolves around No Limit Hold'em. This is evident from the table below:
| | | | |
| --- | --- | --- | --- |
| Game | Minimum Big Blind | Maximum Big Blind | Traffic (% of all cash games) |
| No Limit Hold'em | $0.10 | $10 | 76% |
| Short Deck (6+) | $0.05 | $2 | 0% |
| Pot Limit Omaha | $0.10 | $10 | 18% |
| Pot Limit Omaha Hi/Lo | $0.10 | $10 | 6% |
| Limit Omaha Hi/Lo | $0.20 | $16 | 0% |
This table highlights a massive discrepancy between the interest in No Limit Hold'em and the other variants of poker with the former generating fifty-eight percent more traffic than the next most popular variant, Pot Limit Omaha. The bulk of the Hold'em traffic resides at the micro and low-stakes games with some prevalence in the mid-stakes. On the contrary, the majority of the traffic for Pot Limit Omaha can be found at either $0.05/$0.10 or $5/$10, completely opposite ends of the spectrum in terms of stakes.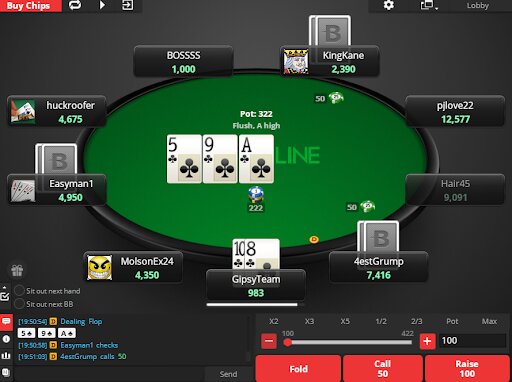 Along with regular tables, BetOnline also offers Boost which is their take on the popular format that allows players to be automatically seated at another table once they have folded. However, as is the case with the regular tables, No Limit Hold'em reigns supreme with one hundred percent of the traffic, the bulk of which is centred around $0.05/$0.10. Unfortunately, there seems to be no interest in Boost for Pot Limit Omaha.
What's more, a quick dive into the cash game filter demonstrates that BetOnline has designated tables that allow for straddles, antes, and players to run it twice once they face an all-in situation. This feature is included to enable players to reduce their variance.
What are the most noteworthy tournaments on BetOnline?
BetOnline hosts a variety of real money tournaments suited to players that prefer low to mid stakes. However, the vast majority of tournaments on this platform are for No Limit Hold'em players. These include:
Sunday majors such as the $109 Main Event with a $150,000 guaranteed prize pool
Seasonal specials such as the $109 Halloween Main Event with a $250,000 guaranteed prize pool
And regular tournaments such as the:
Daily $55 with a $25,000 guaranteed prize pool
Daily $109 6-max progressive knock-out (PKO) with a $10,000 guaranteed prize pool
Daily $55 PKO with a $7,500 guaranteed prize pool
Daily $22 with a $7,000 guaranteed prize pool
Daily $16.50 PKO with a $5,000 guaranteed prize pool

If some of the more expensive tournaments are above your bankroll, BetOnline does offer players the opportunity to satellite into these tournaments at a fraction of the cost. For example, every Sunday they host a satellite to their $109 Main Event which guarantees fifty seats to that event for the price of $15. However, as is the case with many satellites, the blind levels increase very frequently in comparison to regular structured tournaments. Therefore, if you want to win a seat you should expect to face all-in situations very often.
With regard to Pot Limit Omaha, there don't appear to be any Sunday majors. In addition to this, there is only a very small offering of daily tournaments with buy-ins ranging from $1.10 to $22, and prize pools ranging from $100 to $1,500 guaranteed. Therefore, if Pot Limit Omaha is the variant of poker that you are most enthusiastic about, BetOnline probably isn't the poker room for you.
Does BetOnline offer any welcome bonuses to new players?
BetOnline doesn't have a traditional rakeback system in place for poker players that involves being awarded a rakeback percentage for making a specified rake contribution. However, there are several promotions available on this network. For example, a 100% welcome bonus exists for poker players making their initial deposit between $50 and $1,000 when they use the promo code NEWBOL. In this instance, BetOnline awards poker players $5 each time they accumulate $50 worth of rake contributions. Therefore, if a user deposited $50, they would be required to contribute $500 in rake before they would be awarded the entirety of their cashback as part of this promotion. A similar welcome bonus exists for users that make their initial deposit using cryptocurrency with the promo code CRYPTOTO100.

In addition to this, BetOnline has several welcome bonuses for users that also like to dabble in online casino games and sportsbooks. For example, by using the promo code BOLCASINO, BetOnline will match the first three deposits between $25 and $1,000. However, users must play through thirty times the amount of their deposit to withdraw this bonus.
What promotions are available on BetOnline?
Poker players that are more familiar with cardroom promotions at a casino may be happy to discover that BetOnline offers bad beat jackpots on designated tables. These tables can be found in the lobby with 'JACKPOT' written in capital letters underneath the 'TYPE' heading. To qualify for the bad beat jackpot, a user must lose with quad twos or greater with the losing hand receiving twenty percent of the jackpot and the winning hand receiving fifteen percent of the jackpot. However, users don't need to be directly involved in the hand to qualify for a payout. Anyone else sitting at the table where the bad beat occurred shares twelve and a half percent of the jackpot between them, while all players sitting at a jackpot-designated table all share twelve and a half percent. To ensure there is money available for the next bad beat promotion, thirty-five percent of the jackpot is reseeded to the next one. The remaining five percent of the jackpot is paid to BetOnline as a fee for running the promotion.
At the time of writing this review, the jackpot stands at $118,885 which would result in the following prize breakdown:
$23,777 would be awarded to the player with the losing hand
$17,832.75 would be awarded to the player with the winning hand
$14,860.62 would be shared amongst the other players where the bad beat occurred
$14,860.62 would be shared amongst the other players at designated jackpot tables
$41,609.75 would be reseeded to the following bad beat promotion
$5,994.25 would be kept by BetOnline as a fee
Alternatively, if the jackpot is claimed at one of the qualifying boost tables, the percentages of the prize breakdown are very different. For instance, the player with the losing hand would receive forty percent of the jackpot, while the player with the winning hand receives twenty percent. Moreover, the players that were sitting at the table where the bad beat occurred would share fifteen percent, with ten percent of the jackpot being shared between the remaining players at qualifying boost tables. The remaining fifteen percent of the jackpot is reseeded to the next promotion, without BetOnline taking a cut.

If that wasn't enough, BetOnline is offering a range of leaderboard promotions to players that contribute the most rake throughout a variety of poker variants:
$250 daily leaderboard for the top twenty players at NL25 boost
$10,000 weekly leaderboard for the top one hundred No Limit Hold'em players
$5,000 weekly leaderboard for the top seventy-five Pot Limit Omaha players
$2,500 weekly leaderboard for the top fifty sit-and-go players (excluding heads-up SNGs)
$3,000 weekly leaderboard for the top fifty players that enjoy blackjack casino games
Does BetOnline possess any stand-out features?
A critical feature of BetOnline is that they can offer regulated real money poker as a result of their Panama Licence. In addition to this, the random number generator (RNG) they use has been tested and approved by iTech Labs. This should reassure any potential users that BetOnline is a trustworthy platform if they wish to play poker and casino games online. In addition to this, BetOnline is frequently rolling out updates to their poker software which are announced on their website detailing any improvements and additions that have been made. For example, on 14th June 2022, BetOnline released version forty-one of their software which allowed users to edit their avatar in the app using their mobile device. What's more, this new release enables poker players that win a tournament to share their victory with their friends by downloading an image of the result.

A useful feature that is likely unique to this platform is the poker odds calculator that has been created to be used exclusively on BetOnline poker tables which is available to all customers for free. This tool allows users to view their pot odds, and their outs to improve their hand, as well as an automatic labelling feature for their opponents based on the information that has been collected. Like many desktop clients, BetOnline affords players several ways to customise their experience. This includes:
Twenty-six avatars to choose from along with the ability to select your own by uploading an image
A two or four colour deck with seven designs for the front of the cards and the choice of either red, green, black, or grey for the rear
Whether animations such as cards being dealt or the movement of chips are displayed, as well as the speeds of those animations
The ability to customise the bet slider to predetermined values independently for cash games and tournaments
Implementing hotkeys for specific actions to allow for quicker decisions
For the more studious poker player, BetOnline allows hand histories to be saved for the number of days that they decide and upload to the hand replayer tool. However, if you require detailed information on your opponents, this poker room supports the use of the heads-up display (HUD) known as Hand2Note.
Which payment methods does BetOnline accept?
BetOnline allows customers to make real money deposits and withdrawals using a variety of payment methods. This includes but may not be limited to:
Major credit and debit cards such as MasterCard, VISA, and American Express
Cryptocurrencies such as Bitcoin, Ethereum, and Litecoin
ecoPayz
Neteller
Skrill
However, it is important to bear in mind that BetOnline charges customers a 9.75% fee for using their credit or debit card to make a deposit. Therefore, customers are incentivised to make deposits using cryptocurrencies or E-wallets which they might not be comfortable doing. This can create an extra barrier of entry with potential customers being required to create an account on an exchange to purchase cryptocurrency. Some customers may see this as an unnecessary hurdle and take their business elsewhere. 
How can new customers access the BetOnline platform?
BetOnline can be accessed by both Windows and Mac users either by downloading the client from the website here or playing in your selected internet browser. Alternatively, if you prefer to play poker while you're on the move, the BetOnline mobile app can be downloaded by iOS and Android users. However, before gaining access to the main lobby, customers are required to register to the network by providing necessary details such as their name, date of birth, address, etc.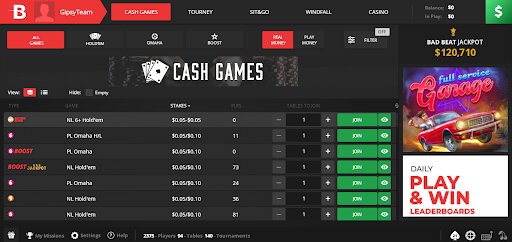 When that process has been completed, and an initial deposit has been made, customers will find the BetOnline lobby extremely easy to navigate to find the games they wish to play. For customers that are potentially hesitant about making their initial deposit, there are free money cash games available that will allow you to become familiar with the software.
Summary: Advantages and Disadvantages of BetOnline
| | |
| --- | --- |
| Advantages | Disadvantages |
| Their Panama licence allows BetOnline to provide regulated online poker. | The majority of tournaments only cater to No Limit Hold'em players. |
| The random number generator (RNG) used by BetOnline has been approved by iTechs Labs. | The platform lacks traffic for Pot Limit Hold'em and Short Deck cash games. |
| Heads-up displays (HUDs) such as Hand2Note are supported. | There are significant fees for credit and debit card users which may drive away customers if they aren't comfortable with cryptocurrencies. |
| There are many promotions on offer including welcome bonuses, bad beat jackpots, and leaderboards. |   |
| BetOnline provides a poker odds calculator to be used exclusively on their platform that is free to download. |   |