This CoinPoker review will highlight:
The variants and stakes of poker available at the cash games
The types of tournaments taking place
How players can make the most of the rakeback and other promotions
How to download and make your first deposit
Which cash games are available on CoinPoker
The cash game offerings on CoinPoker primarily centre around No Limit Hold'em and Pot Limit Omaha, with additional variants such as Open Face Chinese. However, mixed games including Razz and Stud, along with Short Deck (6+) are unavailable at this moment in time. Currently, the developers are trying to increase the awareness of the platform and therefore, they are restricting games to the most sought after variants.
| | |
| --- | --- |
| Game | Maximum Stakes |
| No Limit Hold'em | $5/10 |
| Pot Limit Omaha (PLO4/5) | $5/10 |
| Open Face Chinese | $1 per point |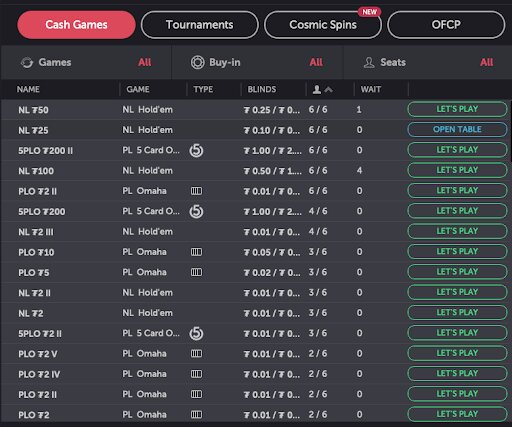 The table above indicates the game types that are currently available along with the maximum stakes. This information would suggest that CoinPoker is more appropriate for micro to mid-stakes players No Limit Hold'em and Pot Limit Omaha tables are currently either four-handed or six-handed which should create fast-paced action. 
What types of tournaments can be found at CoinPoker
To encourage new players to join their platform and become more familiar with cryptocurrency, CoinPoker will often hold tournaments that are free to enter, with some offering players the possibility of participating in their flagship event, The Crypto Series Of Online Poker (CSOP). These events are held several times a year and include a plethora of game types focusing on No Limit Hold'em such as:
Progressive Knock-Outs (PKOs)
Freezeouts
Deepstacks
Turbos
Hyper-Turbos
Many of these events include bounty prizes for knocking out ambassadors of the brand such as Tony G which vary depending on the initial buy-in. If the CSOP is too expensive for your bankroll, CoinPoker also offers the CSOP Mini which aims to provide a more affordable option to players with the victors of each event qualifying for the corresponding CSOP event. Alongside the flagship events, several daily tournaments are offering guaranteed prize pools at various price points.
How much rake is charged at CoinPoker and is rakeback available?
CoinPoker utilises a unique concept concerning the rake charged to their customers. All of the monies collected via rake are distributed back to the players by ways of promotions, making colaborations, and scaling the network to be as big as possible. CoinPoker stresses that they have no commercial incentive and are hoping to create a thriving community with a poker room that offers value to its customers. Consequently, the platform uses the term Community Contributions instead of rake where four percent with various caps is charged across cash games, seven percent is charged on tournament entries, and five percent is charged on Cosmic Spins.
CoinPoker encourages the utilisation of their cryptocurrency CHP by rewarding customers with CHP in their account balance with thirty percent rakeback each week. During gameplay players use USDT. However, players that also have CHP will have the value of the rake they paid in USDT converted to CHP which is then deducted from their CHP balance. At the beginning of the following week, thirty percent of the total rake paid in CHP is returned to each player in the form of USDT. Players without CHP in their balance will not receive the rakeback.
Does CoinPoker offer a range of promotions?
A promotion funded by community contributions that many people will recognise is a bad beat jackpot. This promotion is available across all No Limit Hold'em and Pot Limit Omaha tables with separate triggers for each poker variant. For instance, No Limit Hold'em players must lose with a full house aces full of kings or better, whereas, four card Pot Limit Omaha players must lose with a straight flush. The prizes are divided between the player with the winning hand, the player with the losing hand,, and the rest of the players sitting at the table where it was triggered. However, there are some rules that players should take note of. For example, there must be a minimum of three players involved in the hand when the bad beat occurs. Furthermore, both players must be using both of their cards in their hand to qualify. The jackpot payouts vary depending on the blinds.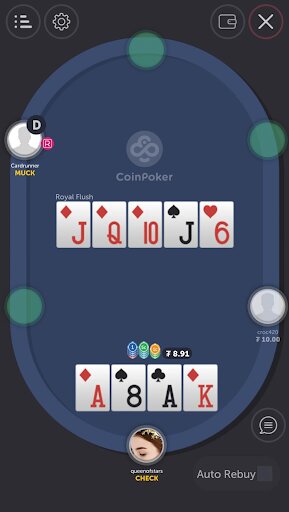 What's more, CoinPoker offers two separate weekly leaderboards for both No Limit Hold'em and Pot Limit Omaha players. The prize pool for the NLHE leaderboard is ₮5795, while, the prize pool for the PLO leaderboard is ₮4205. Both pay out winnings to the top fifty players that generate the most community contributions (measured in big blinds) during that week. Throughout this promotion, players that have a CHP balance are awarded fifty percent more leaderboard points. However, CoinPoker doesn't just reward their cash game players. For instance, tournament players can take part in a monthly tournament leaderboard that boasts a ₮15,000 prize pool. The points allocated to each player are determined by the cost of each buy-in, the number of tournament entries, and which position that player finished. Along with cash prizes, players are also rewarded with tournament tickets including a ₮500 ticket to the Crypto Series Of Poker.
If that wasn't enough, CoinPoker also offers a referral program. To be identified as your referral, the new player must sign-up using your referral link which can be shared by selecting 'invite friends' from the lobby. As soon as the sign-up process has been completed, the existing player will be granted thirty percent of the CHP that the referred player pays in community contributions while they continue to participate on this network. However, there are a number of conditions that are necessary before the existing player can receive any referral rewards. Firstly, they must successfully refer two new customers to the network. Additionally, both of those players must make at least ₮2 in community contributions.
What features of CoinPoker should be highlighted?
A substantial feature of the CoinPoker online poker room is the decentralised random number generator (RNG). CoinPoker is so confident that their RNG cannot be reverse-engineered, when a hand has been completed they voluntarily provide all users with the chance to see the arrangement of the deck. By allowing users to authenticate the randomness of the deck, CoinPoker is aiming to demonstrate their transparency to their customers. The creators of this network believe that all of the above is possible without any detrimental effects to their security. In fact, a one million CHP prize will be awarded to anyone that can identify any faults with their random number generator.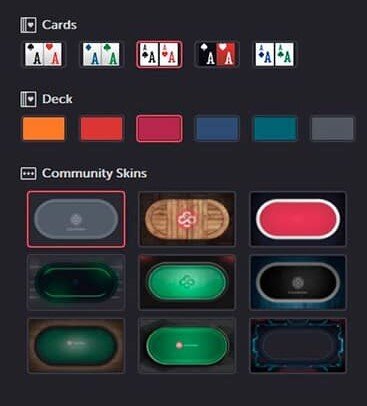 Aside from their RNG, other noteworthy features include the hand replayer. This is a useful tool for gathering information on your opponents which could prove useful in forthcoming hands. However, utilising a heads-up display (HUD) or hand converter is strictly forbidden. With regard to customisation, users can select between several colours for the table background, and the felt, as well as, opt for a two-colour or four-colour deck.
How can players make their first deposit on CoinPoker?
Unlike conventional poker rooms, CoinPoker doesn't accept real money deposits from credit or debit cards, e-Wallets such as Skrill, bank transfers, or cashier cheques. CoinPoker only accepts deposits from the cryptocurrencies including:
Bitcoin
Ethereum
USDT (Tether)
CHP (Chips)
As CoinPoker is a poker room that only accepts crypto, this means that potential players must initially purchase cryptocurrency and then transfer their funds to a crypto wallet. From there, users can make an initial deposit from the lobby by providing their wallet address and the sum you would like to deposit. When your deposit is successful, make sure you have converted some of your cryptocurrency to CHP to take advantage of the thirty percent rakeback and fifty percent extra points toward the weekly and monthly leaderboards.
Withdrawing your funds is as straightforward as transferring the currency from your CoinPoker account back to your crypto wallet. At this point, you can convert the CHP into other cryptocurrencies such as Bitcoin or Ethereum, which can be converted back into Dollars, Euros, Pounds, etc using an exchange. However, making a withdrawal may incur a small fee.
Is downloading CoinPoker straightforward?
The CoinPoker desktop client is available directly here. The download and installation is quite effortless. After selecting 'Download' located at the header, the setup wizard will automatically begin and should take less than a few moments to complete. Once the program has checked to ascertain that the latest updates are installed, the login screen will appear.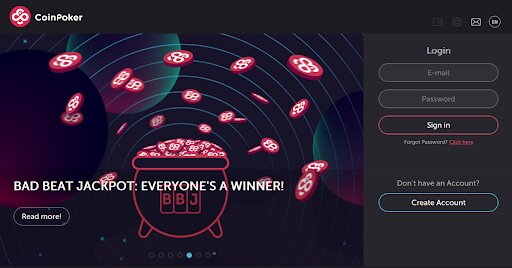 To begin the registration process, you must select 'Create Account' where it will be necessary to provide an email address, a preferred nickname, and a password. After selecting "Register" it will be necessary to complete two stages of verification. The initial stage is to verify your email address using the verification code that will arrive in your inbox. Following that, it is necessary to verify your mobile number and another code that will arrive via SMS. Alternatively, you can complete this stage with the use of the identity verification app known as Civic. This method requires you to scan a QR code with the Civic app to confirm your identity.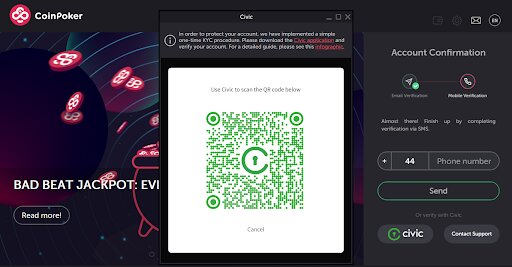 Poker players that prefer to use their mobile phones will be pleased to discover that CoinPoker is playable on android and iOS devices. The latest apk can be downloaded from the CoinPoker website and when the download has been completed you will be greeted with the message "the app has been installed". You will then be required to complete the same registration and verification processes stated above.
Summary: Advantages and Disadvantages of CoinPoker
| Advantages | Disadvantages |
| --- | --- |
| Rake is low and is reinvested into making improvements to the network. | Cash game offerings are quite limited. The primary focus is NLHE and PLO with no fast-fold option and without many other poker variants such as Short Deck. Traffic is also quite low. |
| There are a variety of promotions available including rakeback, bad beat jackpots, leaderboards, and referral programs. | HUDs and hand converters aren't permitted. |
| The decentralised RNG demonstrates complete transparency with its players. | Being a crypto-only poker room may discourage users that aren't comfortable or familiar with cryptocurrency. |