On August 28, an indignant and somewhat chaotic post from an unknown high roller appeared on the official GGPoker reddit page:
– I play medium to high stakes on GG Poker, I made a deposit of $500k, but while I was in the hospital, my affiliate changed the password and stole all the money. GG does not want to bear any responsibility and says to deal with the issue with the affiliate. What is this nonsense? Why does GGPoker allow affiliates to withdraw money from clients without their permission? Advise me what to do. I plan to appeal to the regulators and I want as many people as possible to know about this case. I already changed the skin, now I play on natural8, but I wonder if ggpoker can really just ignore this situation and shift the responsibility to my affiliate – cards88.
The author attached a letter to the message from the support service, in which they wrote to him that the investigation of his issue was completed.
We didn't see any suspicious activity other than your agent's actions. No hacking attempts were found. Therefore, we advise you to contact the agent with the question of how and why he changed the password and withdrew your money. Your account has the following activity:

07/21/2023 – $500k deposit received.

07/22/2023 – you played poker.

07/24/2023 – Cards88 changed the password to your account.

07/26/2023 – Cards88 withdrew $500k.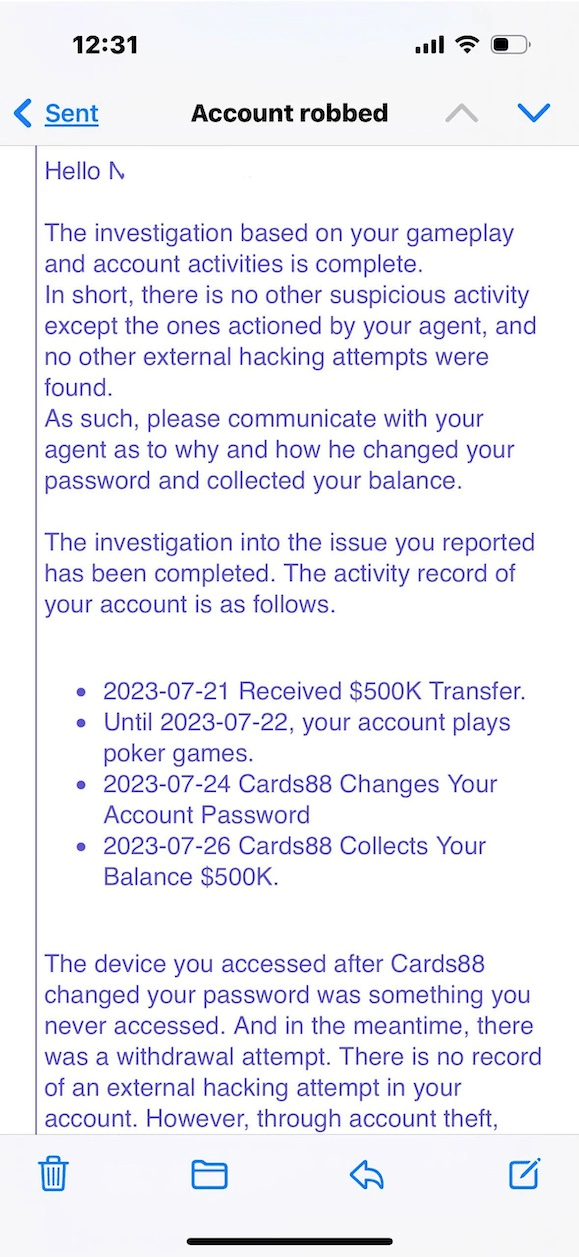 In the comments, the author clarified that Cards88 is his affiliate, whose services he used for additional rakeback:
– I opened an account directly at GGPoker, and not through an agent. Just when registering, I entered "Cards88" in the field for the referral link. I also deposited $500k to GGPoker, I did not use any intermediaries. But Cards88 ended up with admin rights to any accounts registered with his promo code. That is, he could go to our accounts at any time and change the password. Naturally, I did not suspect that he would have full rights, otherwise I would not have resorted to his services. It seems that GGPoker has already closed this loophole, but nothing has been returned to me yet.
The author also duplicated the topic on 2 + 2, where his post at first did not inspire much confidence.
https://forumserver.twoplustwo.com/29/news-views-gossip/account-robbed-500k-usd-ggpoker-security-doesnt-care-1825855/?highlight=#post58247292
– You write that you play medium and high limits, that is, NL500-1k. Why would you want to keep 500-1,000 buy-ins on the site? Is it really that hard to make another deposit if you lose everything? I would not trust such an amount even to Stars, although they are much more reliable. A poker room is not a bank, lol. There is too little common sense in your story.
Why not deposit $500k when you play everything from $5/$10 to $400/$800 to $500/$1,000… Short deck is a tough game, my friend.
On August 30, the author complained to one of the strongest regulars in the cash game, Marius Giersa, that there was no news from GG.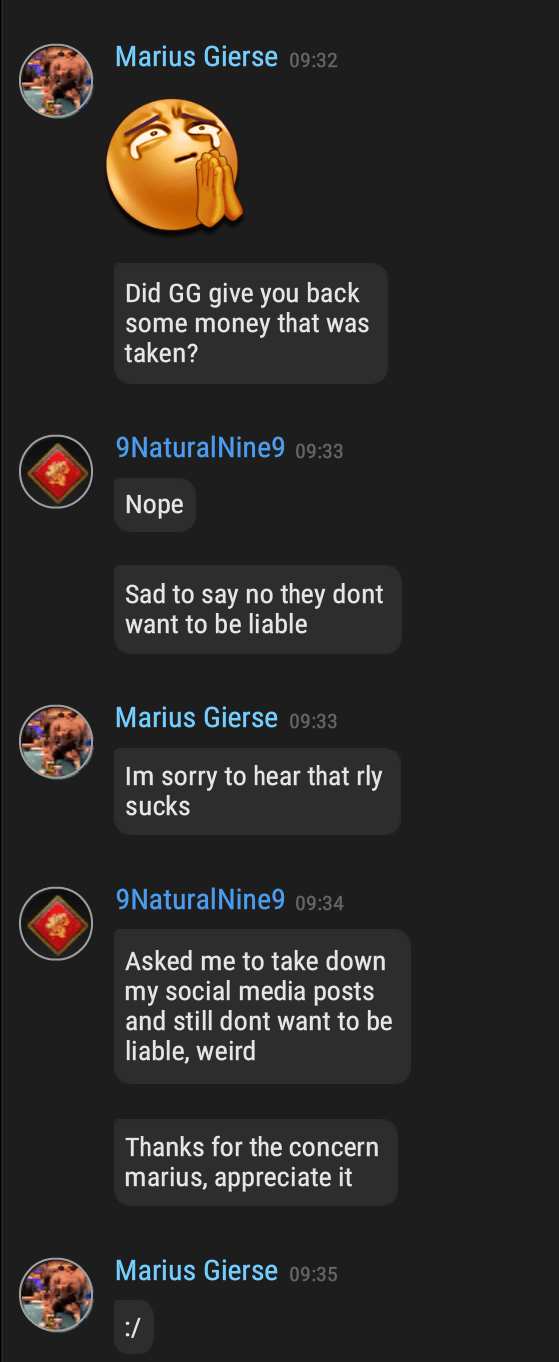 Marius Gierse: Did GG refund your money at least partially?
9NaturalNine9: No. Unfortunately, they do not want to bear any responsibility.
Marius Gierse: I'm sorry, it's a shitty situation.
9NaturalNine9: And they demanded to remove the posts from the forums, but they don't want to return the money. Strange position. Thanks for your concern, I appreciate it.
And the next day, in a 2+2 thread, an unlucky high roller said that everything ended well:
– GGPoker refused to take responsibility and instructed all employees to respond to me according to one template: "We advise you to contact your agent."
But a miracle happened! One month and five days after my money was stolen… and after five days of endlessly scribbling posts on social networks, they finally woke up and forced me to contact the GENERAL agent from whom Cards88 worked. The money was returned to me in full. Just in case, I saved all the correspondence, if something like this happens again.
I promised the chief agent to publish his words, so here is the quote in full:
"Our main request is that people know that the funds have been returned. Neither GG nor Cards88 are directly to blame for what happened. It was an unscrupulous sub-agent who was tricked into requesting a withdrawal."
"We also want to note that forums are a good way to draw the attention of a room or a major agent to a problem when communication with the security service or an affiliate fails."
However, I still want to emphasize that I am not happy with the actions of GGPoker in solving my problem. I had to make a fuss so they got the head agent to contact me.
One of the users explained in detail how the agency business works in this case:
– There is a lot of conflicting information on the topic. This is not at all like the usual affiliates that you link to using a code or a link, and they have no access to your deposits and cashouts.
Agents work in a chain – from super-agent to junior, and everyone has access to customer accounts – they can change personal data and make deposits/cashouts. That is why they can give players loans, and then make a reverse transfer at any time when they want to return the money or transfer it to another player.
Super-agents have a huge credit line (deposits pass through them, and they receive loans from the operator and a commission), they transfer money to agents of a lower level, and those to the players. A lot of transfers are done on delay, which often leads to debts. That is why agents have access to players' accounts so that they cannot quickly withdraw everything without paying. Often, junior agents can only physically receive money from the super-agent (after he takes the funds from their balance), it turns out a vicious circle. Agents can also transfer funds between players, but they will not be able to withdraw money directly from the room.
Players can't withdraw directly either. They contact the agent, and he transfers the funds to his account and pays the player in a convenient way. The agent can then transfer this money to another player or keep it until the end of the month until it pays off with the super agent (resets its balance in exchange for cash).
In the case of the hero of the topic, this was not some kind of failure in the security system. It's just the way the agency business works.