The 2006 World Series was probably the height of the poker boom.
Jamie Gold won the record-breaking 8,773-player Main Event. Hundreds, if not thousands of players qualified for the main through online satellites. The exact number of qualifiers has never been announced, but it is certain that three finalists made it to the main event via PokerStars satellites.
Phil Hellmuth won his tenth bracelet in the $1k rebuy event. Daniel Negreanu made 46 rebuys in that tournament but did not make the money. In total, the players made 1,691 rebuys, and the total prize pool exceeded $2 million. After Negreanu's frenzy, the organizers of the World Series abandoned the rebuy tournament format for several years. They explained this by saying that rich players can simply "buy a bracelet." However, history is cyclical. The term "rebuy" is now called "reentry", and last year Scott Seiver made 43 entries in one of the tournaments.
In the main tournament, only two Russians got into the prizes – Sergey Feklisov (166th place) and Vitaly Lunkin (829th). At the same time, one of the Russians still managed to write his name into history. Kirill Gerasimov cashed seven times – it was the best result of the series. Modern leaderboard contenders are able to surpass this figure in a couple of weeks. Kirill's best result was a 3rd place in the $5,000 Omaha Hi-Lo tournament, in which he faced two superstars of the time – Phil Ivey and Sam Farha.
Another highlight of the 2006 WSOP was the first $50,000 HORSE tournament. In those years, tournaments with such a buy-in were generally something out of the ordinary, especially in terms of mixed games.
Poker journalism was in its infancy. Nobody even thought about streaming yet, PokerNews started to conduct text online WSOP only in 2007. The episode was shown in sufficient detail on ESPN, but with a delay of several months. The main sports channel of America was not limited to the main tournament, the recordings of several final tables, including this tournament, were aired. Enthusiast bloggers also worked on the series, covering the tournaments on their personal pages. The most famous of these was Tao of Poker blogger Paul "Dr. Pauly" Maguire. The WSOP forbade him and his colleagues to report live and describe the hands at the tables, so they won the audience with their artistic content. Operational coverage of the World Series fell on the shoulders of CardPlayer journalists. In their archives, we found details of the first days of the tournament.
Thanks to the generosity of PokerStars and Full Tilt towards their ambassadors, up to 160 players were expected in the tournament. A large part of them had only a superficial understanding of limit games. Such optimistic goals did not come true, as registration closed with 143 players, which was also quite a worthy indicator.
The game started at 100/200 with a starting stack of 50,000. Marked cards became the main focus of the first levels.
One of these was noticed by the future finalist Andy Bloch. He asked the dealer for the entire deck and found several more. Andy decided to act radically and simply tore all the dubious cards. This behavior angered one of the floors.
"Don't you dare do that again," he ran to the table.
– Are you out of your mind? Andy began to argue. – Do you think we will play such a tournament with marked cards?
– If you continue, I will give you a penalty for 10 minutes.
– Go ahead. I'll call the gambling commission and see what they say.
The floor was unimpressed by this threat, and Andy went for a walk.
However, the situation was no better at other tables.
Annie Duke (she also played $50k in those years) also crumpled one of the cards. The neighbors told her about Andy's case.
So he didn't even send for anyone? Was he given a penalty just for ruining bad cards? Some nonsense.
– We just have all the cards with marks! Scott Fishman at the next table was indignant.
"I haven't seen anything like it yet," Doyle Brunson supported him.
The intervention of the master helped. Players began to be given sealed decks on demand, and mass complaints stopped there.
Arturo Diaz was the first to leave the tournament, no special achievements in his poker career could be found.
Rising poker stars Joe Cassidy and Patrik Antonius finished the first day as chip leaders.
The organizers miscalculated a little with the structure. On the first day, 15 levels were played, for which only 14 players were eliminated. The tournament lasted three days, and because of the filming for TV, it had to be played to the final table. As a result, on the second day, the game lasted for 19 hours and ended at 9 AM.
Mike Matusow, who in those years was considered a strong regular in limit games, played for several hours next to Phil Hellmuth and was not very impressed with his game.
– I'm ready to put any of the spectators against you in a heads-up match in stud-8. And if you win the tournament, I promise to run naked around Rio.
To the delight of the neighbors, who had to be present during their skirmishes, both busted out long before the money.
With 34 left in the game, at 6,000/12,000, Doyle Brunson was left with a micro stack of 25,000 chips. They immediately hung a microphone on him and aimed cameras to capture the departure. But it took a long time to wait, Doyle spun it up and went to the final table.
When Eric Seidel crashed out at 3:00 AM in 23rd, T.J. Cloutier began to fall asleep right at the table.
– How tired I am, I wake up every five minutes, look at a small card, throw it away, and continue to sleep. I'm too old for this.
"Even Joe Cassidy is tired, although he is only 22," Gavin Smith supported his grandfather.
– I'm 26! Just turned it yesterday.
– Drink on me! Gavin rejoiced.
1993 world champion Jim Bechtel was in the lead at the time with a stack of 890,000. The top group also included Gavin Smith (750,000), David Singer (745,000), Patrik Antonius (500,000), and Chip Reese (485,000).
Another hour passed, during which four people bowed out. Phil Ivey was on the verge of elimination. At the 10,000/20,000 level, he was left with a 60,000 stack. Phil lost a huge pot in limit hold'em to Robert Williamson, who showed on the board , Ivey had trips.
Some players openly fell asleep, others supported each other with jokes and jokes.
"Rounders is a good movie," said Cloutier. "But they stole a few ideas from my books and they didn't even put me in the credits.
Did you at least write them yourself? Gavin stated. – I read books and played with you, nothing at all in common.
The bubble burst as the clocks in Las Vegas struck 6 am. Allen Cunningham was eliminated in 18th place, and Matt Gavrilenko became the bubble boy.
Over the next three hours, Cong Do, Ralph Perry, David Levy, John Cassidy, Barry Greenstein, Gavin Smith, and Robert Williamson busted out in the money.
Patrik Antonius was leading the entire tournament, but on the last hand of the day against Chip Reese at 20,000/40,000, he folded on the river and left himself 13,000 chips.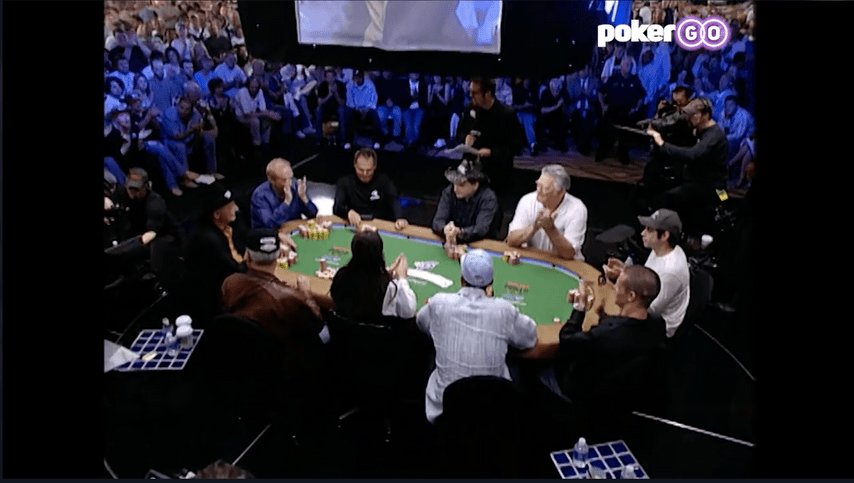 Chip counts at final table:
1. Chip Reese – 1,756,000
2. Doyle Brunson – 1,227,000
3. Andy Bloch – 934,000
4. Phil Ivey – 885,000
5. Jim Bechtel – 841,000
6. David Singer – 745,000
7. Dewey Tomko – 438,000
8. TJ Cloutier – 351,000
9. Patrik Antonius – 13,000
ESPN commentators – permanent Norman Chad and Lon McEachern – called this table the strongest in the history of poker. For the sake of television, the final day was played in no-limit hold'em. The participants were not pleased with this decision, to put it mildly.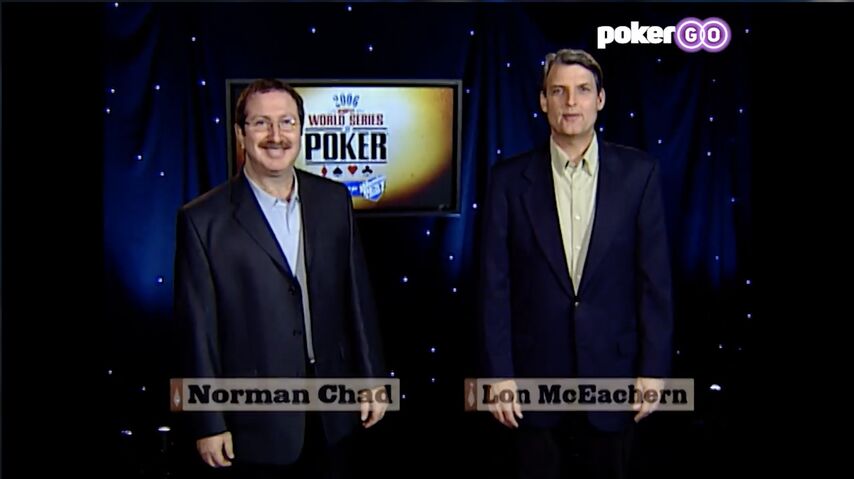 The final table recording is available to PokerGo subscribers .
The game started at about 10 pm, and by 2 am they were heads-up, but the champion wasn't decided until 9:30 am.
– Did you sleep well? Andy Bloch asked the neighbors.
"I never fell asleep," Doyle said.
– From excitement? Your first final table?
Patrik Antonius picked up two pair in the first hand and spun up to 50,000, but in the third hand, the tournament was over for him.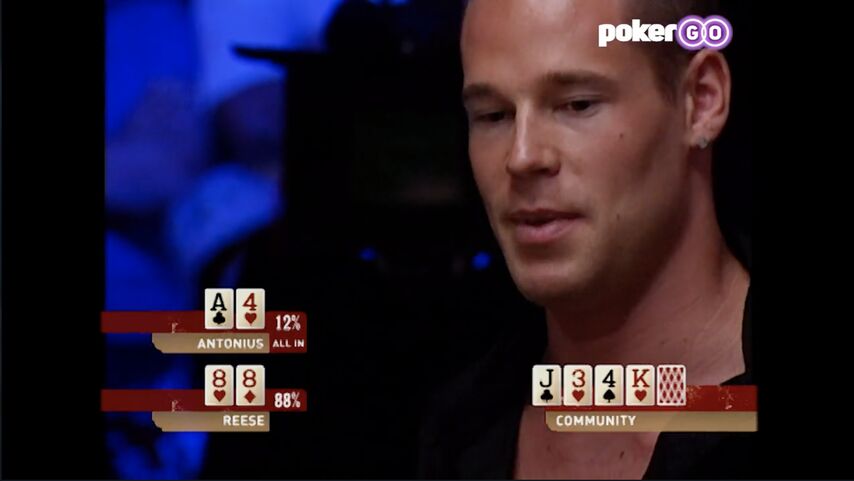 Patrick's outs didn't come.
Doyle Brunson bluffed half his stack early on against David Singer.
David opened the CO for 60,000 (blinds 10,000/20,000) and called a 3-bet 210,000 from the big blind. On the flop, Doyle c-bet 300,000 and immediately folded to an all-in.
Phil Ivey doubled Dewey Tomko.
Phil opened for 60,000 from first position, Dewey shoved for 200,000 on the CO. Phil thought and called.
– Did you put him on A9? Doyle was surprised by the optimistic call.
– Of course not. I thought there might be some eights.
Doyle and Chip then played a hand that was often discussed in those years.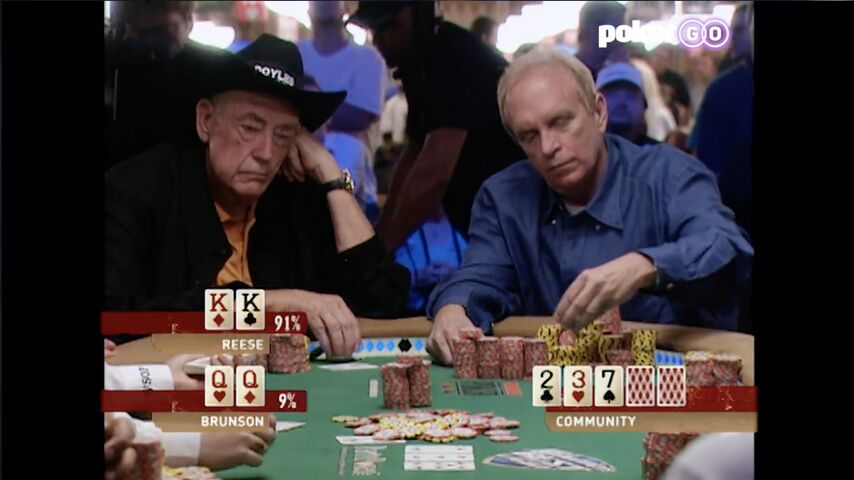 Brunson opened to 70,000, Chip called right behind him and Singer on the button with made a call. Doyle bet 220,000 on the flop and Reese min-raised. Singer instantly folded the cards, Doyle thought.
– I know for sure that you have a pair. But I don't know which one," he said and folded the cards. One lady accidentally turned over.
– Did you fold the ladies? Chip stated.
Doyle nodded.
– Good fold, mate.
– Doyle showed two ladies? T.J. Cloutier woke up.
"Only one," Bloch replied. – The second card is probably an ace.
"Yeah, that's right," Doyle whispered sarcastically.
"He couldn't have folded a couple of queens," Andy continued his analysis.
"He could have if he trusted the reads," Cloutier disagreed.
Doyle remained silent.
Chip was doing quite well that day.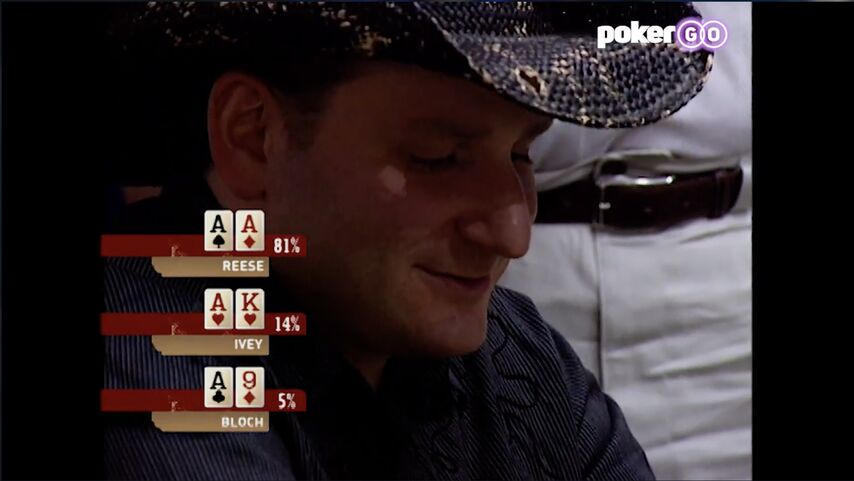 The blinds are the same – 10,000/20,000. Bloch raised to 60,000 from early position, Phil raised to 240,000 in the CO, and Chip 4-bet 840,000 in the BB.
– How did I get here? Bloch chuckled, quickly throwing away his cards.
Ivey thought for a few minutes but folded too.
Chip counts at 12,000/24,000.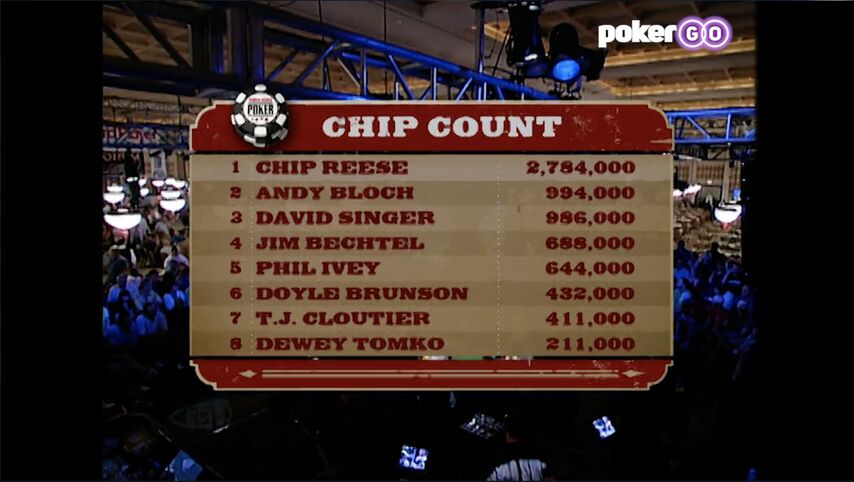 Dewey Tomko waited for a pretty hand and successfully shoved his nine blinds from second position.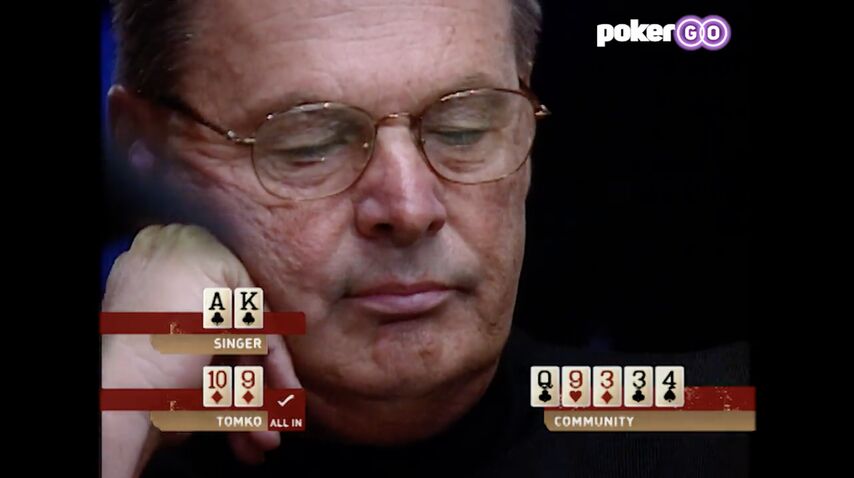 TJ Cloutier folded for the first two levels, but then doubled up against Brunson.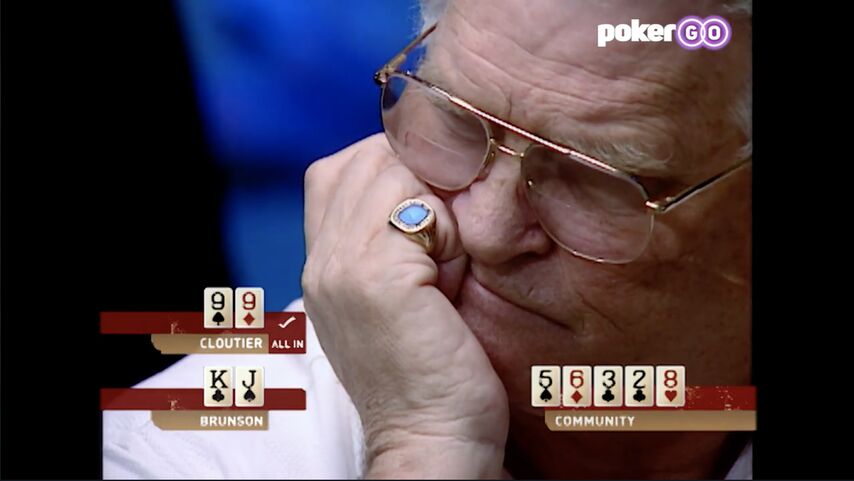 Doyle opened early to 75,000 and called all-in for 230,000. Brunson had three blinds left and was in the BB the next hand.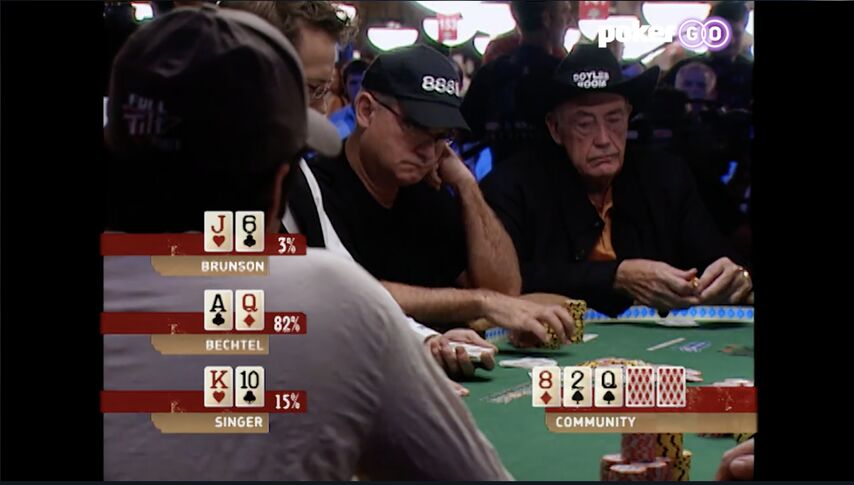 The CO opened with a raise to 65,000, and Bechtel and Doyle called in the blinds. On the flop, Singer bet 150,000 and Bechtel check-raised to 500,000.
How much do you have left, David? Brunson asked. – Less than 350?
– Yes, you will have to call all the chips. Do you want me to know exactly?
"No point." Doyle delivered the last 8,000. Singer quickly threw it away.
Brunson was eliminated in 8th place. Dewey Tomko and David Singer soon left the tournament.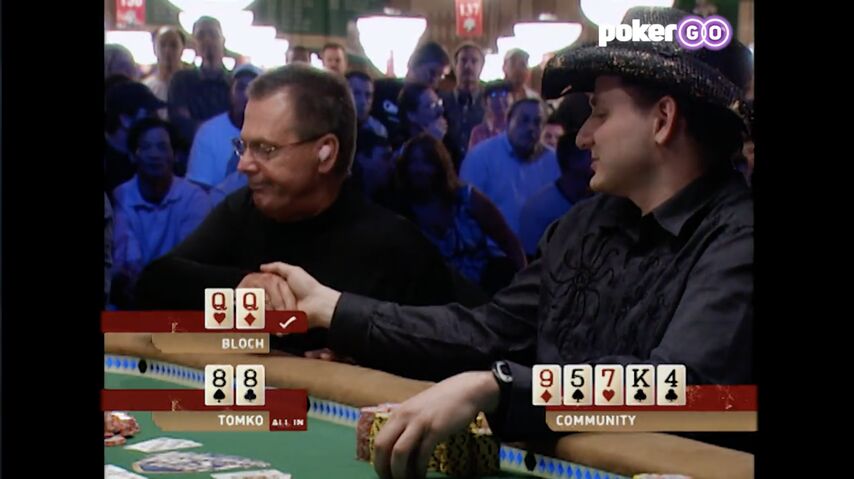 Dewey raised to 100,000 in UTG with a stack of 330,000, Andy raised to 300,000, and Tomko shoved.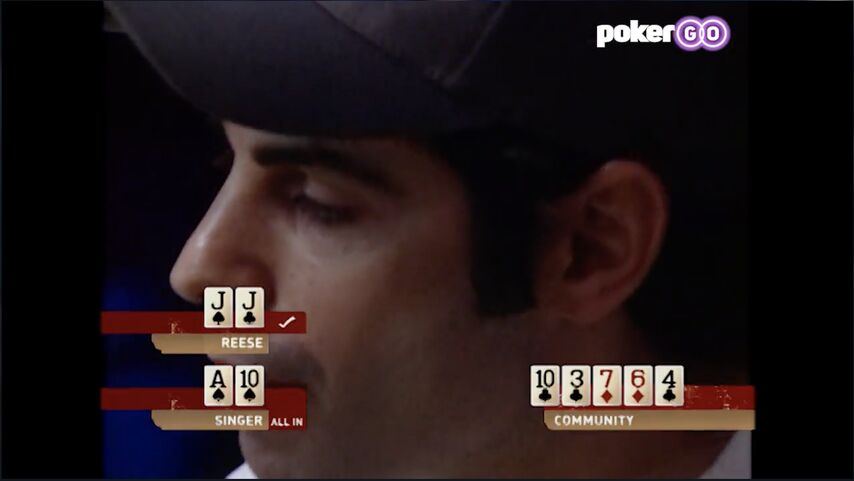 David, with a stack of 11 blinds, went all-in from first position.
T.J. Cloutier finished in 5th place.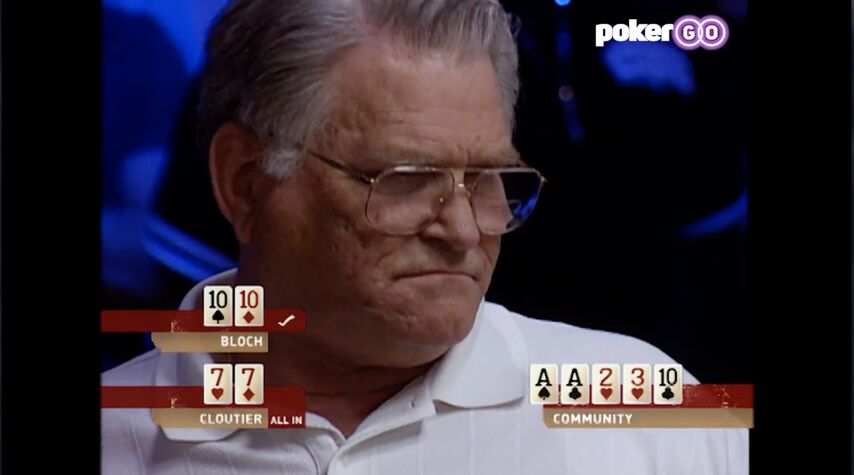 "You can't play without the cards," he complained, shaking hands with his opponents. – Just the second pair of the day.
Jim Bechtel was eliminated in 4th place. The dealer seems to have forgotten to shuffle the deck.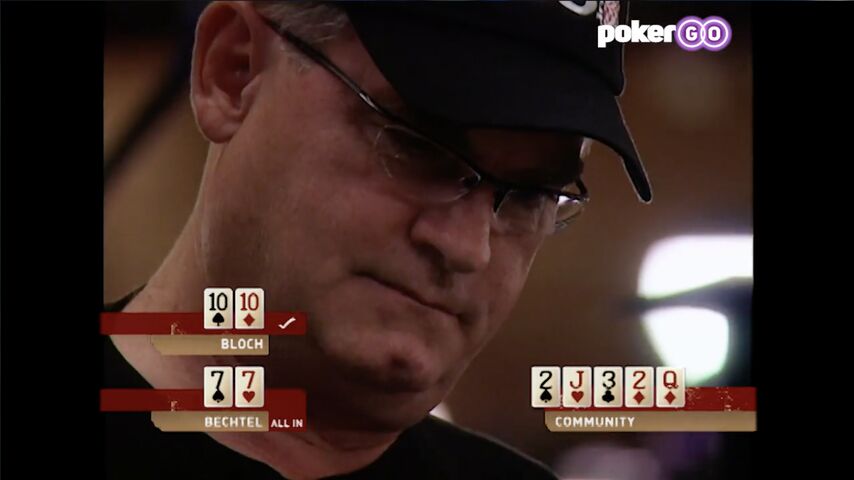 Jim raised to 80,000 on the button, Bloch raised to 280,000 on the BB, and called all-in for 770,000.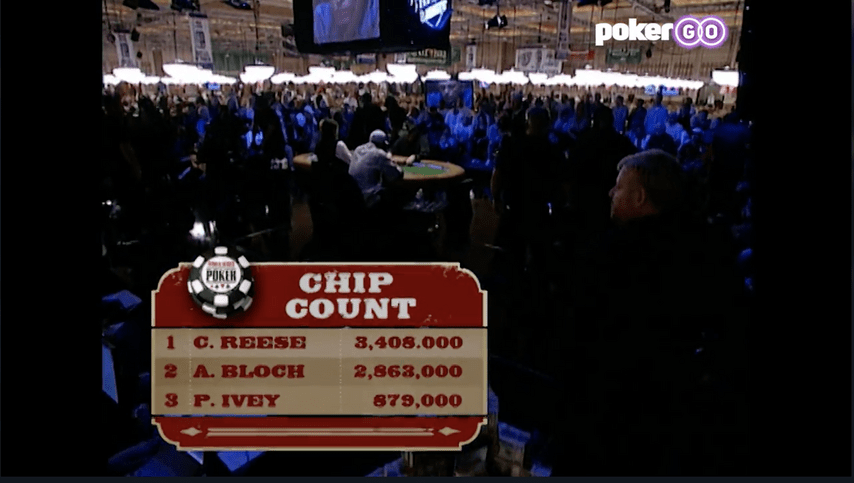 Ivey busted at the very beginning of the 15,000/30,000 level.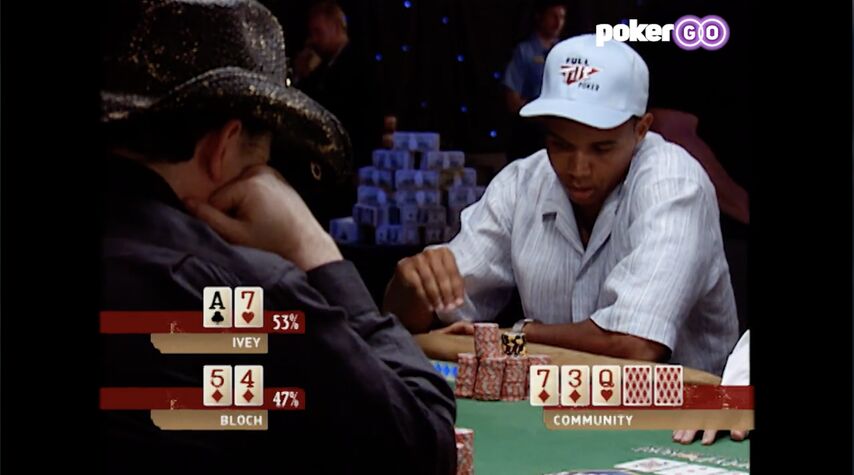 Andy completed the SB with a 100,000 call. Bloch checked the flop, Ivey bet 100,000, and Andy raised to 500,000. Phil thought and declared all-in.
– How much to call? Approximately 300? Call.
Turn , river .
Heads-up started with more than 100 blinds deep – 3.4 million for Reese versus 3.7 million for Bloch.
How many bracelets do you already have? Andy asked.
– Two, but I didn't play the World Series at all for 10 years. In 1994 I quit and returned a couple of years ago.
– And I played for the first time in 1995.
In the early heads-up, Bloch won many small pots to take the lead to 5.2m vs. 1.9m.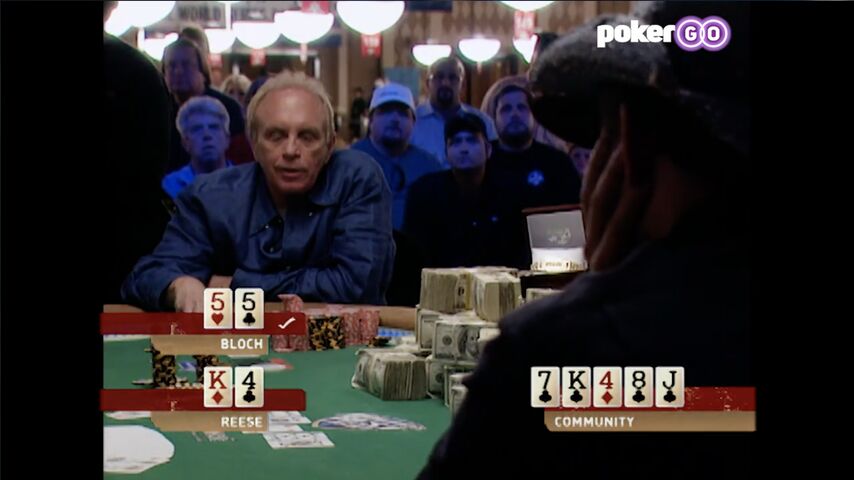 In the biggest hand, Bloch defended the BB and check-called 100,000 on the flop and 220,000 on the turn. River was checked.
After a couple of hands, the tournament could have been over.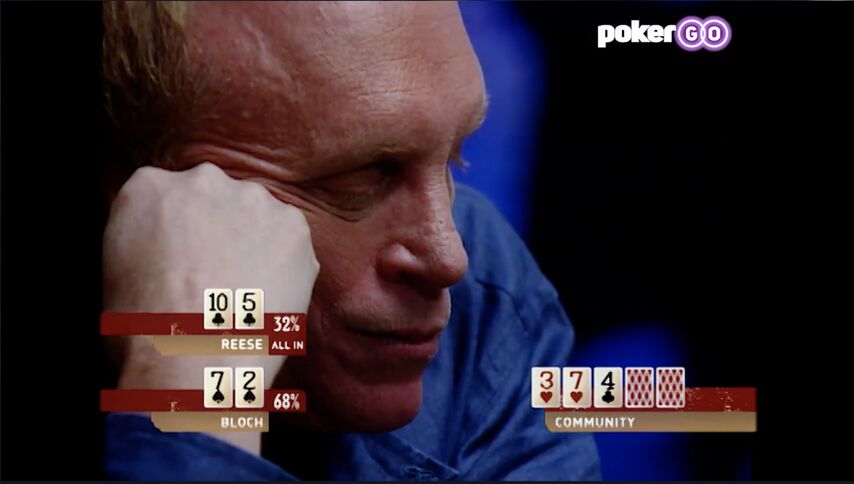 Bloch raised to 75,000 and Reese paid. The flop saw Andy c-bet 100,000 and Chip shoved for 1,370,000.
"Wow," Andy stood up. – I think I'm better or we have a flip. Call.
The turn hit Reese with a gutshot ( ) and he doubled.
Bloch again began to win at showdown and rose to 5.1 million against 2 million. For the next two hours, the players avoided major confrontations, Andy held a confident lead, Chip's stack gradually dropped to 1 million (20 blinds).
However, Chip was unbeatable in all-ins.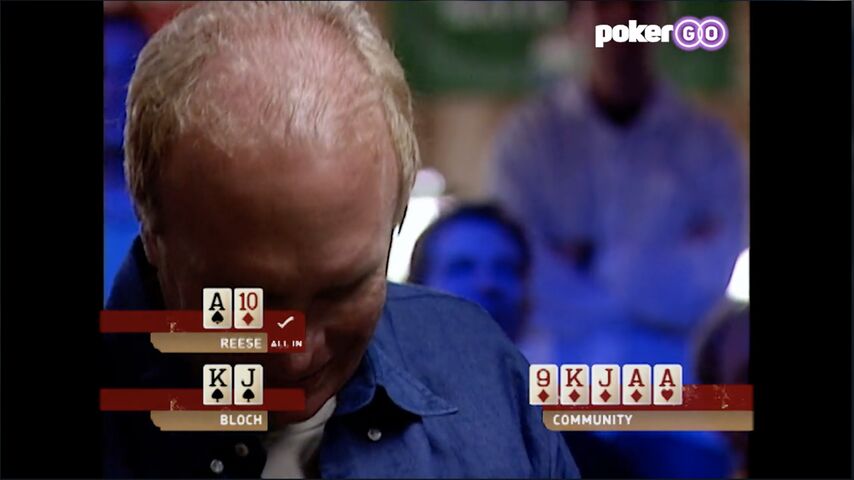 Bloch shoved and Reese called. Right after that, Chip doubled up with kings against nines and evened out the stacks.
The next two hours were quiet again, with players mostly playing small pots. It all ended at the level of 30,000/60,000.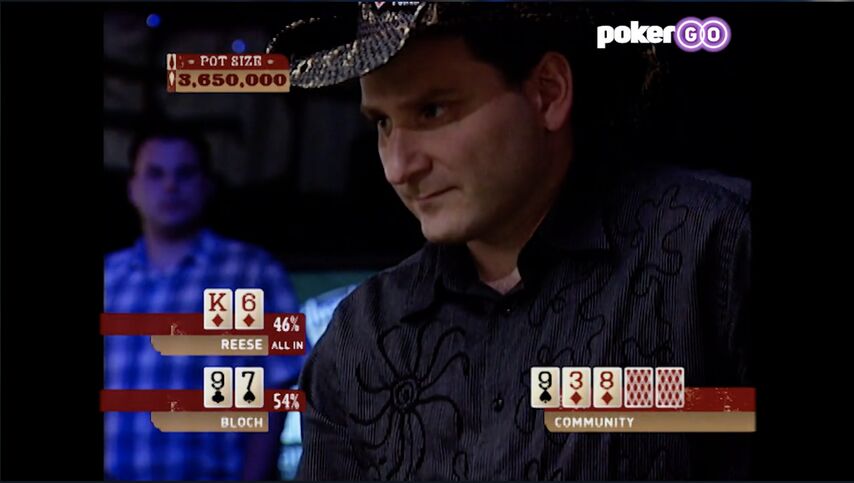 Andy opened for 120,000 and Chip called. Reese check-shoved the flop, Bloch thought for a moment and called.
The turn hit Chip's flush, giving him 6.8 million against 300k.
It was announced that they were playing the longest heads-up in the history of the World Series, and after 10 minutes it was all over.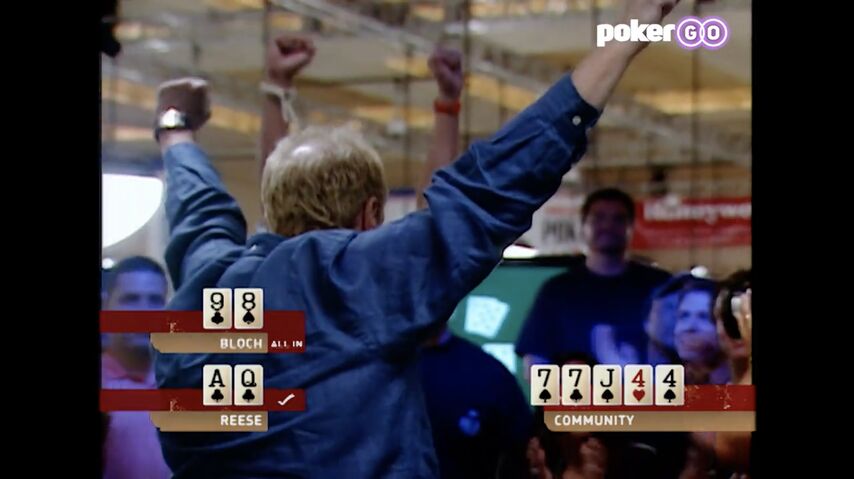 Chip shoved and Andy called with four blinds.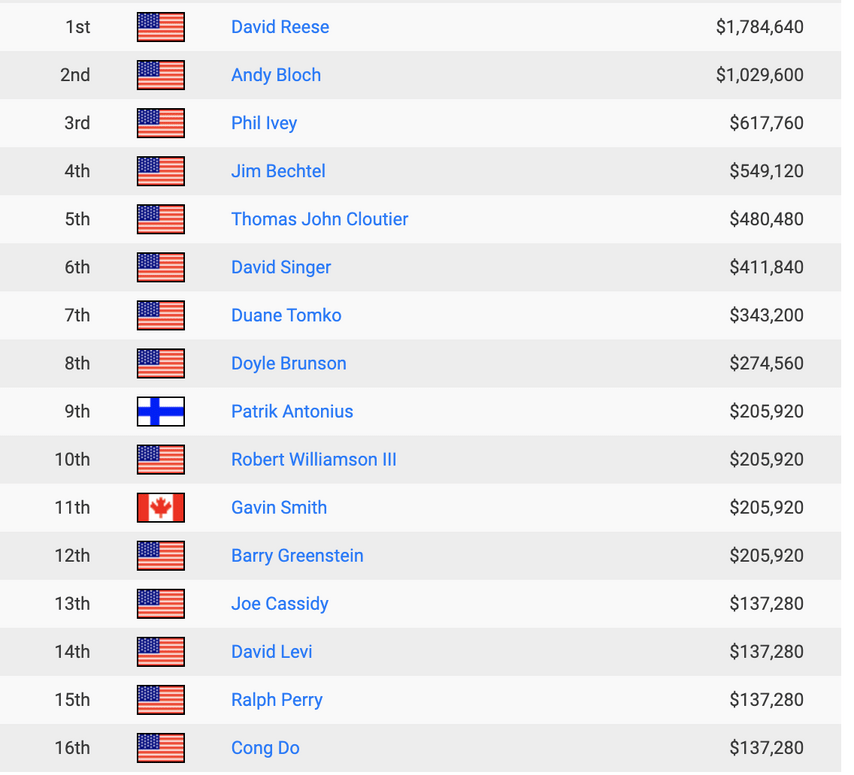 Heads-up lasted 7 hours and 10 minutes, and the entire final table was about 12, the champion was determined in the 354th hand. A couple of years later, at the European World Series in London, the final table of the main tournament played 484 hands and almost 20 hours. John Juanda then defeated Stanislav Alekhin in heads-up. The heads-up record was beaten in the 2018 Main Event when John Cynn and Tony Miles played for a bracelet for over 10 hours. True, compared to 2006, it was still terribly long.