– Hello, Mike. At the last World Series, you won your third bracelet, but more on that later. First I want to ask you how do you like the new location, where the WSOP is being held for the second year?
– I like everything. The food became much better, there was also more space. The only drawback is the big parking problems, but it can be solved if you live on the Strip.
Did you tweet that this was the first summer you've been grinding from start to finish?
– In the past, there were also several series that I played completely, but this happened spontaneously. Usually, I come to play cash, but I go to tournaments according to my mood. This year, for the first time, I went with the goal of playing tournaments every day.
Let's take a break from poker. Were you born in Russia?
– Yes, in St. Petersburg, but lived there until the age of 5. The family first moved to Israel, where we only stayed for a year. And in 1991 or 1992, my father was offered a job at St. Louis University, and we left for America.
– Do you have any memories of Russia?
– Barely, I remember almost nothing about my life until the age of seven.
– Who are your parents by profession?
– Dad is a physicist, Mom is from Ukraine, where she worked as a gynecologist. But in America, by profession, she never worked, all her strength and time went to housework, raising children, and learning English. Over time, she began to help her father in his laboratory.
– So your dad is from Russia, and your mom is from Ukraine?
– Yes, in modern times, this surprises many, but in general, this is a very common phenomenon.
– Do you have loved ones on the other side of the ocean?
– Almost all relatives live either in Russia or Ukraine.
– It was probably not easy for you to study with parents from academia. Did they expect much from you?
– I was lucky, the eldest brother took the brunt. It was generally easier for me. English, of course, is not my native language, but because of my age, I learned it very quickly. I immediately found friends among peers, and spent a lot of time on the street, so I did not experience any problems in elementary school.
– In preparation for the interview, I found out that today is your wedding anniversary. I'm sorry to distract you on a day like this.
– It's okay, in a couple of days we have a big dinner planned with friends, and today we're just relaxing at home. Exactly a year ago we had a modest wedding in Greece, we can say that we ran away from everyone. I have never been a fan of noisy celebrations, fortunately, Caitlin – my wife – supported me in this.
– You graduated from Washington University in St. Louis – one of the most prestigious educational institutions in the country.
Yes, I have a degree in psychology. But it should be noted that I myself would never have gotten in. It was lucky that my parents were already working there, and my older brother graduated as one of the best students in the course.
Was that when poker came into your life?
Yes, like all players my age, I started playing after seeing Moneymaker win on ESPN. But at the university, poker has not yet become something serious for me. I'm not one of those guys who went to the nearest casino on weekends and played there for 48 hours. I played online and sometimes with my dorm friends. Taking poker seriously, I started working on the game already in my last years.
– Then you realized that you can get a good advantage?
– Rather, on the contrary. Then it was more like gambling. I hated to lose, so I wanted to play more to get back faster. But I realized early enough that nothing would work without training, so I was constantly looking for new information on the game. But there was no clear system in this.
– When did you start playing online?
– At the age of 18, when I was still in school. Then everything was simpler, in America all the main rooms were available, deposits went through without problems. I played a lot in the first years of the university, but, as I already said, the attitude was not serious. He could come after some student party at one in the morning and launch a couple of expensive tables.
– Did you earn your first bankroll online?
– Yes, I played exclusively PLO cash. We can say that I randomly pressed the buttons. For me, it was just another computer game. But then it was possible to win with such an attitude.
– There was a turning point. Maybe you were faced with a choice – poker or a career?
– No, by the last year I already knew for sure that I would connect my life with poker, or at least I would try. By the way, my reckless attitude to the bankroll has not changed after graduation. I'm ashamed to admit it, but I only started taking money seriously about seven years ago. It did not lead to disastrous consequences, but with a more serious attitude, I certainly could have achieved more.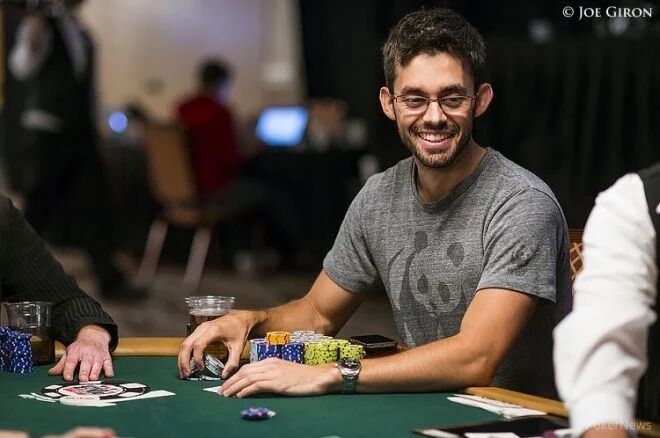 How did your parents react to poker?
– They were not happy. They are from the generation for whom professional gambling does not exist in principle. But I had a lot of money very early, I helped them pay off the loan for the house. When they saw that I was winning and even keeping some of the profits, their attitude changed. They were finally convinced by my tournament successes, they are really proud of them and tell their friends.
– Tell us about how you earned your first bankroll. Were there times when you thought poker wasn't for you?
– Of course there were. It's also embarrassing to talk about this, but it's a part of me. When I first discovered online, it was common to deposit $500 and go play with a couple of buy-ins. If I doubled the amount, I would withdraw half of it back to the bank, and consider the second as a freeroll and try to get promoted. This repeated endlessly. But the average level then was such that in the end, I managed to make to a six-figure bankroll. However, this did not affect my approach, just the amounts became larger. Winning or losing $100k has become commonplace. I remember after another upstreak, I bought a $40k car with the thought that even if poker doesn't work out in the end, at least something useful will remain. I started playing with the rest of my bankroll and lost almost everything, about $300 left. I promised myself that I would not open a client again if I lost this money as well.
What alternative to poker did you consider?
– I wanted to become an English teacher. I think I could do it.
– According to your Twitter, it is noticeable that you read a lot, and completely different books.
– Yes, I like to read both fiction and non-fiction.
– What did you like from the last one?
You picked the wrong time to ask this question. Over the past six months, I have not read a single book, this is the longest break in the last 20 years. Speaking of my favorites, I really like One Hundred Years of Solitude and all the works of Kurt Vonnegut.
Did you have to leave America after Black Friday?
– No, I'm lucky. Just at this time, an expensive mix appeared in San Diego. I barely knew the rules, but I caught an incredible upstreak. That was the beginning of my career in limit games.
Tell me more about this period.
– For a long time I played exclusively PLO online, met a lot of regulars, and we constantly communicated. Then I got tired of all this, I moved to Boston, where my childhood friends lived, and dropped out of the poker community for a year and a half. That's where Black Friday hit me. From Boston, I went to San Diego with no definite plans for the rest of my life. There was a $300/$600 mix playing, I knew the rules of the two games, but they told me the lineup was too good. I decided that I would learn the rest of the games along the way, and the risk was fully justified.
Was the transition from online to live painless?
– I have always liked both formats, I think that these are completely different games. Online for me has always been more like work, and live is more relaxed. More hands are played online, the pace of the game is very high, so the brain is in constant tension.
Did you spend a lot of time in Bobby's Room too?
– Yes, but I haven't played there in the last few years. I consider myself a good mix player, but I finally realized that this is not the best idea – to play with the strongest players in the world at such rates. But I had time to play with Doyle, Ivey, and others. Unforgettable experience.
Did you even have any kind of issues with Doyle?
– It was all frivolous. After my first sessions, Doyle considered me an outright fish, which was completely justified. He did not hesitate to tease me at the table, I also don't mind exchanging words back and forth. But we never crossed the line.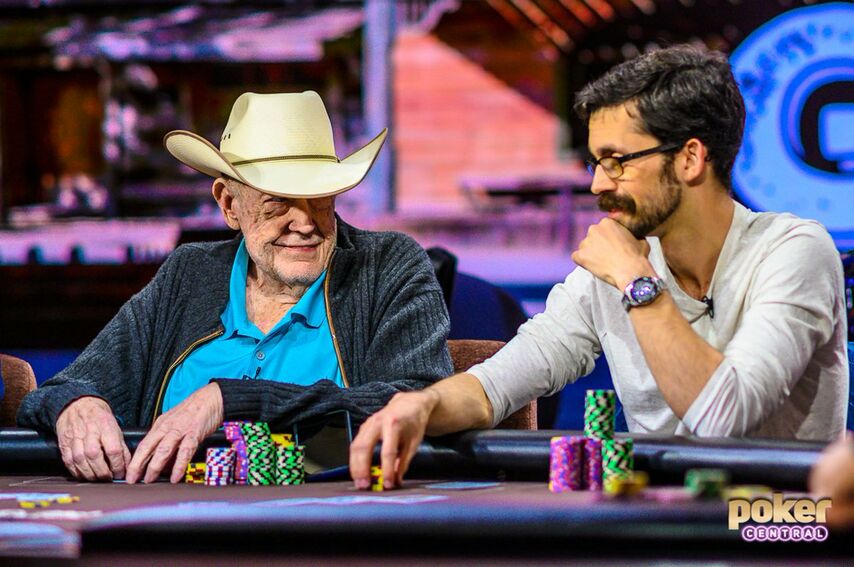 Did he give you an unlucky sweater once?
– Yes, it is still kept somewhere among my things. I didn't have the guts to burn it. But as bad as in this sweater, I never got it.
– What was the most expensive game in your career?
– $4k/$8k mix at Bobby's Room, but I was selling shares. It was a summer that started with a $1M+ upswing for me and then I lost almost everything back. In one of the last sessions, the stakes went up to $4k/$8k, I didn't want to play that much, but a few friends bought a share and ended up with the most profitable day of my career. First I lost $400k, but I walked away with a profit of $860k. A million there, a million back – standard streaks. Such a limit was far beyond my comfort zone, in each pot a significant amount was played for me. Even at $400/$800, I play some hands on autopilot, and then I could not relax for a second.
You said you had to sell shares. In general, do you prefer to play on your own?
A few years before that I was playing $1.5k/$3k and $2k/$4k completely on my own and lost quite a lot in the end. Much later came to the understanding of how irresponsible and, most importantly, senseless it was. But I really don't like to sell shares, because this is an additional pressure. Even in tournaments, I never sell in order to be solely responsible to myself.
– You won your first bracelet in 2013 in the Omaha-8/Stud-8 tournament. Was it your dream?
– Yes, but the second bracelet I won in the players' championship for $50,000 became a dream come true. The first one was a complete surprise. At the time, I didn't consider myself a good Omaha-8 or stud player. It was very strange to win a tournament in these games, but still nice.
How important was winning the $50,000 Players Championship to you? It is said that all the regulars of the mix-games dream of this bracelet.
– So it is, I even dreamed about this tournament. True, in my dream heads-up, I beat Phil Ivey, not Jean-Robert Bellande. The victory became very important financially. For first place, I received a huge amount of $1.3 million. Before this victory, I only played Bobby's Room for a shot a couple of times, and then I played for almost five years without a break. In the Players Championship, I have earned a complete collection – I was the first to bust out of the tournament twice, finished on the direct bubble, on the final table bubble, and as a min-cash. Hardly anyone else can boast of something similar.
– Is this the tournament you will play all your life?
– Not necessarily. I quietly skip it if I do not feel 100% sure. I've played it like 7 times in the last 10 years. The buy-in is still too big and I have to be in perfect shape.
– Another favorite tournament of mix regulars is Dealer's Choice for $10,000. In 2022, you took 2nd place in it, losing to Ben Diebold. Any regrets left?
I am very sorry that I personally had a hand in the fact that Ben became a good player. We are friends, we played a lot online and discuss strategy together.
– You won your third bracelet this summer – at the $10,000 HORSE. Do you feel that now you are in an elite company?
– To be honest, not really. I know my level very well. To confirm it and prove something, the third bracelet is not needed. The victories and the final table of such a tournament is an unforgettable experience in itself. This happens very rarely, so I appreciate every such moment.
Where do you keep your bracelets?
– The first two are with the parents, and the third is still lying somewhere on the shelf at home. I will also give it to someone, I do not like to keep poker trophies at home.
– There will probably be over 100 bracelets up for grabs next year. What do you think about it?
I don't like this trend. This reduces their importance. First of all, in my opinion, you need to separate ordinary bracelets and online. I would also introduce a limit on the minimum buy-in in bracelet tournaments. When I played my first streak, each tournament was something special, you seemed to be in the company of the elite. On the other hand, now almost anyone can compete for a bracelet, which is also not bad.
– Let's move on to the quick questions with which I usually end the podcast. Rate your normality on a scale of 1 to 10.
– 8.
– Seriously? It seems to me that a professional poker player cannot have more than 6.
– Now I have a too quiet life, so I will focus on the first assessment.
– Off the table, do you think like a poker player? For example, evaluating an EV menu in a restaurant?
– Not to that extent, but I try to calculate the probabilities and do not get hung up on the results in everyday life.
– Your most successful poker shot?
– 100% of myself in the Players' Championship that I won.
– And the most unfortunate one?
– When I was doing great in Bobby's Room at $1.5k/$3k, then the stakes were raised to $2k/$4k, and I continued to play completely on my own. I ended up breaking the record for negative sessions for three days in a row. Such a streak is especially hard to experience in Vegas, where there is nowhere to hide from poker. At home, you can somehow relax.
– What is your most valuable purchase?
I don't focus on material things. Can I say my dog?
– Certainly. And the most successful purchase of shares?
– There were no pieces that could change my life. But a couple of years ago, Dan Smith made me six figures when he finished 2nd in one of the Triton tournaments.
What is your biggest non-poker bet?
– Bet $35,000 on JC Alvarado against Olivier Busquet. Not the best investment.
– Worst job in your life?
– At school, I worked in a bakery, then as a loader in a warehouse where marble slabs were stored, and in the summer he painted fences. None of these works would be called the ultimate dream.
– If you could download any skill into your body, like in The Matrix, what would you choose?
– I have problems with sleep, so either the ability to sleep peacefully for 8 hours every day or the ability to fully recover in three hours of sleep.
– Four players that you would place on Mount Rushmore?
– If we talk about the ambassadors of the game – Negreanu, Ivey, Doyle, and Hellmuth. If by skill – Mikael Thuritz, Ivey, Doyle, and one of the young ones – Rast or Seiver.
– Do you have look alikes among famous people?
– They say that I look like Mike McDaniel – Dolphins coach.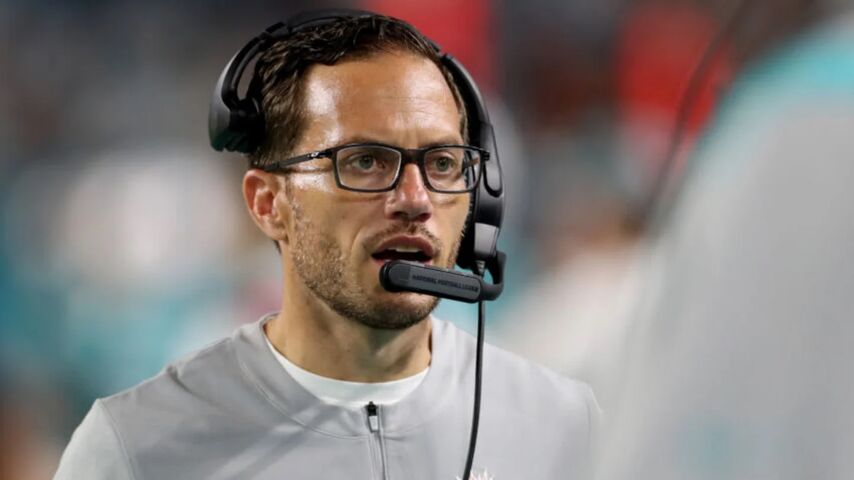 Are you superstitious?
– A little. I ruthlessly got rid of two shirts, because I lost too much in them. And if some clothes suit me well, I can not change them for a couple of days.
– The longest session in your career?
– Nothing extreme. Probably 40-50 hours.
When were you closest to death?
There was nothing particularly dangerous in my life. I am actively involved in rock climbing and there were a couple of unpleasant moments, but without serious risk to life.
What is the most famous movie you haven't seen?
– Star Wars.
How do you see the future of poker?
– I think everything will be fine, especially in live tournaments.