The latest Triton series traditionally kicked off with a $25,000 tournament held in conjunction with GGPoker.
At the Vietnam stage in this tournament, a series record was set – 166 entries, a couple of days later it was topped in the $15,000 tournament (172 entries).
This time, the record was not broken. In the opening tournament, the field had 158 entries, and the rest of the events had fewer. There are much fewer Asian players in Cyprus, mainly those who have successfully played in Vietnam have arrived.
The first winner of this stage was the entrepreneur Santhosh Suvarna from India.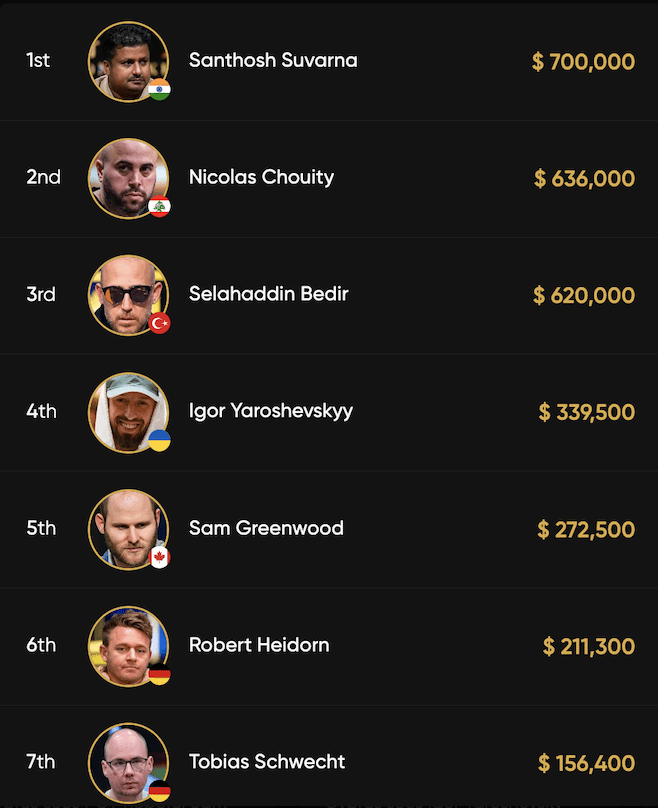 This colorful amateur came to Triton for the third time. His debut last autumn in Cyprus was also very memorable.
Santosh entered the final table as one of the short stacks, Igor Yaroshevskyy was confidently leading.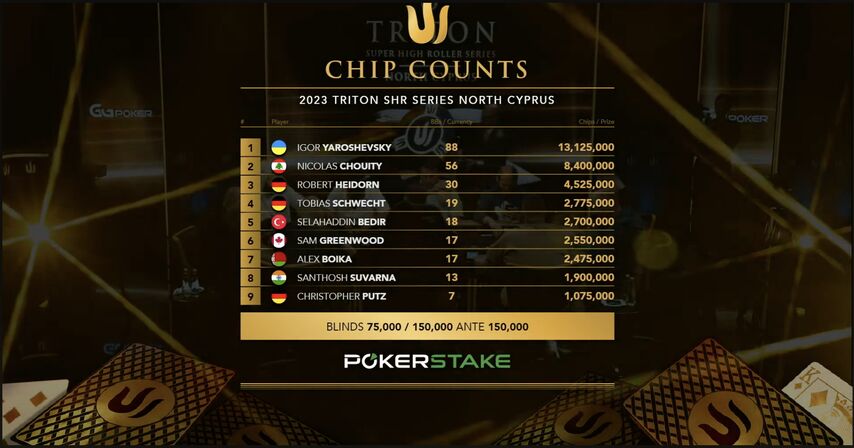 Igor did well in the final stage of the tournament, after making a great call against Kevin Paque.
Alexey Boyko was eliminated in 8th place ( < Sam Greenwood).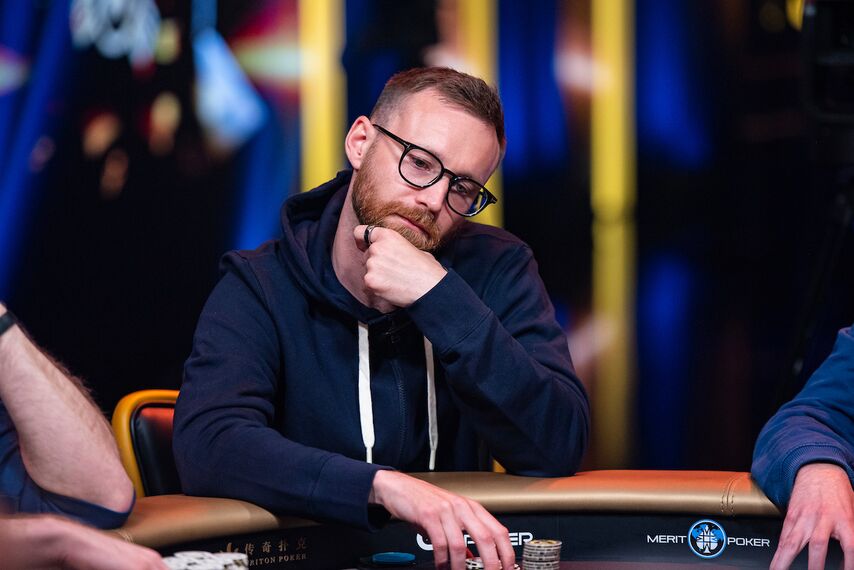 In the top six, Yaroshevskyy had 60 blinds – a little less than half the chips and a huge lead over his opponents. After the departure of the German Heidorn in 6th place, the stacks were a little shorter.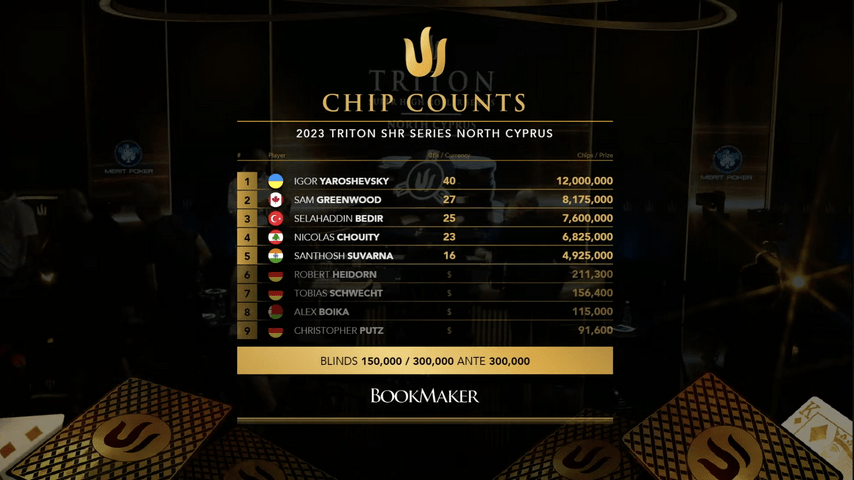 Sam Greenwood lost his stack in a couple of hands. He first shoved badly against Suvarna and was left with one blind.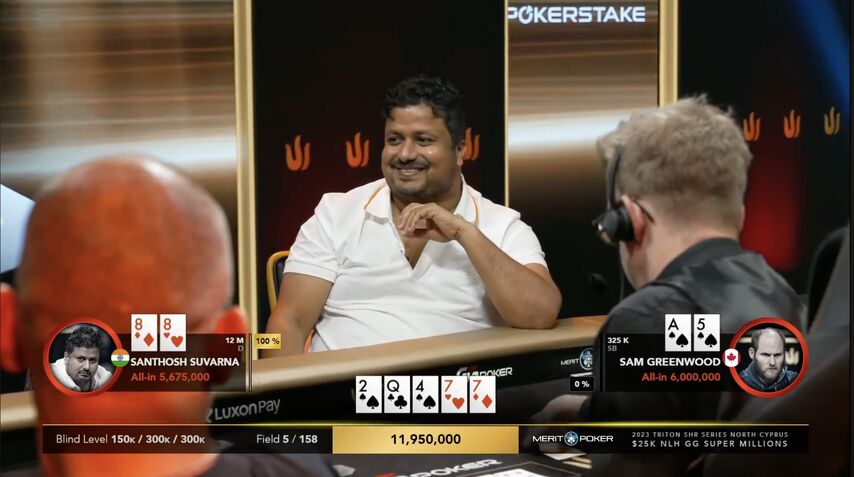 The rest of his stack was taken by Chouity.
In the top four, Igor played unsuccessfully against Suvarna several times. At first, he didn't bluff the river.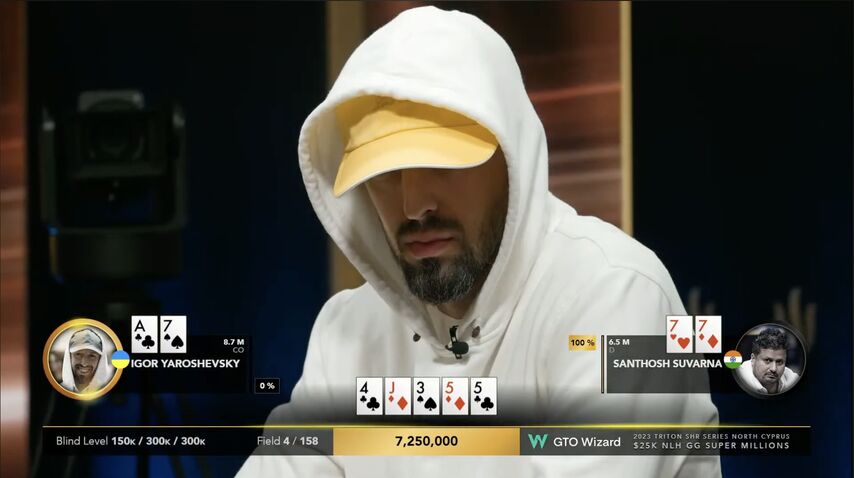 Igor opened preflop, bet on the flop and turn. The river was checked.
After a couple of hands, Yaroshevsky had already bet all three streets, and the opponent reraised with a full house.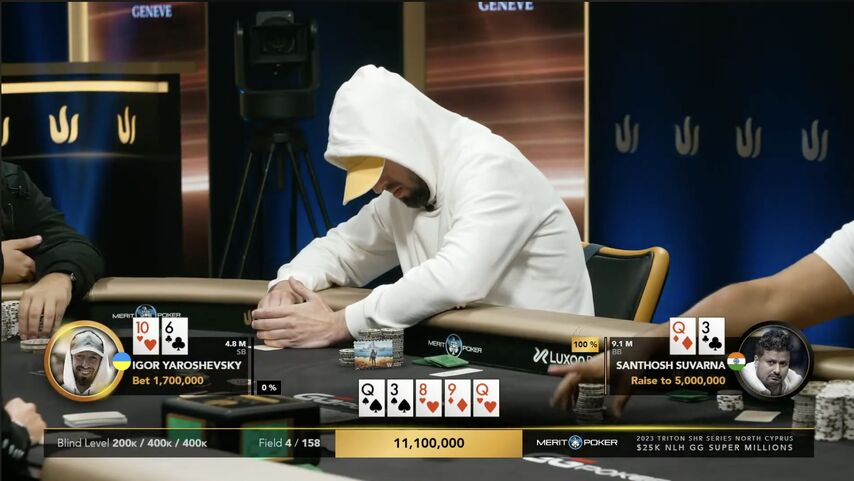 In his last hand, Igor shoved 12 blinds with sixes and couldn't beat the of Suvarna.
Santosh did not hide the fact that the championship title for him was his ultimate dream. This was immediately taken advantage of by his opponents.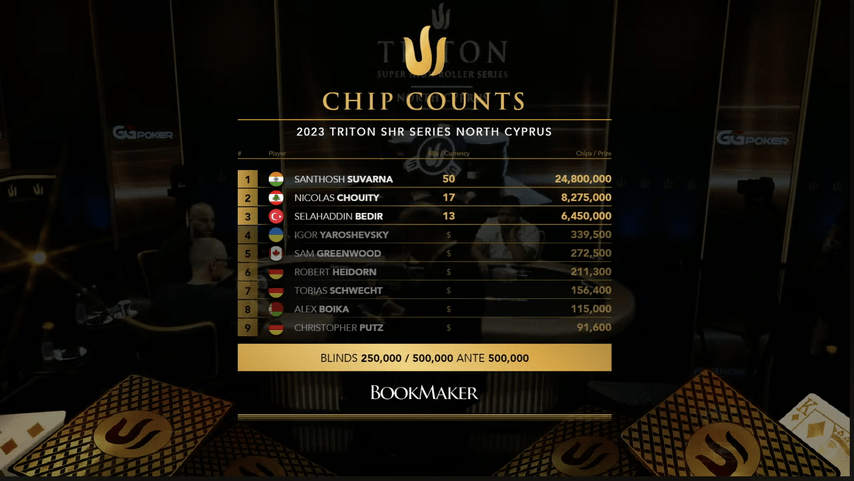 The tournament ended with one of the worst deals in tournament poker history. Despite the difference in stacks, Chouity, as the most experienced, received the most – $636,000. Bedir was content with $620,000 while Suvarna took $630,000 and all the trophies. Series Chief Tournament Director Luca Vivaldi explained to Suvarna that the deal was far from fair. Suvarna replied that he understands this very well, but everything suits him. There was $70,000 left in the middle, which Suvarna also "took" without any problems.
As a result of the tournament, Santosh was completely delighted:
– I am incredibly happy, I finally managed to win the tournament. I constantly watch recordings of Triton's streams and quickly learn from them. This series is the best.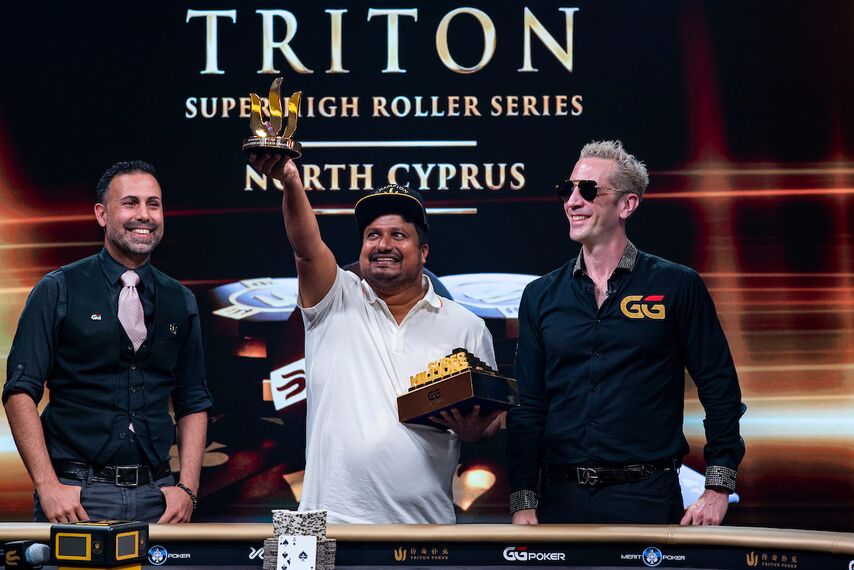 The second $20,000 tournament was won by Jason Koon.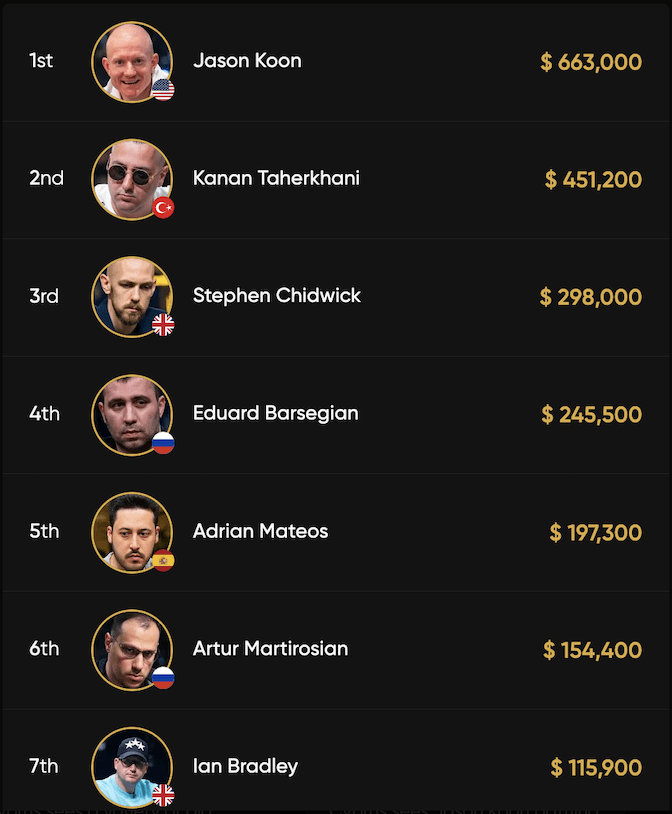 For Jason, this is already the sixth victory at Triton. The closest pursuer, Mikita Bodyakovsky, has four trophies.
The key hand of the final table was Jason vs. Artur Martirosian.
🥶Final Table COOLER Alert! 🥶 mararthur1 runs his Queens into @JasonKoon 's Kings!! Koon is now chip leading the table AND close to making history for his SIXTH 🔱Triton Poker Series Win! pic.twitter.com/a2C3A3kLbf

— Triton Poker (@tritonpoker) May 12, 2023
"Obviously, I was having a great time," said the six-time champion. – It's always nice to win. In the previous two series, I also performed successfully, but experienced minor health problems. I came here in the best shape for several years, and I finally feel great.
Jason called experience and love for the game the main secret of his success:
"I still love poker. I have an office five minutes from home. I go there every morning and work on the game. Nobody is forcing me to do this. I stopped playing series other than Triton. There is a special atmosphere here, many friends among the players and organizers.
The bubble boy of the tournament was Nikolai Losev, his queens didn't improve against Sean Winter's kings.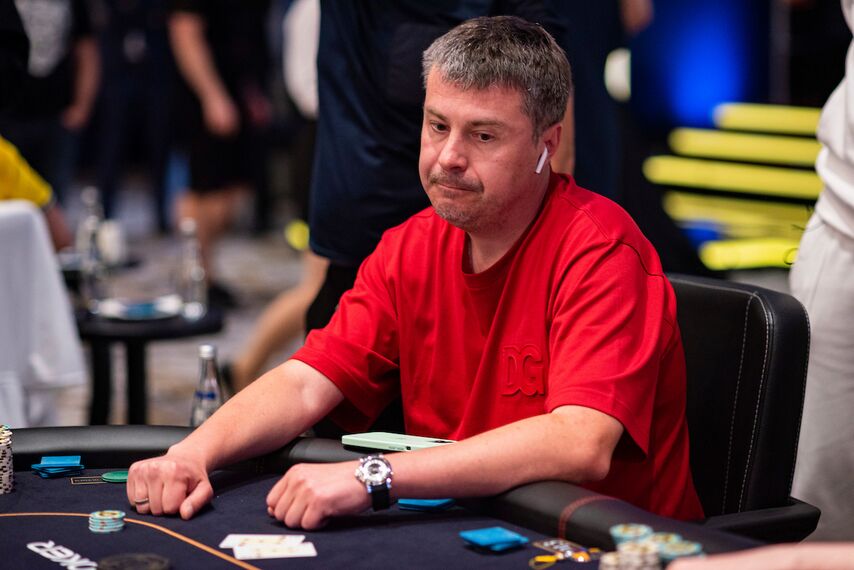 Ukrainian Andrey Lyubovetsky (17th place), Alexey Tsessarskiy (15th), Tom Dwan (14th), and Viacheslav Buldygin (9th) also made the money.
The most successful of all the Russians was Eduard Bersegyan, who scored a record win for himself.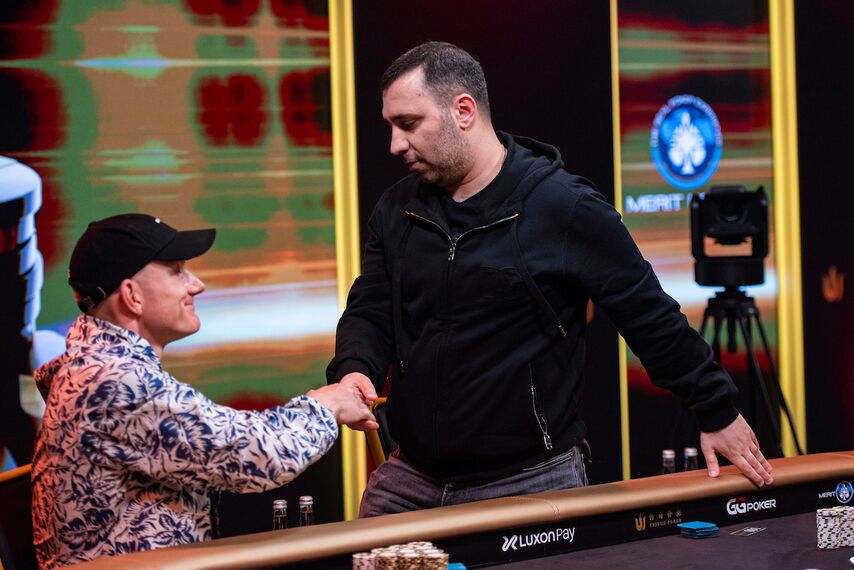 Eduard spends spring traveling between Cyprus and Sochi, and it turns out well.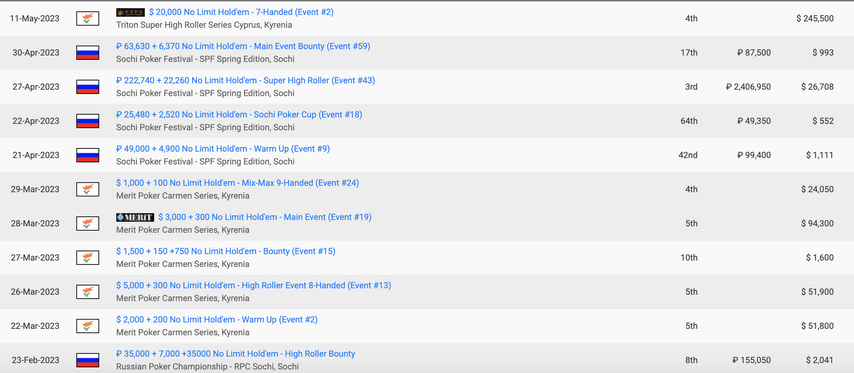 The $30,000 Mystery Bounty was won by Biao Ding. Artur Martirosian reached the final table for the second day in a row, but busted in 4th place.
The results without bounties are below.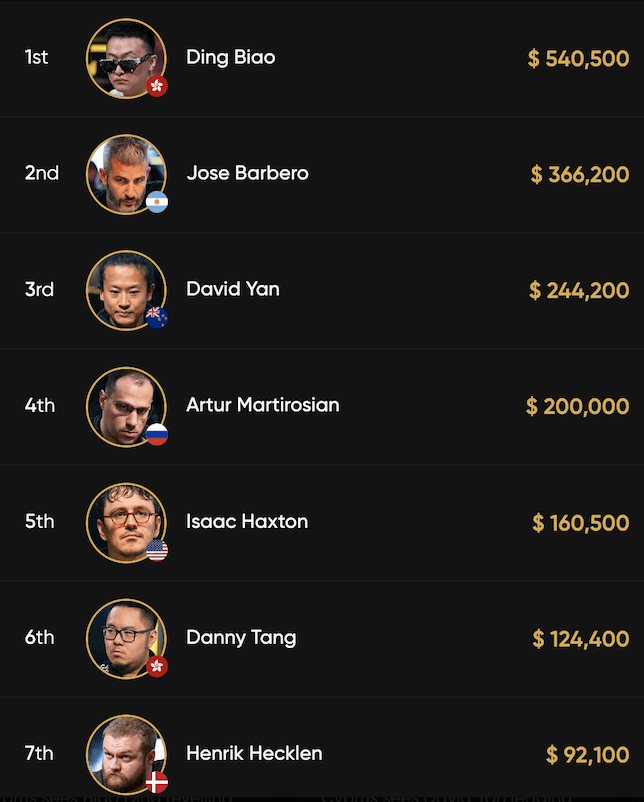 Biao Ding made some noise in the last series, when in one of the tournaments he did not shove with tens preflop with a stack of seven blinds.
In the top six, Artur called Ding's push and went over the hand in great detail in his telegram.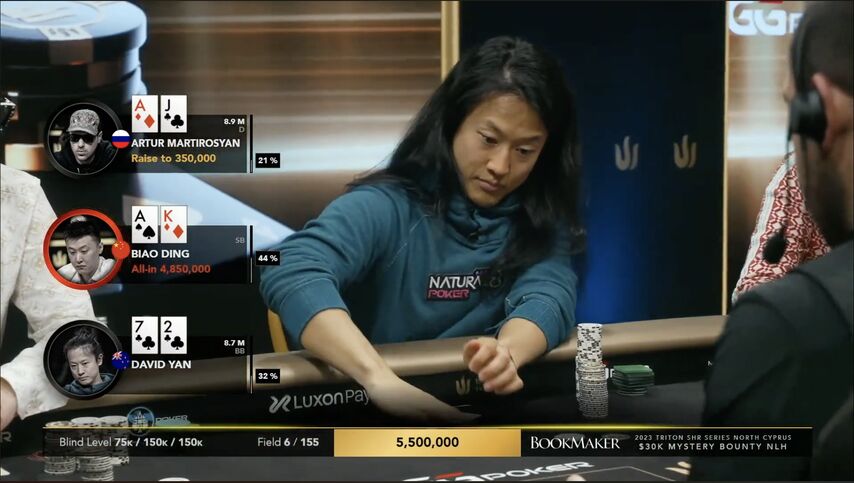 "AJo I misread the stack, should have folded there, I even got sick when I found out that the stack was 4.85 million, I thought there was around four, but I already let go of the situation," Martirosian wrote shortly after. – And I haven't been so wrong for a long time, in terms of counting the stack incorrectly, I don't remember when this happened the last time, especially at the final table, but then something went astray. Calling is still not as bad as you think, but folding is better depending on what range he is shoving because it is an easy call in these positions. I quickly called, counting around four mil, which was 25-27bb. The difference of a few BBs here is colossal.
With five players left, Arthur shoved preflop against Ding. The flop and turn were good for Ding, but before the river, Martirosian picked up his bag from the floor. It worked.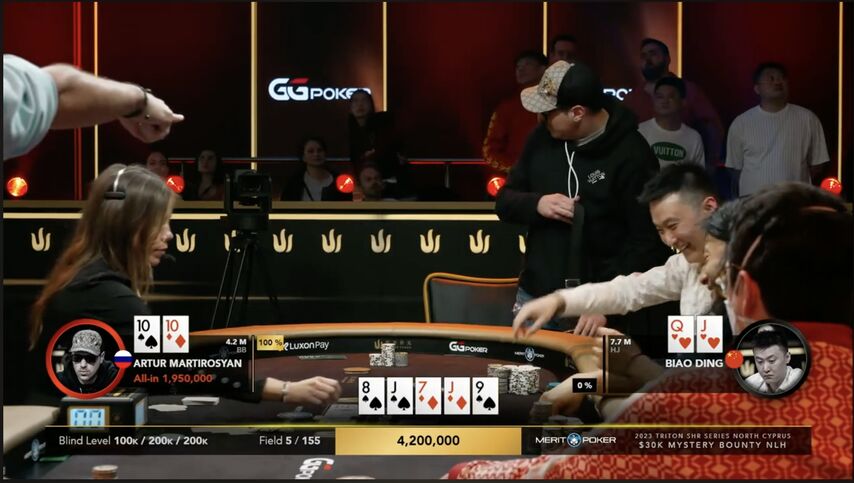 – As soon as he took over things, I no longer doubted that he would win – Nacho Barbero is also very familiar with secret live techniques.
Artur outplayed Haxton, but in the top four with a stack of 10 blinds, he shoved with A3 against Ding's AQ and didn't improve.
The bounty opening ceremony on Triton is a separate show.
Biao Ding earned seven bounties and was the first to pull envelopes. On the last try, he pulled out the maximum bounty of $345,000. And his total prize for the tournament is $1,085,500.
Steve O'Dwyer pulled out his two bounties quite casually.
Some viewers did not like that Steve did not put on a show. He even had to make excuses on Twitter:
-- Ali Nejad can confirm that last night several of us discussed at dinner what we believed were the luckiest strategies for picking bounty envelopes and I'm a firm believer that it's extremely unlucky to sweat the draws and you should treat it like tearing off a bandage.

Ali thought it was funny, if you've got a problem with it, go f*** yourself. I was also extremely hungry and the dinner break clock was running, at that point I had 20 minutes left to find and eat a meal before cards were back in the air in today's event.
Artur Martirosyan earned four bounties. The first two envelopes were opened by his sister, who pulled out an $85,000 gold envelope and a $50,000 regular one. Arthur himself got two with a minimum bounty of $30,000. Moreover, Ali Nejad gave him the opportunity to change the last envelope, Artur agreed.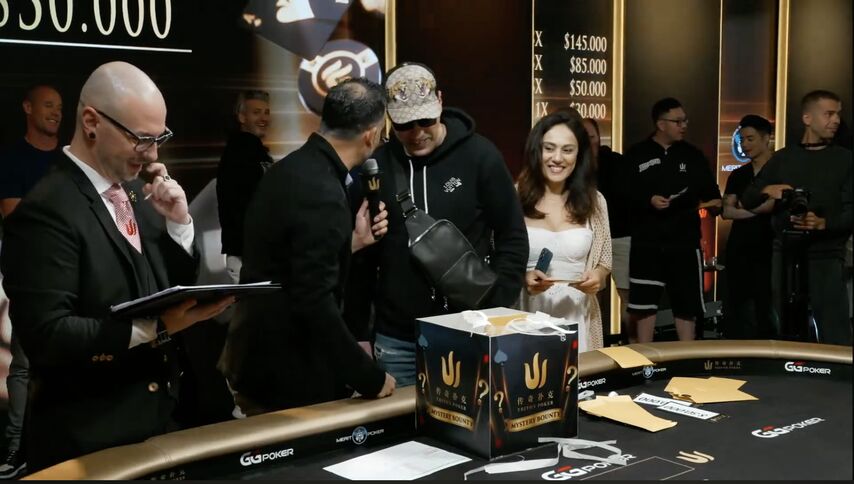 David Yan pulled out $435,000 in his 5 bounties. His first three envelopes were gold – two for $145,000 and one for $85,000.
The last envelope for $145,000 went to Russian regular Alexander Shelukhin.
All prize money, including bounty, can be viewed on the official website of the series.
In the $40,000 buy-in tournament, the field had 125 entries. In heads-up, the debutants of the series Gregoire Auzoux and Robert Heidorn chopped.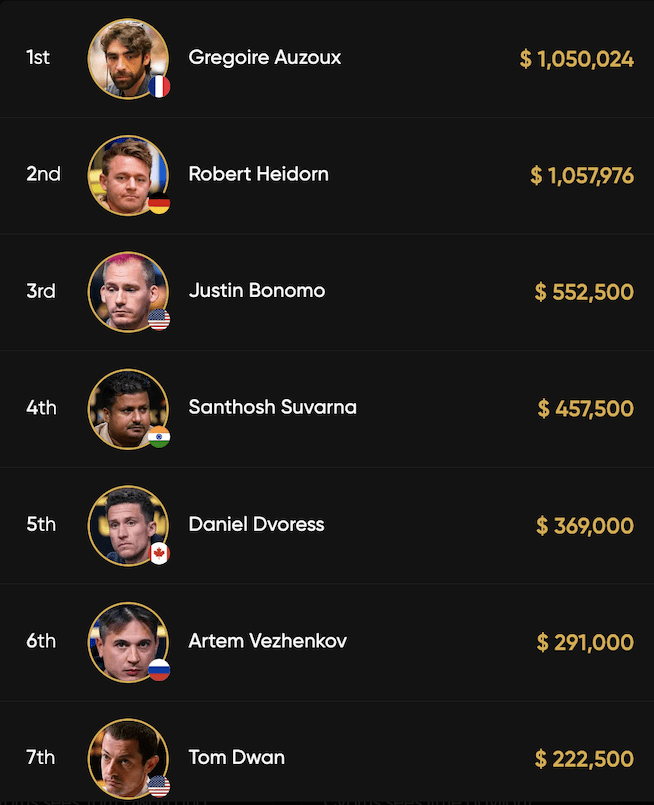 Artem Vezhenkov entered the final table with the third stack, only Dwan and Bonomo were ahead of him. But seasoned professionals had no chance that day. In his final hand, Artem shoved with aces against the future winner's tens.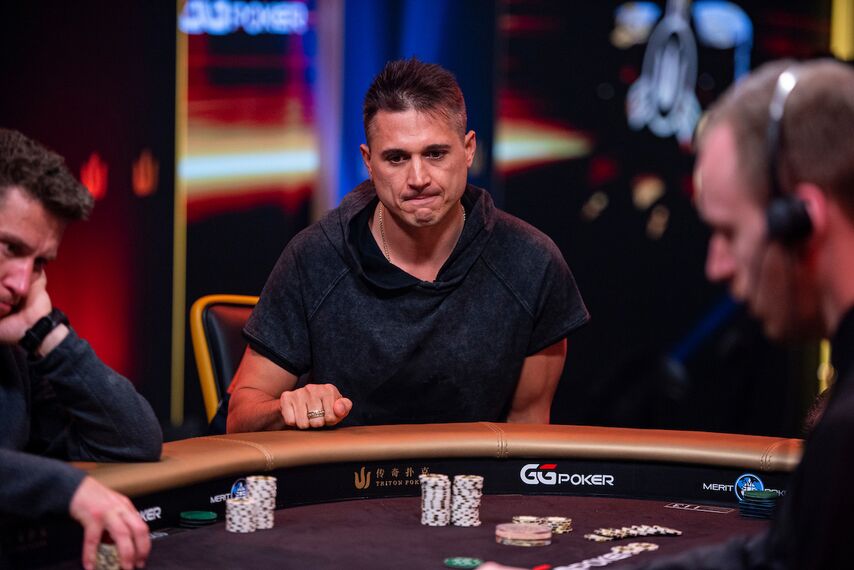 Daniel Dvoress was eliminated by Santosh Suvarna ( > ), and Bonomo busted when his open-ended straight draw failed to improve against Auzoux's top pair.
After the victory, Gregory admitted that he had been playing poker for almost 20 years, but when he started, he never thought he'd play such stakes.
– "Today I had a very simple strategy. I started the day one as one of the shortest, so I just played my cards. I was lucky to quadruple in a few hands. Then I laid low and tried to sit out as many opponents as possible. Everything turned out pretty easy. At the right time, I was lucky and chipped up well. I admit that it was incredible to me. So, first of all, thanks to the cards."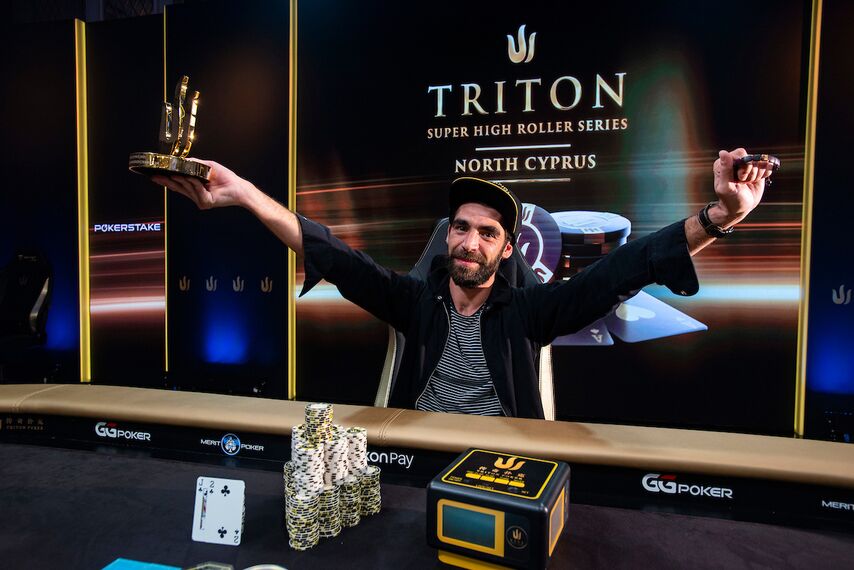 On Monday, a Russian day happened at the series.
Viacheslav Buldygin won the $50,000 tournament, his first live win.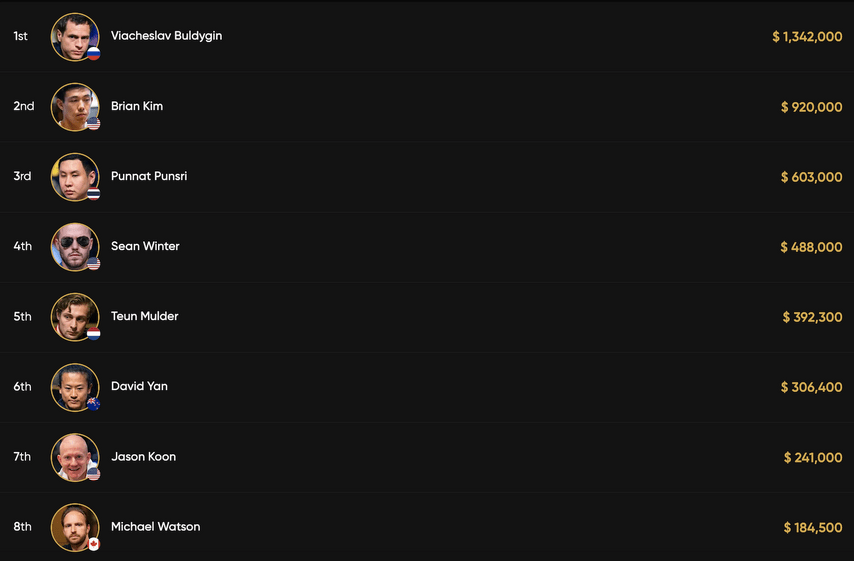 – "In this series, you played five tournaments and got into the money three times. What changed?" Ali Nejad asked the winner.
– I started doing more reentries.
– Okay, don't be shy. Surely between the series you did some work on your game.
– "Me?" – Vyacheslav put his hands to his heart. – Never. I play exclusively by feel.
"I see, you don't want to reveal secrets. You have a very bright expression. Can you at least tell me what goes on in your head at the key moments?"
– "In my head? I don't even know, nothing special. Please open the king. Please seven. Fold it, I beg you, fold it. Something like that, nothing meaningful, no ICM. Have you seen the monkey with cymbals meme?"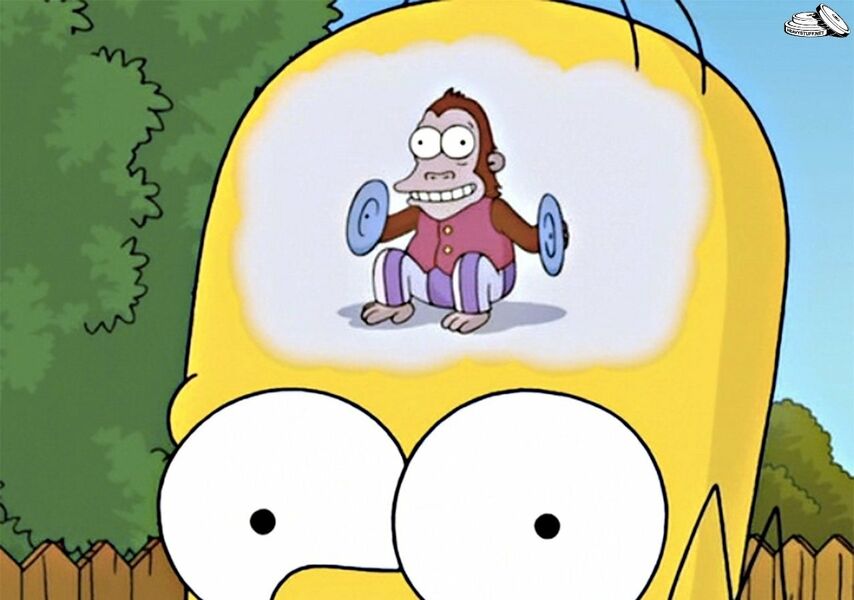 Viacheslav entered the final table with the fourth stack of eight players but almost immediately doubled up against Sean Winter ( > ). In 6th place, he eliminated David Yan ( > ). Having built a large stack, Viacheslav began to raise all hands in a row. He knocked out the next two opponents from below. 5th was Teun Melder ( < ), Sean Winter placed 4th ( < ).
Heads-up with Brian Kim, Buldygin started with an advantage – 66 blinds to 18 – and confidently won. In the final hand, he again won all-in from behind.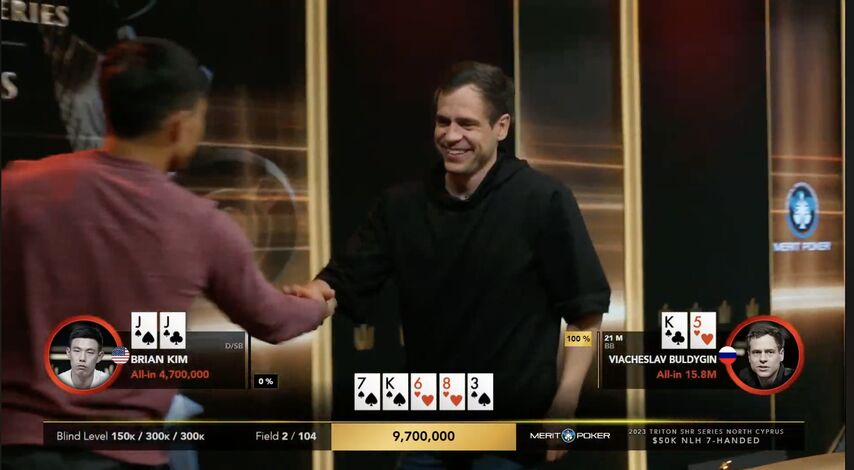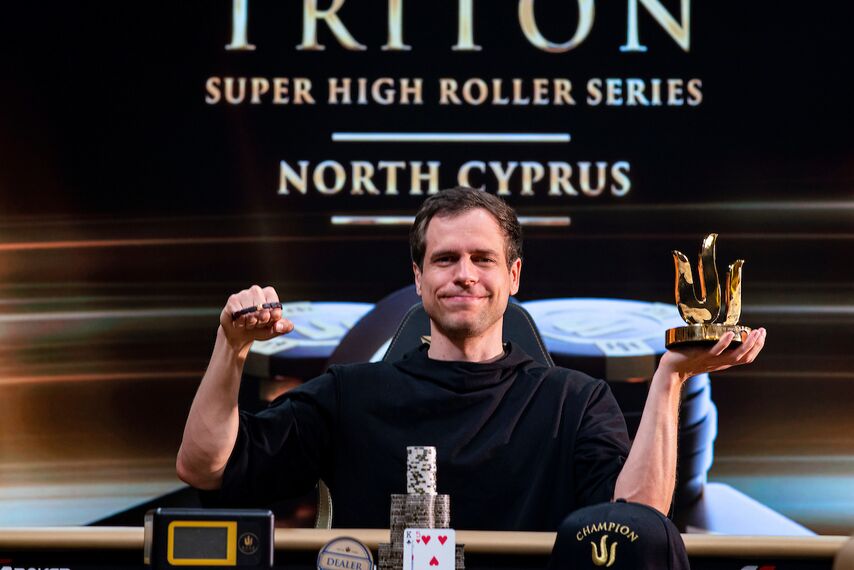 On the same day, Anatoly Zlotnikov won the $25,000 one-day turbo tournament.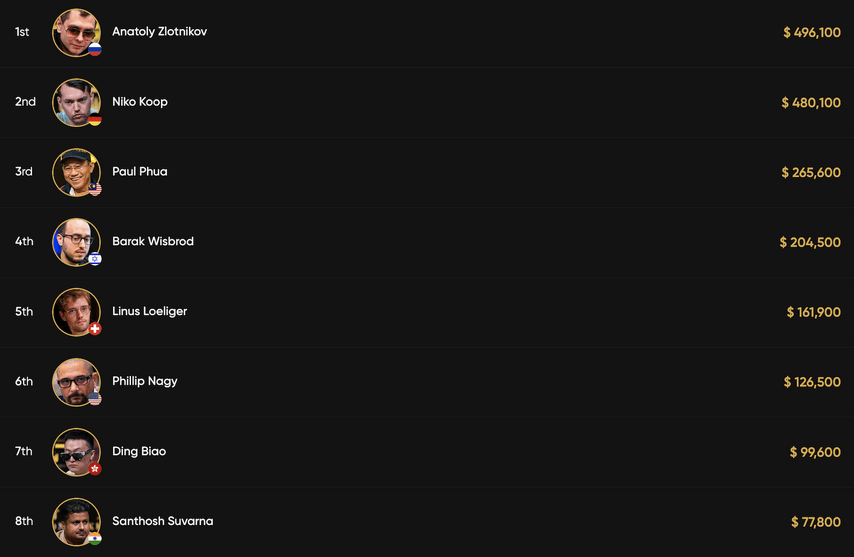 At the final table, Anatoly eliminated Biao Ding ( > ), Barak Wiesbrod ( > ) and Paul Fua ( > ).
In heads-up, Zlotnikov and Koop chopped evenly and left $16,000 in the pot. In one of the first hands, the German shoved , but failed to beat .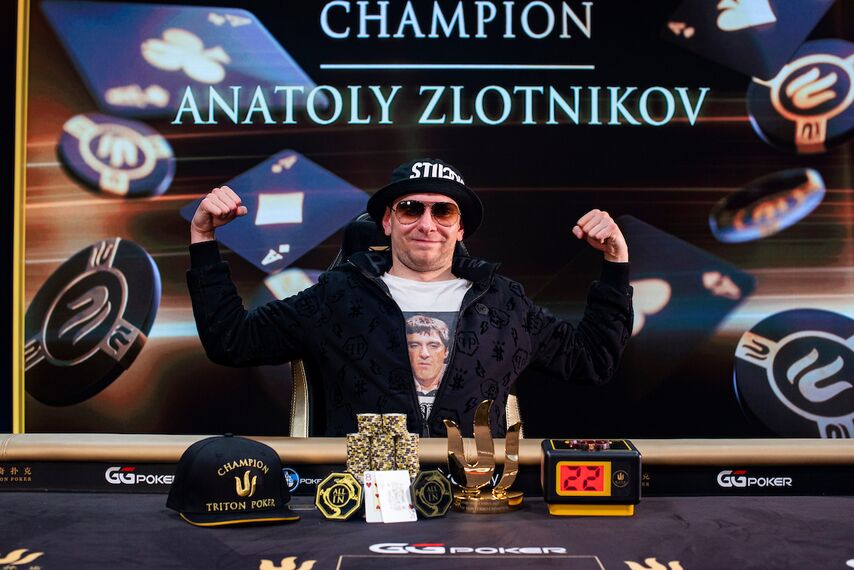 In his telegram channel, Anatoly shared his first emotions after the victory.
On Thursday, the $200,000 buy-in tournament started, in which Anatoly participates as a businessman (at the same time, in his Telegram channel, he cheerfully recalls how he worked as a loader in GUM). Evgeny Gavrilovich was also honored to represent VIPs. Triton organizers are perfect in almost every aspect of poker. However, there are some questions about the criteria by which they separate professionals from amateurs. We will tell about this tournament in detail in the next review.
This time there were 62 players. Significantly less than in the first such tournament last fall, when there were 90. It was a noticeable decrease in the number of players compared to other previous stops as well.
In the $75,000 buy-in tournament, the field had 87 entries.
In heads-up play, Michael Soyza beat Mikita Bodyakovsky.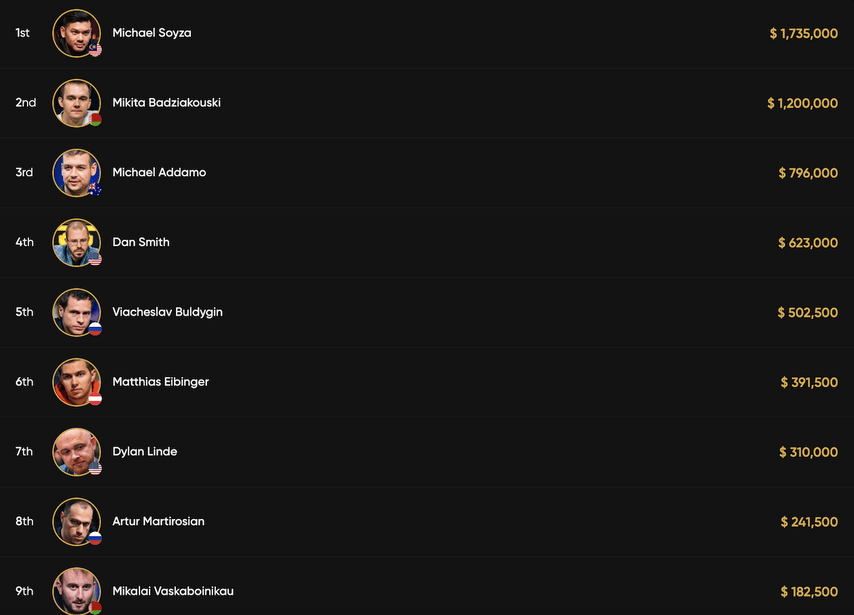 The final table turned out to have the most "regs" in the entire series.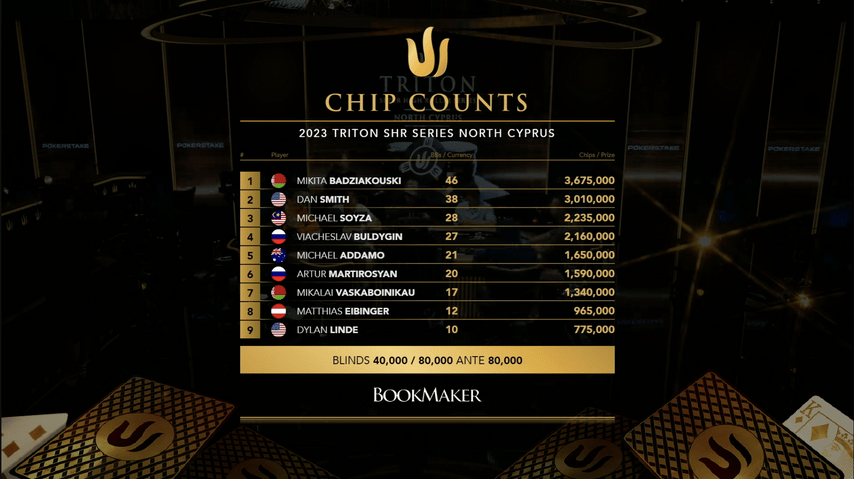 At the very beginning, Michael Soyza called preflop with aces and knocked out Artur and Mikalai Vaskaboinikau in one hand ( > > , the flop came with a flush draw).
After that, Soyza was unstoppable and did not lose his lead until the very end. In the top five, his advantage became overwhelming.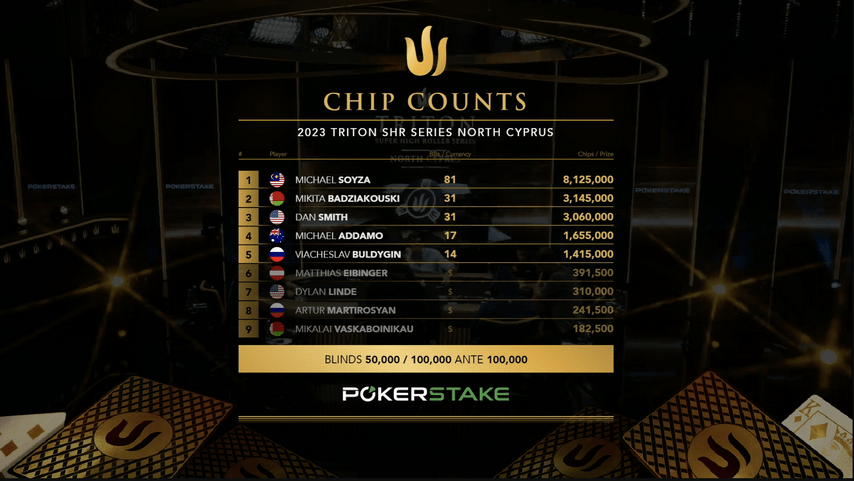 After the departure of Viacheslav Buldygin in 5th place ( < to Soyza) the chip leader had more than 100 blinds, and none of the other players had even 20.
Dan Smith was forced to shove with T8s, but failed to beat Soyza's ladies. Michael Addamo ran into pocket jacks with .
Only Mikita was able to put up fierce resistance to the winner. He started heads-up with 17 blinds to 99 but gradually leveled the stacks. However, in the final hand, Michael beautifully called the opponent's bluff and became the champion.