Previously, some players have played 30 tables like it was nothing. No one died (almost). Now it will be extremely problematic to even get so many tables playing at once in most rooms, the mortality rate will obviously increase, and you will earn little with rakeback. Therefore, we decided to refresh our (and yours!) knowledge about multi-tabling. We learned how many tables a self-respecting regular should play and figured out how to deal with boredom and the desire to do something like that when there are not enough tables. We also figured out how to add a comfortable number of tables without compromising concentration and found people who were helped by forced restrictions at PokerStars not only to increase their win rate, but also to find the motivation to increase limits.
Ilya "Dzont"
If the game is enough, then I roll six to nine tables, depending on how I feel. By the evening, when there are not so many players, I reduce this number.
When there are not enough games, I try to pay attention to the opponents' plays, keep a close eye on the fish, and find interesting lines, so that later I can implement them into my game. Just kidding. When there are not enough tables, I read GipsyTeam, and sometimes even, watch a stream. I can connect to YouTube. But it's right, of course, to do as I wrote at the beginning.
The number of tables that you can play with good concentration, in my opinion, depends on the level of understanding of what to do in standard situations. In other words, what matters is how well you did your off-the-table studying and how much of a tune you have. For example, when an amateur connects only the second table, he already believes that this is not poker, but some series of random decisions, because there is no time to keep track of anything and think about anything. For a long time, I had a bar of four or six tables, and then the quality began to drop sharply. But after life forced me to study theory, I became quite comfortable playing nine tables.
In any case, it's not worth chasing the number of tables on purpose, everything will come by itself when you're ready. The main thing is the dollars per hour, more precisely, the optimal combination of the number of hands/hour and the win rate. In addition to technical skill, physical well-being also plays an important role. Probably, when you are 30+, you don't have to chase 18-year-old grinders who could come from the club in the morning and skate with a high concentration in the afternoon. Nevertheless, giving up bad habits and regular exercise will definitely allow you to connect more tables and play a long distance.
"uebik798"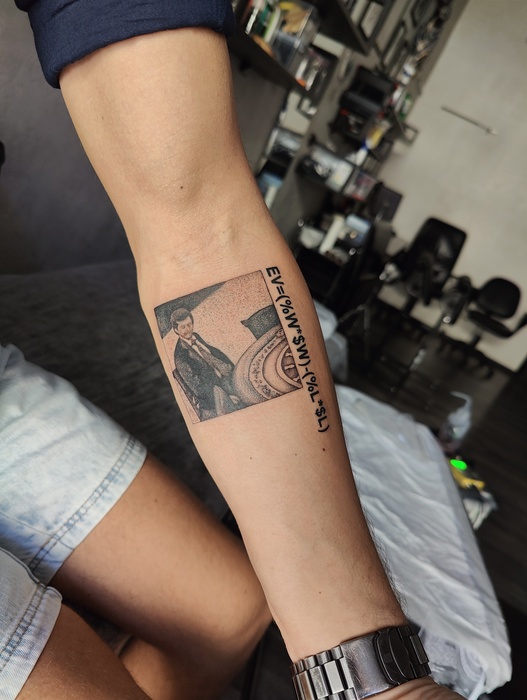 I play four tables as PokerStars allows.
In the summer it is not always possible to have all four be a good game, so sometimes I sit at two. At this time, what I call "thinking too much" happens. If I catch myself doing this, I try to do something on the second monitor – twitch, YouTube, GipsyTeam, just to keep myself busy. I know everyone advises to not be distracted from the game, but it often helps me not to invent too much. I find sometimes boredom makes you wind yourself up in simple situations, where the only right decision is obvious.
I think six tables would be just right for me. More is not necessary. Although earlier, when it was possible, I could roll all 24 tables. This is appropriate only with a good rakeback, you definitely don't need to strive for this. This not only reduces the quality of the game but also accelerates the emotional state, after the grind you still be awake for a couple of hours, as if you had too much coffee.
By the way, after the forced restriction to four tables, my win rates doubled, but most importantly, the motivation to improve my game and get out of the micro-limit swamp increased, since at four tables you can't even earn enough "for a beer".
Dmitry "timenow"
I consider six tables to be the optimal number, everyone can build up to this. Compared to four tables, $/hour will be higher, and win rates will drop slightly, if at all.
I myself, unfortunately, sometimes play more, but this rarely happens, because even six tables at NL400 and above is not an easy task to collect.
If there are not enough tables, then it gets boring, and I'm working on it. For the time being, as a measure of struggle, it helps to play cheaper tables, if, conditionally, you have only a couple of tables open at your usual limits.
How to learn to play more tables: sit down thinking "I sat down to learn to play one more table in order to increase my anticipation and I will play with maximum focus." Well, just work on this skill. But I repeat – for an ordinary person, I would not recommend trying to play more than six tables.
I also work a lot on versatility and on my B-game. Sometimes I even sit down to play in a suboptimal state to practice this very B-game, but I have never tried to learn how to play more than six tables, all such experiments have failed. Four to six tables with a good hourly schedule will definitely give you adequate distance.
Koval "Phenomenico" Vyacheslav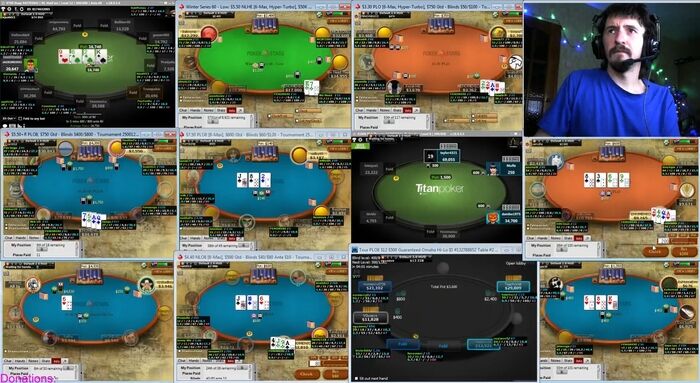 I play different disciplines, so the number of tables often varies.
When I played MTTs, it was usually 12 tables, but largely due to the fact that there was a lot of Omaha and Omaha Hi-Lo in the mix, where there is a lot of action and 6-max tables. Hold'em I managed to play 15-18. When playing different disciplines, it helped to repaint the tables in different colors, as well as their certain location on the monitor. Usually hi-lo as the main discipline was in the upper left corner, PLO in the upper right, and hold'em somewhere at the bottom.
I also used to grind multi-table SNGs in one pile, with table ninjas and hotkeys. There were 25-30 tables at the same time. Oh, those were good times.
Now I play PLO-cash at GGPoker, both regular tables and Zoom. In Zoom, the room is limited to four tables, so you won't be able to load more, but less is not very productive due to daily leaderboards. I tried to play two limits, eight zoom tables each, but I couldn't do it for more than an hour.
Now it is optimal for me to play 12 regular tables, at peak times I can hold up to 16, in principle.
Boredom without extra tables happens of course, so I rarely have such situations. At some point, I realized that I was not rationalizing my time if I watched some YouTube or Twitch. Therefore, now during the sessions, the full focus is on the game – I turn off instant messengers, minimize the browser, only lowkey music plays in the background. Well, if you sat down to grind, then you need to grind. As for me, YouTube is better to watch after the session. At the same time, if you play MTTs and at the end of the session there are some long runs, then on the contrary, it's better to watch/listen to something in the background, otherwise you can play too much out of boredom.
If you are on more tables than comfortable with, then you often fly into time banks, you get more nervous, there is less time left for making decisions, and you slide into autopilot. However, this skill can still be developed. I remember when I was just starting to play poker, even two tables seemed unreal to me, and when I launched four, I thought that I would break my brain. Now, with four tables, the action is clearly not enough for me.
At the same time, you should not chase the likes of Nanonoko and other kings of multi-tabling with 50+ tables (although now the rooms for the most part will not allow you to load so much). You need to find a middle ground that is comfortable for you, so that, on the one hand, you can effectively spend your working time and not lose the expectation because of the YouTube player in the background, and, on the other hand, do not slide into autopilot with clicking hands just to be in time for the next table.
Valera "Rainpwn"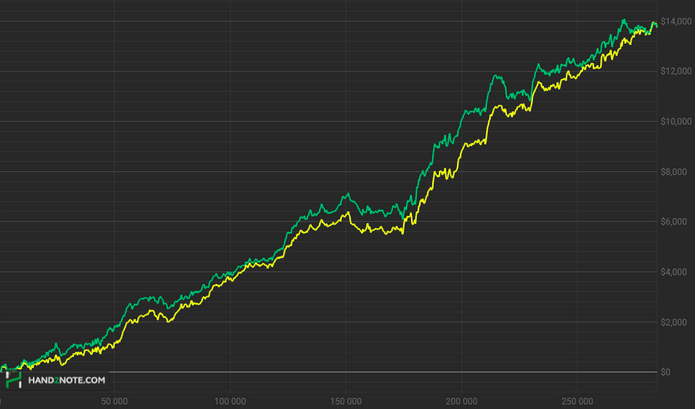 Now I play four tables, I have no other options since I play only one room – PokerStars. Multi-tabling has always been difficult for me, the first few months after I started playing poker, I played only one table and when I tried to add a second one, my concentration dropped, and it became very uncomfortable to play. It took about another six months to move to three, and then to four tables. Right now it seems to me that the optimal number of tables is between four and six, depending on how well the person multitasks. Also, this indicator indirectly depends on the room – on iPoker or GGPoker the animation is slower than on Stars and the number of hands/hour at one table will be lower, so it is easier to play more tables there.
I try not to play one table. An exception is if there is a very good VIP, but I still try to connect the second and third table, even if with not the best line-up. Two of them can already play and at the same time actively monitor the lobby, open/close incomplete tables and keep track of new ones.
In my case, increasing the number of tables was just a matter of playing and building a strategy. When you have no idea on the flop whether or not to bet and how much, you start to sort through all the possible combinations of your opponent, and it is very difficult to play more than one table. But, as it seems to me, for a quality result, beginners should just start with one or two tables. At this pace, there will be the fastest possible learning right during the game, it will be possible to have time to peep the lines and sizings of other regs, think about the hands played right during the session in hot pursuit, come up with creative lines, delve deeply into the statistics of opponents and much more. I don't know how boring it can be.
Andrey "McFearless" Denisyuk
At the beginning of my poker journey, I played 1-2 tables, then increased the number to 4-6, and eventually reached 12-16 on PS or 6-8 on Zoom.
And then they introduced restrictions on Stars – a maximum of four. At first, I was very upset and thought about what to do next. In the end, I came to the conclusion that you just need to move up the stakes as quickly as possible and roll with the best possible game selection and thoughtful A-game. This is what happened, soon I was already playing NL50, and started with NL10. Winrate at all stakes was 15+ bb/100. I began to earn more money than before by three or four times. It turned out that this innovation changed my life for the better.
Of course, it was boring to play ... I added a second room, 888poker, to download. I have already played 8-10 tables in parallel. The win rate, if it fell, was insignificant, by 1-2 bb.
Now I play Chico and Coin. In parallel, I play tables of 10-12, but I also have a lot of experience in the game. For me, thoughtfully playing 8-10 tables is not a problem at all. But 11-12-13 sometimes becomes difficult. Therefore, I try to just get out of the worst tables.
My advice is to play four to six tables with the best possible selection. This will give you x2, maybe x3 winrate compared to playing rakeback on 10+ tables without good selection.
In the future, you can increase the number of tables. You yourself will feel this moment. This will happen when you become a confident reg of your limit with a win rate above 6 bb/100. And when you notice that you are bored for a lot of time even though you think over every decision and look at the stats.
"Nicedaybro"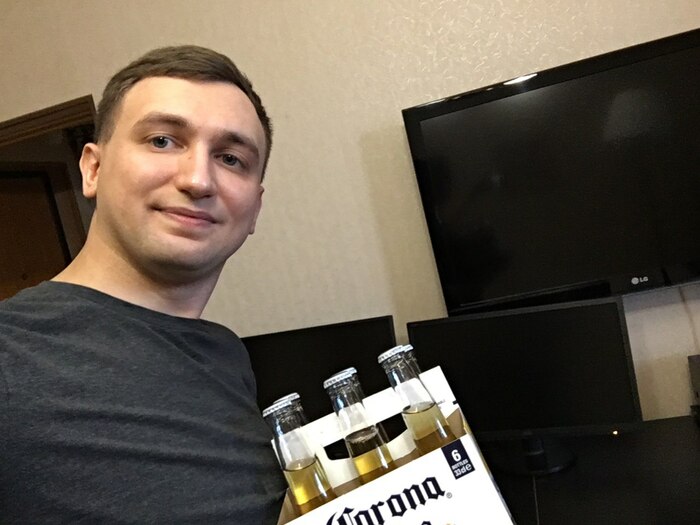 I mix two rooms and usually aim for seven tables. I can play more, because I have two years of Zoom behind me – a year on Stars with four tables, and a year of rake races on Party, where I had to play six to nine fast tables. With the transition to regular tables, after some time, I designated seven for myself as the ideal number – if more, then a small autopilot begins, and if less, then I'm catastrophically bored.
It's summer now and periodically there are moments when even two rooms are not enough. Then I start to get bored a lot and turn on music, YouTube, or streams in the background. Obviously, this can be distracting, but in my case, it helps stop me from doing too much. And in general, the work should bring pleasure. The background does not bother me. When fully focused, I don't allow it to bother me.
The ability to play many tables is a vital skill, you can't win without it, especially at low stakes. You need such a profit that A – covers your expenses, and B – increases the bankroll for growth in limits. This is already quite difficult to do, which is why many players, even with a margin of beating the conditional NL25-50, cannot rise higher for years. And playing 3-4 tables it will be an endless process since the long hours and lack of profit will be tough.
For higher limits, this is not such an urgent issue, because there is no strict need to increase the number of tables, but I think that every NL200+ player, if he is seated at seven or eight tables, will cope with no problems at all.
The most effective way to keep more tables is to improve the technical side of the game and just play very, very much.
If you don't know which technical aspect to start with, start preflop. A polished preflop game will take a ton off the brain, allowing you to add tables as you spend less time making standard decisions.
Arkhip "ButovoEPT" Apstrikov
I usually play up to six tables, for me this is the optimal number.
When there are fewer tables, especially at the end of the session, I start making extra moves, entering hands with marginal hands. If there are more than usual tables, 7-8-9, then there is often not enough time to make optimal decisions, I miss the action at the table, and I forget what actions the players did before me.
In any case, you need to strive to play more tables, but without losing quality. I think you just need to add one table at a time and see how it affects the quality of the game. For example, if a person is used to playing four tables and is comfortable, then just try to add a fifth and see how it goes for a couple of days. If the winrate does not drop much, then the table can stay, if not, it can be removed. Thus, you can reach the optimal amount, I think it will be different for each player.
"ukuwutebya"
I usually play four or six tables. In general, it all depends on the current psychological state and mood of the game. If I'm in a "combat" mood, then I neglect the game selection in favor of the action. It pays off when you feel like you are now ready to put out your best B-game. But if a person goes on tilt easily, then this can play a cruel joke on them. If I sat down to play with clear selective settings, then I very rarely break "promises" to myself. At such moments, the A-game wakes up.
It often happens to me that I add tables as an additional burden. It affects me badly, which can be seen on my hand/hour charts. It's not even that you can make the wrong decision, but that this very decision can spin in your head for a long time and drive you into passive tilt. Therefore, you need to be careful with this.
I would advise after studying the theory, be sure to fix it in practice, either on Zoom tables or by your own method. It is possible at limits much lower than the working ones. It is necessary that theoretical knowledge become a habit. This is if there is a strong need to increase the number of tables while maintaining a strong B-game.
Ilya "KARACHEVSKII" Karachevsky
In regwars, I play up to four tables, in games with fish I can do up to 12, but here it depends on the rooms. For example, on WPN there are long timebanks, and on Chico, on the contrary, players will constantly be folding.
It's boring only if I finish playing for the eighth hour on one or two tables in a good game. During such periods, I can afford to eat or watch YouTube. If there are more tables than comfortable, then I close the weakest ones. This happens quite often when you are already tired, or after a break.
If the game is not enough, and I'm not tired, then I simply redistribute the tasks for the session. For example, I start making notes, if I notice something unusual, I carefully look at the sizings and timings in each hand, and I add regwars. Sometimes I allocate a couple of hours purely for regwars with full concentration – when I want to play, but there are still no fish.
How to learn to play more tables? First, recover and prepare for the session. Good food and stuff. Add a couple of tables to the load, at least for the peak productivity time, it is usually from the first to the third hour of the session for me.
Of course, you always need to understand how many tables you need to play in order to get your expectation and make a profit. I am a supporter of playing long sessions and many tables, because otherwise there is nowhere for volume to come from, and without volume there will never be a result.
Concentration damage is normal, it is important not to strive for the best concentration, but for the best win rate per hour.