Find Out About 888poker And Get Bonuses
This cardroom has taken a well-deserved top spot in the online poker world. Called Pacific Poker before a 2010 rebranding, 888poker has a reputation for soft tables and big bonuses. It's one of the only online cardrooms to offer a true no-deposit bonus. They're also one of the most trusted online poker sites, with well-designed mobile and PC applications.
Available Bonuses And Daily Rewards
888poker has always brought great bonuses, daily rewards, and prizes to poker players around the world. Play now and boost your bankroll.
The No-Deposit Bonus
No-deposit bonuses are scarce, but 888poker has one that lets GipsyTeam players test-drive their poker tables. Just for downloading the app on your mobile device or computer, you'll get $88 to use on the tables.
This bonus is gradually given out as you play, using a point system. The more you play, the more points your account receives. As you reach milestones, more of that free $88 bonus is released. Some of the bonus will be tournament tickets, so read up on the correct strategies.
Upon registration, 888poker will send an email regarding the no-deposit bonus. Follow their instructions for free real money, and yes, it's real money.
The Welcome Bonus
Using the promo code WELCOME100 with your first deposit will match your deposit by 100% (up to $1000). You've got to deposit a minimum of $10, and the money is released incrementally using a point system.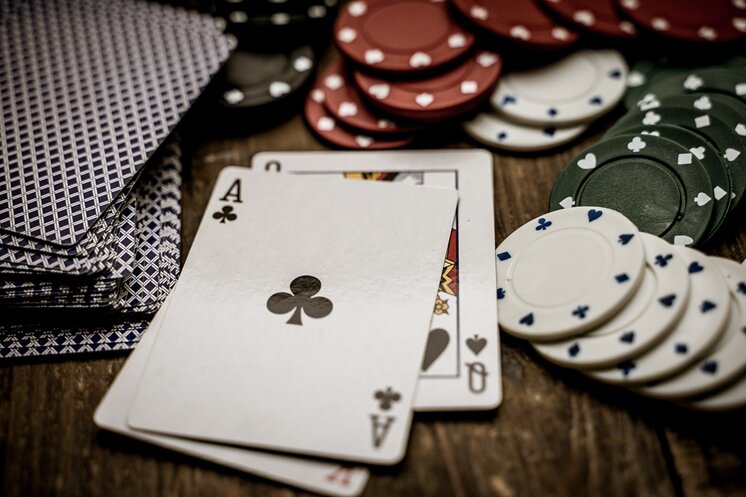 How To Get Started At 888poker
Registering and getting to the 888 tables doesn't take long. Follow our link to the website and click on the yellow Register button. You'll need to download their software first, so look for your operating system below.
Windows PC
Mac OS
iOS
Android
The Windows and Mac software can be resized however you'd like, and the mobile apps can be portrait or landscape.
With the 888poker software up and running, input your account details. Don't forget, now is the perfect time to take advantage of a juicy bonus. Why not maximize your bankroll?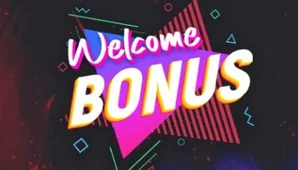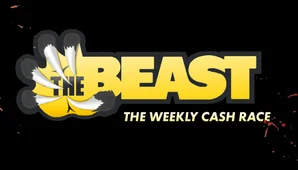 Games And Stakes Offered At 888poker
With this app, you'll be able to play five main game types. 888poker offers Texas hold 'em, Omaha, Omaha Hi-Lo, Blast, and Snap. Cash game stakes start at cents and peak at $250/$500. Tournament stakes vary greatly.
Cash
Classic format for both online and offline poker is wildy popular on 888. 6-max tables available from $0.01/$0.02 up to $25/$50, both for Texas Hold'em and Omaha. 9-max tables from $0.1/$0.2 to $1/$2. For a dynamic game, fast poker is suitable, the maximum stakes are $1/$2.
Don't forget about PLO8! While similar in many ways to Omaha, don't step into these tables without getting familiar with the different rules. Players with high hands and low hands compete for a split pot in this version of Omaha poker. The hi-lo tables won't be as busy as the hold 'em tables, but you can still find games.
Blast
This is 888poker's version of the 3-way super turbo sit-and-go format. This type of poker has become popular over the past few years.
Many players make the mistake of thinking that there's no strategy to Blast poker because it's too fast. They're wrong. Some players spend long hours learning and strategizing about Blast poker. You won't be able to wait for aces in Blast games.
Snap
If you know about Zoom over on PokerStars, then you will understand Snap on 888poker.
In this game mode, there's no waiting or downtime. As soon as your hand is folded, you switch to another full table. It saves players a lot of time, and the blinds still function the same. It's as if you remain in your seat, while the players around you come and go at lightning speed.
You don't even need to wait for your turn! If you look down at a terrible hand, you can instantly fold and move to another table. If you've already put in your big blind, you won't be able to Snap Fold, but you wouldn't want to waste the money anyway.
Popular Tournaments and Freerolls
Let's talk about the most thrilling real-money tournaments at 888poker. We need to cover freeroll passwords too.
Sit and Go. This format is ideal for players that want to play multiple tables at once, or seek practice. Once all of the players arrive (2-360 players to be exact), play begins. This tournament can flow at different speeds, so check the details before you enter.
Popular modes are 6-max and 9-max. There is no late registration in a sit-and-go tournament, so take a seat early!
MTT. 10%-15% of players get paid in Multi-Table Tournaments, and tables are shuffled to balance the chip amounts. You'll be shuffled to a table that the algorithm considers balanced.
The real money is at the top of the prize pool, as usual. You might pocket 30% of the total guaranteed amount, that's a real incentive!
PKO. For the first time playing in a KO, or knock-out tournament, the numbers might be perplexing. To put it simply, your buy-in amount contains your bounty. Every time you eliminate a player, you collect their bounty. This works both ways though, your bounty will be given away if you bust out.
As the tournament progresses, bounties build, so everyone has more to win and lose.
Mystery Bounty. This tournament mode puts a suspenseful spin on knock-out tournaments. Players' bounties are kept hidden at first, so you won't know if you're picking up a little or a lot when you take their chips. In the final phase, a golden envelope hovers above each player. Winning the bounty opens it up and reveals your winnings.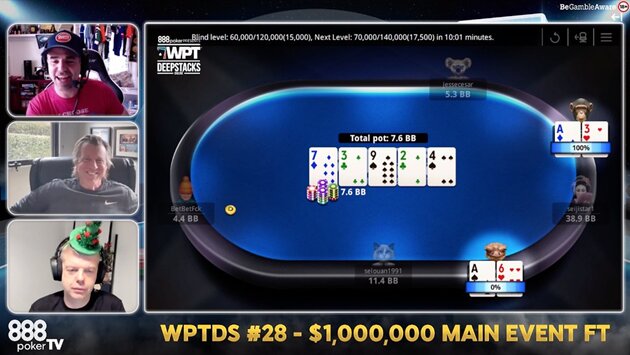 Freerolls. Entering the nearly hourly freeroll tournaments is a great way to grab some experience, and maybe some cash too.
Level up your account to get access to tournaments with huge guarantees. Level 80 members get a ticket to a $10,000 freeroll, so it pays to level up your 888poker Club. Your level will rise every time you play.
Let's review some of the most common freerolls.
| Tournament Name | Value | How Often Is The Tournament |
| --- | --- | --- |
| Level 5+ Freeroll | $50 | Multiple Times Per Day |
| Level 10+ Freeroll | $100 | Multiple Times Per Day |
| $200 Daily Freeroll | $200 | Sometimes Hourly |
| Level 20+ Freeroll (Cash Prize) | $500 | Daily |
| Level 20+ Freeroll (Ticket Prize) | $640 | Daily |
| First Depositors Freeroll | $500 | Daily |
| Level 30+ Freeroll | $1000 | Daily |
| Level 40+ Freeroll (Ticket Prize) | $5,450 | Every Saturday |
| Level 60+ Freeroll | $5000 | Last Saturday Of The Month |
| Level 80+ Freeroll | $10,000 | Last Sunday Of The Month |
If you need freeroll passwords for a specific tournament, you also can contact us. Sometimes poker sites and clubs hold freerolls. You'll need an updated password to join in on the action.
Depositing and Withdrawing From 888poker
The minimum deposit is lower than most sites at $10.
You'll be able to use all of the popular deposit methods. Visa, Mastercard, Skrill, and Neteller are all accepted.
To withdraw all of your winnings, you need to verify your account. That's so that your money doesn't end up in someone else's bank account. Your cashout will be sent using your preferred method of deposit.
You can also transfer player-to-player.
The Rake And Rakeback
The rake for limit games fluctuates from 1% to 5%.
The rake for no-limit games can vary from 5% to 6.25%.
Instead of a rakeback system like other online cardrooms offer, 888poker offers a loyalty program. There's also the 888poker Club, which lets you into freerolls with huge guarantees.
Pros and Cons
Pros:
Super-soft player base, lots of recreational players
Tons of tournaments
Massive player base
Busy cash game players
Daily prizes for players, plus ongoing rewards
No-deposit bonus with real money
Withdraw money quickly and securely
Well-made application, no crashes
Mobile application with a pleasant design
Huge freerolls, and smaller daily freerolls
Cons:

Frequently Asked Questions
I haven't got my $88 yet, where is it?
Have no fear! Check that you received the email from 888poker support, and remember that you won't see it all at once. The $88 will get delivered bit by bit, as you play. Don't be worried if you don't see it in your account balance.
Some of the bonus will be paid in tournament tickets, so check your tickets!
What is the easiest poker game on 888poker?
Sit and Go tournaments are typically considered to be an easy place to start playing on 888poker. You can also try some low-stakes cash games.