Poker strategy is becoming more and more advanced, but sometimes, it's good to revisit the basics. Master the fundamentals, then move on to the more complex concepts.
So, what is ABC poker?
The term ABC poker refers to a simplified approach to poker. Just like the English language ABCs, this term refers to doing the basics correctly, without any fancy frills.


Long-running room with lively cash games and eight-figure MTTs
GT Bonuses


Bitcoin and US-friendly room that allows HUDs
GT Bonuses


Global crypto-only room with bad beat jackpots and weekly leaderboards
GT Bonuses
Basics aren't a bad thing – and moving to more advanced concepts before learning the ABCs of poker could leave flaws in your strategy.
Here's a five-part strategy guide to ABC poker.
Don't Play Too Many Hands
When you first start playing poker, tight is right. The meaning of this is, to try your best to play a strong range of hands. As you get more comfortable with poker and building ranges, you'll start playing more hands.
Don't be a loose player, especially when you are still working on the fundamental ABCs of poker. Experienced players will use their skill advantage against you – preflop and postflop – which will cost you money.
So, which hands should you play?
In a 6-player cash game, you might play around 20% of the hands you are dealt. In a 9-player game, that percentage might drop to around 15%.
Start looking at guides for building ranges and you'll start understanding the strategy for hand selection. We'll leave an example of a preflop chart that players could use to choose raising hands during the preflop stage.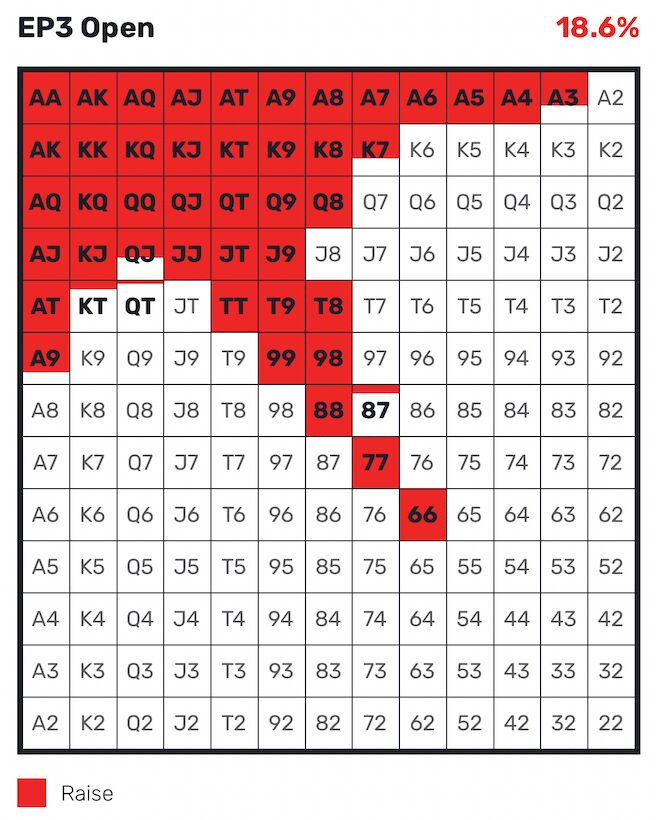 Position is a Poker Player's Best Friend
Position is one of the most important concepts a player must understand. It's vital in poker, but new players don't always understand why.
There is an early, middle, and late position at a poker table.
The latest position is called the button and this is the best position at the table. You can play more hands from this position and usually, most of your profit will be made from the button.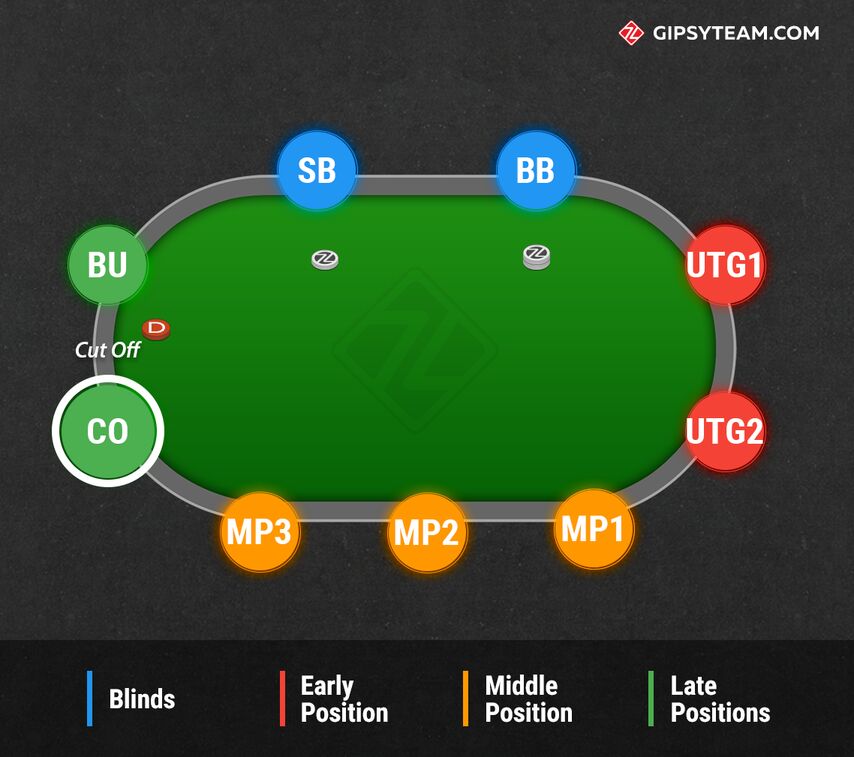 But why is late position a good thing?
From a late position, you get to view the actions of every other player before you act. That's a huge advantage in a game of information like poker. You'll get to see which players fold, which players passively enter the hand, and which ones are aggressive. After the preflop stage, you will enjoy the same positional advantage on the flop, turn, and river.
Why is it more difficult to play poker from an early position?
When you play hands from an early position, you have lots of players behind you. You've got less control over the hand after you make your action, so you could face multiple callers or re-raises. From an early position, you've got to act first without any information from your opponent (such as a check or bet). This problem gets compounded if you are in an early position against multiple opponents.
GipsyTeam support
We will help you solve
any
poker question
We work
around the clock
without weekends and holidays
We respond within 10 minutes
Increased rakeback and personal bonuses
Help with deposits and cashouts
Access to mobile applications
Solving problems with accounts
Technical support
Questions about the site and forum
In-Position vs Out-of-Position
If you are the last to act in a poker hand, you are playing in position. If you are first (or early) to act, then that's known as out of position.
Practice playing more hands, meaning a wider range, from in position. Freerolls are a good place to do this since you can still win real money and prizes, but you don't have to invest anything.
Check out our full roster of freerolls, or head over to partypoker to play in their hourly Round the Clock Freerolls. Prize pools range from $50 to $200 and the free tournaments run all day long.
Bluff – But Not Too Often
If you've ever watched poker highlights on YouTube, you might think that players are bluffing all the time. Everyone loves seeing bluffs, but avoid trying to run over your opponents too often.
The keyword there is "too often", meaning you should still bluff a little. If you never bluff, you'll never get any value when you make a strong hand. Who wants to call a player who never bluffs?
A good bluff needs to do 2 main things:
1. Tell a convincing story.
Unless you get lucky, carelessly betting to get your opponents to fold is not going to be effective. Your bets tell a story, so think about what you are trying to tell your opponent. It's not enough to show some random aggression.
2. Your bluff should target the hands your opponent could have.
You aim to get your opponent to fold, so you need to think about which hands they will fold. Are you trying to get a middle pair to fold or a flush draw? Which bet size will get that to happen? Targeting specific hands means considering your opponents' hands and acting accordingly.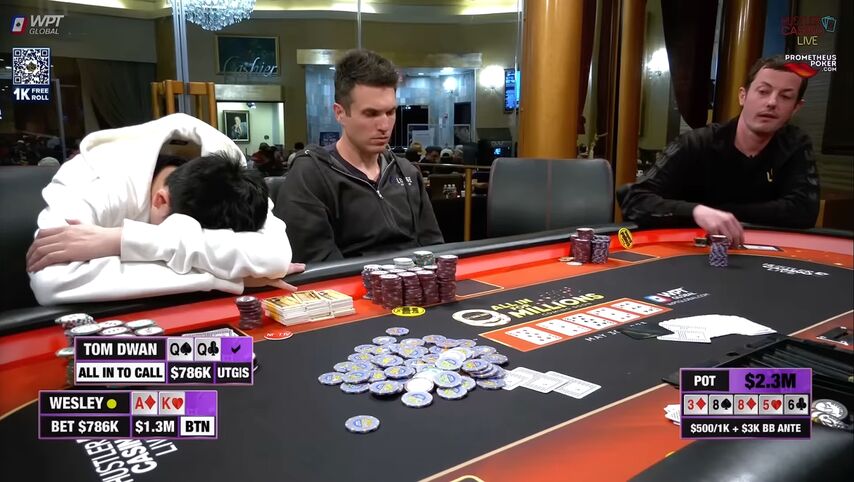 Get Some Bluffing Practice Here
If you need to build experience with bluffing, it's got to be on a real money poker site. Free poker doesn't help you improve your bluffs because your opponents will always call since nothing is at stake.
Head to a busy poker site with a healthy amount of recreational players. Start at micro or low stakes, somewhere around $0.01/$0.02 or $0.05/$0.10. Play ABC poker, but work the occasional bluff into your strategy as we talked about in this section. Target a hand and tell a convincing story.




BetOnline
Bitcoin and US-friendly room that allows HUDs


CoinPoker
Global crypto-only room with bad beat jackpots and weekly leaderboards
Register using this link to get access to GipsyTeam bonuses:
Increased first deposit bonus
Increased rakeback and reloads
Help with deposits and cashouts
Access to closed freerolls
Round-the-clock support
Go For Value (Trap Less)
Playing a solid ABC poker strategy means that you have to get value from your strong hands. Avoid laying traps for your opponents too often – keep that move for special occasions.
When you have a good hand and you want to get value, don't just start betting randomly. You should try to think about which hands will call your bet.
Your goal is to get as much value as you can while keeping your opponent in the hand.
If you are trapping and waiting for other players to bet, you risk two things happening. Number one, they might check as well and see a "free card". Perhaps you could have made them pay a bet to see the next card, so there's value lost there. Secondly, this free card could make your hand weaker or make you lose altogether.
Understand Basic Poker Odds/Probabilities
In every poker game, there's a point where you have to decide to follow a draw or fold your hand. With a good understanding of probability in poker, you can make the correct decision. The meaning of probability, in this case, is the chance of you winning the hand.
Online poker sites will always display your probability if you go all-in with another player, but it's good to know the chances ahead of time.
We have a free probability calculator so you can check how your cards will fare against one opponent, or up to 9 opponents.