This Americas Cardroom review will provide an insight into:
The stakes and traffic present for the range of cash games on offer
Which tournaments are included in the new weekly schedule
How to benefit from the welcome bonuses and promotions available
The standout features of the poker room
Which payment methods are accepted to upload funds onto this platform
How much traffic do cash games on Americas Cardroom receive?
Americas Cardroom is home to a variety of cash games that vary in terms of table size, blinds, and buy-ins. For instance, traditional nine-handed formats are available, as well as the more conventional six-handed and heads-up games. There are also opportunities to play a wide range of stakes from micros to super high-stakes, with buy-ins ranging from 100 big blinds to 50 big blinds in the short games.
Other than No Limit Hold'em, Americas Cardroom aims to provide their players with the opportunity to play variations of Pot Limit Omaha, and 7 Card Stud. The table below highlights the traffic that each variant of poker receives during peak hours.
| Game | Minimum Stakes | Maximum Stakes | Active Players/% of Traffic |
| --- | --- | --- | --- |
| No Limit Hold'em | 1¢/2¢ | $200/$400 | 760/56.63% |
| NLHE Blitz | 5¢/10¢ | $5/$10 | 289/21.54% |
| Pot Limit Omaha | 1¢/2¢ | $200/$400 | 208/15.50% |
| PLO Blitz | 5¢/10¢ | 50¢/$1 | 0 |
| Omaha Hi/Lo | 1¢/2¢ | $200/$400 | 51/3.80% |
| 7 Card Stud | 4¢/8¢ | $40/$80 | 0 |
| 7 Card Stud Hi/Lo | 4¢/8¢ | $40/$80 | 34/2.37% |
Similarly to many poker rooms, the majority of the traffic at Americas Cardroom comes from No Limit Hold'em which receives 78.17% of the total traffic when you combine the regular and Blitz tables. Blitz refers to tables where once a player folds they are automatically dealt into a new hand on a different table. The traffic for NLHE appears to be reasonably evenly distributed with a lot of interest in both micro-stakes and 200NL+.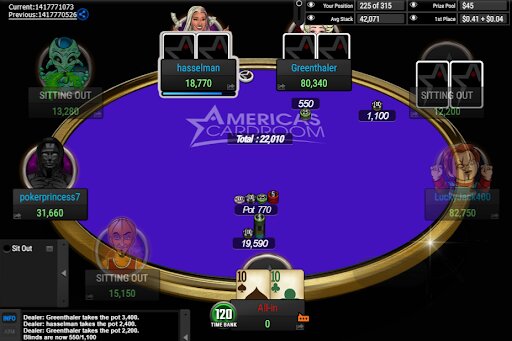 In comparison, the next most popular variant of poker, Pot Limit Omaha, receives only 15.5% of the traffic, with no players interested in PLO Blitz, likely due to only three stakes being available. However, like NLHE, there appears to be an interest in PLO at a range of stakes with even $15/$30 having a full table. The remaining traffic appears to be for Omaha Hi/Lo and 7 Card Stud Hi/Lo but it is minimal.
What's more, Americas Cardroom can easily facilitate deep-stacked poker with their seven-day rathole tables. These tables ensure that over a seven-day period if a player wants to return to a certain stake, they must do so with the stack size they left with. For example, if a player begins at a 100NL table with $100 and leaves with $600, if they wish to play at the same stakes the following day they must sit with $600. This creates a lot of deep-stacked action.
Does ACR make an effort to make their tournaments accessible to everyone?
With over $12,000,000 in weekly guarantees, the new tournament schedule introduced by Americas Cardroom has options for poker players at various price points. The tournaments which particularly stand out are:
$265 Million Dollar Sunday with a $1,000,000 guaranteed prize pool
$22 Double Deuce with a $100.000 guaranteed prize pool
$10.50 Sunday Squeeze freezeout with a $50,000 guaranteed prize pool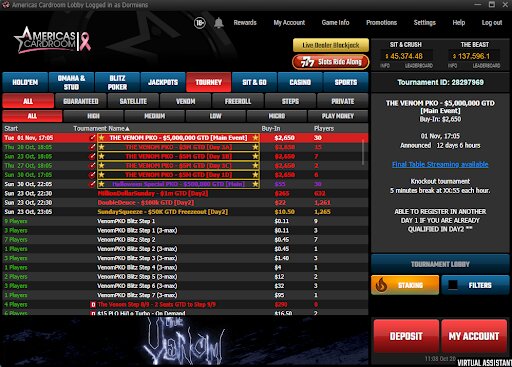 The Sunday Squeeze is unique to most tournaments held on the platform because no re-entries are permitted and day 1s are estimated to last only three hours. This is a perfect option for poker players that don't have a lot of free time.
Apart from the weekly schedule, Americas Cardroom also offers seasonal tournaments. For instance, their $55 Halloween Special is a progressive knock-out (PKO) with a $500,000 guaranteed prize pool. In addition to this, ACR has a flagship tournament known as The Venom. It is a PKO held several times a year requiring a $2,650 buy-in with a $5,000,000 guaranteed prize pool. That may seem like a huge buy-in for the majority of players. However, there are many satellites to this tournament costing as little as $32 to enter. Alternatively, Blitz Steps give players the opportunity to win a seat for The Venom for $0.11.
Sit-and-gos and Jackpots provide players short of time with another avenue to enjoy the great game of poker. The buy-ins for sit-and-gos range from $0.11 to $200, and are usually restricted to between two and twenty-seven players. On the other hand, Jackpots are hyper-turbos restricted to only three players where the prize pool is determined by the spin of a wheel. Players can win up to $1,000,000 from as little as a $5 buy-in. However, the most common outcome will be the prize pool being two times the buy-in.
Does Americas Cardroom offer new players a welcome bonus?
Americas Cardroom doesn't hold back when it comes to offering their poker players promotions. The first that needs to be addressed is their welcome bonus which, at the time of writing this review, could be one of the biggest bonuses offered by a poker room. More specifically, they offer all new customers a 100% match bonus on deposits up to a whopping $2,000. This bonus is acquired in $1 increments each time a user cumulatively contributes $5 in rake at real money tables, which equates to twenty percent in rakeback. 
If you're playing cash games without a heads-up display (HUD) it might be near to impossible to calculate how much rake you are contributing during each hand. Therefore, for a player to be able to determine whether they are close to acquiring their next $1 increment, they should check their award points. For every $1 that they contribute towards rake, they will gain 5.5 award points. Once a player has acquired 27.5 award points (which is the equivalent of $5 in rake contributions), the next $1 is released. A minimum deposit of $25 is required to participate in this promotion.
Other than the welcome bonus, what other promotions can players take advantage of?
The welcome bonus isn't the only way for poker players to gain rakeback at Americas Cardroom. For instance, the Elite Benefits program awards its customers with up to sixty-five percent rakeback. This is made possible if a user can progress through the military-themed levels of the program by acquiring Rank Points, with each level needing a set amount of Rank Points to advance to it. Rank Points are acquired by making contributions to the rake. More specifically, players receive 5.5 Rank Points for every $1 rake contribution. For example, in a $20+2 buy-in tournament, $20 would go to the prize pool, whereas, $2 would be the cost of the rake. In this instance, a player that enters this tournament would receive 11 Rank Points.
The table below highlights the necessary amount of Rank Points required to progress to each level of the program:
| | | | |
| --- | --- | --- | --- |
| Rank | Rank Points Required | Rake Contribution Required | Rakeback |
| Lieutenant | 0 | $0 | 0% |
| Captain | 750 | $136.36 | 14.5% max |
| Major | 3,000 | $545.45 | 20% max |
| Colonel | 7,500 | $1,363.64 | 22% max |
| General | 100,000 | $18,181.82 | 46% max |
| 5-Star General | 1,000,000 | $181,818.18 | 65% max |
Alongside Rank Points, players can accumulate Combat Points during real money games. The amount of combat points a player receives is determined by their rank. For example, a Lieutenant will receive 1 Combat Point for every Rank Point they acquire. On the other hand, a 5-Star General will receive 5 Combat Points for every Rank Point that they gain. Combat Points can be exchanged in the lobby in the rewards section. For instance, one cash reward available to players is $10 in exchange for 1,000 Combat Points. If we carry out a few calculations, we will find that a Lieutenant would need to contribute $181.82 in rake to receive that cash reward. However, a 5-Star General would only be required to contribute $36.36 in rake for the same reward, which is approximately 28% rakeback.
At no extra cost to the players, Americas Cardroom also offers a weekly promotion called The Beast which aims to award their most loyal cash game grinders. Participants are given one point for every $0.02 that they contribute towards the rake and the players with the most points at the end of the week are awarded cash and tournament seats. The number of paid positions in this promotion varies based on the size of the prize pool. According to the current prize pool, Americas Cardroom predicts that 1040 players will receive a cash prize at the end of the current week. In addition to this, sit-and-go players shouldn't feel left out as there is a similar promotion available to them known as Sit and Crush. This promotion uses the same concept as The Beast whereby the players that contribute the most rake by playing sit-and-gos, jackpot poker games, and on-demand tournaments are rewarded with cash prizes and tournament seats.
Are there any especially noteworthy features on Americas Cardroom?
Americas Cardroom has several noteworthy features. For instance, they have attempted to prevent bum hunting, i.e. chasing bad players to maximise profits, by hiding players' names until you have posted your big blind. Also, to create a more live casino-esque environment, Americas Cardroom has enabled players to tick check boxes that will automatically allow them to straddle, as well as, chop the blinds if the other player in the blinds agrees.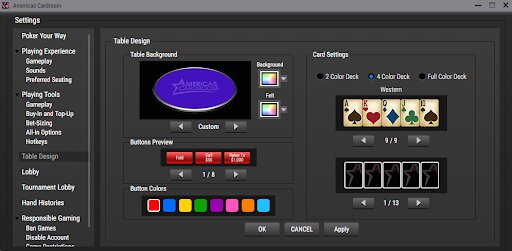 Furthermore, like many poker desktop clients, many aspects can be customised to maximise your enjoyment. For example:
There are thirty-five table designs to choose from and if that isn't enough you can create custom colours for your background and the felt.
There are eight betting button designs with each design having various colours to choose from.
Players can decide whether they prefer a two-colour deck, four-colour deck, or a full-colour deck, with a choice of nine front designs and thirteen for the reverse side of the cards.
Users can enable, disable, increase, or decrease specific sounds for certain actions. If you aren't happy with the current sounds available you can even upload and designate some of your own.
Players can choose from forty-eight avatars that include cartoon characters such as SpongeBob SquarePants, politicians including Barack Obama, and avatars themed around television shows such as Game Of Thrones. These avatars change during play when you win or lose a hand.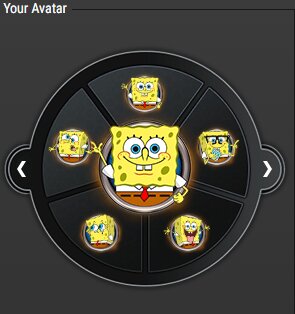 What's more, serious grinders will be delighted with some of the gameplay features. For instance, players have the option to configure their bet size sliders to predetermined amounts, as well as, implement hotkeys for particular actions during a hand. Moreover, if you like to take deep dives into your opponent's statistics, you will find that heads-up displays (HUDs) are supported. But, if you desire a quick review of a hand, the hand-replayer tool is also available. 
Which payment methods are permitted on Americas Cardroom?
Americas Cardroom allows their players to use a range of payment methods to deposit and withdraw funds to their poker room. This includes:
Credit and debit cards such as VISA and Mastercard
Over sixty cryptocurrencies including Bitcoin, Ethereum, Litecoin, and XRP
e-Wallets such as Neteller, Skrill and, ecoPayz
Player-to-player transfer (P2P)
However, it is important to be aware of the fact that the availability of certain payment types can vary based on where you reside. Additionally, deposit and withdrawal limits will differ depending on the payment type you elect to choose. Fees may also apply for using certain payment types. Players that choose to receive funds by P2P transfer should also note that to withdraw those funds, the receiving player is required to contribute rake equivalent to ten percent of the money that was transferred. Alternatively, for those not wishing to make an online deposit, ACR offers several freerolls throughout the day with some requiring freeroll passwords. These freeroll passwords can usually be found online on websites such as this one. 
How can poker enthusiasts download and access Americas Cardroom?
Accessing Americas Cardroom is very straightforward as the desktop client can be downloaded from the ACR website here. After selecting 'Download Now' from the header, the installation setup will begin. Once the setup is complete, you should be able to open the ACR client and create your account.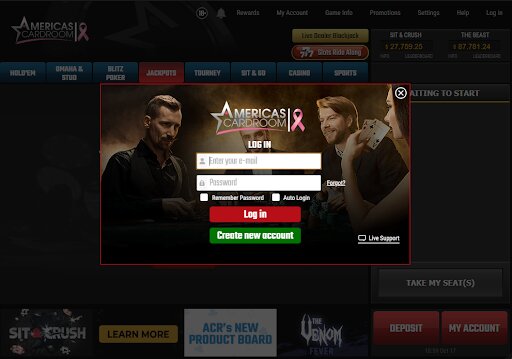 To create your account, you will be required to choose a username and password, and provide a correct email address where a verification code will be sent. Upon successfully inputting the correct verification code, you will now be a part of the Americas Cardroom community and ready to play.
However, if you prefer to play poker on the go via your mobile phone, the ACR app is accessible to both Android and iPhone users. To access Americas Cardroom on your mobile device, you aren't required to download or install anything. Instead, you can use the app by going to the ACR website via your mobile's internet browser and logging into your existing account. 
Summary: Advantages & Disadvantages of Americas Cardroom
| Advantages | Disadvantages |
| --- | --- |
| The random number generator (RNG) has been verified by iTechLabs. | Some promotions such as The Beast and Sit & Crush reward the players that can contribute the most rake during a week. This gives higher-stakes players an advantage over the rest of the field. |
| There is a variety of cash games available with a reasonable amount of traffic for other variants of poker other than No Limit Hold'em. | Using credit and debit cards such as VISA as a payment method can incur a 10% fee. This may force players that aren't familiar with or comfortable with cryptocurrencies that don't charge a withdrawal fee to seek other poker rooms. |
| There are tournaments and sit-and-gos that would suit all bankrolls. | The traffic for Blitz PLO could be improved if ACR made it available for a greater variety of stakes. |
| Players that are willing to put in a lot of volume may be able to achieve up to sixty-five percent rakeback. |   |
| Heads-up displays (HUDs) are supported. |   |