888poker is a poker room with a long history. It started in the early days of online poker, in 2002, when it was called Pacific Poker. It is one of the most trusted poker sites on the market today and is part of 888 Holdings, a group of companies with over a billion dollars in annual revenue (based on 2020 financials). All this guarantees the reliability of the platform: local players are calm about the funds on their accounts. "Eights" (as the room is usually called by poker players) attracts many new users – including through cross-promotion in casinos and sports betting. There are a number of special offers for beginners, including a $88 no deposit bonus. In this article, we will analyze in detail all the rules associated with it and tell you how to activate it, wager it correctly and withdraw it.
About bonuses at 888poker
How to get additional benefit from the game if you are just starting out? Firstly, the loyalty program , secondly, the first deposit bonus , thirdly, regular small gifts , fourthly, the no deposit offer.
Loyalty program
The room has a loyalty program called "Road to Rewards".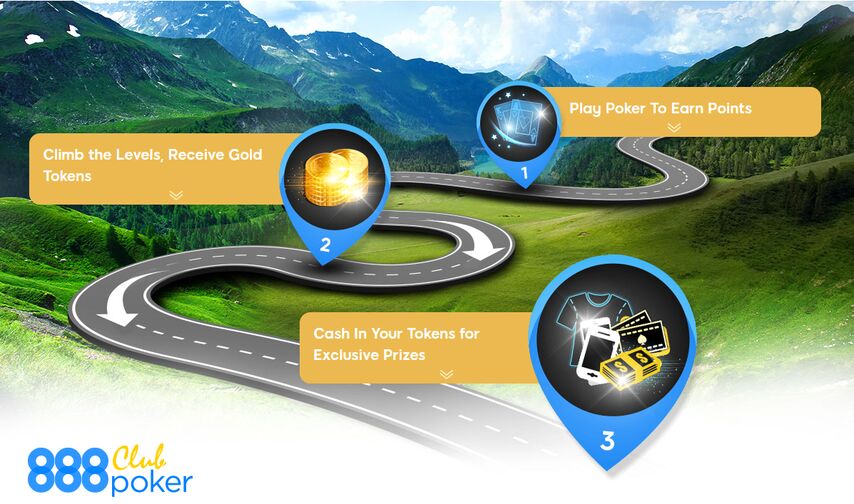 It works like this:
1) All players can complete tasks (challenges). These include: daily online poker, casino and sports betting. Also, any player can invite a friend to the room – for this there is also a reward.
2) For completing tasks, players receive tokens (gold chips). They can be exchanged for prizes in the special store: tickets to tournaments, free casino games and cash.
3) By earning points, players increase their levels, which opens up new tasks and privileges in the room.
First deposit bonus
Everyone who has never made a deposit at 888poker can take advantage of a special offer – the room will add the same amount to any amount up to $400. That is, for your first deposit, you will receive the same amount as a gift – but no more than $400. Players can use this money not only in poker, but also in casino games or on bets.
Important : the bonus is not available when depositing with Skrill and Neteller.
Bonus rules:
1. Register using the link of the GipsyTeam website. 
2. To get the promo for your first deposit, enter WELCOME100
in the " Promo code" window , as shown in the screenshot.
The minimum deposit is $10. Bonus money will need to be wagered first – It will be released in installments as you play. For every 100 bonus points earned, $10 is awarded.
You will be able to withdraw bonus funds only after you have wagered the bonus in full. The maximum period for this is 90 days. If you do not have time to score the required number of points, all bonus money that you do not earn will be forfeited.
Within 48 hours of the deposit, players are credited with tickets to the Depositors Free Tournaments. There are two types:
– With a $500 guarantee. With your first deposit you will receive 7 tickets.
– With a $1,000 guarantee. With your first deposit you will receive 1 ticket. You can register in the tournament no earlier than the Saturday following the date of registration).
Tickets cannot be exchanged for money or transferred to other players, the validity period is 14 days after receipt.
Other gifts from the poker room
The room regularly rewards poker players. One of the most popular ways is that every day you play the game, you can spin a special reel and win prizes, for example, tickets to freerolls. There are also special promotions for the holidays or during large tournament series. There is information about all current promotions on the official website of the poker room in the Promotions section.
How to claim your $88 no deposit bonus
Now let's talk about the no deposit offer that all new players can get. Please note that you will not receive $88 immediately into your account. This is a bonus package that includes:
– 40 tickets worth $0.1;
– 4 tickets worth $1;
– $80 pending bonus .
Tickets will be issued to you gradually – use them every day to get new ones.
What is a pending bonus? These are additional prizes that players receive when they start playing for real money. As you play, you will gradually receive a bonus to your account in equal parts. For every 100 bonus points you will receive $10 bonus cash and tickets.
Claiming your 888poker no deposit bonus
You don't need a promo code or to do anything special on the website to get your no deposit bonus. Simply register using the GipsyTeam instructions and confirm your email address. You will then receive an email to activate the offer. Be sure to follow the link in the email – only after you confirm your application will you be eligible for the no deposit bonus.

You can activate the bonus not only on a computer, but also on a smartphone or tablet. There are apps for both iOS and Android.
Note! If you already have an 888poker account, you will not be able to receive a no deposit bonus, even if you have not received it before. It is intended only for those who transfer money to the room for the first time. Combating multi-accounting is a top security priority. For such a violation, all of your accounts will be blocked. Registration is only possible once.
How to withdraw bonus money from the account
Before making a cashout (that is, withdrawing funds from the poker room), you will need to fulfill several conditions.
1. Confirm your identity and place of residence . To do this, after registration, you will need to upload scans or photos of an identity document (for example, a passport) and a document confirming registration (for example, a bank statement).
2. Make a deposit for any amount (minimum possible) . This is necessary for this, in order to fix the method of replenishment and withdrawal of money in the room. After that, the cashout option will become available in the same way. For example, if you deposit $10 with Skrill, then you can make cashouts to the same account.
3. Win back all bonus money. You will not be able to withdraw bonus dollars (be it a no deposit offer or a first deposit bonus) until you wager them – that is, you pay enough rake to realize your bonus in full. You can track this progress in the client in the My Rewards section (the screenshot shows how to find it).

After fulfilling these conditions, you will be able to withdraw money at any time using one of the methods that you previously used.
Tips for getting all the bonuses at 888poker
Finally, we will give some tips on how to comfortably start playing in the poker room.
– Sign up using the GipsyTeam link – so you will definitely receive all the starting privileges and do not miss joint promotions when we hold them.
– Don't forget to confirm your no deposit bonus via the link in the email.
– If you replenish your account, do not forget to enter the promo code WELCOME100 . This promo code will allow you to get up to $400 extra.
– Don't risk money just to win back the bonus as soon as possible – you risk losing more. If poker is new to you, start with freerolls, cheap tournaments and cash games at the lowest stakes. So you quickly get used to and understand which type of game suits you best.
-- Complete tasks from the Road to Rewards. There are some very simple ones – for example, every day open the client. Also participate in promos like spinning the wheel of fortune daily, so you don't miss the promotion from the room.
Don't forget to check out the latest promotions. You can find them in the corresponding section on the official website of the room.
– If you have questions about registration, account replenishment methods, promo code or no deposit offers, write to our player support service , they will help you.
Conclusion
Playing at 888poker is a good option for both beginners and experienced poker players. Freerolls and a no deposit bonus are waiting for beginners there for a comfortable start to the game. And for professional players, the G8 prepared major tournaments (and regular series) and cash games, where the game goes on around the clock.
Registration on 888 .

ADDITIONAL INFORMATION ON THE PAGE OF THE POKER ROOM 888POKER.