The daily schedule at 888poker has been enriched with new Hold'em tournaments for micro-limit players. Daily Micro Rollers with buy-ins from $1 to $5.50 will give out $150,000 each week.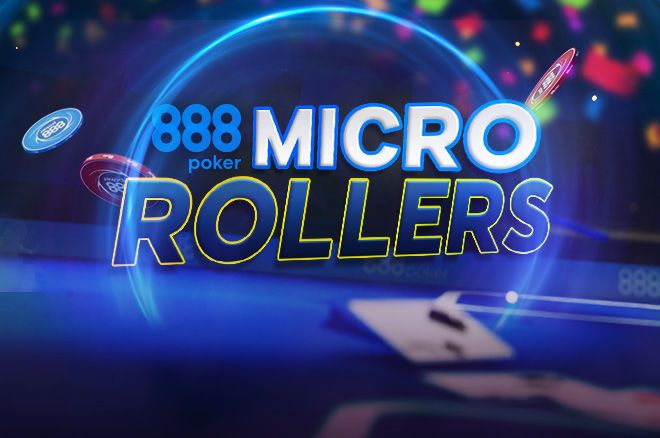 The Main Event is held in the Mystery Bounty format: with a modest buy-in of $3.50, the prize pool will be $10,000. You can join the game from Monday to Saturday (20:00 GMT), the final is scheduled for the same time on Sunday.
Daily freerolls will help you save on buy-ins, in which you will win $10,000 in tickets to series tournaments every week.
| Days of the week | Time (GMT) | Freeroll name | Tickets guaranteed |
| --- | --- | --- | --- |
| Every day | 12:00 | Daily Freeroll Micro Rollers – Mystery Bounty 1 | 200 |
| Mon-Sat | 13:00 | Daily Freeroll Micro Rollers – Big Shot 3.30 | 90 |
| Mon-Sat | 14:00 | Daily Freeroll Micro Rollers – Mystery Bounty 5.50 | 90 |
| Every day | 15:00 | Daily Freeroll Micro Rollers – PKO Rumble 2.20 | 115 |
Tournament Schedule
| Time | Tournament name | Buy-in | Guarantee | Note |
| --- | --- | --- | --- | --- |
| 21:00 | Micro Rollers – Mystery Bounty Turbo 2.2 | $2 | $400 | every day |
| 22:00 | Micro Rollers – Mystery Bounty Turbo 1 | $1 | $200 | every day |
| 16:00 | Micro Rollers – Mystery Bounty 1 | $1 | $2,000 | every day- |
| 17:00 | Micro Rollers – Big Shot 3.30 | $3 | $3,000 | Not available on Sundays |
| 17:30 | Micro Rollers – PKO Rumble 5.50 | $5.50 | $3,000 | every day |
| 18:00 | Micro Rollers – Mystery Bounty 2.20 | $2.20 | $2,000 | every day |
| 19:00 | Micro Rollers – Mystery Bounty 5.50 | $5.50 | $5,000 | Sun: $7,500 guarantee |
| 19:30 | Micro Rollers – PKO Rumble 2.20 | $2.20 | $2,000 | every day |
| 20:00 | Micro Rollers – Mystery Bounty Turbo 3.3 | $3.30 | $600 | every day |
| 20:00 | Micro Rollers Main Event – ​​Mystery Bounty 3.50 | $3.50 | $10,000 | Mon-Sat: Day 1, Sun: Day 2 |
| 20:30 | Micro Rollers – Big Shot 5.50 | $5.50 | $2,000 | every day |