This SportsBetting review will pay particular attention to:
The cash games, tournaments, and sit-and-gos available
The promotions that new players can take advantage of
The features of this poker room that should be highlighted
The range of methods available for customers to make their first deposit
How new users can download and access this network
Which cash games receive the most traffic at SportsBetting?
The cash game offerings on SportsBetting primarily centre around No Limit Hold'em and Pot Limit Omaha, with additional variants such as Short Deck, and Omaha Hi/Lo. However, mixed games such as Razz and Stud, as well as Open Face Chinese are unavailable on this network.
| | | | |
| --- | --- | --- | --- |
| Game | Minimum Stakes | Maximum Stakes | Active Players |
| No Limit Hold'em | 5¢/10¢ | $5/$10 | 888 |
| Short Deck (6+) | 5¢/5¢ | $2/$2 | 4 |
| Pot Limit Omaha | 5¢/10¢ | $5/$10 | 288 |
| Pot Limit Omaha Hi/Lo | 5¢/10¢ | $5/$10 | 7 |
| Limit Omaha Hi/Lo | 10¢/20¢ | $15/$30 | 5 |
At the time of writing this review, there were 1,192 active poker players across all of the cash games on this platform. The table above indicates that the interest in No Limit Hold'em in comparison to the other games available is far superior. In fact, there were over three times as many active NLHE players in contrast to the second most sought-after game Pot Limit Omaha.
The traffic for both of these games correlated with the stakes available, with more traffic orienting towards the smallest stakes, and fewer at the bigger stakes. That's not to say that the higher stakes games weren't running as there were 30-50 players at $5/$10 for both NLHE and PLO.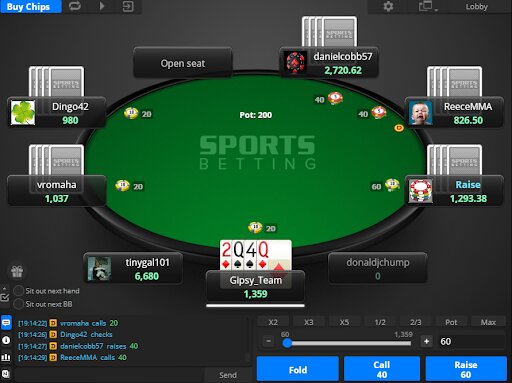 Waiting for the other players at your table to complete their hand so that you can participate can sometimes be quite frustrating. If this rings true for you, you may prefer to play poker at SportsBetting's Boost tables which seat players at a new table at the beginning of a new hand once they have folded their previous one. However, this comes with a caveat. At the time of writing this review, there were no players at the PLO Boost tables. In fact, the majority of the traffic was at the 5¢/10¢ NLHE Boost tables. If these stakes are too low for you then you may have to wait it out at the regular tables.
Does SportsBetting host any flagship tournaments?
The regular tournament schedule on SportsBetting involves a mixture of low to mid-stakes events primarily aimed at poker players that prefer No Limit Hold'em. The biggest of these tournaments is the $109 Main Event which boasts a $150,000 guaranteed prize pool. However, as you can see from the image below, this guarantee has been increased to $250,000 as part of their Halloween celebration.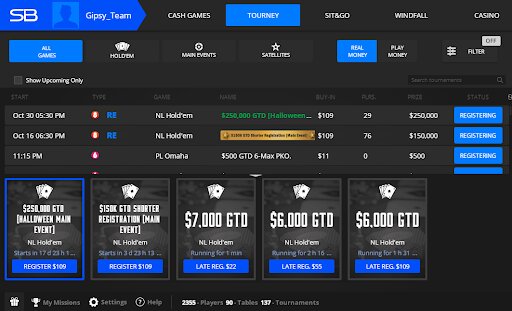 Other than their flagship Sunday tournament, SportsBetting does host daily tournaments with a range of buy-ins. For instance, there is a $55 tournament with a $25,000 guarantee every evening. What's more, SportsBetting hasn't shied away from different tournament formats as there are several progressive knock-outs (PKOs) such as the $16.50 PKO with a $5,000 guaranteed prize pool.
If for whatever reason you don't feel comfortable spending $109 on a single tournament entry, SportsBetting runs several satellites each day which guarantee several seats to the flagship tournaments. Therefore, you could be playing a $109 tournament for as little as $5. Furthermore, if you are new to the online world of poker, SportsBetting offers their players free-to-enter tournaments where you can get to grips with the game and maybe build a little bankroll for yourself.
Does SportsBetting offer a range of sit-and-gos?
For poker players that perhaps don't have the time required to play through a multi-table tournament, SportsBetting offers sit-and-gos with buy-ins ranging from $0.25 to $60, and several options concerning the maximum number of players required. For example, some sit-and-gos are heads-up, while others allow seven players to register, which allows the sit-and-go to be completed fairly quickly, with each player experiencing what it is like to be on a final table.
In addition to this, SportsBetting offers its version of the spin-and-go known as Windfalls. These are three-handed, often hyper-turbo, sit-and-gos, with buy-ins ranging from $3 to $30. The prize pool is random with the probability of the prize pool being 2x the buy-in being most likely, with a minute possibility of the prize pool being 5000x the buy-in. Poker players have the option to play the Windfall themselves or to play a lottery version of the game where all three players are all-in every hand until there's a winner. A particular highlight is the $10 windfall with the chance of a $1,000,000 prize pool.
Are there any worthwhile promotions being offered at SportsBetting?
There are several promotions available to poker enthusiasts that elect to play on SportsBetting. For starters, there is a welcome bonus for new players that matches 100% of their first deposit up to $1,000. To receive this promotion, users are required to enter the promo code NEWSB upon their first deposit and it is cleared by accumulating comp points. One comp point is awarded to players each time they contribute one cent in rake, and for every five thousand comp points accumulated, a player will receive $5. By those calculations, a player must contribute $50 in rake to clear each $5 award which equates to ten percent in rakeback. Users have sixty days to clear this promotion.

Another promotion featured on SportsBetting which is usually more common on poker apps compared to desktop clients is their bad beat jackpot. This promotion is only available on allocated tables that display 'JACKPOT' next to the stakes. To trigger the jackpot, a player must lose with four-of-a-kind twos or better using both of their hole cards. For example, if a player loses with 3h2c against 6s5s with the community cards being 2d2h2s3s4s, the jackpot wouldn't be triggered because the three of hearts kicker in the first player's hand doesn't play due to the four of spades on the board.
In a scenario where both players' hands qualify for the jackpot, the breakdown of the jackpot prizes would be as follows:
Twenty percent of the jackpot would be given to the player with the losing hand
Fifteen percent would be given to the player with the winning hand
Twelve and a half percent would be divided equally between the remaining players at the table where the jackpot was triggered
Another twelve and a half percent would be divided equally between the rest of the players that were sat at the remaining jackpot tables
Thirty-five percent of the jackpot would be allocated to begin the next bad beat jackpot promotion
Five percent is retained by SportsBetting as a fee
Which features at SportsBetting deserve particular attention?
An increasing concern amongst online poker players, especially those who have experienced unscrupulous dealings with poker apps, is that the gaming integrity of the platform remains intact. SportsBetting aims to reassure customers by being a licenced provider of online poker thanks to their Panama licence. In addition to this, the random number generator (RNG) that determines the cards that each player receives, as well as, the community cards on the flop, turn, and river, has been approved by GamingLabs.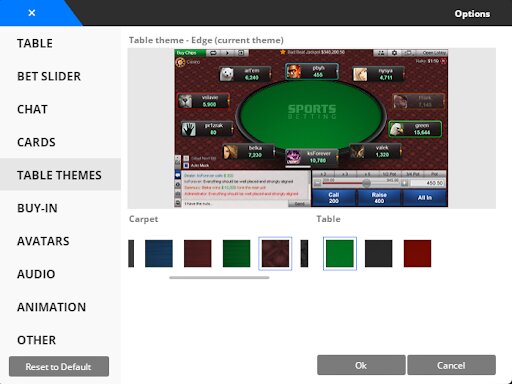 Another beneficial feature is the 'Edge' table theme that users can select from the settings tab. Edge is designed to make fonts and action buttons bigger to make multi-tabling a more comfortable process. This is incredibly useful for players that like to put in a lot of volume. On top of this, there are many aspects of the SportsBetting poker room that can be customised such as:
The table theme which has three options along with eight different carpet designs
Your avatar which gives users the choice of several images including animals, poker chips, playing cards, etc.
The bet sliders which give users the ability to select the bet sizes of seven buttons based on the number of big blinds or percentage of the pot
Which sounds can be played as well as their volume
Whether hotkeys should be used for some of the most common decisions in poker
For players that are familiar with and utilise statistics such as voluntarily put in pot (VPIP), pre-flop raise (PFR), aggression factor (AF), etc, SportsBetting allows for the use of the heads-up display (HUD) Hand2Note. However, if you don't have a HUD, SportsBetting still allows you to review your and your opponent's decisions as hand histories are stored and can be viewed using the hand replayer.
Is there a variety of payment methods that SportsBetting allows?
SportsBetting permits its users to make real money deposits using the following methods:
Credit or debit cards such as MasterCard or VISA
Cryptocurrencies such as BTC, ETH, LTC, XRP, USDT, and several other alt-coins
Neteller
Skrill
Wire Transfer
Cashiers Check
The minimum and maximum amount of money that can be deposited can vary depending on the payment method you elect to use. On the other hand, new customers need to be made aware that while they are allowed to deposit using their debit or credit card, withdrawing their funds in this way is not permitted. Customers are encouraged to withdraw their funds using cryptocurrencies. As a result, if you aren't familiar with or comfortable with cryptocurrencies or e-Wallets, this might not be the ideal poker room for you. Similarly to depositing, there are minimum and maximum amounts of money that can be withdrawn at one time, with the frequency that you can withdraw also varying between each withdrawal method.
How can new players install SportsBetting?
Gaining access to SportsBetting is a very straightforward process. If you prefer to play poker on your desktop computer or laptop, the client can be installed from the SportsBetting website here. Once you have selected the operating system that you are using, either Windows or Mac, the download will automatically begin and will take no longer than a minute to complete.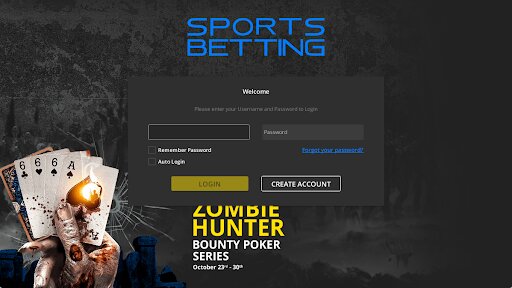 Once the installation is complete, you will be presented with the lobby where you will be required to create an account. Selecting this option will redirect you to a registration form that will request personal details such as your full name, address, date of birth, etc. After this form has been successfully filled in, an email will be sent to you with a link to complete the verification process. As soon as you have opened the link enclosed within the email, you will be able to make your initial deposit and begin your poker journey.
If, however, you prefer to play online poker on your mobile device, an app is available for both iPhone and Android users that once installed will take you to the same lobby where you can begin the registration process. The app still affords users a range of ways to customise their experience and maintains the multi-tabling function.
Summary: Advantages & Disadvantages of SportsBetting
| | |
| --- | --- |
| Advantages | Disadvantages |
| SportsBetting offers several promotions such as welcome bonuses and bad beat jackpots. | SportsBetting's version of fast-fold is only offered at low stakes which hinders the network's overall potential traffic. |
| The use of heads-up displays (HUDs) such as Hand2Note is permitted. | The bulk of the tournaments are oriented toward NLHE with little to nothing to offer for PLO and mixed-game players. |
| SportsBetting offers regulated online poker as a result of its Panama licence. Additionally, the random number generator (RNG) being used has been approved by GamingLabs. | While customers are permitted to deposit with credit and debit cards, they aren't allowed to withdraw using this method. This is likely to cause frustration to their customer base who unknowingly deposit and are forced to jump through hoops to retrieve their funds. |