TigerGaming Poker Review
TigerGaming has had a presence in online poker since 1999 but remains surprisingly under the radar given its longevity in the business. TigerGaming is part of the Chico gaming network along with its sister sites Betonline Poker and SportsBetting Poker - some of the few online poker sites catering to the US market.
TigerGaming also offers online casino and sports betting options which brings a good number of recreational casino players to its poker room. Although TigerGaming Poker doesn't have particularly high traffic numbers in comparison to its competition, it does have weaker players than average due to its access to North American markets.
TigerGaming Poker is a network targeted at the needs of recreational players and this is reflected in its software and promotions. TigerGaming Poker is one of the few sites which have taken a hard stance on third party software, choosing to ban certain tracking tools completely. TigerGaming offers new players an enormous sign up bonus of $2500 as well as depositor's freerolls, prize leaderboards and bad beat jackpots.
TigerGaming also doesn't require a software download to play and accepts a variety of crypto currencies including Bitcoin, Ethereum and Litecoin as payment methods.
The games spread are primarily No Limit Hold'em and Pot Limit Omaha although if players switch to an older version of the software they can also access Big2 and Chinese poker game variants. Cash games are available in both regular and fast table formats for 6-max and full ring 9-max for a variety of stakes. The tournament schedule has a decent selection of low-mid stakes freezeouts and rebuys but lacks a lot of tournaments for higher buy-ins.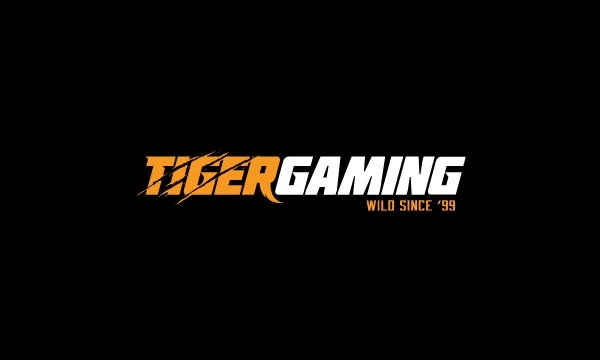 Contents
Software
TigerGaming App
Cash Games
Multi-table Tournaments (MTTs)
Windfall Sit & Gos
Boost Poker
Deposits and Withdrawals
Deposit Bonus
First Deposit Freeroll
Bad Beat Jackpot
Rake and Rakeback
Conclusion
Customer Service
TigerGaming Poker FAQs
Software
TigerGaming software is unique to the Chico network and is functional but minimal. As a result it can be quite slow at times and certainly isn't the most aesthetically pleasing option on the market. This is just one of the reasons that TigerGaming has a higher number of recreational players as a lot of serious players are put off by the less than glamorous interface.
Table configurations, bet amounts and rebuy preferences can all be easily adjusted to individualise the player experience. Themes are basic but functional and most importantly never distract from the action on the tables. HUDs are permitted, although some features may not work properly.
The TigerGaming Poker client is downloadable for both Windows and Mac but players also have the option of playing instantly from the site browser. The client supports up to 8 tables at a time.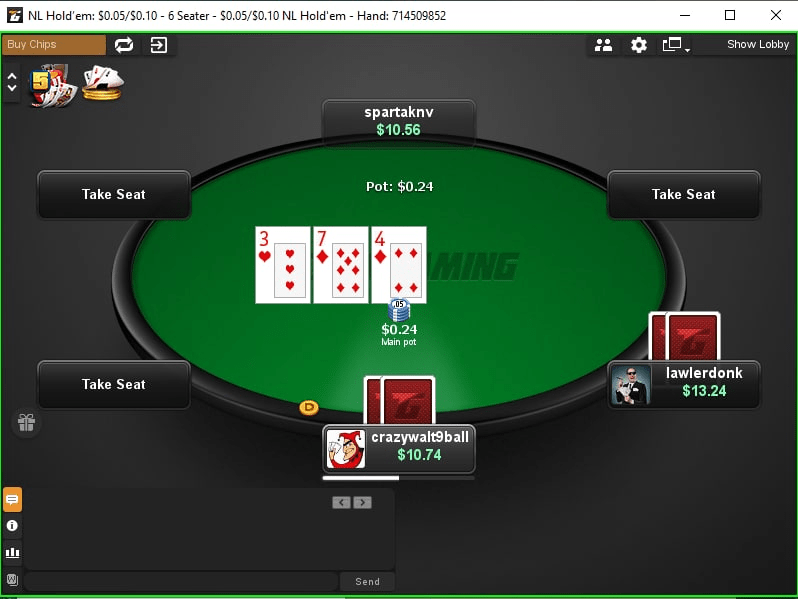 TigerGaming Poker App
The TigerGaming Poker client can also be run in-browser on mobile devices. The TigerGaming mobile client is available for Android and iOS for both mobile and tablet, although the browser may not be supported by older versions of each operating system.
Cash Games
Hold'em tables are spread from $0.05/$0.10 to $5/$10 in 6-max and full ring formats. Full ring games have a healthy following on TigerGaming with up to 20 NL100-200 tables running at peak times.
Limits in Omaha are the same although there are no full ring game tables. Tiger also spreads run it twice and straddle. There are also a Hold'em 6+ (Shortdeck) tables.
Multi-table Tournaments (MTTs)
TigerGaming Poker has a limited range of low-mid stakes tournaments with limited action at higher stakes. The biggest regular tournament is the Sunday Main event which runs on the last Sunday of every month while an average weekend generates $130,000 in guarantees across the entire schedule. Some of the biggest tournaments run are as follows:
The Sunday Main Event Buy-in $109 ($25,000 guaranteed)
The Daily Buy-in $55 ($25,000 guaranteed)
The High Roller Buy-in $525 ($10,000 guaranteed)
Satellites for the Sunday Main Event run throughout the month and players can play for the chance to win entries from as little as $13.50.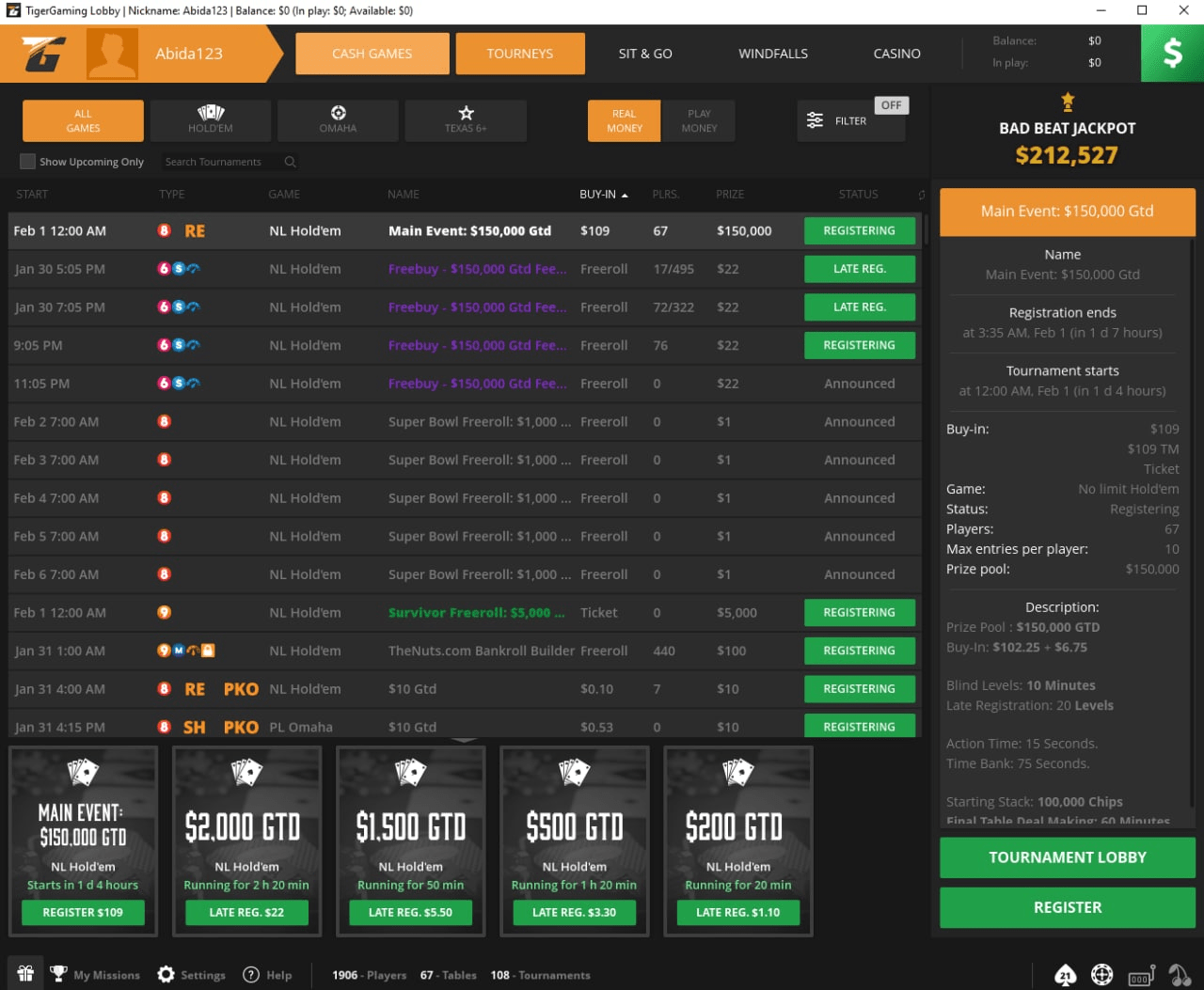 Windfall Spins
If long form MTTs aren't your thing, Windfall Spins shootouts are the most exciting way to get that poker hit in the shortest time possible. These fast paced tournaments pit 2 - 3 players against each other for a randomised prize that could be up to 2,000 times a buy-in. Chips are scarce and the blinds go up rapidly so play is fast and furious. Buy-ins range from $3 - $50.
There are three types of Spins tables:
Classic spins with a maximum win of $60,000; buy-ins from $3 to $50.
With an increased jackpot (marked with the Jackpot logo), allowing you to win up to $1,000,000 in a $10 tournament.
Flips spins for $3, $5 and $10, where participants go all-in at the beginning of the hand. The biggest prize is $10,000.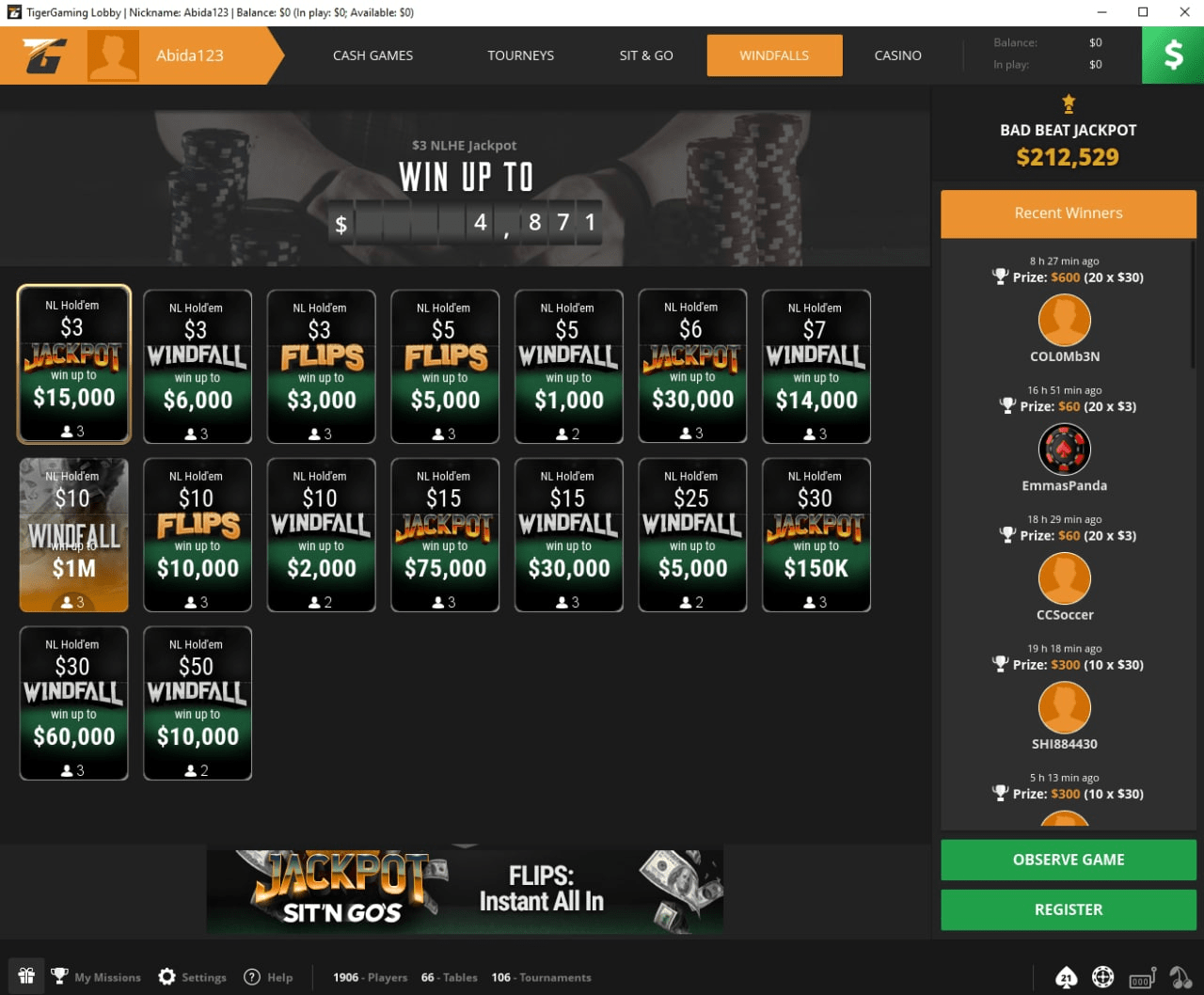 Boost Poker
Boost Poker is a variant that eliminates the wait between hands by immediately sending players to another table the moment they fold their hand. This makes it by far the most immersive form of poker as the action never stops. So if you find regular MTTs too long for your schedule, load up a Boost table and jump straight into the action.
TigerGaming also runs a bad beat jackpot specifically for boost tables, which is good as the high frequency of hands played increases the probability of such a hand being hit. The qualifying hand that needs to be beaten for the jackpot to drop is a full house with three aces or better. When the jackpot is hit all players who were dealt into the hand receive a cut of the accumulated prize pool with the recipient of the bad beat receiving the lion's share.
Deposits and Withdrawals
Deposits can be made from a minimum of $10 using a range of payment options. TigerGaming is one of the few poker sites embracing crypto currencies as a method of deposit and withdrawal. Payment methods include:
VISA / Mastercard
Amex
Neteller
Skrill
Bank Transfer
ecoPayz
cryptocurrency: Bitcoin, Litecoin, Bitcoin Cash, Ethereum, Ripple, Stellar and USDC.
TigerGaming is unique in offering a guaranteed 24 hour withdrawal. If the withdrawal is late players are eligible for a double payout of their withdrawal amount. This offer only applies on working days. In case of problems contact GipsyTeam support.
Welcome Bonus
TigerGaming Poker offers players a generous first deposit of up to $1000 when they deposit $10 or more within their first 24 hours using the site. This bonus is released incrementally by earning VIP points from contributing rake in cash games and tournaments which corresponds to 10% rakeback. Players have 30 days to clear the bonus which is received in $5 increments for every $50 rake.
First Deposit Freeroll
TigerGaming offers all players free entry into a $10,000 guaranteed freeroll upon making their first deposit.
Bad Beat Jackpot
Besides the bad beat jackpot for boost tables there are also bad beat jackpots for regular cash games and spins tables.
At regular cash tables the hand to beat to claim the jackpot is four of a kind of better. Similarly all players dealt into the hand also receive a cut of the prize pool.
The winner of the jackpot gets 20% of the prize pool.
The highest jackpot of 2020 exceeded $900,000 and the eventual "winner" of the jackpot received a 20% cut of around $200,000.
Rake and Rakeback
Cash game tables are not raked if no flop is dealt except for situations with several re-raises, for example, a hand with a 3-bet pre-flop. Rake limits are as follows:
Pot-limit and No-limit tables (Hold'em and Omaha)
$0.01/$0.02 - $0.03/$0.06:
| Table size | Rake | Cap |
| --- | --- | --- |
| Heads-up | $0.01 per $0.18 | $0.25 |
| 4 or more players | $0.01 per $0.18 | $0.50 |
$0.05/$0.10:
| Table size | Rake | Cap |
| --- | --- | --- |
| Heads-up | $0.01 per $0.18 | $0.50 |
| 4 or more players | $0.01 per $0.18 | $1 |
$0.10/$0.25 to $0.25/$0.50:
| Table size | Rake | Cap |
| --- | --- | --- |
| Heads-up | $0.01 per $0.18 | $1 |
| 4 or more players | $0.01 per $0.18 | $2 |
$0.50/$1 and higher
| Table size | Rake | Cap |
| --- | --- | --- |
| Heads-up | $0.01 per $0.18 | $1.50 |
| 4 or more players | $0.01 per $0.18 | $3 |
Limit poker tables (Hold'em and Omaha)
$0.02/$0.04 to $0.10/$0.20:
| Table size | Rake | Cap |
| --- | --- | --- |
| Heads-up | $0.01 per $0.18 | $0.25 |
| 4 or more players | $0.01 per $0.18 | $0.50 |
$0.25/$0.50 - $1.50/$3.00:
| Table size | Rake | Cap |
| --- | --- | --- |
| Heads-up | $0.01 per $0.18 | $0.50 |
| 4 or more players | $0.01 per $0.18 | $1 |
$2/$4 - $3/6
| Table size | Rake | Cap |
| --- | --- | --- |
| 1 Heads-up 1 | $0.01 per $0.18 | $1 |
| 4 or more players | $0.01 per $0.18 | $2 |
$4/$8 and higher
| Table size | Rake | Cap |
| --- | --- | --- |
| Heads-up | $0.01 per $0.18 | $1.50 |
| 4 or more players | $0.01 per $0.18 | $3 |
Conclusion
TigerGaming Poker is a great choice for beginners and casual players who want to play against weaker opponents and take advantage of generous sign up offers. The ability to deposit and withdraw in cryptocurrency also makes TigerGaming stand out from the pack. The standard of play is almost certainly below average and so there is money to be made at low-mid stakes as regulars tend to stay away from this site.
On the downside the rake is high compared to other sites and the quality of both the software and the tournament schedule are not the best around.
Customer Service
TigerGaming Poker support can be reached via email or phone 24/7.
support@tigergaming.com
Frequently Asked Questions
Q: Is it possible to play TigerGaming from mobile devices?
A: Yes, software applications for Android and iOS devices are available for download on the website.
Q: Can I use poker HUDs and Tools on TigerGaming Poker?
A: Yes and no. HUDs can be used but other third party software may be blocked.
Q: Is TigerGaming Poker rigged?
A: TigerGaming Poker is not rigged. But because online poker sites like TigerGaming typically deal hands three times faster than a live poker game, players should expect three times as many bad beats.
Q: Is there a TigerGaming US client?
A: No. TigerGaming US isn't currently available.
Q: Is there a TigerGaming Canada client?
A: Yes. TigerGaming Canada is currently available and players can deposit in CAD.
Q: Is there a TigerGaming UK client?
A: No. TigerGaming isn't currently available in the UK.