In October and November, there was an active Omaha game running at GGPoker.
Several well-known high rollers immediately became interested in the 5-card version of this dynamic and provocative game.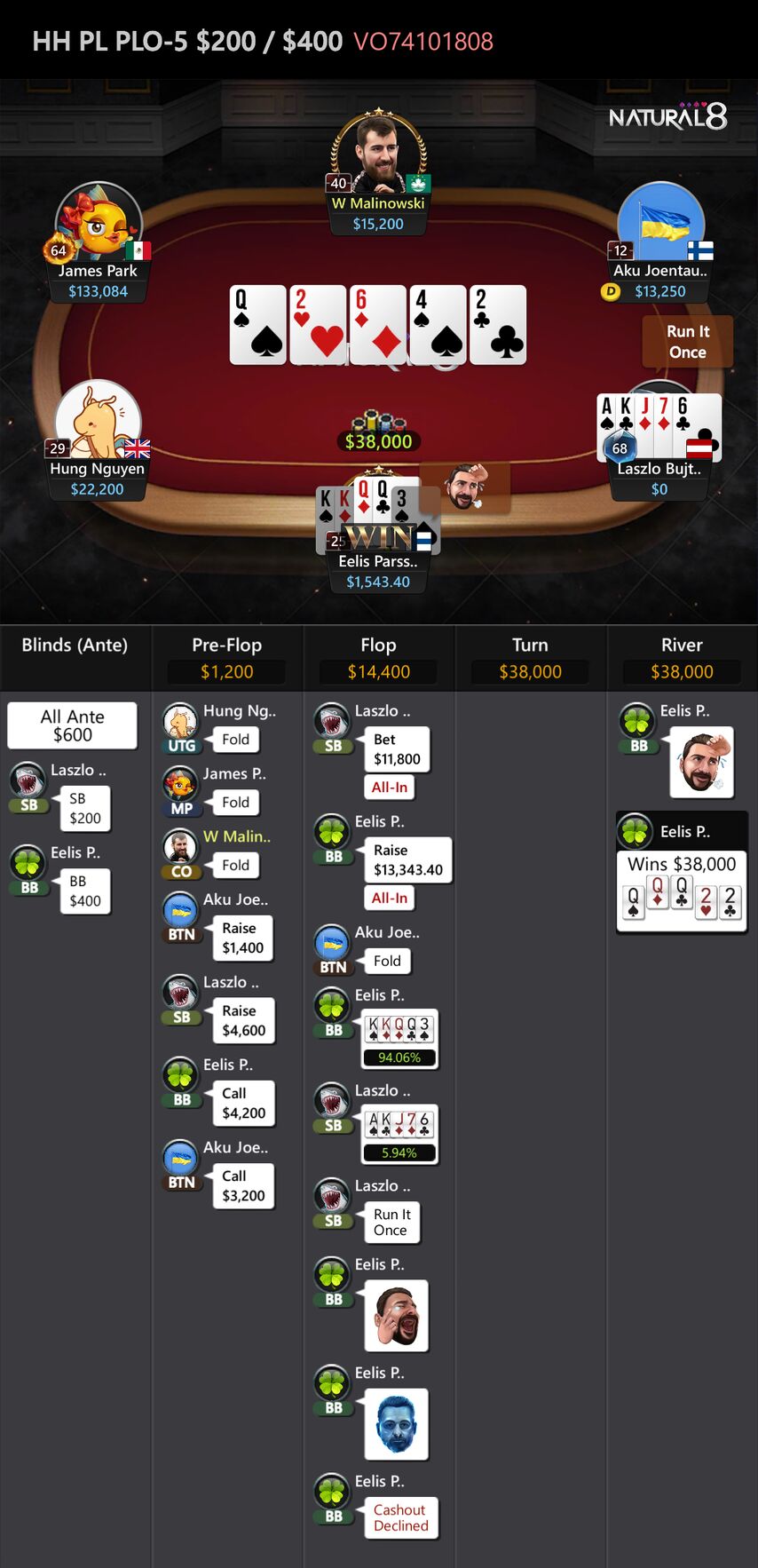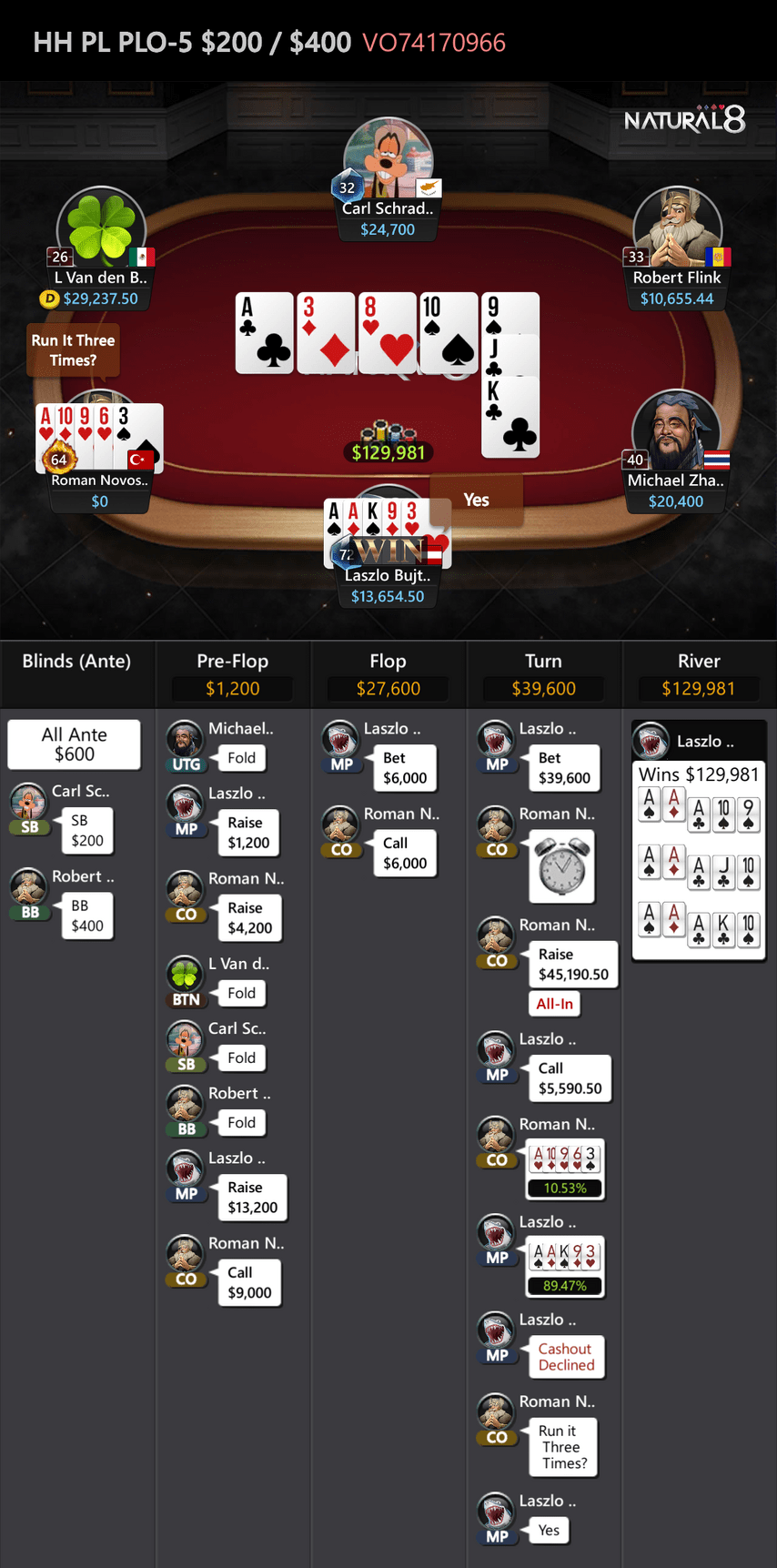 "I don't understand what's going on in these hands at all," said 'Potoooooooo', who posts all the big pots in a special 2+2 thread.
"Don't worry," they reassured him. ''The players at the table have the same problem.''
''Lots of questionable preflop decisions. and post-flop," another commentator noted.
''The game itself is very confusing'' – 'Makeboifin' shared his observations.
In one of the hands, the experienced James Park managed to get it in on the flop, having less than 5%.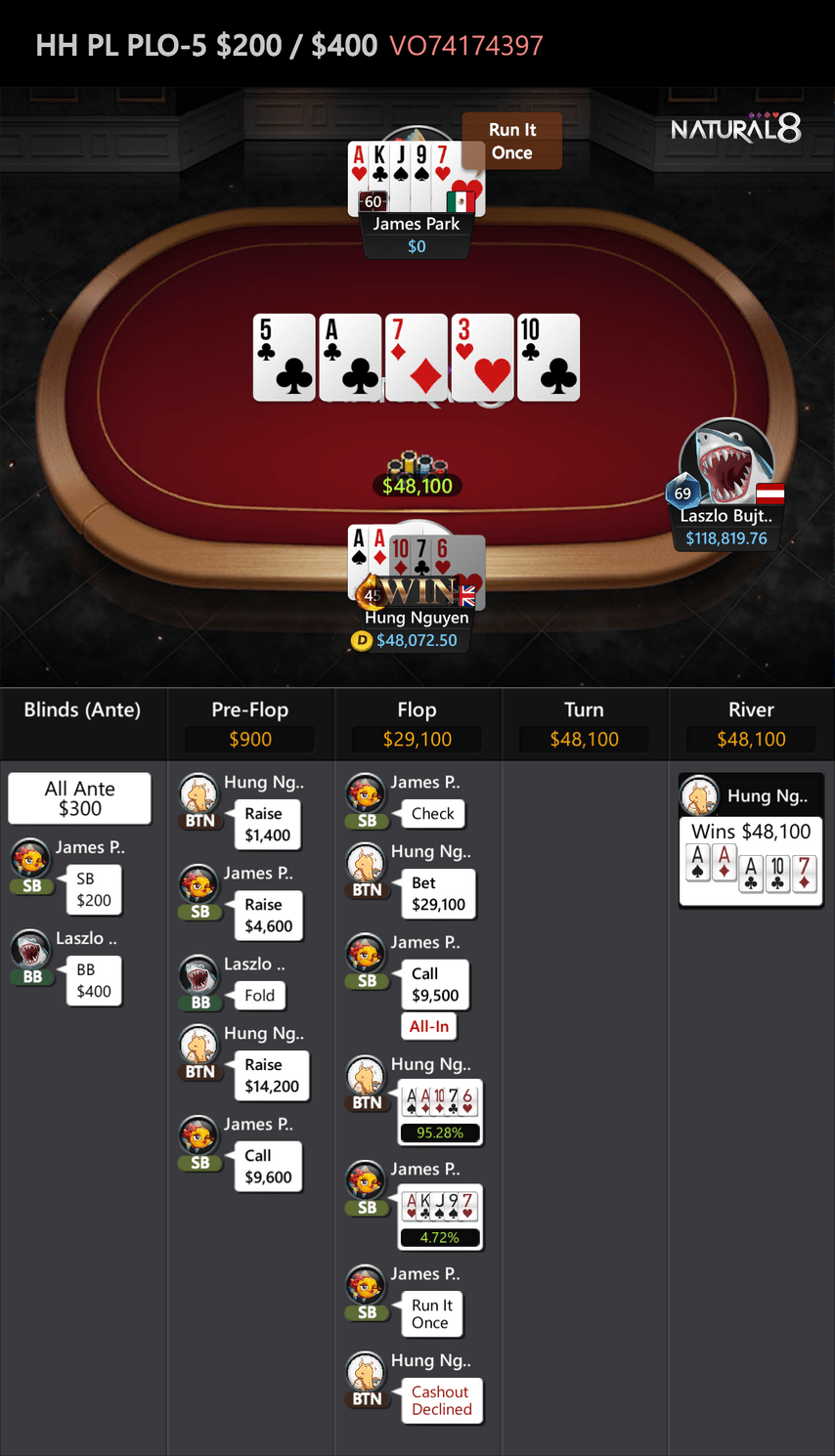 A couple of days later, for the first time in a long time, a full table of the more normal 4-card Omaha at the $200/$400/$800 limit gathered. Such action interested even Timofey Kuznetsov , who has not played poker at all for the last six months. During his break, Truteller did not lose his ability to collect good hands. He was dealt aces several times, and, no less important, his opponents both paid him and did not outdraw him.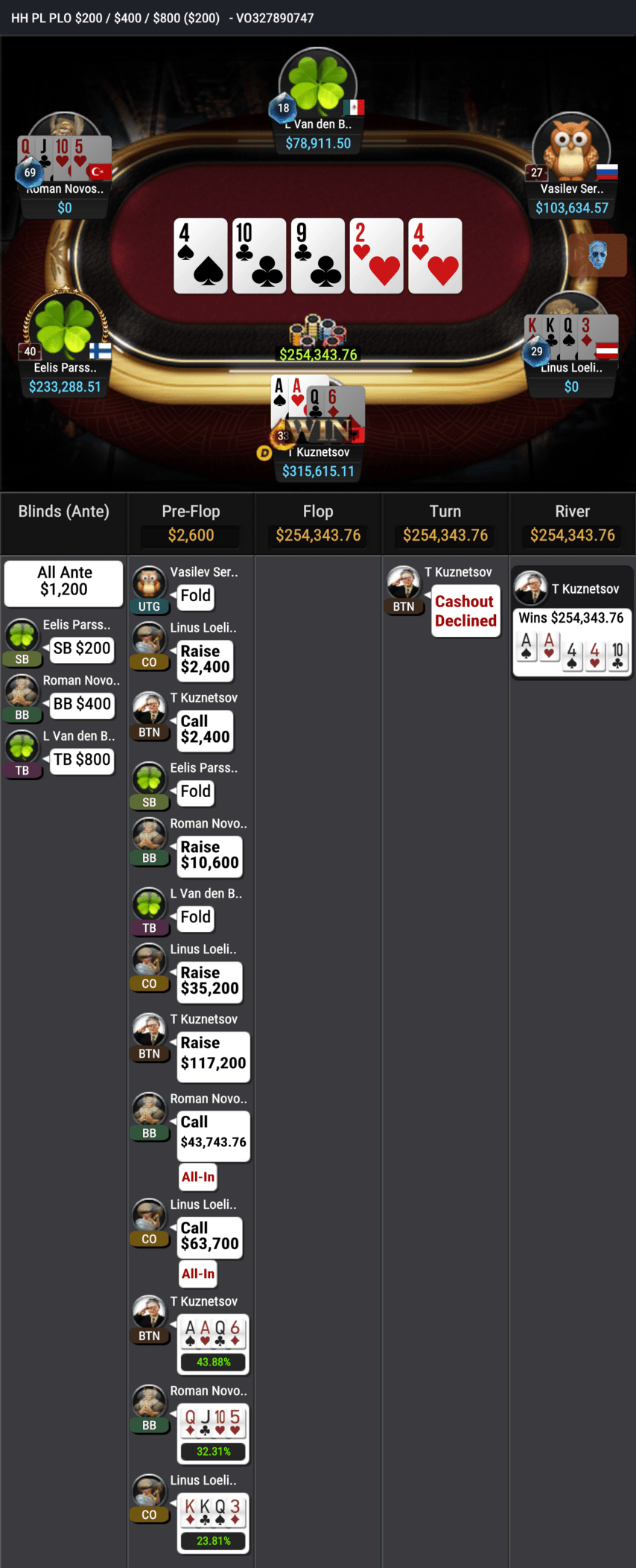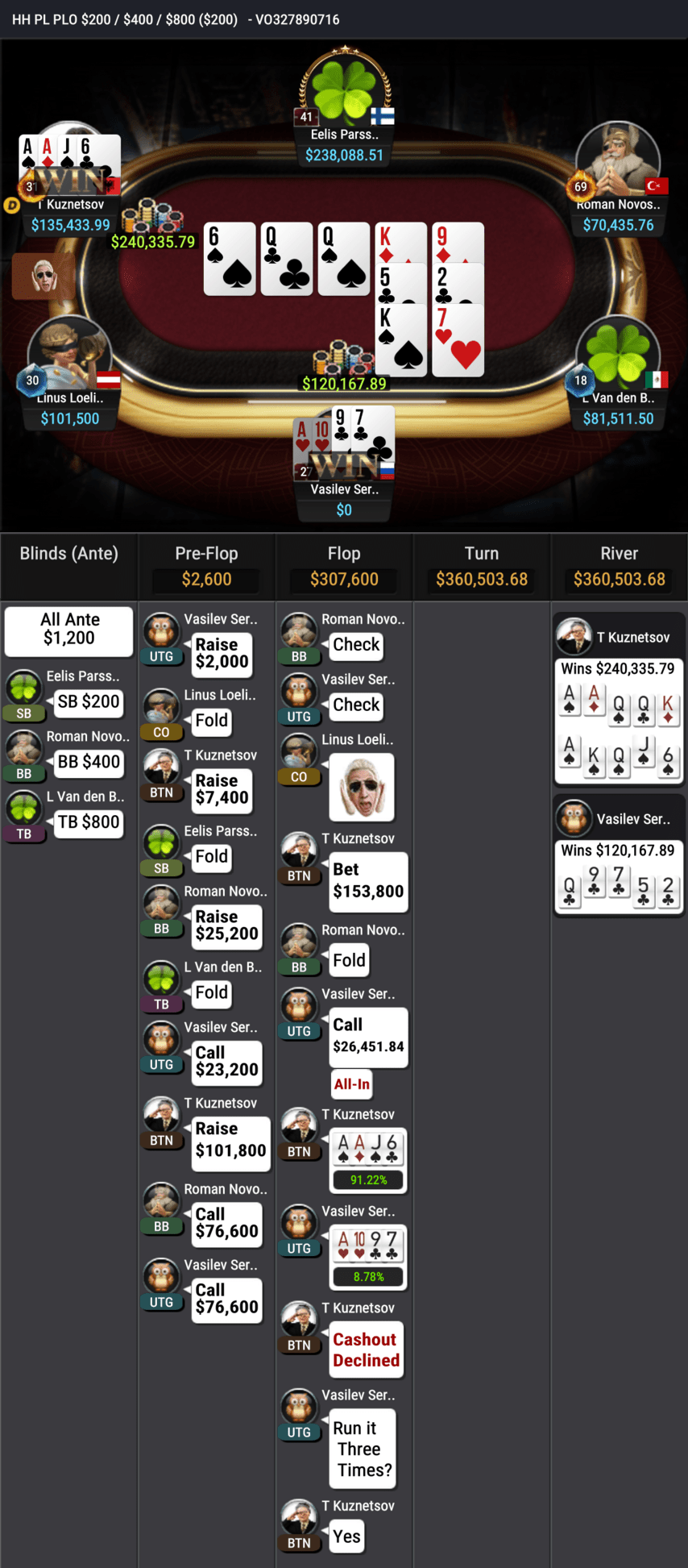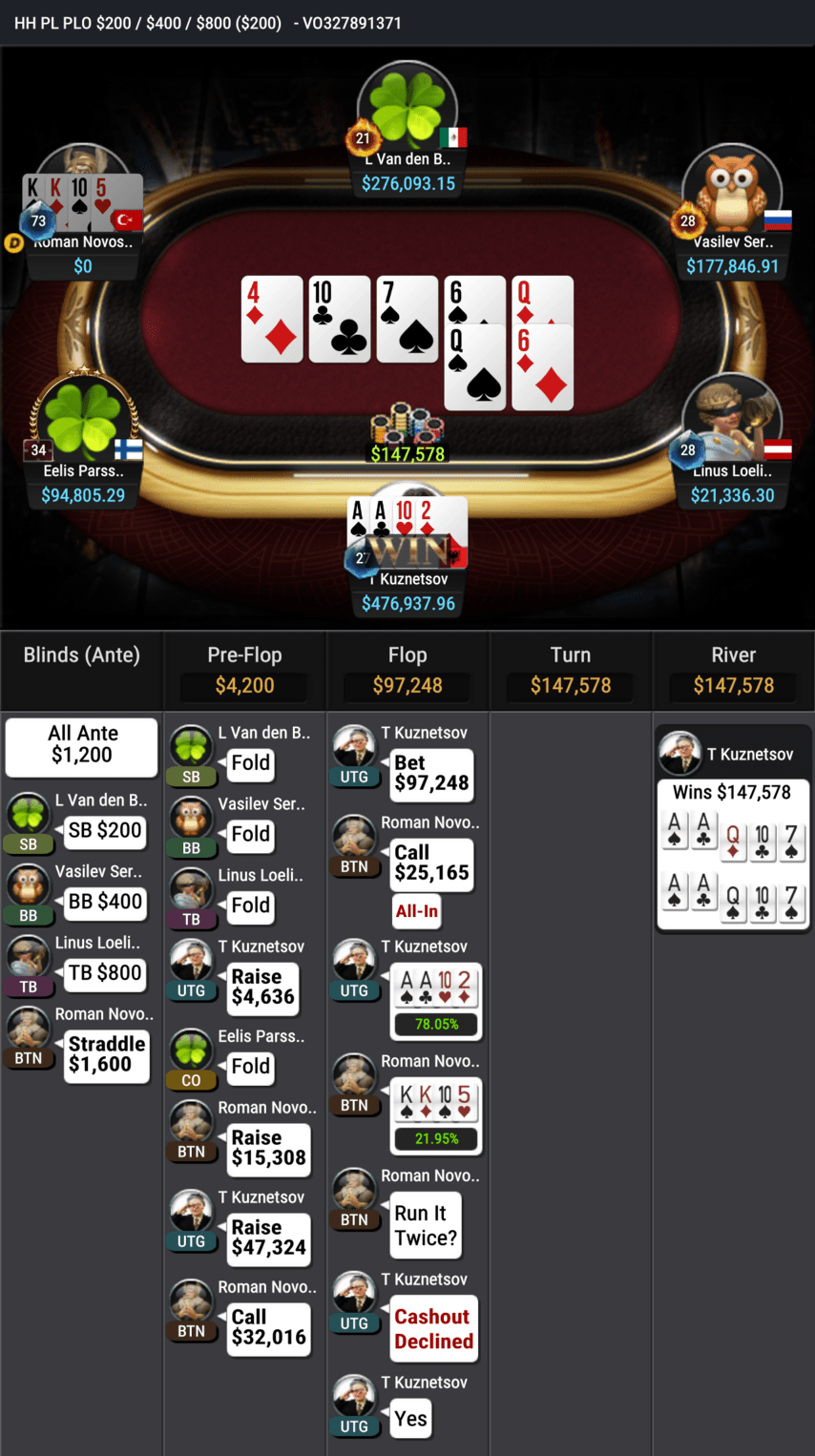 When the aces were not dealt to Timofey, he simply made four of a kind, which also turned out to be quite a profitable strategy.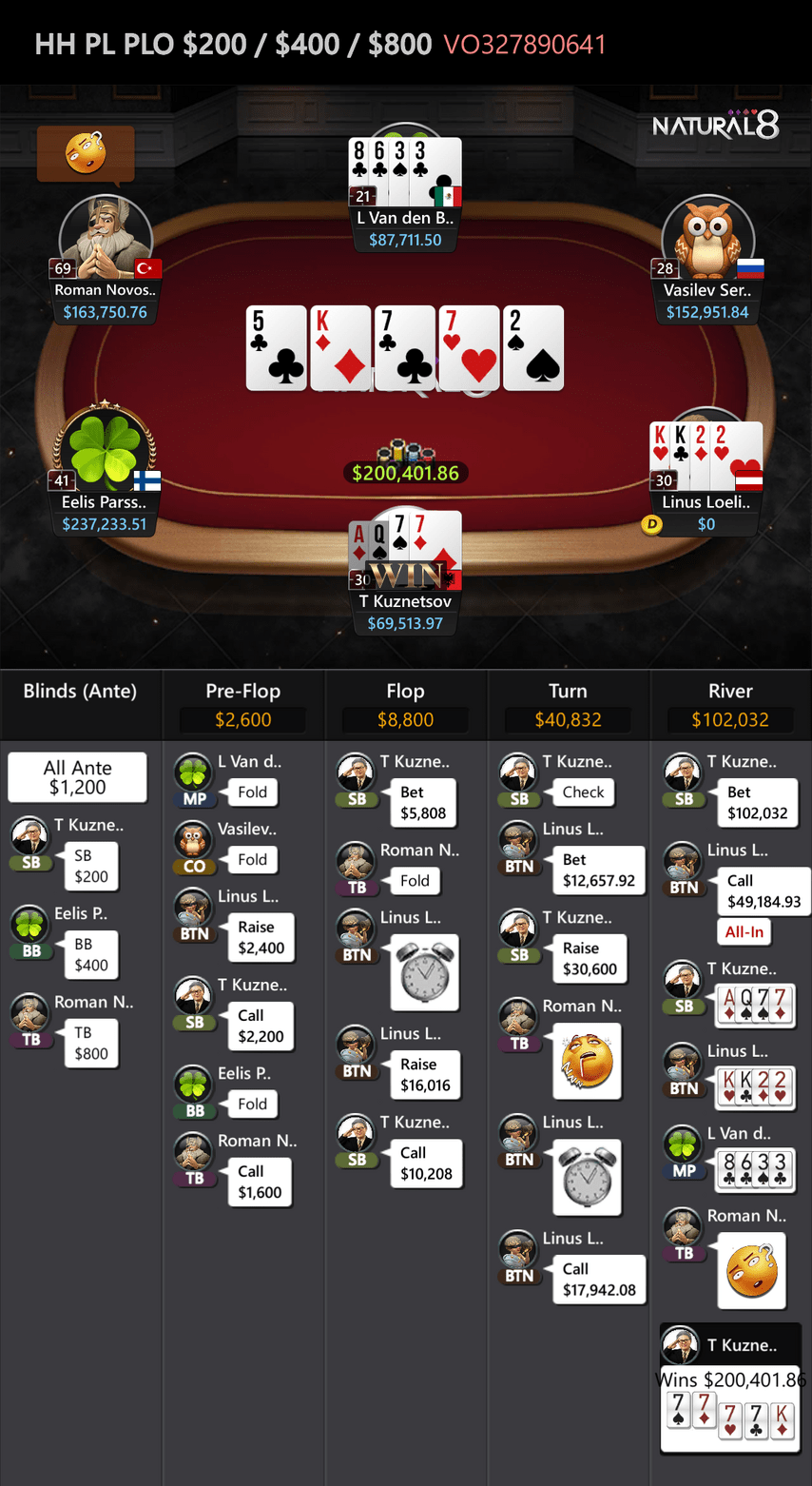 Timofey missed the biggest session pot. In it, four players got it in and played for $450k. The main pot was won by Eelis Pärssinen, who started the hand with the shortest stack. Roman Novoselov, who had the best chance of winning, took an impressive sidepot.

Prior to this, Roman several times acted as the killer of aces.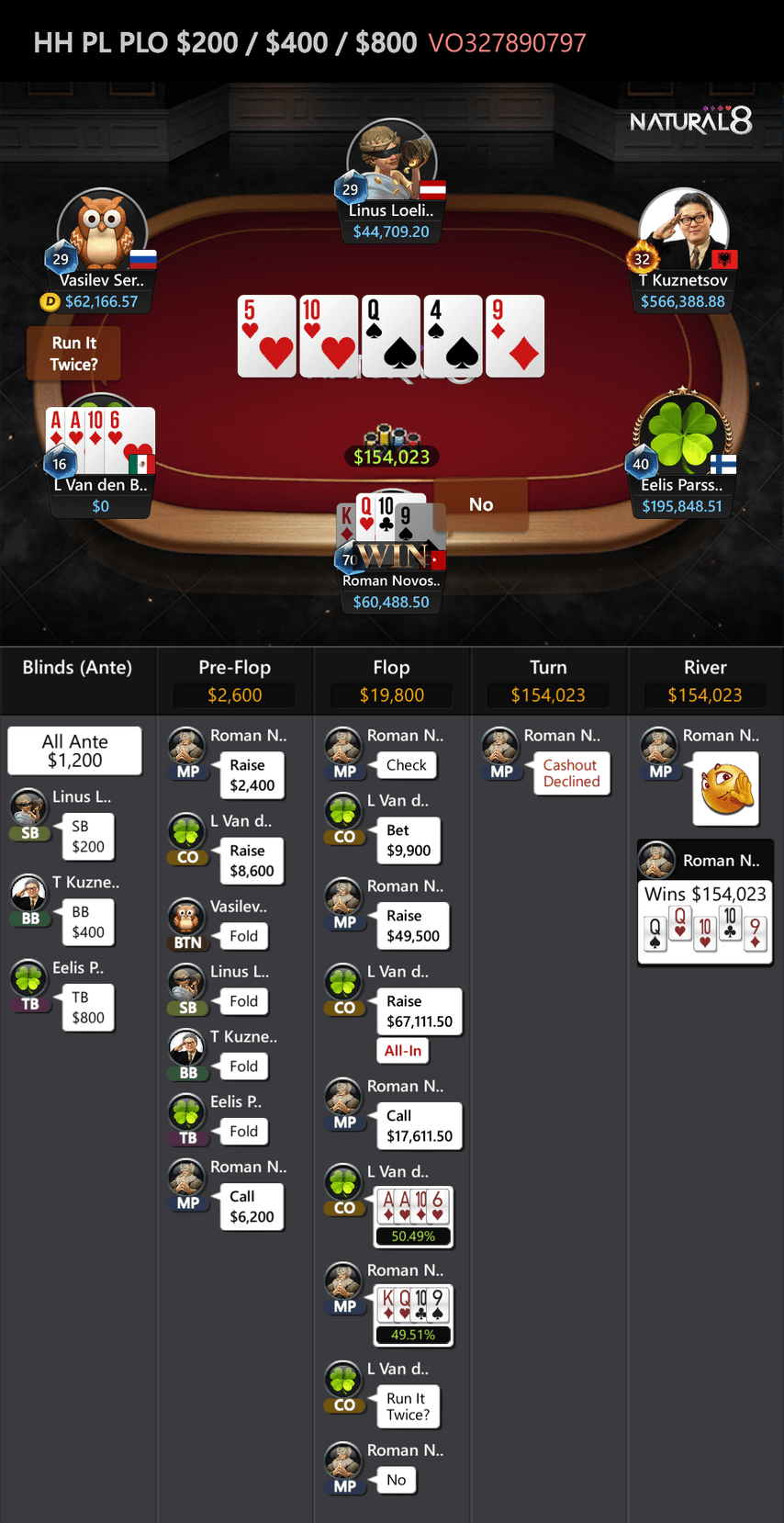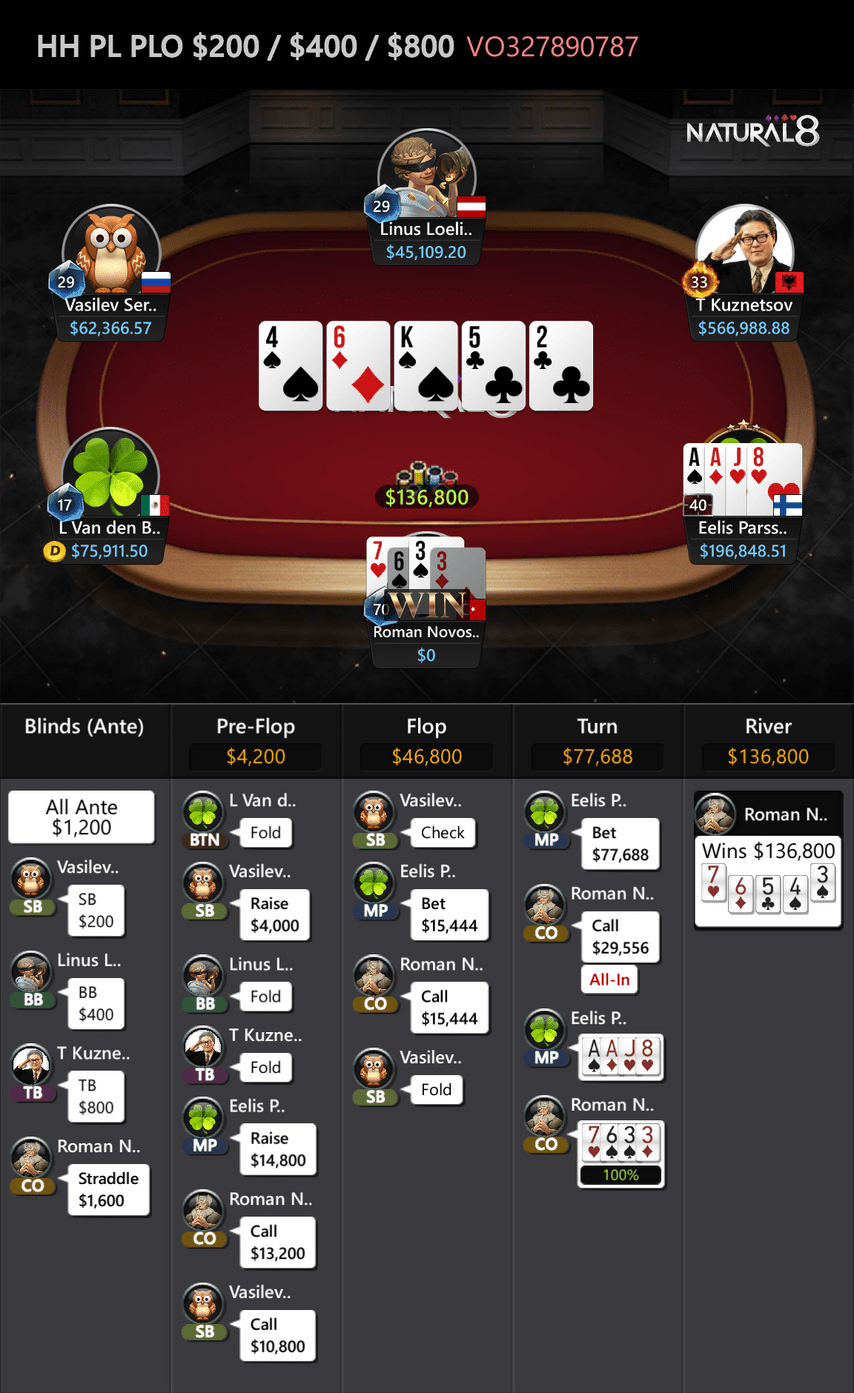 Roman at this table was distinguished by the fact that he was the only one to put the straddle on, and from any position.
After losing another all in, he left, and the game immediately fell apart.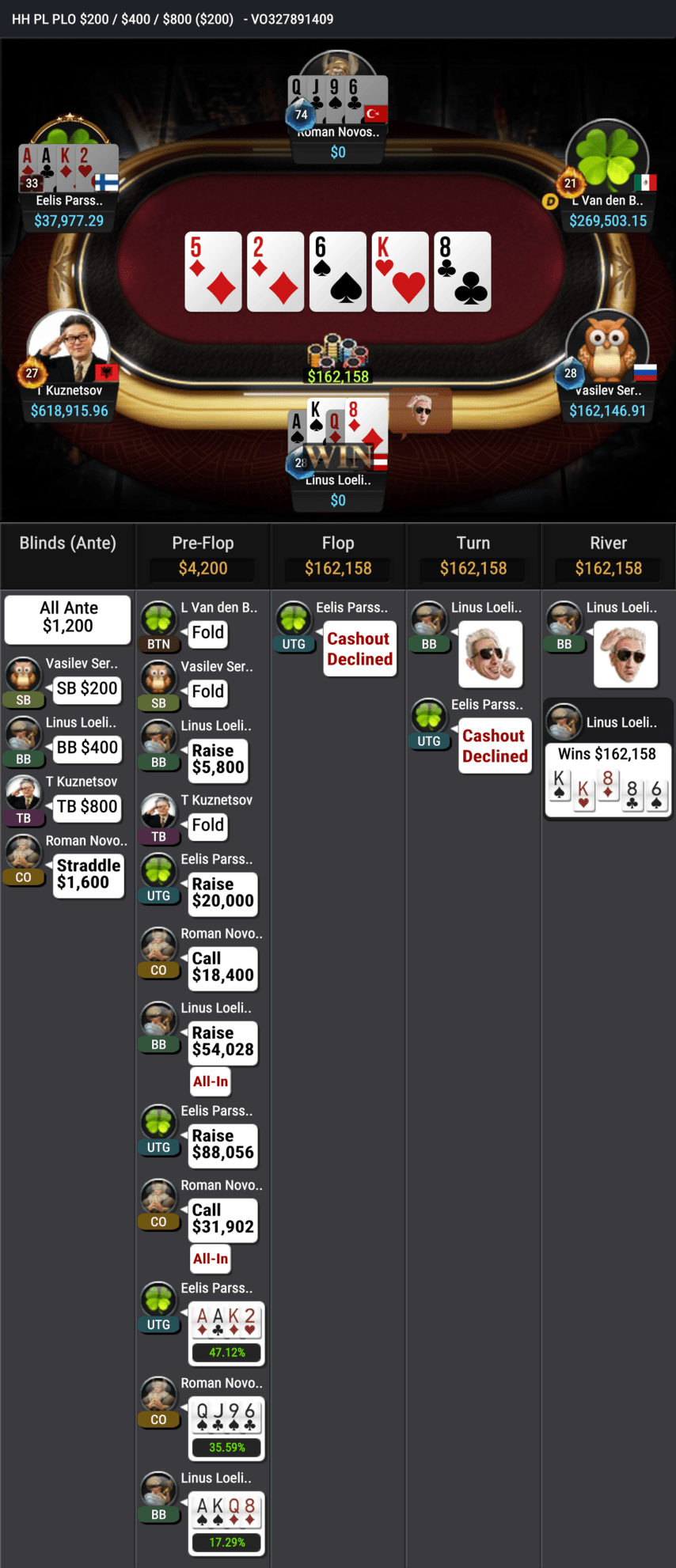 Roman Novoselov played hold'em less often, but he was clearly better there, and by the end of October he was included in the list of the most successful high rollers. This "board of honor" was headed by Kevin Paquet and Victor Malinowski.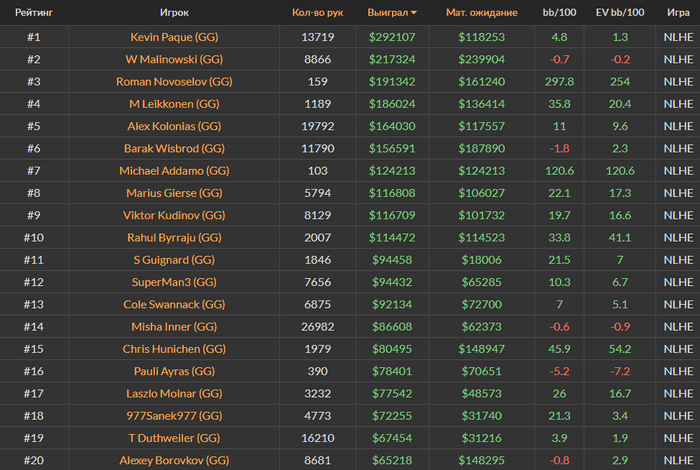 We publish full results for all limits every month on our forum .
Truteller ended the PLO session with the biggest stack, $675k. After that, he did not appear at the tables again.
A few more days of action on the PLO $200/$400/$800 was stimulated by an unknown Lebanese poker fan with the nickname 'carnotaurus'.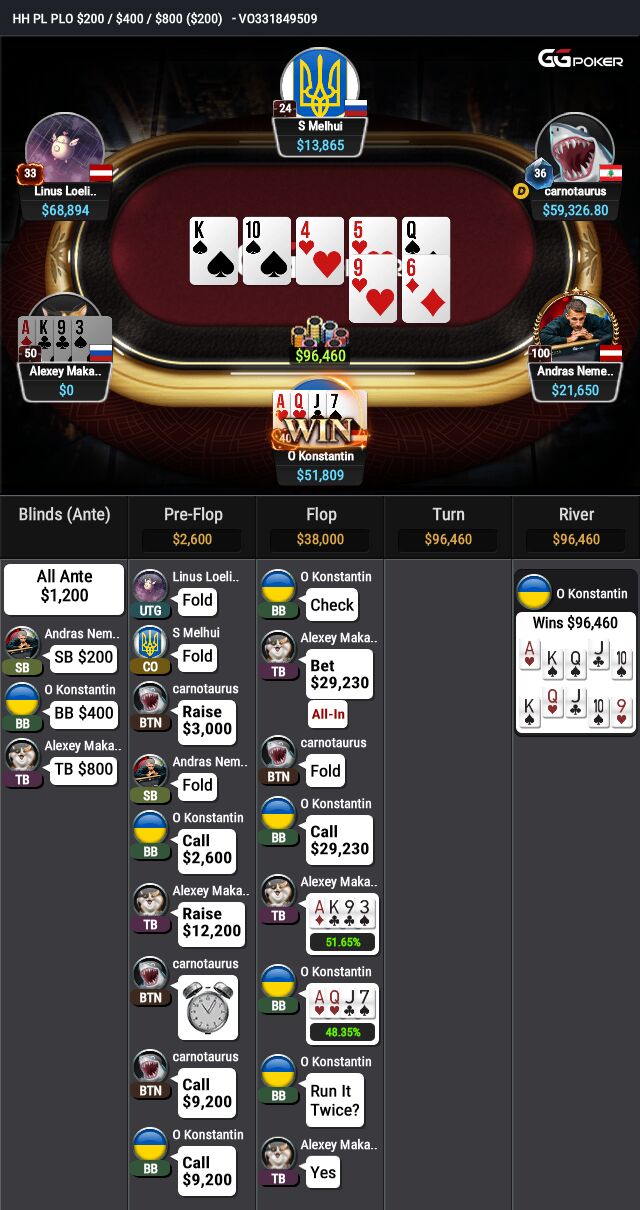 The most successful player this time was Victor Malinovsky, who won all the biggest hands of the session.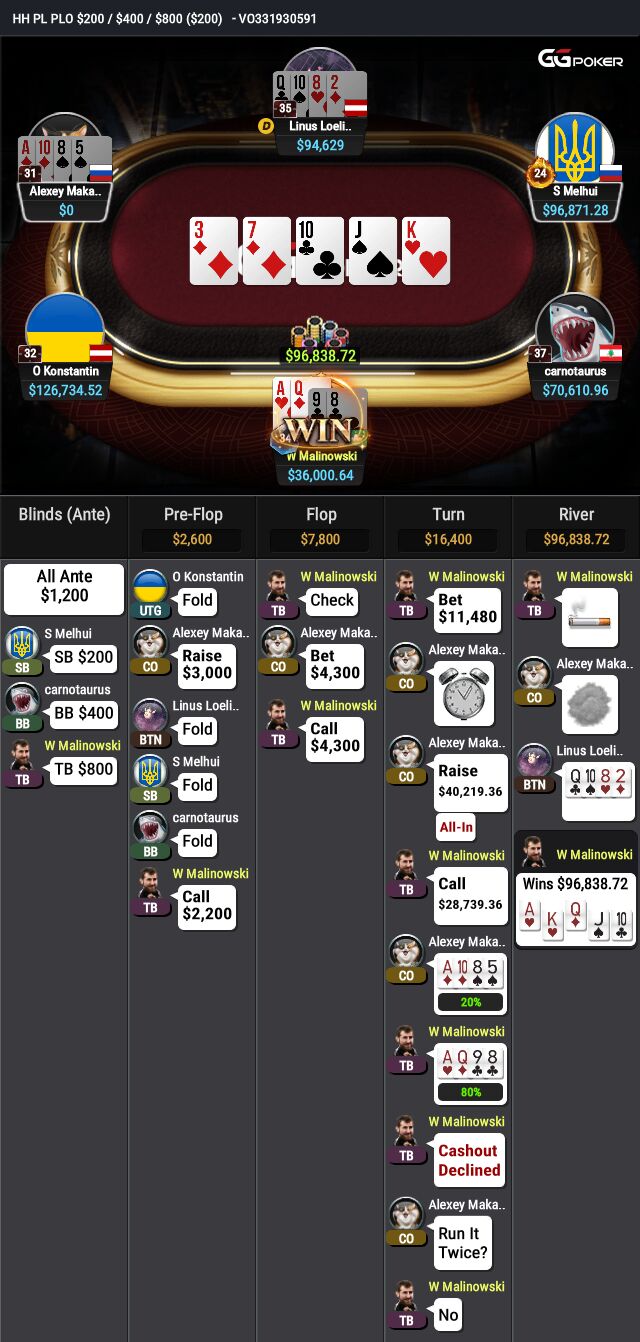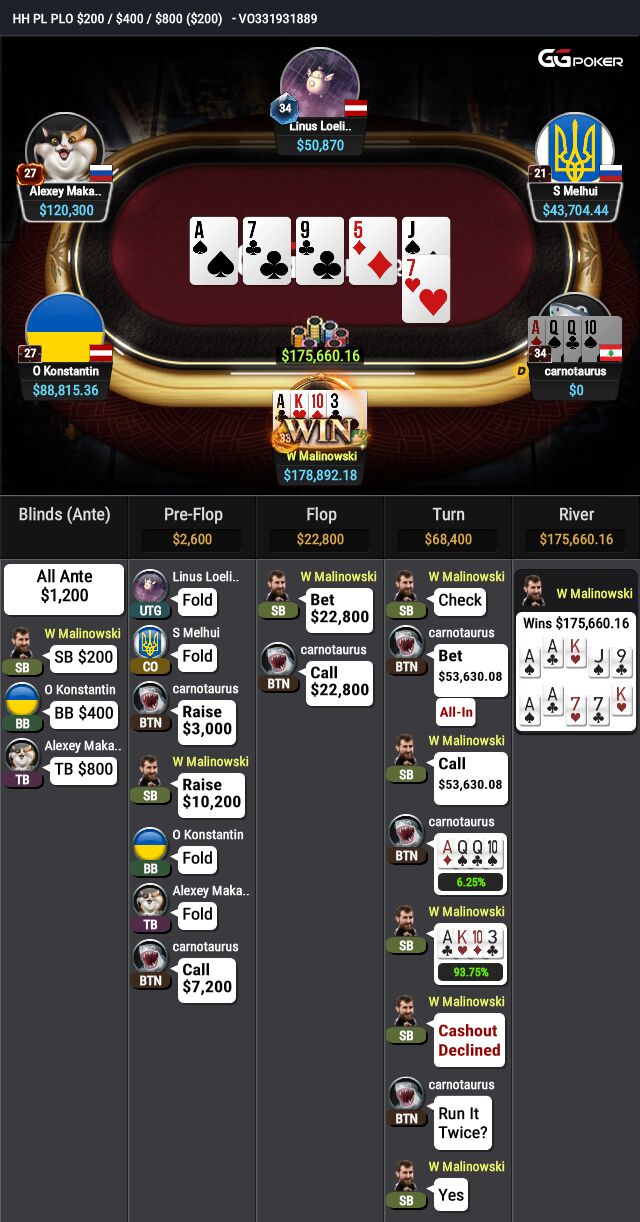 After this hand, the player with the Lebanese flag sat out, and soon the game fell apart.
– Probably in vain last night I played 200-400-800 ante 200 on GG, – Aleksey Makarov wrote in his telegram. – Very big [game], I estimated the advantage as insignificant, the seating was bad. Accordingly, a huge dispa. When I sat down, I thought the game would be sweeter. But having played, it was necessary to leave earlier. -150bb in pancakes is nothing, but in money it is very unpleasant. I will try not to make such mistakes again.
After a couple of days, carnotaurus returned, but this time there waasn't even a full table.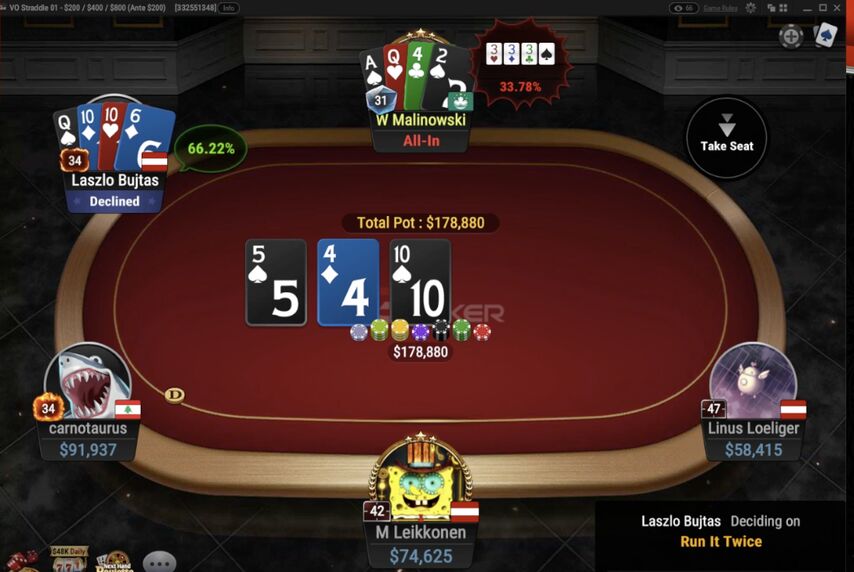 Laszlo refused to run it twice, for which he paid the price on the turn – Wiktor hit a flush.
But Bujtas quickly rebuilt his stack when the Lebanese player failed to fold aces against him.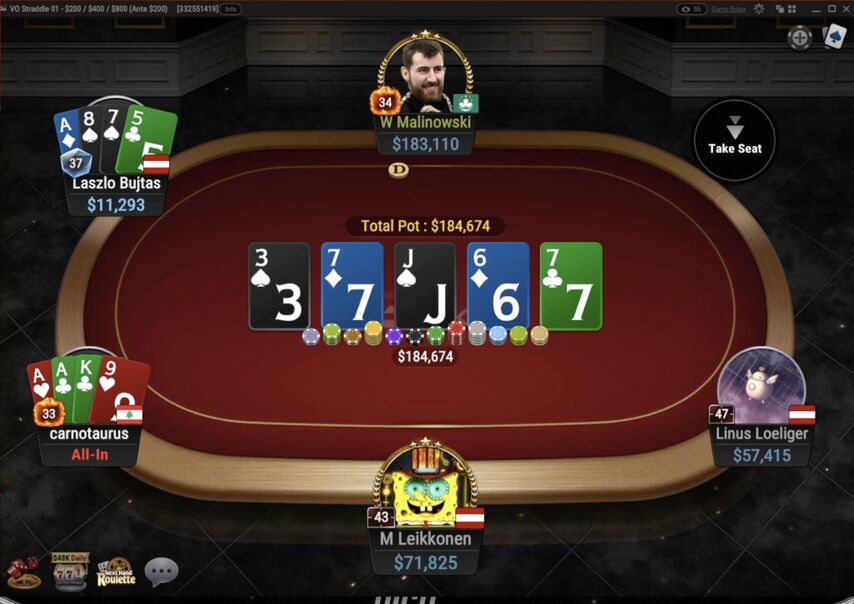 Carnotaurus spent some time sitting out before returning with renewed vigor and a buy-in.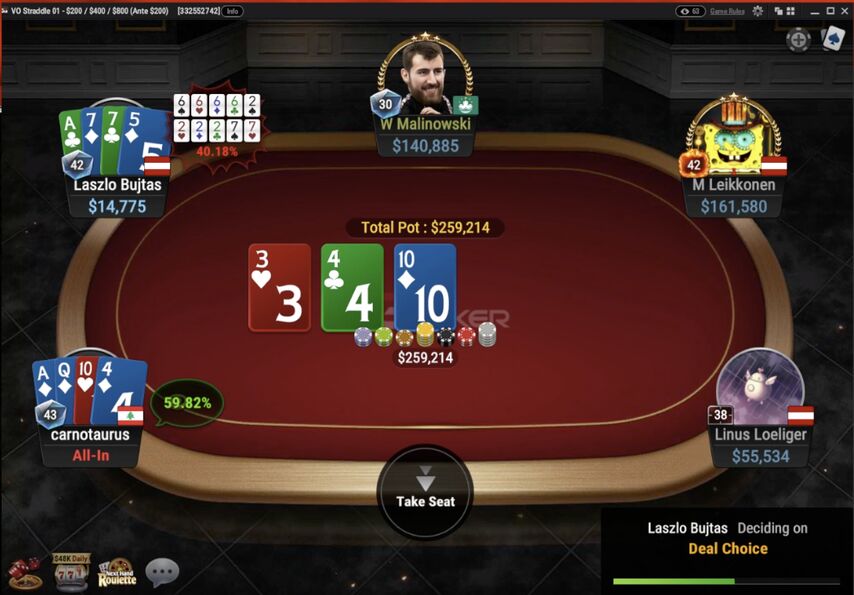 Laszlo 3-bet preflop, check-raised on the flop and called all-in.
The Lebanese player won both boards.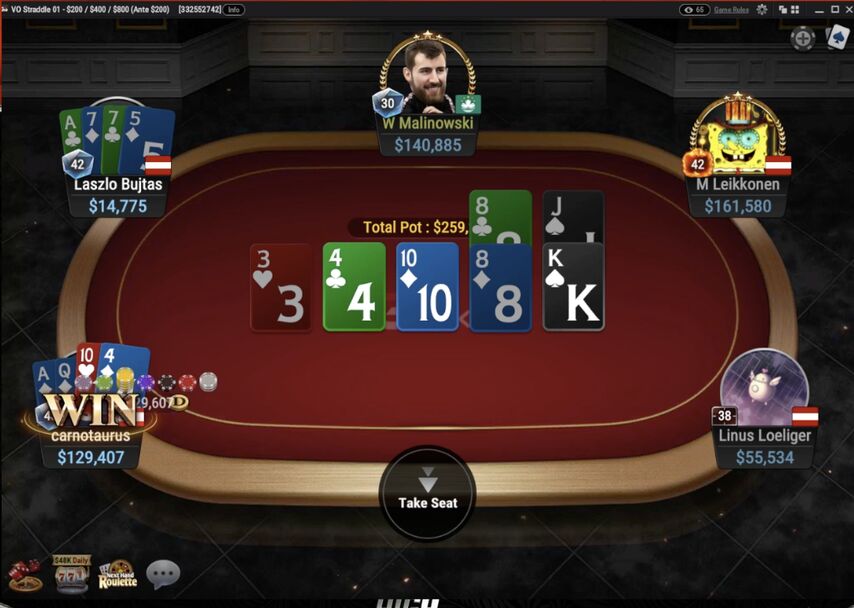 Bujtas bounced back against the pros.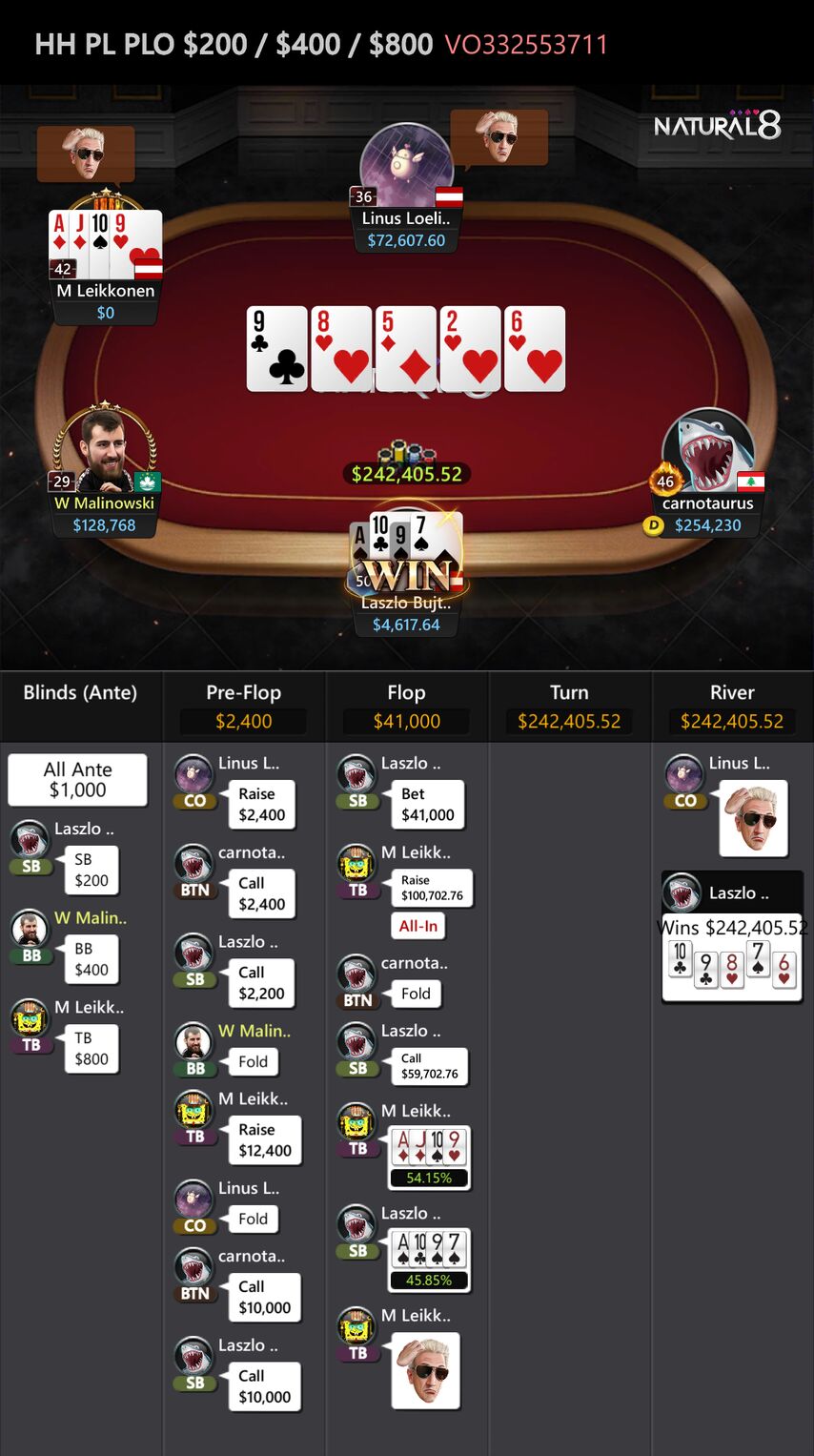 Leikkonen decided after this hand that he had enough Omaha for now and left the table.
In 4-max, carnotaurus doubled up Linus.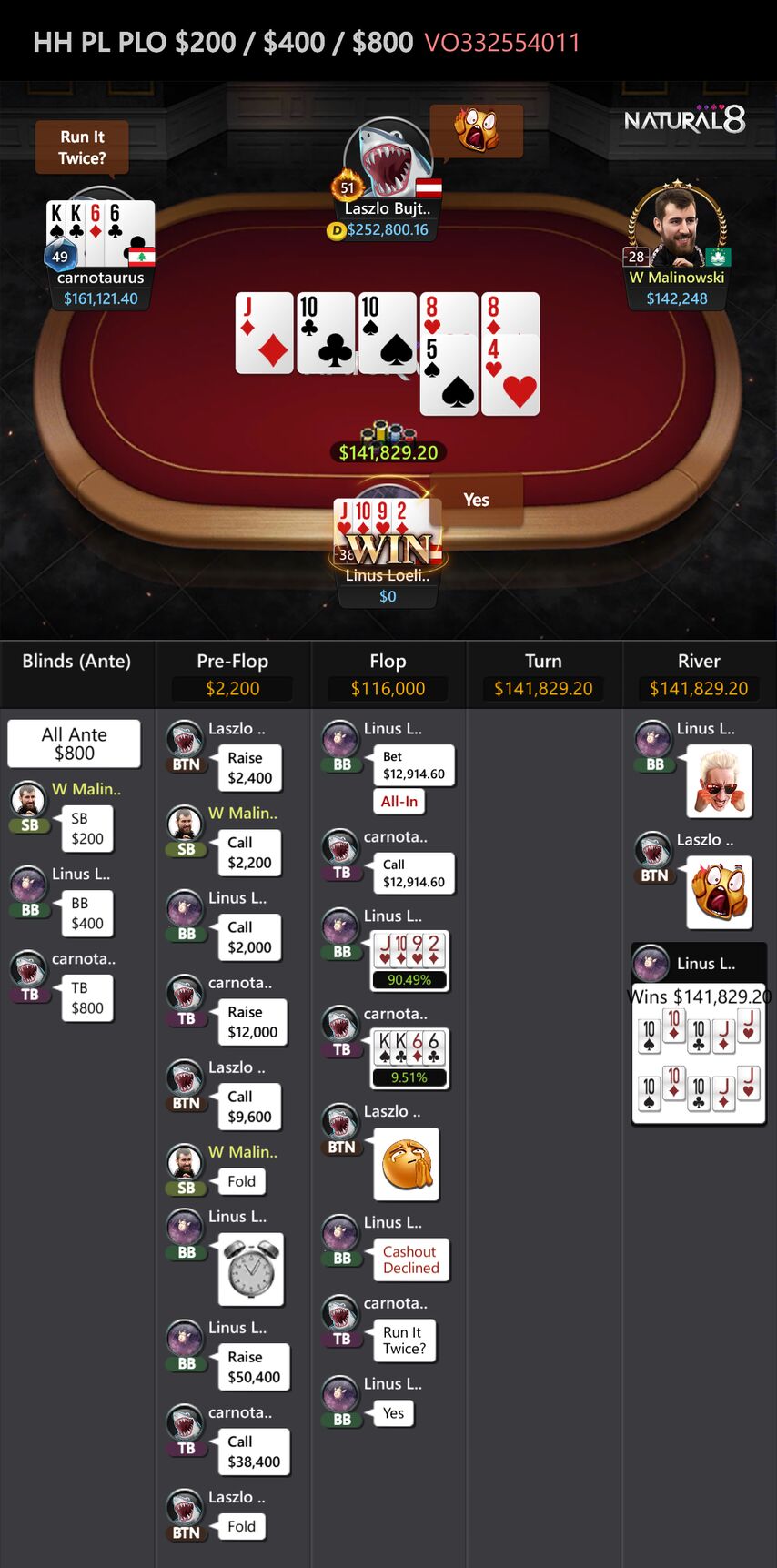 Then, in the biggest pot of the evening, he chopped with omaha4rollz.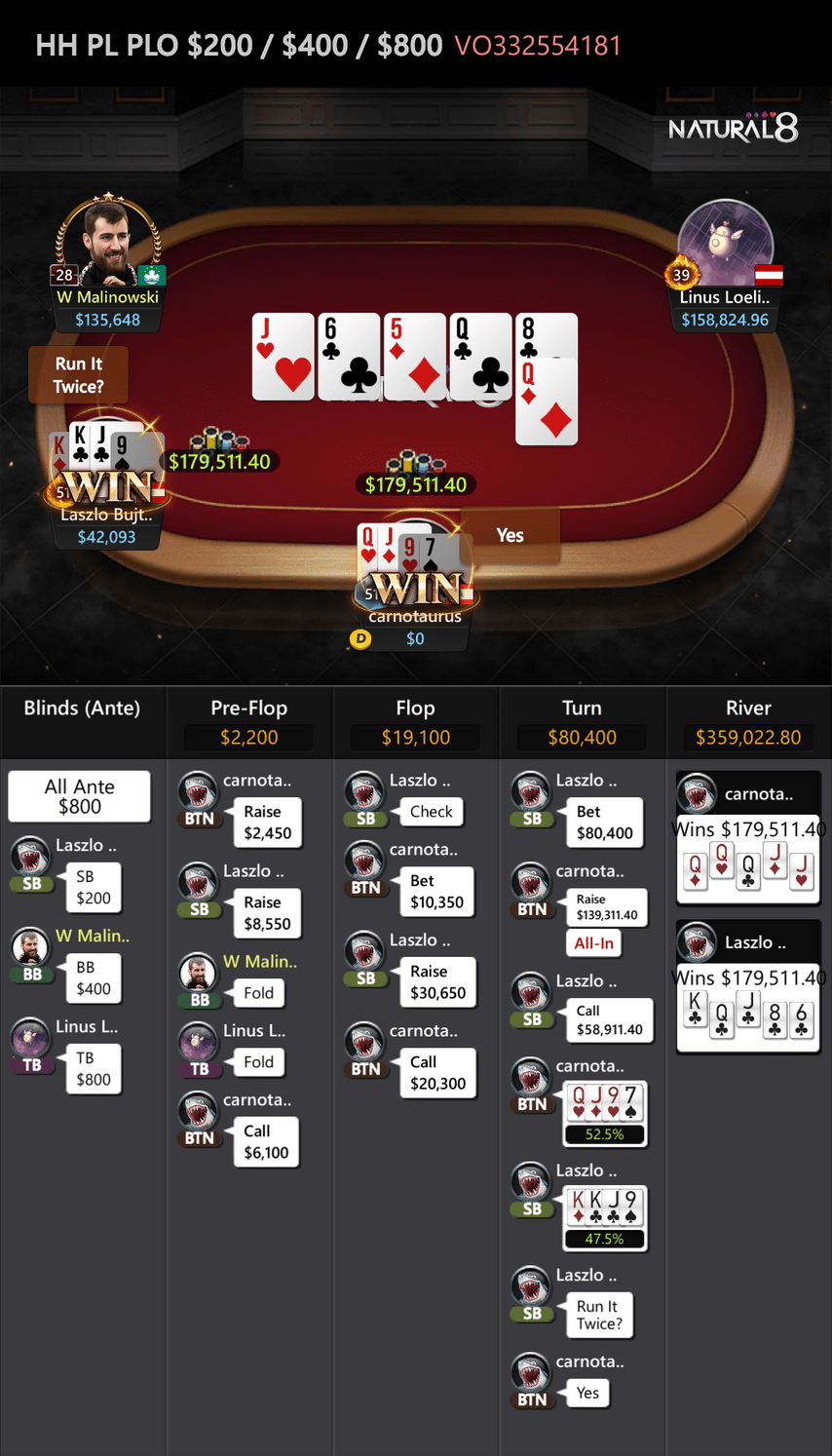 And at the end of the session, he confidently put himself up against Wiktor Malinowski.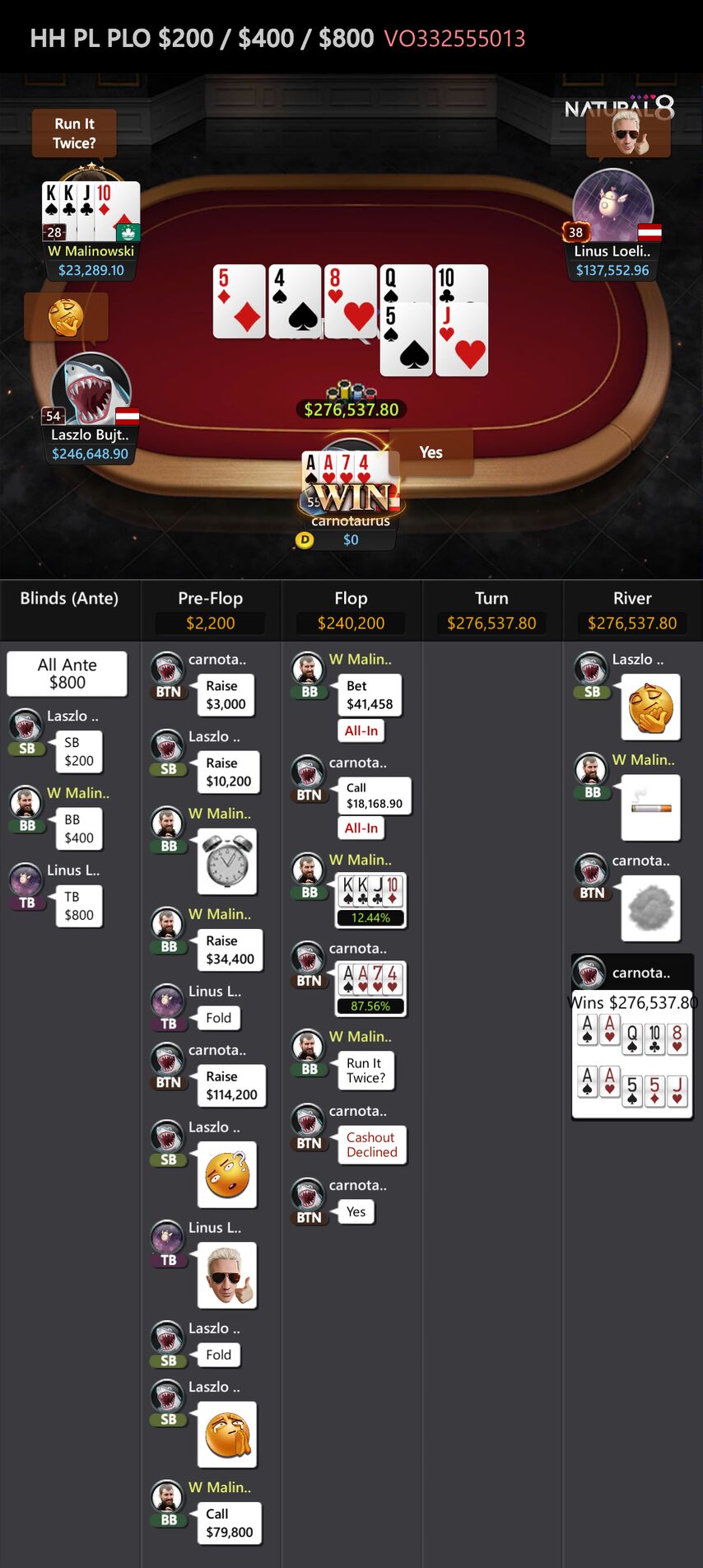 However, the Lebanese high roller slowed down. In his last hand, he bet-folded the turn after Limitless and ended the performance there.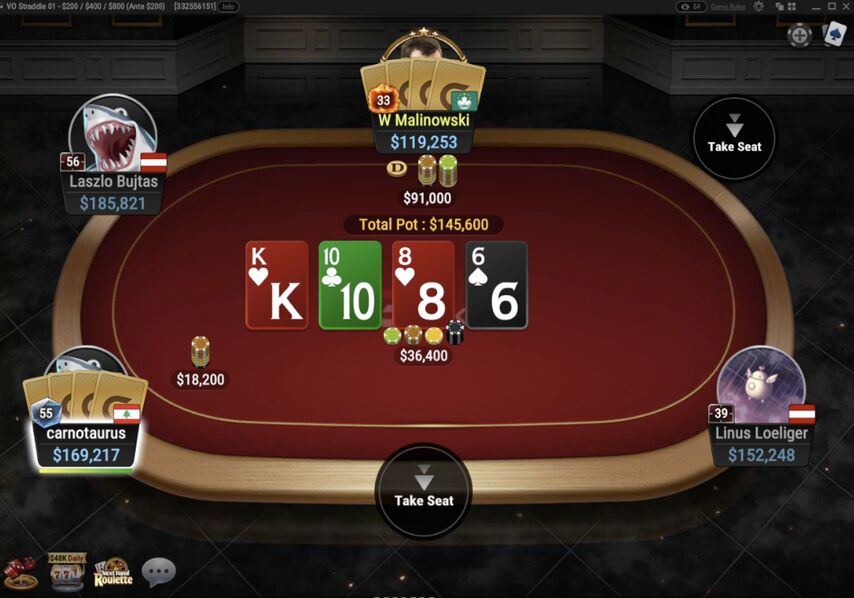 The next stop on the Lebanese players poker journey was the $500/$1,000 tables. A few days later, he opened two at once, but only two professionals were interested.

How he spun up to a stack of more than $300,000 remained a mystery, but sadly he couldn't hold on to this stack. First, Linus caught a set against his aces.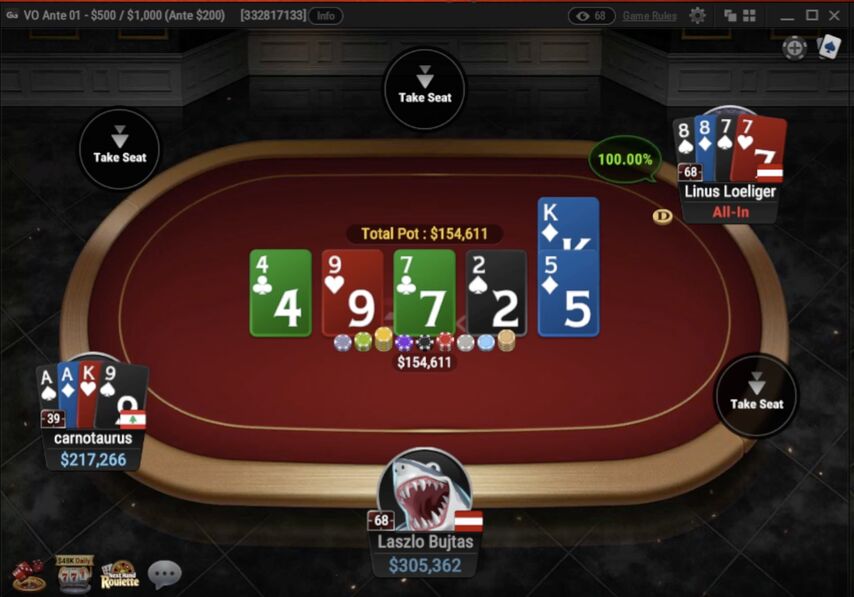 Then carnotaurus check-called Buitas for three streets and mucked.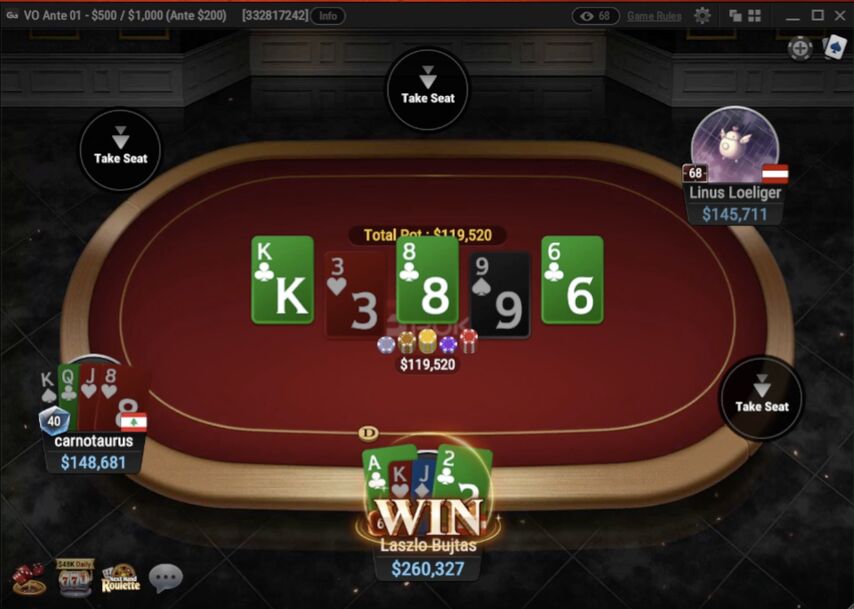 The session ended with two hands against Loeliger.
In the first one, the Lebanese raised and c-bet on the flop, bet-called on the turn and all-in on the river.
After that, he closed the second table, and used all the money on the other. The rest of the bankroll, he almost immediately lost.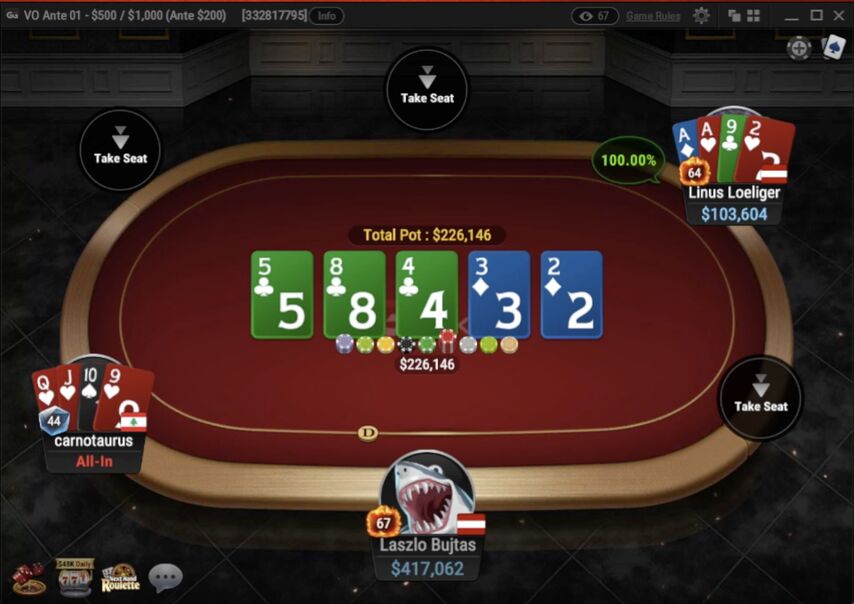 Linus cold 4-bet, Carnotaurus shoved and got called instantly.
2+2 reminded us that Laszlo Bujtas appeared at the high stakes GG tables only last month. Prior to that, according to rumors, he was banned there.
Hold'em has traditionally has many regwars at different stakes.
At the end of October, Kevin Paquet, Linus Loeliger and Sergey Nikiforov played 3-max. They started at $200/$400.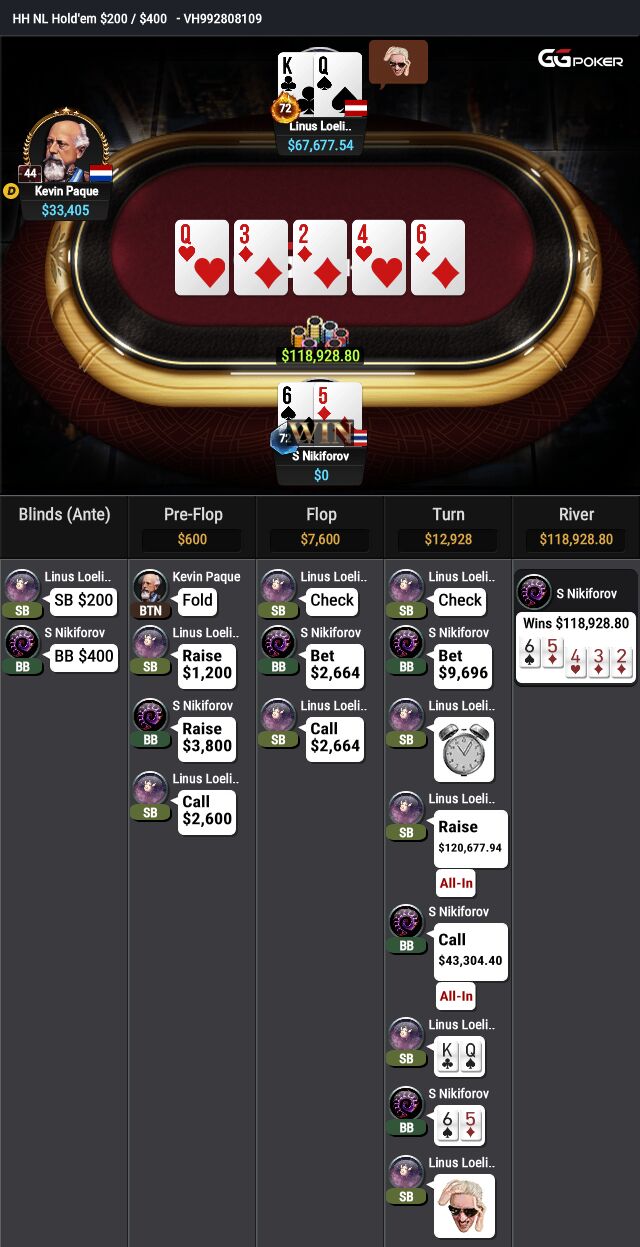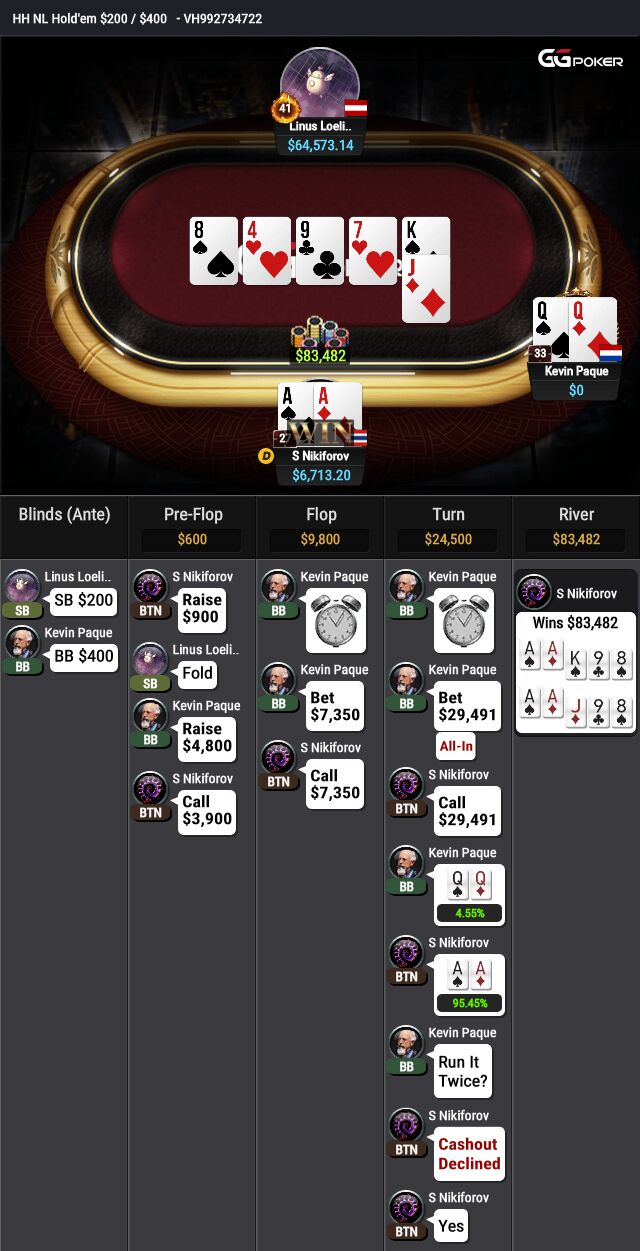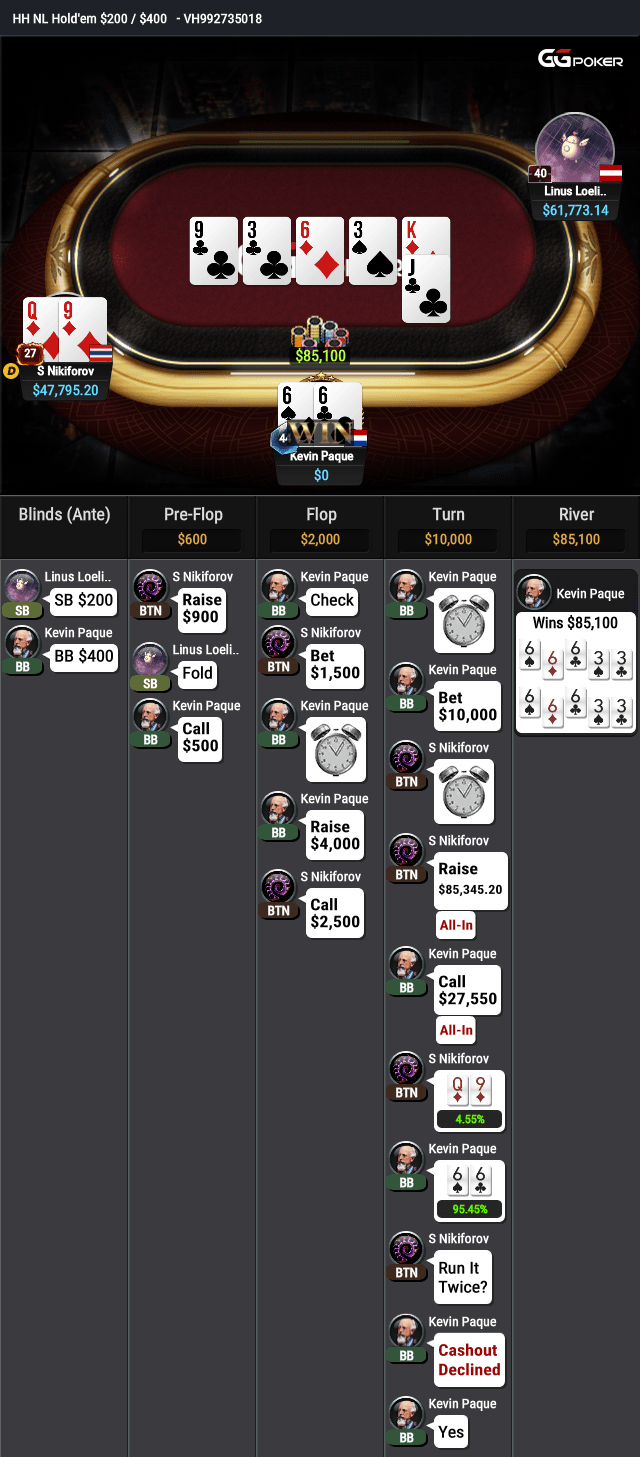 After Kevin left, they continued heads-up at $500/$1,000.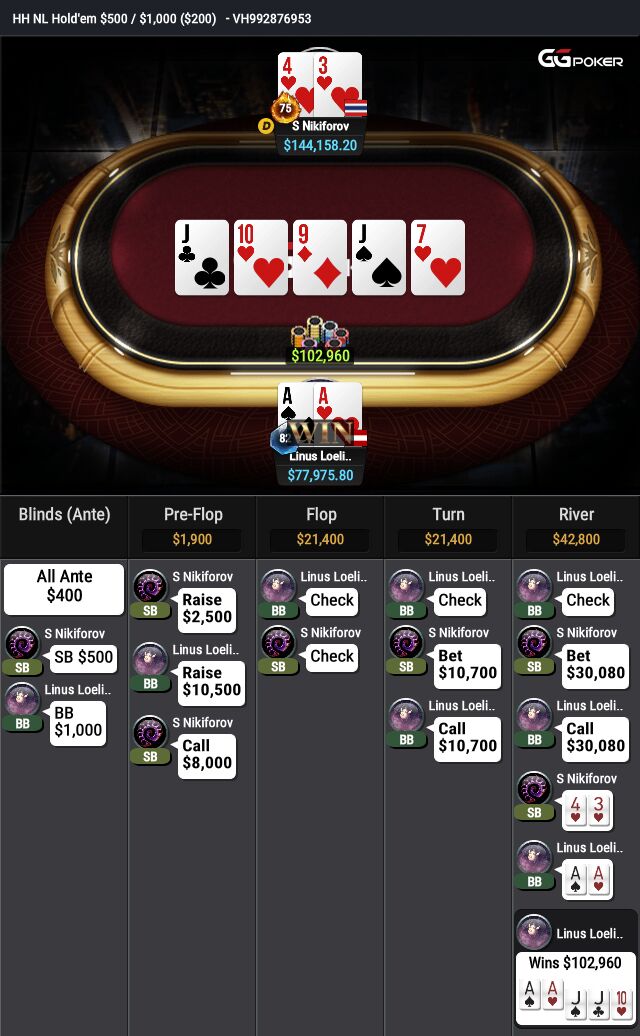 A few days later, Sergey and Linus continued to battle at the $500/$1,000/$2,000 tables.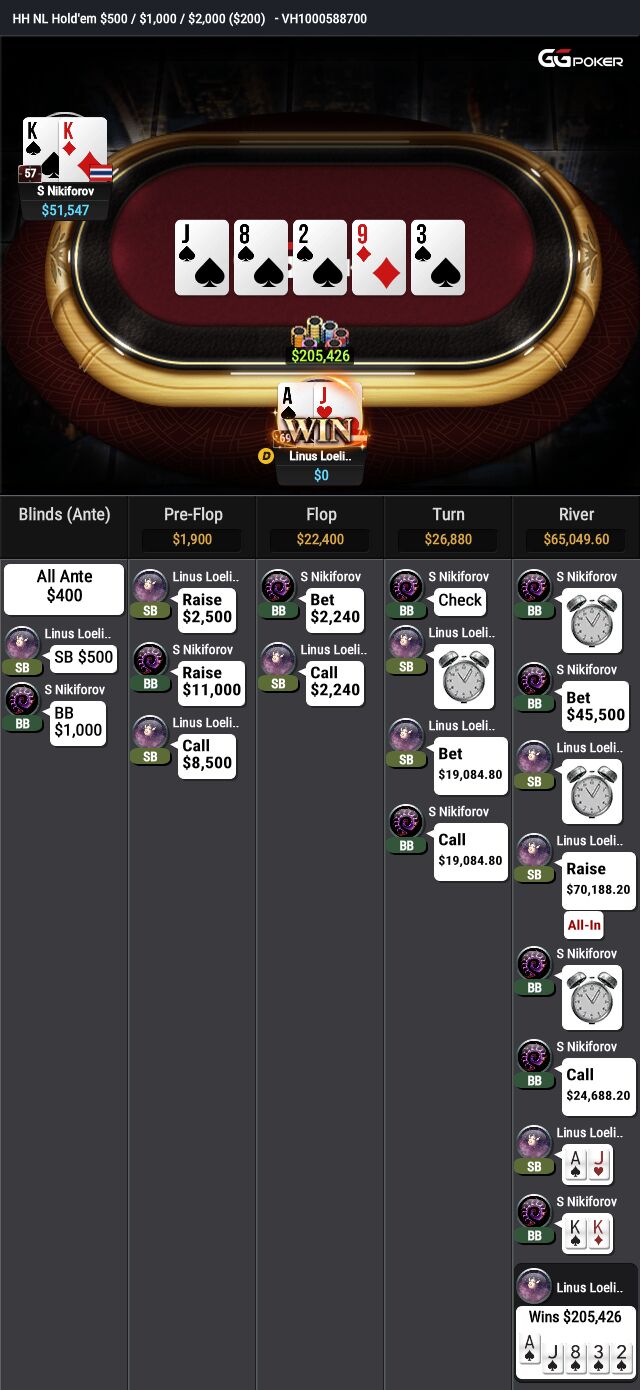 Biggest Pot of the game:

In the end, Sergey bounced back a little.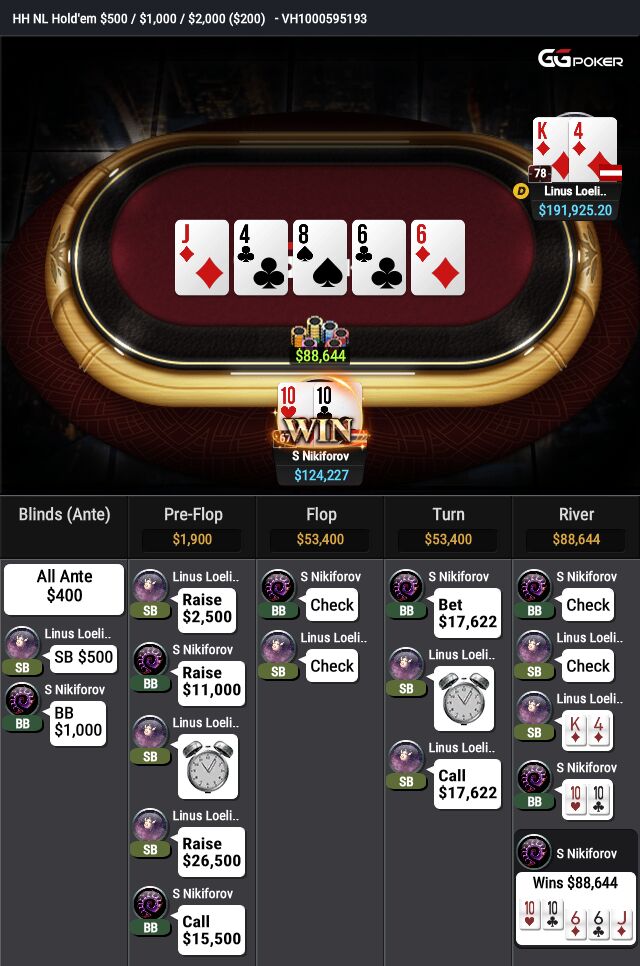 Nikiforov's next opponent was Wiktor Malinowski.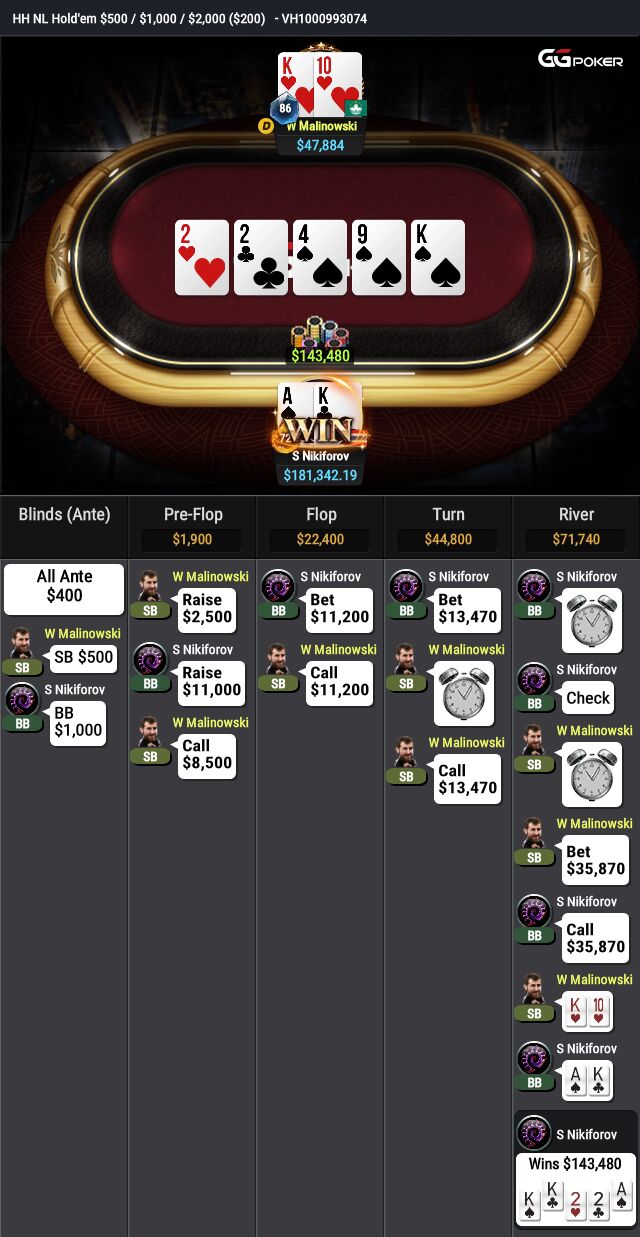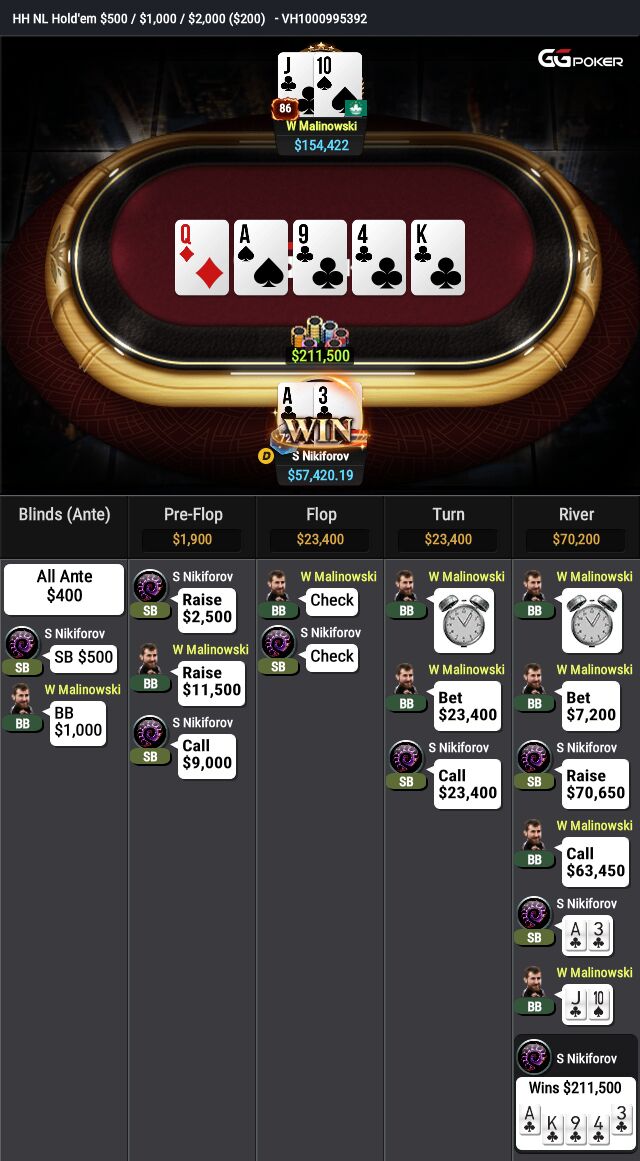 In November, Michael Addamo looked at the high stakes tables. Viewers noted that against the top cash players, his style is still not very good.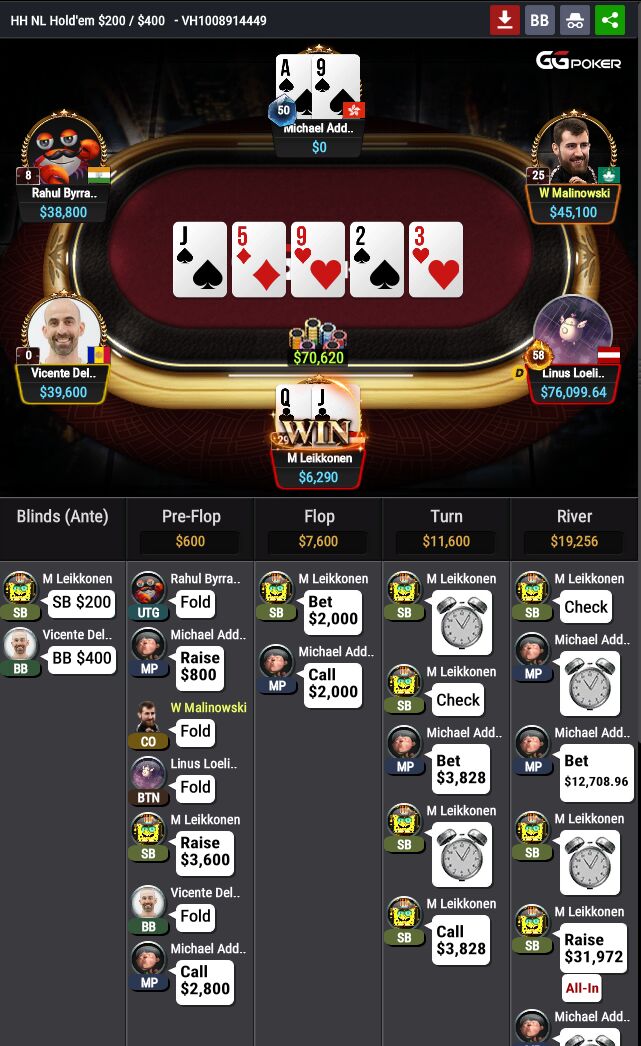 In the battles of the regulars at NL20k and 40k, you can often meet the mysterious Canadian Matthew Bergman, of whom 'avr0ra' gave the following description:
– Recently, he has been active. Few people understand who he is, but he plays very strong.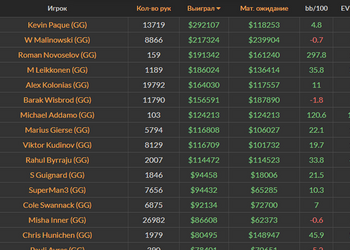 In one of the hands, Matthew called Viktor Kudinov's bet on the river with 7-high and was right.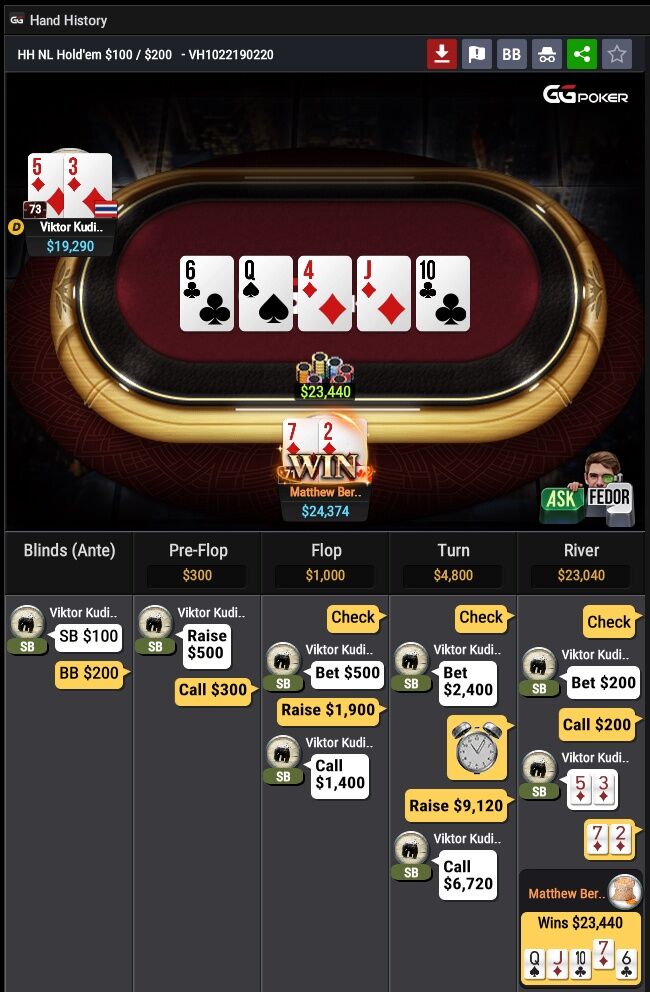 On 2+2 they posted a screenshot that Matthew himself made. Viktor preferred stronger hands for his calls.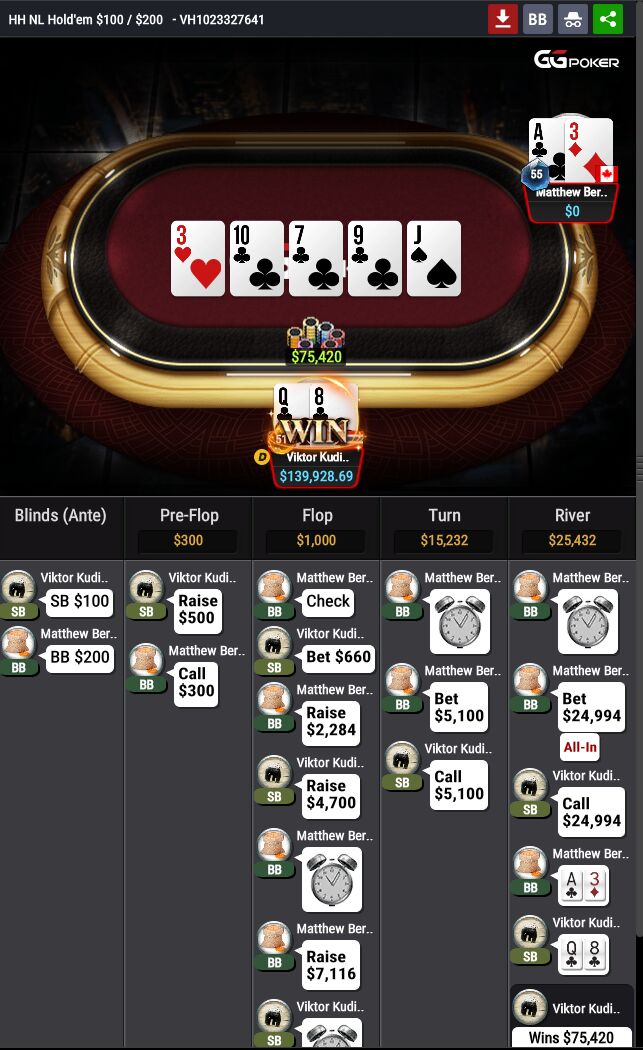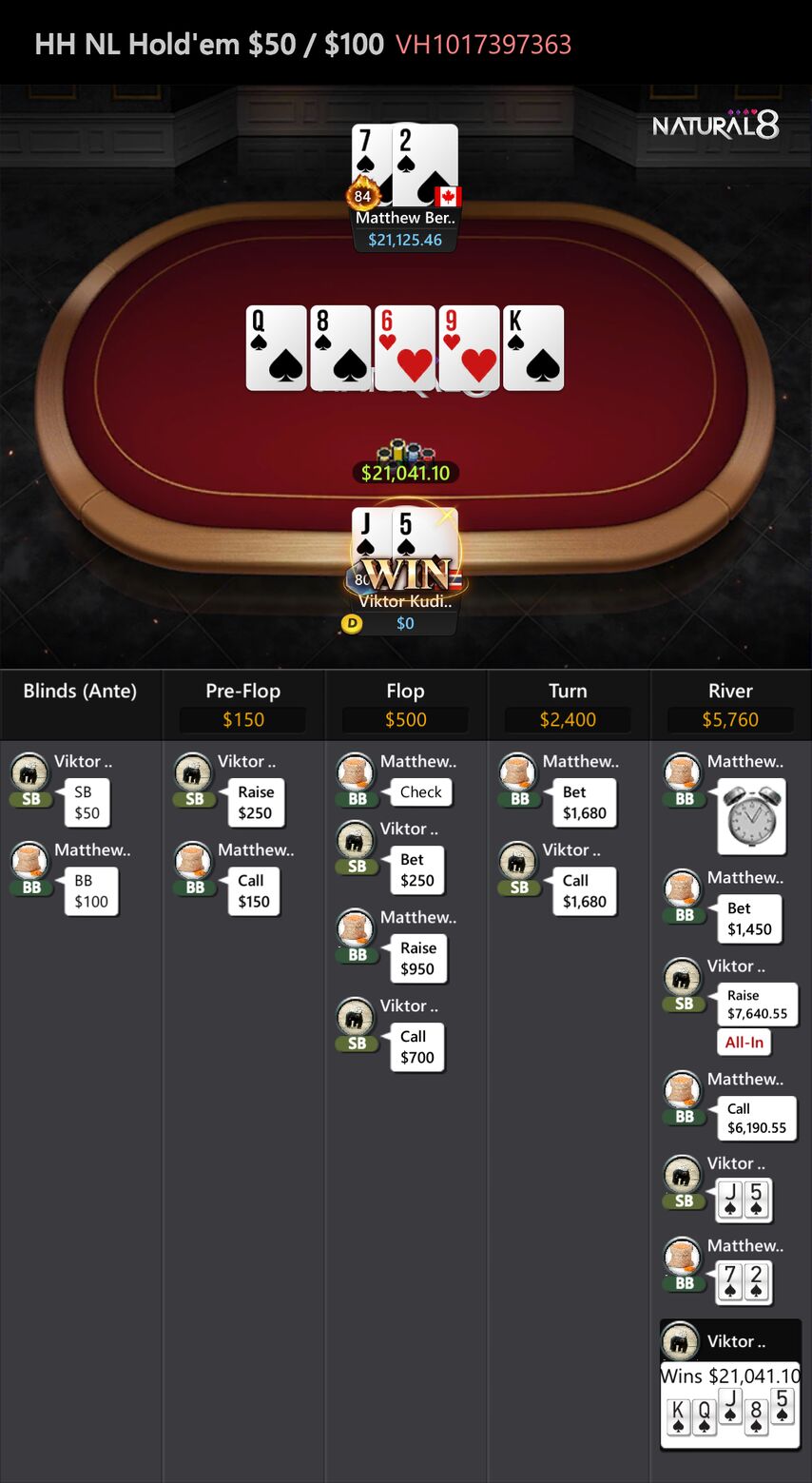 In a conversation with Wouter Bemers, Matthew released a brief summary of his difficult career.
Wouter Beumers: So, you were banned from Stars and ACR, you also disappeared from GG, and now you suddenly returned and are ready to play HU with anyone?
Matthew Bergman: I banned myself on Stars when I was 18. Because of my parents. I was banned from ACR because I played under the account Isidro Pereira and they also suspected me of using a solver. GG acted meanly because in 2019 I won a lot.
Wouter Beumers: The whole world is against you.
Matthew Bergart: But now I'm allowed to play here under my account.
Wouter Beumers: All this does not inspire confidence in me. HU I will not play with you.
Matthew Bergart: You can add me on discord, make sure I play
As a result, Matthew found action at the table with our high rollers.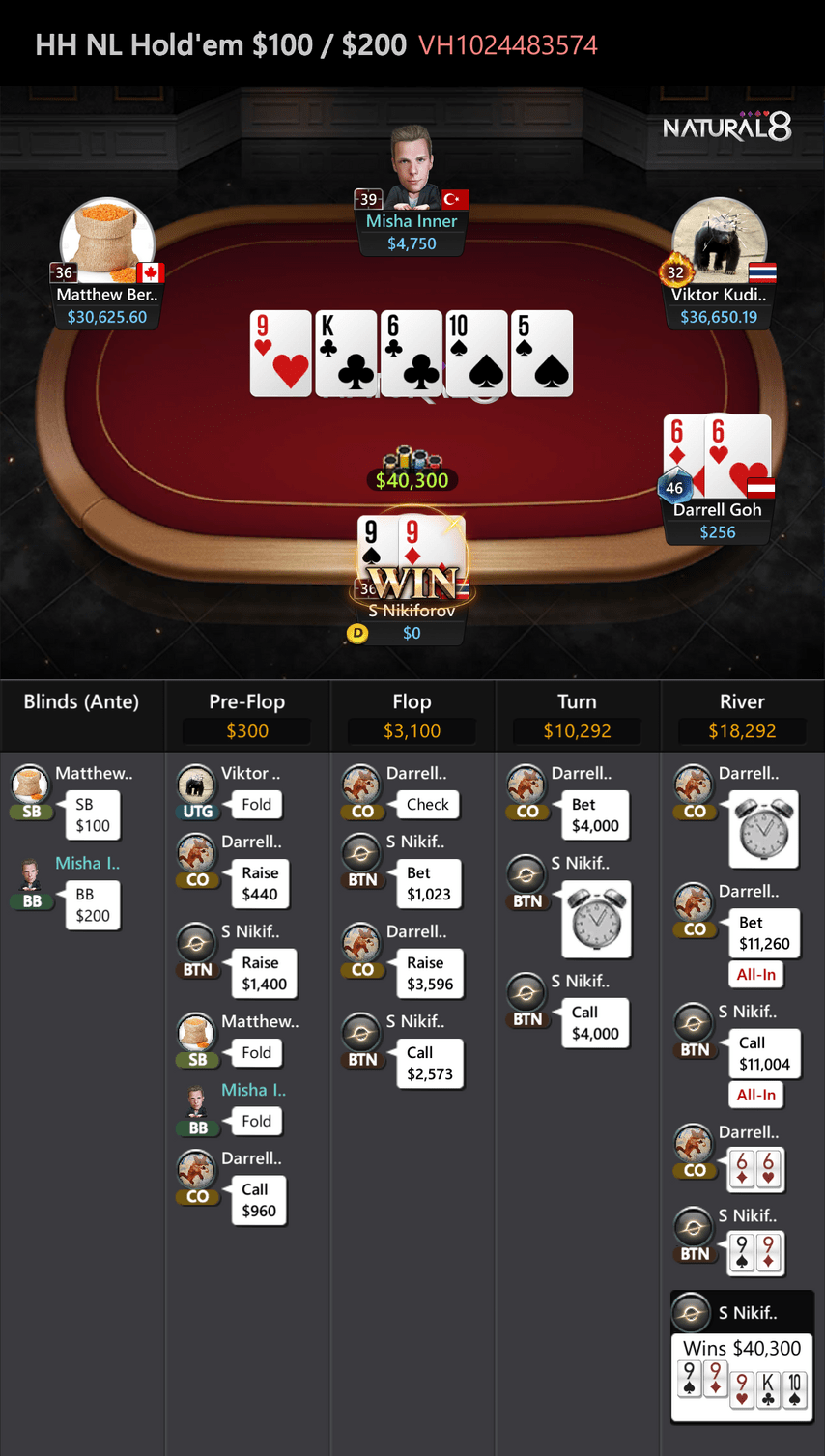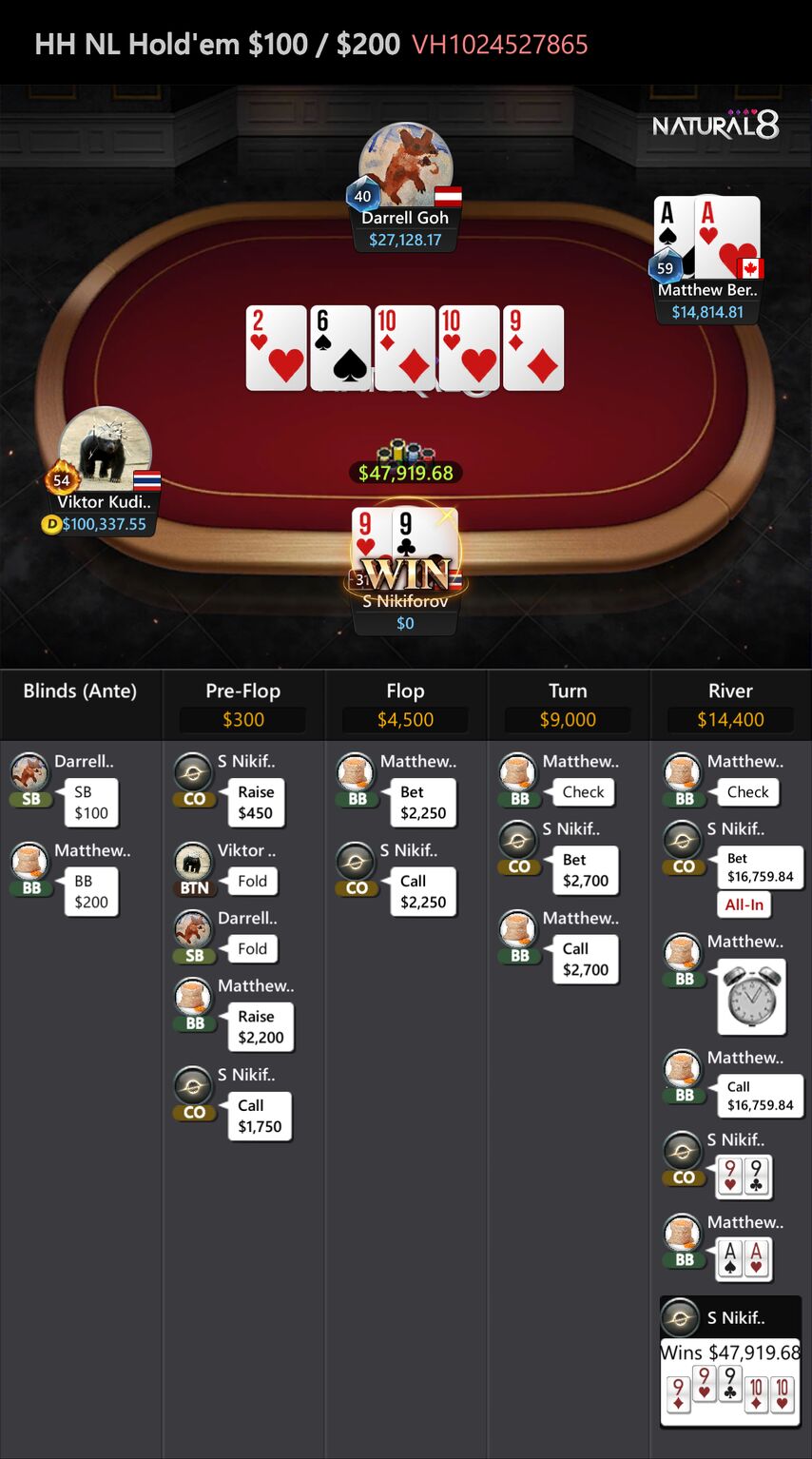 Sometimes famous streamers add new colors to the boring and monotonous life of regulars.