Filming took place in Las Vegas in April 2023. The first session, which was edited into six TV episodes, featured Rick Salomon, Jean-Robert Bellande, Rob Yong, Erik Persson, Andrew Robl, Ferdinand Putra, and Charles Yu.
Competitors battled it out for $1k/$2k with a mandatory $4k straddle and regular restraddles – the most expensive game in the history of the show.
– Have you ever played without black chips? – Charles Yu was asked before the game started.
"I have," the Hustler regular answered modestly.
"Doyle often said that black chips hurt his eyes," commentator Nick Shulman recalled the legend.
Black $100 chips are the most expensive chips at the table in many games, but in this game, they used a set of three colors – $25,000, $5,000, and $1,000.
The most successful player in the first few episodes was Andrew Robl, who did well throughout the session. He didn't have to harness it for long.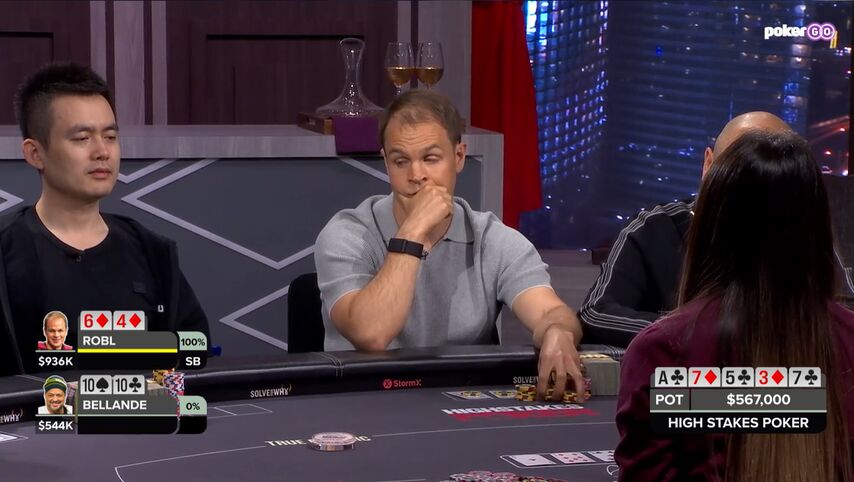 Rick Salomon double-straddled $8,000, JRB raised $20,000 on the CO, and called Robl's reraise $90,000. Andrew c-bet $60,000 on the flop and $125,000 on the turn. The paired river that covered the flush draw was checked.
"Terrible hand," partypoker partner Rob Yong commented on the action. – I myself am already in the red, but I'm glad that at least I didn't lose against 64. JRB, I'm not teasing you, I sincerely sympathize.
"I've been seeing this for nine years now, I'm used to it," Bellande smiled sadly. – One plus is that now others have seen it too.
At the beginning of the second episode, Bellande and Yu casually flipped for a million but chopped it.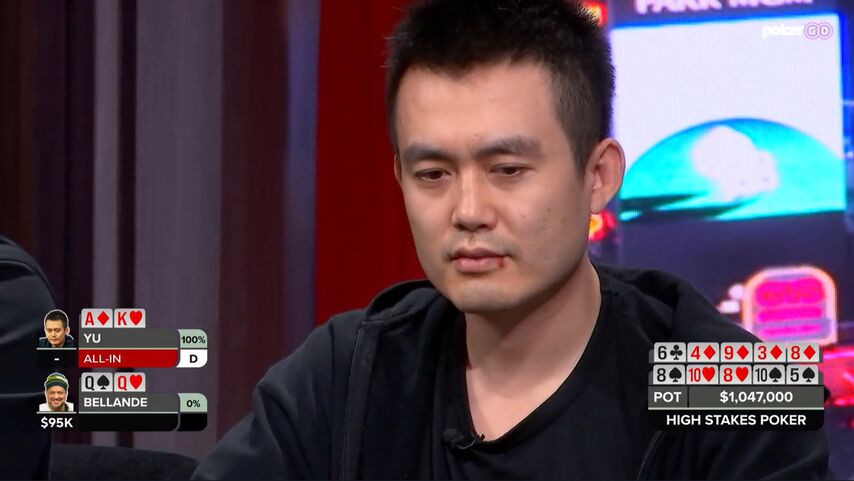 A few hands later, Charles 3-bet Robl with 65o.
"Very suspicious, but I can't help it," Andrew sighed and threw away the cards.
Charles showed his.
– What would you do with my push?
– Naturally, I would have called immediately, I had already invested half my stack.
In the second episode, Erik Persson joined the game.
His appearance was bright and fleeting. He lost his $700k in a few hands and never came back.
The trouble started with a hand against Yong.
Persson tried to trap one of his opponents and limped from early position, four players called. On the flop, Rob bet the pot, Persson called, and the rest folded. The turn was checked, on the river Persson bet $45,000 into a $36,000 pot and, without thinking for a second, called the raise.
Eric decided to get even by 3-betting with . It turned out so-so.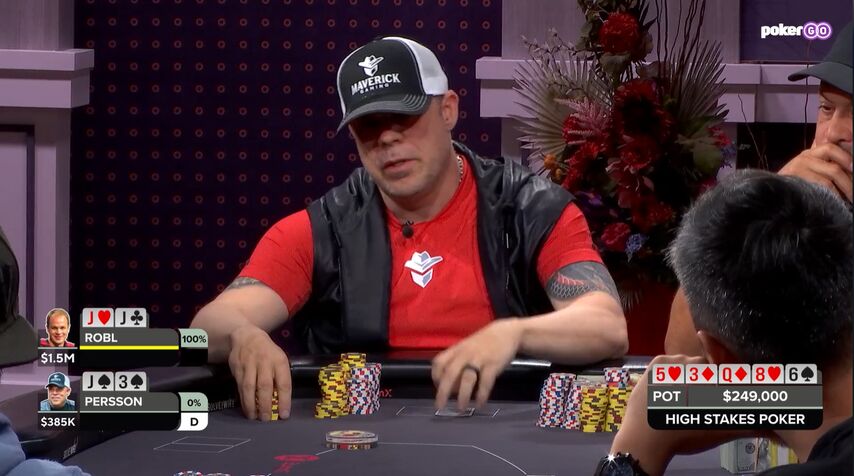 On the flop and turn, Robl check-called and checked the river.
The rest of Persson's stack also went to Andrew.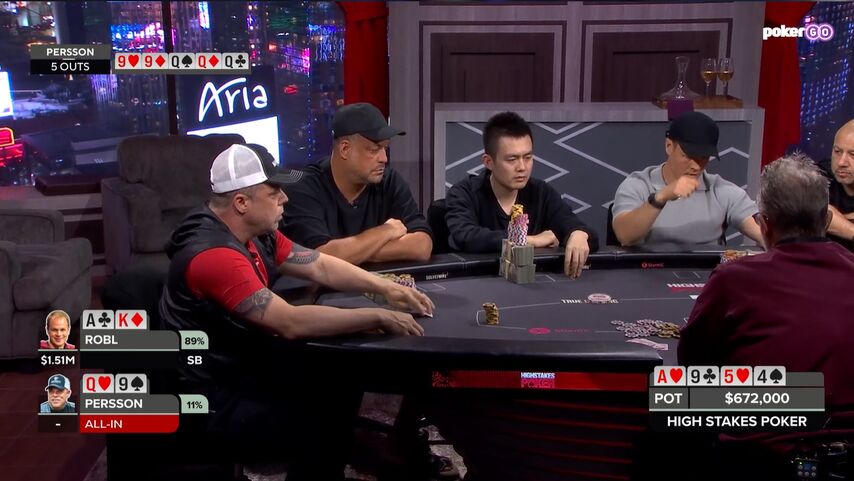 Eric restraddled $16,000 and called the raise to $45,000. He paid half the pot on the flop and shoved for a similar bet on the turn. The river was run twice, but this did not help Persson.
The 3rd episode started with another cooler in favor of Robl.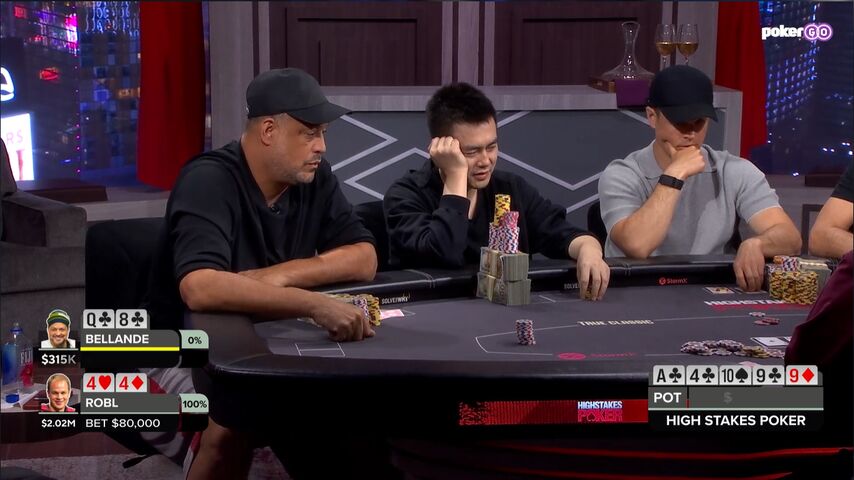 JRB placed a straddle and called the raise, check-called on the flop, then led the turn and called the river.
"Full house," Andrew announced.
– Who would doubt that? You knew the river would pair as soon as I led on the turn, right? It's high time to make the film "Walking in Like Robl." Against any other opponent, I would bet the river myself. Here I understood who I was dealing with, but it was still impossible to throw it away.
After that, Robl made a flush against the pocket pairs of JRB and Salomon.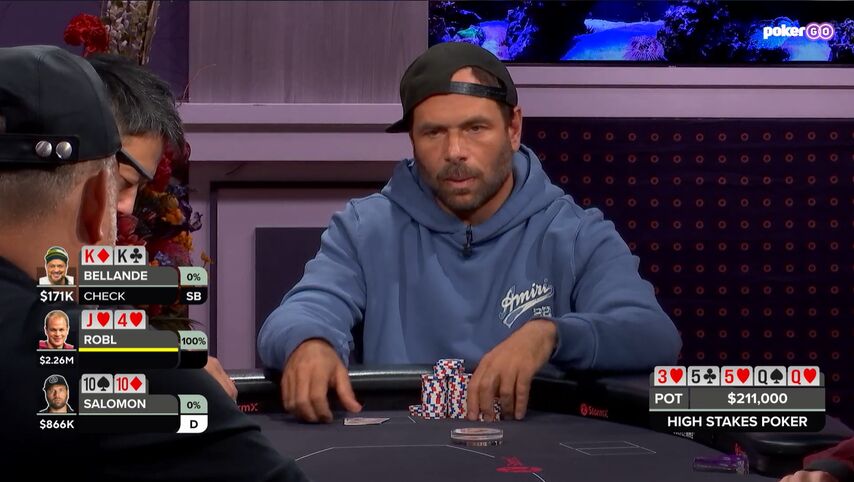 Rick opened from the button, JRB and Andrew called on the straddle. On the flop, Salomon bet, JRB called, and both paid Robl's check-raise. The rest of the streets were checked.
In the next episode, nothing changed dramatically. Robl continued to confidently outplay his opponents on the river.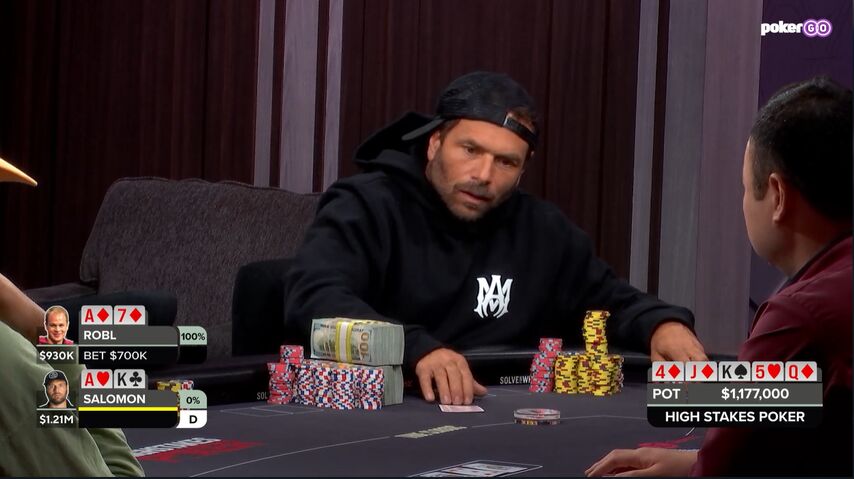 Rick 3-bet, called the check-raise and the turn bet. On the river, Robl bet $700k into a $477k pot, and Salomon immediately folded.
Rick bounced back at the expense of the ever-unlucky Bellande, 4-betting him with 42.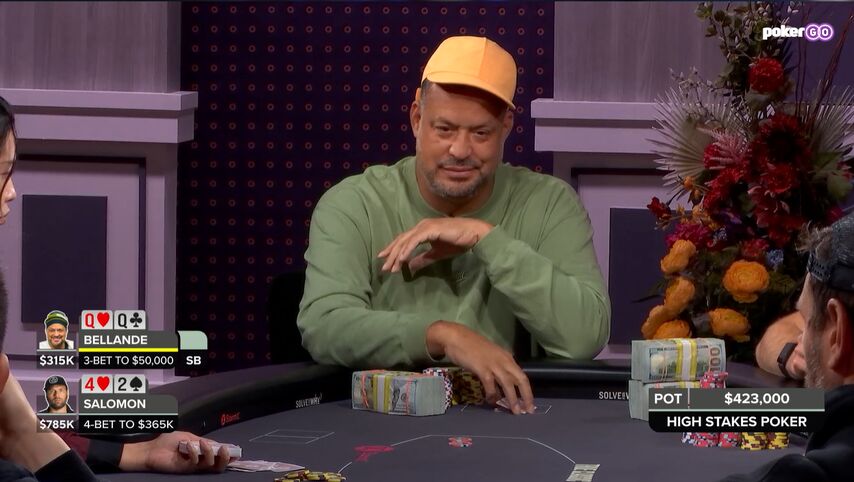 "Bad fold," Rick showed his cards with a completely serious face when his opponent resigned.
Episode 5 turned into Rick Salomon's solo show.
At the beginning, he played a 4-bet/fold and he turned out to be right.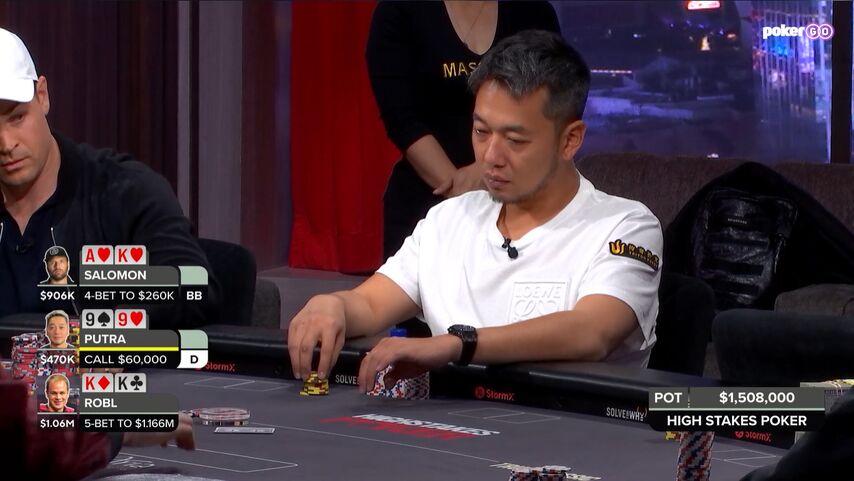 A few hands later, Rick 5-bet himself, but was quickly called by better cards.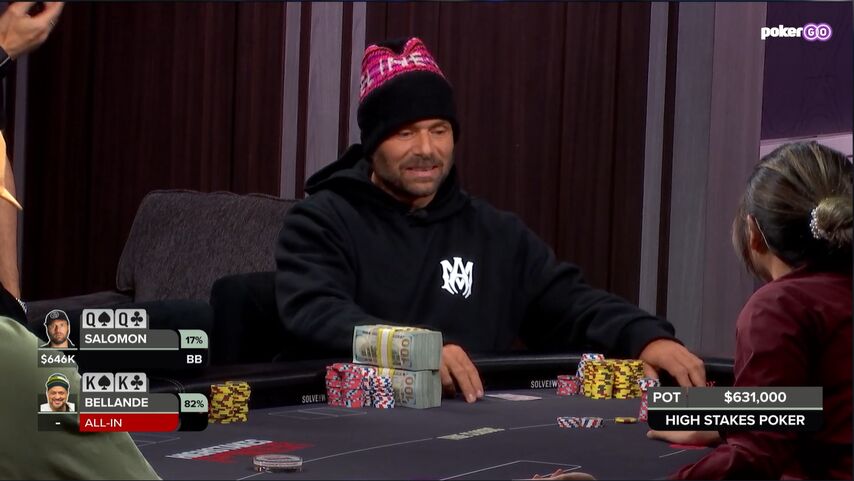 – 42 again? – Bellande clarified.
Rick shook his head, they turned it twice, and JRB stood on both boards.
Bellande's upswing gained such momentum that he even managed to win a hand against Robl.
Bellande placed a straddle, Robl raised, and Yong called on the button. On the flop, Andrew c-bet, got two calls again, and the turn was checked. On the river, Andrew overbet $150,000 into the $83,000 pot. Yong quickly gave up, and JRB thought and paid.
"Flush," Andrew joked.
Bellande dissatisfiedly sent the cards to the muck.
"I was joking," Robl reassured him, "I don't have a flush, the pot is yours." What did you have?
– I won't say... Okay, I was joking too, I had .
– Good bet on the river, Robl. I threw away my best hand – , – Yong, who actually had .
The episode ended with yet more trouble for Salomon.
Putra raised and called the 3-bet. He check-called on the flop, check-raised on the turn, and quickly called Salomon's push.
Rick's two outs didn't come on either river. He lost more than $1 million in this episode.
In episode 6, Charles Yu took over the initiative from Salomon. He started out with A7s preflop.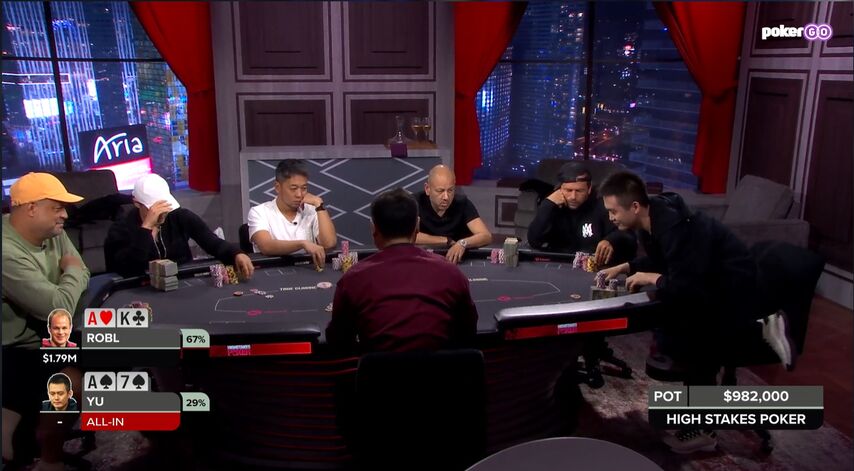 Robl 3-bet $40,000, Yu raised to $200,000, after which he was "forced" to call the all-in. Robl, of course, won both boards.
Then the Chinese high roller decided to give Salomon a gift.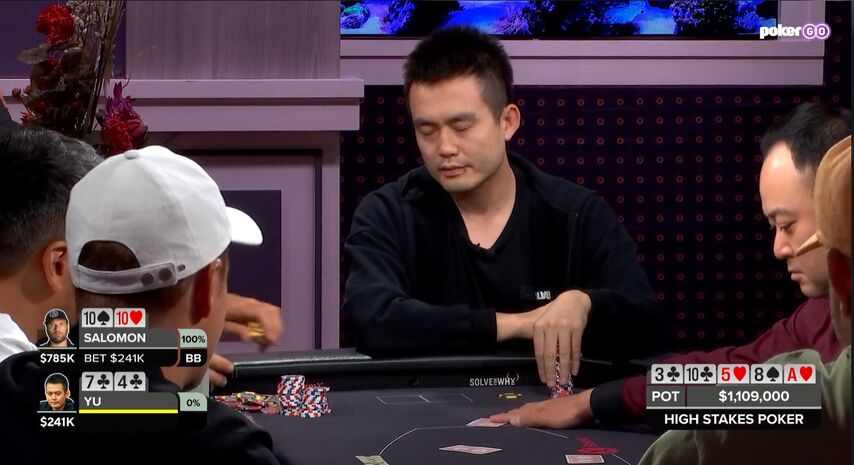 Robl's opened preflop, followed by two calls. On the flop, Andrew c-bet, Salomon check-raised $30,000-$125,000, Yu paid, Robl folded. On the turn, Rick bet $270,000 into a $328,000 pot. Charles called, leaving $241,000 on the stack, and promptly folded to a push on the river.
"No luck today," Yu stated and asked to run the second river, which also turned out to be a blank.
"If you suddenly need chips, Robl is always at your service," Bellande acted as an intermediary.
"No, that's enough for today." For Charles, his debut at the High Stakes ended with a total loss of $850k.
In one of the last hands, JRB made a 5-bet all-in with aces, which greatly scared Rob Yong.
The session ended with Robl trying to bluff a man with a full house.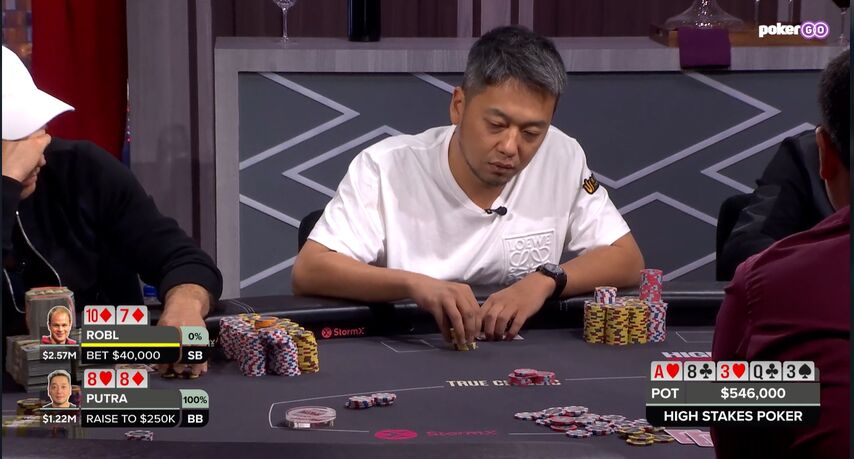 Robl opened, c-bet, and overbet ($95k into a $66k pot) on the turn, Putra paid. On the river, Andrew bet $40,000 into a $256,000 pot and thought for a long time after Putra's raise, but eventually folded.
"I had a good one," Putra said honestly.
– Eights? – Robl guessed.
– Yeah, did you even have anything?
Andrew shook his head with a smile.
– Well, at least you had an ace?
Robl didn't answer. Despite the failure in the last hand, he had the most successful session; in 6 episodes Andrew won more than $1.1 million. Putra finished with a profit of $775k, Jean-Robert Bellande overcame bad luck and left with a profit of $560k.
Charles Yu, Rick Salomon (-700k) and Rob Yong (-270k) finished in the red.