On Thursday in Las Vegas, there was a match between Daniel Negreanu and Doug Polk. Both contestants are famous chatters, which made the fight more like a meeting of old friends than a $200,000 match.
The first round of Season 4 of the High Stakes Duel took place in May when Daniel Negreanu defeated Eric Persson in a $50,000 buy-in match without a hitch.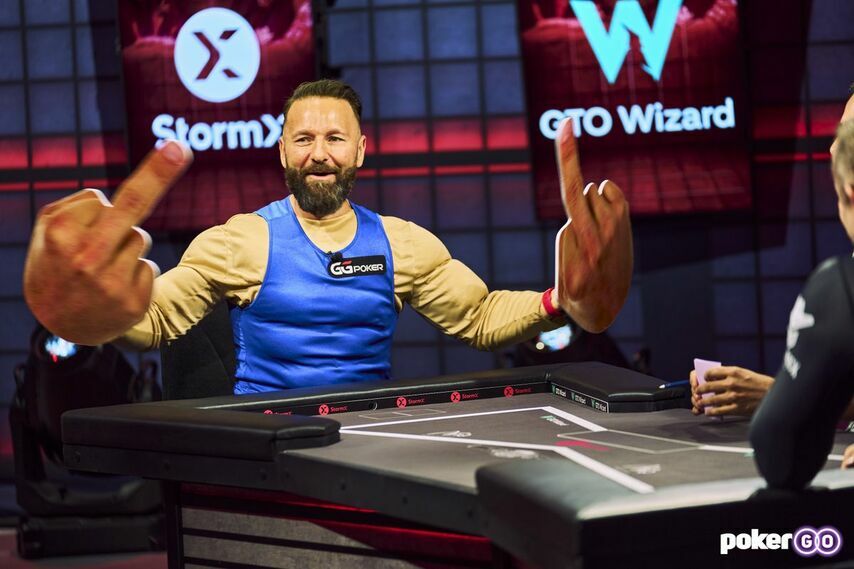 Eric refused a rematch for double the stakes, and Doug Polk was announced as Daniel's new opponent in the $200,000 match.
Before the start of the game, the players talked with Ali Nejad.
– Daniel, how did you react to the news that you will play with Doug?
– In the first match, I easily defeated Eric, and then they told me – now you will play with this guy. Come on, what else could I say? People ask me why I agreed to play with Doug. Like I had a choice. I'd love to take the money after the first win, but the rules don't allow it.
– Doug, you and Daniel have a complicated relationship history. At one time, you were in conflict and decided to sort things out online, where you won $1.2 million from him. And now you have become almost best friends.
– It's like in the UFC, when fighters say a lot of nasty things about each other before the match, then during the fight they give all the best that there are no more negative emotions left. I have said many times that I have a lot of respect for Daniel for agreeing to play heads-up with me online. Of course, even now we are not best friends, but there is no more friction between us, quite normal relations.
– Do you have anything to add, Daniel?
I am a big hockey fan. There you can often see how on the ice the guys knock out fluff and feathers from each other, and after the game, they go together to drink beer. Doug and I even discussed strategy, and Amanda bought cosmetics that his wife makes.
The beginning of the match was held under a casual conversation about the weather.
"I hate humidity," Negreanu admitted. – After a shower, you go outside and after two minutes you want to take a shower again.
Then Vegas is perfect for you.
Yes, that's one of the reasons why we live here. In the near future we will move to a new house, we will live near the lake. It's far from the Strip, about 40 minutes drive, but it's very quiet there. We like.
In the first big pot, Doug bought a flush on the river.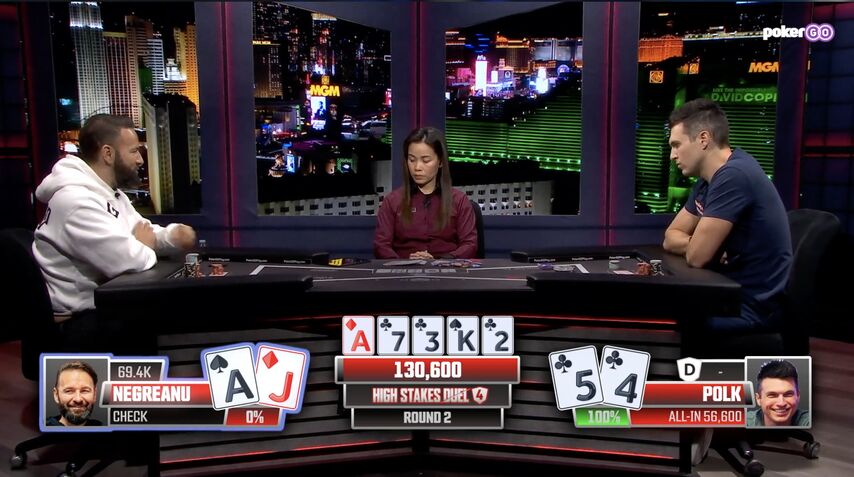 The blinds were 200/400 and Doug opened for 1,000 and called a 3-bet for 4,000. On the flop, Negreanu bet 4,000 and called a 12,000 raise. Daniel check-called 21,000 on the turn, and Doug shoved on the river.
"It's going to be embarrassing to call and find out the match is over," Negreanu laughed.
After spending a couple of time-banks, he still gave up.
"On the turn, I had time to think that if a blank came on the river, the match could turn out to be very short," Doug opened his cards.
Yes, I would probably call. But one of the worst cards for me came, I hit almost nothing. By the way, I had an ace without clubs.
There was a temporary lull at the table, the participants combined small ball and small talk.
Did you see me get called recently with 8-high? Polk asked.
"I think I heard something about it."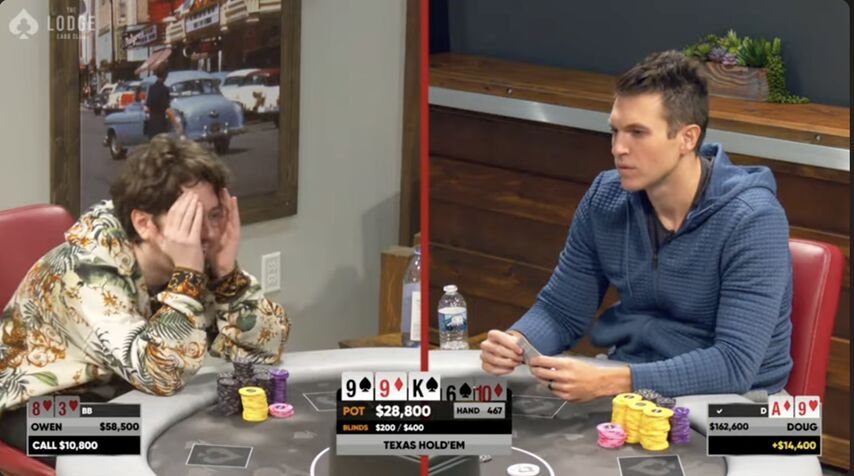 We were playing $200/$400 heads-up and I opened, flopped trips, and bet three barrels. He misrided his hand and instantly paid. I was sure he had a flush. I gave away half of what he put into the pot.
– Was it at your club? It is clear that you could not return anything, but I think you did the right thing as the owner.
"Many, many years ago I played with Viktor Bloom," Negreanu recalled a little later. – There was some action on PokerStars. And he never 4-bet in the whole match. After the session, I asked him why he played like that. "Didn't want you to stop 3-betting," he replied.
– I played a lot with Viktor. In terms of the number of hands, he is probably my main rival. No, but you beat him. You, Viktor, Wilhasha, and Ben Sulsky are my top four. I wonder what Viktor is doing now.
– He played the entire World Series, but only mixed games, cheap and expensive tournaments. Looked happy.
– This is the main thing.
"His story is complete madness. It's incredible how he played several tables at once with the best players in different games. For him, it was a computer game. Viktor is definitely one of the most talented players of his time."
– "I agree, he had no equal in terms of natural talent, but he played against the top regs in their best games. He didn't stand a chance. This makes me a little sad," Polk summed up this thread.
Nothing changed dramatically at the table, Doug continued to lead with a stack of 130,000 to 70,000.
"Your love for tournaments has always amazed me," he turned to Daniel during another minor hand.
– There are trophies there. Tournaments are fun. They have a beginning, a middle, and an end, and cache has always been a job for me.
– The least of all I like in tournaments is that after the elimination you have nothing else to do with yourself. I prefer to leave the casino when I want to, and not because all the chips have been won from me.
– Do more rebuys.
Haha, I don't have any problems with that.
How are things at GG? Doug set a new topic.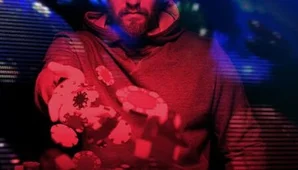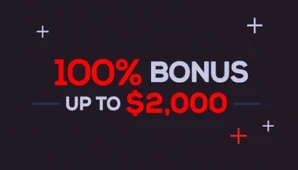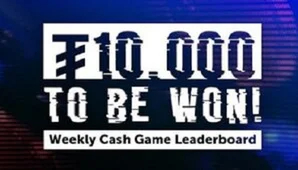 – Everything is fine. There's a big series going on right now. I also play a few tournaments.
– Where?
– From Vancouver, I used to go to Mexico with Amanda, but we decided to change the situation. I'd love to play from Toronto, but Ontario has been made into an isolated market, you can't play with the rest of the world from there. The schedule is convenient, many days off, and we can get distracted with Amanda.
Vancouver is a great city, very clean. Lived there for two years after Black Friday. If you need restaurant recommendations, let me know.
"You remember that I'm a vegan, don't you?"
"Then I'll have to cross a couple of steakhouses off the list."
In another small pot, Daniel bet the 1 blind on the river and was called by K-high.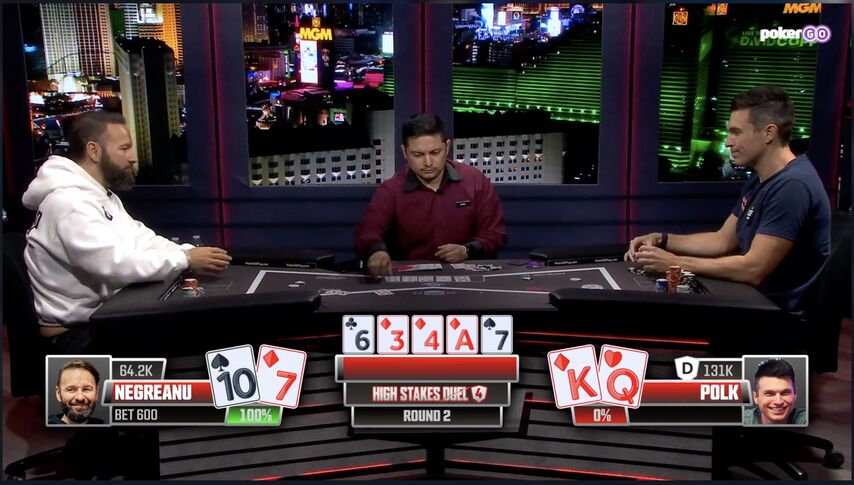 "My favorite hand," Negreanu announced and turned over a seven.
It's funny that you said that. Most recently at the Lodge, I also won a hand with , and the contestants began to shout: "Oh, the hand of Negreanu." I did not get anything. "Well, you know Negreanu, don't you?" they asked. "Yeah, I think I've heard that name," I chuckled. But I learned about my favorite hand for the first time.
1.5 hours after the start of the match, Negreanu took the lead.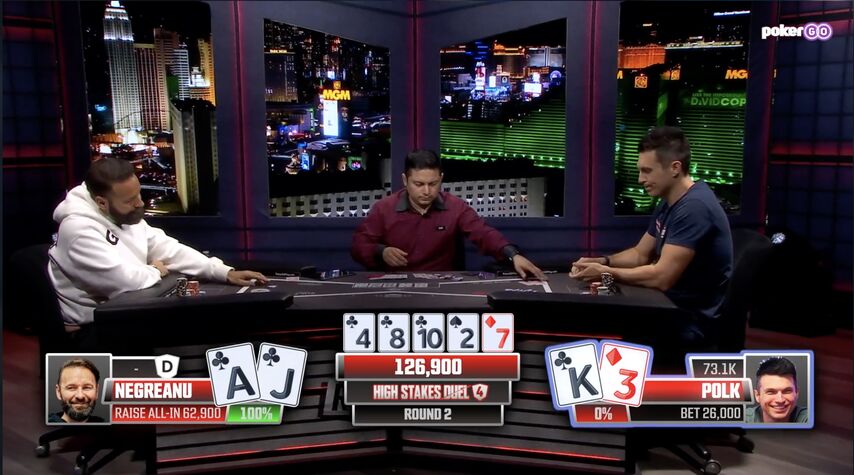 Daniel raised to 1,500 and called a 3-bet of 6,000. Postflop, Doug bet three barrels – 2,000, 11,000 and 16,000. On the river, Negreanu shoved and his opponent immediately folded.
"Even a flush with a king wouldn't do."
– I had, but without a flush.
Daniel had 127,000 against 63,000, and in the next hand, he strengthened his lead.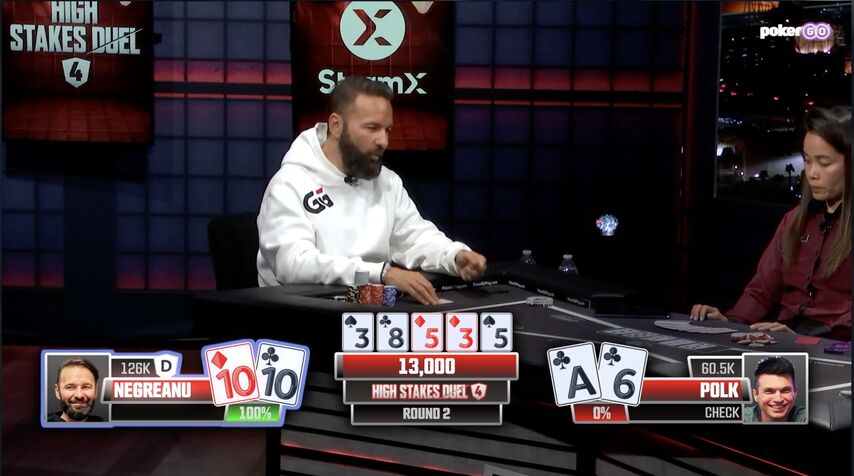 Daniel opened and c-bet, Doug paid and on the turn, he bet 10% of the pot. The river was check-checked.
"Hands with double-paired boards are always very strange," Polk said.
– I agree, when I looked at them in the solver, I didn't understand anything at all. Some sudden overbets, completely counter-intuitive concepts for me.
Doug managed to get some chips back with 8-high.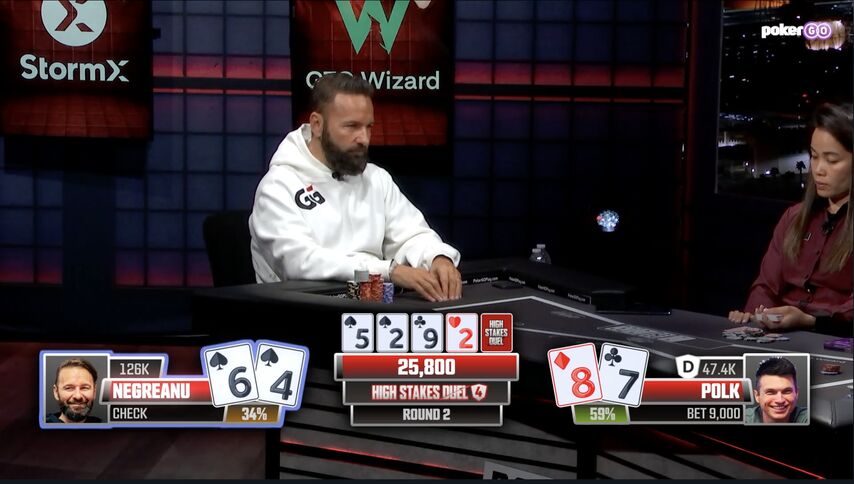 Level 400/800, Doug opened 1,800 and c-bet 1,600. Daniel check-raised to 6,600. Polk called and took the pot with a bet on the turn.
"Throwing out a very strong hand," Negreanu shook his head.
– It was the worst turn for your range.
– Yeah, I folded a monster draw, the last thing I wanted to see was a deuce. I'd be happy to bet on the flop.
Your raise came as a surprise to me. By tells I was sure that you would call.
What are your plans for the end of the year? Doug asked as the game calmed down again.
– Grandiose. After Vancouver we return to Vegas for the Poker Masters and Super Bowl, then there will be several smaller series – PLO and mix games, and in December I will go to the WSOP in the Bahamas.
"And I probably won't play anything else."

– I am buried deep for 2023, I have to excuse myself. I usually get lucky at the end of the year.
"Unfortunately, I am also in the red."
At 500/1,000, Daniel widened his lead.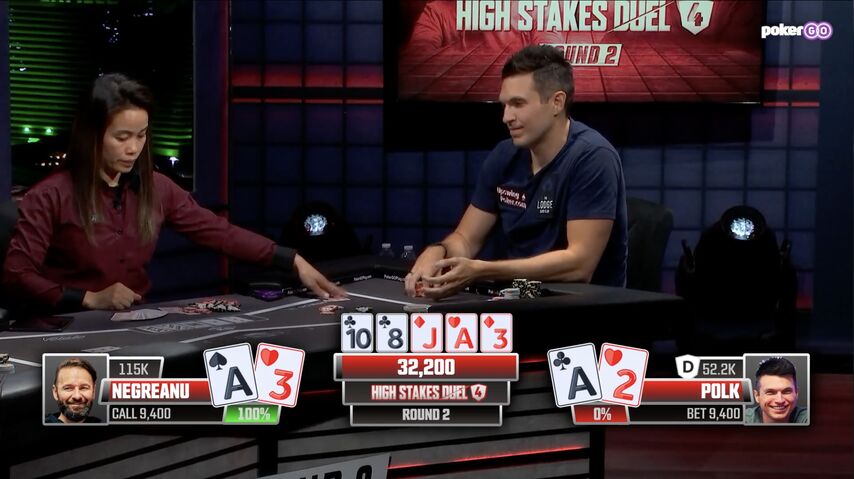 Polk opened 2,300, the flop was checked, Daniel check-called the turn and river, and Doug bet 4,400 and 9,400.
"It was a thin value," Doug said. "But my kicker was worse."
"We're getting close to the point where I'll start randomly pushing buttons," Doug warned as his stack dropped to 60 blinds. – By the way, the day before I thought maybe I could look at some charts, but I quickly convinced myself not to waste time. I decided that there was no point in this because you are also unlikely to do this.
"I didn't even have that thought. I was asked how I would prepare for our match. I replied that the best preparation is to do nothing at all."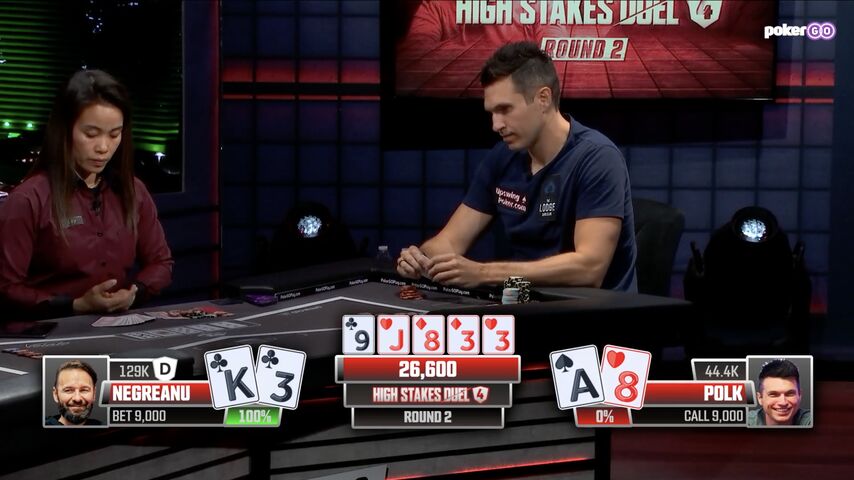 Doug raised to 2,300, the flop was checked, Polk check-called a 2,000 bet on the turn, and Daniel overbet 9,000 into an 8,300 pot on the river.
Doug was dealt good combinations several times, but this did not bring him big dividends. Daniel folded correctly on the river every time, but in one hand, Polk managed to bluff his opponent.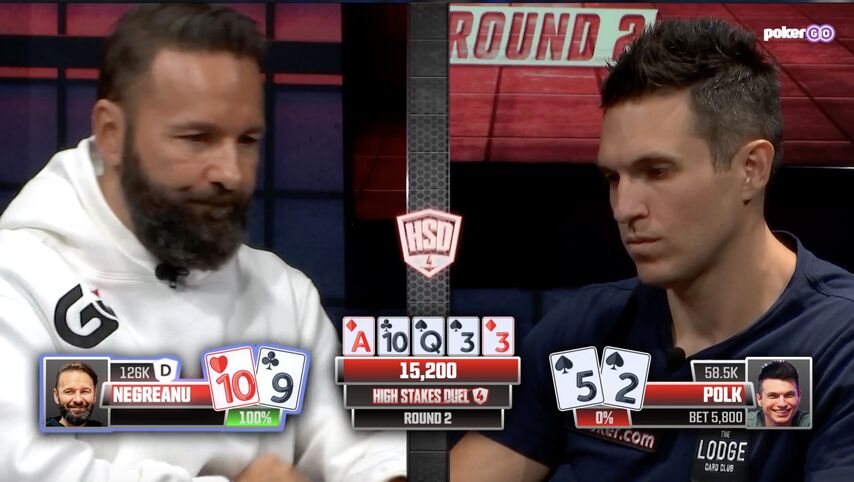 Doug check-called 2,000 on the flop, the turn was checked, and on the river, Daniel thought for a long time, but folded.
Looks like your first mistake of the day. This is only the second bluff in the entire session that has worked.
– I had I'd rather pay here with , nine is too bad a card to call.
– I had two.
A rare 4-bet pot has ended pre-flop.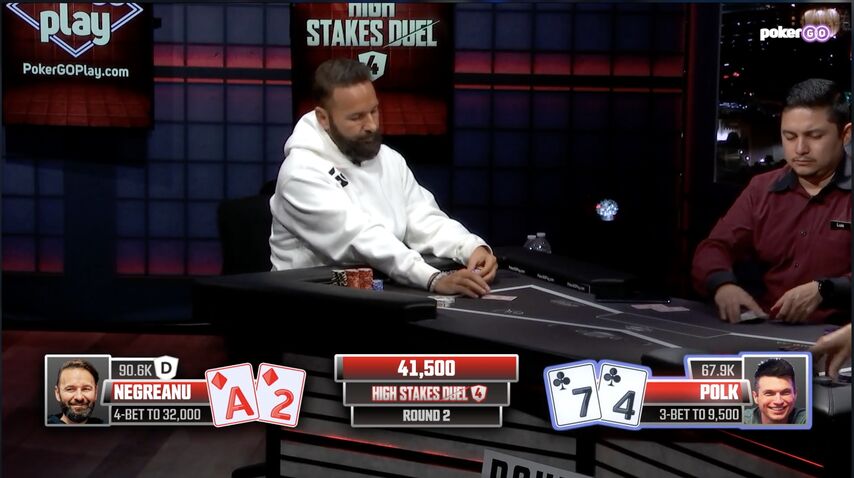 "I didn't even count how many blinds you have," Negreanu admitted. – I thought maybe just push it right away.
Honestly, I don't know myself.
The match ended at 600/1,200.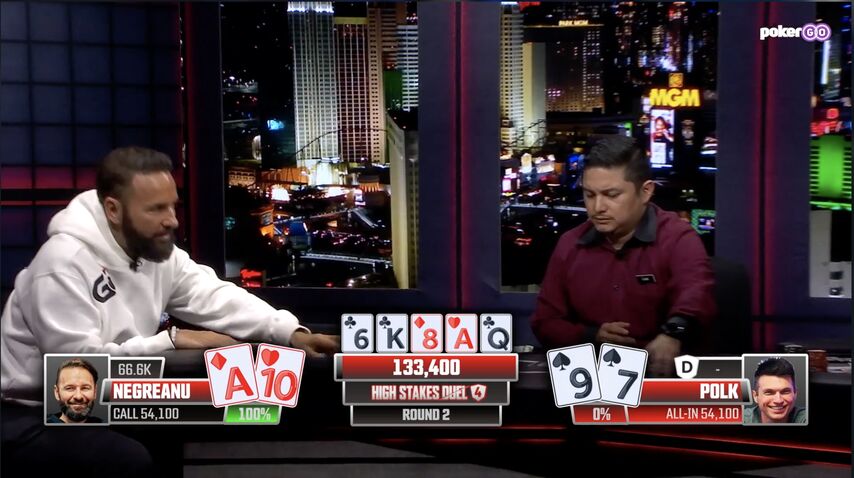 Polk opened with a raise of 2,500 and bet three barrels – 1,700, 8,400 and overbet all-in 54,100.
– Did the flush arrive? Negreanu asked on the river. – And I almost raised the turn.
Daniel thought some more and called.
"Good game, you won," Doug quickly got up from his seat. – "I'm sure I played correctly, with my hand you need to shove quite often here. Although, of course, it is better to do this with one club card."
Daniel exercised his right to end his participation in the project after two victories.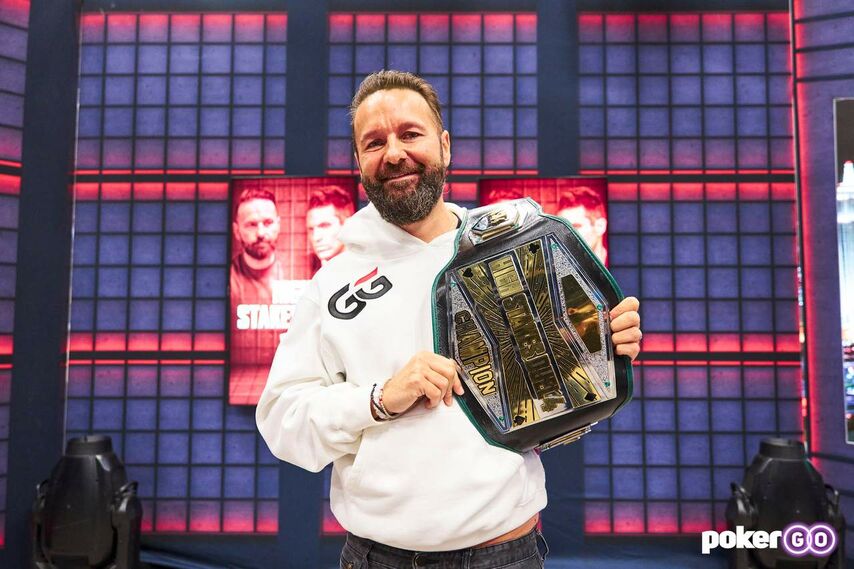 "I don't want to risk the belt. But if there are those willing, I am ready to re-enter the game from the first round."