The next World Series of Poker starts on May 30th. While you're picking players in the traditional GipsyTeam Reader Fantasy Draft, let's take a look at what's new and exciting in the upcoming series.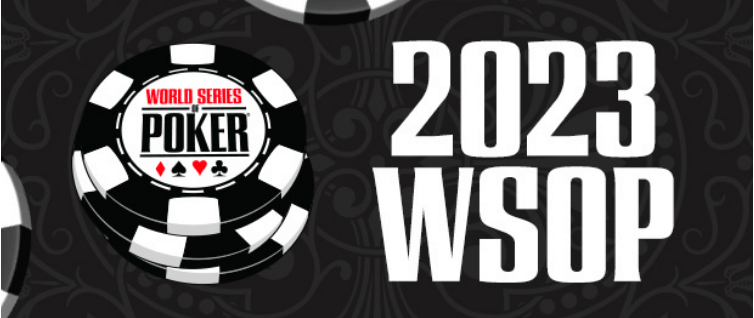 This time the tournaments will be held at the Paris and Horseshoe casinos – Bally's casino was rebranded at the beginning of the year and was given the name of the home of the WSOP, in which the series has been held since the 1970s.
On March 24 , Doyle Brunson came to the opening ceremony of the new Horseshoe. Pictured next to him is Jack Binion, son of World Series founder Benny Binion.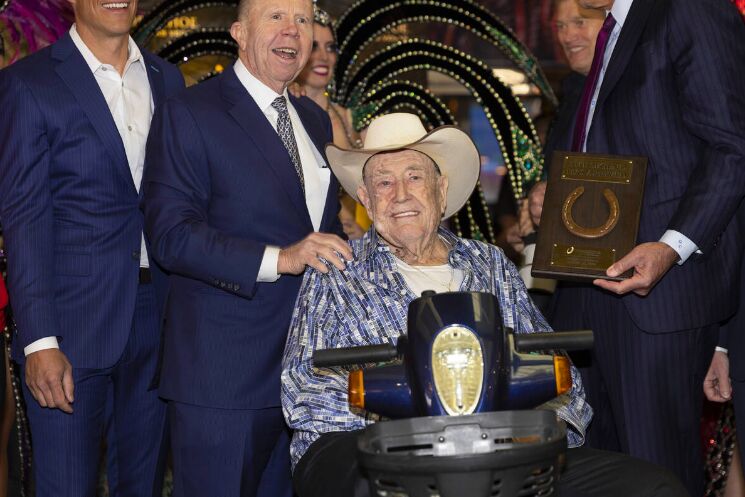 The new name did not save Bally's/Horseshoe from a lot of bad reviews on YouTube. It turns out that not all rooms have been renovated, so you may have to immerse yourself in research not only at the tables but also during your vacation, if you are settled in a room with 30-year-old furniture. To be fair, living in the Horseshoe is clearly not necessary – there are many hotels-casinos nearby of a completely different level of comfort :)
In total, 95 live bracelet tournaments are planned to be held at the World Series (last time there were 88).
This year, however, as in all previous ones, the organizers plan to break the attendance record in the Main Event. They even came up with an incentive for the players – if there are more players than in the record 2006, then one of the players will receive a buy-in to the main for 30 years! The value of such a "pass" is $300,000, well, if the lucky person lives 30 years and is able to hold cards, of course. Last year, they fell short of the record by only 110 players. This year, GGPoker satellites alone will give away 600 seats – exactly 100 more than last year, so there is every chance of a record. The main starts on July 3rd – there will be four entrance days, the final table will be formed on July 14th, and the final table will be played out on July 16th and 17th.
Pokerfuse has charted the all-time attendance of the main, and judging by the trend, someone is in for a 30-year main freeroll.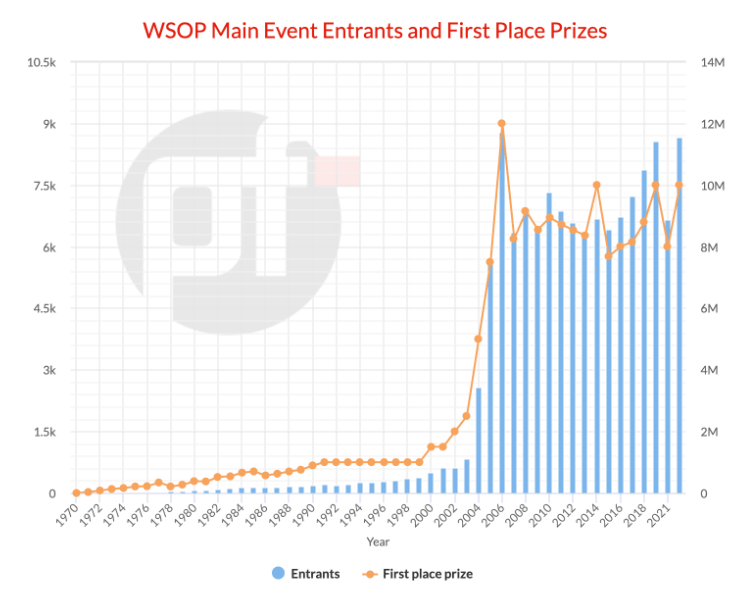 One of the favorite tournaments for many players, the $1,000 Mystery Millions, was placed at the very beginning of the series. Last year, it had 14,112 players, and the million-dollar bounty went to our fantasy draft participant Matt Glantz.
This year, in addition to the lucky one who will receive a $1,000,000 bounty, the winner of the tournament will also get a million dollars. Due to the popularity of the format, the organizers added another Mystery Bounty tournament, for $10,000.
Badugi and Big O (5-card PLO hi-lo) were awarded separate $1,500 tournaments this year. Another novelty is the budget short deck tournament for $1,500. For wealthy fans of mixed games, a $25,000 HORSE tournament has been added. And the less affluent are waiting for a new mix of Omaha8 and Stud8 at the end of the series – such a tournament was already held 10 years ago, and then for some reason lost its place in the schedule.
This series will also host the most affordable tournament for $300. To beat the guarantee it will have to recruit 10,000 players.
All Super High Roller Hold'em tournaments are scheduled for mid-June: June 9 for $50,000, June 12 for $100,000, and the most expensive tournament of the series, for $250,000, will be held on June 16. All high rollers will be streamed on PokerGO, which set a record this year with 47 days of streaming in a row, starting on June 1st.
Daniel Negreanu tweeted about the series' schedule and called it the best ever. Apparently, that's why he decided to play 88 tournaments. In order to endure such a marathon (two days off in two months, by the way), Daniel decided to prepare in advance and took an eight-week break from the game. He compiled a detailed list of activities and patiently collected feedback from subscribers.
1. Gym – 6 times a week
2. 15,000 steps per day
3. 1,800 calories a day
4. Not using his smartphone 30 minutes before bedtime and 30 minutes after waking up
5. Daily Meditations
6. Walk barefoot on the grass
7. Watch poker streams for an hour a day
The calorie item caused the most criticism – worried commentators believe that Daniel is starving himself. And he was rightly condemned for not practicing poker.
To boost morale, Daniel reviewed all the films about Rocky and the Rounders. Films after the fourth Rocky were criticized by commentators (ed. – very harsh, the first "Creed" seems to be nothing ), but Negreanu remained adamant.
Rocky
Rocky II
Rocky III
Rocky IV
Rocky V
Rocky Balboa
Creed
Creed II
Creed III
Rounders
Daniel plans to spend about $1.8 million on buy-ins this year, and put up 25% of the action for sale without markup. Shares were gone in less than an hour.
Robbie Lew was also generous and sold shares at 0.95. There are 10% left for two tournaments, you can still put your hard-earned money into the unorthodox J4o player.
But Mike Matusow got greedy not only from the entire poker community (he was already used to this), but, suddenly, from Doyle Brunson, whose thoughts were allegedly voiced on Twitter by his son Todd:
Just cashed in my chips but before I walk out that door one last time, I just wanted to tell you all how much I loved this poker world. I didn't want to go yet, was actually planning to play some events this summer….

But when I saw the markup Mike Matusow was charging 1.5 for the 10k O/8 event… my heart just gave out! Be kind to one another. I'll save you all a seat in Dolly's game in Heaven.

Shaun Deeb, who made a million dollar weight loss bet with Bill Perkins, will have a doubly hard time this year. Daniel Negreanu admitted that in two months at the series, he usually adds 10+ lbs, and Shaun has just started to follow his diet and train. He started a YouTube channel, where he talks about nutrition, training, and his progress. In one of the videos, Shaun admitted that he played terribly and did not necessarily leave the tournament due to hunger, as he was not allowed to bring his food to the casino.
However, at least Shaun will have no problems with cardio during the WSOP.
If you too are worried about how to stay in shape during long sessions, then one of the trainers has compiled a WSOP survival guide for grinders.
We also asked Spartak the Cat about the preparation for the series and the mode during it – he tries not to drink alcohol during tournaments and swim in the pool in the morning. He also tries to keep his head at the tables – judging by what he sees in Vegas at the tables, not everyone copes with this. And Andrey also advised not to part with lucky things if you find them:
I played my first 20 live tournaments without making the money. And then I bought one polo, came to the tournament in it, and immediately chopped it heads-up. In the next tournament, I also reached the final table, it was in the main in Cyprus. In the same shirt, I flew to Macau and got my best cash, which I still haven't beaten. And on my next trip, when I was staying in a 5-star hotel in Kuala Lumpur, this particular polo was stolen from me. Of all the things, only this T-shirt was missing, apparently, someone found out that it was really lucky.
I haven't found a replacement since then for the happy shirt, but I'm actively looking. I have things that I never wear to tournaments. But if I find a lucky sweatshirt, I will wear it until old age.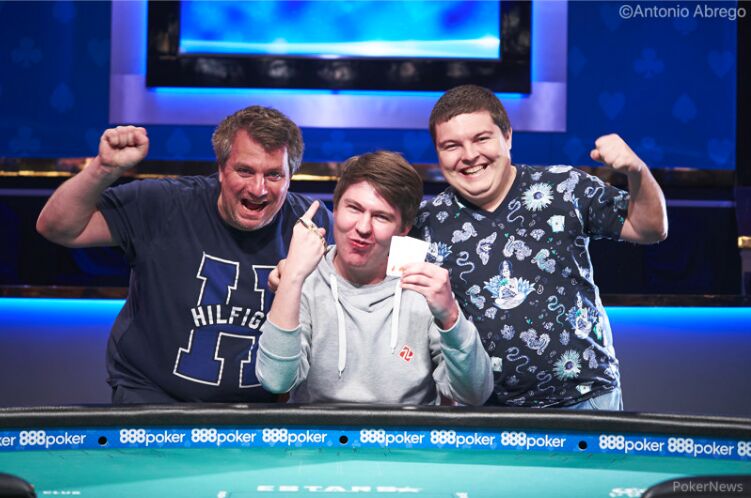 Phil Hellmuth also respects lucky clothes, but he trusts shoes more. The other day he bought a new pair and tested it in action – at 16:30 he bought it, at 17:30 he sat in the tournament, and at two in the morning he was already enjoying the victory. It seems to work.
It's the shoes!! Bought these 4:30 PM yesterday, entered a $500 Pot Limit Omaha 8/B tourney at 5:30, did not rebuy, and won it at 2 AM.

Two shoes ago, I made 12 top 9's in @WSOP and US Poker Open, and won a bunch of High Stakes Duels.

Last shoes: I won US Poker Open tourney… pic.twitter.com/OhXtjkTFPA

— phil_hellmuth (@phil_hellmuth) May 25, 2023
But five years ago, one of Helmuth's pairs did not do its job and did not bring good luck to the owner. Phil consulted with his guru, received his approval, and decided to burn the failed sneakers in the Rio parking lot. Some not-so-white magic.
In the next two months, we will find out on Twitter whether the training system that Negreanu put together will work and whether Hellmuth's new shoes will live up to expectations.
If you know other players who came to the series and talk about it on social networks, write in the comments, and we will follow their progress together.